Stories of those who died in the Paris attacks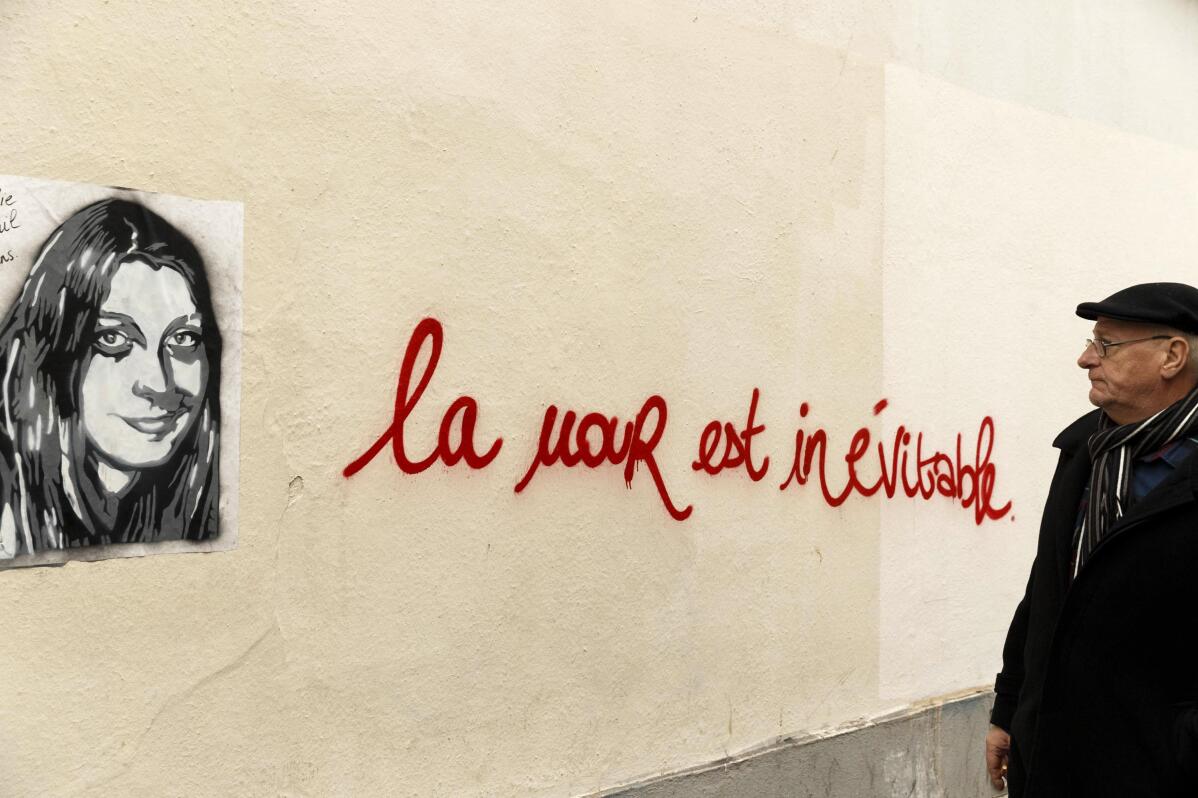 1 of 5

|
A man watches a graffiti showing attacks victim Elodie Breuil, in Paris, Tuesday, Nov. 17, 2015 . Breuil died in the shooting at the Bataclan concert hall last Friday. Writing reads, playing with words: Love is inevitable. (AP Photo/Daniel Ochoa de Olza)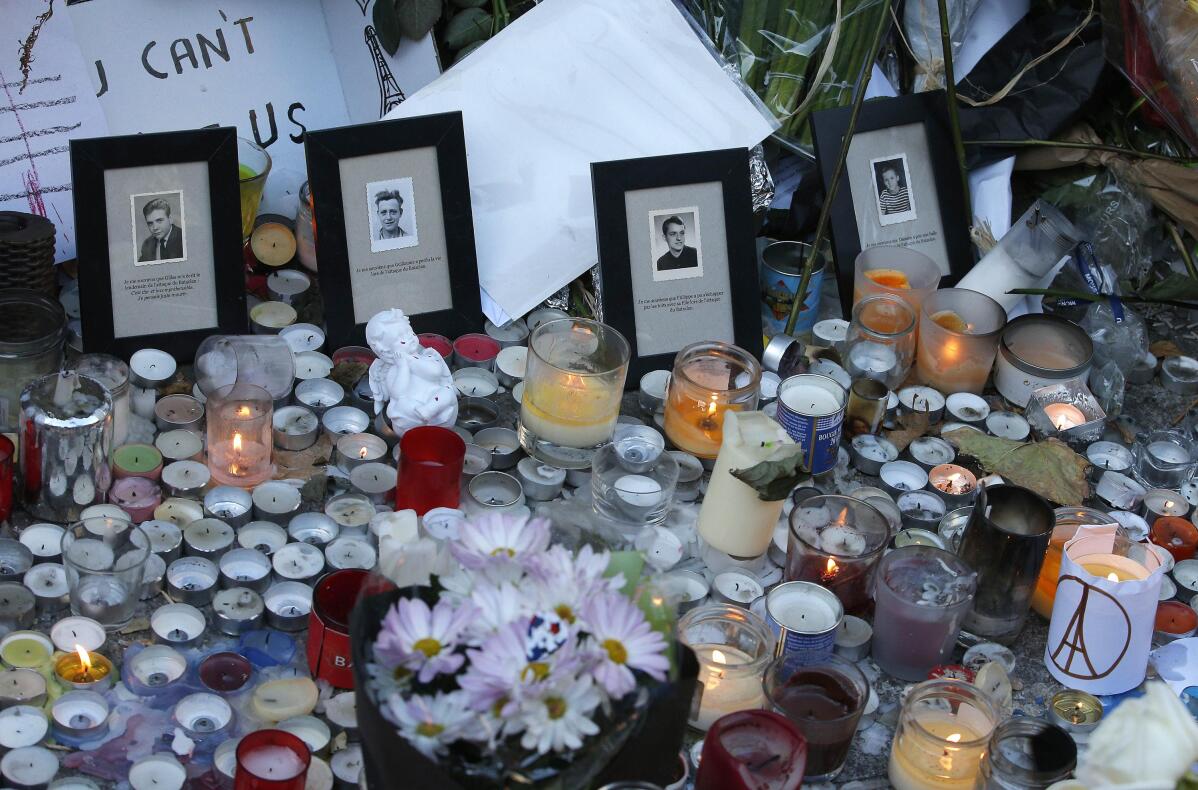 2 of 5

|
Pictures of victims are placed behind candles outside the Bataclan concert hall in Paris, Sunday, Nov. 15, 2015. Thousands of French troops deployed around Paris on Sunday and tourist sites stood shuttered in one of the most visited cities on Earth while investigators questioned the relatives of a suspected suicide bomber involved in the country's deadliest violence since World War II.(AP Photo/Christoph Ena)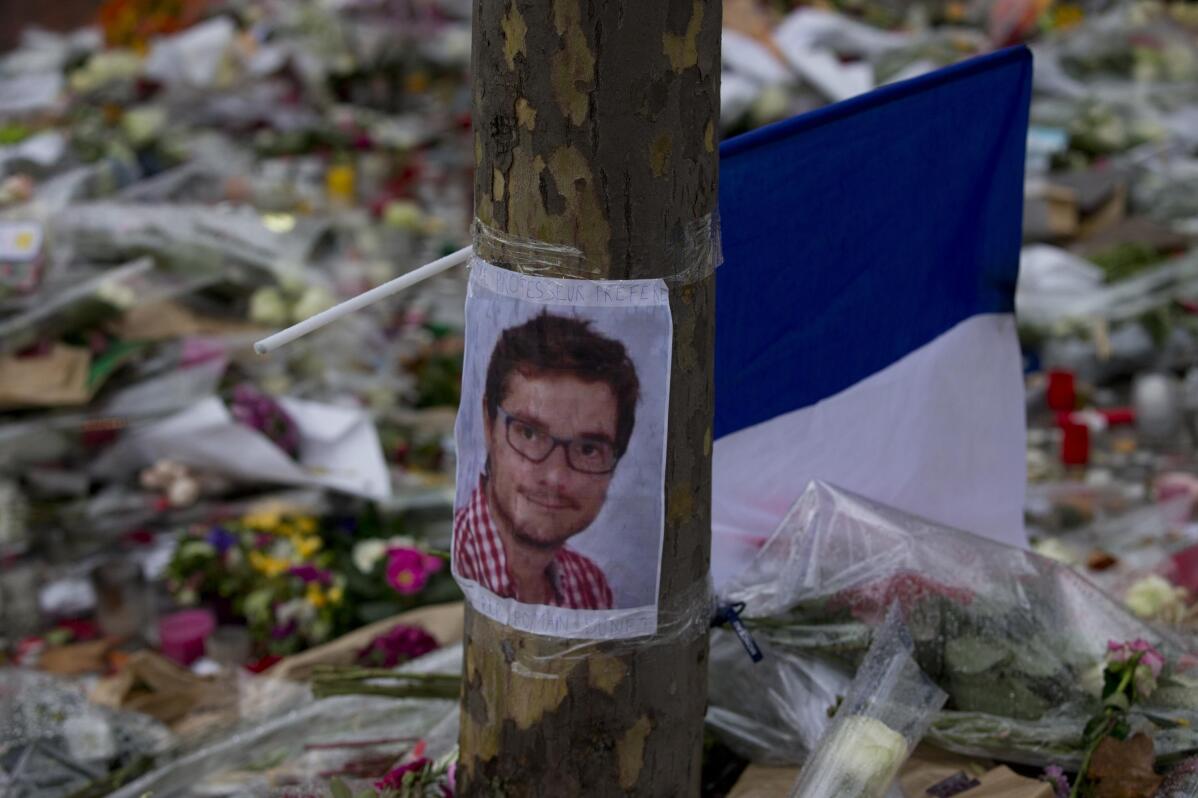 3 of 5

|
A picture of a victim of the attack on Bataclan concert hall reads "our teacher" and "r.i.p Romain Dunet" on makeshift memorial outside the Bataclan, the site of one of the six coordinates attacks which claimed the most victims in Paris, Tuesday, Nov. 17, 2015. France is demanding security aid and assistance from the European Union in the wake of the Paris attacks and has triggered a never-before-used article in the EU's treaties to secure it. (AP Photo/Peter Dejong)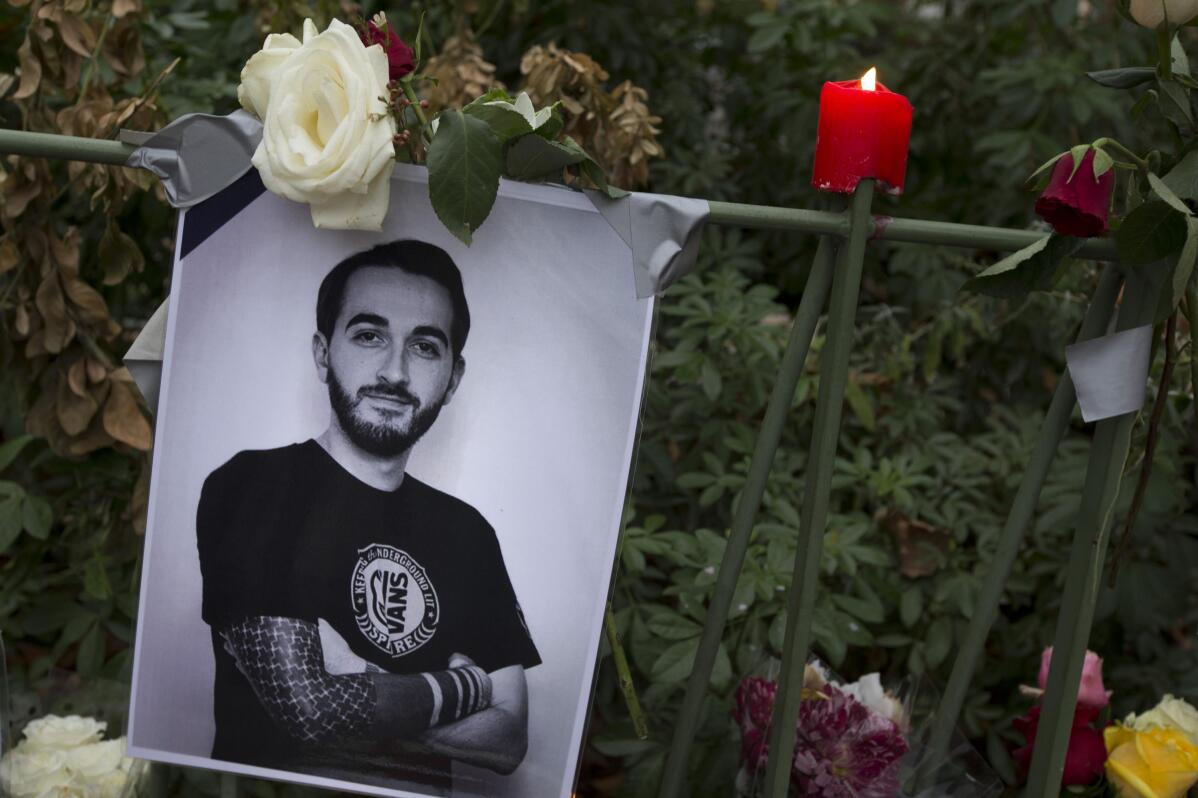 4 of 5

|
Pictures of victims are put on makeshift memorials outside the Bataclan concert hall, the site of one of the six coordinated attacks which claimed the most victims in Paris, Tuesday, Nov. 17, 2015. France is demanding security aid and assistance from the European Union in the wake of the Paris attacks and has triggered a never-before-used article in the EU's treaties to secure it. (AP Photo/Peter Dejong)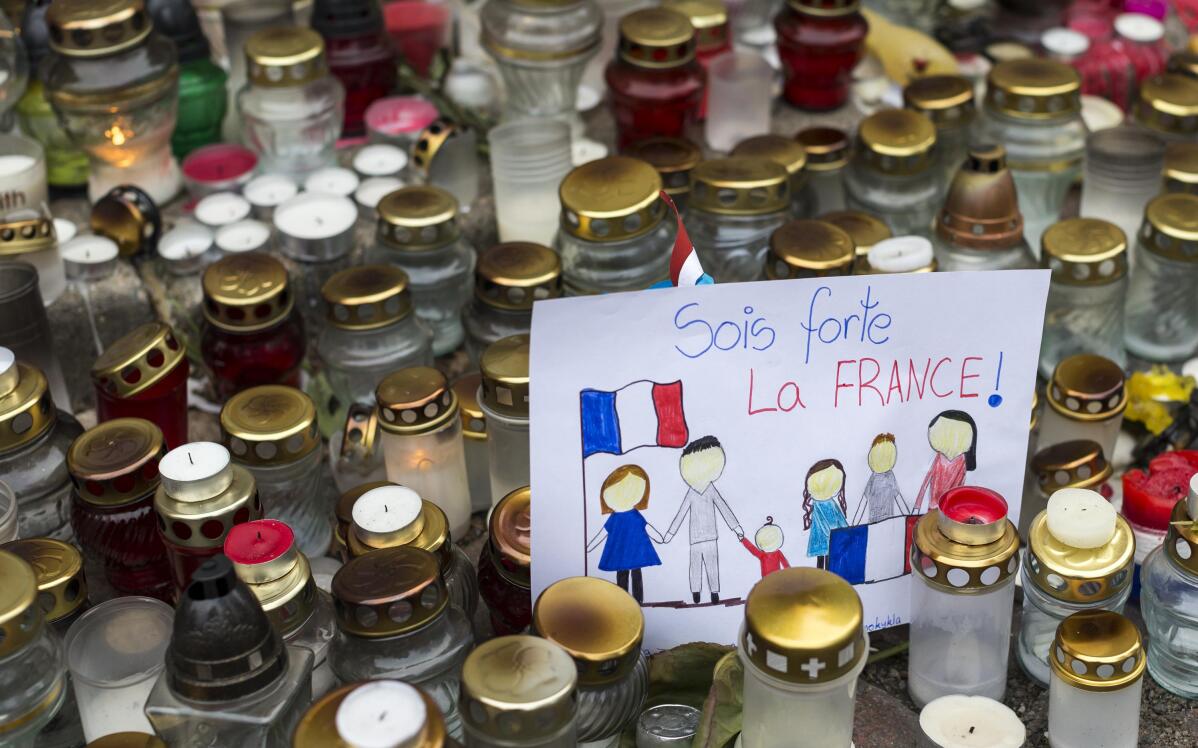 5 of 5

|
Candles and children's drawings are placed outside the French embassy in Vilnius, Lithuania, Monday, Nov. 16, 2015, for the victims killed in Friday's terror attacks in Paris. (AP Photo/Mindaugas Kulbis)
Stories of those who died in the Paris attacks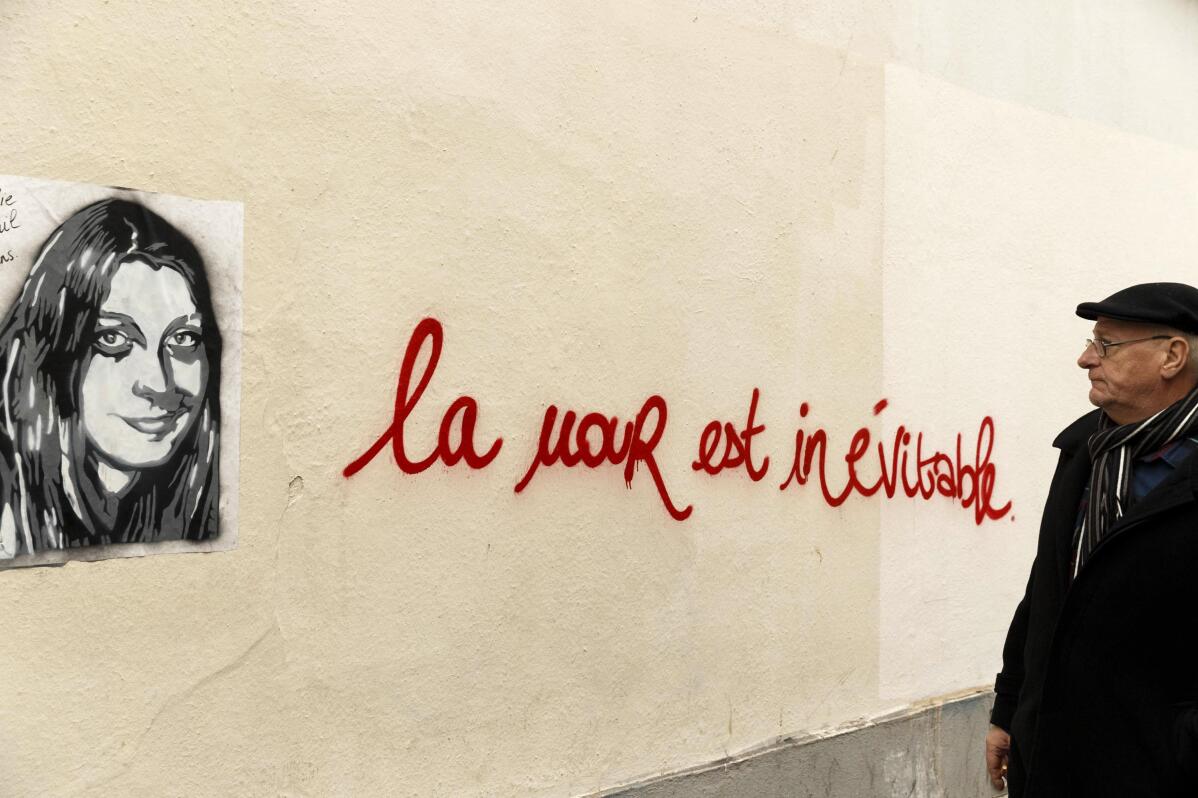 1 of 5

|
A man watches a graffiti showing attacks victim Elodie Breuil, in Paris, Tuesday, Nov. 17, 2015 . Breuil died in the shooting at the Bataclan concert hall last Friday. Writing reads, playing with words: Love is inevitable. (AP Photo/Daniel Ochoa de Olza)
1 of 5
A man watches a graffiti showing attacks victim Elodie Breuil, in Paris, Tuesday, Nov. 17, 2015 . Breuil died in the shooting at the Bataclan concert hall last Friday. Writing reads, playing with words: Love is inevitable. (AP Photo/Daniel Ochoa de Olza)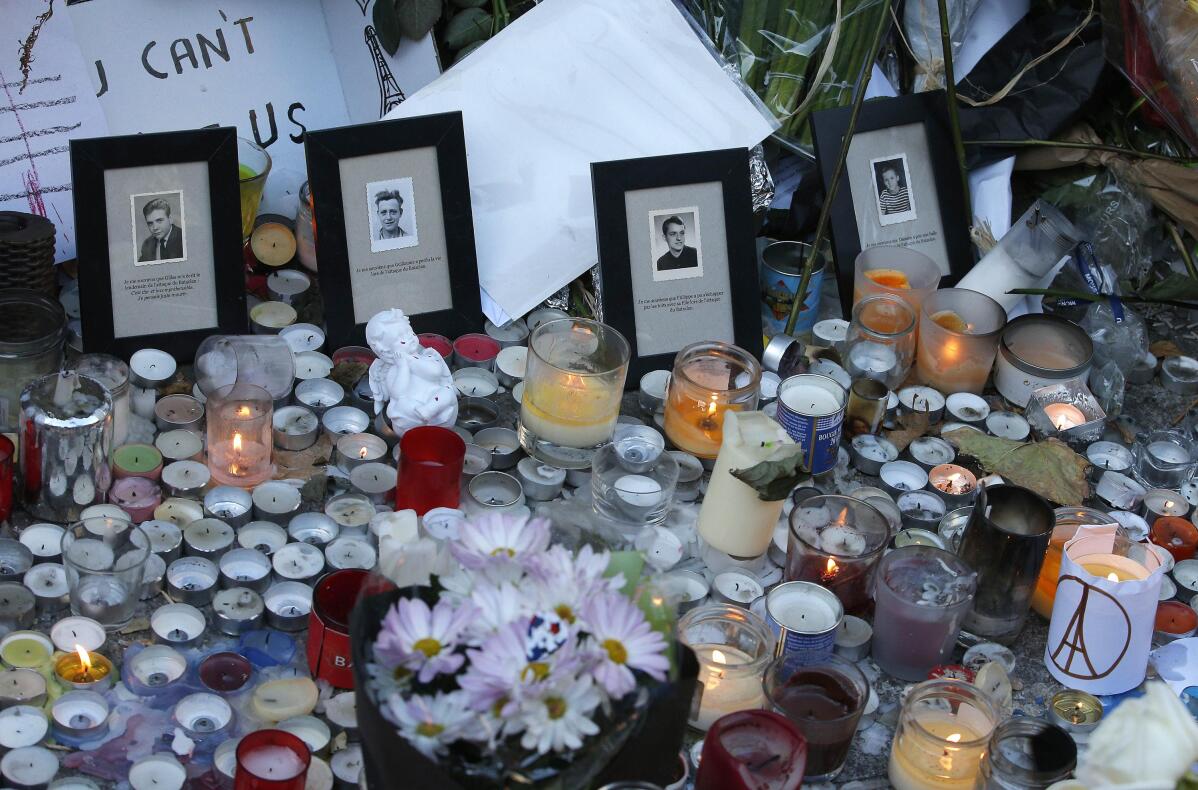 2 of 5

|
Pictures of victims are placed behind candles outside the Bataclan concert hall in Paris, Sunday, Nov. 15, 2015. Thousands of French troops deployed around Paris on Sunday and tourist sites stood shuttered in one of the most visited cities on Earth while investigators questioned the relatives of a suspected suicide bomber involved in the country's deadliest violence since World War II.(AP Photo/Christoph Ena)
2 of 5
Pictures of victims are placed behind candles outside the Bataclan concert hall in Paris, Sunday, Nov. 15, 2015. Thousands of French troops deployed around Paris on Sunday and tourist sites stood shuttered in one of the most visited cities on Earth while investigators questioned the relatives of a suspected suicide bomber involved in the country's deadliest violence since World War II.(AP Photo/Christoph Ena)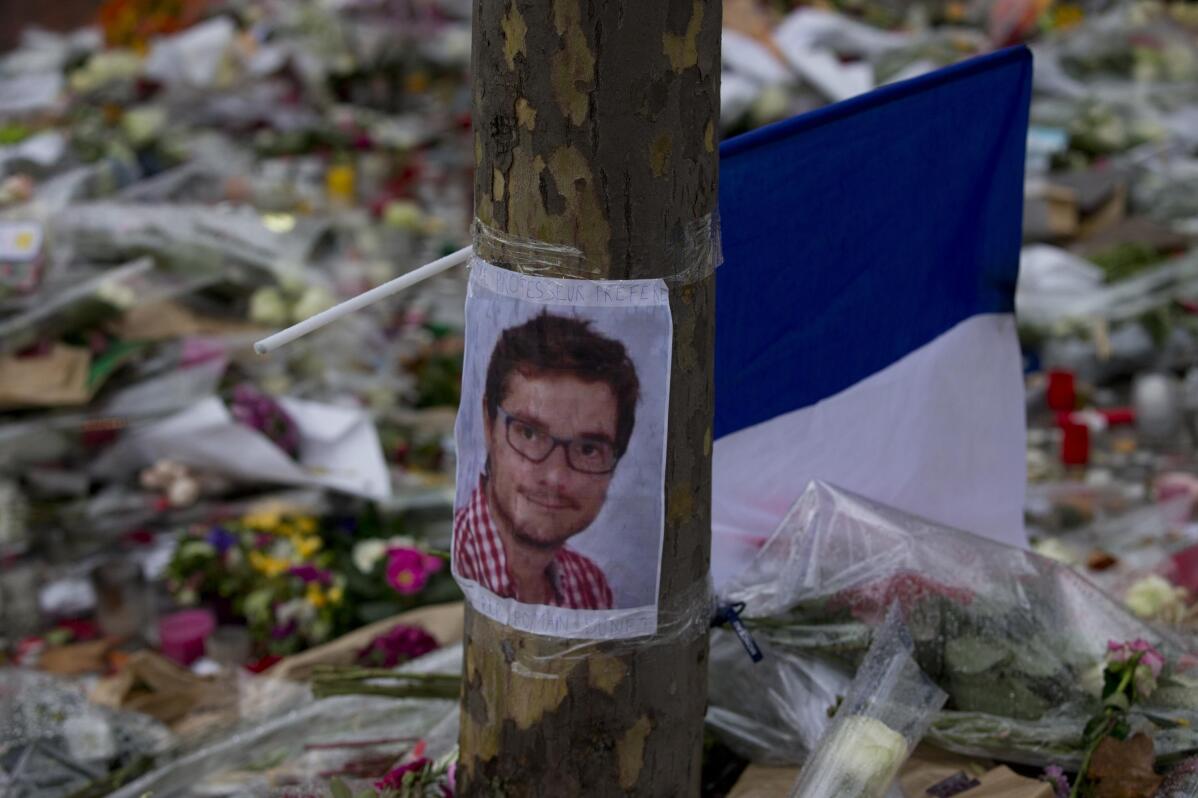 3 of 5

|
A picture of a victim of the attack on Bataclan concert hall reads "our teacher" and "r.i.p Romain Dunet" on makeshift memorial outside the Bataclan, the site of one of the six coordinates attacks which claimed the most victims in Paris, Tuesday, Nov. 17, 2015. France is demanding security aid and assistance from the European Union in the wake of the Paris attacks and has triggered a never-before-used article in the EU's treaties to secure it. (AP Photo/Peter Dejong)
3 of 5
A picture of a victim of the attack on Bataclan concert hall reads "our teacher" and "r.i.p Romain Dunet" on makeshift memorial outside the Bataclan, the site of one of the six coordinates attacks which claimed the most victims in Paris, Tuesday, Nov. 17, 2015. France is demanding security aid and assistance from the European Union in the wake of the Paris attacks and has triggered a never-before-used article in the EU's treaties to secure it. (AP Photo/Peter Dejong)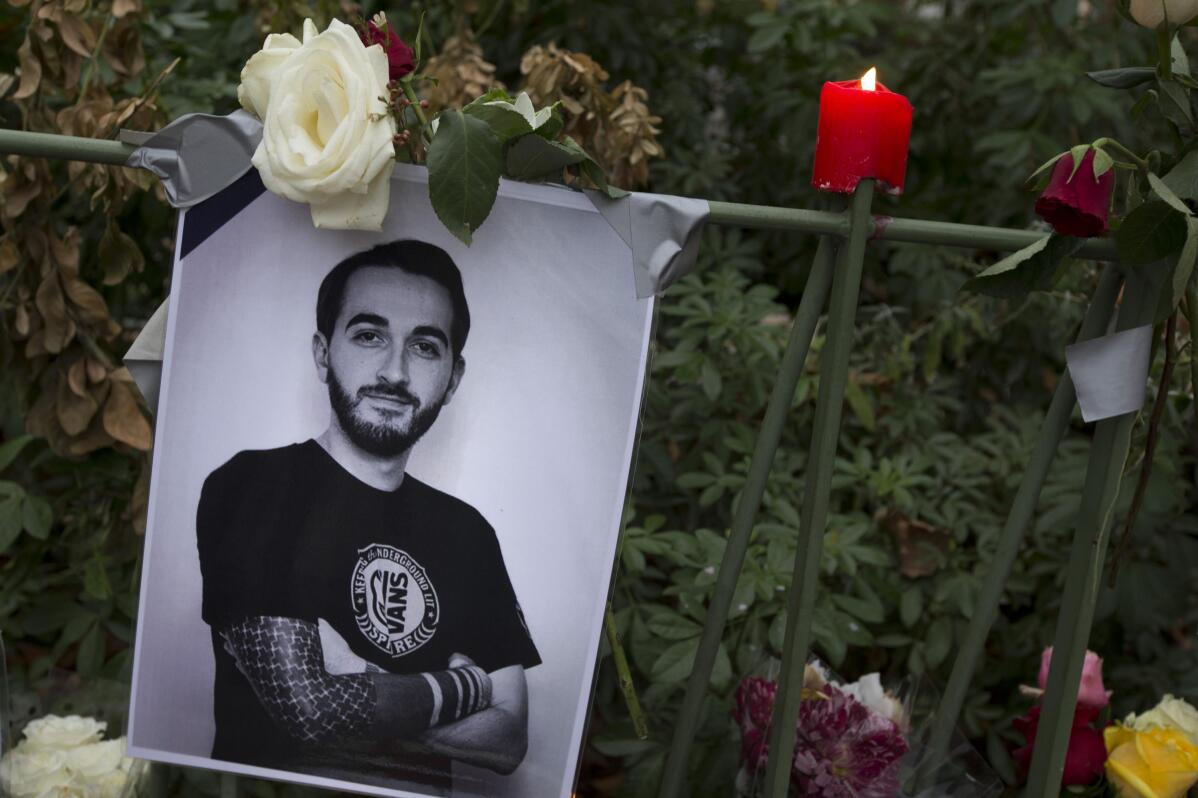 4 of 5

|
Pictures of victims are put on makeshift memorials outside the Bataclan concert hall, the site of one of the six coordinated attacks which claimed the most victims in Paris, Tuesday, Nov. 17, 2015. France is demanding security aid and assistance from the European Union in the wake of the Paris attacks and has triggered a never-before-used article in the EU's treaties to secure it. (AP Photo/Peter Dejong)
4 of 5
Pictures of victims are put on makeshift memorials outside the Bataclan concert hall, the site of one of the six coordinated attacks which claimed the most victims in Paris, Tuesday, Nov. 17, 2015. France is demanding security aid and assistance from the European Union in the wake of the Paris attacks and has triggered a never-before-used article in the EU's treaties to secure it. (AP Photo/Peter Dejong)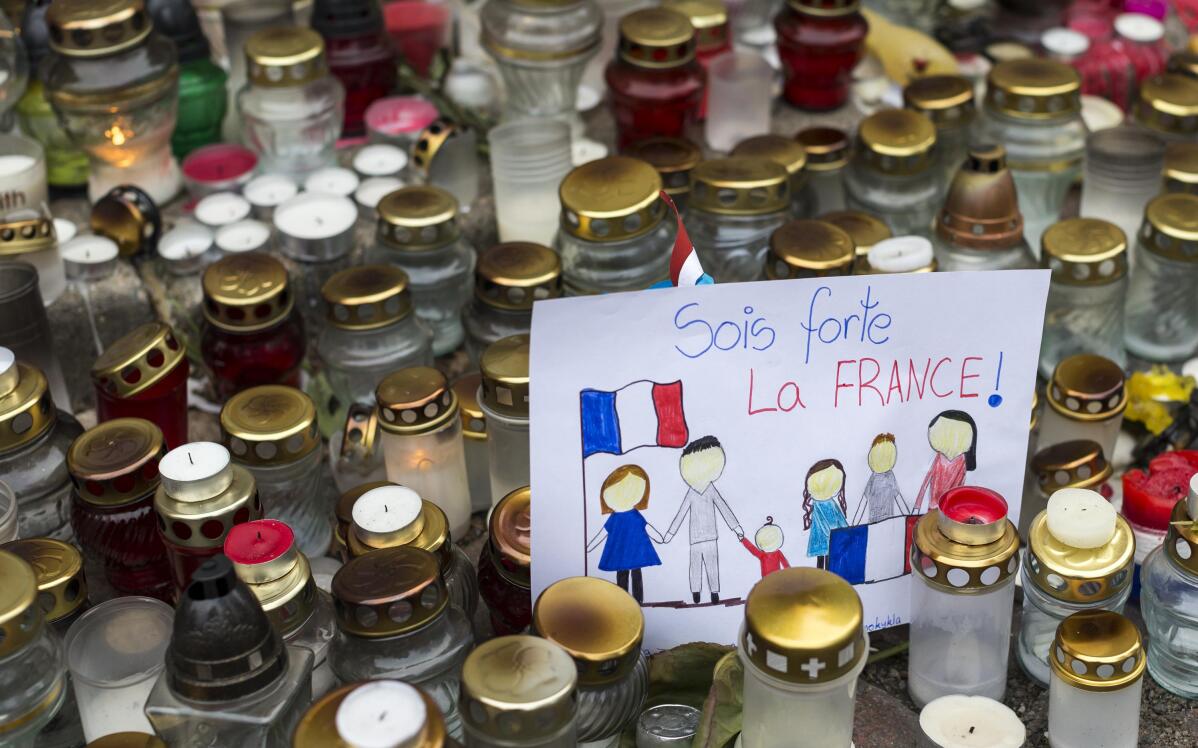 5 of 5

|
Candles and children's drawings are placed outside the French embassy in Vilnius, Lithuania, Monday, Nov. 16, 2015, for the victims killed in Friday's terror attacks in Paris. (AP Photo/Mindaugas Kulbis)
5 of 5
Candles and children's drawings are placed outside the French embassy in Vilnius, Lithuania, Monday, Nov. 16, 2015, for the victims killed in Friday's terror attacks in Paris. (AP Photo/Mindaugas Kulbis)
They were students and artists, music lovers and parents. The victims of last week's attacks in Paris had varied backgrounds and interests. Among the 130 killed in the attacks, here are some of their stories:
___
Armelle Pumir Anticevic and her husband Joseph had cause to celebrate. He runs romantic boat cruises on the Seine River, and he had just landed an important contract. So the Paris couple of 25 years decided to have a little romantic fun of their own at the rock concert at Bataclan hall, where she died in the terrorist attack. He survived.
She was the 46-year-old mother of two children, ages 9 and 11. In an Associated Press interview, her husband, Joseph Anticevic, recounted the events of that night with horror, anguish and regret. He said he and his wife were listening to the show when they heard popping noises that sounded like fireworks. At first, they took it for part of the show but then realized something was wrong. They saw three attackers spraying gunfire into the crowd from automatic weapons.
Anticevic remembered them yelling that "it was for their brothers in Syria and Iraq."
At first, the couple dropped to the ground. Then, the terrorists went up a stairway, and the couple saw their chance to run for the exit. Stepping over bodies, they neared the main exit, but his wife crumbled into his arms, shot from behind. He gathered her up as best he could and kept pushing for the door. Two police officers appeared, exchanging gunfire with the terrorists. The officers wanted to lead him out, but he couldn't manage with the lifeless weight of his wife. "I abandoned her, left her on the floor," he said, speaking French.
But once outside, he told the police desperately, "My wife is still inside!" He tried to follow the two officers back into the theater, but they were repelled by more gunfire from the terrorists. In the interview several days after the ordeal, he voiced no regret about what he felt he had to do. "Those police officers got me out. They saved my life."
Outside the theater, his thoughts turned to his children. He phoned, and his son picked up. He had been watching television and knew of an attack already. The father recalled the boy saying: "Daddy, I'm glad at least one of you is still alive."
Since then, his wife has been remembered and memorialized for her smile and vivacity. She began working for the firm Logic Design in the Paris suburb of Boulogne almost 10 years ago. The firm remembered their production manager as strong and full of life. The statement on their website ended defiantly, saying, "We will keep living, working, and we won't give in to adversity."
The family had long kept a vacation home in the mountains of southern France. A friend from there was quoted on the news website of L'Independent as saying: "Armelle was quite down-to-earth and loved life."
Anticevich remembered her as joyful, tolerant, feminist — with little interest in politics. "She always saw the good in people, not the bad," he said. "She was the most beautiful gift of my life."
Toward the terrorists, he expressed only pity: "They aren't human."
___
---Marion Jouanneau, 24, was attending a rock concert at the Bataclan with her boyfriend, Loic, when the concert hall was stormed by armed attackers. By Saturday, Marion's family was desperate for news of her whereabouts.
"My niece and goddaughter was at the Bataclan last night ... we are without word of her and are unable to get any word as of yet. This wait is unbearable. If you have the least information, please contact me," her uncle, Frédéric Potier, posted on social media network sites.
Her boyfriend Loic, under the Twitter handle Zislauk, indicated on the Monday after the attack that Marion's loved ones still held out hope that she would be found alive.
"The list of victims hasn't been updated since yesterday at noon. I hope it will be updated during the day and I still hope to see Marion alive." But that hope was extinguished within the hour, when he tweeted: "Marion is dead."
The next day, again by Twitter, he told the world: "Today with her sister and our families, we saw the body of Marion. This is a trial that I wouldn't wish on anyone."
A death notice in L'echo republicain newspaper said her funeral will be held on Nov. 25 at the cathedral in her hometown of Chartres.
On a website that linked to the death notice, mourners were invited to leave messages of condolence.
"Rest in peace beautiful angel," one person wrote.
___
---By profession, Pierre-Antoine Henry was an engineer for a company that designed systems for military use.
But the father of two was also a dedicated rock fan who had traveled far and wide to see his favorite band, Pearl Jam, said childhood friend Julien Noel. Henry, 36, had followed his yen for music to the Eagles of Death Metal show at the Bataclan, where he was killed.
The kind of person who always came through for friends and family, Henry was "never angry, never sad, never nervous — pretty much happy all the time and smiling and nice to people. Someone that you would trust for pretty much anything," Noel told The Associated Press.
Henry and his girlfriend and partner of 14 years were raising their daughters, 2 and 5, outside Paris in Versailles. He had earned a degree in 2002 from Paris' L'Ecole de L'Innovation Technologique, the engineering and technology school said on its website.
Among his friends, "he was known as the nicest guy on Earth," Noel said, "which I believe is true."
___
---Jean-Jacques Amiot, 68, was a photographer who took his retirement seriously by following his artistic passions. He worked at a silk-screen shop in Paris with his wife. He also loved rock music and going out. He was at the Bataclan when gunmen attacked.
After news of the attacks erupted, Patrick Amiot had a terrible premonition about his brother Jean-Jacques. A phone call from their 90-year-old mother confirmed the terrible news.
"When my mother called, the words failed to come out of her mouth," Patrick told the Telegramme. "My parents are in their 90s. They had five children ... Can you imagine?"
"The world of music, culture, Bataclan, this world was his world," Patrick said of his late brother, who hung photos of Jimi Hendrix on the walls of his workshop.
Patrick's daughter, Caroline Amiot, said the family continued to reel from shock.
"Words cannot describe the horror into which my family has been plunged," Caroline told Ouest-France newspaper. "My uncle was brutally killed. In a few months, many will have forgotten the events. My family will have them forever."
Jean-Jacques Amiot had two daughters and a number of grandchildren.
___
---Nicolas Catinat is a hero in Domont, a town north of Paris. The 37-year-old carpenter was enjoying a rock concert with his friends when a hail of gunfire erupted.
The deputy mayor of the town said that when Catinat, a carpenter, saw carnage unfolding in front of him, he positioned himself in front of his friends to protect them. He was killed.
"Brave," wrote Deputy Mayor Jerome Chartier on his Facebook page, in a tribute to Catinat.
To remember him and his heroic deeds, the town of Domont will name a park at city hall in Catinat's name, according to Le Parisien newspaper.
___
---When Frederic Henninot's colleagues at the Banque de France gathered for a moment of silence in his honor, it was the second time in a year that France's central bank was mourning the loss of one of its own in a terror attack. A member of its General Council, economist and journalist Bernard Maris, was killed in January's assault on the satirical weekly Charlie Hebdo.
"Once again, terrorism has plunged France and our institution into mourning," the bank's union, CGT Banque de France, said on its website in a statement on Henninot's death.
Henninot, 45, worked at the bank's branch in Cergy, in the Paris suburbs. He was killed during the terrorist attack on the Bataclan concert hall, where his girlfriend and two of his co-workers were wounded, the union said via its website and Facebook page.
Henninot had two children, according to the newspaper Le Parisien.
___
---Thibault Rousse Lacordaire, 37, was an investment banker with a big heart. By day, he worked for an equity management company in Paris. In his off hours, he volunteered for a city food pantry and soup kitchen. He died in the terrorist attack on the Bataclan concert hall.
His educational resume was long, beginning with Catholic school in a Paris suburb. He studied economics and management at the University Paris Dauphine and earned an advanced degree in finances at Paris University Val-de-Marne. During the work day, Lacordaire was a financial controller at Colony Capital in Paris, working on deals and answering questions for investors, according to his LinkedIn profile. But in his spare time, he volunteered for a local soup kitchen, serving food to the needy, sitting with them at family-style tables with simple settings, and engaging in animated conversation. On a video on the soup kitchen's website, he says he once went on vacation with several people he met there.
___
---Anne-Laure Arruebo and Cecile Coudon Peccadeau de L'isle weren't just colleagues. They were the closest of friends.
That friendship, and the inviting ambiance of an unseasonably mild evening, brought them to the outdoor terrace of a bar on the Rue de Charonne for a drink.
Like so many Parisians on that frightful Friday the 13th, they died together — unable to escape the hail of terrorist bullets that swept the sidewalk.
Arruebo, 36, and Peccadeau de L'Isle, 37, both worked as customs inspectors in the same office.
The French news website La Depeche quoted an unidentified acquaintance of the Arruebo family as saying: "Anne-Laure was a happy girl who loved life and threw herself into her work. Her family is devastated."
On Friday, a week after the attacks, France's customs workers union posted a tribute to both women on its website.
"We miss them already," it said.
___
---Julien Galisson was a world traveler who worked odd jobs, saved his money and then took off for various parts of the world, according to the French newspaper Presse Océan.
Galisson, 32, from Nantes, was also passionate about music, played the saxophone, and went to many concerts, including that of the Eagles of Death Metal, the U.S. band that was playing Friday night at the Bataclan concert hall when it was attacked by terrorists. Galisson was with a friend, who survived.
Friends called Galisson "the man in the hat" because he loved to wear a colorful hat he had received as a gift during a stay in Thailand.
___
---Growing up, Guillaume Le Dramp had a nickname among his friends: "Miguel Leplamardu," an anagram of his real name. A bit of wordplay that captured his personality: a joker, a fun-lover, a charmer who could fit in anywhere.
"He could make any situation fun, and funny," childhood friend Nicolas Cochard told The Associated Press. "He truly represented a certain French art of living, of taking the time to look at people, to listen to them, to laugh with them."
He saw Le Dramp as "the image of youth with a positive outlook, one that knows the difficulties of the world in which it lives but tells itself that we have to be optimistic and keep smiling."
Le Dramp, 33, was killed at the La Belle Equipe bar, where he and other restaurant workers from the area were celebrating a friend's birthday, colleagues told The New York Times. He had taken the night off from work at another eatery, Chez Janou.
A consummate joker with a sensible side, Le Dramp was trying to become a teacher, said Cochard, who penned a farewell essay with friends Thomas Lepresle and Guillaume Lecerf on the Huffington Post's French site.
Having lived for several years in the Italian city of Parma, Le Dramp also had studied for a master's degree in Italian at the Sorbonne Nouvelle, according to a tribute on the university Italian Department's website recalling his "great intellectual vivacity and wonderful, joyous vitality."
In his hometown of Cherbourg, on the English Channel, his family honored his spirit of inclusiveness by visiting a local mosque after his death, half-sister Anaïs Nicollet told The New York Times.
"It's what he would have wanted," she told the newspaper. "Guillaume was all about being open-minded, enjoying life, bringing people together. He was all about love."
___
---Richard Rammant, 53, deeply loved rock music, motorcycles and his wife. He died at her side as he tried to protect her during the attack at the Bataclan concert hall.
The president of the Cahors Blues Festival, where Rammant was a volunteer for many years, told The Associated Press that Rammant died while shielding his wife, Marie Do, who survived.
"They lay down on the floor and he lay on top of her," Robert Mauriès said. "At one point, Richard moved and the terrorist saw him and shot him. She survived, because she played dead."
Mauriès said Rammant's wife, who was shot in the legs, recounted lying under her husband's body. The ordeal took three hours. Mauriès said she underwent a successful surgery this week and remains at the hospital.
Mauriès said Rammant took a week of vacation every year to volunteer at the festival, where he was in charge of sound and lighting.
"He was an extraordinary human being, gentle, helpful, always in a good mood. He was a good man," Mauriès said.
The couple lived in Cergy-Pontoise, a Paris suburb. Rammant looked the part of a Harley Davidson enthusiast with his thick beard, bald head and earring. Mauriès said Rammant was a member of Showtime Riders, a Harley Davidson club.
"Our brother Richard ... He protected his wife, and he paid with his life. We have a knee on the ground," the Showtime Riders posted on its website.
Rammant leaves behind two children.
___
---It was supposed to be a night of champagne and celebration.
Thierry Hardouin booked one of the best tables at La Belle Equipe. It was his girlfriend's birthday, and he wanted everything to be perfect.
Instead, the lovers were gunned down in the adjacent Rue de Charonne when the terror cell struck the Paris restaurant.
Hardouin, 41, was a 15-year veteran police officer in Bobigny, just outside the French capital. His fellow cops bitterly bemoaned his death.
"We knew each other since the police academy," Officer Jean-Luc Dubo told the newspaper Le Parisien. "He was a colleague and a very good friend. We'll always treasure the picture of someone who loved life — a joyful man, helpful, and so professional. He brought good humor to the police force."
Arnaud Leduc, a ranking police official in Bobigny, said Hardouin was highly respected.
His nickname was "Titi," and friends said he loved guitars, cigars and traveling. They were raising money to help defray the cost of his funeral and to underwrite part of the costs of educating his three children.
"Money won't bring back our friend, Thierry, who we'll miss forever. But it's a way to lend a hand to his family," organizer Romain Jumelet told French television.
___
---Franck Pitiot was a bit of a Renaissance man. He worked as an engineer who oversaw construction projects. He was an enthusiast of roller blading and juggling, motorbiking and running.
And he enjoyed music, listening to the Eagles of Death Metal when terrorists attacked the Bataclan concert hall.
He died at age 33, an employee of MCCF, a branch of the VINCI construction group. He had earned his civil engineering degree at Ecole Centrale Paris, according to his LinkedIn profile.
He finished university studies in 2006 at ESSTIN in Nancy in northeastern France. The school remembered him on Twitter, saying : "L'ESSTIN-Nancy is in mourning."
The last item on a list of interests on his LinkedIn profile: humanitarianism.
___
---Antoine Mary grew up in the town of Caen in northwestern France, but was drawn to Paris, where the 34-year-old had worked for the past two years as an IT developer for Milky, an advertising agency in the French capital.
Mary had just resigned to pursue a freelance career and had launched a website to drum up business. He was in the crowd at the Bataclan theater, celebrating with a close friend, Germain Ferey, 36.
They died there together.
His former employer tweeted: "Today we mourn one of our own. Your free spirit, your lovely sense of humor — Antoine, we'll never forget you. RIP."
On social media, Mary shared his passion for music, especially rock and techno. Many in his hometown said they were grief-stricken. "So much sorrow for this magnificent young man," said Anne-Marie Lechat, of Caen.
___
---Hyacinthe Koma had second thoughts about going to a friend's birthday party at the La Belle Equipe bar. There was a woman he wanted to get together with elsewhere, but friends persuaded him to join the festivities.
"He went. And a few hours later, he was dead," a friend, Greg Lima, told Britain's The Daily Mail newspaper.
Originally from Burkina Faso, Koma had grown up in the Paris suburbs. He was living in the city and working as a waiter at Les Chics Types, a restaurant under the same ownership as La Belle Equipe. Just two days before his death, he had updated his Facebook profile photo to a picture of himself in a dinner jacket and bow tie, holding a culinary torch.
Koma was an avid follower of soccer's Paris-St. Germain team, known as PSG, and particularly of star player Zlatan Ibrahimovic, according to fan site CulturePSG, which encouraged enthusiasts to contribute to a fund for his funeral.
"Hyacinthe was like all of us: a lover of life and of PSG," it said.
___
---Victor Munoz packed a lot into his 25 years.
He was just 13 years old when he created his first website, which was dedicated to his passion for poetry.
Born in Barcelona, he was conversant in several languages; earned a master's degree in digital business from the Paris School of Business; and spent a year studying and working in the Czech Republic.
He had just completed his studies and begun an internship at a startup, so a little celebrating was in order.
Munoz was enjoying a glass of wine with friends at the Paris restaurant and bar La Belle Equipe when he was gunned down.
In the hours before his fate became known, his mother, Dominique Kielemoes, sent out an anguished tweet: "No news about Victor Munoz, wounded at La Belle Equipe. Hospital unknown? Who can help me?"
Hours later, her worst fears were confirmed: Her youngest son was gone.
___
---Isabelle Merlin, 44, was fiercely devoted to her family — so they knew something was terribly wrong when she didn't respond to their texts and voice mails.
An engineer and project leader for Continental Automotive in Rambouillet, about an hour and a half's drive southwest of Paris, Merlin was single. Friends and relatives recalled her as full of life and fun.
"Hyper dynamic," one called her.
Music was her passion — she took a singing course in Paris — and it was what drew her to the Bataclan theater. Merlin had just bought an apartment in Paris' desirable Montparnasse neighborhood, and her family had gathered three weeks ago on Nov. 1, the All Saints Day holiday, to celebrate with her.
Merlin's music teacher, Morgan Dress, organized a rock concert in her memory at a pub in central Paris a week after the Nov. 13 attacks.
"She had such a sunny personality," he told the newspaper Le Parisien.
___
---David Perchirin began his professional life in journalism, but he made a career switch to pursue his true calling: education.
Perchirin, 41, taught at two schools in Seine-Saint-Denis, a half-hour's drive east of Paris. He was killed helping out with the concert at the Bataclan.
Rock music was one of his greatest passions, said his companion, Claire Peltier. So were a good whisky and cycling, she told the newspaper Ouest-France.
"He went everywhere on two wheels — even to work," Peltier said.
A friend, Samuel Hennequin, teased Perchirin for being a bit of a dandy: "David loved to be well-dressed. He had a passion for polos and Japanese jeans."
Perchirin, a father of two, would have celebrated his 42nd birthday on Dec. 8.
___
---Vincent Detoc, an architect who lived in suburban Paris with his wife and two young children, died at the Bataclan concert hall. It wasn't until the next day that the terrible news reached his family.
Monika, his wife, described the ordeal to Le Parisien newspaper of the family being summoned by authorities to a meeting.
"From that moment, I knew," she said. "I understood that we were not asked to come to get good news."
Monika waited as authorities brought relatives into a room one by one.
"Every two minutes, we heard people screaming," she said. "When it was our turn, we were brought around a large table. A magistrate told us, 'We inform you that Mr. Vincent Detoc succumbed to the terrorist attack.' Nothing else."
Vincent Jeanbrun, the mayor of Detoc's hometown of L'Hay-les-Roses, expressed his condolences on his Facebook page, remembering Vincent Detoc, who was "unjustly felled under the bullets of barbarism."
___
Associated Press writers who also contributed to this report: Cara Anna in New York; Kate Brumback in Atlanta; Suzan Fraser in Ankara, Turkey; Colleen Barry in Milan; Gosia Wozniacka in Portland, Oregon; Alison Mutler in Bucharest; Maria Verza in Mexico City; David Rising in Berlin; and Steven R. Hurst in Washington. Jeff Donn reported from Plymouth, Massachusetts, William J. Kole from Boston, Pamela Sampson from Atlanta and Jennifer Peltz from New York City.