Sex-related charge dropped against Missouri governor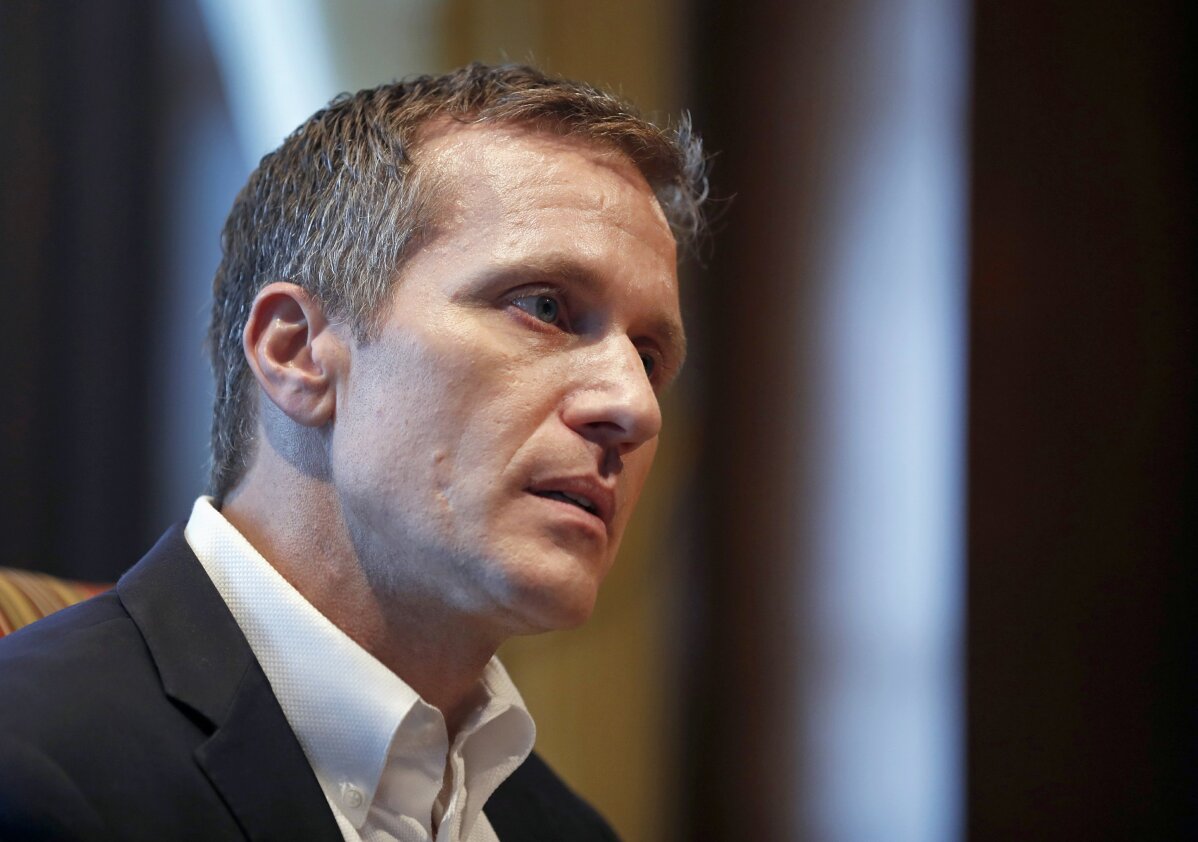 1 of 3

|
FILE - In this Jan. 20, 2018, file photo, Missouri Gov. Eric Greitens listens to a question during an interview in his office at the Capitol in Jefferson City, Mo., where discussed having an extramarital affair before taking office. Jury selection is taking longer than expected in the criminal trial of Greitens. Opening arguments had been expected to begin Monday, May 14. Instead, attorneys who began screening prospective jurors last week are to continuing doing so Monday. (AP Photo/Jeff Roberson, File)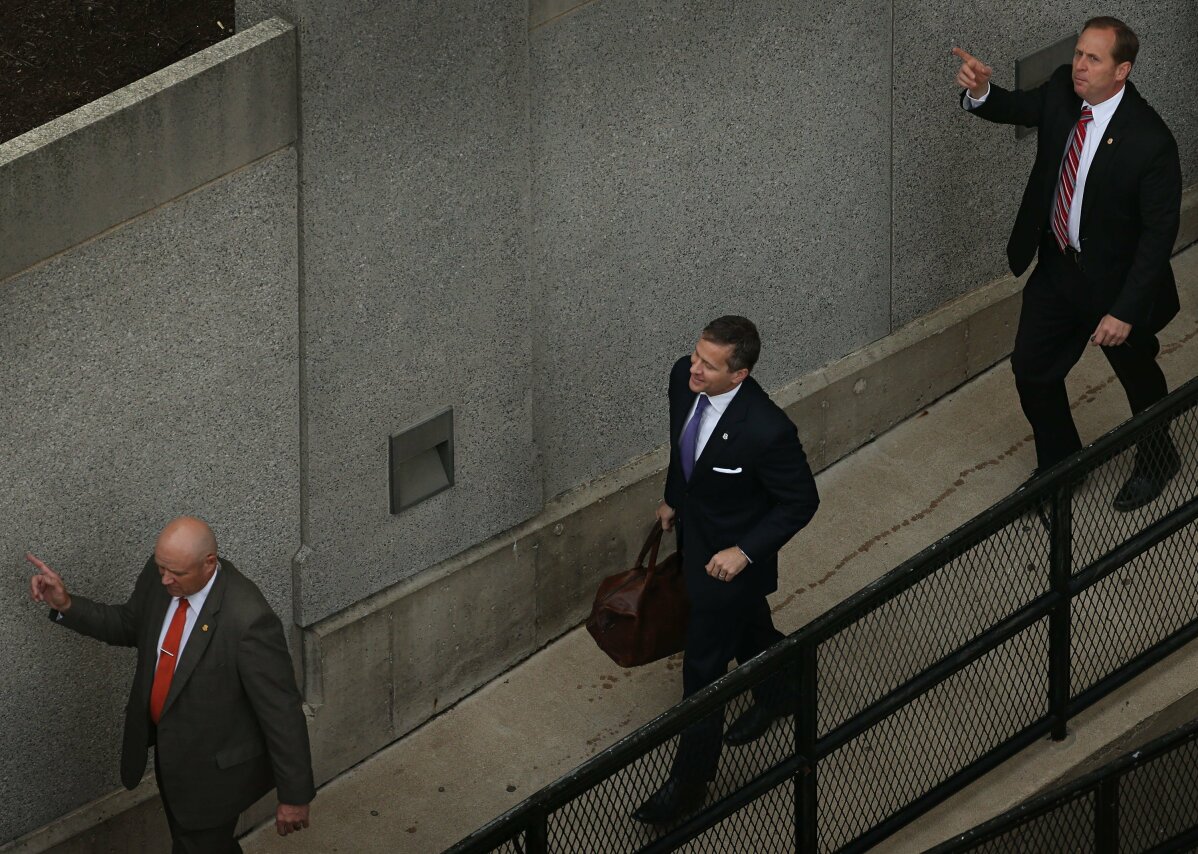 2 of 3

|
In this May 10, 2018, photo, flanked by security guards, Missouri Gov. Eric Greitens, center, arrives at court for jury selection in his felony invasion of privacy trial, in St. Louis. In spring 2015, Missouri Gov. Eric Greitens was launching a political career, a new book and an extramarital affair. That spring has now grown into a mountain of trouble. He goes to trial this week on an invasion-of-privacy charge stemming from the affair. He also faces a felony charge for using a charity donor list to raise money for his campaign. And a university is reviewing his use of grant funds for his book. (David Carson/St. Louis Post-Dispatch via AP)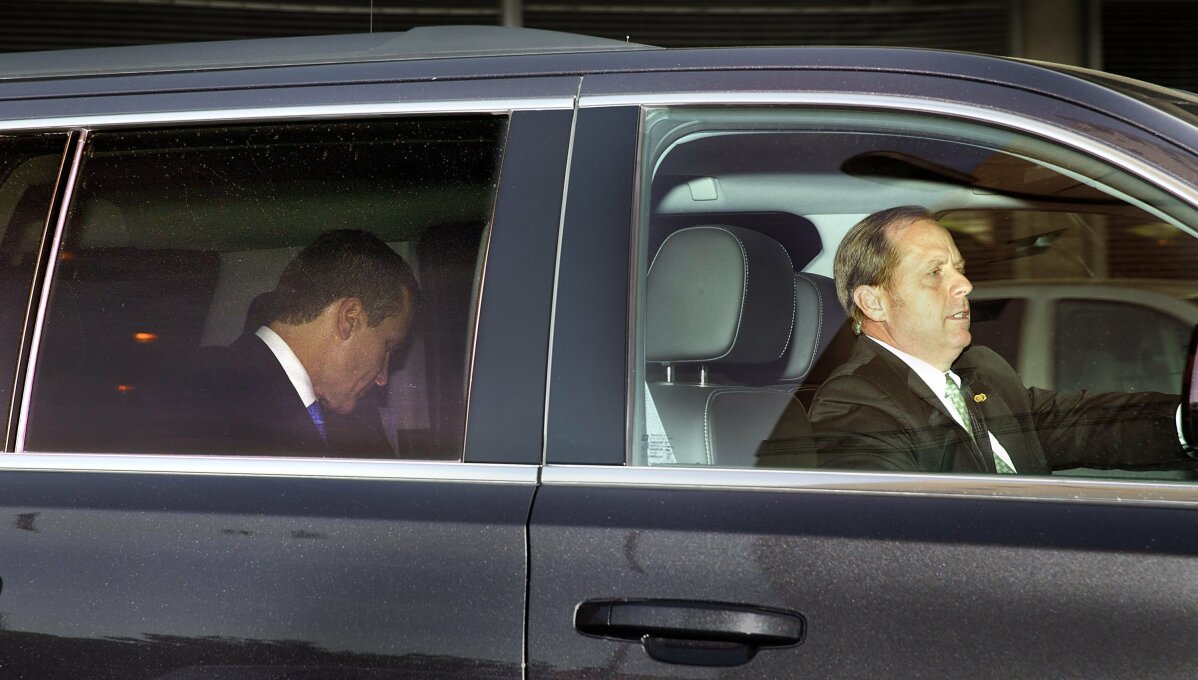 3 of 3

|
Missouri Gov. Eric Greitens arrives at the Civil Courts building on the second day of jury selection of his felony invasion of privacy trial on Friday, May 11, 2018, in St. Louis, Mo. (Robert Cohen/St. Louis Post-Dispatch via AP)
Sex-related charge dropped against Missouri governor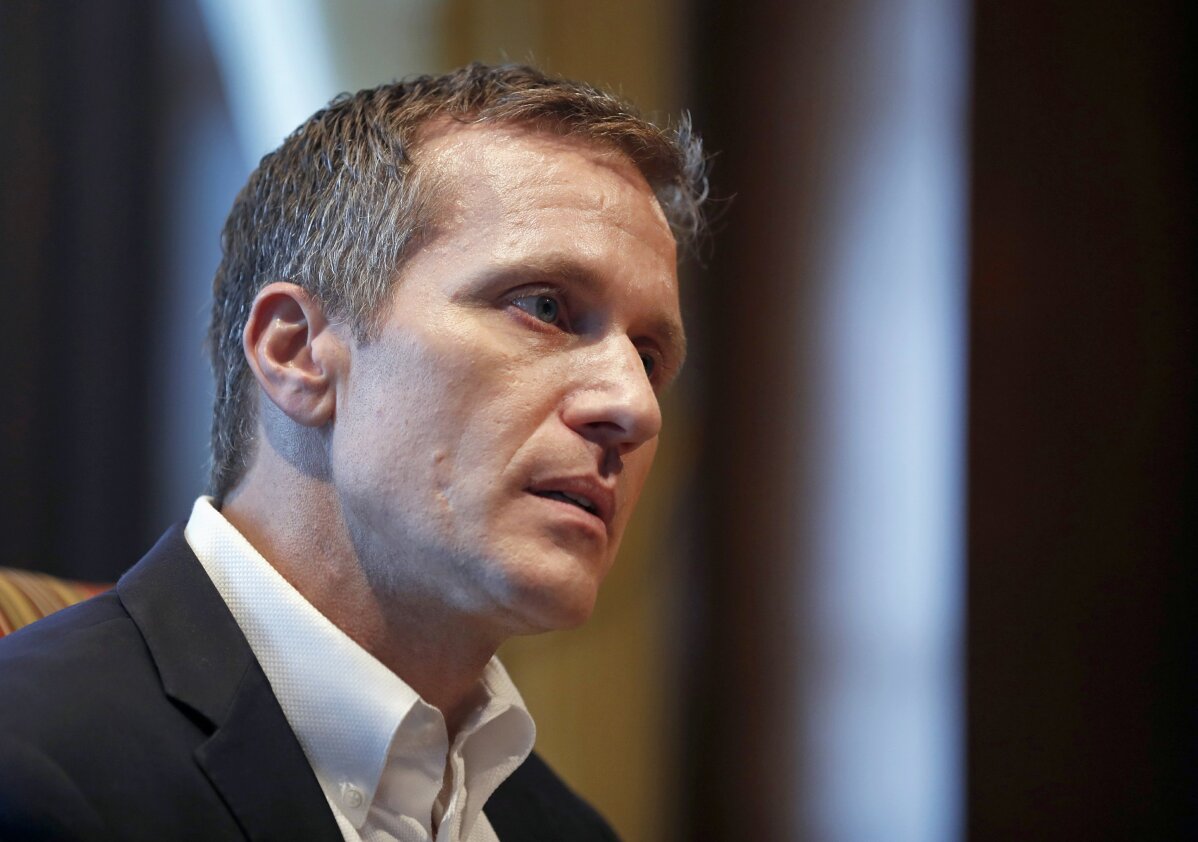 1 of 3

|
FILE - In this Jan. 20, 2018, file photo, Missouri Gov. Eric Greitens listens to a question during an interview in his office at the Capitol in Jefferson City, Mo., where discussed having an extramarital affair before taking office. Jury selection is taking longer than expected in the criminal trial of Greitens. Opening arguments had been expected to begin Monday, May 14. Instead, attorneys who began screening prospective jurors last week are to continuing doing so Monday. (AP Photo/Jeff Roberson, File)
1 of 3
FILE - In this Jan. 20, 2018, file photo, Missouri Gov. Eric Greitens listens to a question during an interview in his office at the Capitol in Jefferson City, Mo., where discussed having an extramarital affair before taking office. Jury selection is taking longer than expected in the criminal trial of Greitens. Opening arguments had been expected to begin Monday, May 14. Instead, attorneys who began screening prospective jurors last week are to continuing doing so Monday. (AP Photo/Jeff Roberson, File)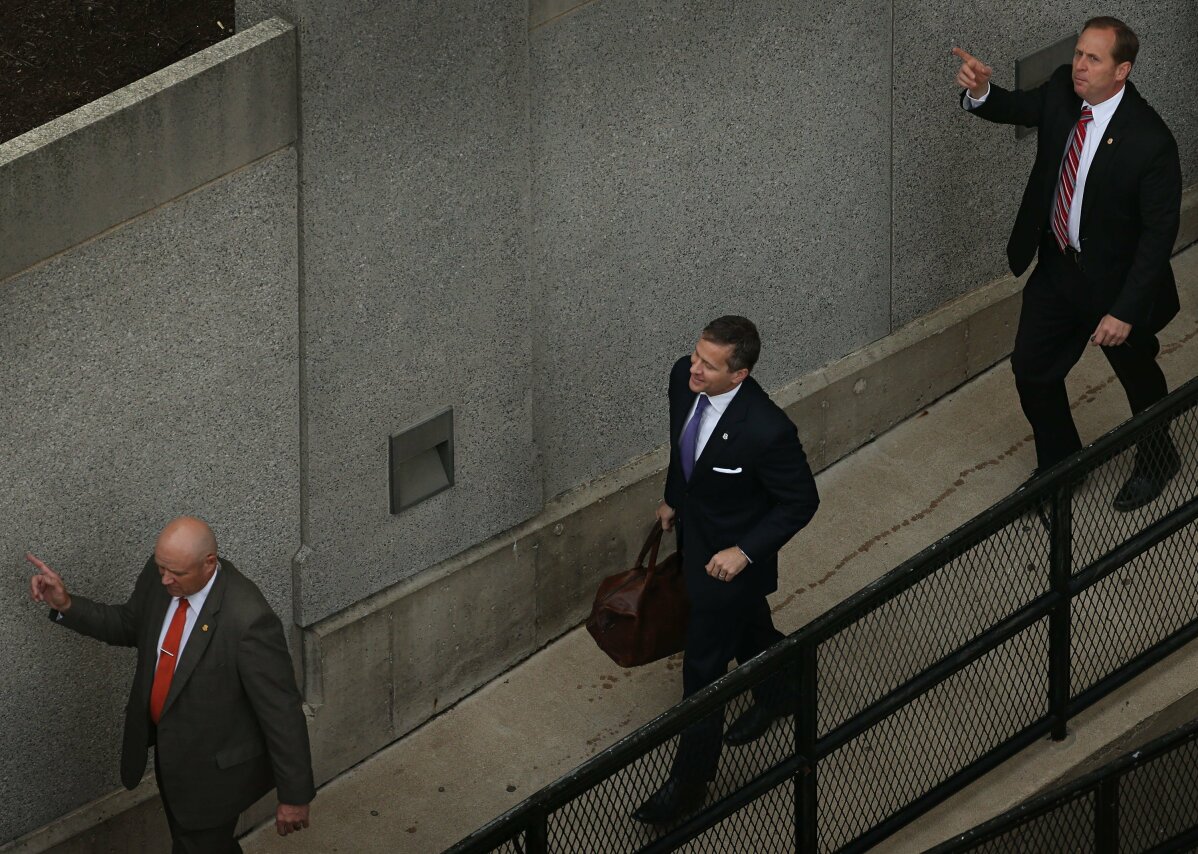 2 of 3

|
In this May 10, 2018, photo, flanked by security guards, Missouri Gov. Eric Greitens, center, arrives at court for jury selection in his felony invasion of privacy trial, in St. Louis. In spring 2015, Missouri Gov. Eric Greitens was launching a political career, a new book and an extramarital affair. That spring has now grown into a mountain of trouble. He goes to trial this week on an invasion-of-privacy charge stemming from the affair. He also faces a felony charge for using a charity donor list to raise money for his campaign. And a university is reviewing his use of grant funds for his book. (David Carson/St. Louis Post-Dispatch via AP)
2 of 3
In this May 10, 2018, photo, flanked by security guards, Missouri Gov. Eric Greitens, center, arrives at court for jury selection in his felony invasion of privacy trial, in St. Louis. In spring 2015, Missouri Gov. Eric Greitens was launching a political career, a new book and an extramarital affair. That spring has now grown into a mountain of trouble. He goes to trial this week on an invasion-of-privacy charge stemming from the affair. He also faces a felony charge for using a charity donor list to raise money for his campaign. And a university is reviewing his use of grant funds for his book. (David Carson/St. Louis Post-Dispatch via AP)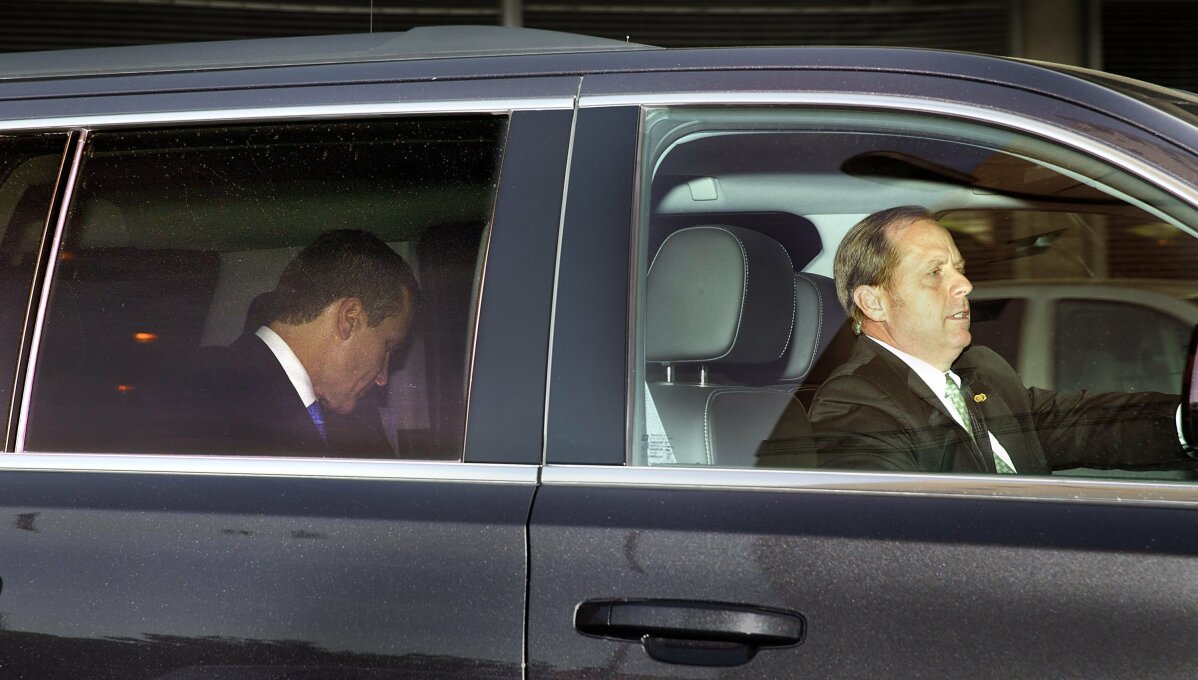 3 of 3

|
Missouri Gov. Eric Greitens arrives at the Civil Courts building on the second day of jury selection of his felony invasion of privacy trial on Friday, May 11, 2018, in St. Louis, Mo. (Robert Cohen/St. Louis Post-Dispatch via AP)
3 of 3
Missouri Gov. Eric Greitens arrives at the Civil Courts building on the second day of jury selection of his felony invasion of privacy trial on Friday, May 11, 2018, in St. Louis, Mo. (Robert Cohen/St. Louis Post-Dispatch via AP)
ST. LOUIS (AP) — Missouri Gov. Eric Greitens declared victory Monday as prosecutors abruptly dropped a felony invasion-of-privacy charge alleging he had taken a revealing photo of a woman with whom he has acknowledged having an affair.
The St. Louis circuit attorney's office said it still plans to pursue the case, either through a special prosecutor or an appointed assistant. But Greitens' attorneys said the case was crumbling under a lack of evidence and doubted any charge would ever be refiled.
The first-term Republican governor still faces plenty of other problems. Missouri's Republican legislative leaders renewed calls for Greitens to resign and confirmed they still will convene Friday in a monthlong special session to consider whether to impeach Greitens in an attempt to remove him from office.
Greitens also remains charged with a second felony in St. Louis for allegedly disclosing a donor list from a St. Louis-based veterans' charity he founded for use in his political campaign. No trial date has been set for that case.
Greitens, who has long denied any criminal wrongdoing, walked out of the courthouse Monday with at least a momentary vindication.
"Today the prosecutor has dropped the false charges against me. This is a great victory and it has been a long time coming," Greitens told reporters outside the St. Louis circuit courthouse. "This experience has been humbling and I have emerged from it a changed man."
The prosecutor's surprise move, announced after the third day of jury selection, came after a court ruled that St. Louis Circuit Attorney Kim Gardner had to provide a statement under oath Monday at the request of Greitens' attorneys, who had repeatedly criticized her handling of the case. Greitens' defense team had accused Gardner of allowing private investigator William Tisaby, whom she hired, to commit perjury and withhold evidence from defense attorneys.
Missouri's rules of professional conduct prohibit attorneys from litigating a case in which they've been called as a witness, though those rules don't normally require the disqualification of the entire office or firm, said University of Missouri associate law professor Ben Trachtenberg.
Nationally, it's "super, super rare" for a judge to allow a prosecutor to be called as a witness, said Hadar Aviram, a professor at the University of California Hastings College of Law.
Gardner spokeswoman Susan Ryan said in a statement that Greitens' lawyers' tactic of making the circuit attorney a witness in their case was "part of their ongoing effort to distract people" from Greitens' actions. She said it put Gardner "in the impossible position of choosing between her professional obligations and the pursuit of justice."
"We will move forward on this," Ryan told The Associated Press. "We will refile charges or ask a special prosecutor to do so."
Some legal experts said prosecutors would have about a month to decide whether to file charges, because that's about how much time was left in the three-year statute of limitations when the original charge was filed.
Greitens, 44, was charged with felony invasion of privacy for allegedly taking and transmitting a photo of an at least partially nude woman without her permission on March 21, 2015. If convicted, Greitens could have faced up to four years in prison. Greitens has declined to directly answer questions about whether he took the photo.
Earlier Monday, Greitens' attorneys said in court that prosecutors had stopped searching for evidence of the photo after failing to find it on Greitens' cellphone or in cloud storage.
"The case was going nowhere. There was no evidence to support any of the elements," Greitens' attorney Jim Bennett told reporters after the charge was dropped.
Defense attorneys have cited a litany of concerns about Gardner's handling of the case. Among other things, they accused Tisaby, a former FBI agent, of lying when he said he did not take notes when he and Gardner on Jan. 29 interviewed the woman involved in the affair. A video of the interview belatedly provided to defense lawyers appears to show Tisaby taking notes.
Greitens has rejected calls to resign from both Republicans and Democrats since he first admitted in January that he had an affair before he was elected governor in 2016.
The woman, who has been identified only as K.S. in court filings, has testified that Greitens bound her hands to exercise equipment in the basement of his St. Louis home, blindfolded her and removed her clothes before she saw a flash and heard what sounded like the click of a cellphone camera. She has said Greitens threatened to disseminate the photo if she spoke of their encounter but later told her he had deleted it.
Greitens' indictment in February prompted the Missouri House to launch its own investigation. It released a report in April containing more testimony from the woman that Greitens had restrained, slapped, shoved, threatened and belittled her during a series of sexual encounters that at times left her crying and afraid. Greitens didn't testify to the committee.
The committee released a second report May 2 with testimony about how Greitens' gubernatorial campaign had used a donor list from The Mission Continues without the charity's permission. Legislative leaders vowed Monday to continue their investigation.
"Without the pending trial this week, it allows the Governor to take advantage of our open offer to share his side of the facts," House Speaker Todd Richardson said in a joint statement with other top House Republicans.
___
Lieb reported from Jefferson City. Associated Press reporters Summer Ballentine in Jefferson City and John Hanna in Topeka, Kansas, contributed.