South Africa: Ex-CEO won't name politicians in utility probe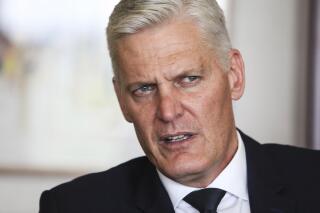 JOHANNESBURG (AP) — The former chief executive of South African power utility Eskom refused Wednesday to name high-ranking politicians allegedly involved in corrupt activities at the state-owned firm that are partly responsible for the country's worsening power blackouts.
Andre de Ruyter appeared virtually from an undisclosed location as a multi-party parliamentary committee questioned him about claims he made in a February television interview that politicians linked to the ruling African National Congress party were involved in corrupt dealings at Eskom.
De Ruyter told lawmakers he had reported the claims to the police and the country's intelligence services but that revealing the names and details in parliament could jeopardize ongoing investigations.
At the time of his TV interview, de Ruyter was still fulfilling the three-months' notice he gave when he resigned from the company in December. However, the notice was canceled and he was asked to leave immediately.
South Africa is experiencing its worst rolling power blackouts on record due to frequent breakdowns at its aging coal-fired power stations which are blamed on years of mismanagement, lack of maintenance and corruption at the state-owned power utility.
De Ruyter previously claimed that Eskom lost at least 1 billion rands (about $55 million) to corruption every month. He said in his submission to the parliamentary committee Wednesday that the figure was a conservative estimate.
Most committee members appeared frustrated with de Ruyter's refusal to name politicians he had accused of corruption. Some lawmakers suggested he should be made to take an oath and reveal all.
De Ruyter said he was trying to avoid possible legal action and that various sources who had provided him with information had expressed fears for their safety.
"The alleged criminal and unlawful activities that are currently under investigation are of a very sensitive and complex nature and they involve elements that are best characterized as organized crime," he explained. "I would not want to be seen as defeating the ends of justice."
Veronica Mente, a parliament member from the opposition party Economic Freedom Fighters, called on the committee to invoke its "mechanisms" to compel De Ruyter to reveal the implicated politicians and to answer all questions posed by lawmakers.
In a statement released Wednesday, Eskom said it noted nothing in de Ruyter's submissions that were not already being dealt with by law enforcement agencies.