EU defends its Libya migrant work as UN points the finger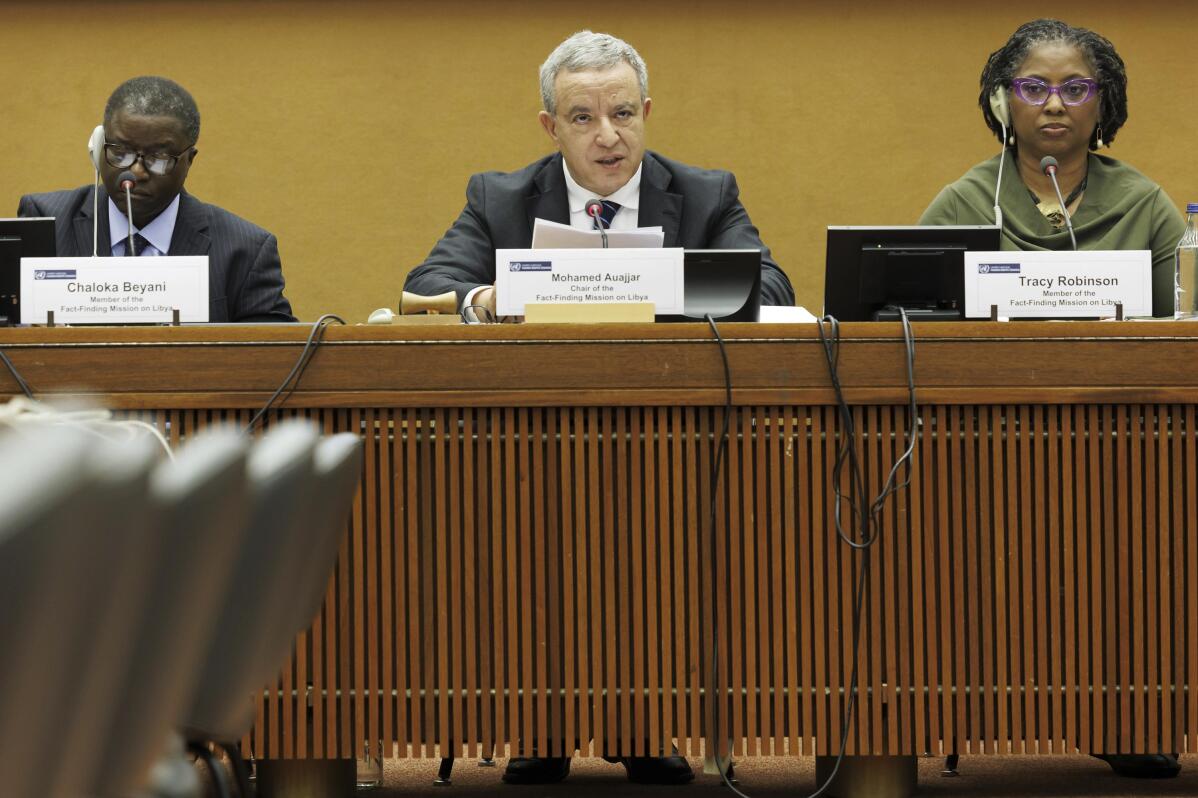 1 of 3

|
Mohamed Auajjar, center, Chairperson of the Independent Fact-Finding Mission on Libya, Chaloka Beyani, left, and Tracy Robinson, members of the Fact-Finding Mission, speak to the media ahead of presenting the findings of the final report, at the 52nd session of the Human Rights Council during a press conference, at the European headquarters of the United Nations in Geneva, Switzerland, Monday, March 27, 2023. (Salvatore Di Nolfi/Keystone via AP)
2 of 3

|
Mohamed Auajjar, center, Chairperson of the Independent Fact-Finding Mission on Libya, speaks to the media ahead of presenting the findings of the final report, at the 52nd session of the Human Rights Council during a press conference, at the European headquarters of the United Nations in Geneva, Switzerland, Monday, March 27, 2023. (Salvatore Di Nolfi/Keystone via AP)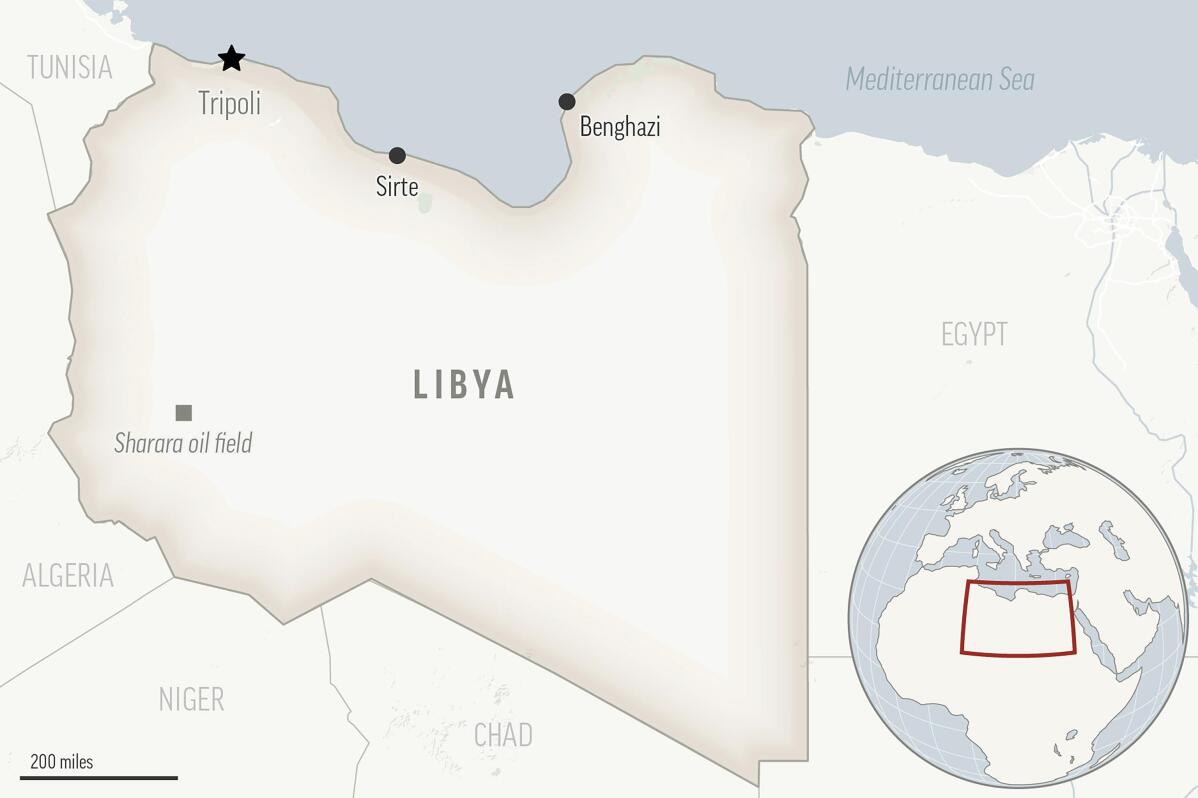 3 of 3

|
This is a locator map for Libya with its capital, Tripoli. (AP Photo)
EU defends its Libya migrant work as UN points the finger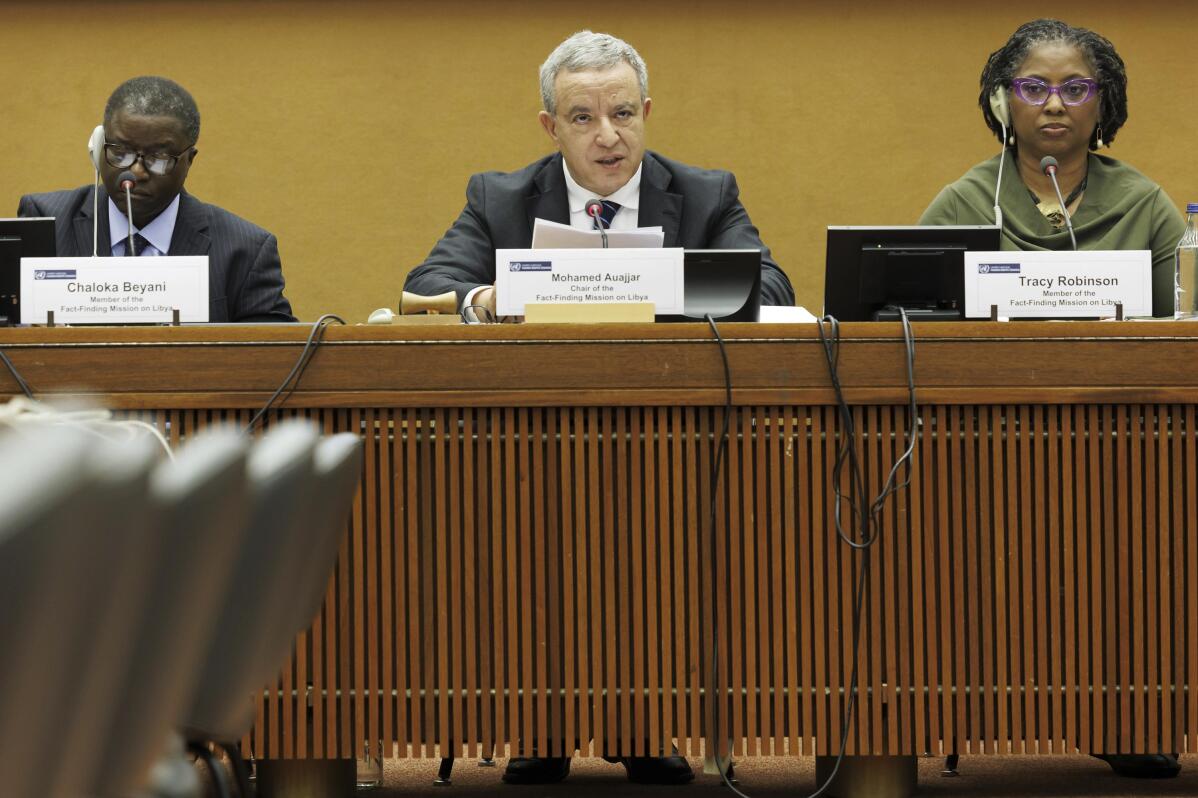 1 of 3

|
Mohamed Auajjar, center, Chairperson of the Independent Fact-Finding Mission on Libya, Chaloka Beyani, left, and Tracy Robinson, members of the Fact-Finding Mission, speak to the media ahead of presenting the findings of the final report, at the 52nd session of the Human Rights Council during a press conference, at the European headquarters of the United Nations in Geneva, Switzerland, Monday, March 27, 2023. (Salvatore Di Nolfi/Keystone via AP)
1 of 3
Mohamed Auajjar, center, Chairperson of the Independent Fact-Finding Mission on Libya, Chaloka Beyani, left, and Tracy Robinson, members of the Fact-Finding Mission, speak to the media ahead of presenting the findings of the final report, at the 52nd session of the Human Rights Council during a press conference, at the European headquarters of the United Nations in Geneva, Switzerland, Monday, March 27, 2023. (Salvatore Di Nolfi/Keystone via AP)
2 of 3

|
Mohamed Auajjar, center, Chairperson of the Independent Fact-Finding Mission on Libya, speaks to the media ahead of presenting the findings of the final report, at the 52nd session of the Human Rights Council during a press conference, at the European headquarters of the United Nations in Geneva, Switzerland, Monday, March 27, 2023. (Salvatore Di Nolfi/Keystone via AP)
2 of 3
Mohamed Auajjar, center, Chairperson of the Independent Fact-Finding Mission on Libya, speaks to the media ahead of presenting the findings of the final report, at the 52nd session of the Human Rights Council during a press conference, at the European headquarters of the United Nations in Geneva, Switzerland, Monday, March 27, 2023. (Salvatore Di Nolfi/Keystone via AP)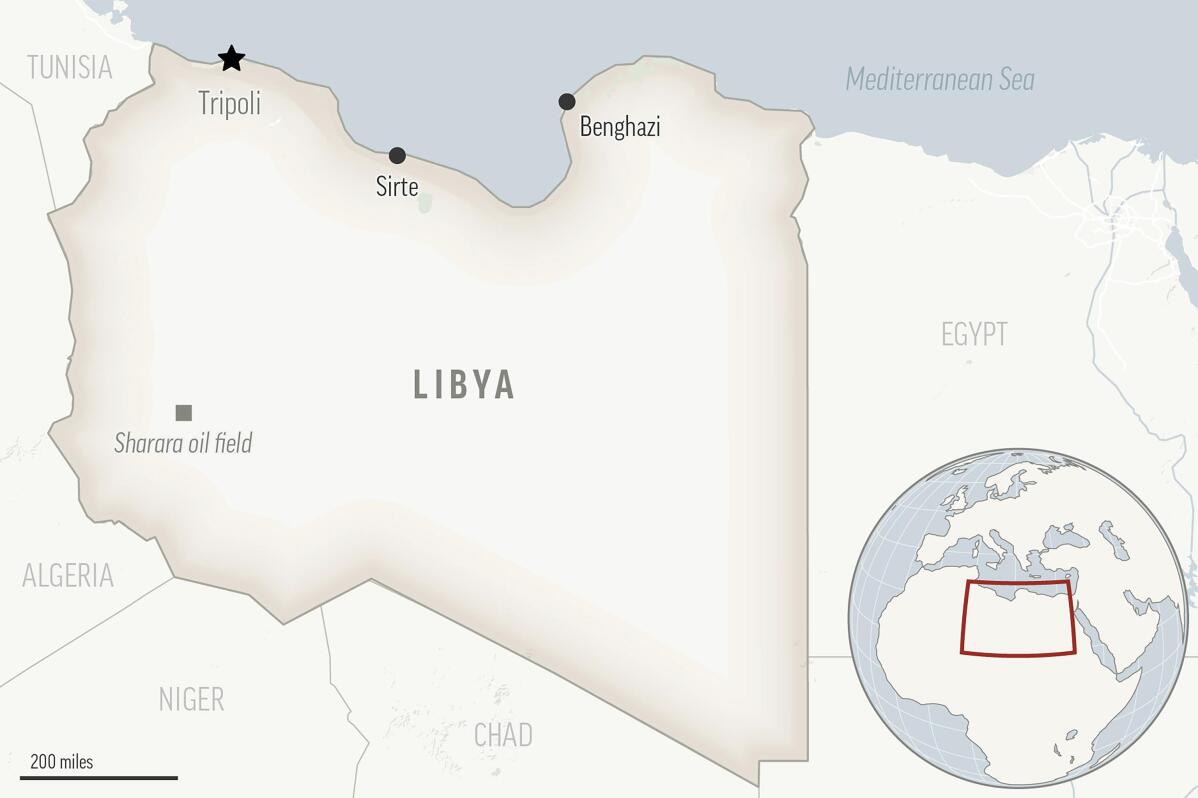 3 of 3

|
This is a locator map for Libya with its capital, Tripoli. (AP Photo)
3 of 3
This is a locator map for Libya with its capital, Tripoli. (AP Photo)
BRUSSELS (AP) — The European Union on Tuesday defended its work with migrants in Libya after U.N.-backed investigators accused the 27-nation bloc of abetting human rights abuses and other crimes in the largely lawless north African country.
Libya is a major departure point for people from northern Africa and elsewhere desperate enough to make the perilous Mediterranean Sea crossing in poorly maintained boats in search of better lives or sanctuary in Europe.
At least 529 migrants were reported dead and 848 others missing off Libya last year, according to the United Nations' International Organization for Migration (IOM). More than 24,680 people were intercepted by the Libyan coastguard as they tried to leave.
Presenting a report on Monday by a U.N.-commissioned fact-finding mission to Libya, investigator Chaloka Beyani said that EU assistance to Libya's migration department and the coastguard "has aided and abetted the commission of the crimes," including crimes against humanity.
The report said that migrants, some of whom might have been eligible for asylum, "were apprehended, detained, and disembarked in Libya solely to prevent their entry into Europe as a corollary of both European immigration policy and the economic agenda of migration in Libya via their subsequent detention and exploitation."
The EU's executive branch, the European Commission, said it takes the allegations "very seriously" but insists that its work in Libya is vital and done in coordination with U.N. agencies like the IOM and U.N. High Commissioner for Refugees.
"Not doing anything is not an answer. And our objective, our joint objective, is to help to improve the situation of the people stranded in Libya," commission spokesman Peter Stano said.
"Of course, there are incidents. There are issues which are a source of concern. We try to address them with the partners in Libya, with the international partners," Stano told reporters in Brussels. He said the EU's Libya mission had cooperated with the investigators.
The arrival in 2015 of well over one million people, many of them fleeing war in Syria, overwhelmed reception centers in Greece and Italy. It sparked one of the EU's biggest ever political crises.
Nations bickered over who should take responsibility for the migrants and whether they all should be obliged to help the EU countries that people entered. That dispute continues today. Several members, Austria, Hungary and Slovenia among them, erected razor-wire fences and other barriers.
The new report underlined that investigators believe the EU "directly or indirectly, provided monetary and technical support and equipment, such as boats, to the Libyan Coast Guard and the Directorate for Combating Illegal Migration," which were then used to catch and detain migrants.
But Stano rejected suggestions that the EU would pay to keep migrants in Libya.
"We are not financing any Libyan entity. We are not giving physical money to partners in Libya," he said. "What we are doing is allocating a lot of money, which is then usually used by our international partners. A lot goes through the U.N., for example."
Earlier this month, the commission confirmed that a new boat was recently handed over for coastguard duties in Libya. Two more new boats and an undisclosed number of refurbished ones will also be delivered.
At the same time, the EU has refurbished six other boats for Libya's General Administration of Coastal Security, which is separate to the coastguard. In February, Italy supplied two more fast boats to this GACS fleet. The commission said Tuesday that 142 GACS officers have now received EU training.
Italy, where most people leaving Libya arrive, has received at least 15 million euros ($16.3 million) in EU money to fund migration and border control work there.
Last year, in answer to a question from the European Parliament, EU Home Affairs Commissioner Ylva Johansson said that "the EU has devoted around EUR 700 million ($760 million) to Libya during 2014-20, including EUR 59 million ($64 million)" for the coastguard and GACS.
Spanish EU lawmaker Sira Rego, from the Left group, said that "for years the EU has allowed slavery in refugee detention camps in Libya, has been aware of the atrocities being committed there against migrants, and yet has continued to implement racist migration policies."
In Greece, meanwhile, a voluntary scheme by EU members to accept unaccompanied migrant children from the country officially ended Tuesday, raising concern over the future of minors traveling alone until long-delayed asylum reforms are hammered out.
EU lawmakers have finalized the parliament's negotiating position on the reforms, and hope that nations can agree on the way ahead before the next European elections in May 2024.
___ Follow AP's global migration coverage at https://apnews.com/hub/migration