Sevilla tops United in Europa League, gets Juventus in semis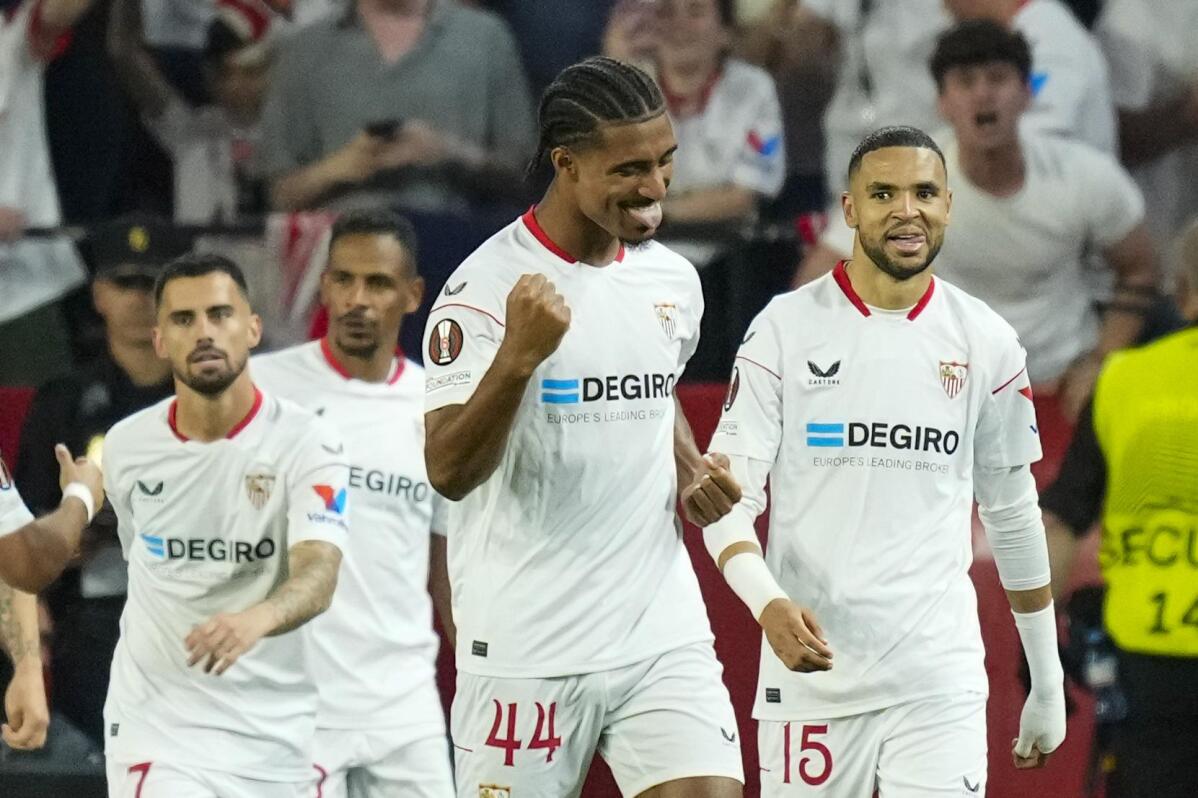 1 of 18

|
Sevilla's Loic Bade, center, celebrates after scoring his side's second goal during the Europa League quarter finals second leg soccer match between Sevilla and Manchester United, at the Ramon Sanchez Pizjuan stadium in Seville, Spain, Thursday, April 20, 2023. (AP Photo/Jose Breton)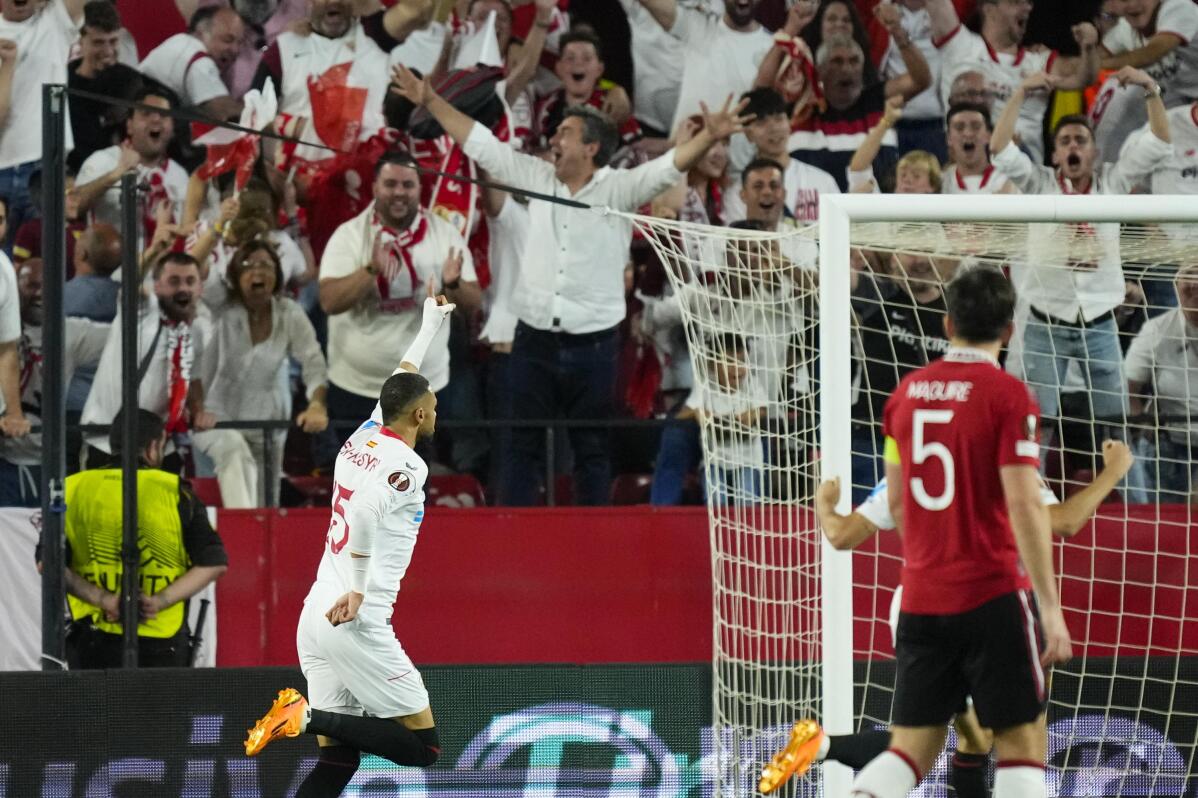 2 of 18

|
Sevilla's Youssef En-Nesyri, left, celebrates after scoring his side's third goal during the Europa League quarter finals second leg soccer match between Sevilla and Manchester United, at the Ramon Sanchez Pizjuan stadium in Seville, Spain, Thursday, April 20, 2023. (AP Photo/Jose Breton)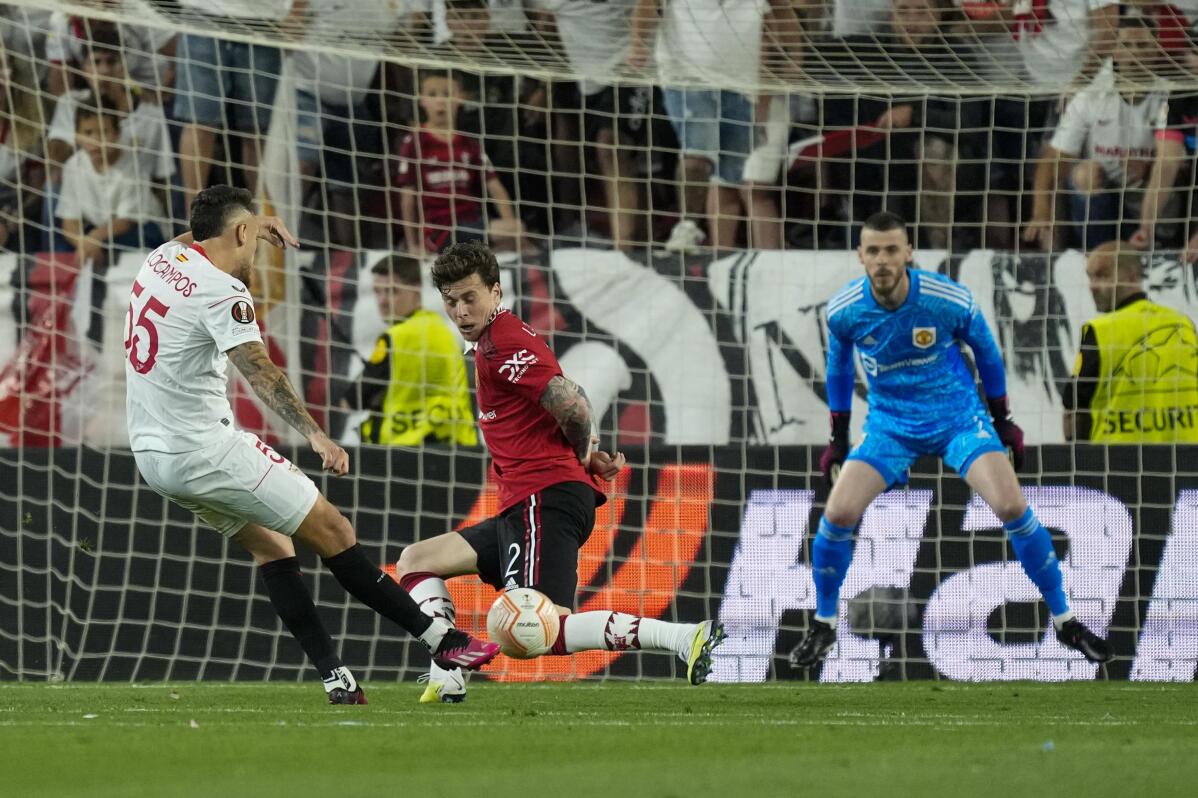 3 of 18

|
Manchester United's Victor Lindelof, center, tries to block a shot from Sevilla's Lucas Ocampos during the Europa League quarter finals second leg soccer match between Sevilla and Manchester United, at the Ramon Sanchez Pizjuan stadium in Seville, Spain, Thursday, April 20, 2023. (AP Photo/Jose Breton)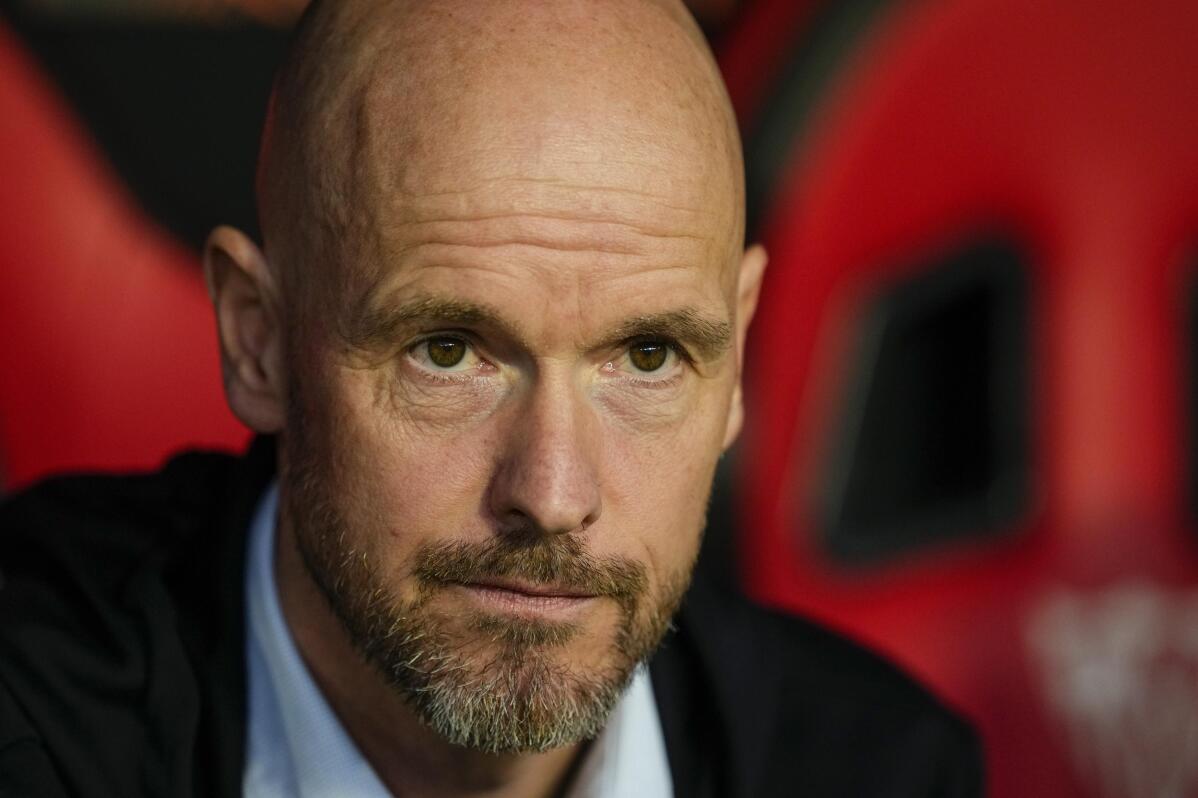 4 of 18

|
Manchester United's head coach Erik ten Hag looks out from the bench prior the Europa League quarter finals second leg soccer match between Sevilla and Manchester United, at the Ramon Sanchez Pizjuan stadium in Seville, Spain, Thursday, April 20, 2023. (AP Photo/Jose Breton)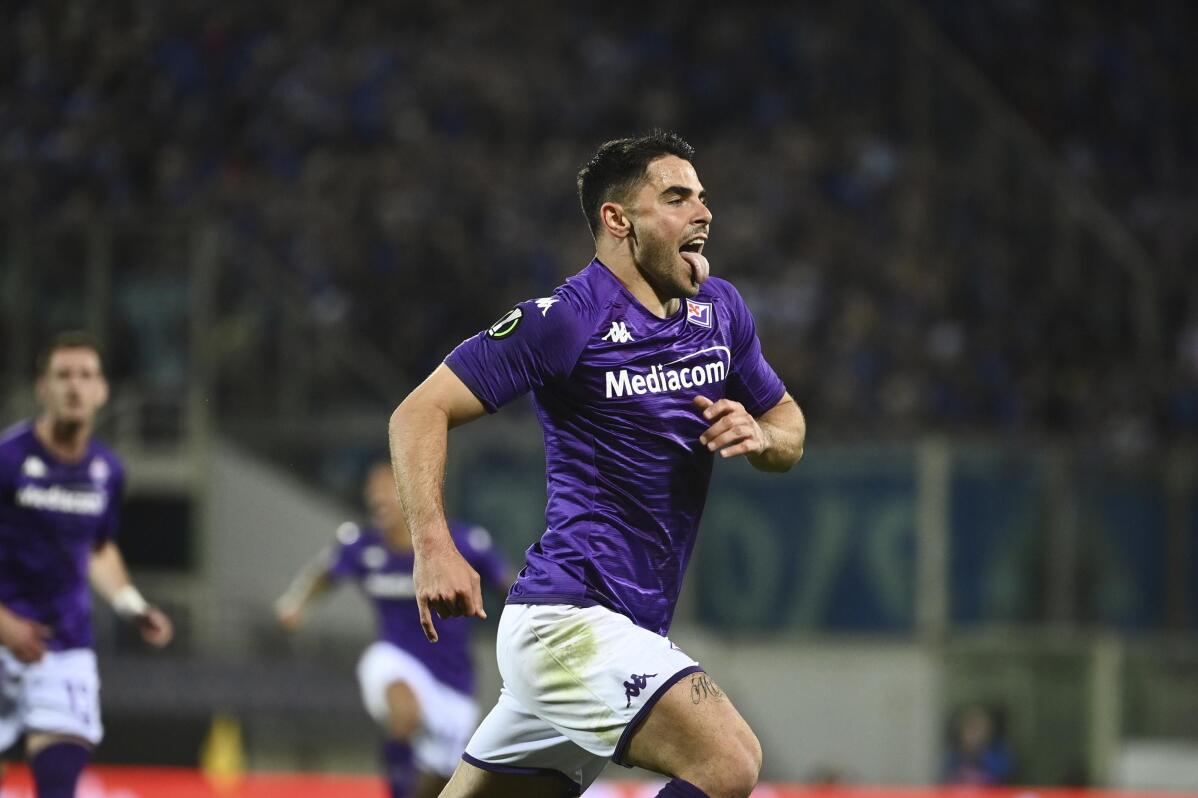 5 of 18

|
Fiorentina's Riccardo Sottil, celebrates after scoring to 1-3 during the UEFA Europa Conference League quarter final second leg soccer match between Fiorentina and Lech Poznan at the Artemio Franchi stadium in Florence, Italy, Thursday April 20, 2023. (Massimo Paolone/LaPresse via AP)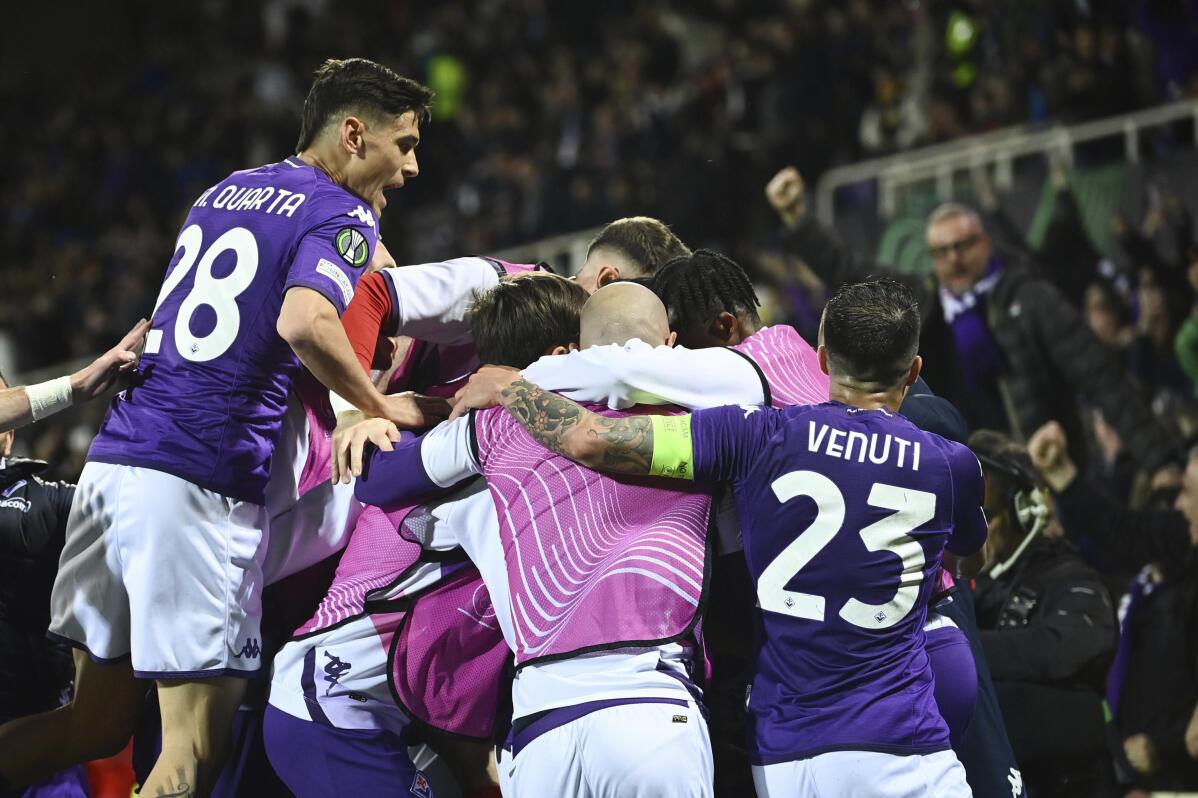 6 of 18

|
Fiorentina players celebrate after Fiorentina's Riccardo Sottil scored to 1-3 during the UEFA Europa Conference League quarter final second leg soccer match between Fiorentina and Lech Poznan at the Artemio Franchi stadium in Florence, Italy, Thursday April 20, 2023. (Massimo Paolone/LaPresse via AP)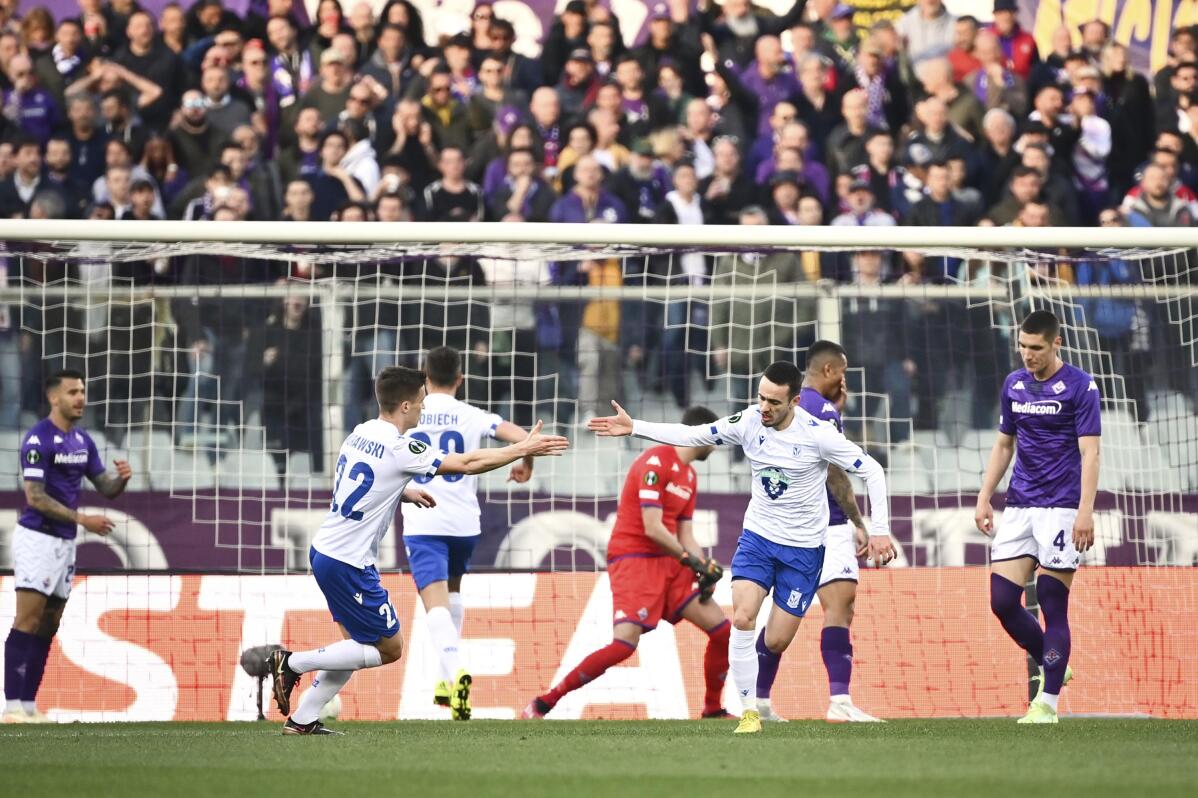 7 of 18

|
Lech Poznan's Afonso Sousa, foreground right, celebrates with teammate after scoring to 0-1 during the UEFA Europa Conference League quarter final second leg soccer match between Fiorentina and Lech Poznan at the Artemio Franchi stadium in Florence, Italy, Thursday April 20, 2023. (Massimo Paolone/LaPresse via AP)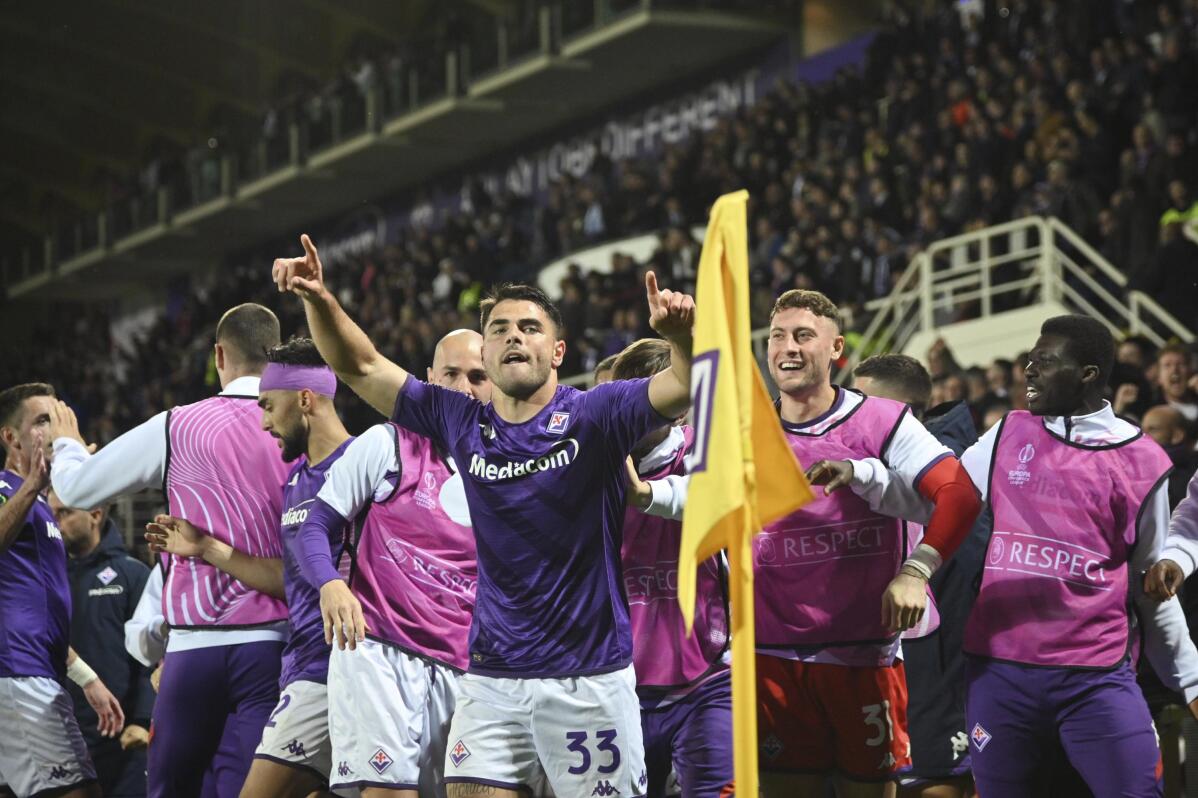 8 of 18

|
Fiorentina's Riccardo Sottil celebrates with teammates after scoring to 1-3 during the UEFA Europa Conference League quarter final second leg soccer match between Fiorentina and Lech Poznan at the Artemio Franchi stadium in Florence, Italy, Thursday April 20, 2023. (Massimo Paolone/LaPresse via AP)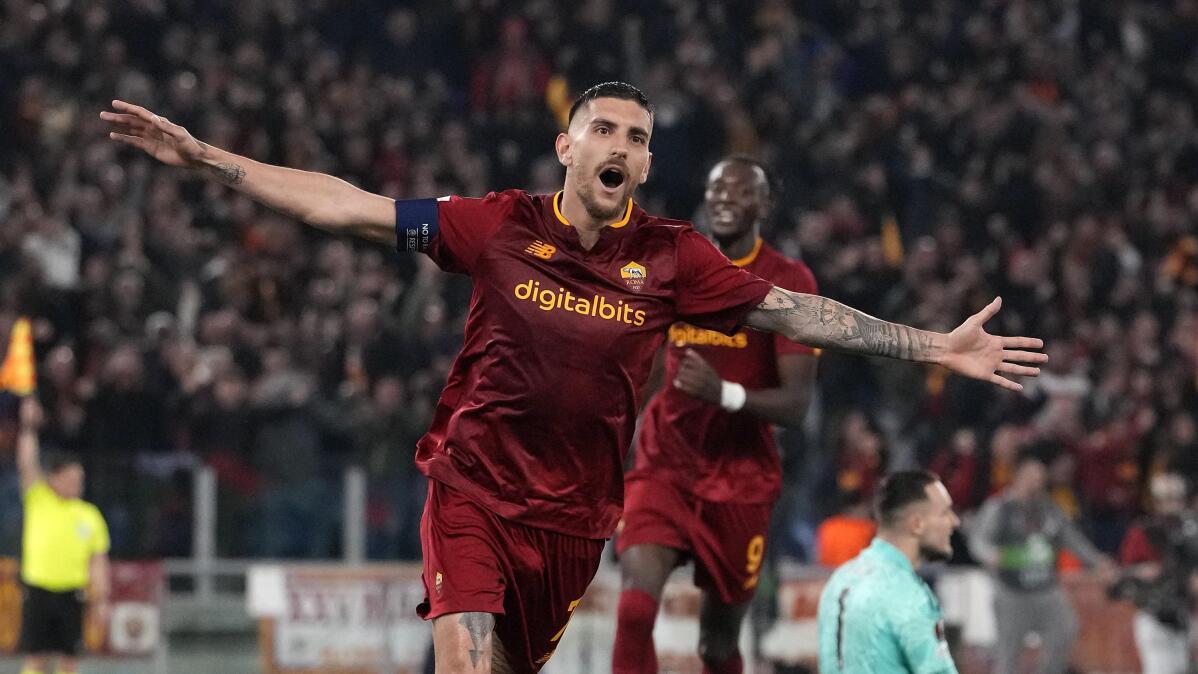 9 of 18

|
Roma's Lorenzo Pellegrini celebrates after he scored his side's 4th goal during the Europa League second leg quarterfinal soccer match between Roma and Feyenoord at the Olympic Stadium in Rome, Italy, Thursday, April 20, 2023. (AP Photo/Alessandra Tarantino)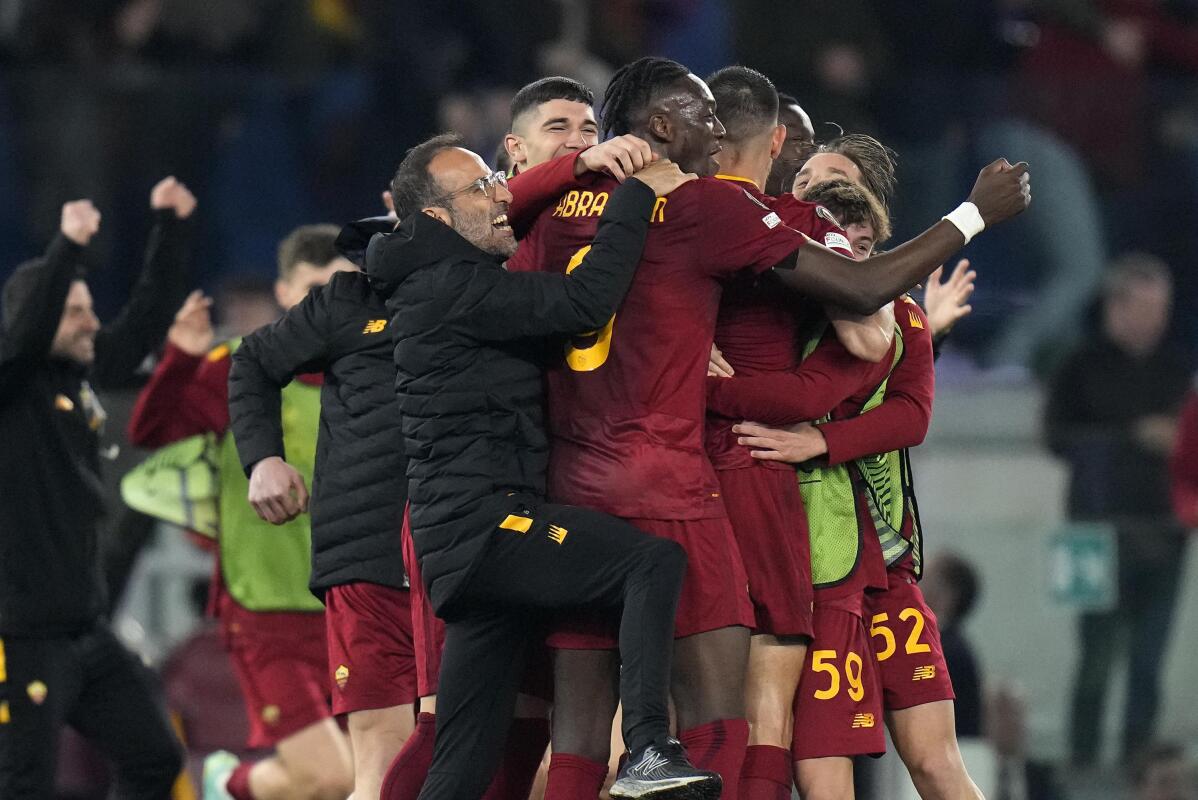 10 of 18

|
Roma's team celebrates Lorenzo Pellegrini after he scored his side's 4th goal during the Europa League second leg quarterfinal soccer match between Roma and Feyenoord at the Olympic Stadium in Rome, Italy, Thursday, April 20, 2023. (AP Photo/Alessandra Tarantino)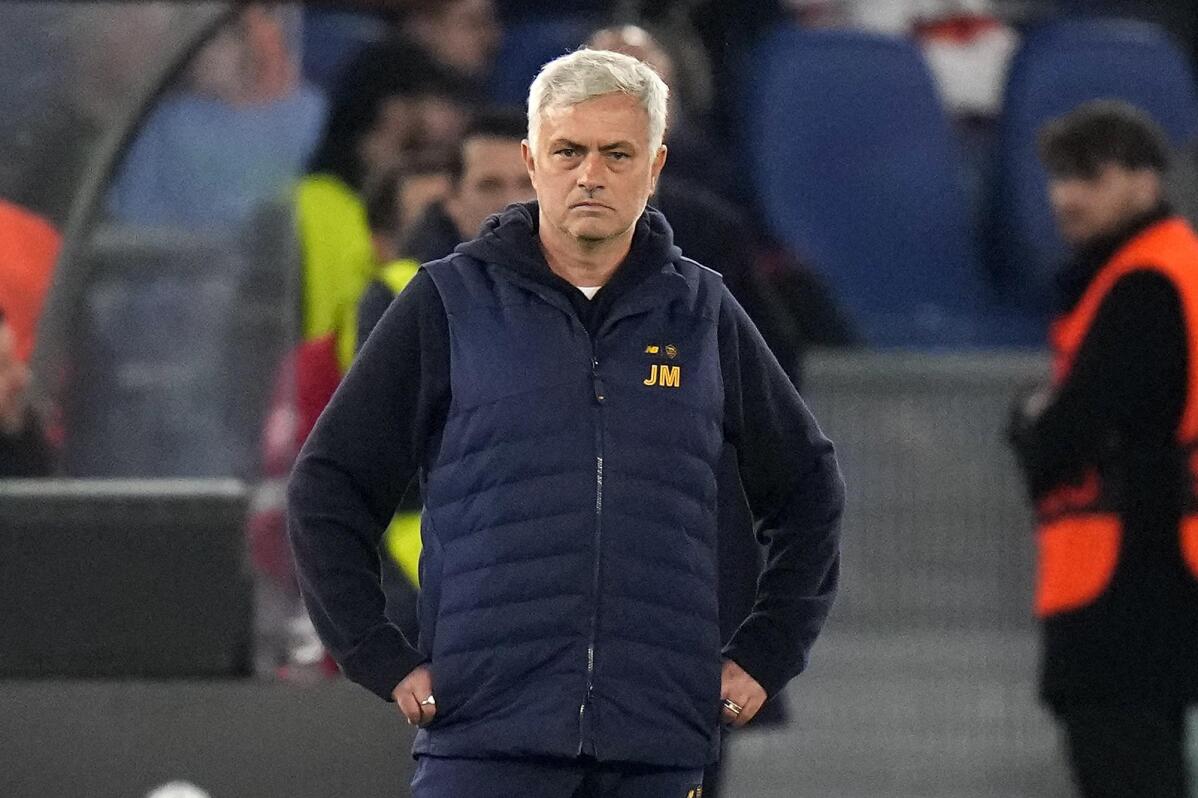 11 of 18

|
Roma's head coach Jose Mourinho watches during the Europa League second leg quarterfinal soccer match between Roma and Feyenoord at the Olympic Stadium in Rome, Italy, Thursday, April 20, 2023. (AP Photo/Alessandra Tarantino)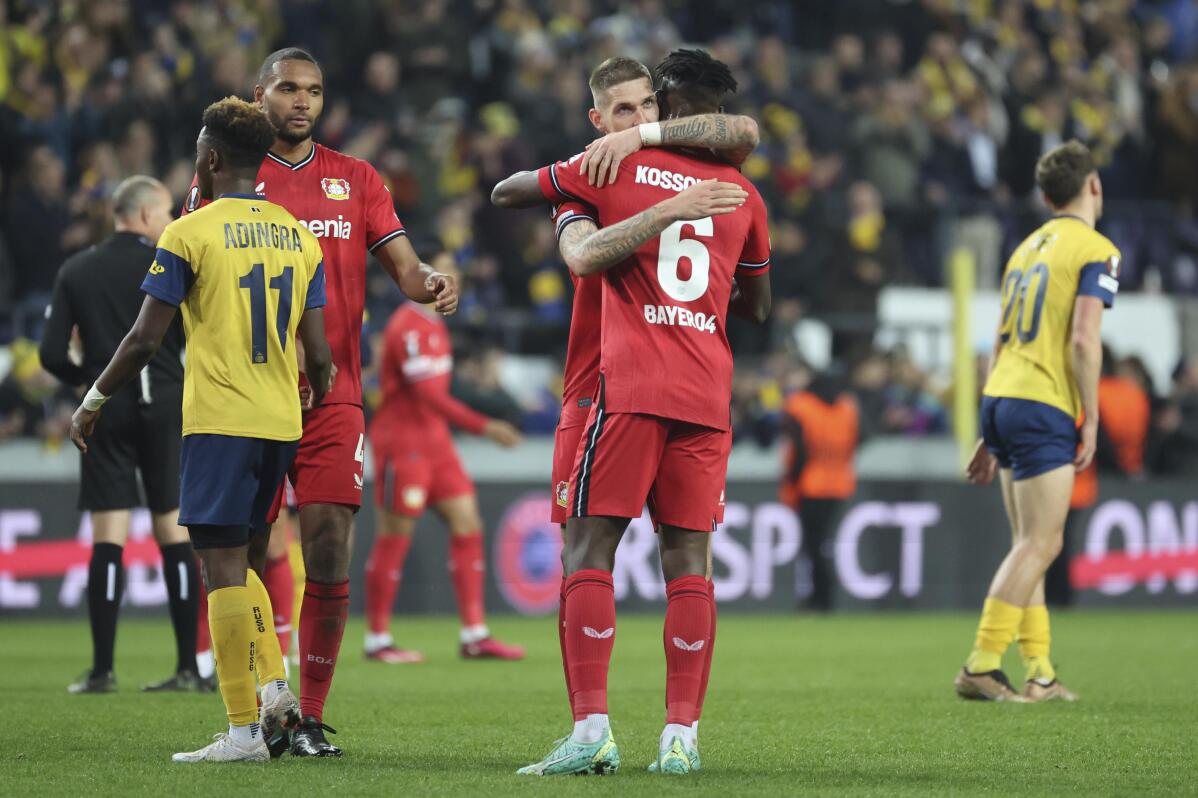 12 of 18

|
Players congratulate each other after Leverkusen won the Europa League quarterfinals, second leg, soccer match between Union St. Gilloise and Leverkusen at Anderlecht Stadium in Brussels, Thursday, April 20, 2023. (AP Photo/Geert Vanden Wijngaert)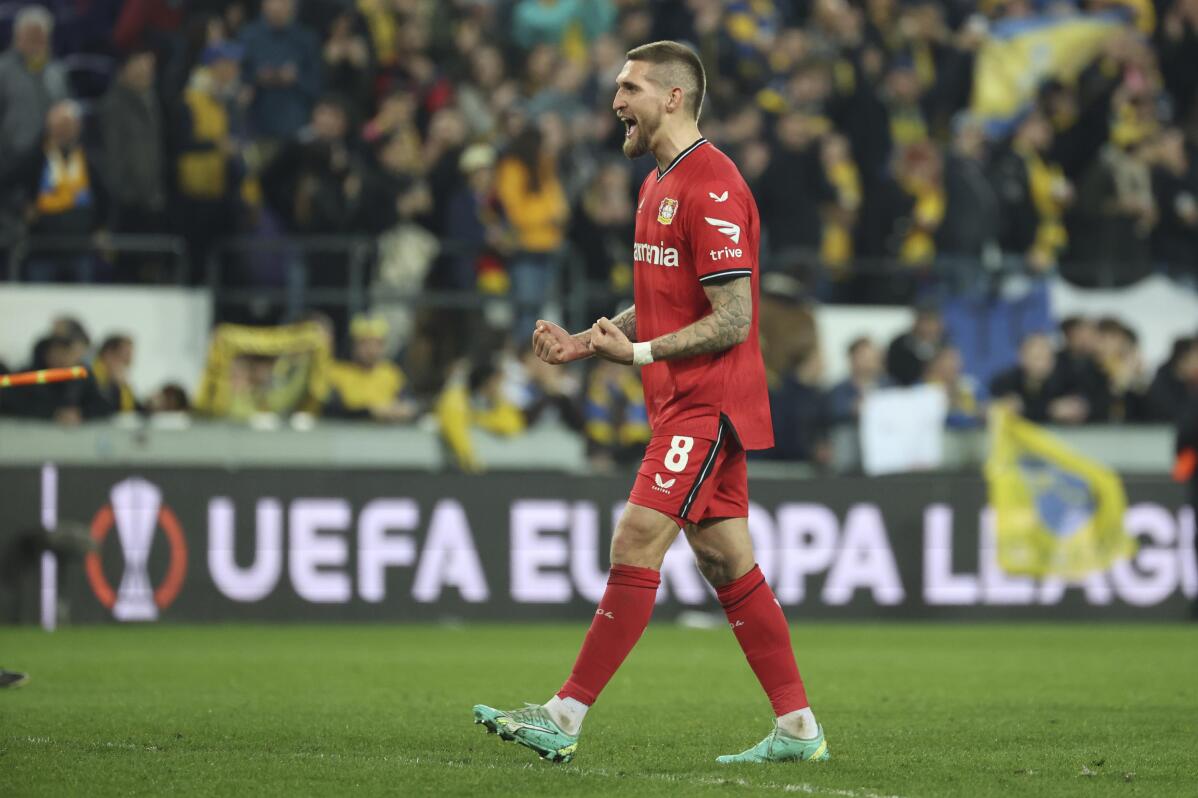 13 of 18

|
Leverkusen's Robert Andrich celebrates after Leverkusen won the Europa League quarterfinals, second leg, soccer match between Union St. Gilloise and Leverkusen at Anderlecht Stadium in Brussels, Thursday, April 20, 2023. (AP Photo/Geert Vanden Wijngaert)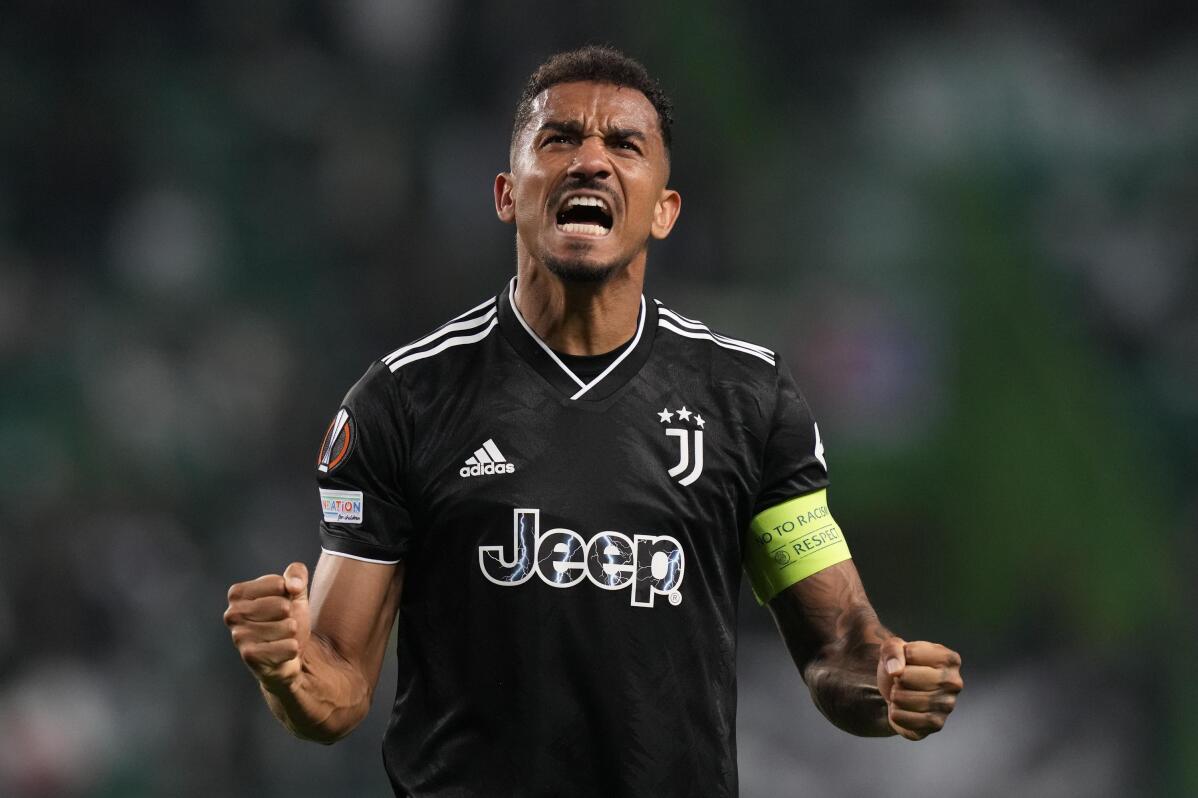 14 of 18

|
Juventus' Danilo celebrates at the end of the Europa League quarter final second leg soccer match between Sporting CP and Juventus at the Alvalade stadium in Lisbon, Thursday, April 20, 2023. Juventus won 2-1 on aggregate. (AP Photo/Armando Franca)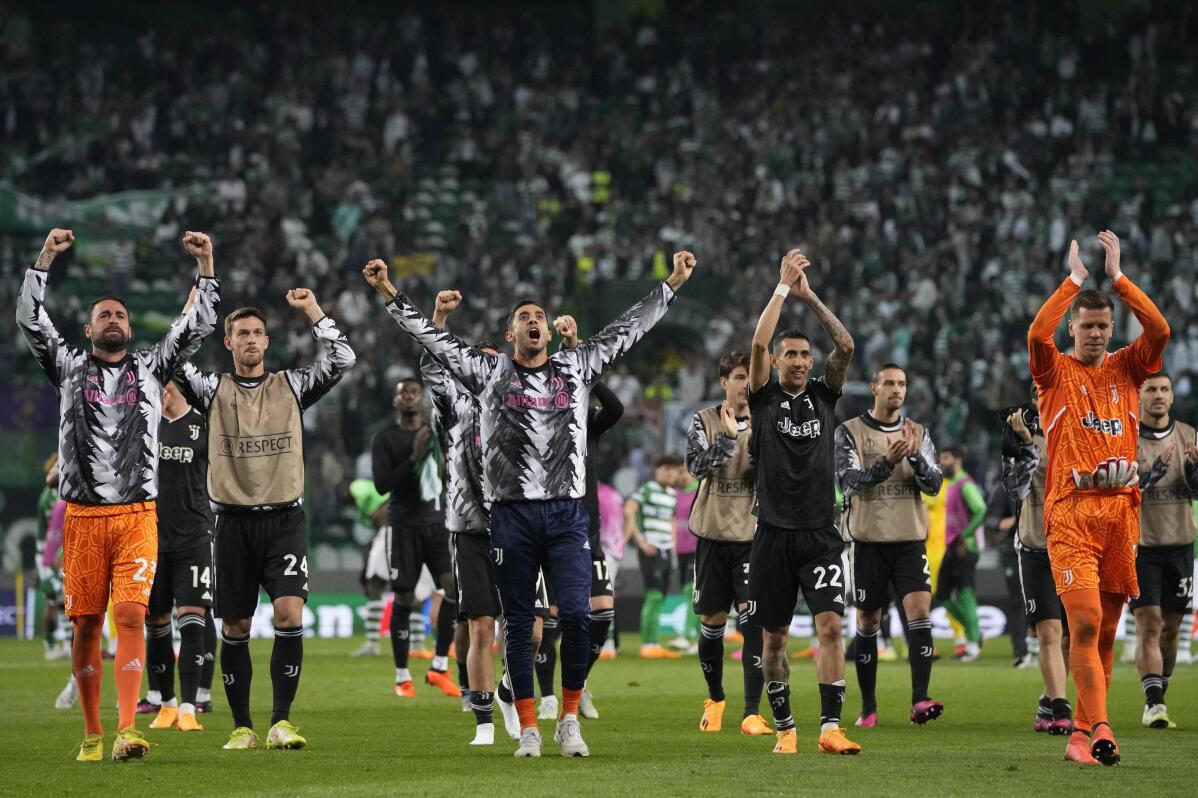 15 of 18

|
Juventus' players celebrate at the end of the Europa League quarter final second leg soccer match between Sporting CP and Juventus at the Alvalade stadium in Lisbon, Thursday, April 20, 2023. Juventus won 2-1 on aggregate. (AP Photo/Armando Franca)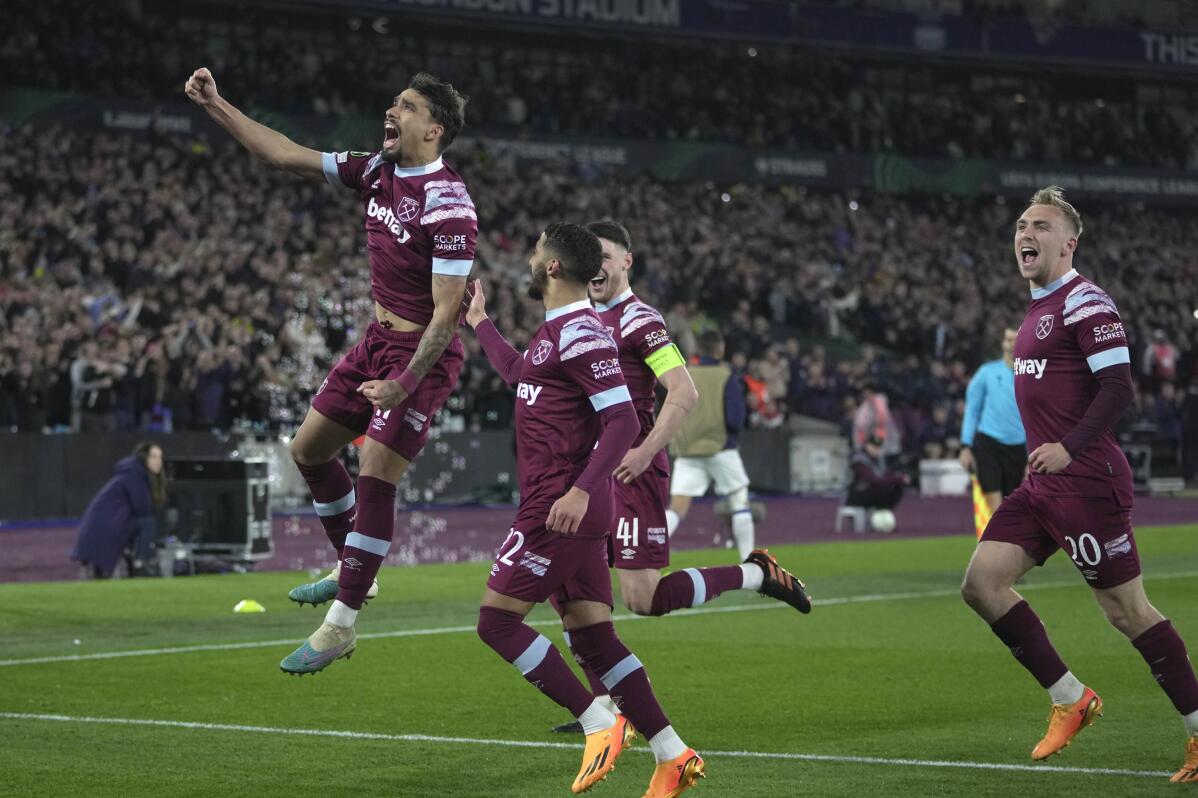 16 of 18

|
West Ham's Lucas Paqueta, left, celebrates after scoring his side's second goal during the Conference League soccer match between West Ham and Gent at the London stadium in London, England, Thursday, April 20, 2023. (AP Photo/Kin Cheung)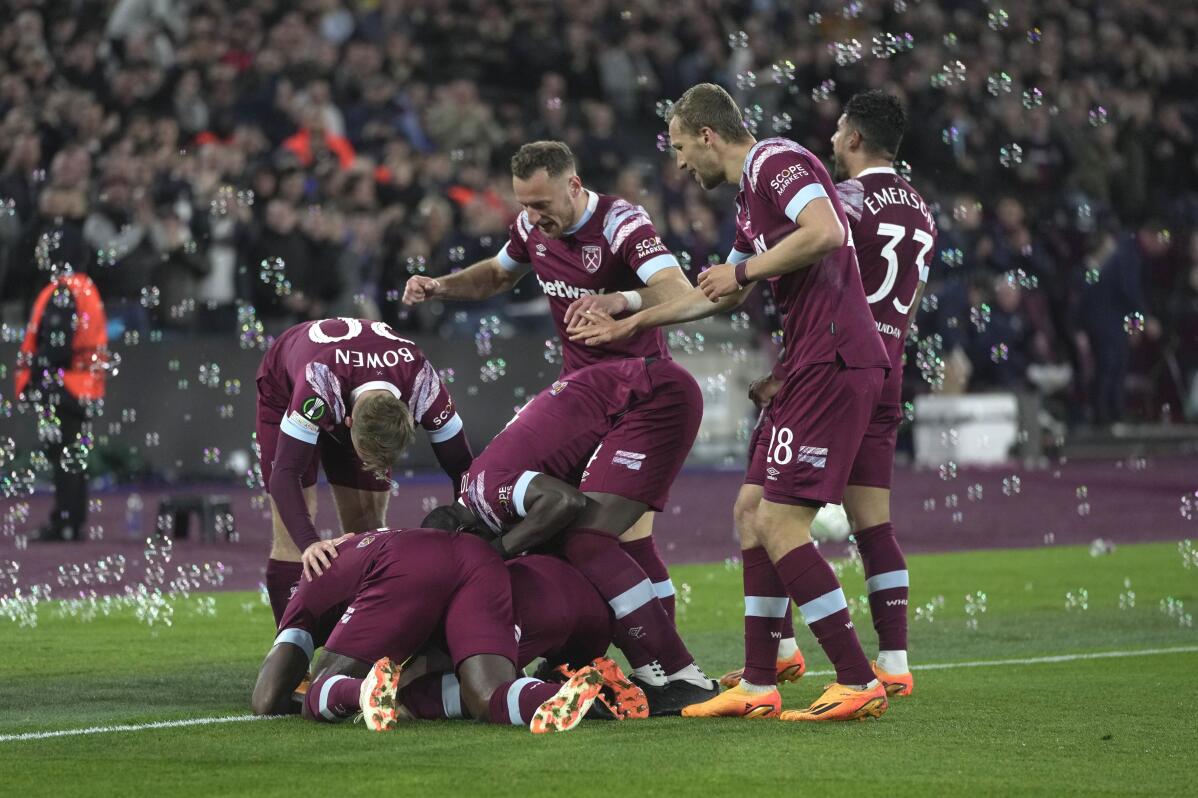 17 of 18

|
West Ham players celebrate after West Ham's Declan Rice scored his side's third goal during the Conference League soccer match between West Ham and Gent at the London stadium in London, England, Thursday, April 20, 2023. (AP Photo/Kin Cheung)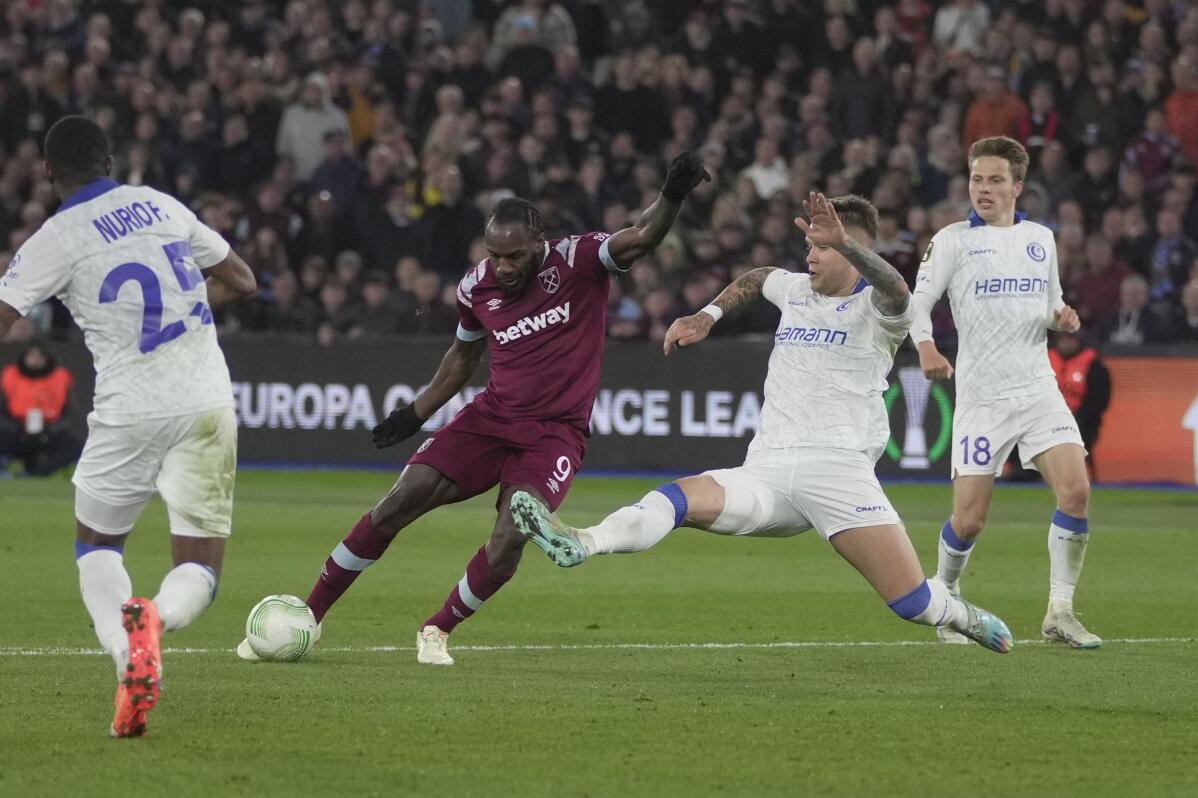 18 of 18

|
West Ham's Michail Antonio, centre, scores his side's fourth goal during the Conference League soccer match between West Ham and Gent at the London stadium in London, England, Thursday, April 20, 2023. (AP Photo/Kin Cheung)
Sevilla tops United in Europa League, gets Juventus in semis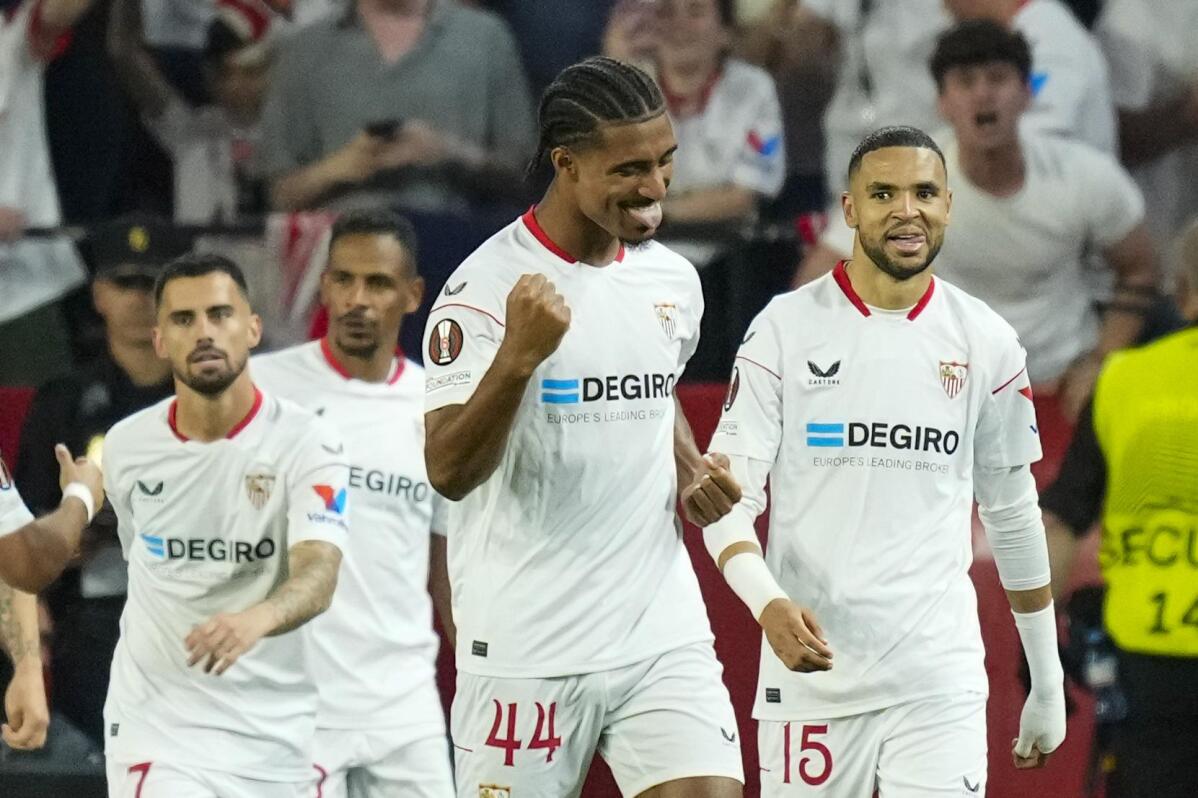 1 of 18

|
Sevilla's Loic Bade, center, celebrates after scoring his side's second goal during the Europa League quarter finals second leg soccer match between Sevilla and Manchester United, at the Ramon Sanchez Pizjuan stadium in Seville, Spain, Thursday, April 20, 2023. (AP Photo/Jose Breton)
1 of 18
Sevilla's Loic Bade, center, celebrates after scoring his side's second goal during the Europa League quarter finals second leg soccer match between Sevilla and Manchester United, at the Ramon Sanchez Pizjuan stadium in Seville, Spain, Thursday, April 20, 2023. (AP Photo/Jose Breton)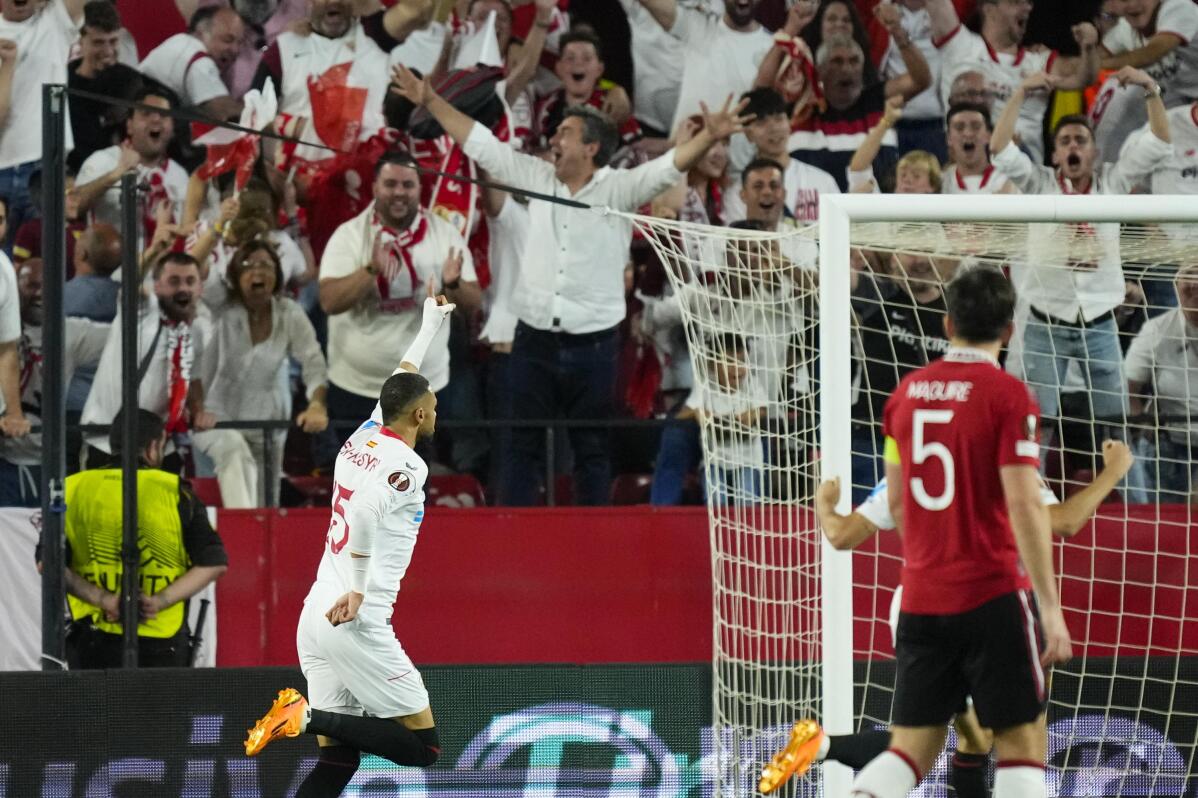 2 of 18

|
Sevilla's Youssef En-Nesyri, left, celebrates after scoring his side's third goal during the Europa League quarter finals second leg soccer match between Sevilla and Manchester United, at the Ramon Sanchez Pizjuan stadium in Seville, Spain, Thursday, April 20, 2023. (AP Photo/Jose Breton)
2 of 18
Sevilla's Youssef En-Nesyri, left, celebrates after scoring his side's third goal during the Europa League quarter finals second leg soccer match between Sevilla and Manchester United, at the Ramon Sanchez Pizjuan stadium in Seville, Spain, Thursday, April 20, 2023. (AP Photo/Jose Breton)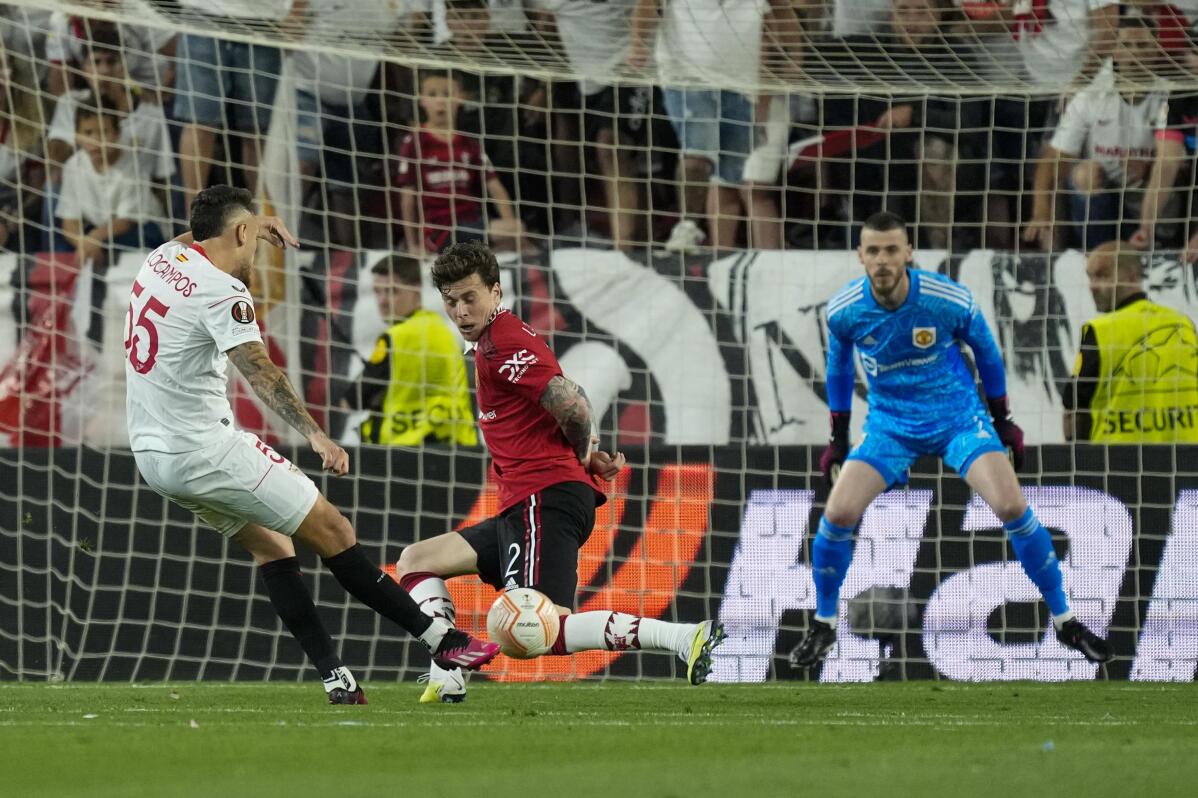 3 of 18

|
Manchester United's Victor Lindelof, center, tries to block a shot from Sevilla's Lucas Ocampos during the Europa League quarter finals second leg soccer match between Sevilla and Manchester United, at the Ramon Sanchez Pizjuan stadium in Seville, Spain, Thursday, April 20, 2023. (AP Photo/Jose Breton)
3 of 18
Manchester United's Victor Lindelof, center, tries to block a shot from Sevilla's Lucas Ocampos during the Europa League quarter finals second leg soccer match between Sevilla and Manchester United, at the Ramon Sanchez Pizjuan stadium in Seville, Spain, Thursday, April 20, 2023. (AP Photo/Jose Breton)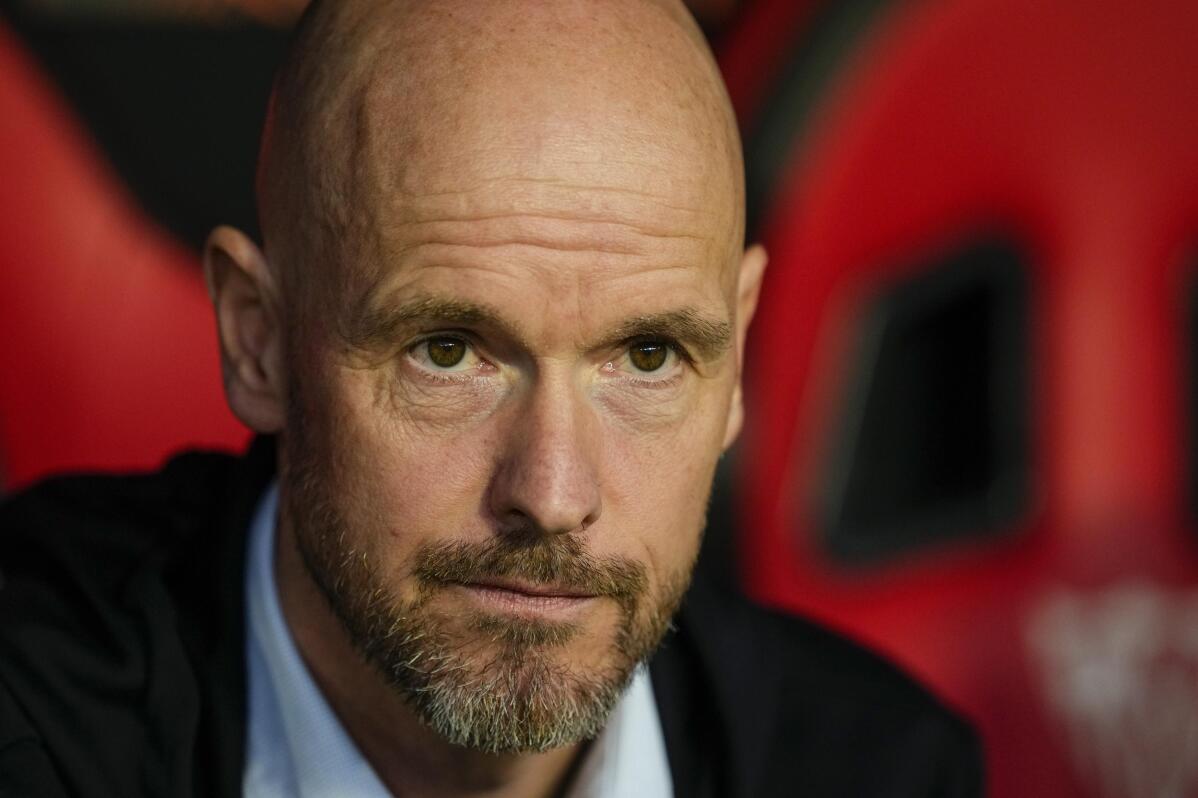 4 of 18

|
Manchester United's head coach Erik ten Hag looks out from the bench prior the Europa League quarter finals second leg soccer match between Sevilla and Manchester United, at the Ramon Sanchez Pizjuan stadium in Seville, Spain, Thursday, April 20, 2023. (AP Photo/Jose Breton)
4 of 18
Manchester United's head coach Erik ten Hag looks out from the bench prior the Europa League quarter finals second leg soccer match between Sevilla and Manchester United, at the Ramon Sanchez Pizjuan stadium in Seville, Spain, Thursday, April 20, 2023. (AP Photo/Jose Breton)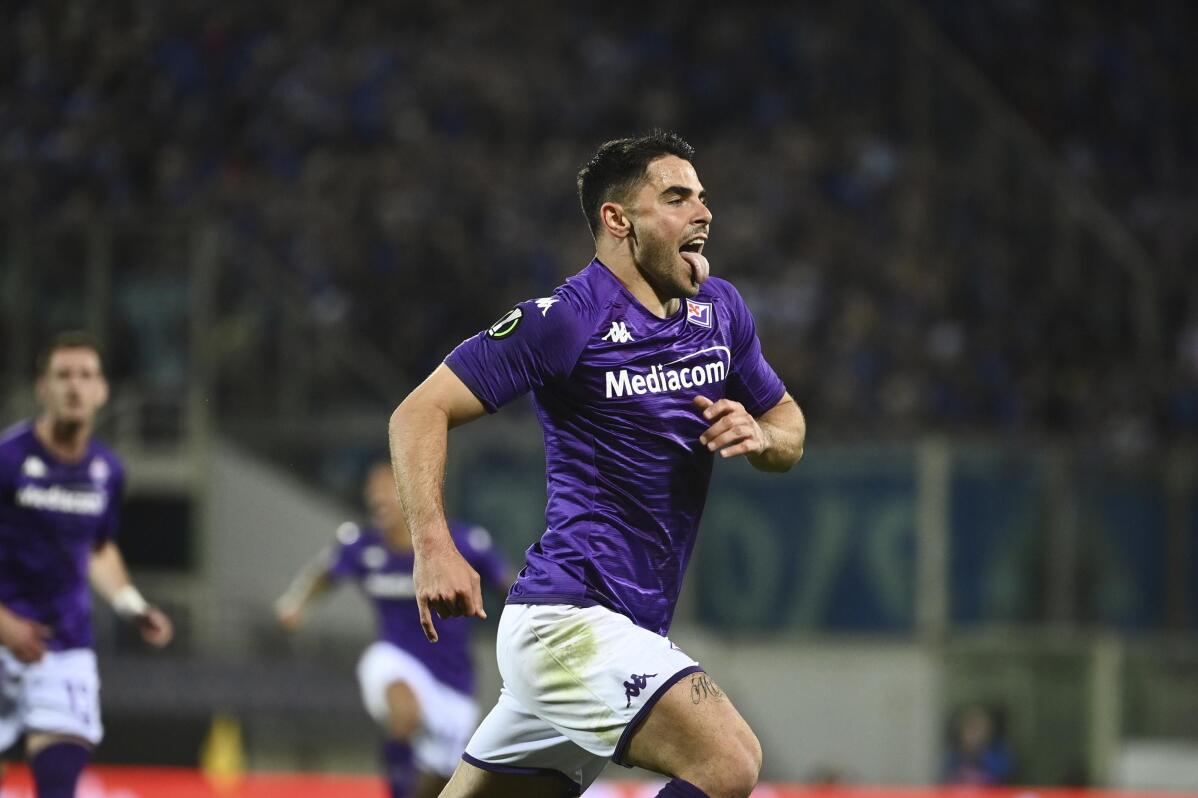 5 of 18

|
Fiorentina's Riccardo Sottil, celebrates after scoring to 1-3 during the UEFA Europa Conference League quarter final second leg soccer match between Fiorentina and Lech Poznan at the Artemio Franchi stadium in Florence, Italy, Thursday April 20, 2023. (Massimo Paolone/LaPresse via AP)
5 of 18
Fiorentina's Riccardo Sottil, celebrates after scoring to 1-3 during the UEFA Europa Conference League quarter final second leg soccer match between Fiorentina and Lech Poznan at the Artemio Franchi stadium in Florence, Italy, Thursday April 20, 2023. (Massimo Paolone/LaPresse via AP)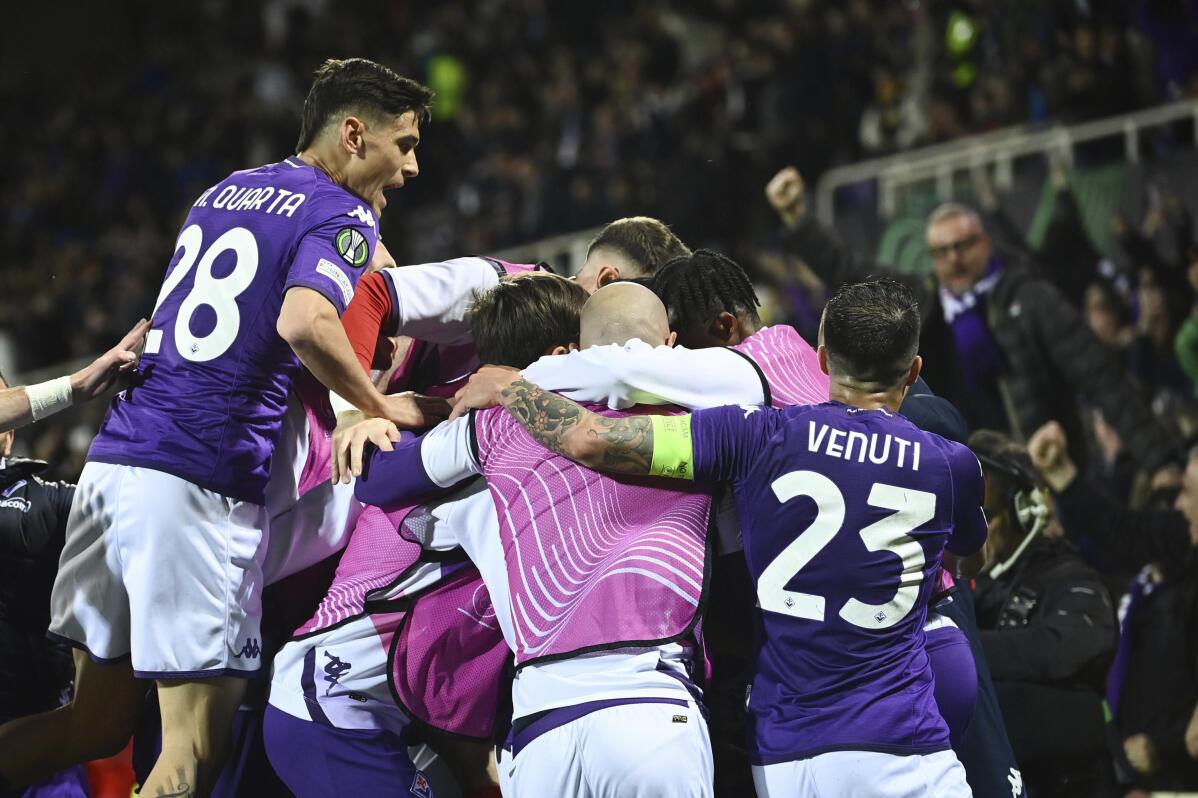 6 of 18

|
Fiorentina players celebrate after Fiorentina's Riccardo Sottil scored to 1-3 during the UEFA Europa Conference League quarter final second leg soccer match between Fiorentina and Lech Poznan at the Artemio Franchi stadium in Florence, Italy, Thursday April 20, 2023. (Massimo Paolone/LaPresse via AP)
6 of 18
Fiorentina players celebrate after Fiorentina's Riccardo Sottil scored to 1-3 during the UEFA Europa Conference League quarter final second leg soccer match between Fiorentina and Lech Poznan at the Artemio Franchi stadium in Florence, Italy, Thursday April 20, 2023. (Massimo Paolone/LaPresse via AP)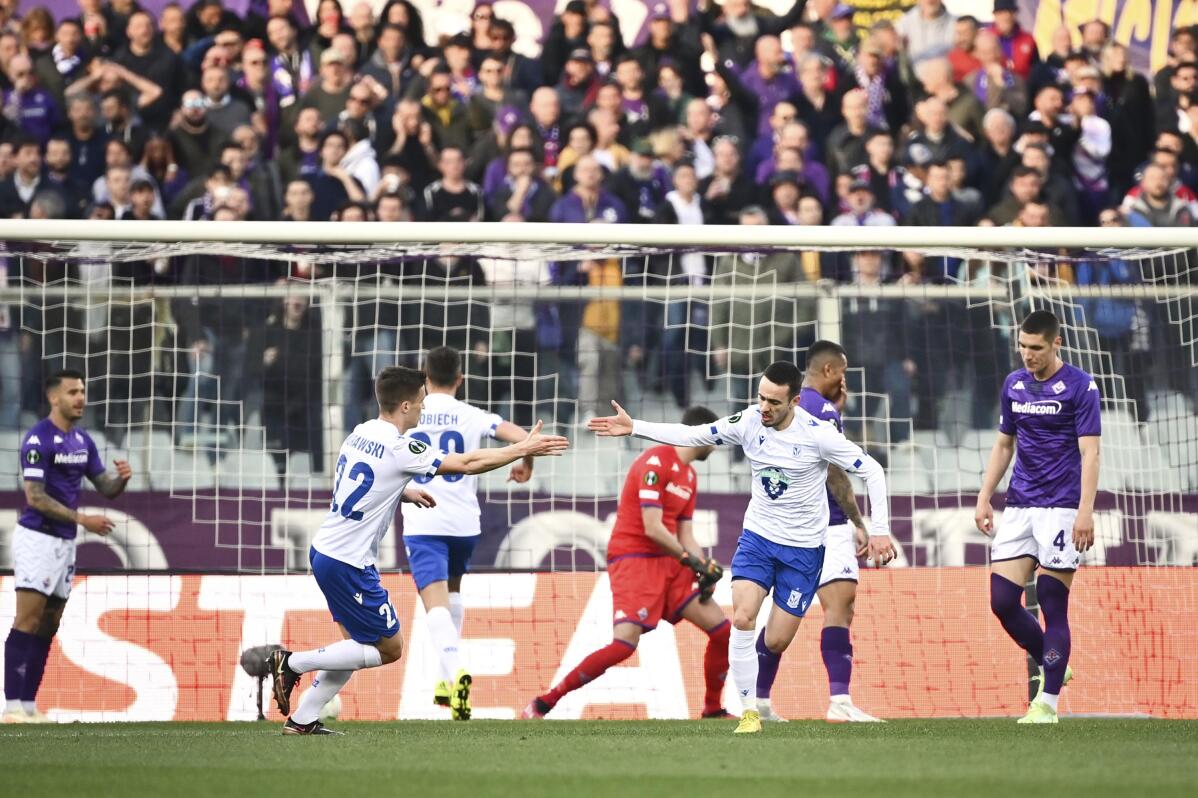 7 of 18

|
Lech Poznan's Afonso Sousa, foreground right, celebrates with teammate after scoring to 0-1 during the UEFA Europa Conference League quarter final second leg soccer match between Fiorentina and Lech Poznan at the Artemio Franchi stadium in Florence, Italy, Thursday April 20, 2023. (Massimo Paolone/LaPresse via AP)
7 of 18
Lech Poznan's Afonso Sousa, foreground right, celebrates with teammate after scoring to 0-1 during the UEFA Europa Conference League quarter final second leg soccer match between Fiorentina and Lech Poznan at the Artemio Franchi stadium in Florence, Italy, Thursday April 20, 2023. (Massimo Paolone/LaPresse via AP)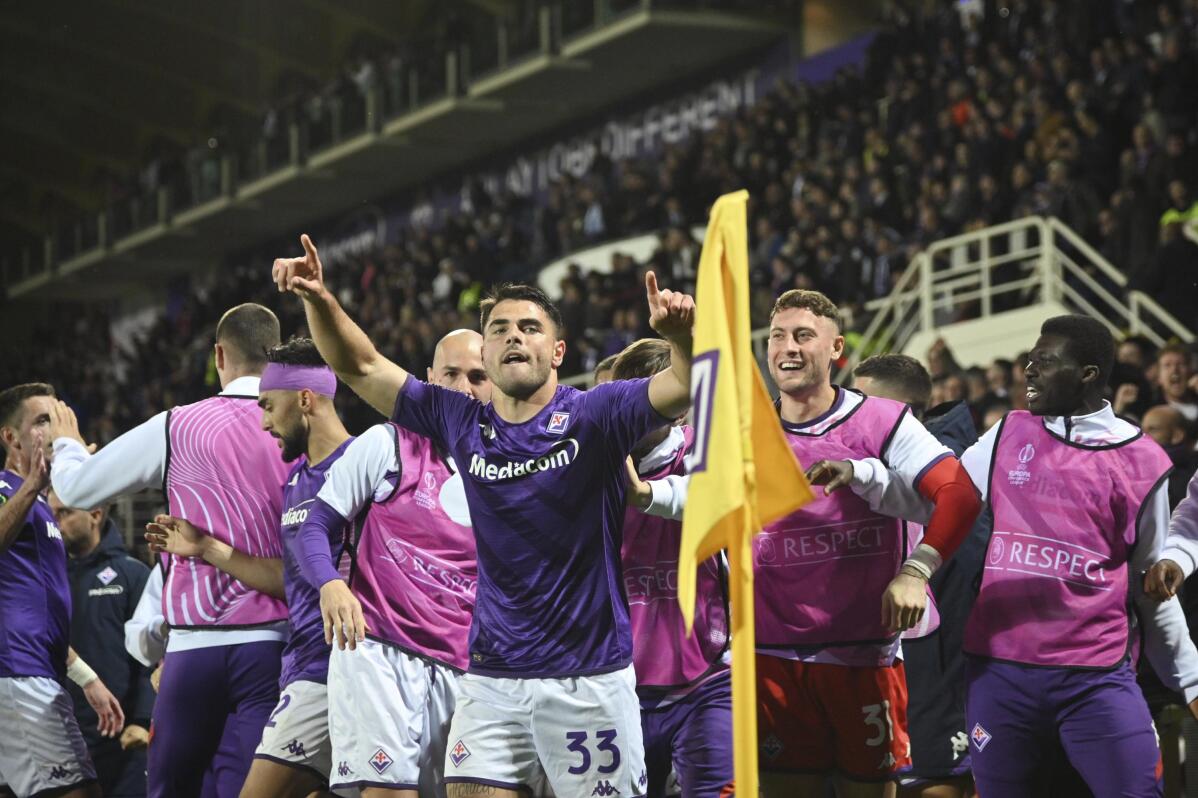 8 of 18

|
Fiorentina's Riccardo Sottil celebrates with teammates after scoring to 1-3 during the UEFA Europa Conference League quarter final second leg soccer match between Fiorentina and Lech Poznan at the Artemio Franchi stadium in Florence, Italy, Thursday April 20, 2023. (Massimo Paolone/LaPresse via AP)
8 of 18
Fiorentina's Riccardo Sottil celebrates with teammates after scoring to 1-3 during the UEFA Europa Conference League quarter final second leg soccer match between Fiorentina and Lech Poznan at the Artemio Franchi stadium in Florence, Italy, Thursday April 20, 2023. (Massimo Paolone/LaPresse via AP)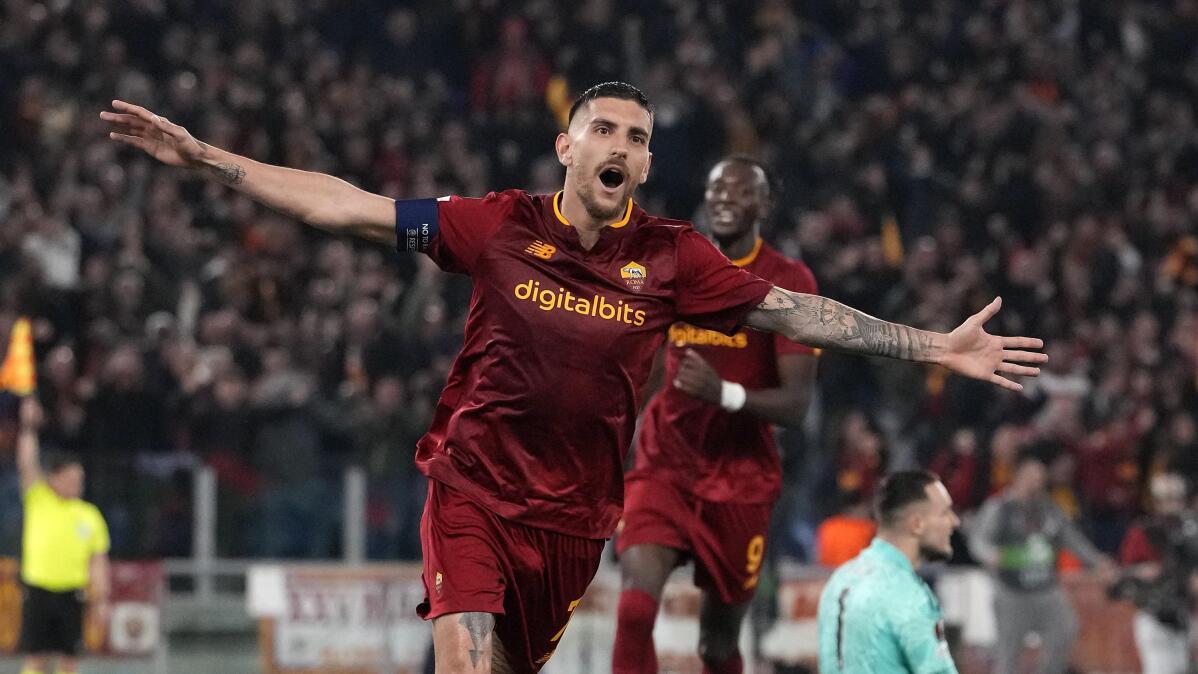 9 of 18

|
Roma's Lorenzo Pellegrini celebrates after he scored his side's 4th goal during the Europa League second leg quarterfinal soccer match between Roma and Feyenoord at the Olympic Stadium in Rome, Italy, Thursday, April 20, 2023. (AP Photo/Alessandra Tarantino)
9 of 18
Roma's Lorenzo Pellegrini celebrates after he scored his side's 4th goal during the Europa League second leg quarterfinal soccer match between Roma and Feyenoord at the Olympic Stadium in Rome, Italy, Thursday, April 20, 2023. (AP Photo/Alessandra Tarantino)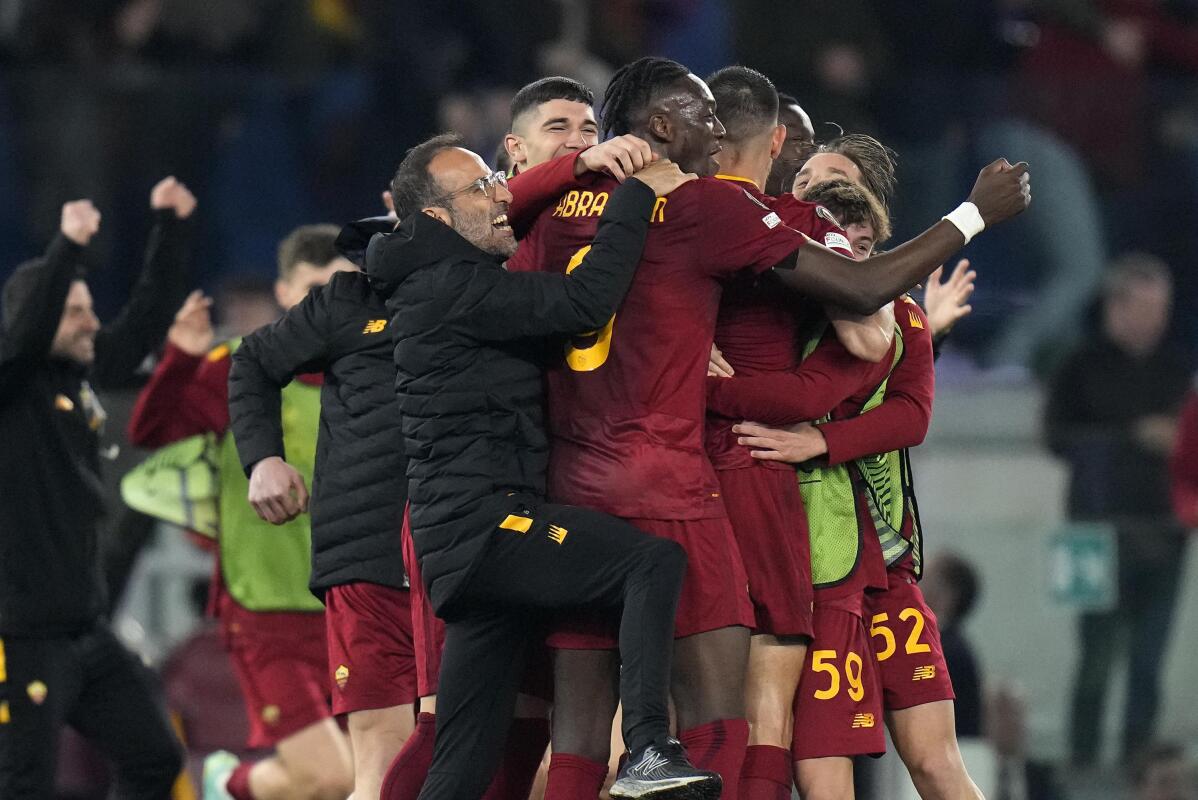 10 of 18

|
Roma's team celebrates Lorenzo Pellegrini after he scored his side's 4th goal during the Europa League second leg quarterfinal soccer match between Roma and Feyenoord at the Olympic Stadium in Rome, Italy, Thursday, April 20, 2023. (AP Photo/Alessandra Tarantino)
10 of 18
Roma's team celebrates Lorenzo Pellegrini after he scored his side's 4th goal during the Europa League second leg quarterfinal soccer match between Roma and Feyenoord at the Olympic Stadium in Rome, Italy, Thursday, April 20, 2023. (AP Photo/Alessandra Tarantino)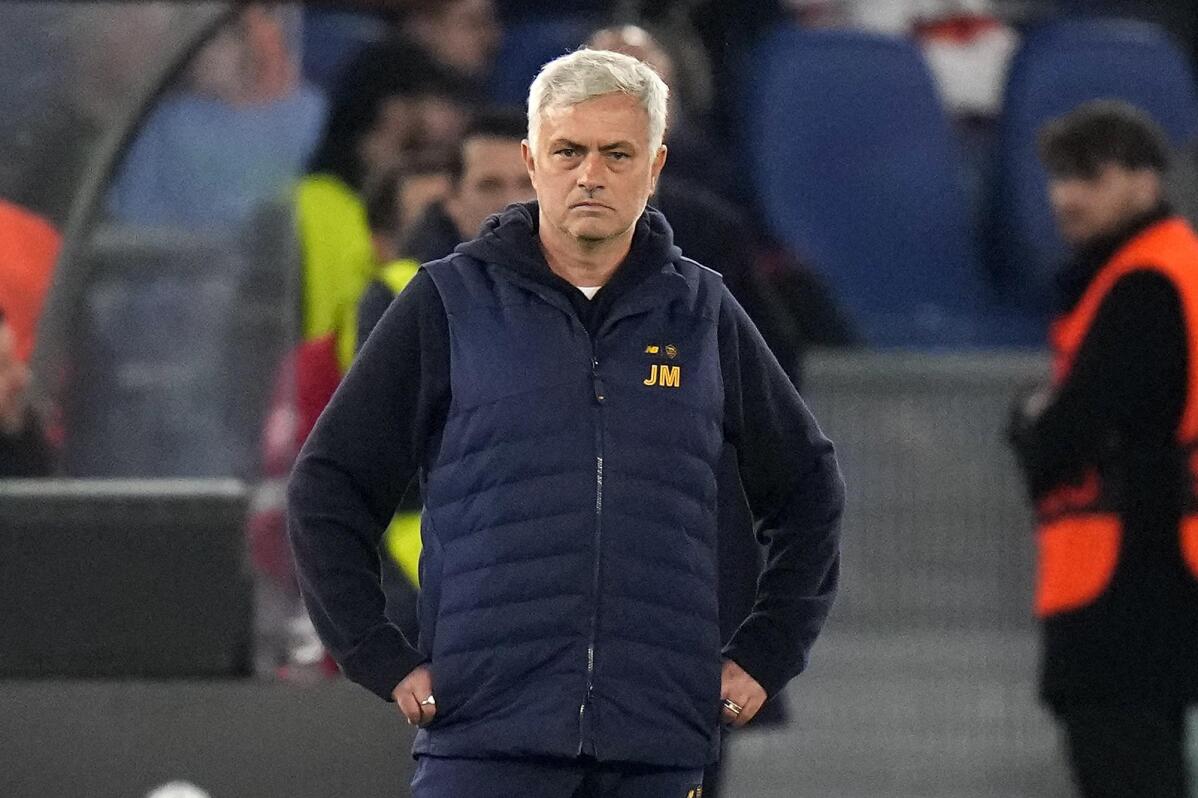 11 of 18

|
Roma's head coach Jose Mourinho watches during the Europa League second leg quarterfinal soccer match between Roma and Feyenoord at the Olympic Stadium in Rome, Italy, Thursday, April 20, 2023. (AP Photo/Alessandra Tarantino)
11 of 18
Roma's head coach Jose Mourinho watches during the Europa League second leg quarterfinal soccer match between Roma and Feyenoord at the Olympic Stadium in Rome, Italy, Thursday, April 20, 2023. (AP Photo/Alessandra Tarantino)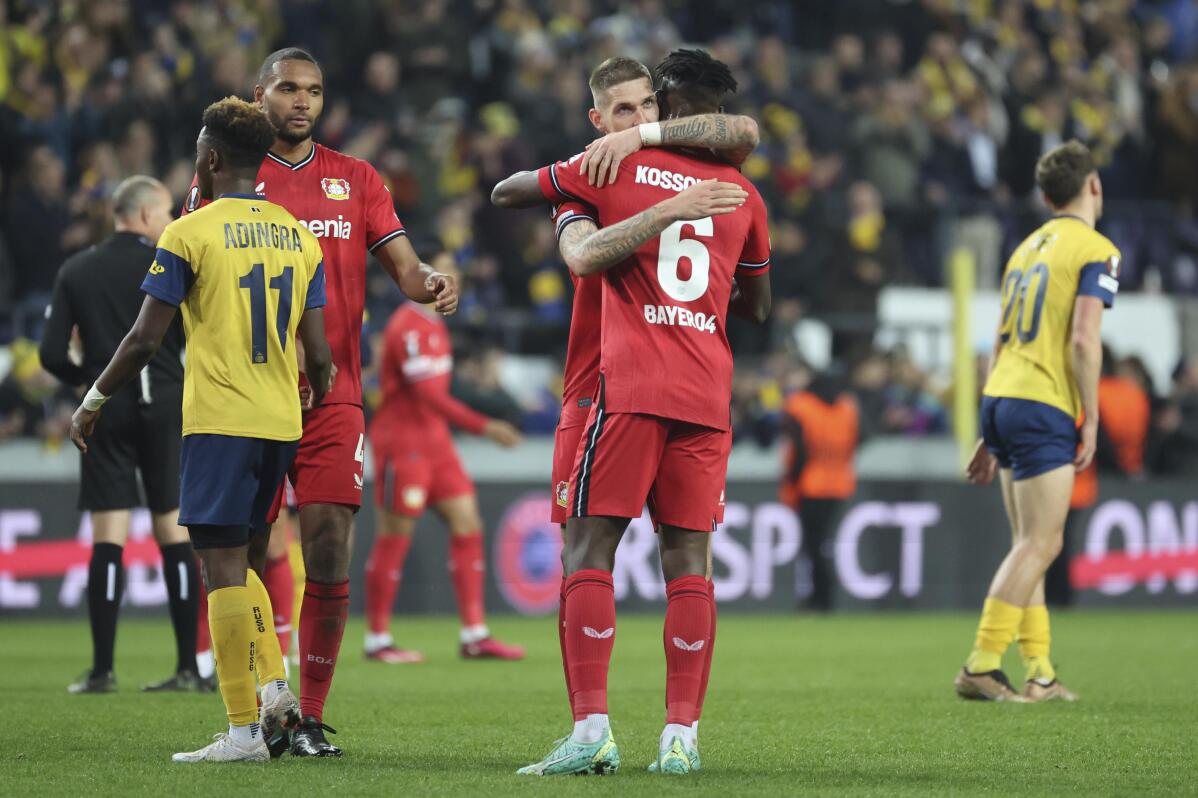 12 of 18

|
Players congratulate each other after Leverkusen won the Europa League quarterfinals, second leg, soccer match between Union St. Gilloise and Leverkusen at Anderlecht Stadium in Brussels, Thursday, April 20, 2023. (AP Photo/Geert Vanden Wijngaert)
12 of 18
Players congratulate each other after Leverkusen won the Europa League quarterfinals, second leg, soccer match between Union St. Gilloise and Leverkusen at Anderlecht Stadium in Brussels, Thursday, April 20, 2023. (AP Photo/Geert Vanden Wijngaert)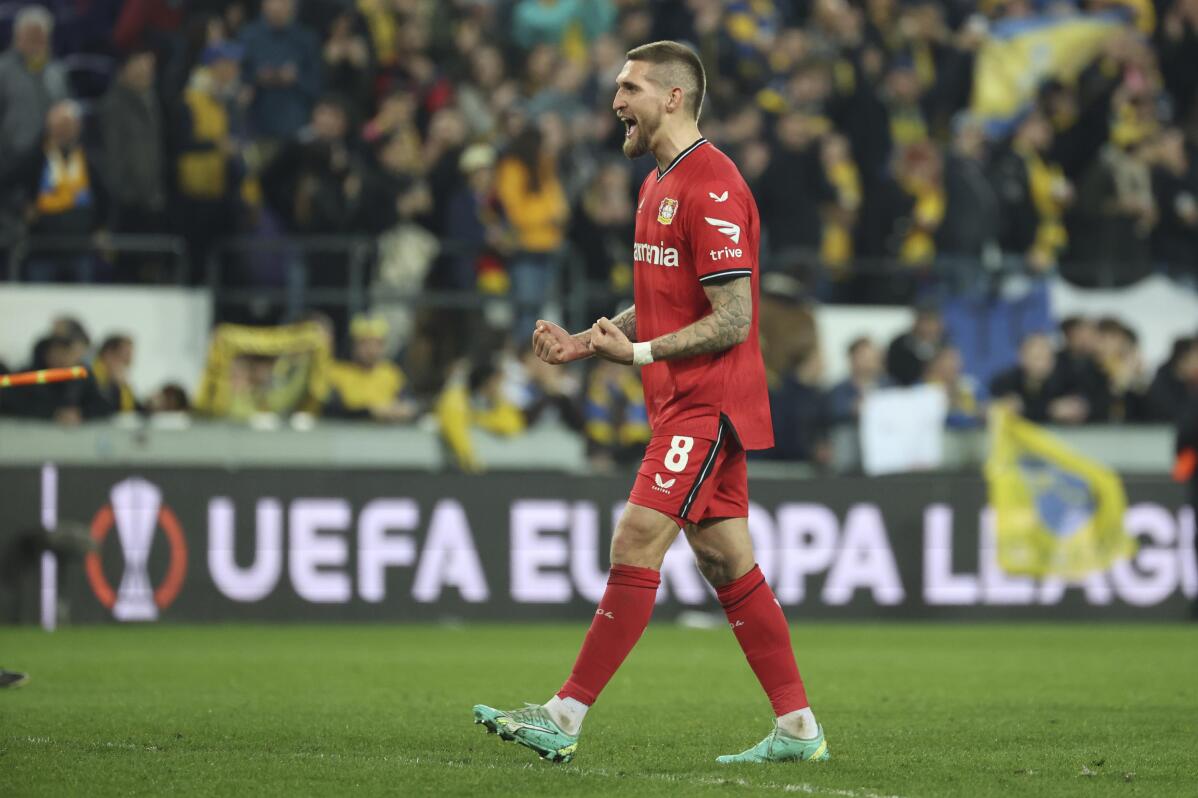 13 of 18

|
Leverkusen's Robert Andrich celebrates after Leverkusen won the Europa League quarterfinals, second leg, soccer match between Union St. Gilloise and Leverkusen at Anderlecht Stadium in Brussels, Thursday, April 20, 2023. (AP Photo/Geert Vanden Wijngaert)
13 of 18
Leverkusen's Robert Andrich celebrates after Leverkusen won the Europa League quarterfinals, second leg, soccer match between Union St. Gilloise and Leverkusen at Anderlecht Stadium in Brussels, Thursday, April 20, 2023. (AP Photo/Geert Vanden Wijngaert)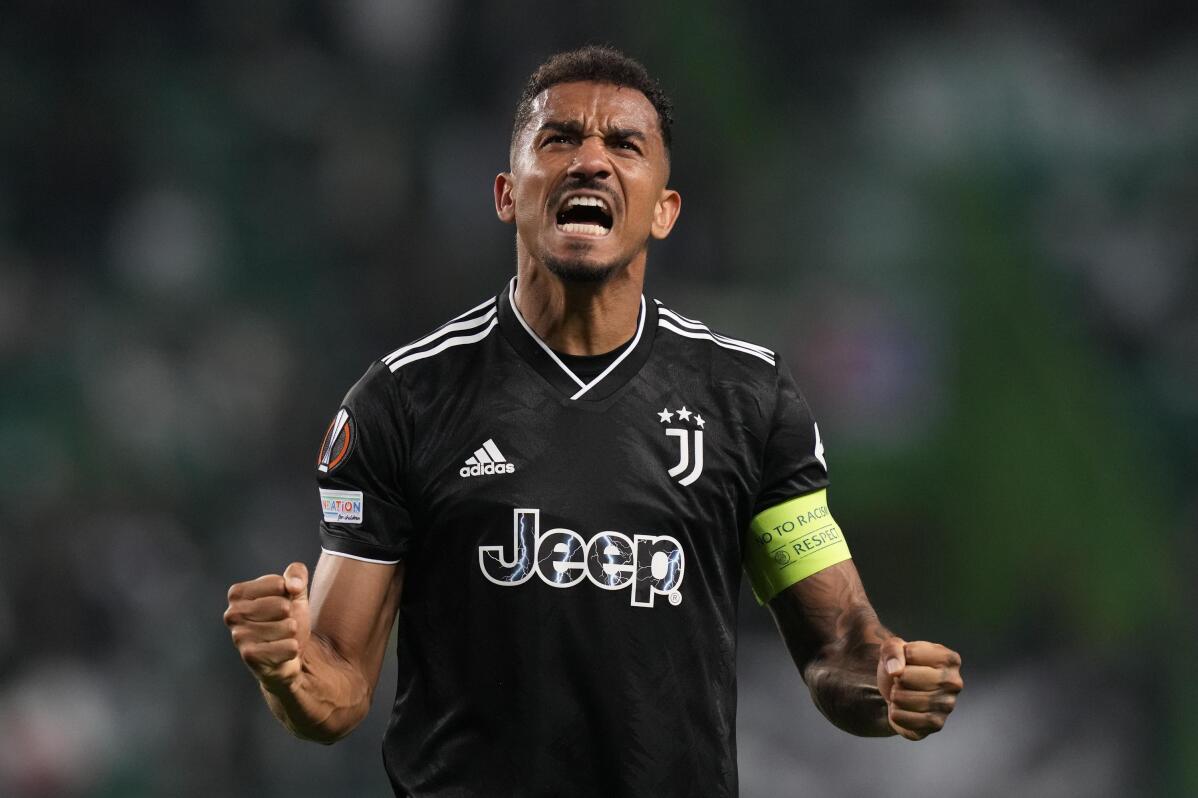 14 of 18

|
Juventus' Danilo celebrates at the end of the Europa League quarter final second leg soccer match between Sporting CP and Juventus at the Alvalade stadium in Lisbon, Thursday, April 20, 2023. Juventus won 2-1 on aggregate. (AP Photo/Armando Franca)
14 of 18
Juventus' Danilo celebrates at the end of the Europa League quarter final second leg soccer match between Sporting CP and Juventus at the Alvalade stadium in Lisbon, Thursday, April 20, 2023. Juventus won 2-1 on aggregate. (AP Photo/Armando Franca)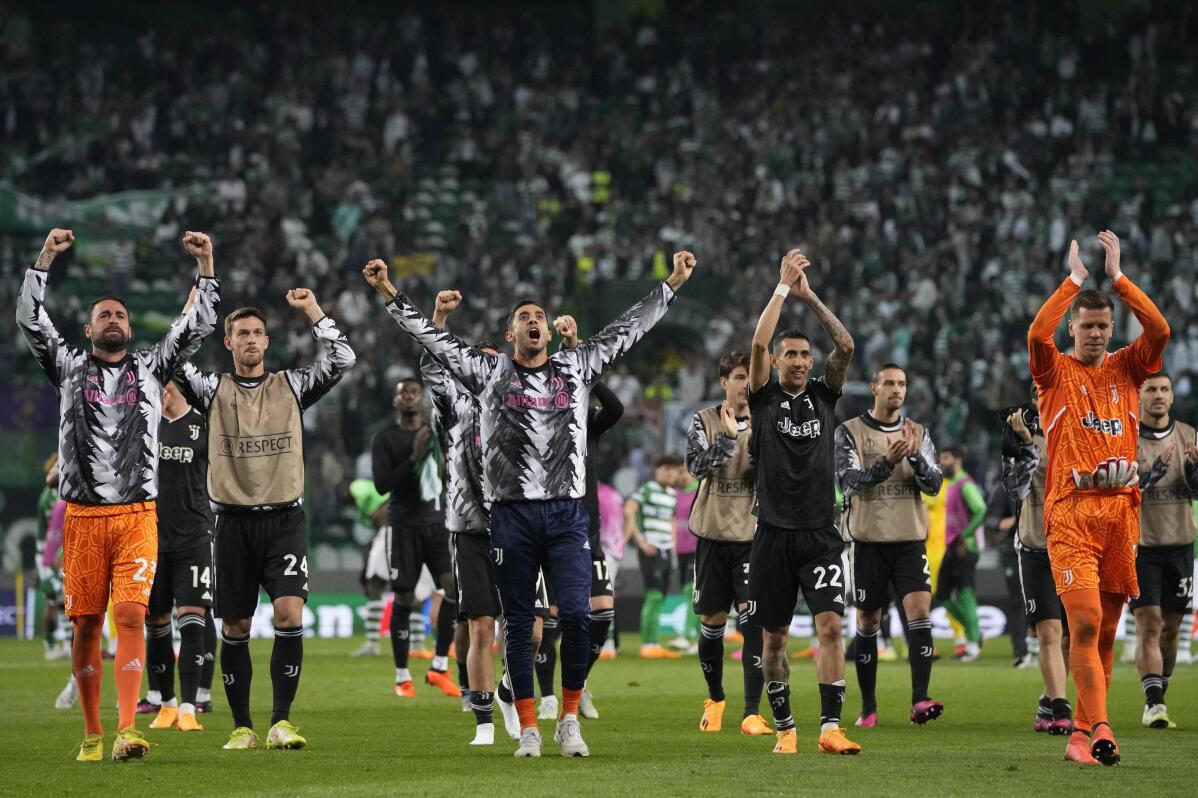 15 of 18

|
Juventus' players celebrate at the end of the Europa League quarter final second leg soccer match between Sporting CP and Juventus at the Alvalade stadium in Lisbon, Thursday, April 20, 2023. Juventus won 2-1 on aggregate. (AP Photo/Armando Franca)
15 of 18
Juventus' players celebrate at the end of the Europa League quarter final second leg soccer match between Sporting CP and Juventus at the Alvalade stadium in Lisbon, Thursday, April 20, 2023. Juventus won 2-1 on aggregate. (AP Photo/Armando Franca)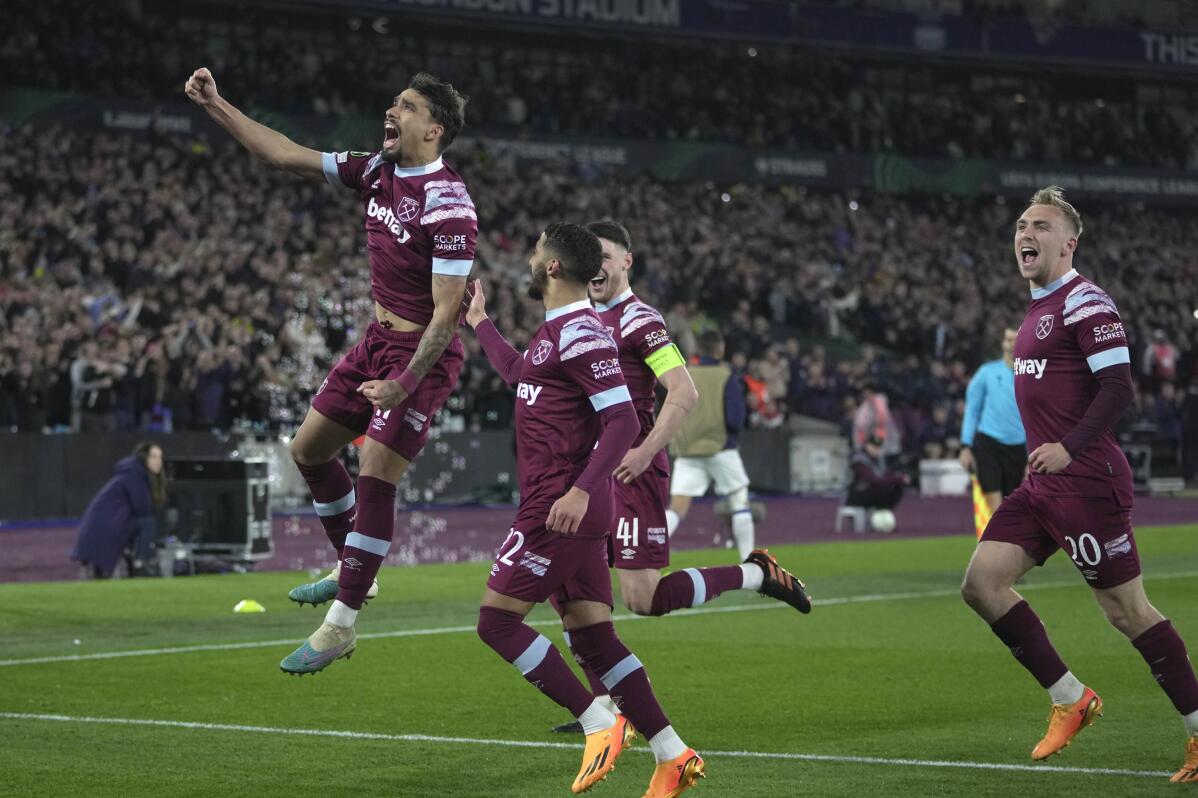 16 of 18

|
West Ham's Lucas Paqueta, left, celebrates after scoring his side's second goal during the Conference League soccer match between West Ham and Gent at the London stadium in London, England, Thursday, April 20, 2023. (AP Photo/Kin Cheung)
16 of 18
West Ham's Lucas Paqueta, left, celebrates after scoring his side's second goal during the Conference League soccer match between West Ham and Gent at the London stadium in London, England, Thursday, April 20, 2023. (AP Photo/Kin Cheung)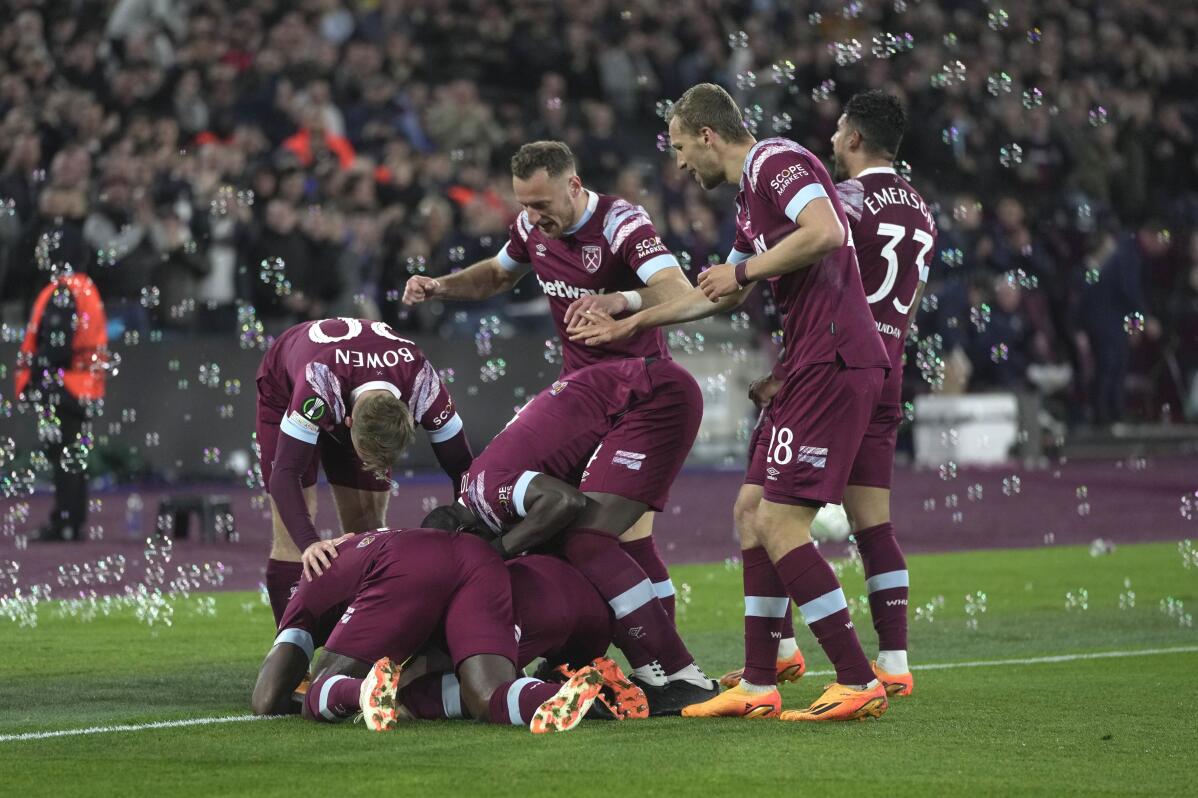 17 of 18

|
West Ham players celebrate after West Ham's Declan Rice scored his side's third goal during the Conference League soccer match between West Ham and Gent at the London stadium in London, England, Thursday, April 20, 2023. (AP Photo/Kin Cheung)
17 of 18
West Ham players celebrate after West Ham's Declan Rice scored his side's third goal during the Conference League soccer match between West Ham and Gent at the London stadium in London, England, Thursday, April 20, 2023. (AP Photo/Kin Cheung)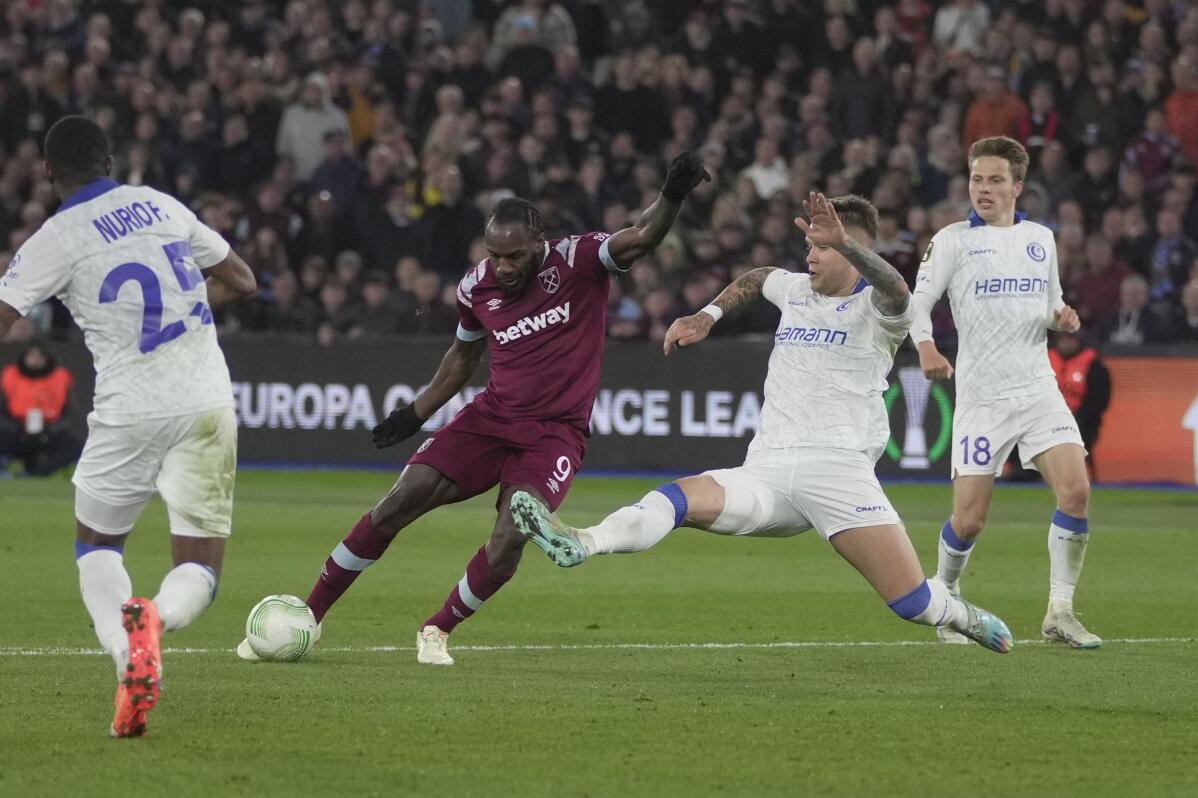 18 of 18

|
West Ham's Michail Antonio, centre, scores his side's fourth goal during the Conference League soccer match between West Ham and Gent at the London stadium in London, England, Thursday, April 20, 2023. (AP Photo/Kin Cheung)
18 of 18
West Ham's Michail Antonio, centre, scores his side's fourth goal during the Conference League soccer match between West Ham and Gent at the London stadium in London, England, Thursday, April 20, 2023. (AP Photo/Kin Cheung)
Six-time champion Sevilla eliminated Manchester United from the Europa League on Thursday after a 3-0 victory in the second leg of their quarterfinal.
United had beaten Barcelona and Real Betis earlier in Europe's second-tier competition but couldn't keep up with Sevilla — currently 13th in the Spanish league — at the Ramón Sánchez-Pizjuán Stadium.
Forward Youssef En-Nesyri scored twice and Sevilla advanced to the semifinals 5-2 on aggregate after last week's 2-2 draw in the first leg at Old Trafford.
"This is a team that's used to greater things," Sevilla coach José Luis Mendilibar said. "We came from an awkward situation in Manchester, where we drew 2-2 without doing things right, and people believed that we could do it. In the end we did it. It's surprising for us to win a game against Manchester United without struggling and with such forcefulness, it's not easy."
Under pressure, United defender Harry Maguire lost the ball outside the area and En-Nesyri scored on a low left-footed shot into the corner past goalkeeper David de Gea in the eighth minute.
Defender Loïc Badé headed home two minutes into the second half and En-Nesyri made it 3-0 late on after De Gea's blunder.
United manager Erik ten Hag didn't blame the injuries of some key players for the loss.
"It is about the players on the pitch. They have to perform. I believe in them and trust them. Today, we were not good enough," he told BT Sport. "Tonight, and on some other occasions, we were not ready for the game and that can't be when you are playing for Manchester United."
The Spaniards also eliminated United in the semifinals of the same competition in 2020.
Sevilla will face Juventus in the last four following the Italian team's 1-1 draw at Sporting in Lisbon for a 2-1 aggregate victory.
Ten Hag made only one change to the squad that beat Nottingham Forest 2-0 in the English Premier League on Sunday. Marcel Sabitzer replaced playmaker Bruno Fernandes, who was suspended after an accumulation of yellow cards. Sabitzer had scored both United goals in the first leg against Sevilla.
JUVE'S DOUBLE VICTORY
Juventus took a 1-0 lead to Lisbon and advanced with a 1-1 draw.
France midfielder Adrien Rabiot put the visitors ahead early after he netted when Sporting failed to clear a corner kick.
Marcus Edwards equalized from the penalty spot in the 20th.
Sporting knocked out English Premier League leader Arsenal in the previous round.
It was the second celebration for Juventus on Thursday. The storied Italian team had a 15-point penalty suspended and jumped up to third in Serie A.
In the Italian capital, Roma forward Paulo Dybala scored in the 89th minute against Feyenoord, and Stephan El Shaarawy and captain Lorenzo Pellegrini scored in extra time for the Italian team to win 4-1 and advance to the semifinals on a 4-2 aggregate score.
Defender Leonardo Spinazzola scored on the hour for Roma to take a 1-0 lead but Igor Paixão equalized 10 minutes from time for the visitors.
Roma beat Feyenoord in last season's Europa Conference League final.
Roma will face Leverkusen in the final four after the German club beat Union Saint-Gilloise 4-1 to advance 5-2 on aggregate.
Moussa Diaby struck in the second minute to punish the hosts for a mistake and defender Mitchel Bakker volleyed in later in the first half to give the Bundesliga club a two-goal advantage. Jeremie Frimpong and Adam Hložek each scored in the second half and Casper Terho netted a consolation goal for Union.
EUROPA CONFERENCE LEAGUE
West Ham got two goals from Michail Antonio to rout Gent 4-1 and reach the semifinals of a European competition for a second straight year.
The teams were locked at 1-1 after the first leg with visitors taking a 1-0 lead through Hugo Cuypers' goal before Antonio leveled at London Stadium with a header off a Jarrod Bowen free kick.
Lucas Paquetá and Declan Rice scored after the break and then Antonio added his second for the Hammers.
West Ham reached the semifinals of the Europa League last season.
The Premier League club will next meet AZ Alkmaar after the Dutch prevailed in a penalty shootout 4-1 over Anderlecht to reach the last four with a 2-0 home victory. Their quarterfinal matchup was 2-2 on aggregate after regulation and extra time.
AZ Alkmaar center forward Vangelis Pavlidis scored twice in the opening 13 minutes to erase Anderlecht's 2-0 advantage from the first leg.
Pavlidis scored his first from the penalty spot five minutes into the game and leveled the aggregate score only eight minutes later. He was substituted at halftime due to an injury.
Fiorentina had to rely on late goals by Riccardo Sottil and substitute Gaetano Castrovilli to reach the semifinals of the Europa Conference League despite a 3-2 home loss to Lech Poznan.
The Serie A club advanced 6-4 on aggregate after a comfortable 4-1 advantage from the first leg in Poland to meet Basel.
The visitors pulled even at 4-4 on aggregate when Artur Sobiech scored in the 69th minute in Florence. Afonso Sousa and Kristoffer Velde had scored earlier.
Sottil returned the overall lead to the home team 12 minutes from time with Castrovilli adding one more in stoppage time.
Basel recovered from a goal down at Nice with a late equalizer sending the game to extra time after they split the first leg 2-2. Defender Kasim Nuhu scored the decider in the 98th.
___
More AP soccer: https://apnews.com/hub/soccer and https://twitter.com/AP_Sports