AP Exclusive: US probe of ex-Trump aide extends to Cyprus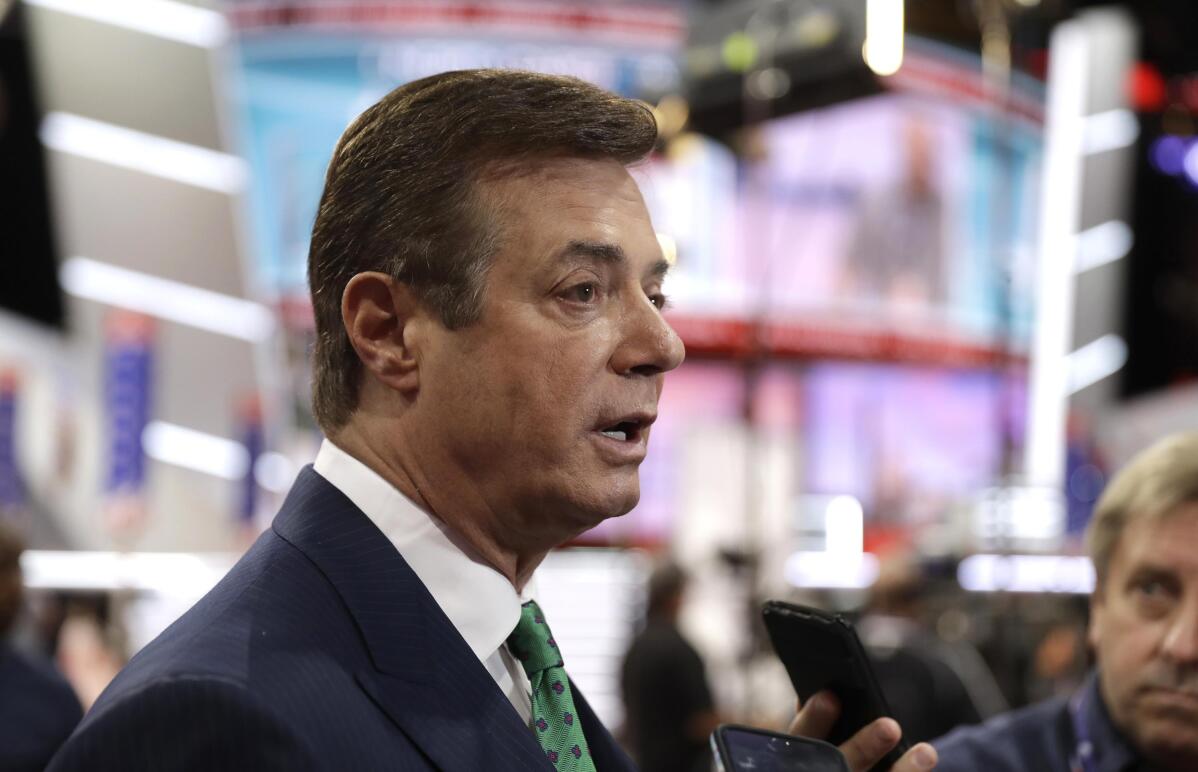 1 of 3

|
FILE - In this July 17, 2016, file photo, then-Trump campaign chairman Paul Manafort talks to reporters on the floor of the Republican National Convention in Cleveland. U.S. Treasury Department agents have recently obtained information about offshore financial transactions involving Manafort, as part of a federal anti-corruption probe into his work in Eastern Europe, The Associated Press has learned. (AP Photo/Matt Rourke, File)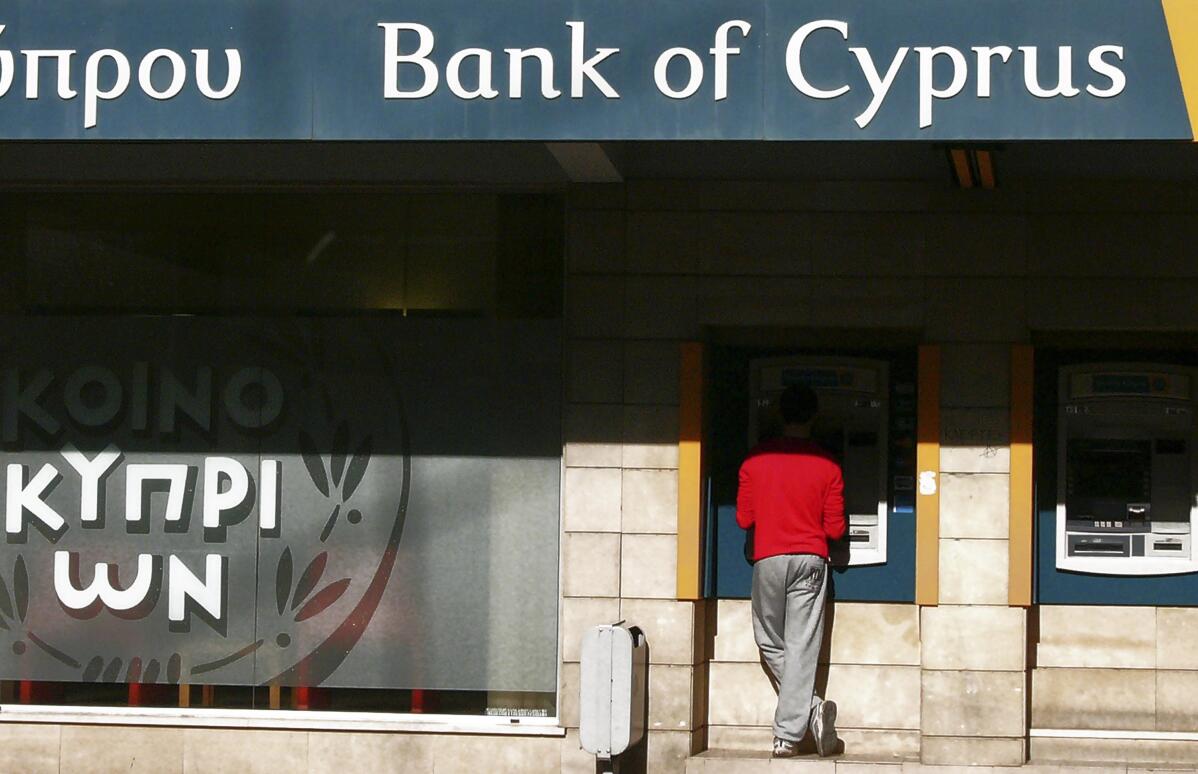 2 of 3

|
FILE - In this Oct. 30, 2013, file photo. a man uses an ATM machine outside of a branch of Bank of Cyprus in capital Nicosia, Cyprus. U.S. Treasury Department agents have recently obtained information about offshore financial transactions involving President Donald Trump's former campaign chairman, Paul Manafort, as part of a federal anti-corruption probe into his work in Eastern Europe, The Associated Press has learned. Information about Manafort's banking transactions was turned over to U.S. agents working in the Financial Crimes Enforcement Network, a Treasury Department bureau, by the Unit for Combating Money Laundering in the Mediterranean country of Cyprus, a person familiar with the case said, speaking on condition of anonymity because the person was not authorized to publicly discuss an ongoing, global criminal investigation. (AP Photo/Petros Karadjias, File)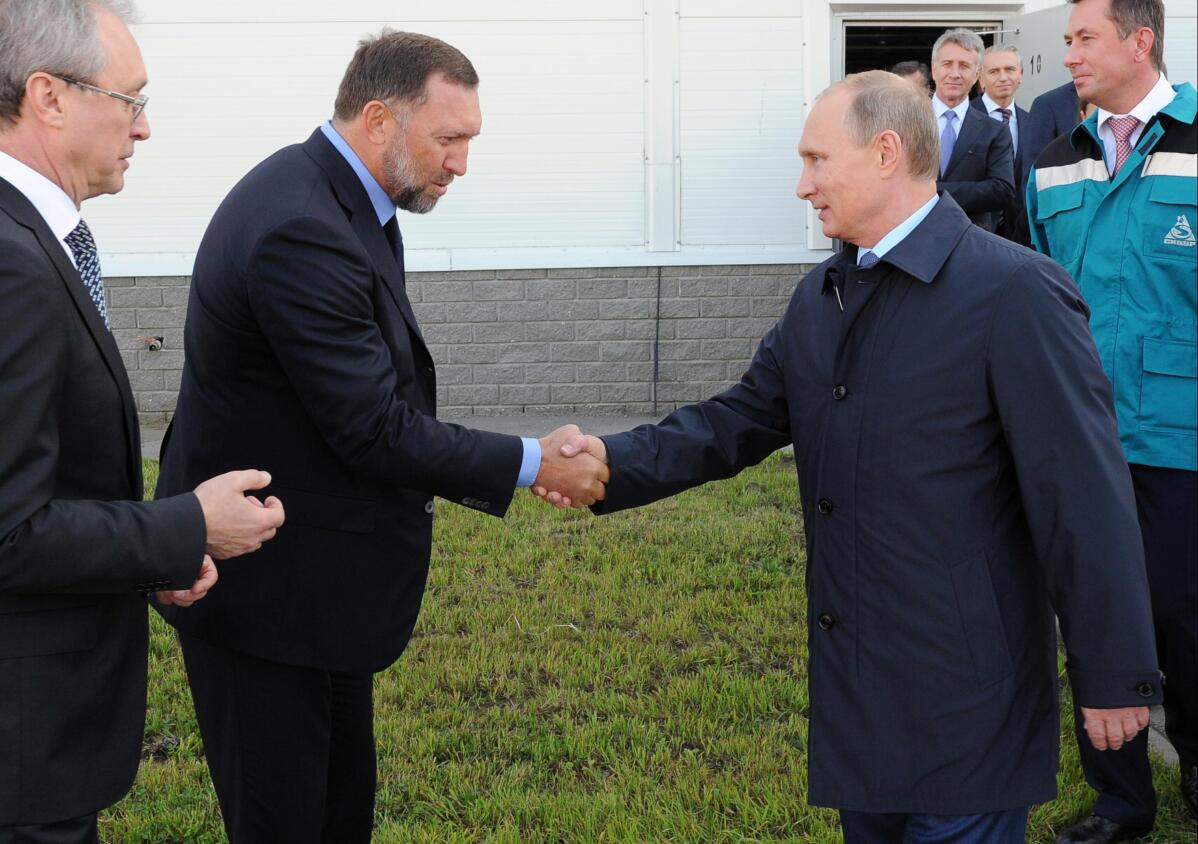 3 of 3

|
FILE - In this Sept. 19, 2014 file-pool photo, Russian President Vladimir Putin, right, shakes hands with Russian metals magnate Oleg Deripaska while visiting the RusVinyl plant in Kstovo, in Russia's Nizhny Novgorod region. President Donald Trump's former campaign chairman, Paul Manafort, secretly worked for Deripaska, a Russian billionaire, to advance the interests of Putin a decade ago and proposed an ambitious political strategy to undermine anti-Russian opposition across former Soviet republics. (AP Photo/RIA-Novosti, Mikhail Klimentyev, Presidential Press Service, File)
AP Exclusive: US probe of ex-Trump aide extends to Cyprus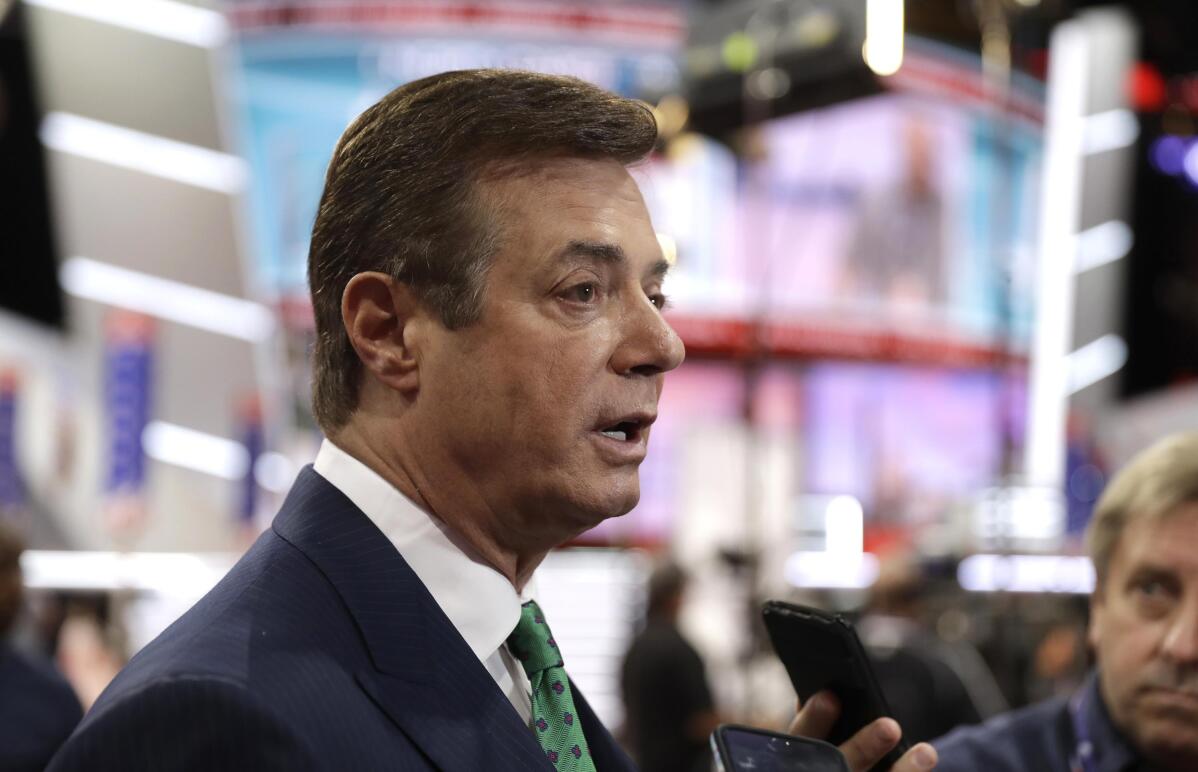 1 of 3

|
FILE - In this July 17, 2016, file photo, then-Trump campaign chairman Paul Manafort talks to reporters on the floor of the Republican National Convention in Cleveland. U.S. Treasury Department agents have recently obtained information about offshore financial transactions involving Manafort, as part of a federal anti-corruption probe into his work in Eastern Europe, The Associated Press has learned. (AP Photo/Matt Rourke, File)
1 of 3
FILE - In this July 17, 2016, file photo, then-Trump campaign chairman Paul Manafort talks to reporters on the floor of the Republican National Convention in Cleveland. U.S. Treasury Department agents have recently obtained information about offshore financial transactions involving Manafort, as part of a federal anti-corruption probe into his work in Eastern Europe, The Associated Press has learned. (AP Photo/Matt Rourke, File)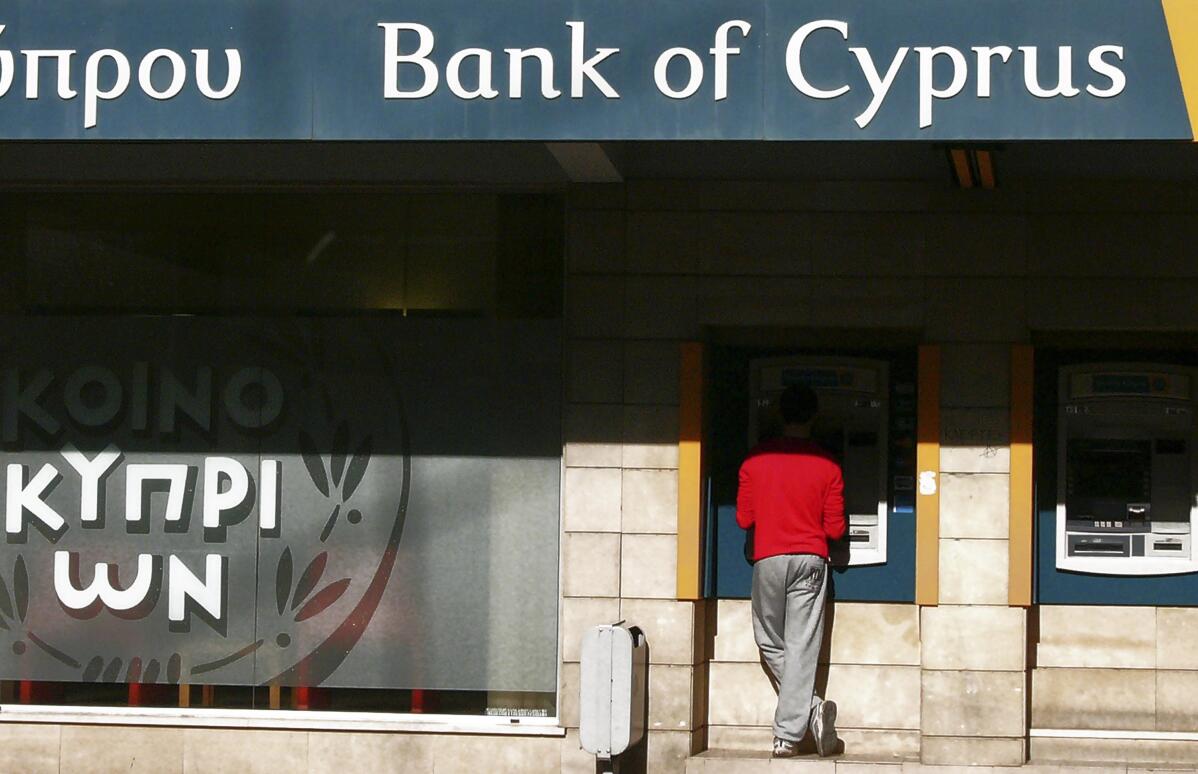 2 of 3

|
FILE - In this Oct. 30, 2013, file photo. a man uses an ATM machine outside of a branch of Bank of Cyprus in capital Nicosia, Cyprus. U.S. Treasury Department agents have recently obtained information about offshore financial transactions involving President Donald Trump's former campaign chairman, Paul Manafort, as part of a federal anti-corruption probe into his work in Eastern Europe, The Associated Press has learned. Information about Manafort's banking transactions was turned over to U.S. agents working in the Financial Crimes Enforcement Network, a Treasury Department bureau, by the Unit for Combating Money Laundering in the Mediterranean country of Cyprus, a person familiar with the case said, speaking on condition of anonymity because the person was not authorized to publicly discuss an ongoing, global criminal investigation. (AP Photo/Petros Karadjias, File)
2 of 3
FILE - In this Oct. 30, 2013, file photo. a man uses an ATM machine outside of a branch of Bank of Cyprus in capital Nicosia, Cyprus. U.S. Treasury Department agents have recently obtained information about offshore financial transactions involving President Donald Trump's former campaign chairman, Paul Manafort, as part of a federal anti-corruption probe into his work in Eastern Europe, The Associated Press has learned. Information about Manafort's banking transactions was turned over to U.S. agents working in the Financial Crimes Enforcement Network, a Treasury Department bureau, by the Unit for Combating Money Laundering in the Mediterranean country of Cyprus, a person familiar with the case said, speaking on condition of anonymity because the person was not authorized to publicly discuss an ongoing, global criminal investigation. (AP Photo/Petros Karadjias, File)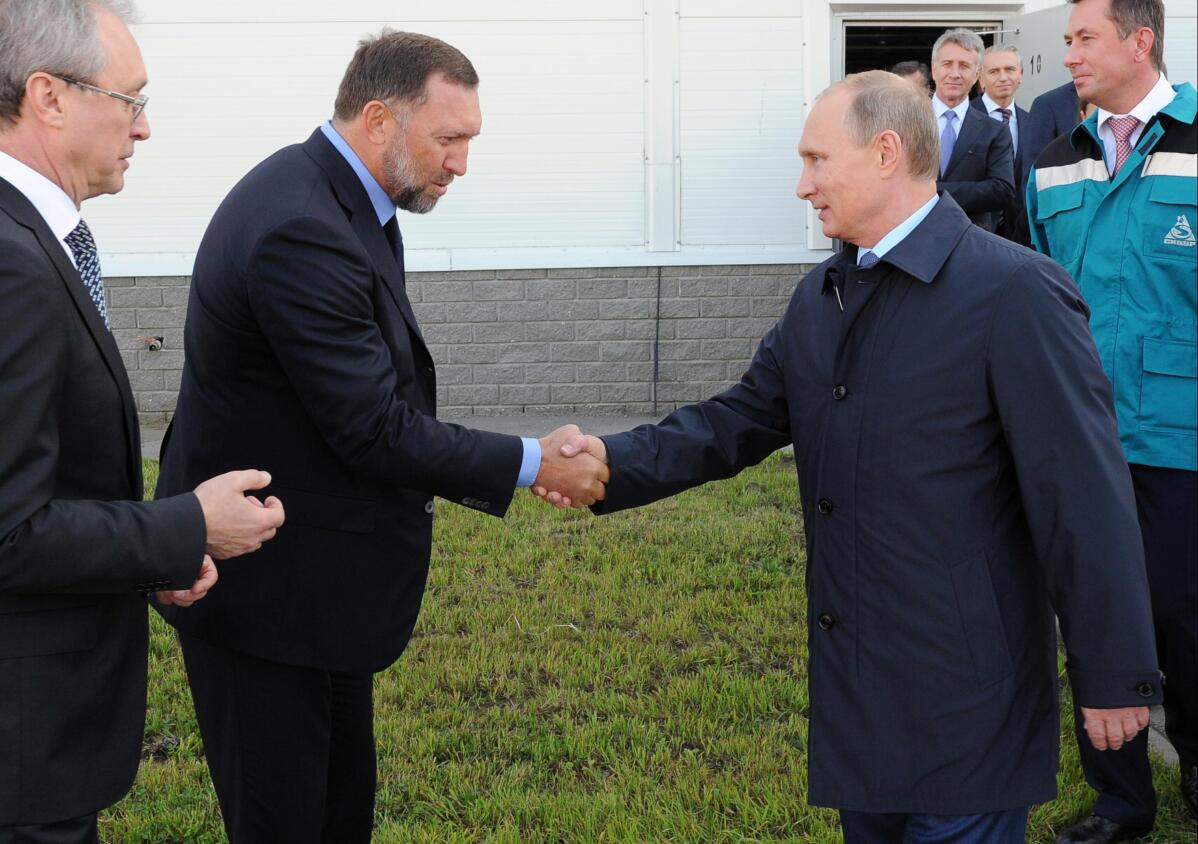 3 of 3

|
FILE - In this Sept. 19, 2014 file-pool photo, Russian President Vladimir Putin, right, shakes hands with Russian metals magnate Oleg Deripaska while visiting the RusVinyl plant in Kstovo, in Russia's Nizhny Novgorod region. President Donald Trump's former campaign chairman, Paul Manafort, secretly worked for Deripaska, a Russian billionaire, to advance the interests of Putin a decade ago and proposed an ambitious political strategy to undermine anti-Russian opposition across former Soviet republics. (AP Photo/RIA-Novosti, Mikhail Klimentyev, Presidential Press Service, File)
3 of 3
FILE - In this Sept. 19, 2014 file-pool photo, Russian President Vladimir Putin, right, shakes hands with Russian metals magnate Oleg Deripaska while visiting the RusVinyl plant in Kstovo, in Russia's Nizhny Novgorod region. President Donald Trump's former campaign chairman, Paul Manafort, secretly worked for Deripaska, a Russian billionaire, to advance the interests of Putin a decade ago and proposed an ambitious political strategy to undermine anti-Russian opposition across former Soviet republics. (AP Photo/RIA-Novosti, Mikhail Klimentyev, Presidential Press Service, File)
WASHINGTON (AP) — The U.S. government investigation of President Donald Trump's former campaign chairman, Paul Manafort, crossed the Atlantic earlier this year to the Mediterranean island nation of Cyprus, once known as a haven for money laundering by Russian billionaires.
Treasury agents in recent months obtained information connected to Manafort's transactions from Cypriot authorities, according to a person familiar with the matter who was not authorized to speak publicly. The request was part of a federal anti-corruption probe into Manafort's work in Eastern Europe. The Cyprus attorney general, one of the country's top law enforcement officers, was also aware of the American request.
Manafort was Trump's unpaid campaign chairman from March until August last year, during the critical run-up to the Republican National Convention. He's been a leading focus of the U.S. investigation into whether Trump associates coordinated with Moscow to meddle in the 2016 presidential campaign.
Manafort, in a statement to the AP Thursday when asked about the Cyprus transactions, characterized them as a normal practice. "Like many companies doing business internationally, my company was paid via wire transfer, typically using clients' preferred financial institutions and instructions," he said.
Federal prosecutors became interested in Manafort's activities years ago as part of a broad investigation to recover stolen Ukrainian assets after the ouster of pro-Russian President Viktor Yanukovych there in early 2014. No U.S. criminal charges have been filed in the case.
It was not immediately clear what time period of Manafort's transactions was covered under the request from the Treasury Department's Financial Crimes Enforcement Network. Manafort was known to route financial transactions through Cyprus, according to records of international wire transfers obtained by the AP and public court documents filed in a 2014 legal dispute in the Cayman Islands with Russian billionaire Oleg Deripaska.
As part of their investigation, U.S. officials were expected to look into millions of dollars' worth of wire transfers to Manafort. In one case, the AP found that a Manafort-linked company received a $1 million payment in October 2009 from a mysterious firm through the Bank of Cyprus. The $1 million left the account the same day — split in two, roughly $500,000 disbursements to accounts with no obvious owner.
There is nothing inherently illicit about using multiple companies as Manafort was doing. But it was unclear why he would have been involved with companies in Cyprus, known for its history of money laundering before joining the European Union, with unclear sources of the money flowing in to them and with such secrecy surrounding the firms' connections to him.
With Cyprus' entry into the European Union in 2004, the island was forced to put in place a host of stringent anti-money laundering regulations to avoid running afoul with the bloc's own rules and incurring the wrath of other EU members. Cypriot banks, sticking to EU rules, took on heightened importance when Cyprus started using the Euro currency in 2008.
But the island's allure as a friendly EU member brought a steady stream of Russian cash to fill Cypriot bank coffers, and rumors began to swirl again that it was fast becoming a major cash laundromat for Russian oligarchs, a charge that Cypriot authorities strenuously deny.
A Treasury Department spokesman, Stephen Hudak, declined to answer the AP's questions about Manafort's records, citing a policy never to confirm or deny an investigation's existence.
Cypriot officials said further information would have to come to the agency through a formal request to the Cypriot Ministry of Justice and Public Order under a mutual legal assistance treaty. No request has been made, according to two officials who spoke on condition of anonymity because they were not authorized to publicly discuss the case.
This week, the AP revealed Manafort's secret work for a Russian billionaire to advance the interests of Russian President Vladimir Putin a decade ago. Manafort did not dispute working for Oleg Deripaska but said he had represented him only in personal and business matters. He called the focus on him a "smear campaign," and said he was ready to defend his work if investigators wish to learn more about it.
The White House said Trump had not been aware of Manafort's work on behalf of Deripaska, a close Putin ally with whom Manafort, who is 67, eventually signed a $10 million annual contract beginning in 2006. "The president was not aware of Paul's clients from the last decade," said spokesman Sean Spicer. "What else don't we know? I mean, where he went to school, what grades he got, who he played with in the sandbox?"
Spicer declined to comment Thursday on the information about the offshore financial transactions. On the topic of Manafort in general, he reiterated to reporters at the day's press briefing: "You pull out a gentleman who was employed by someone for five months and talk about a client that he had 10 years ago."
The Financial Crimes Enforcement Network, known as FinCEN, was established in 1990 and became a Treasury Department bureau soon after the Sept. 11, 2001, terror attacks. It is part of an international network of so-called financial intelligence units that share information with each other in money laundering and terrorism financing investigations.
___
Hadjicostis reported from Nicosia, Cyprus. Associated Press writers Jeff Horwitz and Chad Day contributed to this report from Washington, and Nataliya Vasilyeva contributed to this report from Moscow and Kyiv.
___
Follow Jack Gillum on Twitter at https://twitter.com/jackgillum and Menelaos Hadjicostis at https://twitter.com/menhad .
___
Submit tips to The Associated Press at https://www.ap.org/tips .