Tenn. advances push to allow express toll lanes, hike EV fee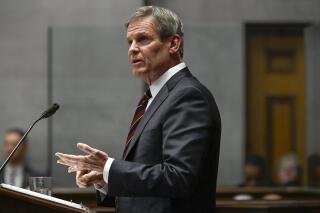 NASHVILLE, Tenn. (AP) — A roads funding push by Tennessee Gov. Bill Lee that would allow express toll lanes to be built on some highways and would increase fees on drivers with electric or hybrid vehicles cleared a key hurdle with state lawmakers on Monday.
The Senate voted to advance what has been a top priority of the governor, leaving its fate up to the House. Both chambers are Republican-controlled.
Lee, a Republican, says the timing is crucial to focus on roads. With Tennessee's rapid growth and truck traffic, state transportation officials say $26 billion in projects are needed to address worsening congestion, and only $3.6 billion of it is planned under a big swipe at roads by Lee's GOP predecessor. Officials also say projects are taking so long — 15 years on average — that they are coming in 40% over budget.
"I think it's unconscionable for us to do nothing, and I feel like this bill makes a big effort in addressing our road needs," said Sen. Becky Massey, the Republican bill sponsor from Knoxville.
Nearly a half-dozen Republicans and one of the chamber's six Democrats voted against the legislation.
Sen. Heidi Campbell, a Nashville Democrat, voted no, criticizing the focus on privatization and roads, without broader transit. She said allowing buses to use the lanes is "not a meaningful move" toward actual transit for the state.
"This inevitably is a paving bill," Campbell said. "It's paving. There's not transit in this bill."
Lee's proposal sets aside $3 billion in a state fund for roads projects to be split equally among four regions under the Tennessee Department of Transportation. It also includes $300 million in transportation grants for local governments.
It would allow for express toll lanes to built on existing highways, trying to allure drivers who are willing to pay a fee that usually increases as the traffic does to avoid congestion. The details of which roads and vendors would be involved would need to be hashed out.
The state could contract with private entities to develop, build, finance, maintain or operate the lanes. The addition of a pay-as-you-go lane on a highway could not reduce its number of traditional lanes with no tolls. The arrangement could operate under a state lease, but the third-party group wouldn't own the lanes.
According to the International Bridge, Tunnel and Turnpike Association (IBTTA), which lobbies on behalf of the projects, 54 of the 89 tolling facilities that opened in the U.S. in the past decade were for price-managed lanes. They can be found across the South in Texas, Florida, Georgia, North Carolina and Virginia, as well as such other places as California, Colorado, Washington and Minnesota.
The proposal would allow other kinds of Tennessee public-private projects to increase, as well.
Like other states, Tennessee's current road funding through gas taxes looks less reliable as more people switch to fuel-efficient and electric cars. That spurred the governor's push to raise electric and hybrid vehicle fees, saying it better reflects what those drivers would be paying in federal and state gas taxes.
Lee's administration dialed down its initial plan to increase the new electric fees to $300. But the new costs would still be on the high end nationally.
Starting in 2024, the fee would jump from its current annual rate of $100 to $200, and in 2027, to $274. Starting in 2028, the fee could also increase or drop — to no lower than $200 — to counterbalance any federal tax changes on electric vehicles.
A new $100 fee would be introduced for hybrid vehicles, including those that plug in to charge.
Both the hybrid and electric fees would would be adjusted for inflation or deflation annually starting in 2028, capped at a 3% maximum increase in a year.
As of last July, 31 states have a similar yearly electric vehicle fee, ranging from $50 in Colorado to $225 in Washington, according to the National Conference of State Legislatures.
Vehicle taxes are a mixed bag state by state. Some have property taxes and annual inspection fees, for example. Tennessee phased out its last required vehicle testing and doesn't charge property taxes on personal cars.