Trump SEC pick assures that his Wall St. work not problem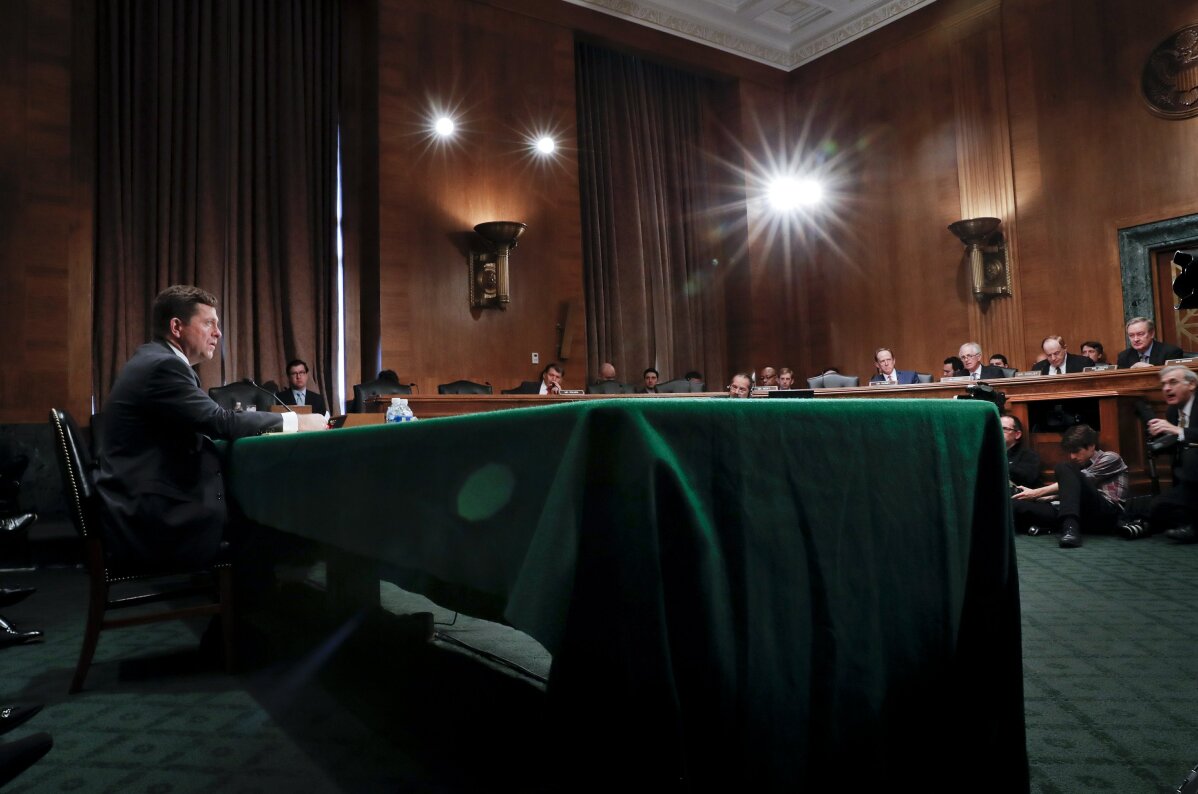 1 of 5

|
Securities and Exchange Commission (SEC) Chairman nominee Jay Clayton testifies on Capitol Hill in Washington, Thursday, March 23, 2017, at his confirmation hearing before the Senate Banking Committee. (AP Photo/Pablo Martinez Monsivais)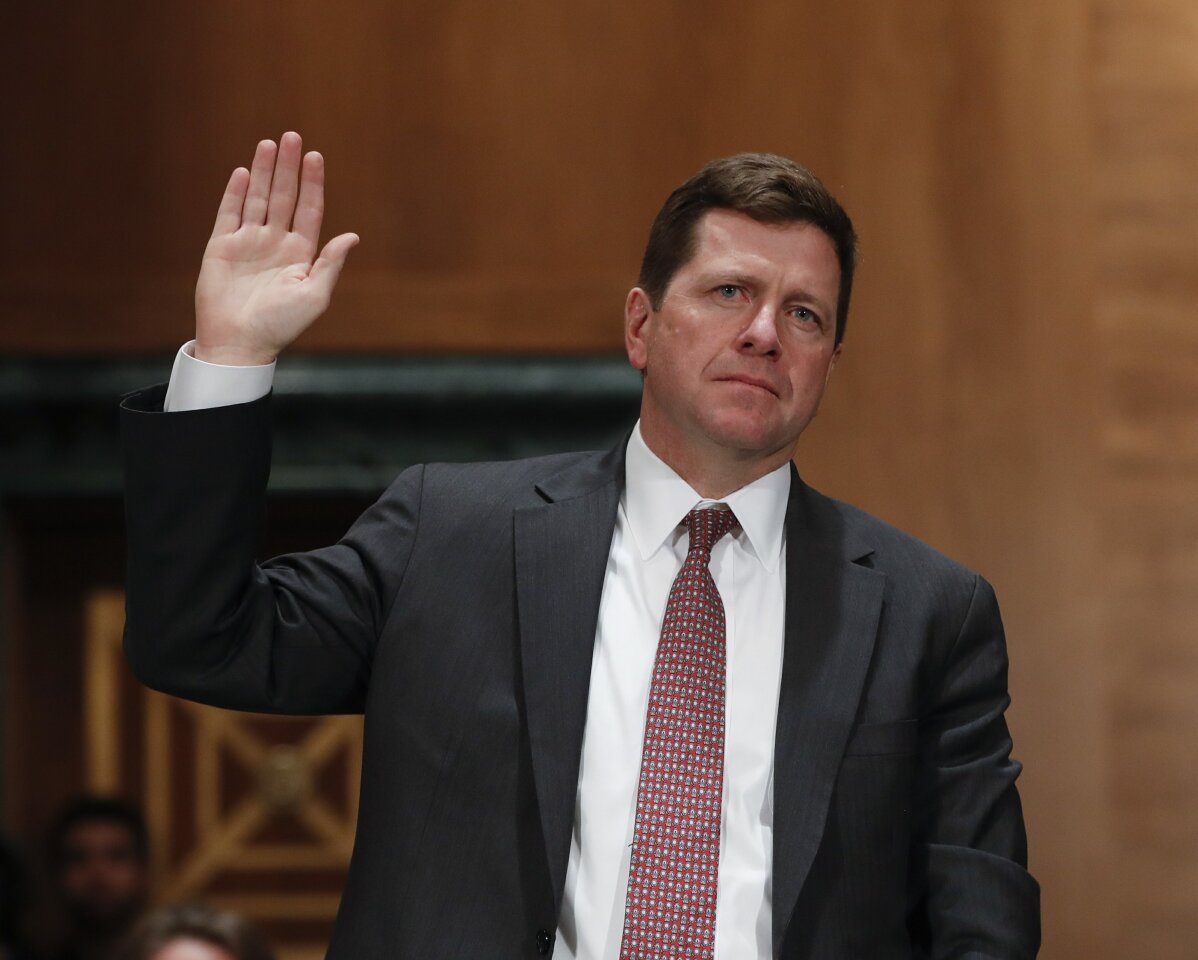 2 of 5

|
Securities and Exchange Commission (SEC) Chairman nominee Jay Clayton is sworn-in on Capitol Hill in Washington, Thursday, March 23, 2017, prior to testifying at his confirmation hearing before the Senate Banking Committee. (AP Photo/Pablo Martinez Monsivais)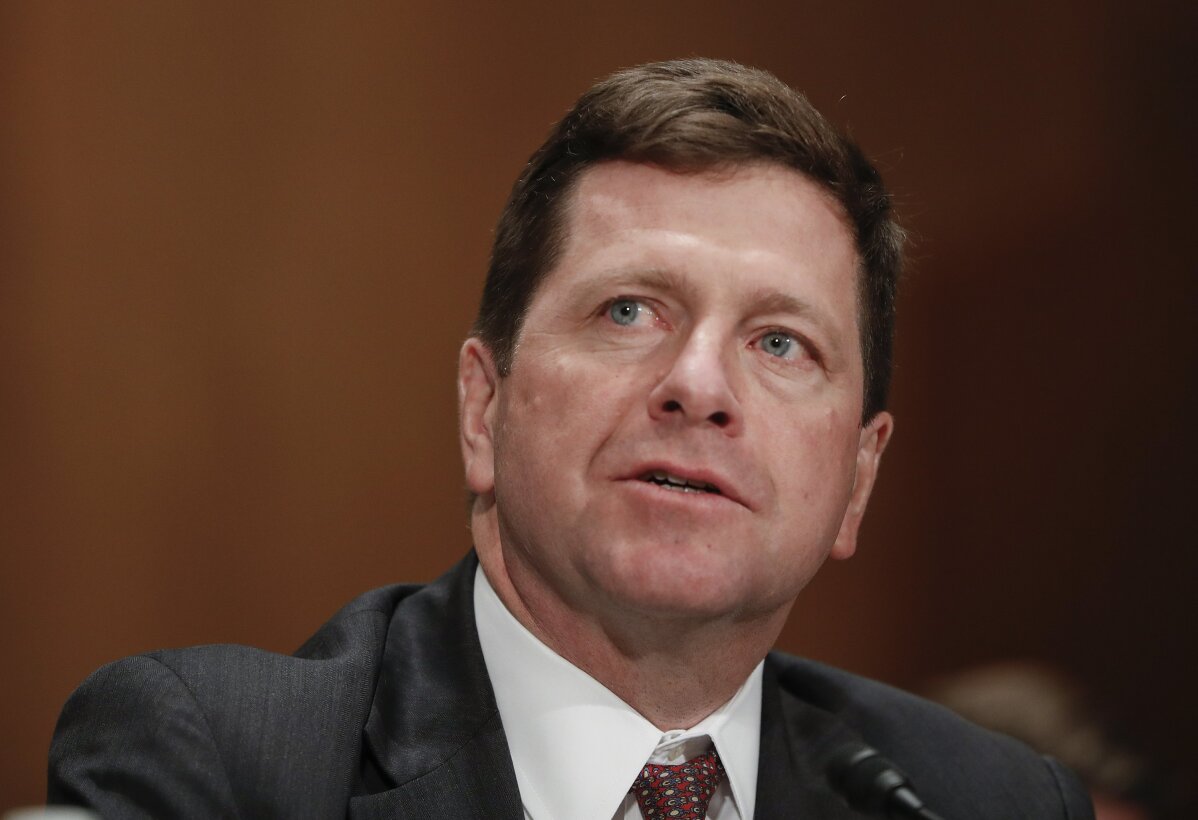 3 of 5

|
Securities and Exchange Commission (SEC) Chairman nominee Jay Clayton testifies on Capitol Hill in Washington, Thursday, March 23, 2017, at his confirmation hearing before the Senate Banking Committee. (AP Photo/Pablo Martinez Monsivais)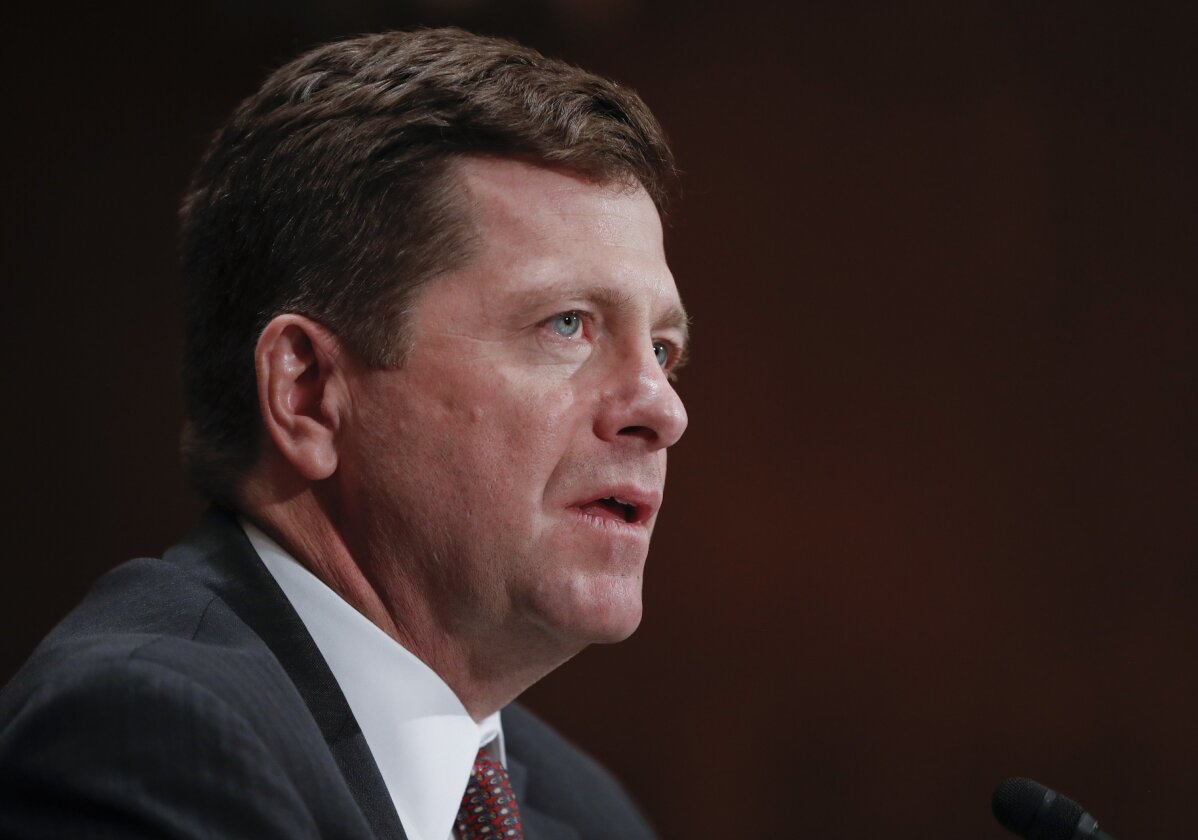 4 of 5

|
Securities and Exchange Commission (SEC) Chairman nominee Jay Clayton testifies on Capitol Hill in Washington, Thursday, March 23, 2017, at his confirmation hearing before the Senate Banking Committee. (AP Photo/Pablo Martinez Monsivais)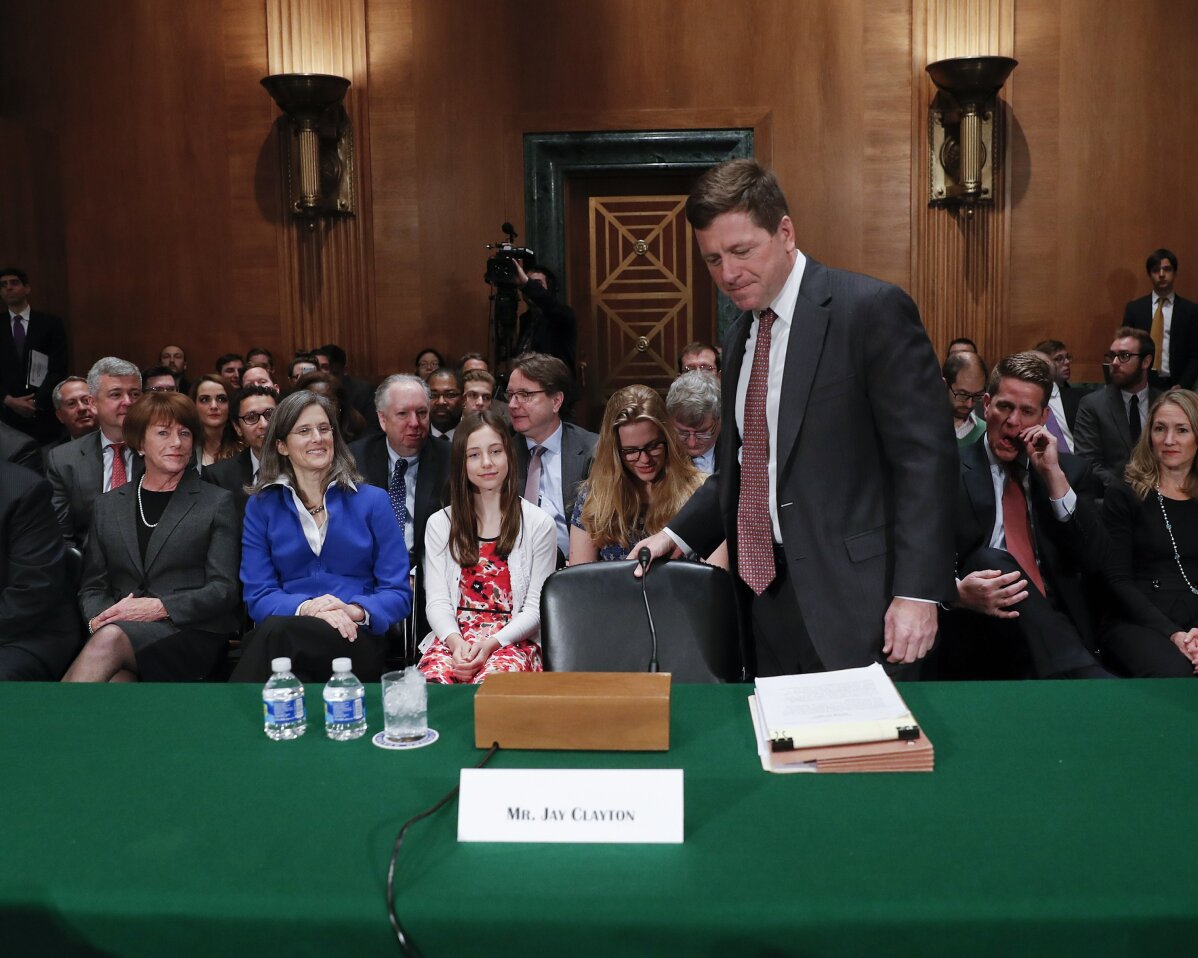 5 of 5

|
Securities and Exchange Commission (SEC) Chairman nominee Jay Clayton takes his seat before testifying on Capitol Hill in Washington, Thursday, March 23, 2017, at his confirmation hearing before the Senate Banking Committee. (AP Photo/Pablo Martinez Monsivais)
Trump SEC pick assures that his Wall St. work not problem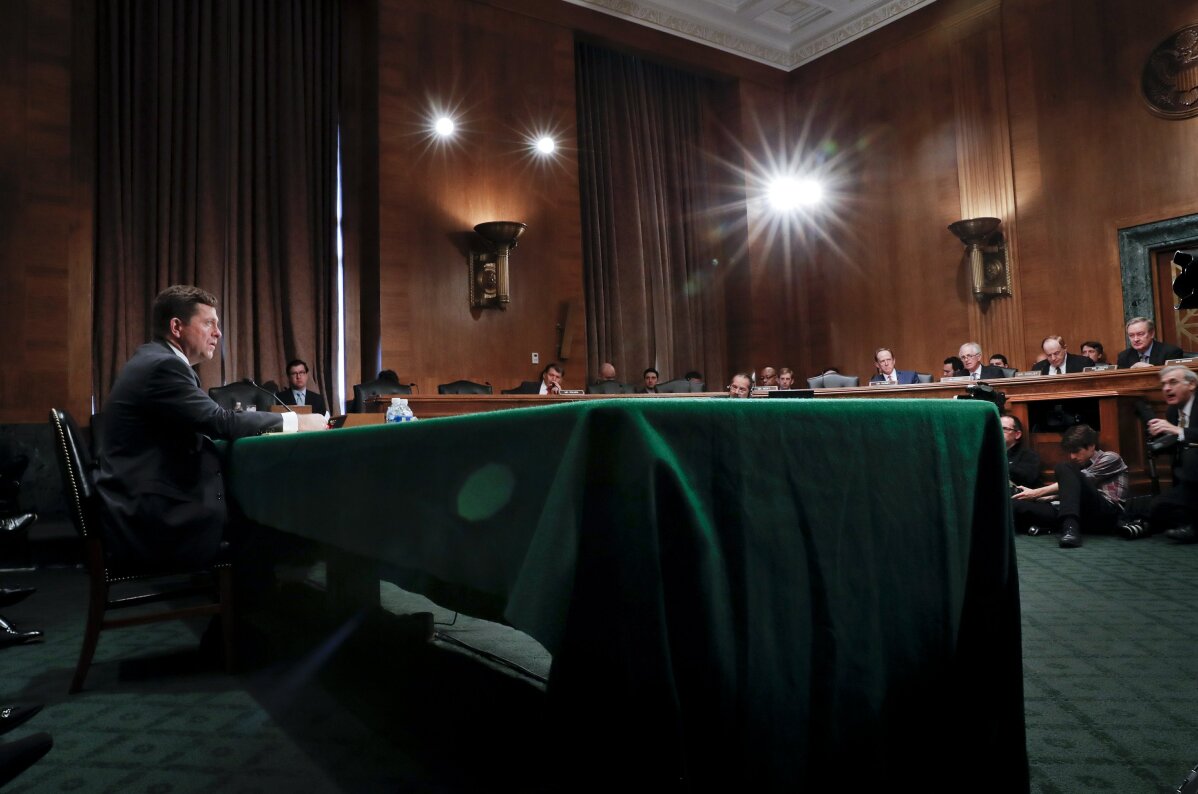 1 of 5

|
Securities and Exchange Commission (SEC) Chairman nominee Jay Clayton testifies on Capitol Hill in Washington, Thursday, March 23, 2017, at his confirmation hearing before the Senate Banking Committee. (AP Photo/Pablo Martinez Monsivais)
1 of 5
Securities and Exchange Commission (SEC) Chairman nominee Jay Clayton testifies on Capitol Hill in Washington, Thursday, March 23, 2017, at his confirmation hearing before the Senate Banking Committee. (AP Photo/Pablo Martinez Monsivais)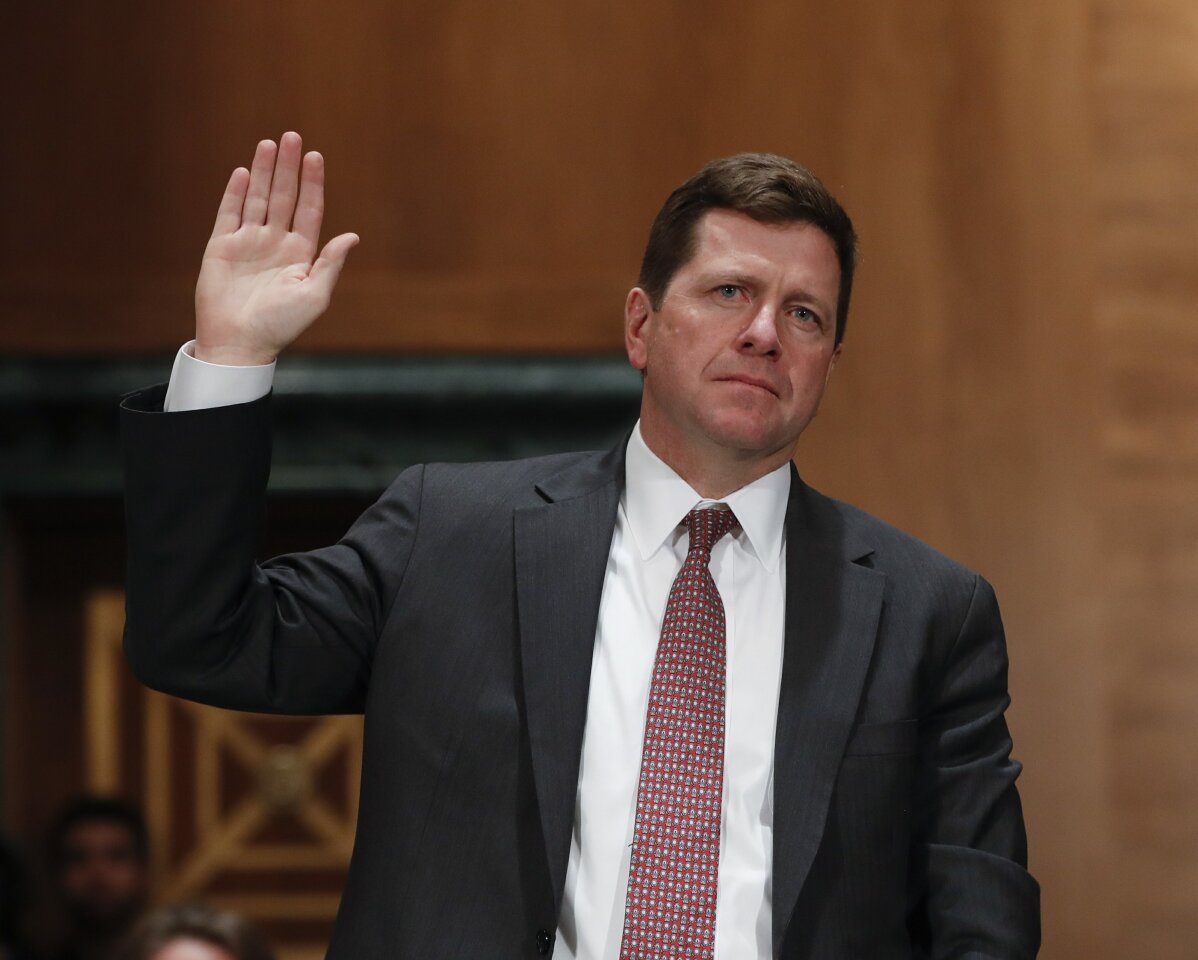 2 of 5

|
Securities and Exchange Commission (SEC) Chairman nominee Jay Clayton is sworn-in on Capitol Hill in Washington, Thursday, March 23, 2017, prior to testifying at his confirmation hearing before the Senate Banking Committee. (AP Photo/Pablo Martinez Monsivais)
2 of 5
Securities and Exchange Commission (SEC) Chairman nominee Jay Clayton is sworn-in on Capitol Hill in Washington, Thursday, March 23, 2017, prior to testifying at his confirmation hearing before the Senate Banking Committee. (AP Photo/Pablo Martinez Monsivais)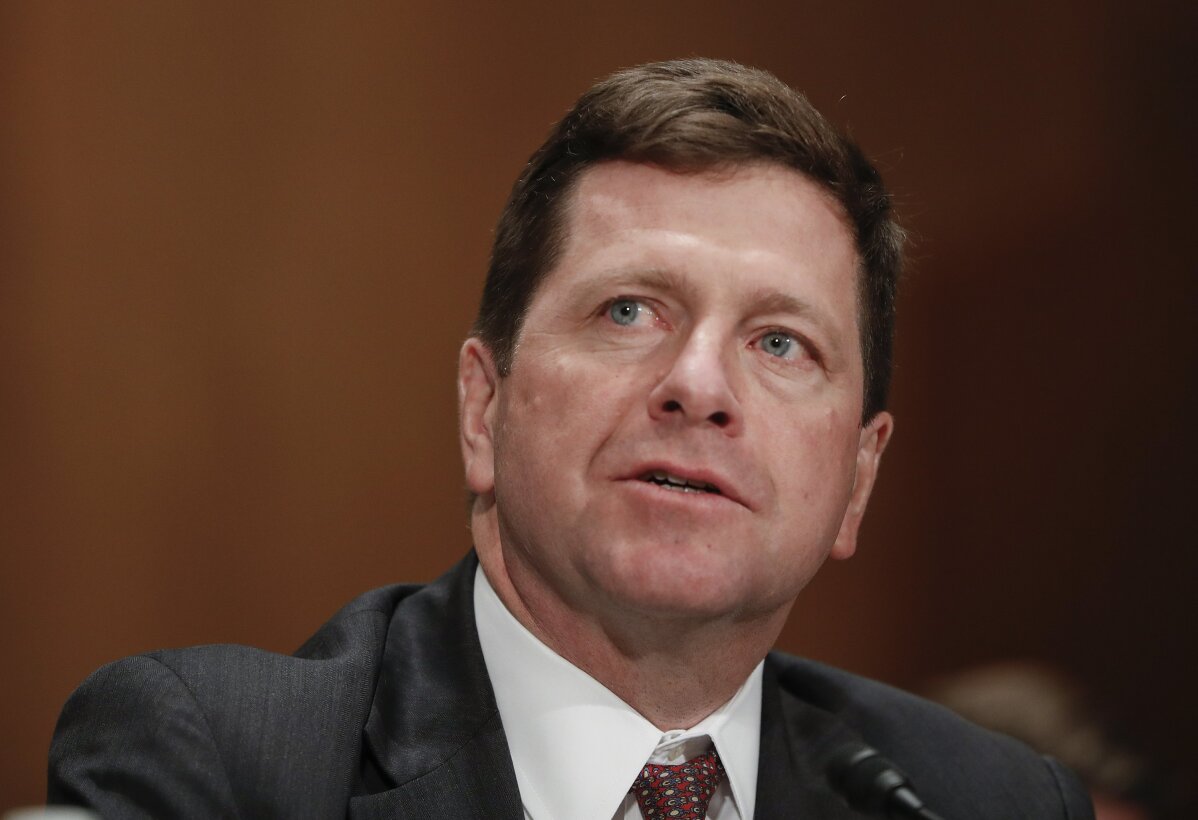 3 of 5

|
Securities and Exchange Commission (SEC) Chairman nominee Jay Clayton testifies on Capitol Hill in Washington, Thursday, March 23, 2017, at his confirmation hearing before the Senate Banking Committee. (AP Photo/Pablo Martinez Monsivais)
3 of 5
Securities and Exchange Commission (SEC) Chairman nominee Jay Clayton testifies on Capitol Hill in Washington, Thursday, March 23, 2017, at his confirmation hearing before the Senate Banking Committee. (AP Photo/Pablo Martinez Monsivais)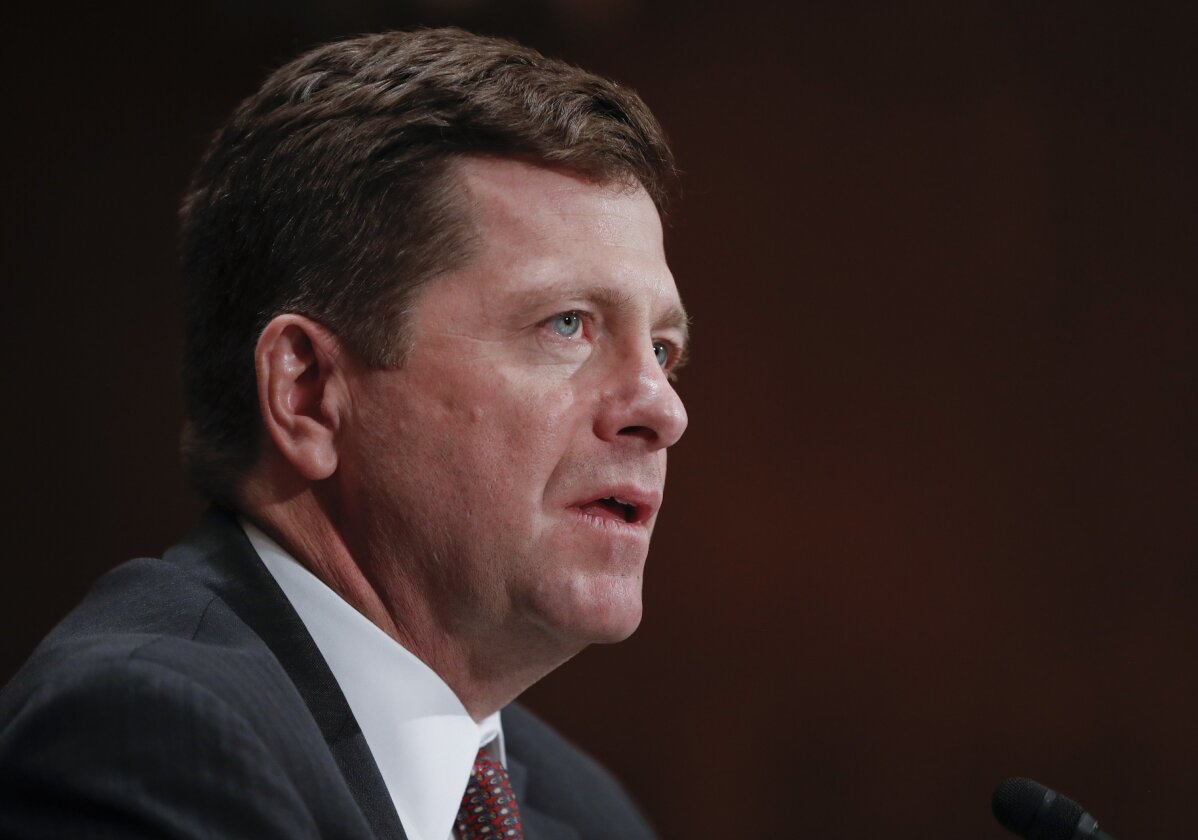 4 of 5

|
Securities and Exchange Commission (SEC) Chairman nominee Jay Clayton testifies on Capitol Hill in Washington, Thursday, March 23, 2017, at his confirmation hearing before the Senate Banking Committee. (AP Photo/Pablo Martinez Monsivais)
4 of 5
Securities and Exchange Commission (SEC) Chairman nominee Jay Clayton testifies on Capitol Hill in Washington, Thursday, March 23, 2017, at his confirmation hearing before the Senate Banking Committee. (AP Photo/Pablo Martinez Monsivais)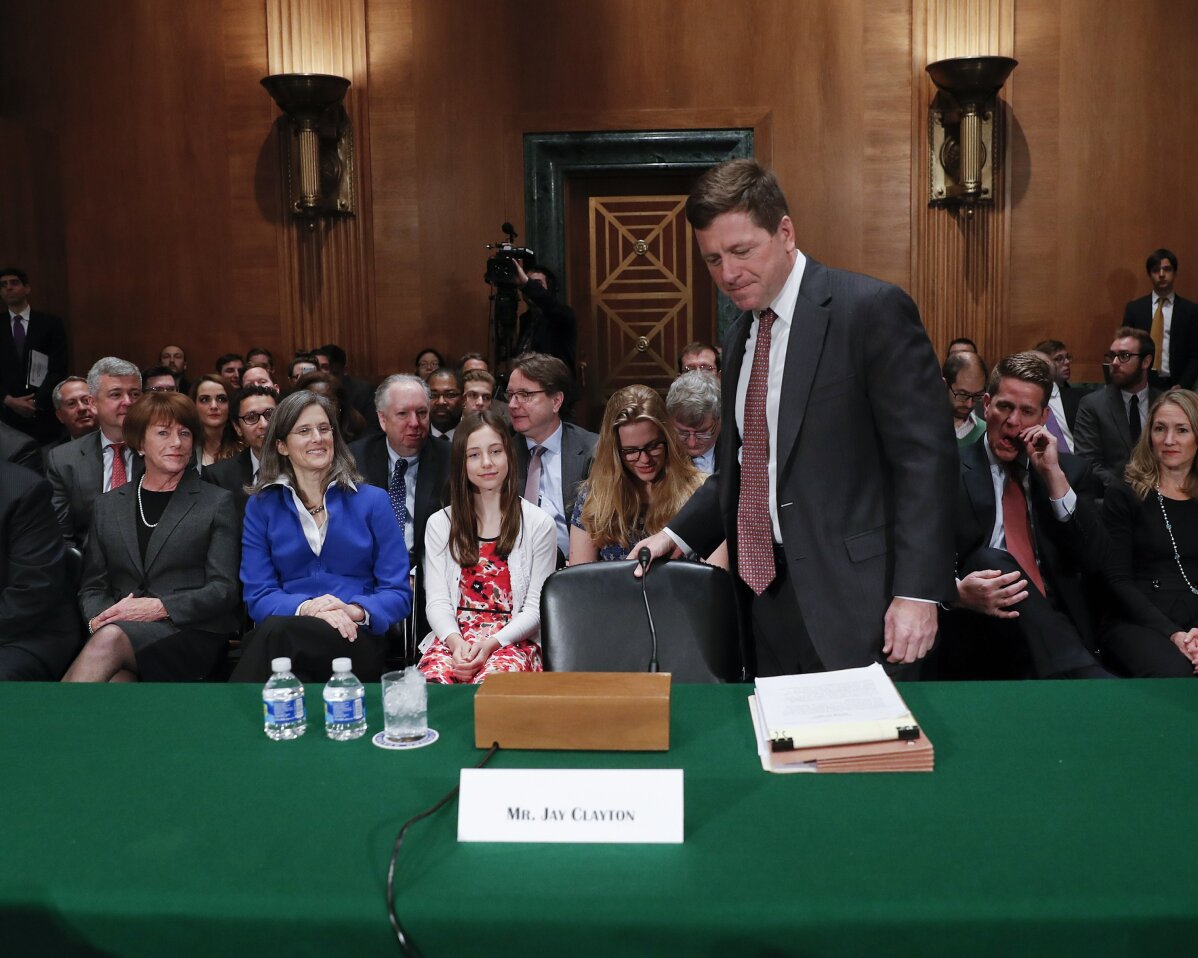 5 of 5

|
Securities and Exchange Commission (SEC) Chairman nominee Jay Clayton takes his seat before testifying on Capitol Hill in Washington, Thursday, March 23, 2017, at his confirmation hearing before the Senate Banking Committee. (AP Photo/Pablo Martinez Monsivais)
5 of 5
Securities and Exchange Commission (SEC) Chairman nominee Jay Clayton takes his seat before testifying on Capitol Hill in Washington, Thursday, March 23, 2017, at his confirmation hearing before the Senate Banking Committee. (AP Photo/Pablo Martinez Monsivais)
WASHINGTON (AP) — President Donald Trump's nominee to lead the Securities and Exchange Commission, attorney Jay Clayton, sought to assure lawmakers that he'll show no favoritism and act only in the public interest, as his Wall Street connections were scrutinized at his Senate confirmation hearing Thursday.
Clayton, a partner in the prominent law firm Sullivan & Cromwell, has done significant legal work for Wall Street powerhouse Goldman Sachs and other financial giants. Asked whether his client work will create conflicts of interest for him as the financial markets' top regulator, Clayton said he doesn't believe they will.
"I'm committed to showing no favoritism to anyone in this position," Clayton told the Senate Banking Committee.
In cases where he might have to step aside from decisions on enforcement actions against companies, Clayton said, his fellow SEC commissioners would be able to capably handle the matters.
As SEC chairman, Clayton would be in charge of, among other things, protecting investors from wrongdoing on Wall Street. He would oversee the enforcement of rules written by the SEC under the law that reshaped the regulation of banks and Wall Street after the 2008 financial crisis and the Great Recession. And he would take part in deciding on enforcement actions that SEC attorneys bring against corporations and financial firms.
Clayton, 50, would take over the leadership of the independent federal agency with a Republican majority among its eventual five members. In line with Trump's pledge to ease many rules that flowed from the Dodd-Frank financial regulatory law, a Clayton-led SEC would be expected to take a comparatively loose approach to regulation.
Clayton told the panel he had no specific plans for "attacking" particular components of the law, but said "I do believe that Dodd-Frank should be looked at."
For Sen. Elizabeth Warren, one of the Democrats' fiercest critics of Wall Street, Clayton's assurances on conflicts of interest weren't good enough.
Cases involving Clayton clients Goldman, Deutsche Bank, UBS and Barclays would bring a required recusal, Warren told him, and a 2-2 split among the other four SEC commissioners would mean a deadlock with no enforcement action taken. In addition, Clayton has agreed in his ethics commitment to refrain from voting for two years in cases involving companies represented by his law firm, Warren noted.
"Serious wrongdoing could go unpunished," she said. "If President Trump wanted to make sure that the SEC would have a hard time in going after his Wall Street friends, it seems to me you would be the perfect SEC chair."
Clayton's confirmation is virtually assured by the Republican-controlled Senate.
Republicans on the banking panel defended Clayton's experience as a plus for the SEC job. They were cheered by his statements in support of easing rules for smaller companies to raise capital in the markets.
In addition to advising and representing big financial firms and corporations, Clayton worked on corporate mergers and public stock launches, including the largest-ever IPO of Chinese e-commerce giant Alibaba. The SEC regulates those kinds of transactions.
"Capital markets drive innovation and job creation," said Sen. Mike Crapo, R-Idaho, the committee's chairman. "I have repeatedly stressed the need for the U.S. financial system and markets to remain the preferred destination for investors throughout the world, and the SEC has an important role to that end."
Clayton testified that he sees "meaningful room for improvement" to make it more attractive and less costly for companies to go public.
Clayton's financial disclosure filing shows other big corporate clients, including Ally Financial, Royal Bank of Canada, Volkswagen, British Airways, Priceline Group and Valeant. In addition, two of the biggest U.S. hedge funds — activist investor Bill Ackman's Pershing Square and Paul Tudor Jones's Tudor Investment Corp. — are among his clients.
"I ... believe that the types of matters I've worked on, which involved problem-solving, is a strength," Clayton told the panel.
Democrats homed in on Clayton's ties to Goldman — where his wife, Gretchen Butler Clayton, works as a financial adviser but has committed to resign if her husband is confirmed. Trump has drawn on alums of the Wall Street titan for several key posts in his administration, notably Treasury Secretary Steven Mnuchin and Gary Cohn, a top White House economic adviser.
"Your record representing bankers, hedge funds and executives speaks for itself," Sen. Sherrod Brown of Ohio, the panel's senior Democrat, told Clayton. "But those people are all already well represented among the president's friends, supporters and advisers."