F1: Azerbaijan Grand Prix contract extended to 2026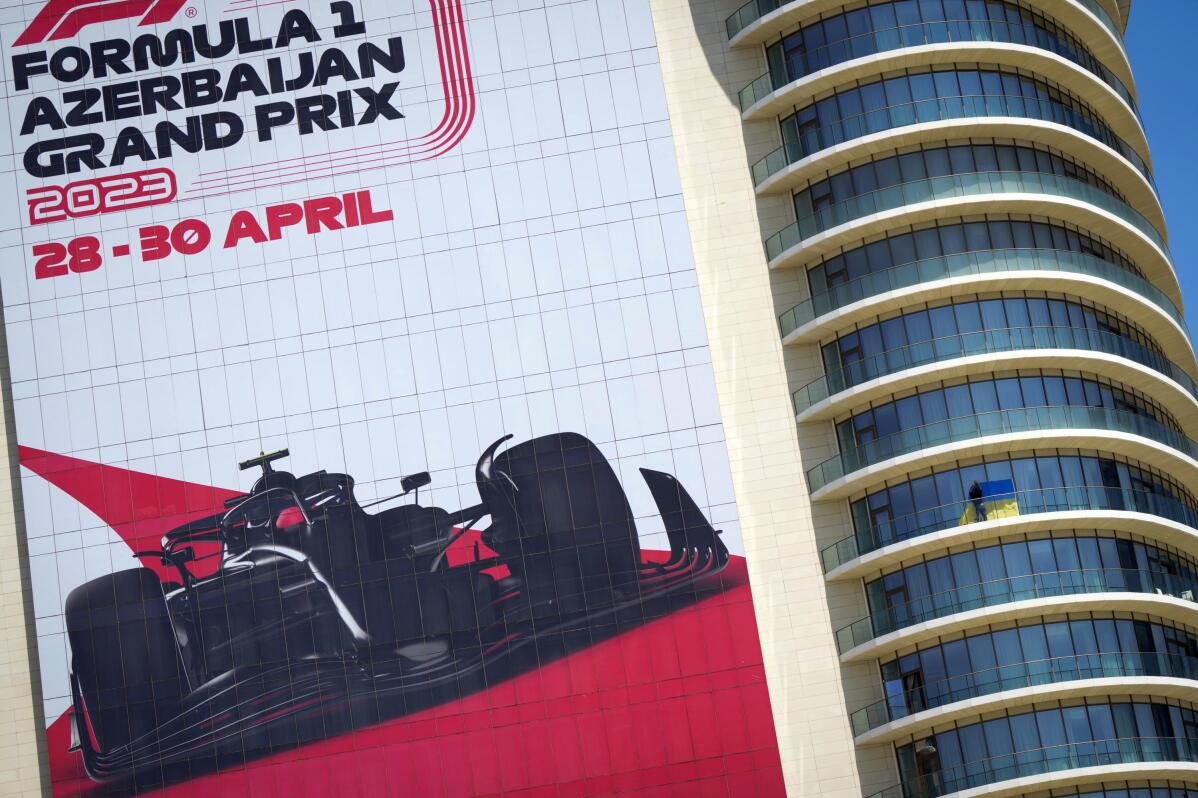 1 of 6

|
A man fixes a Ukrainian flag on a balcony near the Baku circuit, in Baku, Azerbaijan, Thursday, April 27, 2022. The Formula One Grand Prix will be held on Sunday April 30, 2023. (AP Photo/Sergei Grits)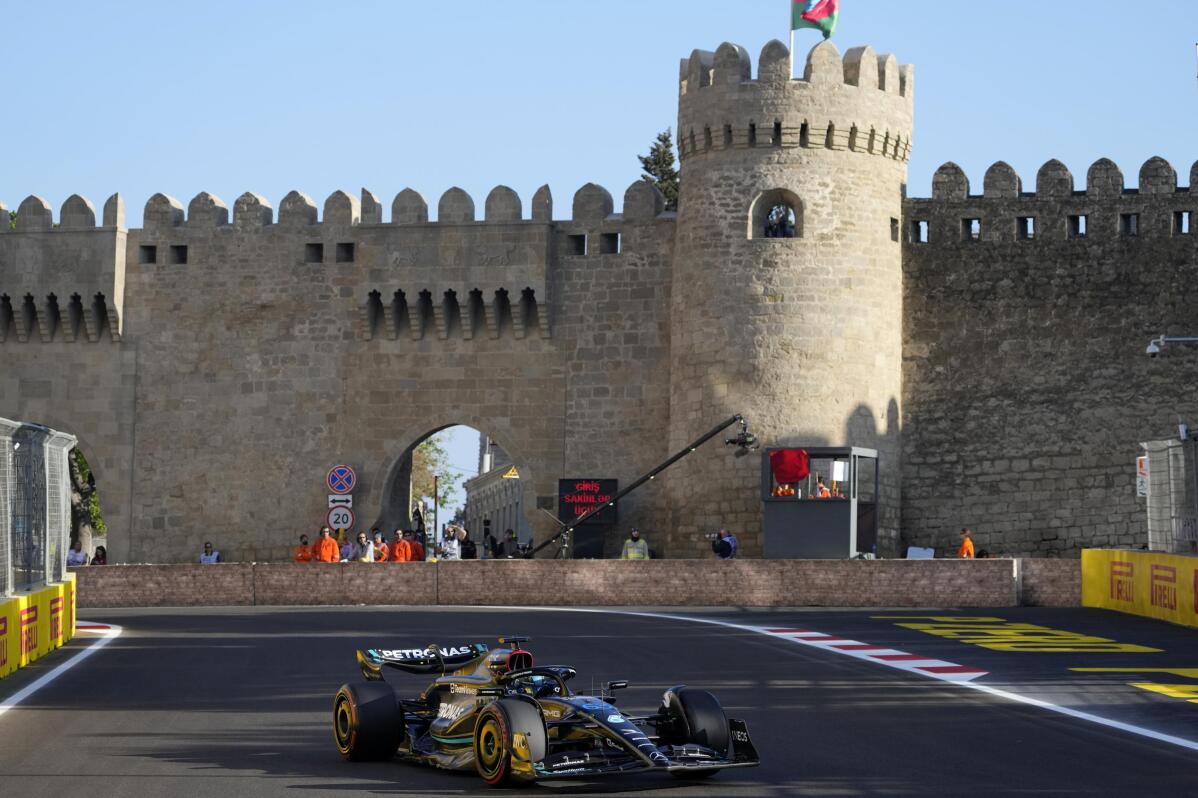 2 of 6

|
Mercedes driver George Russell of Britain steers his car during qualification ahead of the Formula One Grand Prix at the Baku circuit in Baku, Azerbaijan, Friday, April 28, 2023. The Formula One Grand Prix will be held on Sunday April 30, 2023. (AP Photo/Darko Bandic)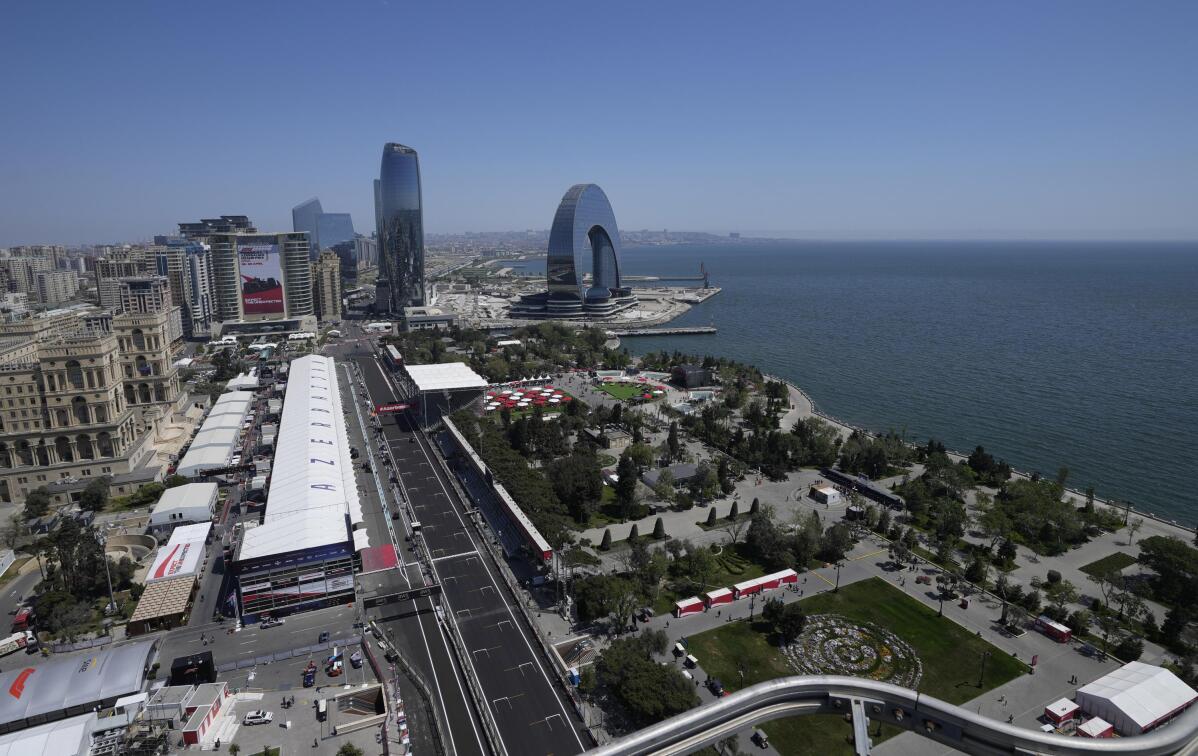 3 of 6

|
A view of the Baku circuit, in Baku, Azerbaijan, Thursday, April 27, 2022. The Formula One Grand Prix will be held on Sunday April 30, 2023. (AP Photo/Sergei Grits)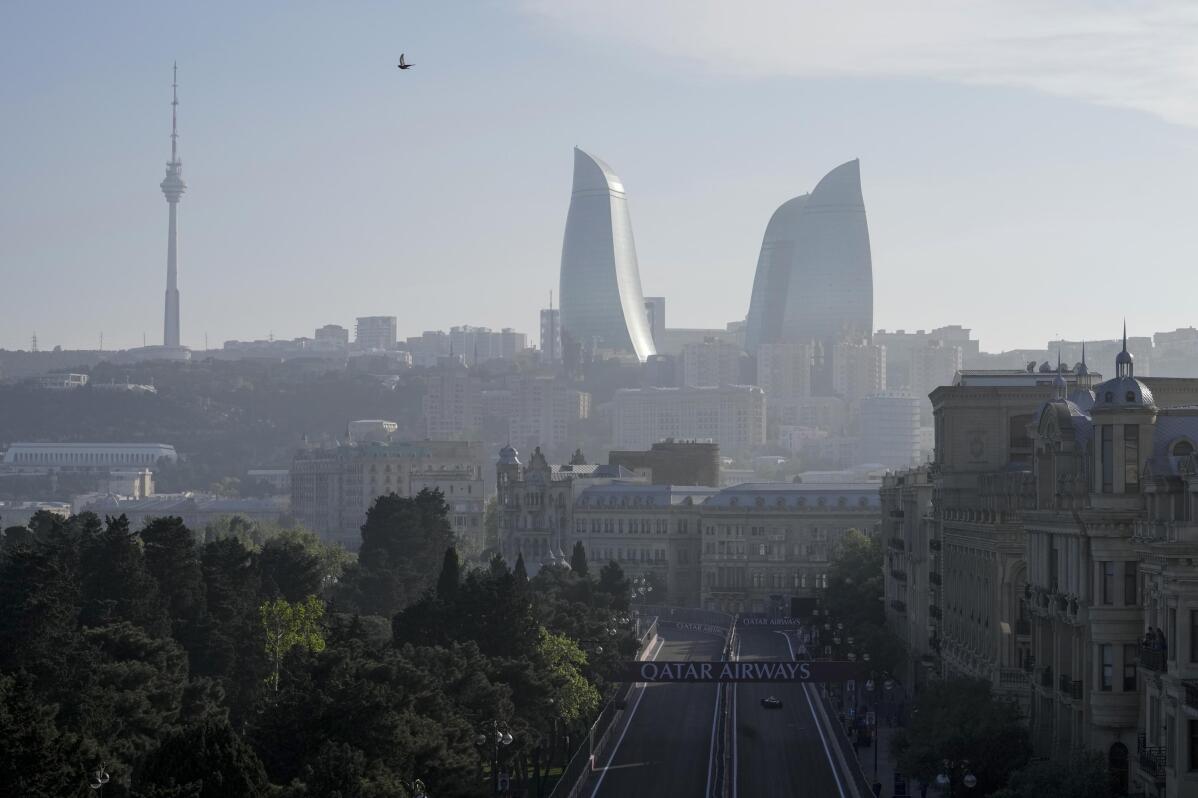 4 of 6

|
A bird flies over the Baku circuit, with the Flame Towers skyscrapers centre in the background, in Baku, Azerbaijan, Friday, April 28, 2023. The Formula One Grand Prix will be held on Sunday April 30, 2023. (AP Photo/Sergei Grits)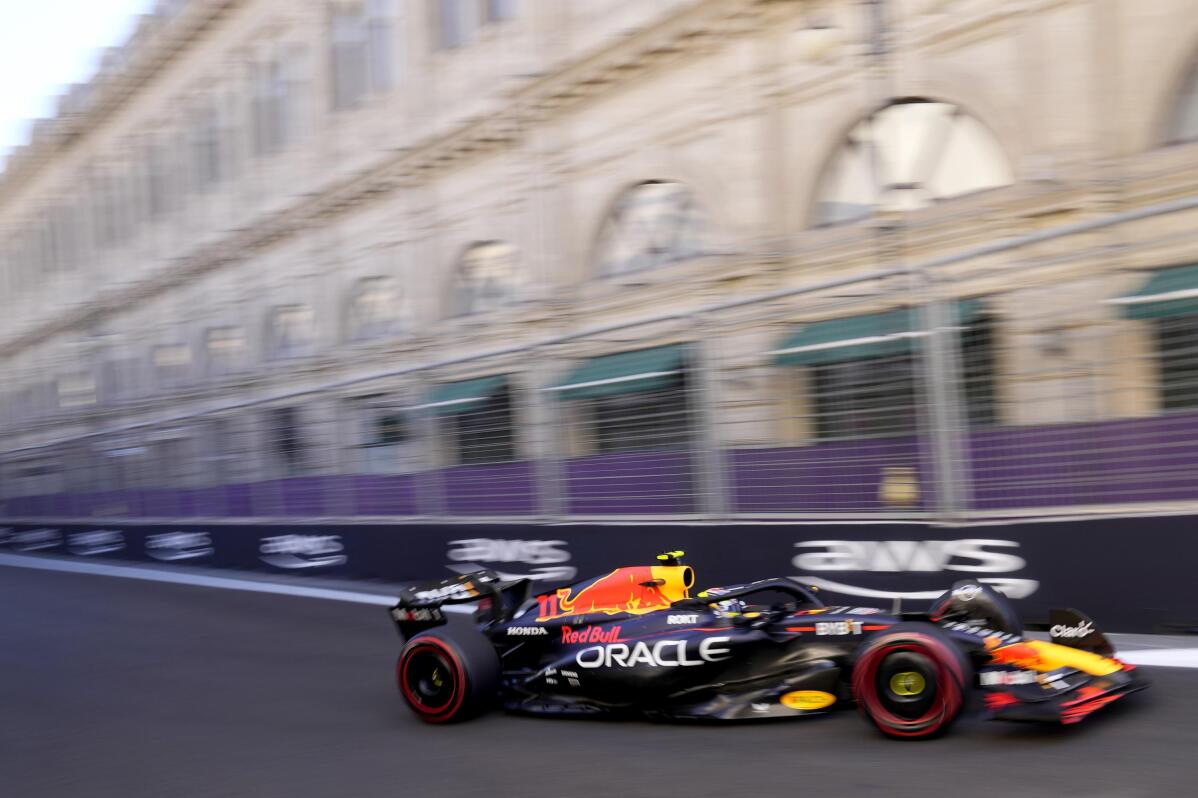 5 of 6

|
Red Bull driver Sergio Perez of Mexico steers his car during qualification ahead of the Formula One Grand Prix at the Baku circuit in Baku, Azerbaijan, Friday, April 28, 2023. The Formula One Grand Prix will be held on Sunday April 30, 2023. (AP Photo/Darko Bandic)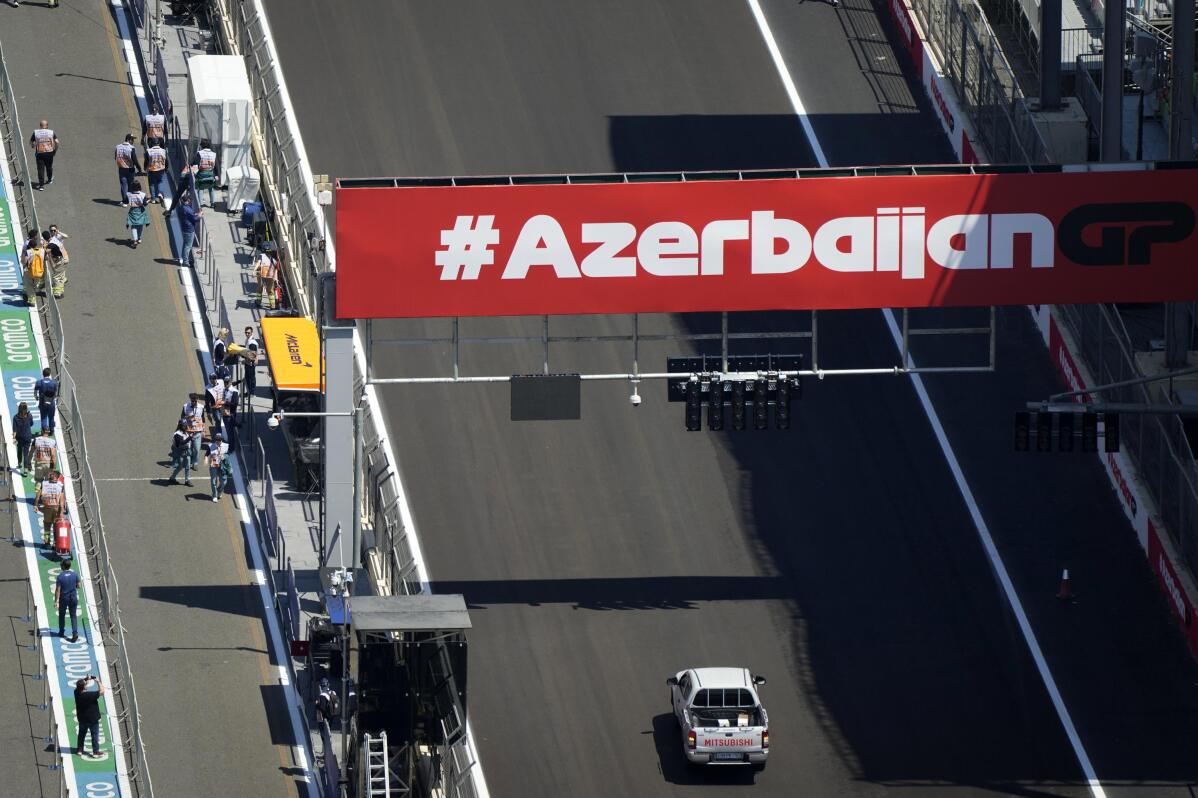 6 of 6

|
A view of the Baku circuit, in Baku, Azerbaijan, Thursday, April 27, 2022. The Formula One Grand Prix will be held on Sunday April 30, 2023. (AP Photo/Sergei Grits)
F1: Azerbaijan Grand Prix contract extended to 2026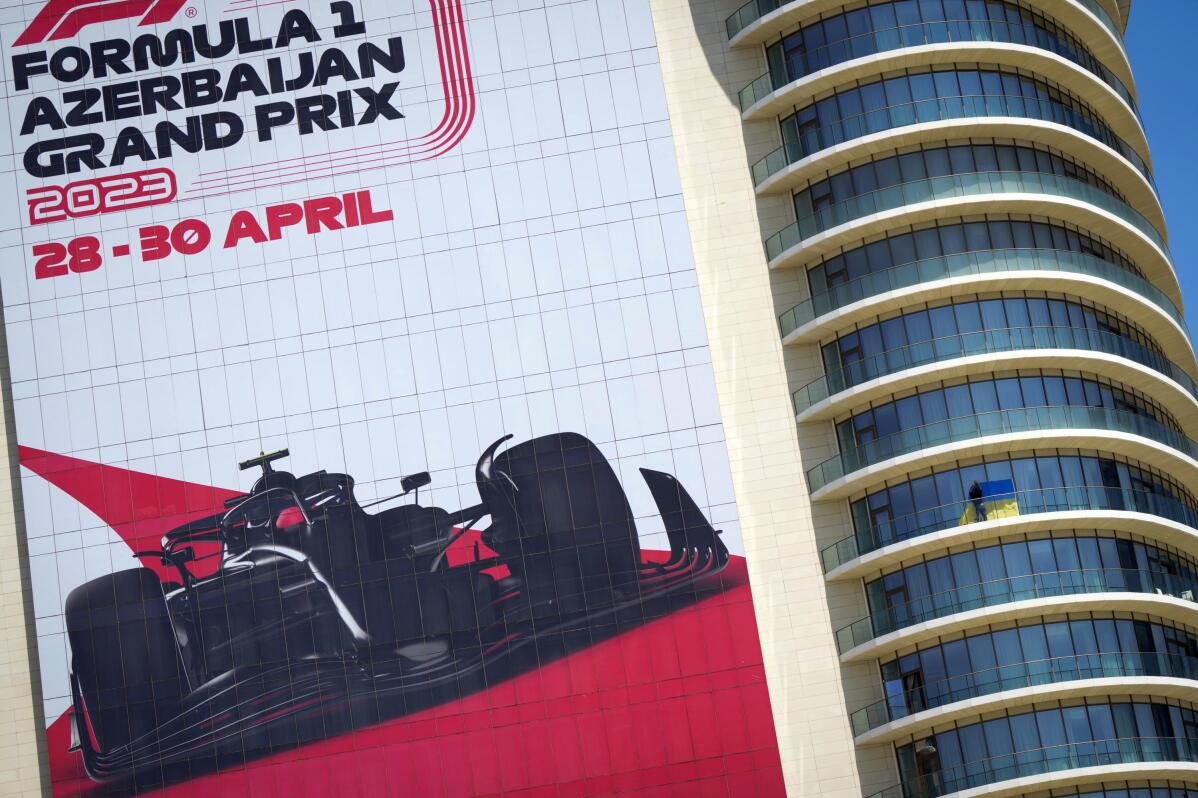 1 of 6

|
A man fixes a Ukrainian flag on a balcony near the Baku circuit, in Baku, Azerbaijan, Thursday, April 27, 2022. The Formula One Grand Prix will be held on Sunday April 30, 2023. (AP Photo/Sergei Grits)
1 of 6
A man fixes a Ukrainian flag on a balcony near the Baku circuit, in Baku, Azerbaijan, Thursday, April 27, 2022. The Formula One Grand Prix will be held on Sunday April 30, 2023. (AP Photo/Sergei Grits)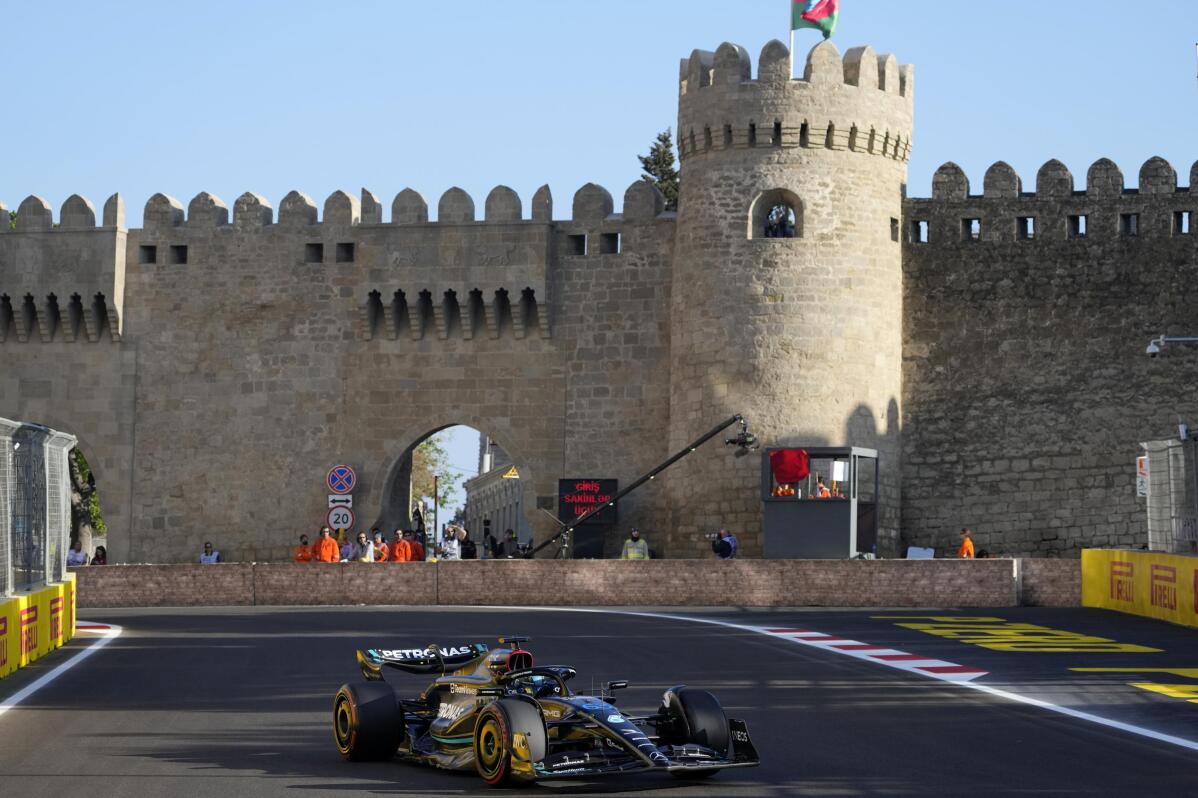 2 of 6

|
Mercedes driver George Russell of Britain steers his car during qualification ahead of the Formula One Grand Prix at the Baku circuit in Baku, Azerbaijan, Friday, April 28, 2023. The Formula One Grand Prix will be held on Sunday April 30, 2023. (AP Photo/Darko Bandic)
2 of 6
Mercedes driver George Russell of Britain steers his car during qualification ahead of the Formula One Grand Prix at the Baku circuit in Baku, Azerbaijan, Friday, April 28, 2023. The Formula One Grand Prix will be held on Sunday April 30, 2023. (AP Photo/Darko Bandic)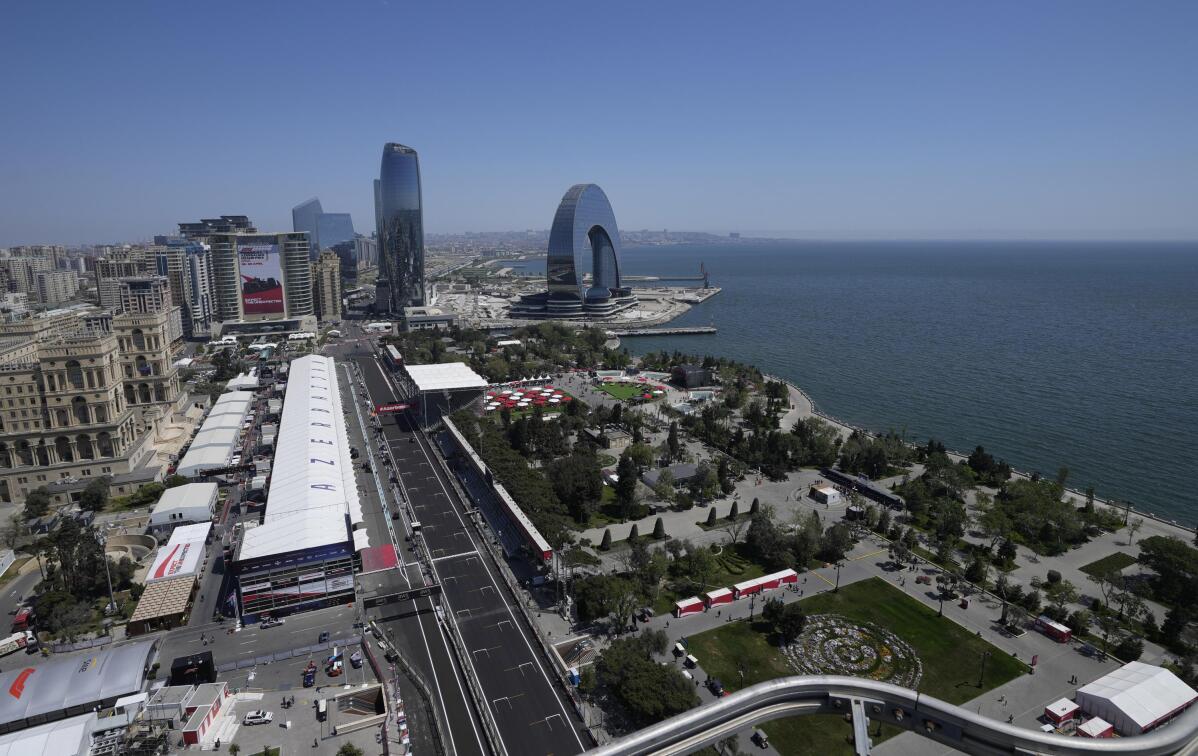 3 of 6

|
A view of the Baku circuit, in Baku, Azerbaijan, Thursday, April 27, 2022. The Formula One Grand Prix will be held on Sunday April 30, 2023. (AP Photo/Sergei Grits)
3 of 6
A view of the Baku circuit, in Baku, Azerbaijan, Thursday, April 27, 2022. The Formula One Grand Prix will be held on Sunday April 30, 2023. (AP Photo/Sergei Grits)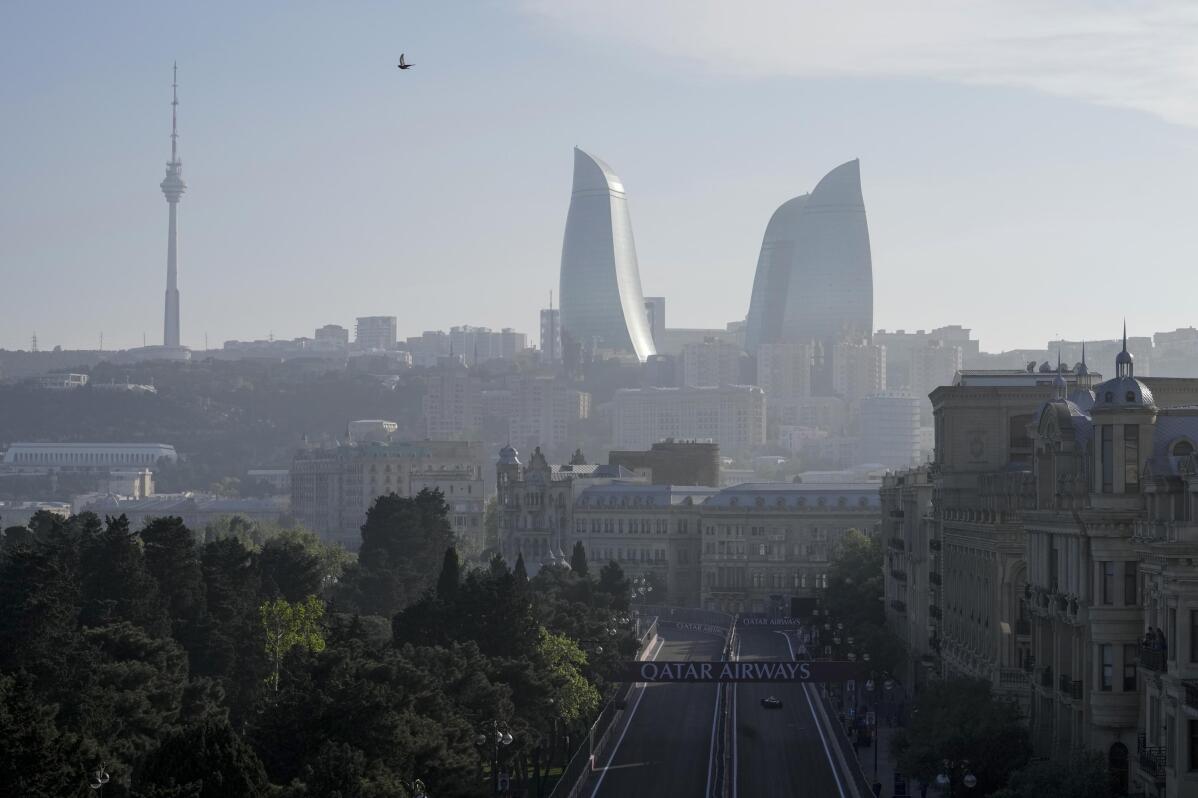 4 of 6

|
A bird flies over the Baku circuit, with the Flame Towers skyscrapers centre in the background, in Baku, Azerbaijan, Friday, April 28, 2023. The Formula One Grand Prix will be held on Sunday April 30, 2023. (AP Photo/Sergei Grits)
4 of 6
A bird flies over the Baku circuit, with the Flame Towers skyscrapers centre in the background, in Baku, Azerbaijan, Friday, April 28, 2023. The Formula One Grand Prix will be held on Sunday April 30, 2023. (AP Photo/Sergei Grits)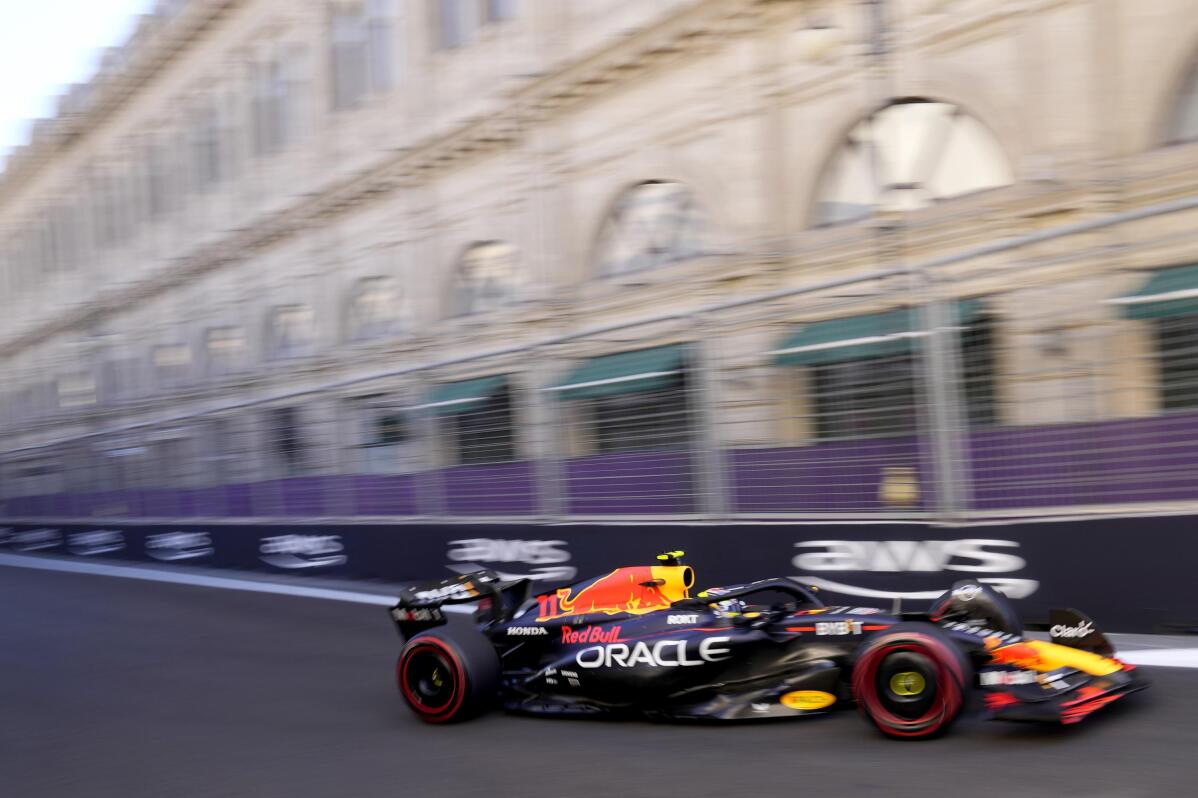 5 of 6

|
Red Bull driver Sergio Perez of Mexico steers his car during qualification ahead of the Formula One Grand Prix at the Baku circuit in Baku, Azerbaijan, Friday, April 28, 2023. The Formula One Grand Prix will be held on Sunday April 30, 2023. (AP Photo/Darko Bandic)
5 of 6
Red Bull driver Sergio Perez of Mexico steers his car during qualification ahead of the Formula One Grand Prix at the Baku circuit in Baku, Azerbaijan, Friday, April 28, 2023. The Formula One Grand Prix will be held on Sunday April 30, 2023. (AP Photo/Darko Bandic)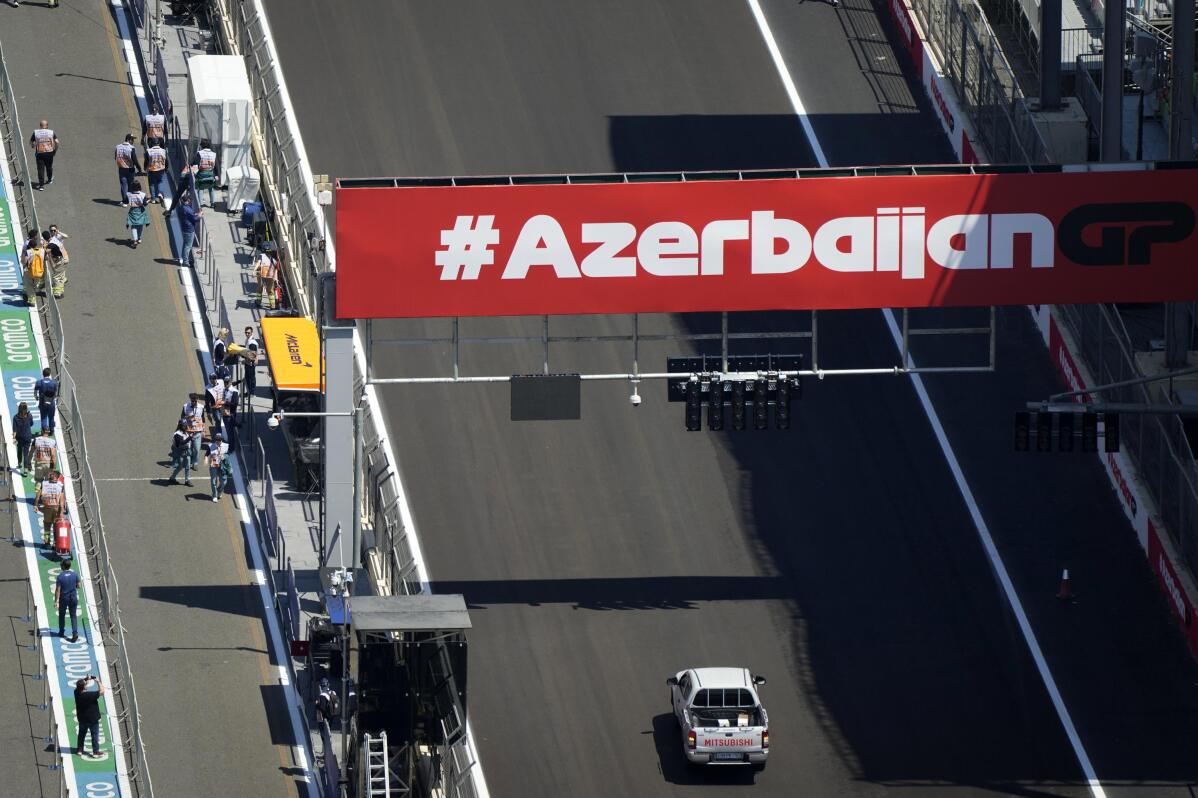 6 of 6

|
A view of the Baku circuit, in Baku, Azerbaijan, Thursday, April 27, 2022. The Formula One Grand Prix will be held on Sunday April 30, 2023. (AP Photo/Sergei Grits)
6 of 6
A view of the Baku circuit, in Baku, Azerbaijan, Thursday, April 27, 2022. The Formula One Grand Prix will be held on Sunday April 30, 2023. (AP Photo/Sergei Grits)
BAKU, Azerbaijan (AP) — The Azerbaijan Grand Prix will remain on the Formula One calendar until at least 2026 after a three-year contract extension was announced Saturday during the race weekend.
The Baku City Circuit has been a favorite with fans since its debut in 2017 following several eventful races at the high-speed street circuit, with the Caspian Sea and Baku's old city walls as a backdrop. Barriers close to the track offer little room for error.
"It is an incredible circuit which always delivers huge drama, and has played host to some of the most exciting races in recent memory," F1 president and CEO Stefano Domenicali said in a statement. "We are delighted to extend our relationship with the country of Azerbaijan and look forward to continuing our growth together."
Baku was hosting a sprint race for the first time Saturday as well as the main Grand Prix on Sunday.
___
More AP auto racing: https://apnews.com/hub/auto-racing and https://twitter.com/AP_Sports