California utilities shut off power amid wildfire concerns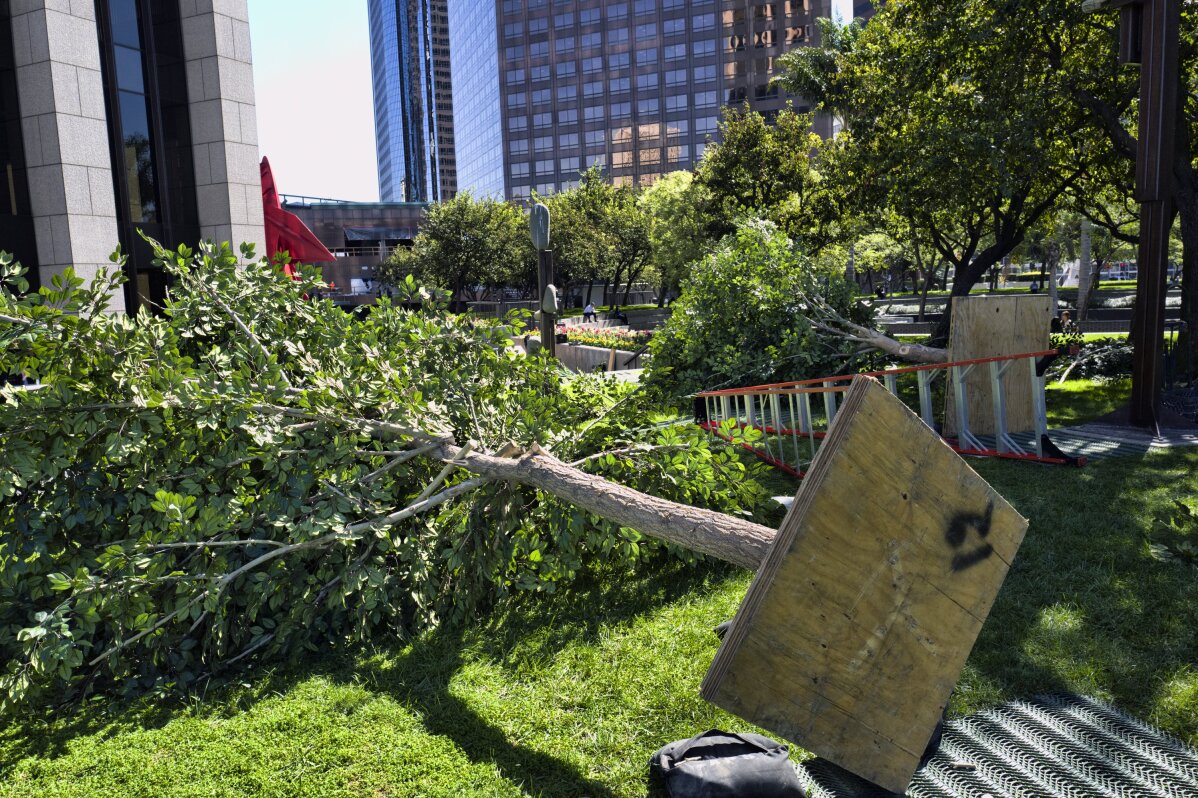 1 of 8

|
Trees used for the a location filming are blown down due to high winds at the Bank of America Plaza in Los Angeles, Monday, Oct. 15, 2018. Potentially powerful winds combined with dry weather are raising the threat of wildfires in California. (AP Photo/Richard Vogel)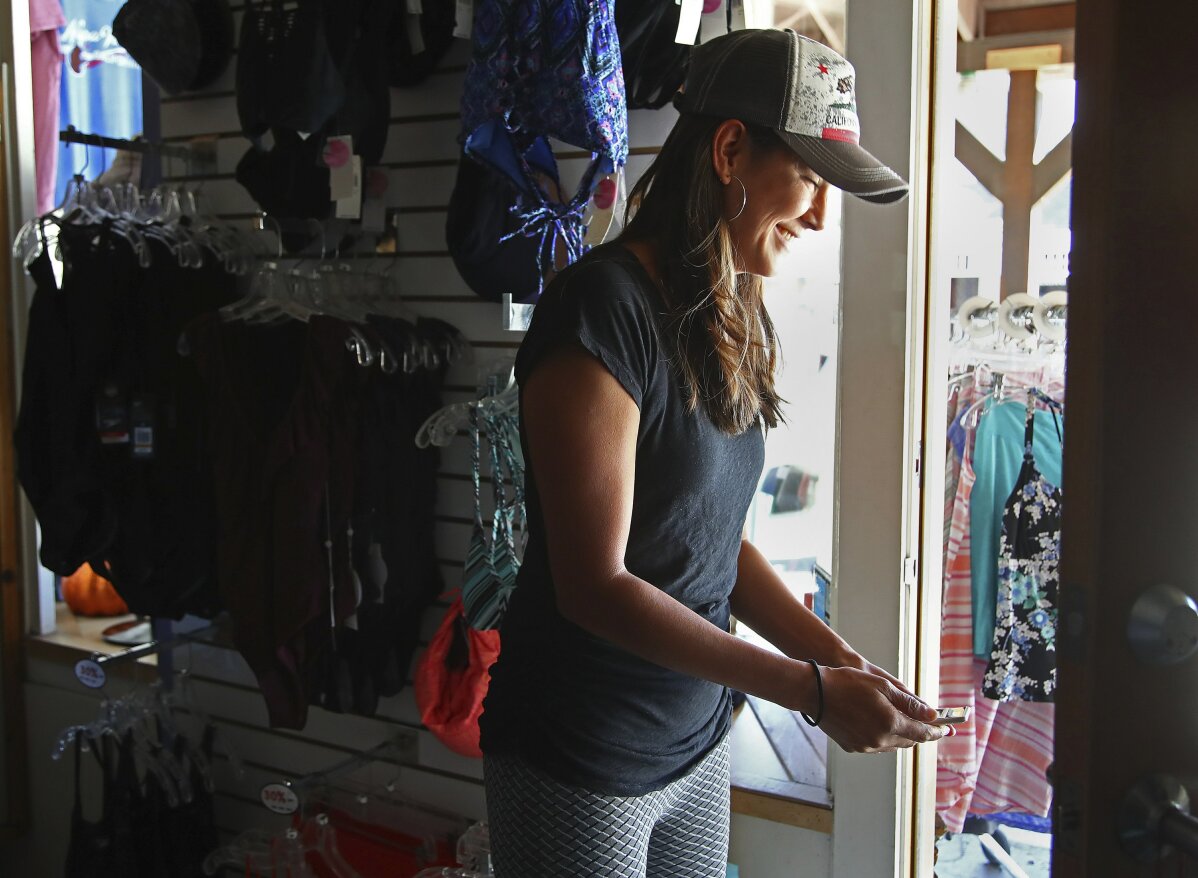 2 of 8

|
Chateau Ste. Shirts manager Christina St. Clair stands in the sunlight at the front door of her business to power her solar powered handheld calculator to total a sale on Monday, Oct. 15, 2018, in Calistoga, Calif. Northern California's biggest utility has taken the unprecedented step of cutting electricity for tens of thousands of customers in an attempt to prevent wildfires amid rising winds and official warnings on Monday of extreme fire danger. (AP Photo/Ben Margot)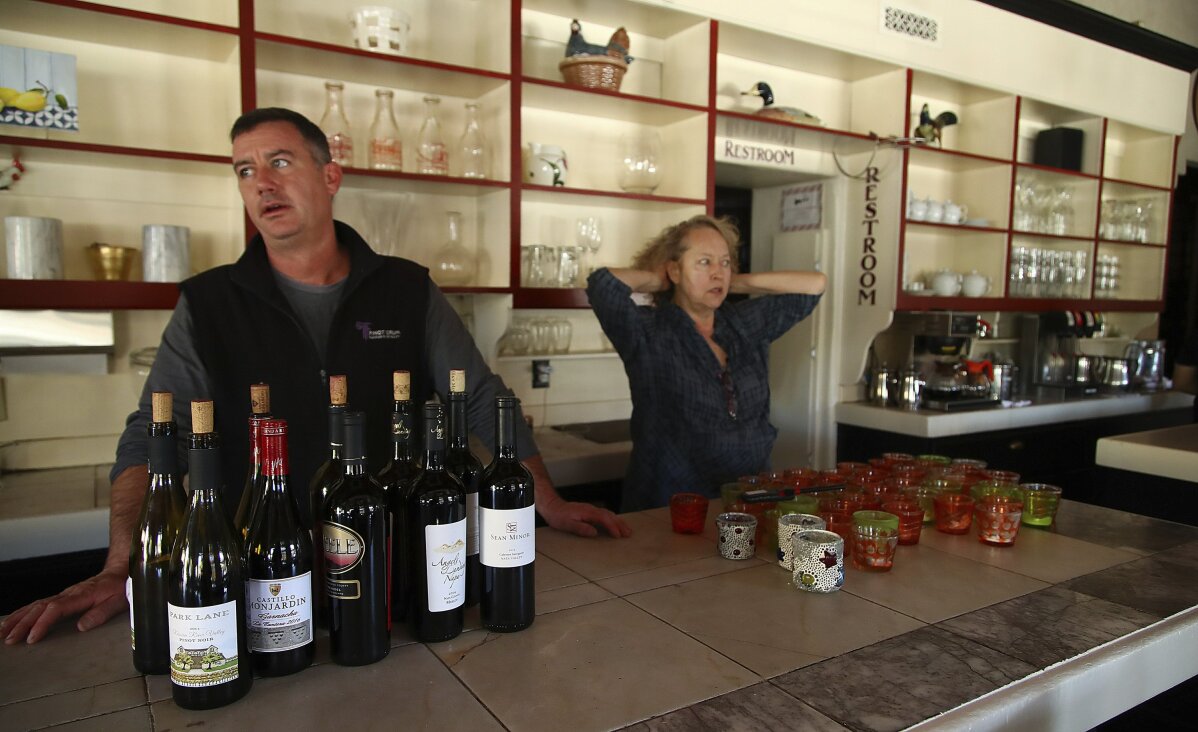 3 of 8

|
All Seasons restaurant chef Kevin Kathman, left, and owner Gayle Keller stand at the bar as they look at their empty business Monday, Oct. 15, 2018, in Calistoga, Calif. The restaurant was forced to close, losing an estimated $20,000 per day, as their power was cut off. Northern California's biggest utility has taken the unprecedented step of cutting electricity for tens of thousands of customers in an attempt to prevent wildfires amid rising winds and official warnings on Monday of extreme fire danger. (AP Photo/Ben Margot)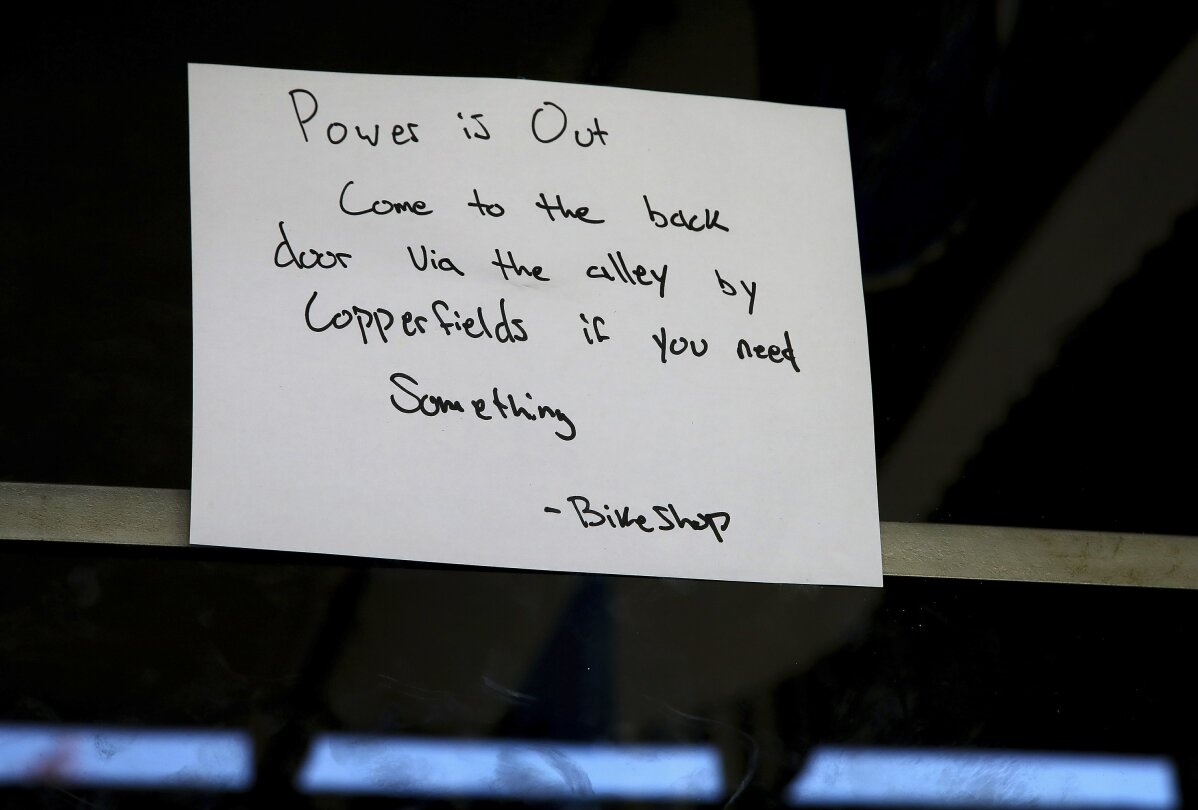 4 of 8

|
A note on the front door of the Calistoga Bike Shop instructs customers on how to enter the shop after a power outage Monday, Oct. 15, 2018, in Calistoga, Calif. Northern California's biggest utility has taken the unprecedented step of cutting electricity for tens of thousands of customers in an attempt to prevent wildfires amid rising winds and official warnings on Monday of extreme fire danger. (AP Photo/Ben Margot)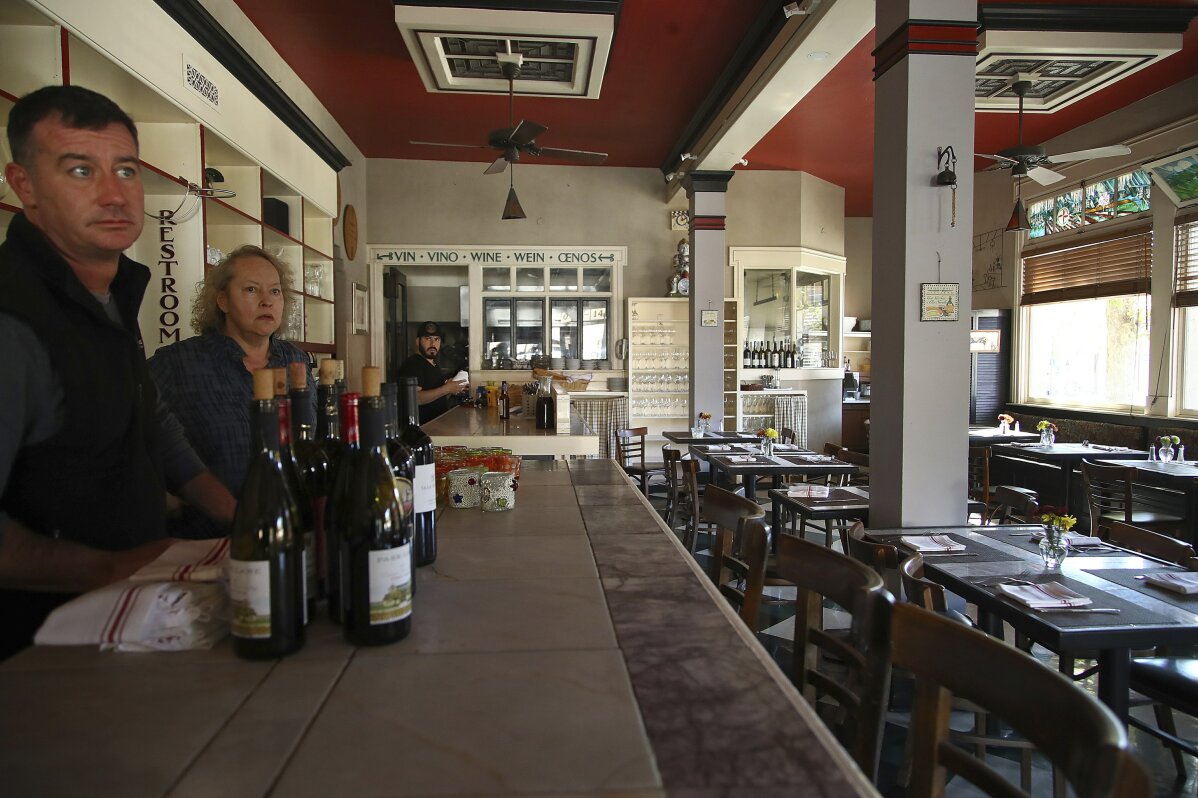 5 of 8

|
All Seasons restaurant chef Kevin Kathman, left, and owner Gayle Keller stand at the bar as they look at their empty business Monday, Oct. 15, 2018, in Calistoga, Calif. The restaurant was forced to close, losing an estimated $20,000 per day, as their power was cut off. Northern California's biggest utility has taken the unprecedented step of cutting electricity for tens of thousands of customers in an attempt to prevent wildfires amid rising winds and official warnings on Monday of extreme fire danger. (AP Photo/Ben Margot)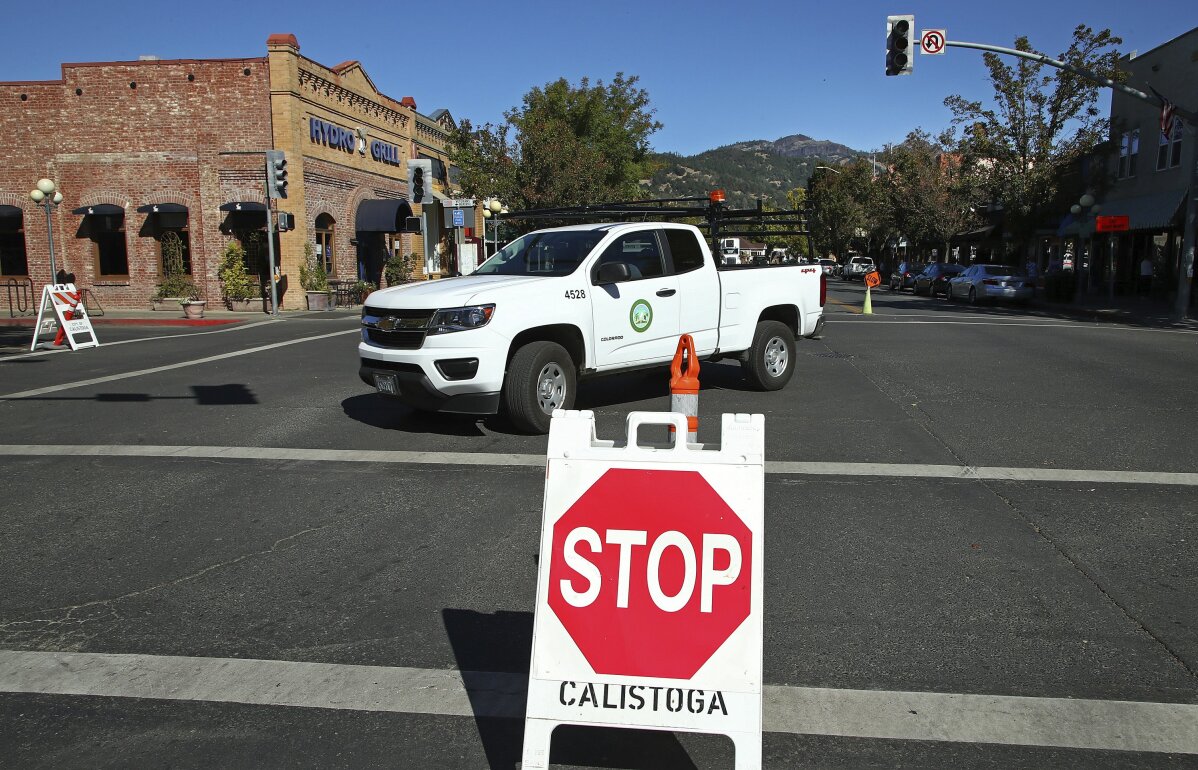 6 of 8

|
A city of Calistoga, Calif., truck makes a turn in an intersection without traffic light signals Monday, Oct. 15, 2018, in Calistoga. Northern California's biggest utility has taken the unprecedented step of cutting electricity for tens of thousands of customers in an attempt to prevent wildfires amid rising winds and official warnings on Monday of extreme fire danger. (AP Photo/Ben Margot)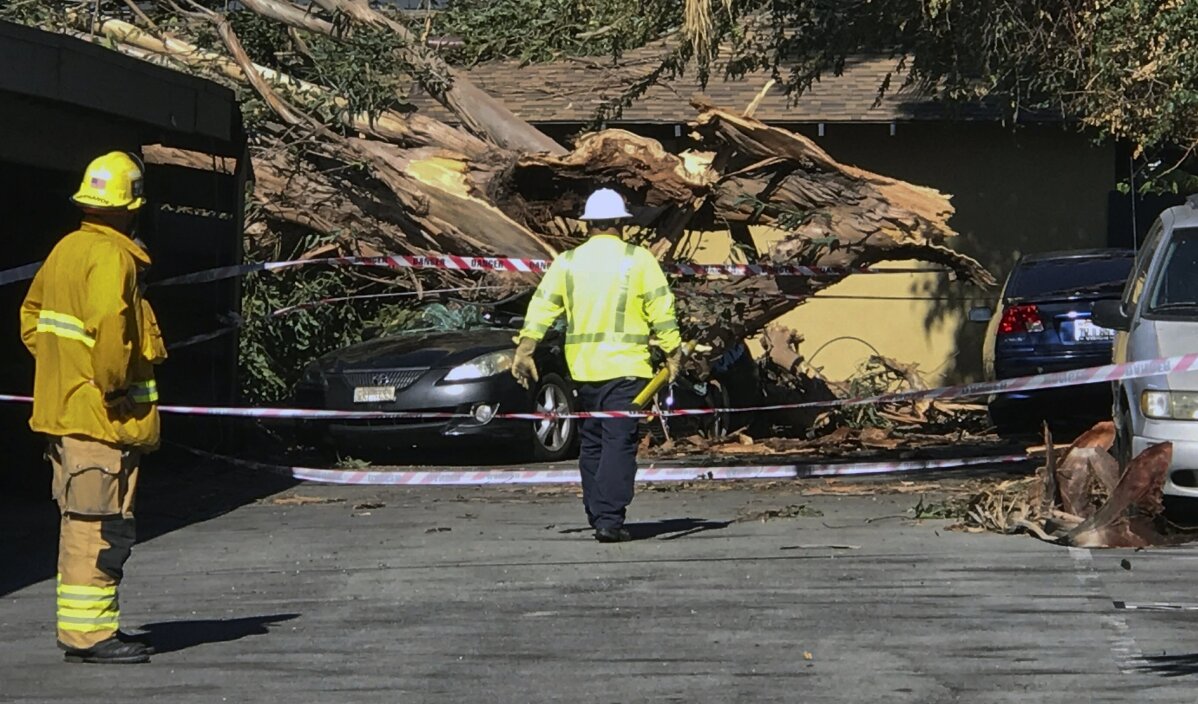 7 of 8

|
Authorities access the damage after a woman was killed after a large eucalyptus tree toppled and smashed onto a car she was inside of in the driveway of her home in Tustin, Calif. during the heavy Santa Ana winds on Monday, Oct. 15, 2018. Potentially powerful winds combined with dry weather are raising the threat of wildfires in California. (Mindy Schauer /The Orange County Register via AP)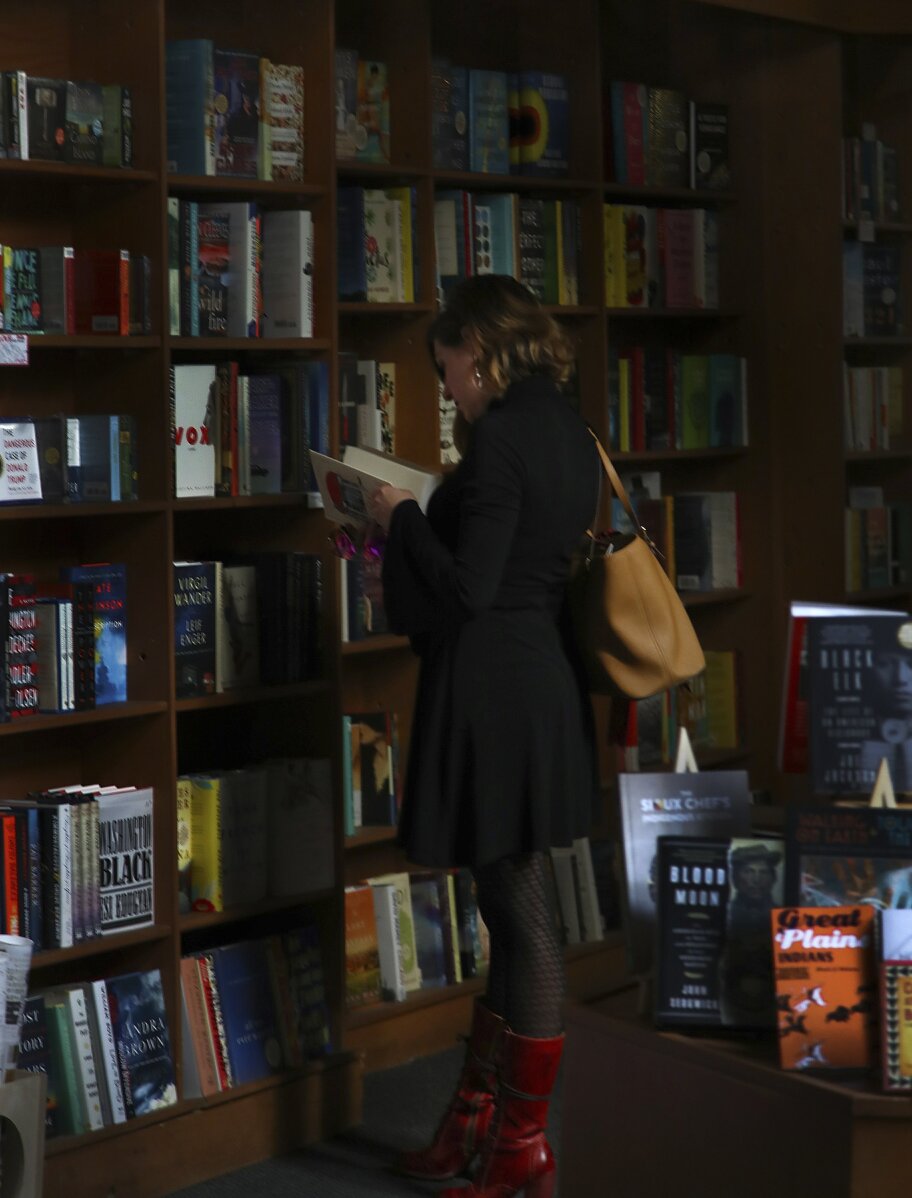 8 of 8

|
A Copperfield's Bookstore customer reads a book via a skylight on Monday, Oct. 15, 2018, in Calistoga, Calif. Northern California's biggest utility has taken the unprecedented step of cutting electricity for tens of thousands of customers in an attempt to prevent wildfires amid rising winds and official warnings on Monday of extreme fire danger. (AP Photo/Ben Margot)
California utilities shut off power amid wildfire concerns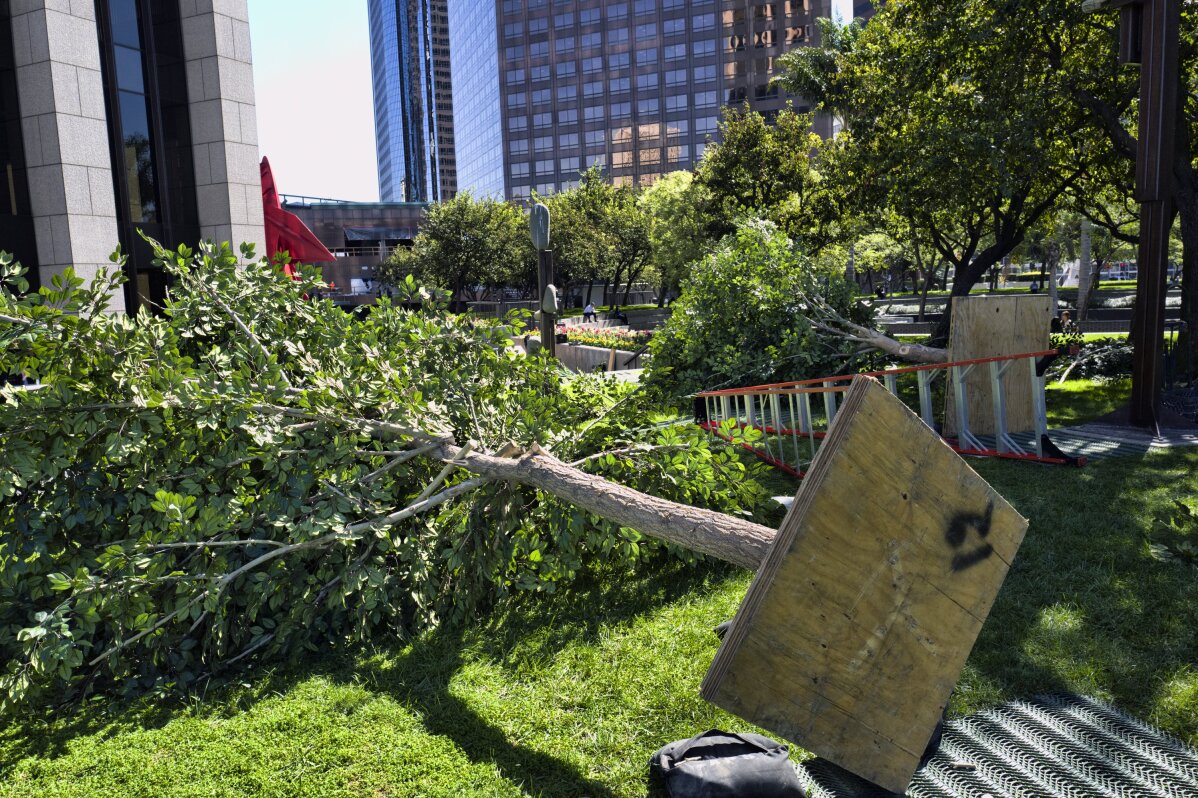 1 of 8

|
Trees used for the a location filming are blown down due to high winds at the Bank of America Plaza in Los Angeles, Monday, Oct. 15, 2018. Potentially powerful winds combined with dry weather are raising the threat of wildfires in California. (AP Photo/Richard Vogel)
1 of 8
Trees used for the a location filming are blown down due to high winds at the Bank of America Plaza in Los Angeles, Monday, Oct. 15, 2018. Potentially powerful winds combined with dry weather are raising the threat of wildfires in California. (AP Photo/Richard Vogel)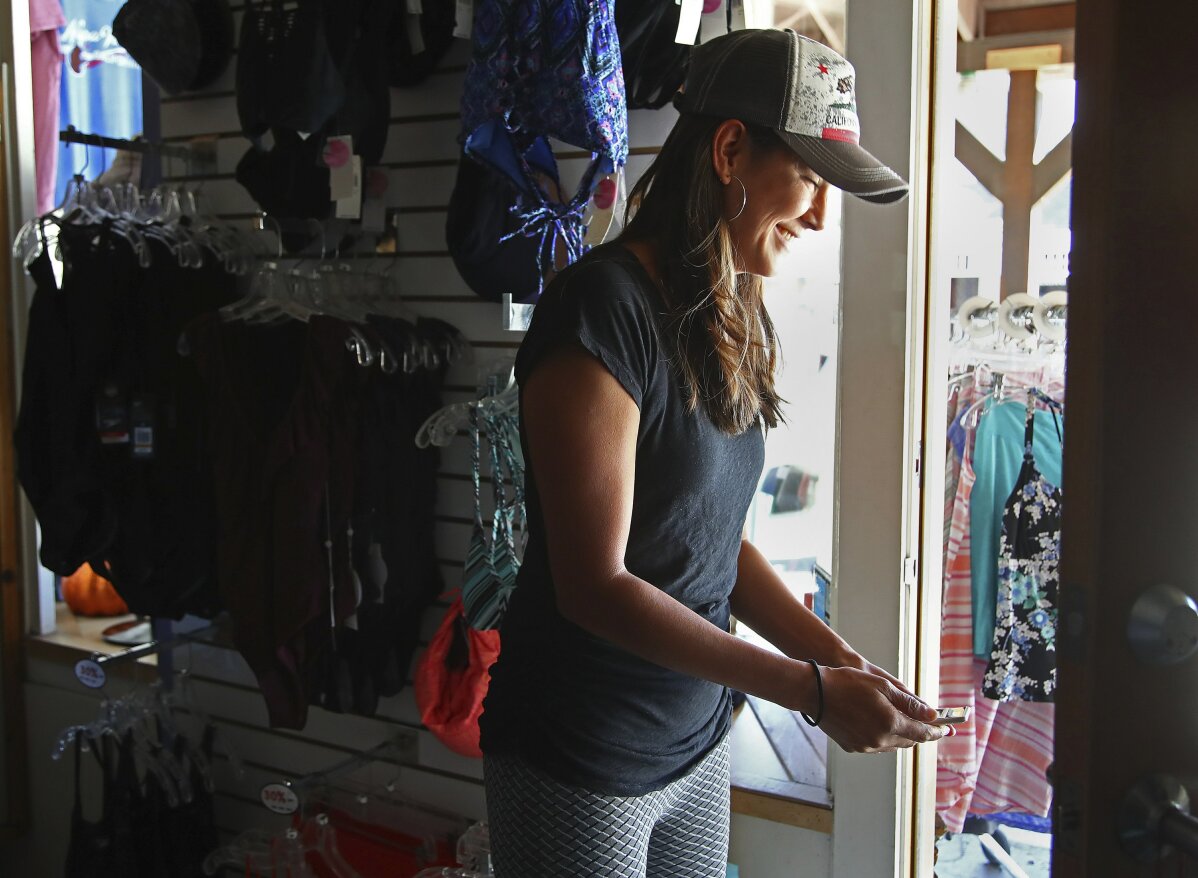 2 of 8

|
Chateau Ste. Shirts manager Christina St. Clair stands in the sunlight at the front door of her business to power her solar powered handheld calculator to total a sale on Monday, Oct. 15, 2018, in Calistoga, Calif. Northern California's biggest utility has taken the unprecedented step of cutting electricity for tens of thousands of customers in an attempt to prevent wildfires amid rising winds and official warnings on Monday of extreme fire danger. (AP Photo/Ben Margot)
2 of 8
Chateau Ste. Shirts manager Christina St. Clair stands in the sunlight at the front door of her business to power her solar powered handheld calculator to total a sale on Monday, Oct. 15, 2018, in Calistoga, Calif. Northern California's biggest utility has taken the unprecedented step of cutting electricity for tens of thousands of customers in an attempt to prevent wildfires amid rising winds and official warnings on Monday of extreme fire danger. (AP Photo/Ben Margot)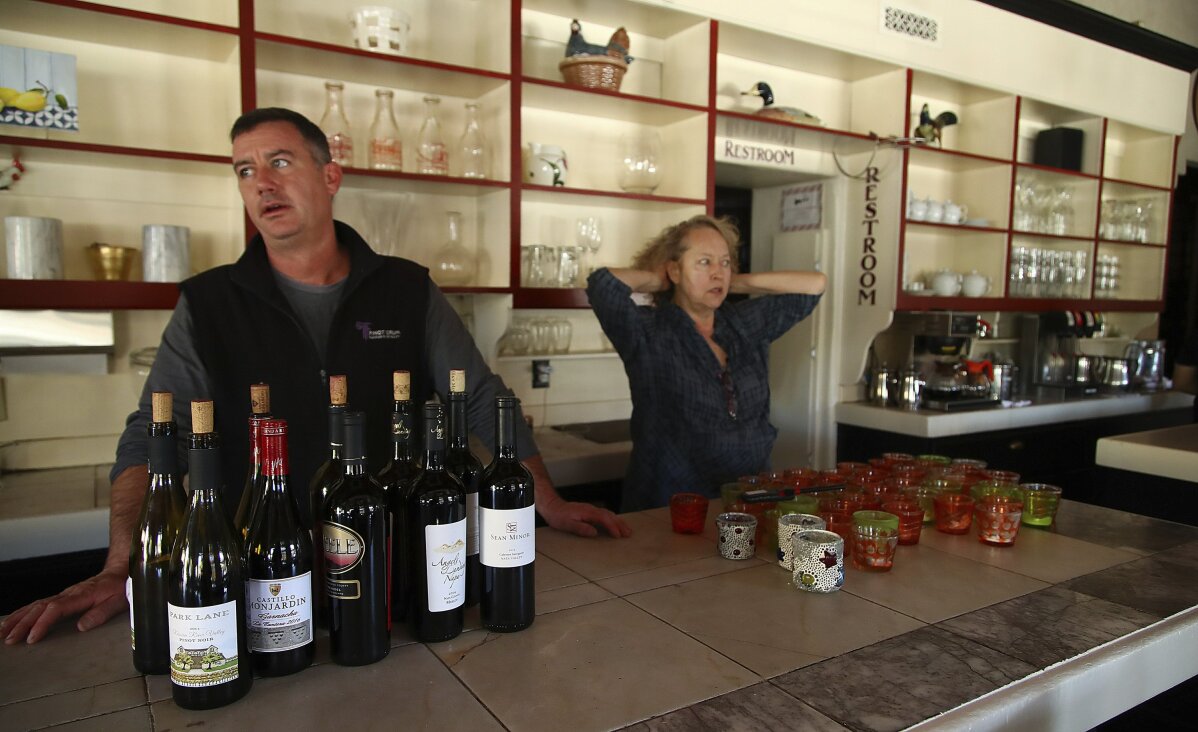 3 of 8

|
All Seasons restaurant chef Kevin Kathman, left, and owner Gayle Keller stand at the bar as they look at their empty business Monday, Oct. 15, 2018, in Calistoga, Calif. The restaurant was forced to close, losing an estimated $20,000 per day, as their power was cut off. Northern California's biggest utility has taken the unprecedented step of cutting electricity for tens of thousands of customers in an attempt to prevent wildfires amid rising winds and official warnings on Monday of extreme fire danger. (AP Photo/Ben Margot)
3 of 8
All Seasons restaurant chef Kevin Kathman, left, and owner Gayle Keller stand at the bar as they look at their empty business Monday, Oct. 15, 2018, in Calistoga, Calif. The restaurant was forced to close, losing an estimated $20,000 per day, as their power was cut off. Northern California's biggest utility has taken the unprecedented step of cutting electricity for tens of thousands of customers in an attempt to prevent wildfires amid rising winds and official warnings on Monday of extreme fire danger. (AP Photo/Ben Margot)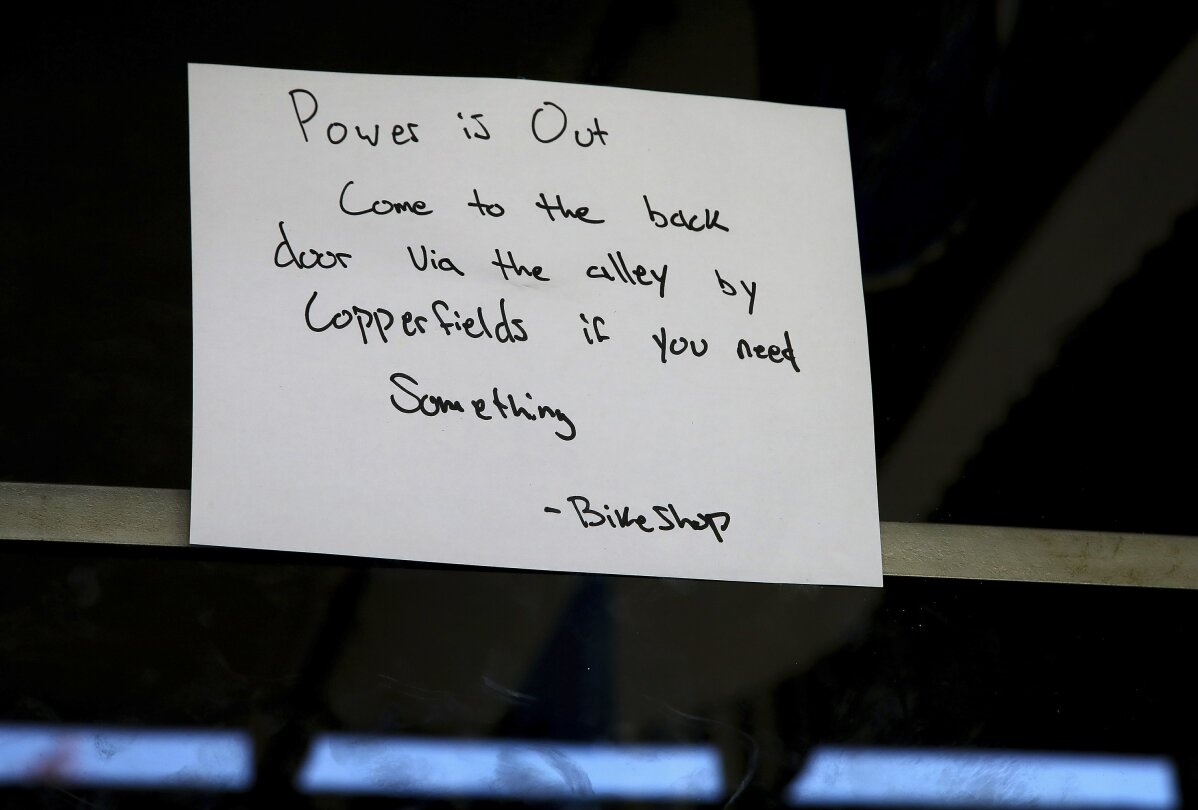 4 of 8

|
A note on the front door of the Calistoga Bike Shop instructs customers on how to enter the shop after a power outage Monday, Oct. 15, 2018, in Calistoga, Calif. Northern California's biggest utility has taken the unprecedented step of cutting electricity for tens of thousands of customers in an attempt to prevent wildfires amid rising winds and official warnings on Monday of extreme fire danger. (AP Photo/Ben Margot)
4 of 8
A note on the front door of the Calistoga Bike Shop instructs customers on how to enter the shop after a power outage Monday, Oct. 15, 2018, in Calistoga, Calif. Northern California's biggest utility has taken the unprecedented step of cutting electricity for tens of thousands of customers in an attempt to prevent wildfires amid rising winds and official warnings on Monday of extreme fire danger. (AP Photo/Ben Margot)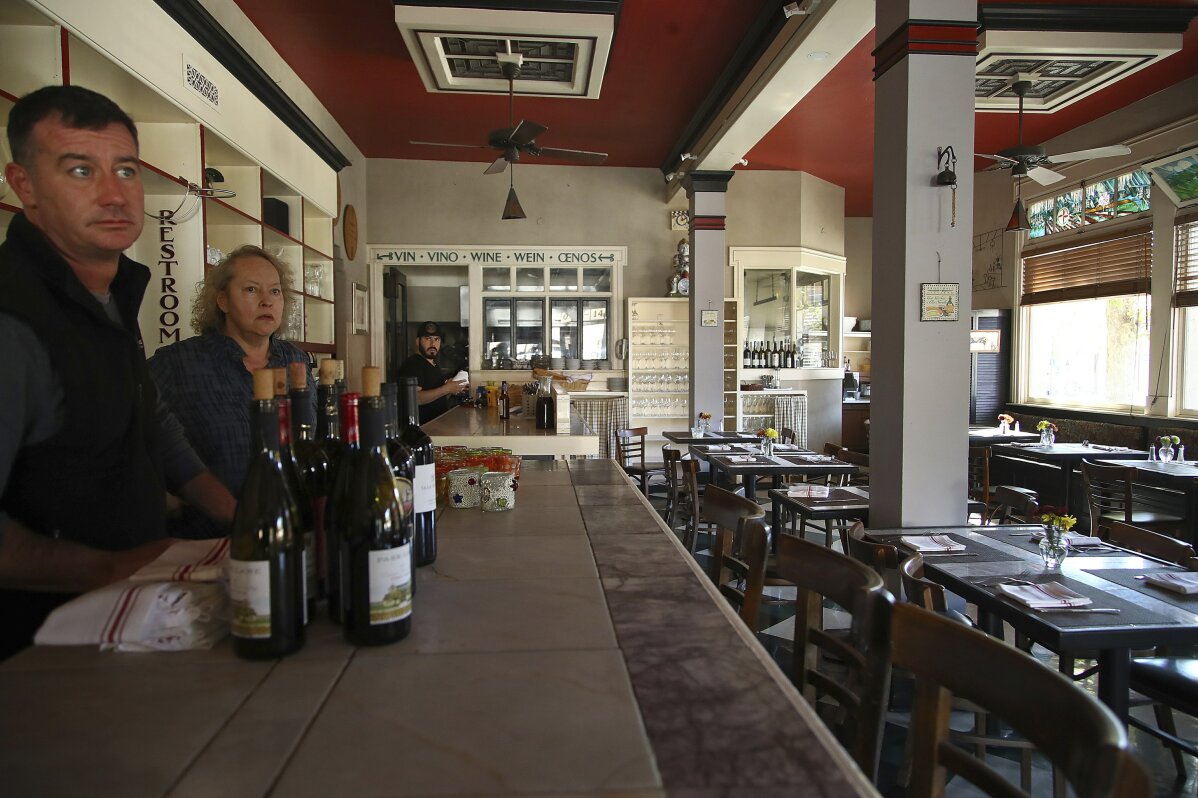 5 of 8

|
All Seasons restaurant chef Kevin Kathman, left, and owner Gayle Keller stand at the bar as they look at their empty business Monday, Oct. 15, 2018, in Calistoga, Calif. The restaurant was forced to close, losing an estimated $20,000 per day, as their power was cut off. Northern California's biggest utility has taken the unprecedented step of cutting electricity for tens of thousands of customers in an attempt to prevent wildfires amid rising winds and official warnings on Monday of extreme fire danger. (AP Photo/Ben Margot)
5 of 8
All Seasons restaurant chef Kevin Kathman, left, and owner Gayle Keller stand at the bar as they look at their empty business Monday, Oct. 15, 2018, in Calistoga, Calif. The restaurant was forced to close, losing an estimated $20,000 per day, as their power was cut off. Northern California's biggest utility has taken the unprecedented step of cutting electricity for tens of thousands of customers in an attempt to prevent wildfires amid rising winds and official warnings on Monday of extreme fire danger. (AP Photo/Ben Margot)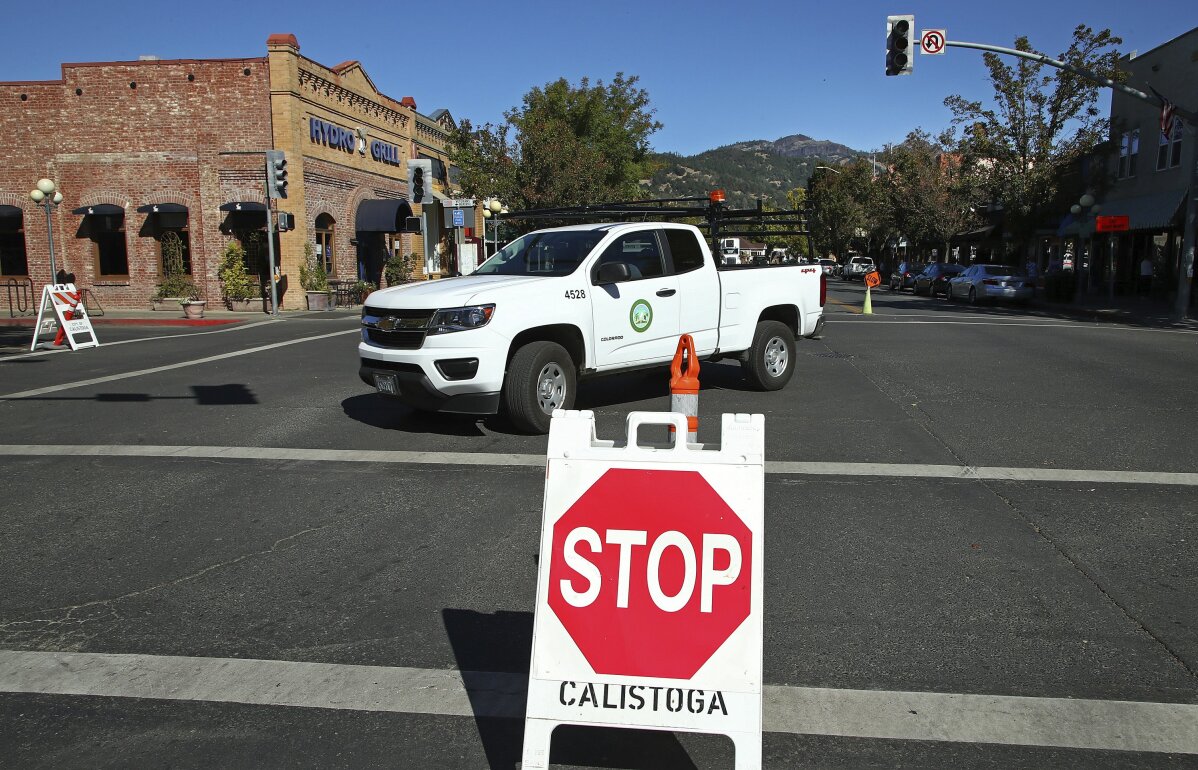 6 of 8

|
A city of Calistoga, Calif., truck makes a turn in an intersection without traffic light signals Monday, Oct. 15, 2018, in Calistoga. Northern California's biggest utility has taken the unprecedented step of cutting electricity for tens of thousands of customers in an attempt to prevent wildfires amid rising winds and official warnings on Monday of extreme fire danger. (AP Photo/Ben Margot)
6 of 8
A city of Calistoga, Calif., truck makes a turn in an intersection without traffic light signals Monday, Oct. 15, 2018, in Calistoga. Northern California's biggest utility has taken the unprecedented step of cutting electricity for tens of thousands of customers in an attempt to prevent wildfires amid rising winds and official warnings on Monday of extreme fire danger. (AP Photo/Ben Margot)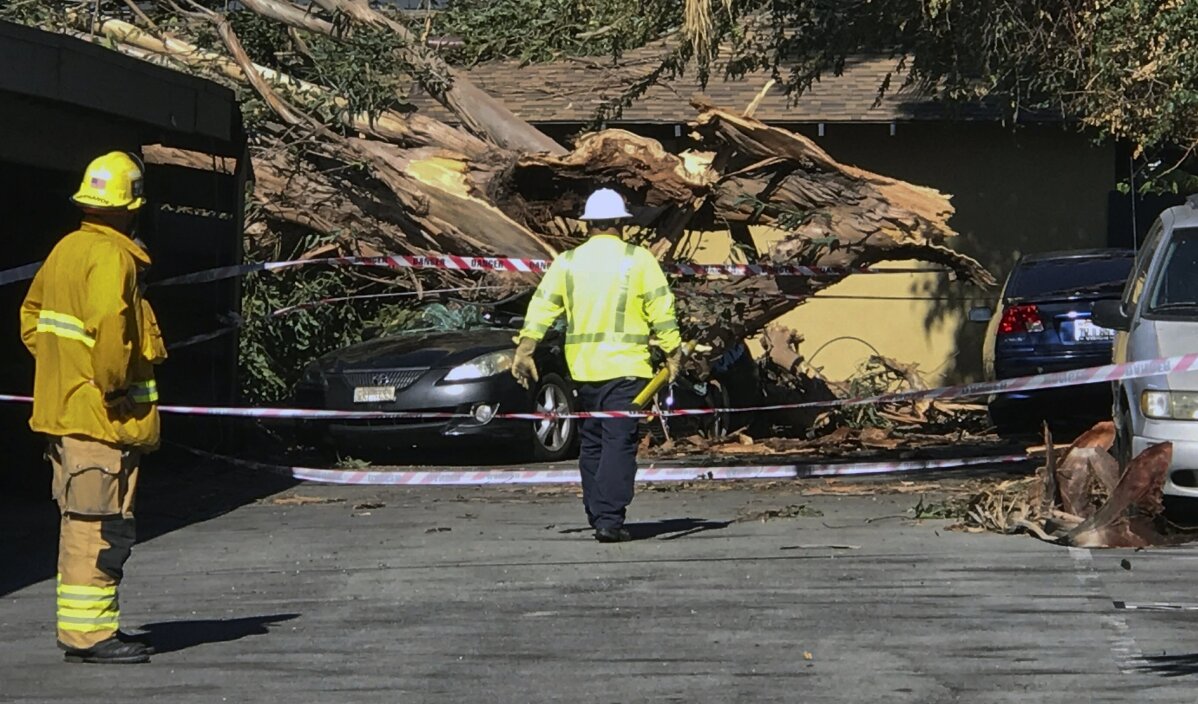 7 of 8

|
Authorities access the damage after a woman was killed after a large eucalyptus tree toppled and smashed onto a car she was inside of in the driveway of her home in Tustin, Calif. during the heavy Santa Ana winds on Monday, Oct. 15, 2018. Potentially powerful winds combined with dry weather are raising the threat of wildfires in California. (Mindy Schauer /The Orange County Register via AP)
7 of 8
Authorities access the damage after a woman was killed after a large eucalyptus tree toppled and smashed onto a car she was inside of in the driveway of her home in Tustin, Calif. during the heavy Santa Ana winds on Monday, Oct. 15, 2018. Potentially powerful winds combined with dry weather are raising the threat of wildfires in California. (Mindy Schauer /The Orange County Register via AP)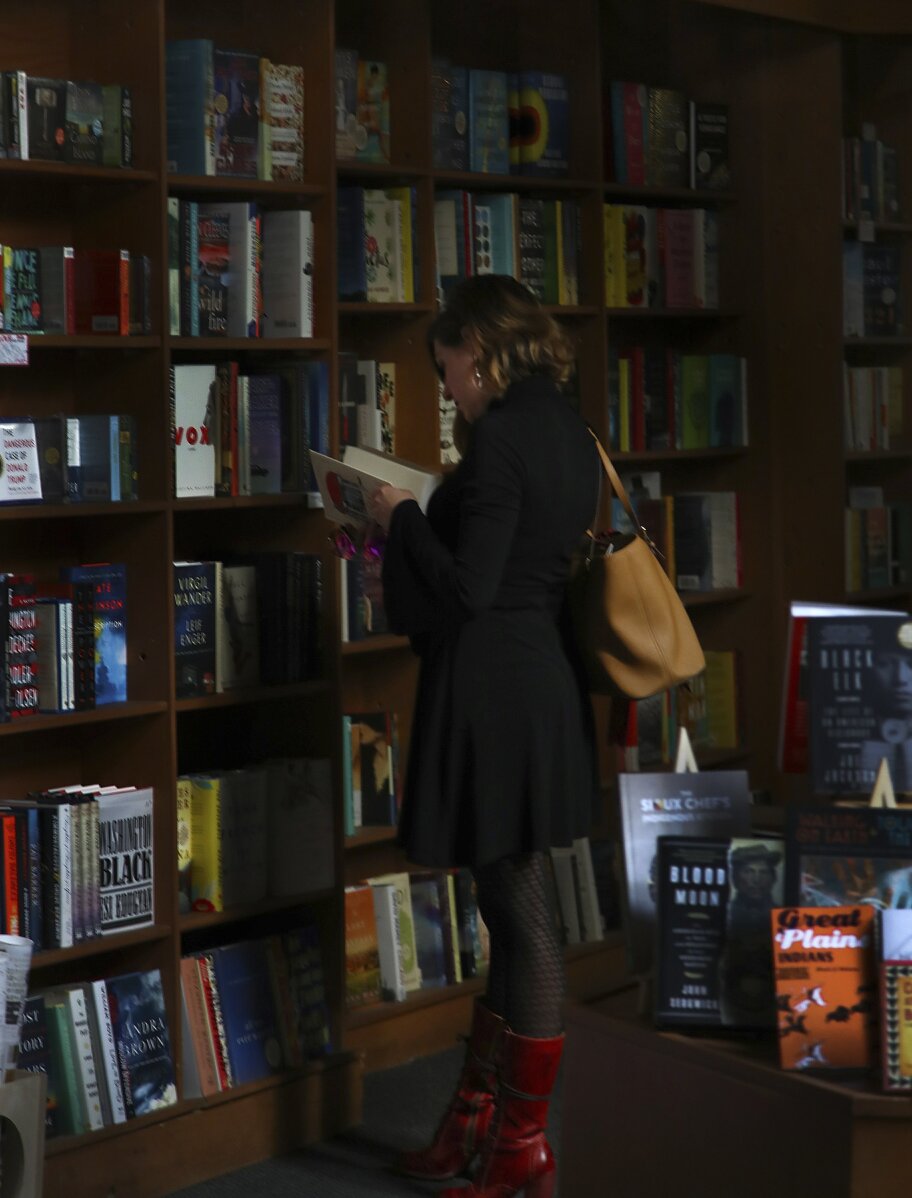 8 of 8

|
A Copperfield's Bookstore customer reads a book via a skylight on Monday, Oct. 15, 2018, in Calistoga, Calif. Northern California's biggest utility has taken the unprecedented step of cutting electricity for tens of thousands of customers in an attempt to prevent wildfires amid rising winds and official warnings on Monday of extreme fire danger. (AP Photo/Ben Margot)
8 of 8
A Copperfield's Bookstore customer reads a book via a skylight on Monday, Oct. 15, 2018, in Calistoga, Calif. Northern California's biggest utility has taken the unprecedented step of cutting electricity for tens of thousands of customers in an attempt to prevent wildfires amid rising winds and official warnings on Monday of extreme fire danger. (AP Photo/Ben Margot)
SAN FRANCISCO (AP) — Concerned about downed power lines sparking wildfires, two major California utilities took the rare step of cutting power to customers amid high winds — and another power provider was considering similar action.
The move came as strong winds swept California, knocking down trees and power lines. One woman was killed when a tree fell onto her car.
In Northern California, Pacific Gas & Electric for the first time began cutting power Sunday night to tens of thousands of customers after the National Weather Service warned of extreme fire danger across the state due to high winds, low humidity and dry vegetation.
San Diego Gas & Electric followed suit Monday, turning off power to about 360 customers in foothill areas near Cleveland National Forest, where multiple blazes have scorched large swaths of land in recent years.
SDG&E has pre-emptively shut off power to customers in the past, most recently in December when 14,000 customers went without power — many for four days.
Pacific Gas & Electric previously announced its plan to shut off power preemptively after authorities blamed its power lines for sparking some of California's most destructive wildfires.
The utility expects to pay billions of dollars in wildfire damages and has sought ways to limit its liability through the courts and Legislature.
The utility said about 87,000 customers had their power halted and more could be left in the dark depending on the weather. Some 60,000 customers remained without power. Schools in those affected areas canceled classes.
PG&E said it expected to restore power Monday night to most customers — though some residents won't get electricity back until Tuesday.
"We know how much our customers rely on electric service, and we have made the decision to turn off power as a last resort given the extreme fire danger conditions these communities are experiencing," PG&E spokesman Pat Hogan said.
PG&E said it began notifying affected customers on Saturday about possible outages. However, many said Monday they had received little or no notice.
Stewart Munnerlyn was scrambling to find generators to save $8,000 worth of ice cream at his creamery shop in Pine Grove, about 55 miles (89 kilometers) east of Sacramento. Munnerlyn said he is in Virginia visiting a sick relative and received three text messages Sunday night from PG&E saying it might cut power, but he didn't know it actually happened until a friend called him.
"They knew what they were going to do obviously," Munnerlyn said. "We weren't given enough notice to properly prepare."
Kevin Kathman, executive chef of wine country restaurant All Seasons in Calistoga, said $12,000 worth of food at the site would spoil if power isn't restored soon.
Instead of tossing it, he was planning to cook over a fire during a block party for the "stressed out community" that includes winery owners in the middle of grape harvest. The power went out Sunday night and Calistoga remained without electricity Monday, even though Kathman said there was no wind.
"It's a beautiful day," he said. "We are all in disbelief that it's not back on."
PG&E spokeswoman Melissa Subottin said power was also cut to hospitals and other medical providers that are required to have backup power sources. PG&E officials visited 4,400 medical customers in the affected areas to warn them of the possible outages, she said.
Southern California Edison said it was considering shutting off power to an undetermined number of customers to prevent wildfires.
It said more than 84,000 customers were experiencing power outages, but no shutdowns had been ordered.
"We will only shut off the power as a last resort when weather conditions are so dangerous that flying branches, palm fronds and other vegetation pose a threat to power lines and the safety of the community," Paul Grigaux, the utility's incident commander, said in a statement.
The weather service predicted winds gusting to 55 mph (89 kph) in the Sierra foothills east of Sacramento. High winds were also expected in the state's wine country north of San Francisco.
The woman killed in the Southern California city of Tustin was identified as 34-year-old Dennet O. Bermas. Authorities said a 40-foot eucalyptus tree fell and crushed her car as it pulled out of a carport at an apartment complex.
"I saw the car crushed," neighbor Danny McCabe told KCAL-TV. "I checked for a pulse in her throat and I couldn't feel any."