Trump's frustrations are boiling over after Comey dismissal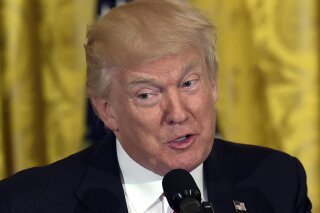 WASHINGTON (AP) — After four months in office, President Donald Trump has become distrustful of some of his White House staff, heavily reliant on a handful of family members and longtime aides, and furious that the White House's attempts to quell the firestorm over the FBI and congressional Russia investigations only seem to add more fuel.
Trump's frustrations came to a head this week with the firing of FBI Director James Comey, who was overseeing the probe into his campaign's possible ties to Russia's election meddling. Fearful that his own team would leak the decision, Trump kept key staff in the dark as he pondered the dramatic move.
The communications staff charged with explaining the decision to the American people had an hour's notice. Chief strategist Steve Bannon learned on television, according to three White House officials, though a person close to Bannon disputed that characterization.
When the White House's defense of the move failed to meet his ever-changing expectations, Trump tried to take over himself. But he wound up creating new headaches for the White House, including with an apparent threat to Comey.
"James Comey better hope that there are no 'tapes' of our conversations before he starts leaking to the press!" Trump wrote on Twitter Friday morning.
For a White House accustomed to bouts of chaos, Trump's handling of Comey's firing could have serious and long-lasting implications. Already Trump's decision appears to have emboldened the Senate intelligence committee investigating into Russia's election interference and the president's associates, with lawmakers announcing a subpoena for former national security adviser Michael Flynn. Comey's allies also quickly made clear they would defend him against attacks from Trump, including disputing the president's assertion that Comey told Trump he was not personally under investigation.
Several people close to the president say his reliance on a small cadre of advisers as he mulled firing Comey reflects his broader distrust of many of his own staffers. He leans heavily on daughter Ivanka Trump and son-in-law Jared Kushner, as well as Hope Hicks, his trusted campaign spokeswoman and Keith Schiller, his longtime bodyguard. Schiller was among those Trump consulted about Comey and was tapped by the president to deliver a letter informing the director of his firing.
Trump confidants say Bannon has been marginalized on major decisions, including Comey's firing, after clashing with Kushner. And while Trump praised chief of staff Reince Priebus after the House passed a health care bill last week, associates say the president has continued to raise occasional questions about Priebus' leadership in the West Wing. Still, Priebus was among the tight circle of staffers Trump consulted about Comey's firing.
Trump spent most of the week out of sight, a marked change from a typically jam-packed schedule that often includes multiple on-camera events per day. Even when aides moved ahead on an executive order creating a voter fraud commission — a presidential pet project that some advisers thought they had successfully shelved — Trump signed the directive in private.
More than a lack of momentum on major policy goals, Trump is said to be seething over the flood of leaks pouring out of the White House and into news reports. He's viewed even senior advisers suspiciously, including Bannon and Priebus, when stories about internal White House drama land in the press.
A dozen White House officials and others close to Trump detailed the president's decision-making and his mood on the condition of anonymity in order to discuss private conversations and deliberations.
After Trump decided to fire Comey, he was told by aides that Democrats would likely react positively to the news given the role many believe Comey played in Hillary Clinton's defeat last year. When the opposite occurred, Trump grew incensed — both at Democrats and his own communications staff for not quickly lining up more Republicans to defend him on television.
Much of Trump's ire has been focused on the communications team, all of whom were caught off guard by Comey's ouster. He increasingly sees himself as the White House's only effective spokesperson, according to multiple people who have spoken with him. By week's end, he was musing about cutting back on the White House's televised press briefings.
Two White House officials said some of Trump's frustration centers on what he views as unfair coverage of his decisions and overly harsh criticism of press secretary Sean Spicer, as well as deputy press secretary Sarah Sanders, who led much of the response to Comey's firing. Aides said Trump does not believe his team gave contradictory stories about his decision to fire Comey, despite the fact that the White House's explanation changed dramatically over a 48-hour period.
The White House initially said Trump was compelled to fire Comey by a critical memo from the deputy attorney general on the director's handling of last year's investigation into Hillary Clinton's email. Aides later said the president had been considering firing Comey for months, and Trump said he would have made the decision regardless of the Justice Department recommendation.
"The challenge they have is that the president sometimes moves so rapidly that they don't get a team around that gets it organized," said Newt Gingrich, the former House speaker and Trump ally. "He's a little bit like a quarterback that gets ahead of his offensive line."
Trump is mulling expanding the communications team and has eyed hiring producers from Fox News, according to one White House official.
White House officials had hoped last week's House vote would give the president a much-needed burst of momentum and infuse new energy into efforts to fully overhaul the "Obamacare" health law and pass a massive tax reform package. Aides were also eager for Trump's first foreign trip, a high-stakes blitz through the Middle East and Europe.
But the blowback from Comey's firing left the White House reeling once again. Trump's visible anger and erratic tweets prompted a reporter to ask Spicer on Friday if the president was "out of control."
"That's, frankly, offensive," Spicer said.
__
Lemire reported from New York. Associated Press writers Julie Bykowicz, Jill Colvin and Catherine Lucey contributed to this report.
__
Follow Pace on Twitter at http://twitter.com/@JPaceDC and Lemire at http://twitter.com/@JonLemire