Disparaging chants added to video of Biden attending Penn graduation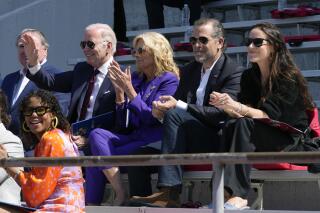 CLAIM: A video shows President Joe Biden sitting with first lady Jill Biden at the University of Pennsylvania commencement, "Pomp and Circumstance" playing in the background as some in the crowd sing a disparaging chant.
AP'S ASSESSMENT: Altered Video. The footage has been edited to add the chant. "Pomp and Circumstance" and other ambient sounds were the only sounds heard in similar clips of Biden at the ceremony, which were posted on Twitter. Associated Press staffers covering the ceremony said they heard no anti-Biden chants during the ceremony.
THE FACTS: A video of the Biden family attending the University of Pennsylvania's commencement ceremony on Monday was misleadingly edited to suggest people were chanting "F— Joe Biden" during the ceremony.
However, the video was altered to add the chants. Similar videos posted on other accounts and news outlets played "Pomp and Circumstance" in the background or only contained ambient sound.
The AP reporter and photographer who attended the commencement and captured photos of the event, didn't hear chants towards the president. A full edited commencement ceremony video was also posted online by the university and did not show any chant during the speeches.
Biden was attending the graduation of his granddaughter, Maisy Biden. The Biden family sat apart from the audience and before the commencement, some students waved at the president and took photos, according to AP reporting.
Similar anti-Biden chants have been added to multiple videos that the AP has fact checked in the past, including a soccer match, and multiple videos of Biden's speeches.
___
This is part of AP's effort to address widely shared misinformation, including work with outside companies and organizations to add factual context to misleading content that is circulating online. Learn more about fact-checking at AP.