Biden did not put Medal of Honor on veteran backward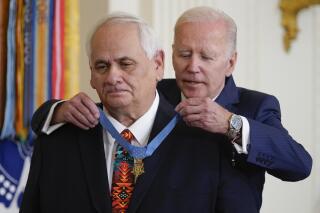 CLAIM: President Joe Biden placed the Medal of Honor improperly around a Vietnam War veteran's neck, positioning the medal on the man's back instead of his chest.
AP'S ASSESSMENT: False. Associated Press images and video show that Biden placed the medal correctly on the veteran's chest.
THE FACTS: In the days after Biden on Tuesday bestowed the nation's highest military honor on four Army soldiers for heroism during the Vietnam War, social media users were circulating a grainy video from the ceremony with false claims it showed the president making a blunder.
The video shows Biden placing the medal around the neck of Spc. Five Dwight W. Birdwell, who was honored for his help heading off an assault and evacuating wounded at Tan Son Nhut Airbase near Saigon in 1968, despite injuries to his torso and face. The blurriness of the video circulating online makes it difficult to see whether Biden places the star-shaped medal on Birdwell's chest or back.
"Biden put his medal on backward," read a tweet with the video that amassed thousands of retweets. "He's declining before our eyes."
"81 million?" read another tweet, referencing the number of votes Biden received in the 2020 election. "The man can't even place a medal on a Vietnam Vet properly."
But a review of clearer video from the ceremony makes it clear no mistake was made. While one recipient was given his medal framed, Biden fastened the three other medals around each recipient's neck, fastening them at the back of the neck with the medal extending down on the chest.
AP images of the moment the medal was placed around Birdwell's neck also show that Biden positioned it properly.
___
This is part of AP's effort to address widely shared misinformation, including work with outside companies and organizations to add factual context to misleading content that is circulating online. Learn more about fact-checking at AP.