Posts recycle baseless claim about Gates' vaccination status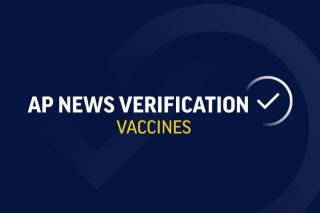 CLAIM: Bill Gates' daughters have not received any vaccines, including childhood immunizations.
AP'S ASSESSMENT: False. The billionaire philanthropist's children are "fully vaccinated," including against COVID-19, The Bill and Melinda Gates Foundation confirmed in a statement to The Associated Press. Melinda French Gates also stated that her children had received all of their vaccines in a Facebook post marking World Immunization Week in 2019.
THE FACTS: The false claim about the Gates' children has spread online for years.
It recirculated this week in a video posted to Instagram that shared photos of the Gates' two daughters, alongside claims that neither had received any "childhood vaccines." The post included screenshots of tweets from Sunday that made the same unevidenced assertion. Those tweets received more than 8,000 shares by Tuesday.
However, The Bill and Melinda Gates Foundation confirmed in a statement to the AP on Tuesday that the Gates' "are all vaccinated," including against COVID-19.
French Gates, the former wife of Bill Gates, also debunked the notion while promoting vaccination efforts three years ago, stating that all of her children had completed their vaccine schedules.
"All three of my children are fully vaccinated," she said in a Facebook post addressing World Immunization Week in April 2019. "Vaccines work. And when fewer people decide to get them, we all become more vulnerable to disease."
The foundation has long been dedicated to promoting access to vaccines around the world. It also worked to fund research into COVID-19 treatments and vaccines, which led to renewed conspiracy theories online.
Prior to the COVID-19 pandemic, the false claim about the vaccination status of Gates' children circulated widely following a 2018 article by the online publication YourNewsWire, which now goes by NewsPunch. Websites in 2020 circled the YourNewsWire article suggesting to have inside information from Bill Gates' supposed doctor.
The editor-in-chief of the publication told the AP in an email at the time that YourNewsWire no longer stood by that story.
"The story was originally published on YourNewsWire.com - the claims made in the article were copied from a blog elsewhere on the web," Sean Adl-Tabatabai wrote in 2020. "Since it came to light that the claims we had copied were unreliable and likely false, we removed the story from YourNewsWire and didn't republish on our new site."
___
Associated Press writer Beatrice DuPuy in New York contributed to this report.
___
This is part of AP's effort to address widely shared misinformation, including work with outside companies and organizations to add factual context to misleading content that is circulating online. Learn more about fact-checking at AP.