'Conspiracy theory' coined long before JFK assassination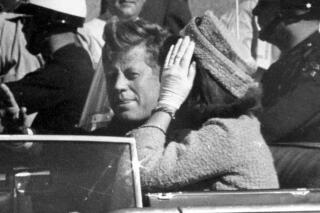 CLAIM: The terms "conspiracy theory" and "conspiracy theorist" were created by the Central Intelligence Agency following the assassination of President John F. Kennedy as a way of discrediting people who doubted the government's official reports.
AP'S ASSESSMENT: False. Recorded use of the phrase "conspiracy theory" dates back to at least 1863, and it was notably invoked in reports following the 1881 shooting of then-President James A. Garfield, more than 60 years before the CIA was established. An academic review of the digital library JSTOR found the term "conspiracy theorist" had been published at least in the year before Kennedy's death.
THE FACTS: Following the National Archives' release last month of an additional 12,879 documents related to Kennedy's death, interest in longstanding myths about the president's 1963 shooting has resurged on social media. Among these myths is what some scholars have called a "meta-conspiracy theory" — the belief that the CIA, as part of an unproven coverup, coined the term "conspiracy theory" to discredit people who accused the CIA of orchestrating Kennedy's killing.
"The term 'conspiracy theory,' did not exist until late 60's in the US," wrote a user on Twitter. "It's a meme that was invented by the CIA."
One Instagram user claimed in a post, "Conspiracy theorist was a term created by the CIA during the Warren Commission to combat critical thinking regarding the assassination of JFK." The post had more than 5,000 likes as of Thursday evening.
A 1967 CIA dispatch about the Warren Commission — a group of officials appointed by Lyndon B. Johnson to investigate Kennedy's assassination by Lee Harvey Oswald — refers to "conspiracy theories" and "conspiracy theorists." But there is evidence both terms were in use before Kennedy's death.
An early reference to a "conspiracy theory" appeared in a letter published in The New York Times on Jan. 4, 1863, referring to an explanation for why England supported the Confederacy during the Civil War. But it attained wider usage after Garfield's shooting in 1881. Reporters began using it in the context of whether Garfield's assassin may have had accomplices, according to a 2018 study by Australian Catholic University researcher Andrew McKenzie-McHarg, who has studied the history of conspiracy theories.
Kenzo Nera, a psychology researcher at the Université Libre de Bruxelles specializing in conspiracies, traced the use of "conspiracy theory" as a more general way of thinking about the world to philosopher Karl Popper. In his influential 1945 book, "The Open Society and Its Enemies," Popper discusses the "conspiracy theory of society": the idea that major events are the "result of direct design by some powerful individuals and groups."
The earliest use of the phrase "conspiracy theorist" found by McKenzie-McHarg was in JSTOR, published in 1962. Kennedy was shot in 1963.
Joe Uscinski, a professor of political science at the University of Miami and an expert in conspiracism, confirmed the "conspiracy theory" label wasn't created by the CIA. He said that allegation "doesn't make any sense on its own."
"One thing that conspiracy theorists say is that the term was either created or deployed to make people who questioned the Kennedy assassination look bad," he told The Associated Press.
But the phrase "conspiracy theory" doesn't automatically have a negative connotation, he said. "That's what we have to attach to it, right? The CIA can't control how language is used, or how we interpret language over time."
Unsupported theories about Kennedy's assassination remain very popular, Uscinski added. "So if there was some etymology game that the CIA was playing to tamp down those beliefs, it didn't work."
—
This is part of AP's effort to address widely shared misinformation, including work with outside companies and organizations to add factual context to misleading content that is circulating online. Learn more about fact-checking at the AP.