False claim about COVID-19 vaccine animal studies circulates anew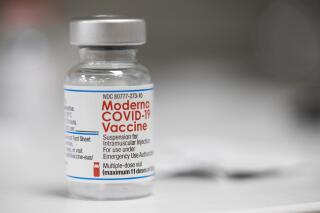 CLAIM: Animal studies for COVID-19 vaccines were "stopped" because the animals were dying.
AP'S ASSESSMENT: False. None of the manufacturers of the COVID-19 vaccines used in the U.S. reported that preclinical testing was halted because of such animal safety concerns. The Texas state senator who made the assertion provided no evidence to support that claim.
THE FACTS: A Texas lawmaker's remarks from last year are gaining renewed attention on social media and spreading the erroneous claim that COVID-19 vaccine studies on animals were halted due to safety issues.
A one-minute clip of Texas state Sen. Bob Hall's comments circulated widely on Twitter again in recent days.
The video is from a May 2021 hearing in which Hall claimed that the "American people are now the guinea pigs."
"What I have read, they actually started the animal tests and because the animals were dying, they stopped the tests," Hall, a Republican, said. He later continued: "They didn't do the human testing and they stopped the animal tests because the animals were dying, and then they turned it out for the public."
That's wrong, and similar to other debunked claims alleging that animal studies for the vaccines were "skipped."
"The claim is completely false," a Food and Drug Administration spokesperson, Veronika Pfaeffle, told The Associated Press in an email regarding Hall's comments. "All authorized and approved COVID-19 vaccines underwent animal studies."
Hall's office did not return requests for comment.
Such animal studies are cited in FDA documents pertaining to the approval of the Pfizer and Moderna vaccines, and authorization for the Johnson & Johnson shot — the three COVID-19 vaccines used in the U.S. at the time of Hall's remarks.
Evaluating toxicology specifically, Pfizer and Moderna used rats, while the Johnson & Johnson vaccine was tested on rabbits — none of which reported significant safety issues. Moderna's rat toxicity study, for example, found that the vaccine was "well-tolerated."
Other animal testing was also done for safety and efficacy. Research on monkeys for the Pfizer, Moderna and Johnson & Johnson vaccines was detailed in scientific journals. None of the studies reported prematurely ending because of animal deaths.
Federal officials last month granted emergency use authorization to a new vaccine, Novax. That vaccine similarly did not report fatal animal studies.
___
This is part of AP's effort to address widely shared misinformation, including work with outside companies and organizations to add factual context to misleading content that is circulating online. Learn more about fact-checking at AP.