Posts continue to misrepresent VAERS COVID-19 vaccine data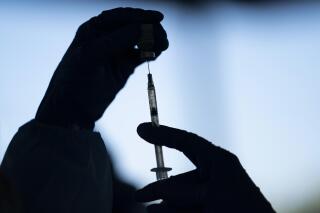 CLAIM: More than 1.4 million adverse events caused by the COVID-19 vaccines have been reported to the federal database VAERS through Sept. 9.
AP'S ASSESSMENT: Missing context. VAERS, a passive reporting system run jointly by the U.S. Centers for Disease Control and Prevention and the U.S. Food and Drug Administration, relies on unverified reports submitted by the general public. It does not prove that vaccines caused the adverse events reported. Claims about the safety of the vaccines based on data from VAERS have been debunked by The Associated Press on multiple occasions.
THE FACTS: Misleading claims about adverse events allegedly caused by the COVID-19 vaccines have cropped up again on social media this week in posts that cite data from the Vaccine Adverse Events Reporting System, or VAERS, as evidence.
"Now that Biden declared the COVID pandemic officially 'over,' can we stop and take a moment to recount the unnecessary tragedy the shots and shot mandates have wreaked on our nation thus far?" the posts ask.
They continue: "First, let's talk about the almost 31,000 deaths since the COVID vaccine was rolled nationwide less than 22 months ago. Would these lives have been saved had they gotten COVID itself and recovered naturally? The world will never know."
A graphic included in the posts states that 1,407,409 adverse events from the COVID-19 vaccines have been reported to VAERS, including 30,935 deaths. It also notes VAERS data for other reported adverse events, such as severe allergic reactions, miscarriages and heart attacks.
The numbers in the graphic match data reported by a site called OpenVAERS, an independent website often cited by anti-vaccine advocates that pulls data from the federal database. OpenVAERS numbers for adverse event reports are frequently higher than those cited by the CDC, as the website also includes reports from outside the U.S. For example, the CDC says VAERS has received 16,516 preliminary reports of people dying after receiving a COVID-19 vaccine, while OpenVAERS puts that number at almost 31,000.
Regardless, posts citing VAERS data to cast doubt on the safety of the vaccines leave out the important context that adverse events in VAERS are not verified, as the AP has reported. VAERS allows anyone to submit reports on any possible reactions after a vaccine, and has clear disclaimers that reports may "contain information that is incomplete, inaccurate, coincidental, or unverifiable."
The system is passive, meaning people self-report their information. Health care providers and manufacturers are also required to submit adverse responses reported after vaccines, even if they don't know whether the vaccine caused them.
While VAERS has many limitations on how its information can be used, the database is considered a first step in detecting issues and concerns that can then be investigated, experts have told the AP. No vaccine is 100% safe or effective, and rare adverse events are possible. VAERS identifies unusual patterns that can help alert medical professionals to probe further.
"This number provides very little information upon which to base conclusions about the safety of the vaccine," said Dr. Caleb Alexander, a professor of epidemiology and medicine at Johns Hopkins Bloomberg School of Public Health, when asked in January about a similarly misleading claim that 1 million adverse events caused by the COVID-19 vaccines had been reported to VAERS. "We actually know from much better sources of data that the vaccines are incredibly safe."
For example, the CDC has identified just nine deaths causally associated with rare blood clots caused by the Johnson & Johnson COVID-19 vaccine.
More than 616 million doses of COVID-19 vaccines had been administered in the U.S. as of Friday.
___
This is part of AP's effort to address widely shared misinformation, including work with outside companies and organizations to add factual context to misleading content that is circulating online. Learn more about fact-checking at AP.