No, Elon Musk was not suspended from Twitter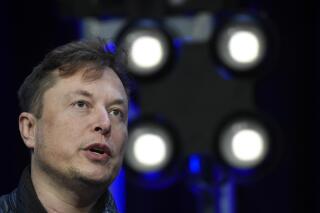 CLAIM: Twitter suspended Elon Musk's account after the Tesla CEO announced on Friday that he will terminate his offer to buy the social media company.
AP'S ASSESSMENT: False. Musk's account, @elonmusk, is still active. A separate account using an uppercase "i" instead of a lowercase "l" — resulting in a handle that appears identical in certain fonts — has been suspended.
THE FACTS: Following Musk's announcement that he is abandoning his $44 billion offer to buy Twitter, a screenshot circulated on social media that falsely claimed to show he had been suspended from the platform in response.
The image appears to show the tech mogul's Twitter page blank, with the message "Account suspended" and "Twitter suspends accounts that violate the Twitter Rules."
A popular tweet that pushed the claim reads: "Elon Musk: 'I'm terminating my deal to buy Twitter.' Twitter to @eIonmusk," and then the screenshot of the suspended account.
The handle @eIonmusk is indeed suspended. But it is not Musk's real account, which is @elonmusk and remains active. The bogus account uses a capital "i" in place of the "l" and the two are indistinguishable in Twitter's sans serif font.
The user who promoted the screenshot on Saturday notes in their bio that their tweets are "satire," and many in the comments pointed out that it was a hoax playing on the similarity of the two letters.
But the screenshot and false claim spread onto other social media platforms without that context, and Musk's supposed suspension was even reported as real by an Irish news outlet on Saturday. The article was later deleted.
One popular Instagram post sharing the claim was updated to say that Musk was "back" on Twitter after the platform "suspended the page following backing out of $44 billion deal." But that is also incorrect, as Musk's real account was active all along. It can be seen in dozens of snapshots from Friday and Saturday stored by the Internet Archive's WayBack Machine.
It is not clear when or why the @eIonmusk account was suspended. Twitter did not immediately return a request for comment.
Musk reached a deal to acquire Twitter in April, but in a letter to the company's board on Friday, his lawyer complained that Twitter had since "failed or refused" to provide Musk with information about "fake or spam" accounts on the platform. In response, the chair of Twitter's board, Bret Taylor, tweeted that the board "plans to pursue legal action to enforce the merger agreement."
___
This is part of AP's effort to address widely shared misinformation, including work with outside companies and organizations to add factual context to misleading content that is circulating online. Learn more about fact-checking at AP.