Fabricated tweet circulates after Shinzo Abe assassination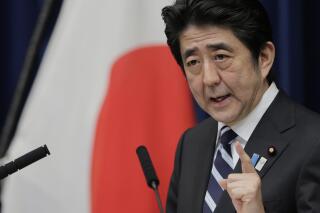 CLAIM: A screenshot shows that Shinzo Abe, the former prime minister of Japan who was assassinated on Friday, tweeted: "I have information that will lead to the arrest of Hillary Clinton."
AP'S ASSESSMENT: False. Abe did not tweet this statement, which is a reference to a long-running internet meme. A screenshot purporting to show the tweet has been fabricated. Abe's verified Twitter account uses a different username and profile picture than the ones shown in the altered image. The Japanese text in the altered image does not mention Clinton, either.
THE FACTS: Abe, who was Japan's longest-serving leader when he resigned in 2020, was assassinated Friday on a street in western Japan by a gunman who opened fire as Abe delivered a campaign speech.
Shortly after, a fabricated screenshot appeared online purporting to show a message about Clinton with a timestamp indicating that Abe had tweeted it hours prior.
The low-quality screenshot appeared to show a Twitter profile photo of Abe's head from the side, and the username @ShinzoAbe next to a blue "verified" checkmark. Below are Japanese characters and a Google Translate message appearing to show the English translation of the tweet text as "I have information that will lead to the arrest of Hillary Clinton." The timestamp shows 1:09 p.m. on July 7, 2022.
The phrase is a long-running internet meme that has been falsely attributed to several other high-profile celebrities and public figures following their deaths. Some users replying to posts sharing the fake Abe tweet indicated that the image was meant to be a joke. But many others shared it as real. "Makes you wonder, no???" wrote one user. "Should have known," said another.
But the image does not show a real tweet from Abe. There is no verified account on Twitter with the name @ShinzoAbe.
Abe's actual, verified Twitter account uses the handle @AbeShinzo, and a different profile photo showing him from the torso up, with his arms crossed over his chest. The Japanese characters by his username are also different from the ones displayed in the fabricated image.
Archived images of his legitimate Twitter account spanning several days this week, including as recently as Tuesday, show that these account details have not changed. Further, no such tweet about Clinton currently appears on his profile.
A translation of the Japanese text in the fabricated tweet shows that it is a truncated phrase that does not mention Clinton. It says, "to repeat, I."
There are other signs the image has been manipulated. The fabricated screenshot is blurry, and there is slight discoloration behind some of the words. The Japanese characters by the incorrect username appear pixelated and stretched. It also uses a different typeface for some words than the one that is typically displayed on Twitter.
Police at the shooting scene on Friday arrested Tetsuya Yamagami, a former member of Japan's navy, on suspicion of murder. Police said he used a gun that was obviously homemade, The Associated Press reported. Police said Yamagami admitted to attacking Abe.
___
This is part of AP's effort to address widely shared misinformation, including work with outside companies and organizations to add factual context to misleading content that is circulating online. Learn more about fact-checking at AP.