Viral video shows flamethrower-wielding Missouri state senators burning empty boxes, not books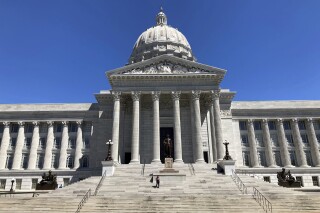 CLAIM: A video shows Missouri Republican state Sens. Bill Eigel and Nick Schroer using a flamethrower for a "literal book burning."
AP'S ASSESSMENT: False. The video shows the two lawmakers burning empty cardboard boxes, not books, according to both politicians. It was taken on Friday at a fundraiser hosted by a local GOP group where flamethrowers were being auctioned. Eigel and Schroer were demonstrating the devices on the boxes, the event's organizer confirmed.
THE FACTS: Missouri is one of many states across the nation where conservatives have been pushing to ban or restrict certain books from schools and libraries. The state passed a new law last year outlawing books with sexually explicit images from school libraries, which a lawsuit from two state library associations claims has since caused school districts to remove hundreds of books from their shelves.
Over the weekend, social media users shared a video they claimed showed two Republican state senators taking things even further by burning books.
The video shows Schroer and Eigel, who is also running for Missouri governor, using two flamethrowers to set a stack of boxes alight.
"Missouri Republicans at a literal book burning. They think flamethrowers should be legal but history books should be destroyed," reads one Sunday post on X, formerly known as Twitter sharing the video. The post had more than 16,000 likes as of Monday, and the claim also spread on TikTok and Facebook.
However, the video doesn't show books being burned — just a pile of empty boxes, according to both lawmakers and the event's organizers.
Both Eigel and Schroer responded on X, saying that there were no books burned. Eiger also posted footage of a different angle that more clearly shows the boxes.
"This caused no harm to any books or literature," said Jamey Murphy, a spokesperson for Schroer.
The footage was taken at an event called Freedom Fest, a fundraiser for the St. Charles County Republican Central Committee, said Sophia Shore, the campaign manager for Eigel's gubernatorial campaign.
Debbie McFarland, Freedom Fest's planner and a member of the committee, said the flamethrowers were being auctioned off at the event and the lawmakers were demonstrating their capabilities on a pile of boxes from the event. McFarland called the claim that books were involved "an absolute fabrication."
Nevertheless, in a statement posted to X on Monday, Eigel did say he would burn "woke" books brought into Missouri schools "on the front lawn of the governor's mansion."
___
This is part of AP's effort to address widely shared misinformation, including work with outside companies and organizations to add factual context to misleading content that is circulating online. Learn more about fact-checking at AP.