Image of Julian Assange in prison is AI-generated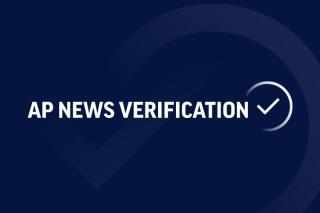 CLAIM: A close-up photo shows Wikileaks founder Julian Assange looking physically unwell and disheveled in London's Belmarsh prison.
AP'S ASSESSMENT: False. It's a synthetic image, according to the creator, who posted it on Twitter. The Twitter user "The Errant Friend" told The Associated Press that it was created using Midjourney V5, an artificial intelligence text-to-image generator.
THE FACTS: Social media users are sharing the image of Assange with claims it's a real photo of him in London's high-security Belmarsh prison.
The image shows Assange with his eyes closed, red patches on his face, long hair and raggedy beard and mustache. Assange's skin texture also looks slightly blurred and he appears to be wearing a bib that has yellow stains on it. There's also a watermark over the image that reads: "Property of 'E.'"
Social media users shared the photo on Twitter and Facebook saying it shows that being in prison had taken a toll on his health.
"A latest picture of Julian Assange! This is pure evil of what the US and UK are doing to this poor man!" one tweet that shared the image on Thursday states. It had received 4,000 likes by Saturday.
However, the image circulating online was generated using AI. It was posted on Twitter under the username "The Errant Friend," who confirmed to the AP that it was not real.
"The Errant Friend," who declined to give a real name for safety reasons, said the photo was produced using the latest update of Midjourney, version 5. The online tool allows users to generate images using simple text prompts, and the new iteration can produce convincing images mimicking real photos. Since its release last month, there has been a flood of realistic but entirely synthetic images of high profile figures on social media
Through Twitter direct messages, the user said the image was created to depict Assange's "documented suffering in Belmarsh," further adding that it was designed as "part of a viral movement for Julian's freedom." The user also provided the AP with a screenshot showing the text prompt on Midjourney.
Assange has been held in the high-security prison since 2019 on a series of charges related to WikiLeaks' publication of a trove of classified U.S. documents more than a decade ago.
In June 2022, the British government ordered the extradition of Assange to the U.S. The following month he appealed that ruling and his lawyers have asked President Joe Biden to drop the charges against him. Assange's supporters say his physical and mental health are both under strain. His wife, Stella Assange, told a news conference in 2022 that her husband's condition was "deteriorating by the day," according to AP reporting.
U.S. prosecutors have alleged that Assange helped U.S. Army intelligence analyst Chelsea Manning steal classified diplomatic cables and military files that WikiLeaks later published, putting lives at risk.
Assange's supporters and lawyers maintain he was acting as a journalist and is entitled to First Amendment protections of freedom of speech, according to AP reporting. They argue that the case is politically motivated, that he would face inhumane treatment and be unable to get a fair trial in the U.S.
Barry Pollack, one of Assange's U.S. lawyers, Stella Assange, his wife, and authorities at Belmarsh prison did not respond to the AP's request for comment.
___
This is part of AP's effort to address widely shared misinformation, including work with outside companies and organizations to add factual context to misleading content that is circulating online. Learn more about fact-checking at AP.