Arizona county didn't accept 18K ballots after 2020 election day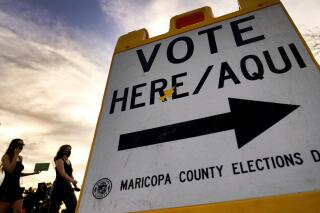 CLAIM: A document dated Nov. 4, 2020, shows that election officials in Maricopa County, Arizona, wrongfully accepted 18,000 ballots after election day in 2020.
AP'S ASSESSMENT: False. A form used by Maricopa County election officials is being misrepresented as proof that the ballots were accepted after election day. The form is actually a receipt that confirms when early ballots in unopened envelopes — received prior to the deadline on election day — were handed off to a private vendor to be scanned, a spokesperson for the Maricopa County Elections Department told The Associated Press. The CEO of the vendor, Runbeck Election Services, also confirmed the form's purpose.
THE FACTS: An image of a form is being shared widely on social media with false claims that it shows Maricopa County officials improperly counted thousands of ballots after the 2020 general election.
The form features the header, "MC INBOUND - RECEIPT OF DELIVERY," as well as a listed date of Nov. 4, 2020, the day after the election. Below are a series of rows and columns. The left hand side features rows with titles like "LATES" and "POST OFFICE INBOUND." One of the columns is titled "QTY OF PIECES" and a handwritten "18,000" is featured in the column's top row.
"BREAKING: Maricopa County accepted 18,000 ballots AFTER election day," one Twitter user wrote on Saturday with an image of the form. The tweet was shared over 1,000 times.
Megan Gilbertson, a spokesperson for the Maricopa County Elections Department, said that while the form in the image is authentic, it does not show ballots that were received late, after the election day deadline.
"It's not a receipt of when we first came into possession of the envelopes," Gilbertson said in reference to the form circulating online.
"It's a record of when we transferred the envelopes to our vendor to be scanned," she added. "These are a receipt of early ballots received prior to 7:00 p.m. on election day."
The ballot envelopes provided to Runbeck Election Services are scanned so that Maricopa County staff can match signatures on the exterior of ballots with county records and verify their authenticity. The ballots are returned to the county and verified ballots are tabulated.
State law allows for a period of five business days after election day for the county to address questionable signatures on ballot envelopes, Gilbertson said.
Jeff Ellington, CEO of Runbeck Election Services, confirmed that the form documents when the company received a batch of ballots.
"It's just the handoff," Ellington said of the form. "It's just to validate that this is what they're bringing, this is what we're accepting."
Approximately 934 early ballots were received late in the November 2020 general election, according to Maricopa County. While the county does take custody of early ballots that are received after the 7 p.m. deadline on election day, those ballots are not counted in the election, Gilbertson said. Such ballots are still provided to the vendor to be scanned to determine how many ballots were received late for record-keeping purposes.
The form circulating online doesn't feature markings indicating that the ballots were received late, Gilbertson added.
"None of those ballots are late," she said. "If the ballots were late we would mark them 'late' in that section."
President Joe Biden won Maricopa County in the 2020 election by more than 45,000 votes and won Arizona by over 10,500 votes, the AP reported in November 2020. A AP review of all potential voter fraud cases in battleground states published in December 2021 identified 198 cases in Arizona, which comprised less than 2% of the margin by which Biden won the state.
___
Associated Press writer Bob Christie in Phoenix contributed to this report.
___
This is part of AP's effort to address widely shared misinformation, including work with outside companies and organizations to add factual context to misleading content that is circulating online. Learn more about fact-checking at AP.