Release of test election results fuels unfounded fraud claims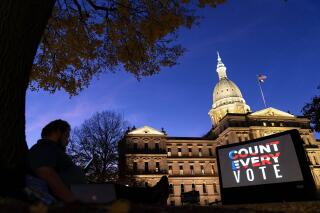 CLAIM: Michigan news outlets released election results a week before the state's primary, which is proof of election fraud.
AP'S ASSESSMENT: False. At least two local Michigan TV stations inadvertently published mock election results over the weekend while conducting routine tests of their systems in preparation for the Aug. 2 primary. The randomly-generated numbers were not real election results, nor are they an indication of fraud. Election results are reported through information that comes from local election officials. News outlets do not have direct access to ballots.
THE FACTS: The Michigan TV stations' error spurred claims of election fraud ahead of the state's primary next week.
"Here is a great example of the press being involved in the fraudulent election process," one Facebook user posted on Sunday. "MI GOP primary is next week and the press has already posted the results. Selection, not election."
"The Michigan Republican primary is not for another week — However, Michigan News Channel 3 already published the results to the election," another post falsely suggested, adding, "where do those numbers come from???"
The claims were driven by a report from a conservative news outlet on Sunday that included screenshots of a webpage published by WWMT-TV, a Kalamazoo station. The page displayed what appeared to be election results for several, mostly Republican, races, showing candidate names alongside corresponding tallies and percentages. A caption at the top said "100% of precincts reporting."
But the numbers next to each candidate were not real election results, the station said in a statement Monday. They were randomly-generated sample numbers provided to the local news outlet by The Associated Press for use in standard system tests.
An error by the station led to the release of those numbers, which are not supposed to be published. At least one other station, the Grand Rapids-based WOOD-TV, also accidentally released the numbers.
"Before any election, AP sends clearly labeled test data to its customers as part of its routine testing," AP spokesperson Lauren Easton said in a statement. "The test data is randomly generated and is not based on any predictive analysis or polling. It is not for publication. The test data is in no way representative of actual votes."
The data tests are conducted every election cycle to ensure that computer system changes do not interfere with the receipt of the data on election day, WOOD-TV News Director Stanton Tang explained in a statement.
Typically, the test election data cannot be accessed through the site's navigation menu or recent election reports. But over the weekend, somebody was able to access a page with the test election results through either an internet search or by following a link in an old article about a previous election, Tang's statement added. Screenshots were then shared widely online.
"In no way does a standard data test either affect or predict the results of any election," the statement said. "Test data does not represent any editorial slant or desire to affect the outcome of the election."
Both stations have since removed the web pages where the data was briefly published.
WWMT-TV representatives informed officials with the Michigan Secretary of State's office, which oversees election administration, that the sample data was "accidentally made live," the Secretary of State's office said in a statement Monday.
The Secretary of State's office confirmed that no ballots have been counted yet. It dispelled the claims that the mistake was an example of fraud, calling it "nothing more than human error," and pointing out that the news outlets have "nothing to do with election administration."
Two Michigan county election clerks, one representing Kent County and another representing Ottawa County, confirmed in a joint statement that election administrators have not provided any results in the election yet.
"As a reminder, results posted on media websites are never official results," the statement continued. "Michigan's election process has many checks and balances in place, built to protect against errors such as these."
___
This is part of AP's effort to address widely shared misinformation, including work with outside companies and organizations to add factual context to misleading content that is circulating online. Learn more about fact-checking at AP.