No, farmers aren't required to vaccinate livestock with mRNA vaccines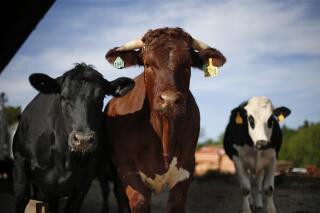 CLAIM: Farmers and ranchers are required to inject livestock with mRNA vaccines.

AP'S ASSESSMENT: False. There is no mandate in the U.S. that livestock receive certain vaccines and there are no COVID-19 mRNA vaccines licensed for animals, as some online have suggested.
THE FACTS: Both messenger RNA, or mRNA, and RNA are natural, essential components of all living cells. The COVID-19 vaccines from Pfizer and Moderna use mRNA to instruct cells to create a spike protein to fight the disease.
But the vaccines have been a consistent subject of misinformation since they debuted in late 2020.
Social media posts in recent days have falsely asserted that farmers are required to vaccinate livestock with such vaccines and baselessly suggested that unsuspecting humans will therefore consume the immunizations.
"I just recently read that farmers and ranchers are being told that they must inject their livestock with the mRNA vaccine," a man in an Instagram video claims. "What temperature do I need to cook my cow in order to get rid of the mRNA death jab vaccine thing?"
Experts, industry groups and officials say there are no such requirements.
"There is no requirement or mandate that producers vaccinate their livestock for any disease," U.S. Department of Agriculture spokesperson Marissa Perry said in an email. "It is a personal and business decision left up to the producer and will remain that way."
Jason Menke, a National Pork Board spokesperson, said in a statement that the "decision to use vaccines and other medical treatments to protect animal health and well-being are made by the farmer under the direction of the herd veterinarian."
In terms of COVID-19 specifically, there are no licensed mRNA vaccines against that disease for animals, Perry said.
Some animals, particularly those in zoos considered susceptible, have received vaccines against COVID-19. But those immunizations do not rely on mRNA technology, said Suresh Kuchipudi, a veterinary scientist and chair of emerging infectious diseases at Penn State University.
Experts also say there are no animal vaccines currently licensed in the U.S. against any disease that use the same mRNA approach as humans' COVID-19 vaccines, which entails delivering the mRNA by using a fatty coating called lipid nanoparticles — though some are being researched.
There are some animal vaccines that use other RNA platforms. The pharmaceutical company Merck has for several years offered a customizable vaccine using what it calls "RNA particle technology"; the company creates vaccines against the flu and other viruses in pigs to protect a specific herd as needed. That approach predates the advent of the COVID-19 mRNA vaccines.
The notion that mRNA vaccines would be transmissible through animal consumption — much less cause harm to the consumer — is not rooted in scientific evidence, experts told The Associated Press
"The messenger RNA is extremely fragile," Kuchipudi said, and is typically gone within days of receipt. "The chance of the mRNA being transferred, even hypothetically, is extremely unlikely."
Paulo Verardi, an associate professor of virology and vaccinology at the University of Connecticut, agreed and added in an email that cooking would further accelerate the process of degradation.
Moreover, regulators licensing vaccines for food animals require something called a "withdrawal time," said Alan Young, a professor of veterinary and biomedical science at South Dakota State University.
"Any licensed vaccine comes with a minimum time before you're allowed to actually have that animal to enter the food chain," said Young, who is also the founder of veterinary vaccine company Medgene.
Menke, of the National Pork Board, said "there are no food safety concerns with vaccines, including those developed with RNA technology. Pork from vaccinated animals is safe to consume as vaccines are not present when pigs enter the food supply."
"Vaccines are critical to preserving animal health and well-being, keeping the food supply safe, and protect U.S. livestock from emerging and foreign diseases," he said.
___
This is part of AP's effort to address widely shared misinformation, including work with outside companies and organizations to add factual context to misleading content that is circulating online. Learn more about fact-checking at AP.