Hot dogs here to stay: No truth to claims of NYC meat ban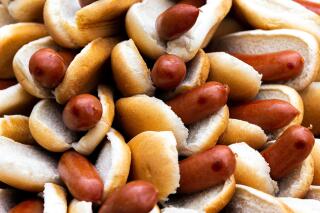 CLAIM: Mayor Eric Adams is banning meat in New York City.
AP'S ASSESSMENT: False. While the mayor has pledged to reduce food-related emissions in city facilities, meat is not being banned, according to his office.
THE FACTS: New York's mayor isn't snatching away your street hot dog or pastrami on rye, despite a tall tale that spread online this week.
Videos on social media made the claim with headlines like "NYC Mayor said he will start banning meat and dairy products." A segment of Fox News Channel host Jesse Watters' show spread with the caption, "NYC is trying to BAN MEAT! What do New Yorkers think?"
But Adams' office has instituted no such policy. "These claims are false," said Fabien Levy, the mayor's press secretary.
The misleading posts distort an announcement the mayor made on Monday that he would commit to reducing food-based emissions in city facilities by 33 percent over the next seven years.
The mayor, who follows and promotes a mostly plant-based diet, said Monday that "the vast majority of food that is contributing to our emission crises lies in meat and dairy products."
Asked how the city would reduce emissions from meat, the executive director of the mayor's office of food policy noted new food standards that would set a maximum for the number of times red meat would be served in city facilities each week, as well as introduce more plant-based proteins.
She also mentioned Meatless Monday and Plant Powered Friday initiatives in the city's schools, and plant-based lunch and dinner programs in its hospitals. Students and patients can still receive non-plant-based meals upon request, according to the city's website.
A spokesperson for Fox News didn't immediately respond to a request for comment.
___
This is part of AP's effort to address widely shared misinformation, including work with outside companies and organizations to add factual context to misleading content that is circulating online. Learn more about fact-checking at AP.