Fictional virus created for training exercise, not another pandemic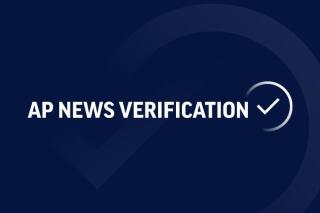 CLAIM: There will be another pandemic in 2025 due to a virus called SEERS, or severe epidemic enterovirus respiratory syndrome.
AP'S ASSESSMENT: False. SEERS is a fictitious disease created for a public health training exercise that simulated a pandemic. A video made for the training includes a made-up news report that repeatedly states: "This is a fictional scenario."
THE FACTS: Fears about the possibility of another pandemic spread on social media in recent days, after some users misrepresented the fake scenario as a preview of things to come.
"So all the experts are talking about this new virus is coming in 2025," a man says in one Instagram video. "That's right, 2025. Two years away now, right? Called SEERS, S-E-E-R-S. Look it up. It's going to be bigger, badder, deadlier." The man then explains that the virus will originate in Brazil and that will affect children more than COVID-19 has.
Others falsely claimed more explicitly that SEERS will be at the heart of a manufactured public health emergency.
"Yes, we've heard SEERS is coming - a new pandemic… planned for 2025 but who knows, maybe the WEF will advance it as too many people have realised they're being played," one tweet reads.
But these fears are unfounded. SEERS is a fictional virus created as part of a simulated pandemic preparedness exercise for public health and government officials. It was held in October 2022 in Brussels. The exercise, called Catastrophic Contagion, simulated a series of World Health Organization meetings in which participants discussed how best to respond to the invented illness, described in a summary of the event as having "a higher fatality rate than COVID-19 and disproportionately affecting children and young people."
Johns Hopkins University's Center for Health Security conducted Catastrophic Contagion in partnership with the WHO and the Bill & Melinda Gates Foundation.
A highlight reel from the exercise includes a fictional television news segment on SEERS. Multiple disclaimers that appear throughout the video make clear that the situation it depicts is not real.
"This is a fictional scenario," they read.
The Center for Health Security told The Associated Press in a statement the events detailed in the exercise are fictional and in no way depict what might happen in the future.
"The goal of the fictional exercise was to highlight gaps in pandemic preparedness and to generate ideas for initiatives that countries could take now to improve the world's collective ability to save lives and livelihoods during future pandemics," the statement reads. "The fictional outbreak depicted in the scenario was in no way predictive; rather, the pathogen in the exercise was imagined purely as an educational technique to help the participants contend with the types of policy dilemmas that are foreseeable during large-scale public health emergencies."
___
This is part of AP's effort to address widely shared misinformation, including work with outside companies and organizations to add factual context to misleading content that is circulating online. Learn more about fact-checking at AP.