No, Pennsylvania didn't send 255K ballots to 'unverified' voters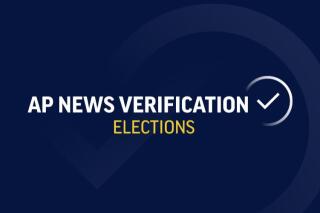 CLAIM: Pennsylvania has sent "255,000 unverified" voters ballots for the midterm elections.

AP'S ASSESSMENT: False. That claim misrepresents state data, which lists many voters as "not verified" for internal workflow purposes and includes, for example, voters requesting permanent mail-in ballots whose identities were verified in the primary election but will be re-checked for the general election, officials said. It does not mean that the voters failed to provide correct identification information, nor does it mean their identities weren't ultimately verified.
THE FACTS: Social media posts and headlines this week promoted the false claim that Pennsylvania officials had issued around a quarter-million ballots to people whose identities weren't confirmed.
"CRISIS IN PENNSYLVANIA – 255,000 UNVERIFIED NEW VOTERS SENT BALLOTS – CANDIDATES BETTER CONTACT THEIR LAWYERS," reads a Wednesday headline from the website The Gateway Pundit. The story claims that this "is how Democrats cheat."
The story cites a Tuesday letter from Republican state lawmakers to the Pennsylvania secretary of state, which claimed the state had issued "over 240,000 unverified ballots."
A day earlier, an elections investigation group called Verity Vote issued a report alleging that a "shocking 249,000 unverified mail ballots have been sent to applicants who provided invalid identification or no identification at all." The report cited a state database as evidence.
Former President Donald Trump also amplified the claim on Truth Social on Friday.
But officials in Pennsylvania say the claim flagrantly misrepresents the way that the state classifies applications for mail-in and absentee ballots.
"There are not 240,000+ 'unverified ballots,' as certain lawmakers are claiming," Pennsylvania Department of State spokeswoman Amy Gulli said in a statement provided to The Associated Press.
In Pennsylvania, those applying for mail-in or absentee ballots must provide proof of identification — such as providing state driver's license information or the last four digits of their Social Security Number.
In some cases, a voter's identifying information is automatically verified. For example, if they supply their driver's license number with an online ballot application, the system automatically cross-references it with Pennsylvania Department of Transportation data, acting Secretary of State Leigh Chapman wrote in a Friday response letter to the Republican lawmakers.
However, in other cases, the voter's identifying information must go through further verification processes. When that happens, the application enters the statewide system under a designation labeled "NV," or "not verified."
Notably, the "not verified" designation doesn't mean the voter didn't provide accurate identification information, nor does it mean their ID wasn't later verified.
"The code does not reflect the results of any identification check but is, in fact, an additional mechanism to ensure that counties are properly verifying ID provided by voters," Chapman said.
Chapman added that the "NV" status can also be applied to applications of voters who request to permanently receive mail-in ballots so that verification occurs for every election in which the ballot is issued.
If a voter's identification can't be verified at the time they apply for a ballot, state law does require that the voter still be issued a ballot and be provided an opportunity until the sixth day after the election to provide the proper proof of identification. But counties are not to count the ballot unless the voter provides proof of identification.
There are currently about 7,600 ballot applications in Pennsylvania that still require identification verification, according to the Department of State.
Election officials use high-tech equipment that sorts out ballots that arrive but are still pending verification, said Al Schmidt, president and CEO of the Committee of Seventy, a nonpartisan group focused on good government in Philadelphia and Pennsylvania.
"That vote won't be counted unless the voter does what's required — which is just to verify their ID," said Schmidt, a former Philadelphia city commissioner.
Verity Vote argues all verification should occur before a ballot is issued.
"It seems reckless in the modern era, to send a ballot based on an unverified mail ballot application with the intention of verifying later," the group said in a statement to the AP.
The organization and Republican state lawmakers in their letter also criticized the Department of State for a September election guidance document that said confirmation of identification occurs "before sending the ballot to the applicant" — which is generally true, but lacks the caveat that some ballots are still sent to some voters whose identification is pending verification.
That guidance was part of a brief overview in a document about examination of return envelopes. The Department of State also supplies to counties a separate, more thorough guidance on absentee and mail-in ballot procedures.
The report and letter also both alleged that "county election officials report that they can and do count the ballots without the lD from the voter."
But neither Verity Vote nor state Rep. Frank Ryan, a Lebanon County Republican who sent the letter with colleagues, provided the AP with information on which counties they allege count ballots from voters without confirmed identification.
The Gateway Pundit on Monday responded to an inquiry by forwarding responses from Verity Vote.
___
This is part of AP's effort to address widely shared misinformation, including work with outside companies and organizations to add factual context to misleading content that is circulating online. Learn more about fact-checking at AP.