Images of beached shark in North Carolina are not authentic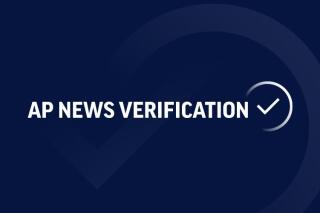 CLAIM:
A series of images shows a great white shark that washed up on an Outer Banks beach in North Carolina.
AP'S ASSESSMENT:
False. The images, which first appeared on a Facebook account which shares synthetic images of the Outer Banks barrier islands, are not authentic. A shark expert told The Associated Press there were several signs the images are not real. In addition, officials in the area said they weren't aware of any recent reports of beached sharks.
THE FACTS:
Rumors of the beached shark surfaced on social media in recent days after a series of five images was shared beyond the account which originally posted it last week.
"A giant great white shark found washed out on the Outer Banks beach, North Carolina," one Facebook post states. "A team of onlookers doing their best to push it back into the ocean." It had received more than 9,700 shares and more than 3,800 likes as of Wednesday.
In some of the images the shark is lying in the sand, while in others people are helping to move it back to the ocean.
The Facebook account which first posted the images did not reply to an inquiry about how they were created. An Etsy shop associated with the account that sells prints of similar images suggests that they are created using digital tools.
"These are works of art that can be printed and hung on the walls," it states in a description of each image. "I use several programs to achieve the desired results."
While the origin of these images specifically is unclear, artificial intelligence tools that allow users to generate fabricated images that look like real photos are now widely available online, resulting in other examples of synthetic content being portrayed as authentic.
Gavin Naylor, director of the Florida Program for Shark Research at the Florida Museum of Natural History, told the AP that there are also a number of biological and environmental reasons it is unlikely that the images show a real shark. A real shark of this size, for instance, would likely be much more banged up if it ended up on land.
"If this was a white shark it would be a very large one," Naylor said. "A very, very large one. Probably 18 or 19 feet. And when they get that big and they get stranded, which they do once in a while, their weight is so big that they sort of flop around and they look pretty worse for wear."
He noted that in one image the tide is out much farther than in the others, an indication it would have to have been taken at least half an hour after the others, giving the shark time to dry out. But the shark has a shiny sheen in every image, indicating that it is wet.
A great white shark named Breton broke the surface of the water near the Outer Banks on Tuesday, according to tracking data from OCEARCH, a nonprofit ocean research organization. However, OCEARCH spokesperson Paige Finney told the AP in an email that the nonprofit does not know of any sharks that washed ashore in the area.
"When an animal such as a white shark comes on the beach there are protocols in place," she wrote. "As far as we know, no agency was ever contacted about a large white shark in the Outer Banks last week."
The Facebook account which first shared the images did not specify when the alleged event occurred, but included the post's date — March 25 — in a description of what it supposedly depicts.
Dorothy Hester, a spokesperson for Dare County, North Carolina, which covers part of the Outer Banks, also said that she was "not aware" of an incident involving a beached shark.
___
This is part of AP's effort to address widely shared misinformation, including work with outside companies and organizations to add factual context to misleading content that is circulating online. Learn more about fact-checking at AP.