Florida permitless carry law hasn't taken effect, contrary to claims after beach shooting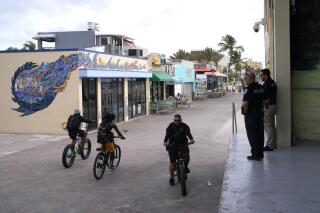 CLAIM: A Florida bill signed into law by Gov. Ron DeSantis, which allows people to carry concealed weapons without a government permit, went into effect in April.
AP'S ASSESSMENT: False. DeSantis signed the bill in April, but the new law will not take effect until July 1.
THE FACTS: Following a Memorial Day shooting at a beach near Hollywood, Florida, that injured nine people, some social media users suggested a connection to the concealed carry legislation.
One tweet that reported news of Monday's Hollywood Beach shooting states that "in April, DeSantis' permitless carry went into effect." It continues: "Let's be clear: this shooter did not act alone. He was aided by spineless Republicans who refuse to protect us. When will enough be enough?" The post had received more than 20,300 likes and more than 7,700 shares by Tuesday.
Another tweet sharing news about the shooting, with more than 30,400 likes and 14,700 shares, also noted: "Permitless carry became law in the state in April."
But while DeSantis did sign a bill on April 3 that will allow anyone who can legally own a gun in Florida to carry one without a government-issued permit, the law does not go into effect until July 1.
The new law means that training and a background check will no longer be required to carry concealed guns in public, though it will still be possible to obtain a permit. While a background check and three-day waiting period will still be required to purchase a gun from a licensed dealer, they are already not needed for private transactions or exchanges of weapons.
Police launched a search Tuesday for three suspects they believe to be the gunmen who opened fire along the crowded Hollywood Beach promenade. The shooting began as a group of people fought in front of a busy stretch of shops at about 7 p.m. on Monday. Nine people were injured, including four children. Six of those shot remain hospitalized in stable condition, while three have been released, the AP has reported.
___
This is part of AP's effort to address widely shared misinformation, including work with outside companies and organizations to add factual context to misleading content that is circulating online. Learn more about fact-checking at AP.