Posts misrepresent new Texas handgun laws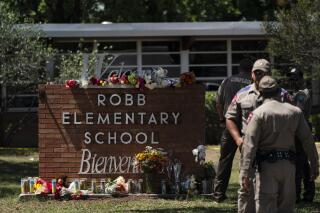 CLAIM: Texas lawmakers approved legislation in 2021 lowering the minimum age for carrying a handgun to 18.
AP'S ASSESSMENT: Misleading. While Texas lawmakers did approve legislation in 2021 that allowed people ages 18 to 20 to obtain handgun permits under specific court orders, generally, the minimum age to legally carry a handgun in Texas is 21, according to experts.
THE FACTS: After an 18-year-old gunman fatally shot 19 children and two teachers at an elementary school in Uvalde, Texas on Tuesday, misleading claims spread on social media about Texas handgun laws.
The shooter, Salvador Ramos, used an AR-15-style semi-automatic rifle during the rampage, The Associated Press reported Wednesday. Texas Gov. Greg Abbott initially said on Tuesday that the shooter carried a handgun during the bloodshed. But Texas Department of Public Safety spokesperson Travis Considine told the AP on Wednesday such preliminary reports were incorrect, even as inaccurate claims continued to spread online.
"According to the Governor of Texas, the gunman who killed at least 15 people in Uvalde is an 18-year-old who lives in the community. He had a handgun and may have been armed with a rifle, too," one Twitter user wrote on Tuesday in a tweet that was shared over 17,000 times. "In 2021, Texas lawmakers lowered the age to carry a handgun to 18. #txlege."
"The Texas shooter was an 18 old carrying a handgun," another Twitter user wrote on Wednesday morning. "Last year Texas lowered the legal age to carry a handgun to 18 years old."
But the claims about the laws are misleading. Broadly, the minimum age for legally carrying a handgun in Texas is 21, experts told the AP. In 2021, Texas lawmakers approved a bill that allows people age 21 and up to carry handguns without first getting a license, the AP reported. That same year, lawmakers also approved a bill granting people ages 18 to 20 eligibility for handgun licenses under certain protective court orders. But that is an exception to the overall rule.
The law allowing young adults to be eligible for handgun licenses cites protective orders related to issues such as family violence and trafficking, experts say.
"From what I read of the open carry statute, it is 21 and above," said Dru Stevenson, a professor at South Texas College of Law Houston. "The exception is if you have a court order."
"That claim is exaggerated," Adam Winkler, a law professor at the University of California, Los Angeles, wrote in an email to the AP. "The permit is only available if one is protected by a restraining order. So if you obtain a restraining order against another individual, you would be able to obtain a concealed carry permit."
Eugene Volokh, a law professor at the University of California, Los Angeles, told the AP that the law has to do with "people who have shown themselves to be vulnerable to specific attack by a specific person."
"These are situations where there has been an arrest for domestic violence," Stevenson said. "And very often the wife will have gotten a restraining order against the husband or boyfriend."
The Texas Department of Public Safety, which oversees handgun licensing in the state, did not respond to the AP's requests for comment on current handgun laws.
Authorities said that Ramos legally bought the AR-15-style semi-automatic rifle that he used in the shooting and one like it last week after his birthday, the AP reported. Investigators have shed no light on the motive for the attack.
___
Associated Press reporter Jake Bleiberg in Dallas contributed to this report.
___
This is part of AP's effort to address widely shared misinformation, including work with outside companies and organizations to add factual context to misleading content that is circulating online. Learn more about fact-checking at AP.