Fake Atlantic headline spreads on social media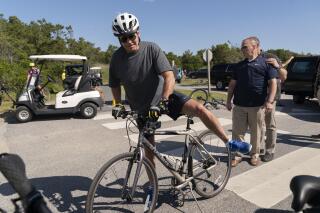 CLAIM: The Atlantic published an article with the headline, "The Heroism of Biden's Bike Fall" after President Joe Biden fell on Saturday as he tried to dismount his bicycle.
AP'S ASSESSMENT: False. The Atlantic did not publish such an article, a spokesperson for the media outlet confirmed to The Associated Press. A screenshot purporting to show the headline is fabricated.
THE FACTS: Following Biden's fall at the end of a bike ride on Saturday at Cape Henlopen State Park near his beach home in Delaware, an image of the bogus article circulated widely on social media.
The image resembles a screenshot of The Atlantic's website, and features the media outlet's logo and text such as "Subscribe" and "THE ATLANTIC DAILY," in an apparent reference to one of the outlet's newsletters.
"The Heroism of Biden's Bike Fall," the headline in the image reads. Below the headline is the text, "The President gracefully illustrated an important lesson for all Americans – when we fall, we must get back up."
While some social media users realized that the headline is fake, others appeared to view it as authentic. One Twitter user who shared the image wrote on Saturday, "Are you kidding me??"
No such story or headline can be found on The Atlantic's website, or in archived versions of the site from Saturday captured by the Internet Archive's Wayback Machine. The most recent edition of the Atlantic Daily online is from Friday, and the outlet's website says it is published "weekday evenings."
Anna Bross, a spokesperson for The Atlantic, confirmed in an email to the AP that the supposed story is fake.
"I can verify that this is not a real article from The Atlantic, and is indeed fabricated," Bross wrote.
Biden fell after he pedaled over to a crowd of well-wishers standing by the trail and tried to dismount his bike, the AP reported. He wasn't hurt by the fall and told reporters that he got his foot "caught" in the toe cages.
___
This is part of AP's effort to address widely shared misinformation, including work with outside companies and organizations to add factual context to misleading content that is circulating online. Learn more about fact-checking at AP.