Toddlers can't get gender-affirming surgeries, despite claims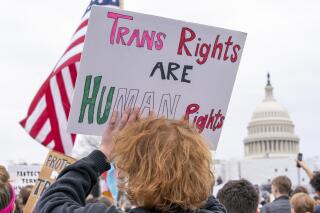 CLAIM: Map shows the states where it's possible for a 3-year-old child to receive gender-affirming surgery.

AP'S ASSESSMENT: False. The map shows which states have passed or are considering anti-transgender laws. Children as young as 3 are not qualified to undergo operations to change their gender, medical experts say. Nationally-recognized medical guidelines recommend patients be at least 15 years old to receive the surgeries, and only then in special circumstances.
THE FACTS: Social media users are sharing a map of the U.S. that purports to show which states are the hardest and which are the easiest to obtain sex change surgery for children as young as 3.
The map shows blue-colored states located mostly along the coasts and the Great Lakes and red-colored states that are mostly in the Midwest and South.
"The dark red states are where it's hardest to get your 3 year old a sex change operation," the text above the map claims.
"If you're thinking about moving this could be helpful," wrote an Instagram user who shared the map in a post that's been liked nearly 280,000 times as of Friday. "Get away from the blue."
But the map is being misrepresented online: it categorizes states according to the type of transgender laws or bills that have been enacted or are under consideration.
Red-colored states are those with the "worst anti-trans laws" while those in blue are the "safest states with protections" for transgender individuals, according to the map's key, which is visible in small text in the bottom right corner of the image.
Erin Reed, a transgender advocate who developed the map, confirmed to The Associated Press that her graphic is being misrepresented.
She created the "Anti-Trans Legislative Risk" map to track bills moving through state houses across the country, and posted the latest version on her Substack page in March.
"In reality, this is MY map," Reed later tweeted, sharing a screenshot of the false claim circulating online and adding a large red 'x' through it. "It evaluates the risk of anti-trans laws pulling people's medical care, bans from bathrooms, and more."
Reed also stressed that sex change operations aren't permitted on 3 year olds.
"Gender affirming care starts with puberty blockers around age 11-14, and will progress to hormone therapy, with surgeries held off until later," she wrote in an email to the AP.
Medical experts and LGBTQ advocates agreed, noting that such surgeries aren't offered until a patient becomes a legal adult, though exceptions are made for minor teens who meet certain criteria.
"The general recommendation is for gender affirming surgeries to be done after age 18 with limited exceptions," Dr. Michael Irwig, director of transgender medicine at Beth Israel Deaconess Medical Center in Boston, wrote in an email. "The patient should always be of an age where they have adequate maturity including the ability to understand the potential risks and benefits of any treatment."
The World Professional Association for Transgender Health, a global group that sets standards for medical care of trans youths and adults, recommended last year that hormone treatment start no earlier than 14 years old and surgeries be offered only in rare exceptions in persons as young as 15. Both minimum ages were lower than prior recommendations.
Gender-affirming surgery includes a wide range of procedures, from plastic surgery to change facial features to so-called "top surgery" to change the chest or torso and so-called "bottom surgery" to make changes to genitals.
Teens who are 16 to 17 years old are generally limited to receiving only "top surgeries," and they must be "consistent and persistent" in their gender identity for years, take gender-affirming hormones for some time and have approvals from both their parents and doctors, according to Aryn Fields, a spokesperson for the Human Rights Campaign, an LGBTQ advocacy group based in Washington, D.C.
"In all cases, gender affirming surgeries are only performed after multiple discussions with both mental health providers and physicians (including endocrinologists and/or surgeons), to determine if surgery is the appropriate course of action," she wrote in an email.
___
This is part of AP's effort to address widely shared misinformation, including work with outside companies and organizations to add factual context to misleading content that is circulating online. Learn more about fact-checking at AP.