Trump did not publish post calling Michael Cohen a 'cereal liar'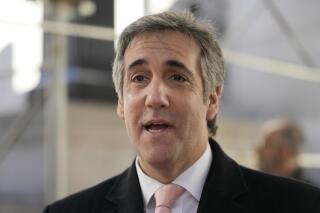 CLAIM: Former President Donald Trump called Michael Cohen, his former lawyer and fixer, a "cereal liar" in a Truth Social post.
AP'S ASSESSMENT: False. An image purporting to show such a post was fabricated. It does not appear on Trump's Truth Social profile and a Twitter user who first posted the image has since clarified it was a parody.
THE FACTS: Days after Trump sued Cohen for talking publicly about hush money payments that are at the center of a criminal case against the former president, social media users began sharing the fabricated post.
The image mimics the design of a post on Trump's social media platform, and has circulated on Twitter, Instagram and Facebook.
"The jailbird Michael 'Longhead' Cohen is a cereal liar," reads the bogus post. "He hid a wire in MANY of our at the time cordial perfect meetings. He should never be trusted yet SDNY Alvin 'Cannot' Bragg and the low IQ grand jury has taken him at his word!!! We need to TAKE OUR ONCE GREAT AMERICA back!!!"
One tweet that shared the image had received more than 20,000 likes and more than 3,800 shares as of Monday.
But the post is not genuine. While a spokesperson for the former president did not immediately return a request for comment, the post cannot be seen on Trump's actual Truth Social profile.
A Twitter user who first posted the image on Saturday — and has shared similar satirical Trump posts in the past — has since taken credit for the fabricated post multiple times and clarified that it was a parody.
"It's mine. Parody. People screenshot my stuff and post, rather than RTing," reads one of the user's tweets.
Cohen is a key witness in a criminal case brought against Trump by the Manhattan district attorney over hush money payments to women who alleged they had sexual encounters with the former president. Trump has been charged with 34 felony counts of falsifying business records in the first degree. He sued Cohen last Wednesday for over a half-billion dollars, accusing him of 'vast reputational harm' for talking publicly about the payments.
___
This is part of AP's effort to address widely shared misinformation, including work with outside companies and organizations to add factual context to misleading content that is circulating online. Learn more about fact-checking at AP.