England isn't 'giving up' on 15-minute city efforts, despite social media claims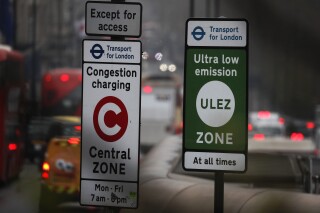 CLAIM: England is giving up on efforts to create 15-minute cities because people have destroyed all the cameras and refused to pay tens of thousands of fines.
AP'S ASSESSMENT: False. British officials say the island nation continues to advance efforts related to the urban design concept, particularly by investing in more parks and open space. Moreover, they say, the cameras and fines referenced in the posts are associated with unrelated efforts to crackdown on old, polluting vehicles in London and other cities.
THE FACTS: Social media users are touting the demise of an urban planning concept that some conspiracy theorists are convinced is designed to curtail individual freedoms and heavily regulate people's movements.
They claim England is dropping plans to create so-called "15-minute cities" after residents rebelled against cameras and fines purportedly meant to enforce the new measures.
"BREAKING: England is on the verge of giving up on the WEF agenda 15 min city after almost 100% of the cameras have been destroyed & 50k people refuse to pay the fines," wrote one Instagram user in a widely shared post, using the acronym for the nongovernmental group the World Economic Forum. "Cameras cannot be protected as they Defunded the Police. Courts cannot prosecute that number of people."
The posts draw on existing far-right tropes that the WEF and other global-minded organizations are plotting to impose "15-minute" cities where their freedoms will be severely curtailed by advanced technologies.
But the urban design principle emphasizes building more compact communities where everyday needs can be found within a 15-minute walk. It's not meant to restrict people's movements or freedoms.
The notion that England is somehow "giving up" on the notion isn't accurate, either. Officials in Britain say efforts drawing on the concepts are being wrongly conflated with controversial anti-pollution regulations imposed elsewhere in the country.
The United Kingdom's Environmental Improvement Plan, which aims to "restore nature" and "tackle environmental pollution," for example, commits the government to ensuring that everyone lives within a 15 minute walk from "green spaces" such as parks and fields or "blue spaces" such as rivers, ponds and other waterways.
"Currently, 38% of people do not have green or blue space within 15 minutes' walk of their home," according to the 25-year plan, which was revised in January to include the new goal and other efforts. "That is why we are setting a new and ambitious commitment to work across government and beyond to ensure that anyone can reach green or blue space within 15 minutes from their front door."
Anna Calder, a spokesperson for the UK's Department for Environment, Food and Rural Affairs, which released the plan, confirmed that the efforts to realize that goal are still very much underway.
She cited the Green Infrastructure Framework, a set of guidelines and standards geared toward community planners and developers.
"The Framework includes an award-winning mapping tool that can help to identify places where green space is needed most," the agency wrote in a February press release. "The government has already used the tool to ensure the £9 million Levelling Up Parks fund reaches low-income areas with limited access to green space."
The 15-min cities concept is also "completely unrelated" to the cameras and fines referenced in the social media posts, said Carlos Ratti, an urban studies professor at MIT and director of its Senseable City Laboratory.
The 50,000 fines mentioned in the social media posts likely refer to the nearly 50,000 tickets that have been successfully challenged in Birmingham over its Clean Air Zone.
The cameras, meanwhile, likely refer to the destruction of hundreds of traffic cameras by opponents of London's emissions restrictions, known as the Ultra Low Emission Zone, or ULEZ.
Birmingham, through its Our Future City plan, is working to identify 15-minute neighborhoods where green spaces, schools and other community amenities can be put in place to "make local living possible," according to Tom Parker, spokesperson for the Birmingham City Council.
But the Clean Air Zone, which imposes an 8 pound daily charge on vehicles when they don't meet the city's emission standards, isn't a "tool to help advance those efforts," as the anti-pollution program is meant to "improve air quality across a specific area," he wrote in an email.
As for London, the capital city has no intention of scrapping its emissions program anytime soon, confirmed Matt Winfield, a spokesperson for Transport for London, which oversees the ULEZ.
Introduced in 2019, London's ULEZ levies a 12.50 pound daily charge on most gas cars and vans built before 2006 and on pre-2015 diesel vehicles. In August, it was expanded to include Greater London, which includes the sprawling outer suburbs where more than half the city's 9 million people live.
"Factually, they're not the same thing," Winfield said in a phone interview, referring to the 15-minute city concept and the emissions zones. "And with ULEZ, the scheme is operational and running. So I'm not quite sure what they're trying to say."
___
This is part of AP's effort to address widely shared misinformation, including work with outside companies and organizations to add factual context to misleading content that is circulating online. Learn more about fact-checking at AP.