UK didn't change guidance on COVID vaccines and pregnancies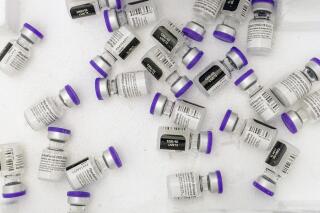 CLAIM: The U.K. government recently changed its COVID-19 vaccine guidance to advise against Pfizer's shot for pregnant and breastfeeding people.

AP'S ASSESSMENT: False. The guidance has not changed. Social media users are misrepresenting a section of a summary report about Pfizer's shot that was published by the U.K.'s medical regulatory agency in late 2020 as part of the initial authorization process. The agency confirmed that subsequent, real-world data supports vaccinating people during pregnancies and while breastfeeding.
THE FACTS: Posts circulating widely in recent days spread the false assertion that Pfizer's COVID-19 shot isn't safe for pregnancies and wrongly claimed that the U.K. government has conceded as much.
"The UK now admits it's not safe for pregnant women to get the vaccine," reads a tweet that garnered more than 1,300 likes on Tuesday.
"Well well well would you look at that," another tweet stated. "The UK government has finally admitted that the mRNA vaccine is toxic for pregnant and breastfeeding women and women of childbearing age."
But the U.K. government is in support of, not against, vaccinating pregnant people, health officials confirmed.
The social media posts pointed to a screenshot of a "Toxicity conclusions" section from an online report titled, "Summary of the Public Assessment Report for COVID-19 Vaccine Pfizer/BioNTech." That report was published by the U.K.'s Medicines and Healthcare products Regulatory Agency in 2020 and says it was last updated on Aug. 16.
The "Toxicity conclusions" section suggested that those who were pregnant or breastfeeding not be vaccinated, but also said that the recommendations "reflect the absence of data at the present time and do not reflect a specific finding of concern."
But that specific section was reflective of what was known nearly two years ago, when the vaccine was first rolling out — and before additional data became available.
"The text referred to in social media posts comes from the Public Assessment Report (PAR) which reflects our assessment at the time of approval for the vaccine (2 December 2020)," the MHRA said in a statement provided to The Associated Press. "Since then new data has come to light (both non-clinical and post-authorisation 'real world' data) which supports the updated advice on vaccinating those who are pregnant and breastfeeding."
An archived version of the same page from December 2020 also confirms that the "Toxicity conclusions" section has remained the same.
The MHRA specifically notes elsewhere online that the COVID-19 vaccines, including Pfizer's, are safe for those who are pregnant and breastfeeding.
Dr. Victoria Male, a lecturer in reproductive immunology at Imperial College London, told the AP that the confusion appeared to stem from the Aug. 16 update to the Pfizer documents. But that change dealt with information on booster shots, she said, as a note on a connected page indicates.
Male also said that the U.K. government's advice on COVID-19 vaccines and pregnancies hasn't changed.
"Since April 2021, the UK government has offered the COVID vaccine during pregnancy," Male said in an email. "Since December 2021, pregnancy has been considered a priority condition for vaccination, because we know that COVID infection in pregnancy can cause stillbirth and preterm birth, and that vaccination protects against these and is safe in pregnancy."
The U.K.'s Department of Health and Social Care, of which the MHRA is a part, further confirmed to the AP that its advice for pregnant and breastfeeding people receiving COVID-19 vaccines has not changed.
An independent advisory group, the Joint Committee on Vaccination and Immunisation, recommended last month that pregnant women who have been previously vaccinated be offered an autumn booster.
___
This is part of AP's effort to address widely shared misinformation, including work with outside companies and organizations to add factual context to misleading content that is circulating online. Learn more about fact-checking at AP.