Posts misrepresent satirical article about Disney stock price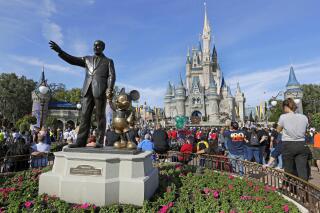 CLAIM: Disney shareholders are in a "panic" after losing $2.4 billion in one day.
AP'S ASSESSMENT: False. The claim stems from a website that publishes satirical content. While The Walt Disney Co.'s stock price has dropped recently, and the company's market valuation went down by several billion dollars some days last week, financial experts told The Associated Press that the fluctuations were normal for a multi-billion dollar company and not cause for panic.
THE FACTS: Posts have circulated widely on social media in recent days claiming that Disney shareholders are panicking after the company's stock value lost $2.4 billion in a single day. The claims come amid Disney's public opposition to a controversial new Florida law that forbids instruction on sexual orientation and gender identity from kindergarten to third grade. Critics refer to the measure as the "Don't Say Gay" law.
On Facebook, users shared links and screenshots of a post on a satirical website with the headline, "Disney Shareholders In a Panic After $2.4 Billion in Losses in One Day," as if it was a real news article. The post went on to claim that traders at the New York Stock Exchange were "in tears after watching their clients lose billions after Disney's announcement to go woke."
On Twitter, some users shared variations of the headline without referring to the article at all. One Friday tweet that was shared over 12,000 times reads: "BREAKING: So Disney shareholders are in a panic after losing $2.4 billion in stock value in one day! Great job patriots!"
But the article, which appears to have been posted on Thursday, is clearly satire. The website, Patriot Party Press, states on its "About Us" page, "Everything on this website is fiction." The byline on the article is "Flagg Eagleton-Patriot." The site is part of a network called America's Last Line of Defense, whose satirical articles have led to other false claims on social media in the past.
It is true that Disney's stock has had a broad downward trajectory in recent months and dropped several points on some days last week – closing on Monday, April 4 at roughly $138 per share and at $131.87 on Friday. Some of last week's price drops did result in the stock's value being reduced by $2 billion or more in a single day, according to experts.
But these fluctuations aren't noteworthy or unusual for a multi-billion dollar company, said James Angel, a finance professor at Georgetown University. Disney's market capitalization is almost $238 billion, and the value can change by "a billion dollars here or there" if the stock price fluctuates by just 50 cents, he noted.
"This is within the normal fluctuations that you see on a daily basis," Angel said. "This is what we typically see for stocks. They bounce around a little bit and as far as the patterns go, there's nothing here that jumps out where I go 'Oh, what happened?'"
Disney's stock price actually went up the day after the Florida law was signed on March 28 by Florida Gov. Ron DeSantis, and the company released a statement saying its goal was "for this law to be repealed by the legislature or struck down in the courts." But overall, Angel said, the movement over the past 30 days was not significant.
Geoffrey Smith, a finance professor at Arizona State University, said the gradual decline of Disney's stock price since the end of last year is significant, but agreed that the recent fluctuations are normal. Volatility in the overall market likely has a bigger impact on the company's daily stock price than the actions of individual investors or controversy over the company's position on the new Florida law, he added.
Of the social media users tying Disney's stock price to its politics, Angel said, "I think they are squinting too hard into the microscope and seeing what they want to see."
Angel pointed to the massive drop in the stock price of Facebook's parent company, Meta, last February, as an example of actual investor panic. After Meta reported a decline in profits, the company's shares fell by over 26% in a single afternoon of trading, slashing the company's overall value by more than $230 billion, the AP reported.
The law has drawn criticism from across the country, including from LGBTQ advocacy groups and Democratic President Joe Biden, who called it "hateful," the AP reported. DeSantis and other Republicans have argued that parents should be discussing gender identity and sexual orientation with their children, not teachers.
Before Disney came out publicly against the law, it faced backlash from some of its employees for not taking a stand. The company has been criticized by some conservatives, including DeSantis, for its position on the law. Disney is Florida's largest private-sector employer.
Disney did not respond to the AP's request for comment.
___
This is part of AP's effort to address widely shared misinformation, including work with outside companies and organizations to add factual context to misleading content that is circulating online. Learn more about fact-checking at AP.