Cancer rate not up 20 times from COVID-19 vaccines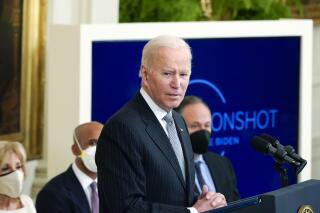 CLAIM: There is a "massive spike" in cancer rates, with certain types of cancers up 20 times the normal rate since the "Operation Warp Speed injections were first introduced."
AP'S ASSESSMENT: False. U.S. medical professionals who study cancer rates say they have not seen a spike in cancer rates since the COVID-19 vaccines began. Clinical trials and data from the administration of shots around the world have not shown vaccinated individuals are more susceptible to developing cancer.
THE FACTS: Following news last week of President Joe Biden's initiative to cut the cancer death rate in half within 25 years, a false claim began circulating on social media that attempts to link the COVID-19 vaccine to cancer rates.
The Twitter post says it is a "warning to all doctors and data scientists'' that "there is now 20 times the normal average of certain types of cancers" since "the Operation Warp Speed injections" began. A screenshot of the tweet has also spread on Facebook.
Health professionals who directly work with cancer patients say the claim is baseless.
States have surveillance systems to spot increases in cancer rates and cancer hot spots, and public health agencies are required to report cancer cases, Dr. Arif Kamal, first chief patient officer for the American Cancer Society, told The Associated Press. Kamal noted that state health departments who closely track cancer rates would have sounded the alarm if any upticks were noted.
"There is actually almost real-time monitoring at the state level and if anywhere there was an uptick like that it would be remarkable news," Kamal said.
The American Cancer Society has estimated that there will be 1.9 million new cancer cases in 2022, with 609,360 deaths. In 2021, the society had also estimated new cases at 1.9 million, and deaths at 608,570.
The organization released its 2022 report on cancer figures in January, where it reported that the cancer death rate for men and women fell 32% from its peak in 1991 to 2019. Cancer research experts say that cancer has been declining over the years due in part to early diagnosis and screening. The death rate for cancer is currently at 146 per 100,000 people, which is down from 200 in 2000.
"Cancer rates are similar to what they traditionally have been," said Clive Svendsen, executive director of the Board of Governors Regenerative Medicine Institute at Cedars-Sinai Medical Center.
Even more so, cancer research experts say COVID-19 vaccines do not cause cancer. The AP has previously debunked this claim, with experts saying there is no evidence linking the shots to the disease.
In fact, the vaccines are recommended for cancer patients, who are considered high risk for complications from COVID-19.
"You want to be vaccinated so you are avoiding COVID because if you get COVID and have cancer at the same time some of these treatments they use for cancer can interact with COVID and make it worse," Svendsen said. "If you are not vaccinated, that can be very serious."
"Operation Warp Speed" was an initiative under President Donald Trump to fund and speed up the process of getting COVID-19 vaccines to Americans. Anti-vaccine advocates have been using alternate names for the vaccines in order to get past efforts on social media platforms to combat COVID-19 misinformation.
___
This is part of AP's effort to address widely shared misinformation, including work with outside companies and organizations to add factual context to misleading content that is circulating online. Learn more about fact-checking at AP.