St Louis City tops Charlotte 3-1, extends historic start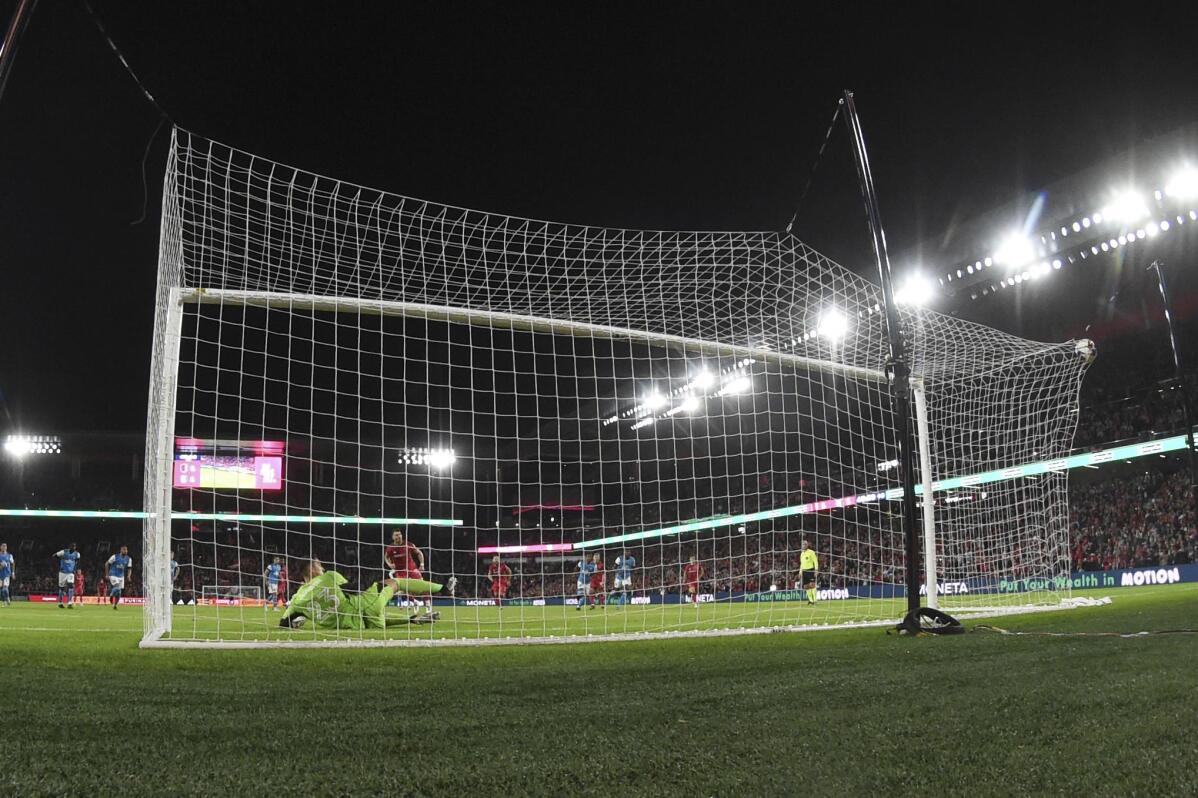 1 of 15

|
Charlotte FC goalkeeper Pablo Sisniega, front left, is unable to stop a goal by St. Louis City SC midfielder Eduard Lowen, front right, during the first half of an MLS soccer match Saturday, March 4, 2023, in St. Louis. (AP Photo/Joe Puetz)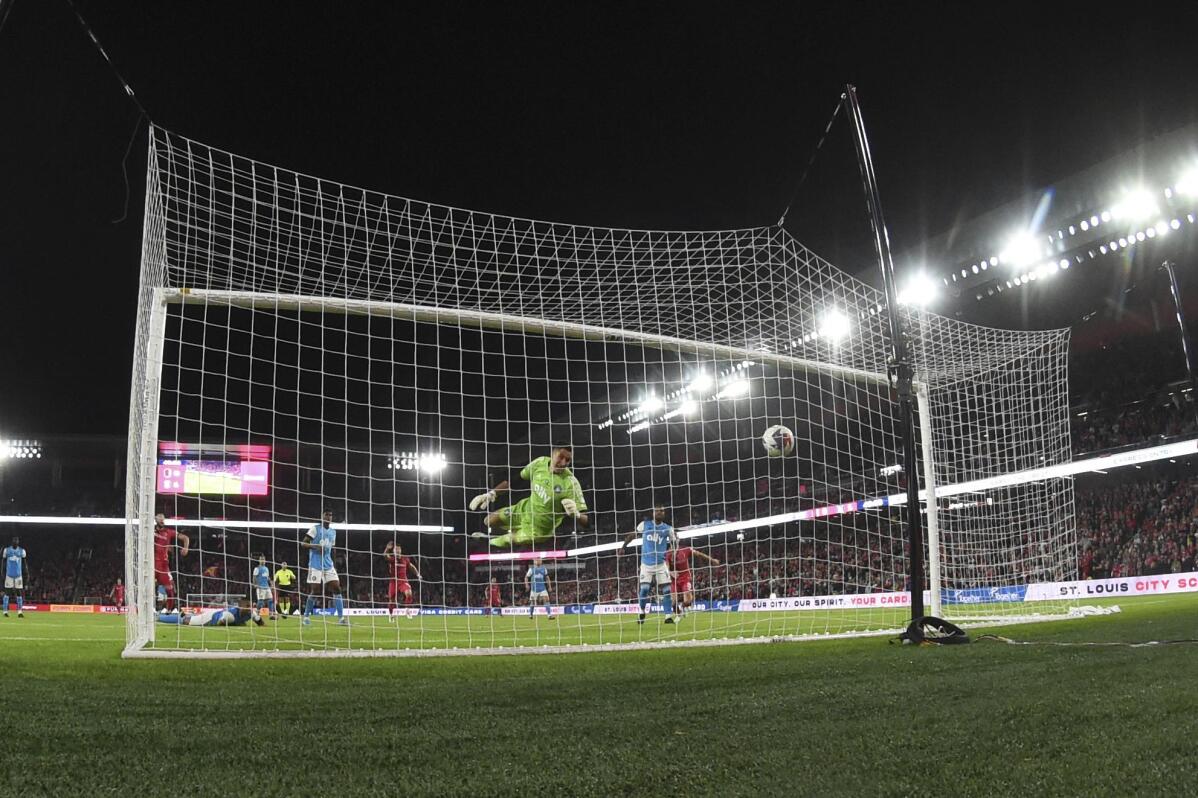 2 of 15

|
Charlotte FC goalkeeper Pablo Sisniega, front center, is unable to stop a goal by St. Louis City SC during the first half of an MLS soccer match Saturday, March 4, 2023, in St. Louis. (AP Photo/Joe Puetz)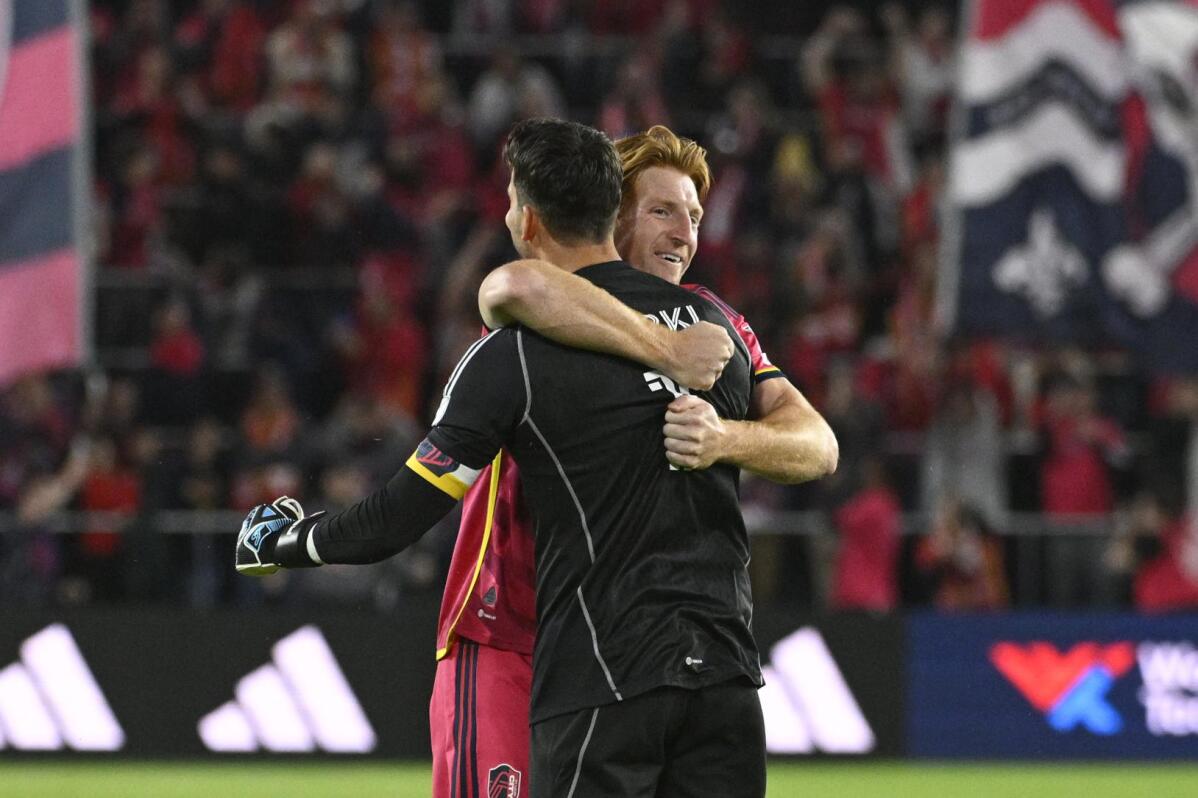 3 of 15

|
St. Louis City SC defender Tim Parker, right, and goalkeeper Roman Burki celebrate after their victory over Charlotte FC in an MLS soccer match Saturday, March 4, 2023, in St. Louis. (AP Photo/Joe Puetz)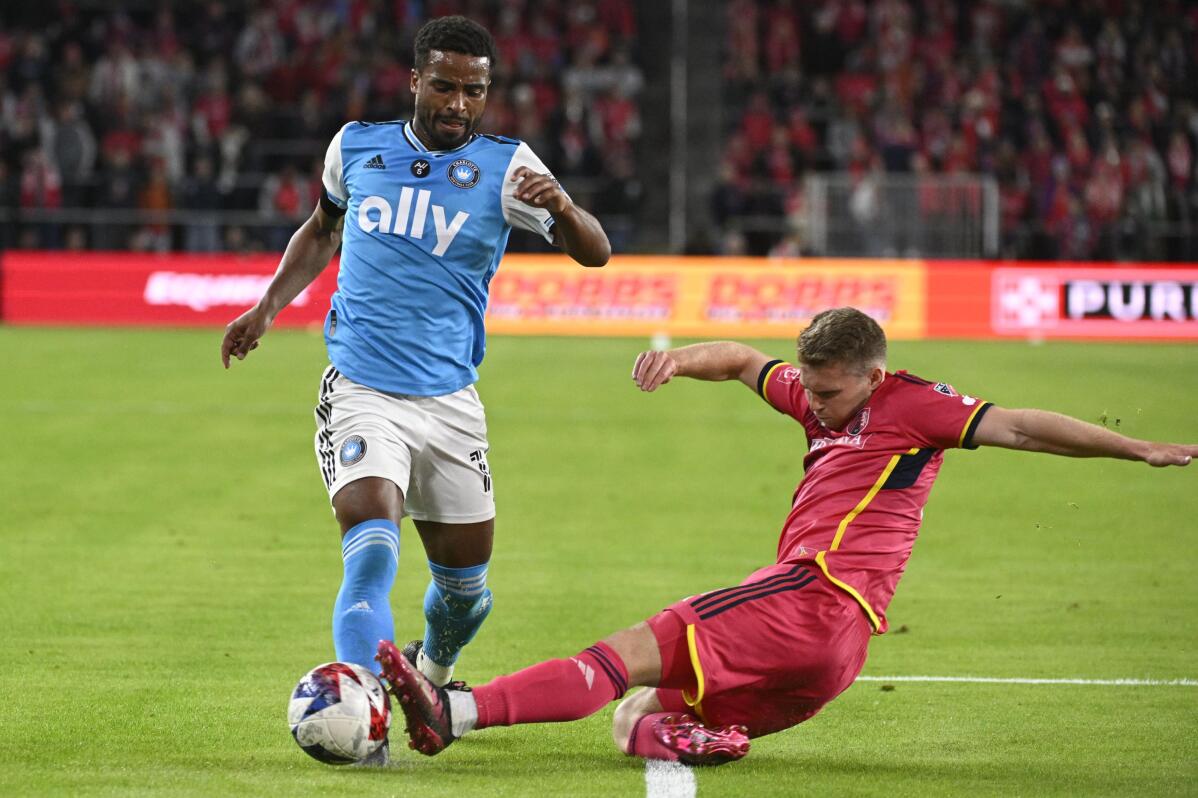 4 of 15

|
St. Louis City SC defender John Nelson, right, kicks the ball away from Charlotte FC defender Nathan Byrne during the second half of an MLS soccer match Saturday, March 4, 2023, in St. Louis. (AP Photo/Joe Puetz)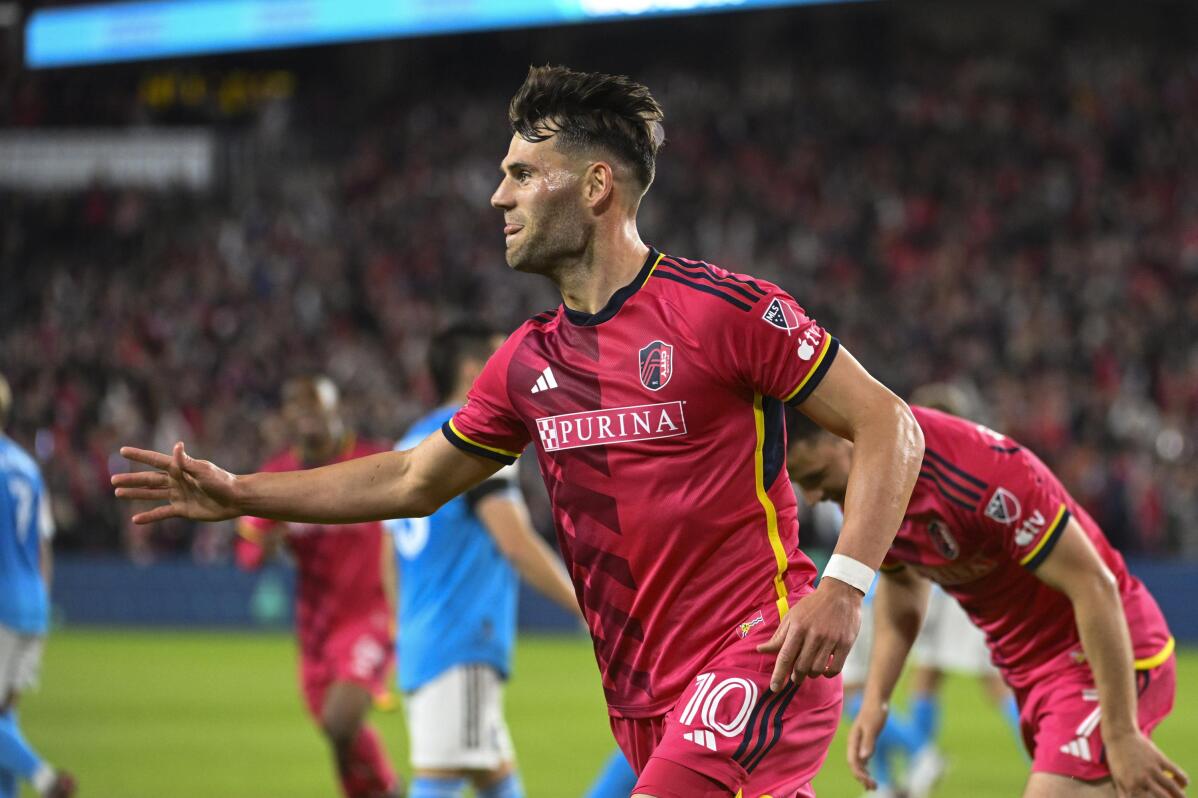 5 of 15

|
St. Louis City SC midfielder Eduard Lowen (10) reacts after scoring on a penalty kick against Charlotte FC during the first half of an MLS soccer match Saturday, March 4, 2023, in St. Louis. (AP Photo/Joe Puetz)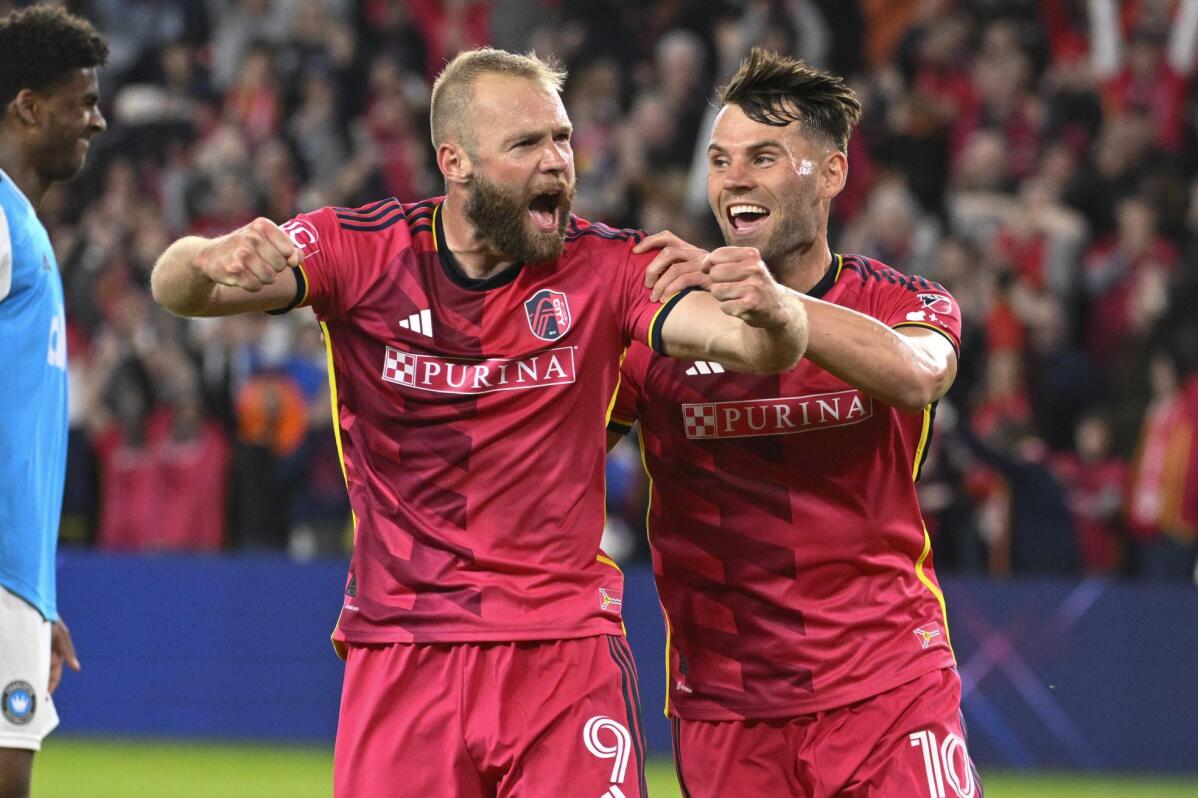 6 of 15

|
St. Louis City SC forward Klauss (9) and midfielder Eduard Lowen (10) celebrate after Charlotte FC scored an own goal during the first half of an MLS soccer match Saturday, March 4, 2023, in St. Louis. (AP Photo/Joe Puetz)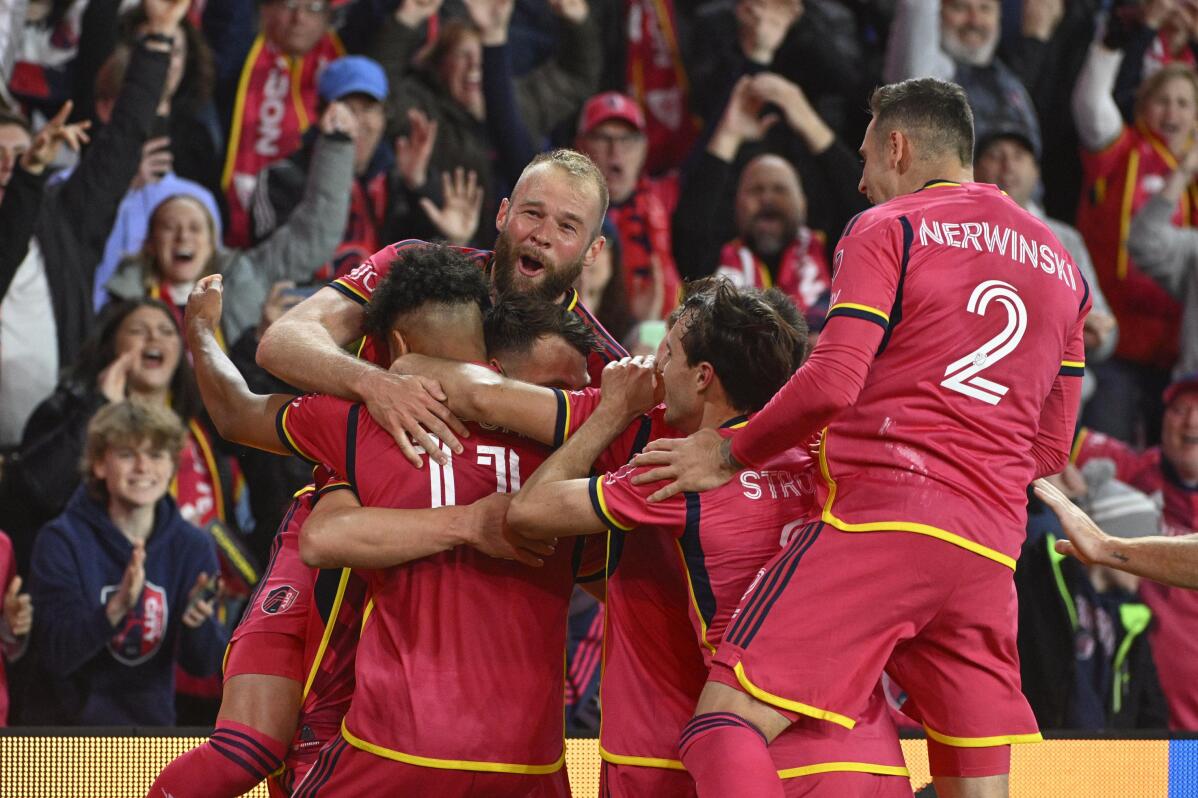 7 of 15

|
Members of St. Louis City SC celebrate after scoring a goal against Charlotte FC during the first half of an MLS soccer match Saturday, March 4, 2023, in St. Louis. (AP Photo/Joe Puetz)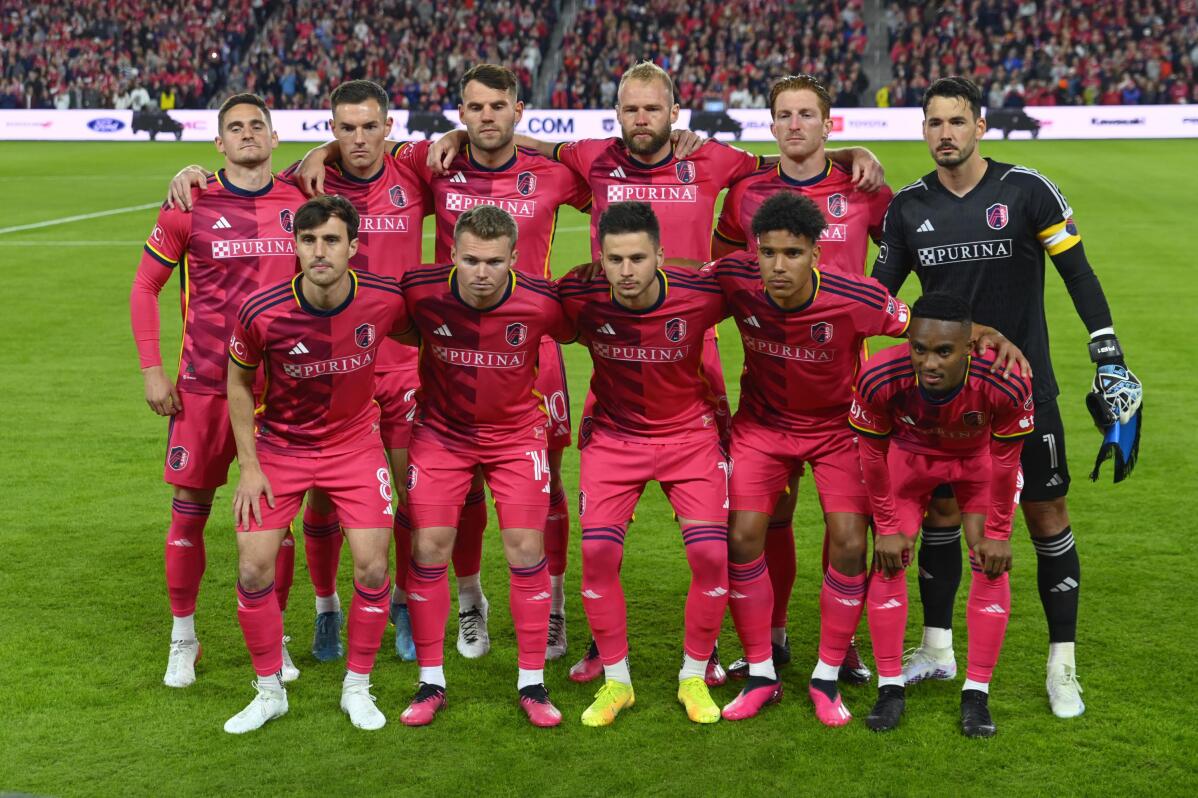 8 of 15

|
Members of St. Louis City SC pose for a photo prior to an MLS soccer match against Charlotte FC, Saturday, March 4, 2023, in St. Louis. (AP Photo/Joe Puetz)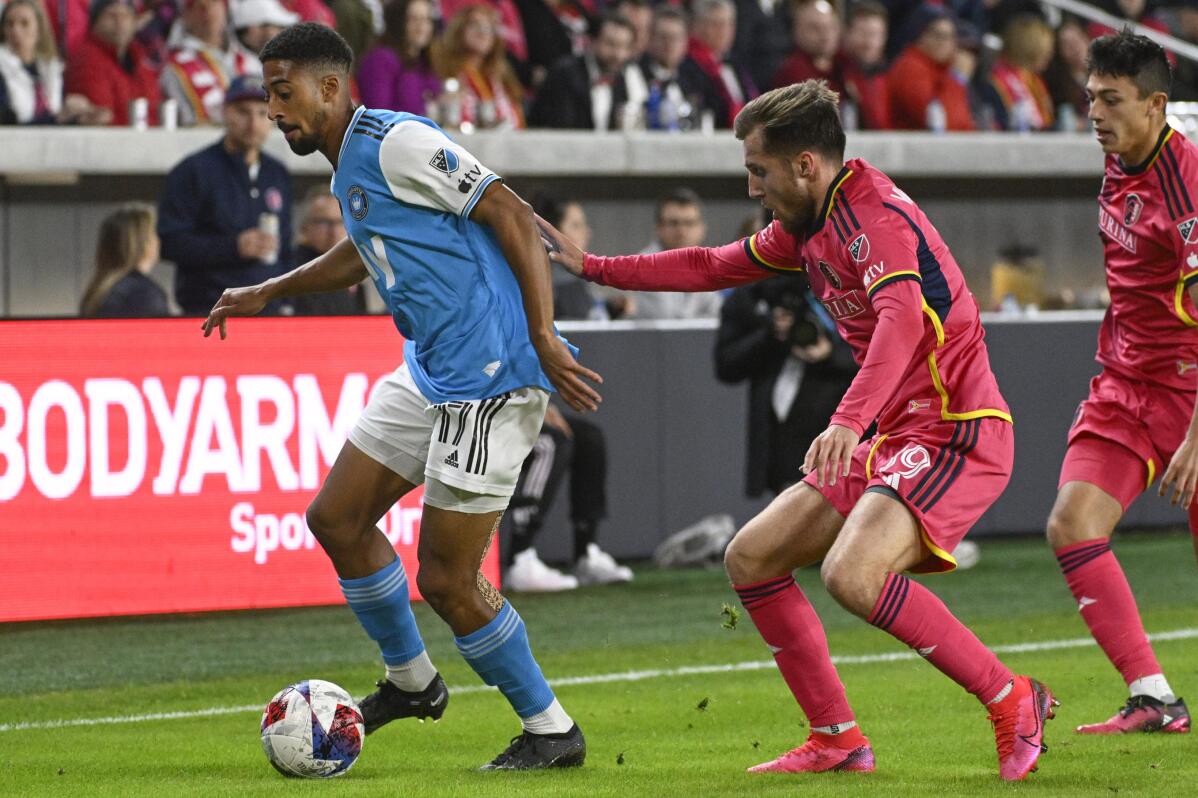 9 of 15

|
St. Louis City SC midfielder Indiana Vassilev, front right, defends against Charlotte FC midfielder McKinze Gaines, left, during the second half of an MLS soccer match Saturday, March 4, 2023, in St. Louis. (AP Photo/Joe Puetz)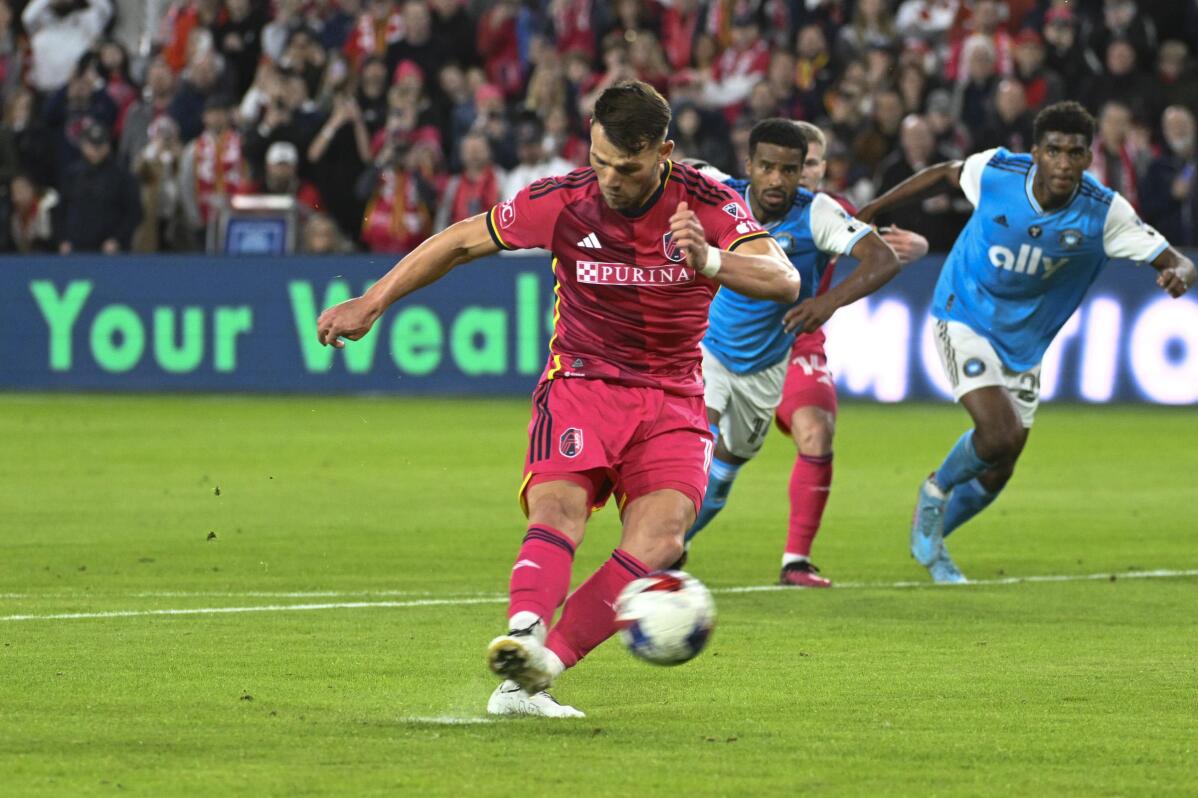 10 of 15

|
St. Louis City SC midfielder Eduard Lowen, foreground, kicks a penalty goal against Charlotte FC during the first half of an MLS soccer match Saturday, March 4, 2023, in St. Louis. (AP Photo/Joe Puetz)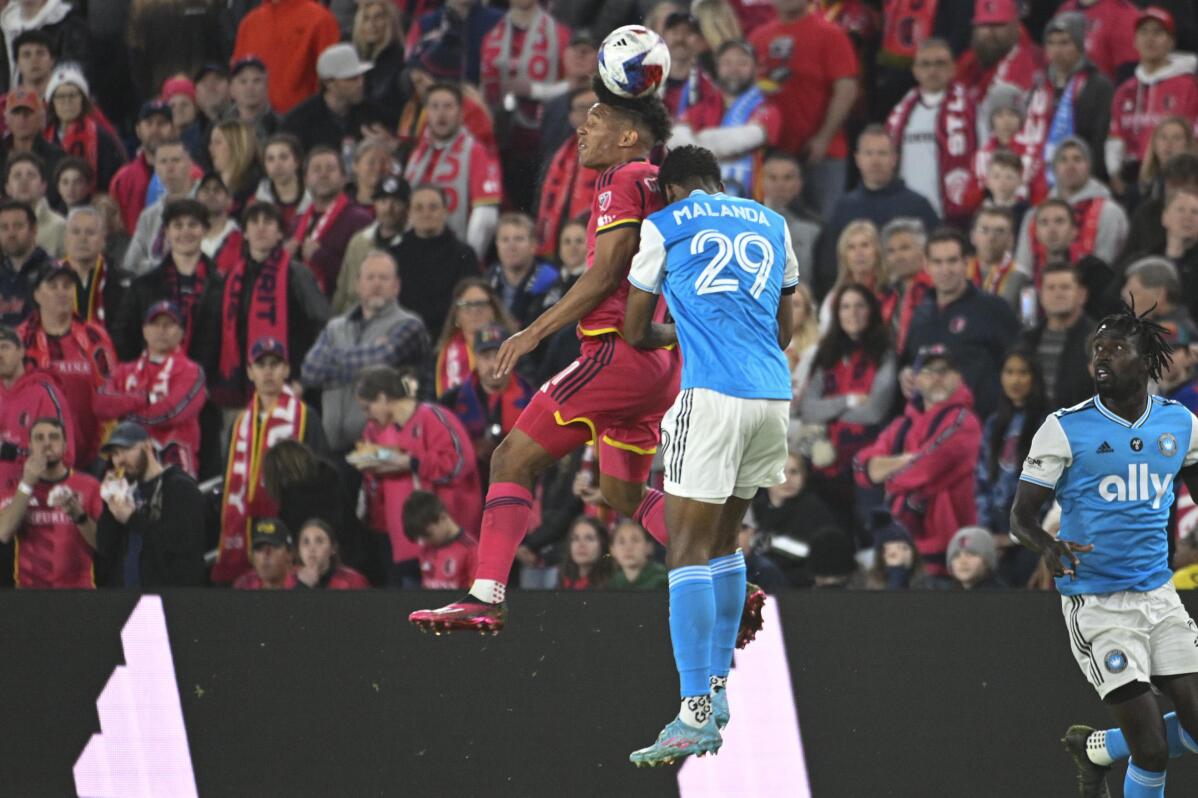 11 of 15

|
St. Louis City SC midfielder Njabulo Blom (6) and Charlotte FC defender Adilson Malanda (29) jump for a header during the first half of an MLS soccer match Saturday, March 4, 2023, in St. Louis. (AP Photo/Joe Puetz)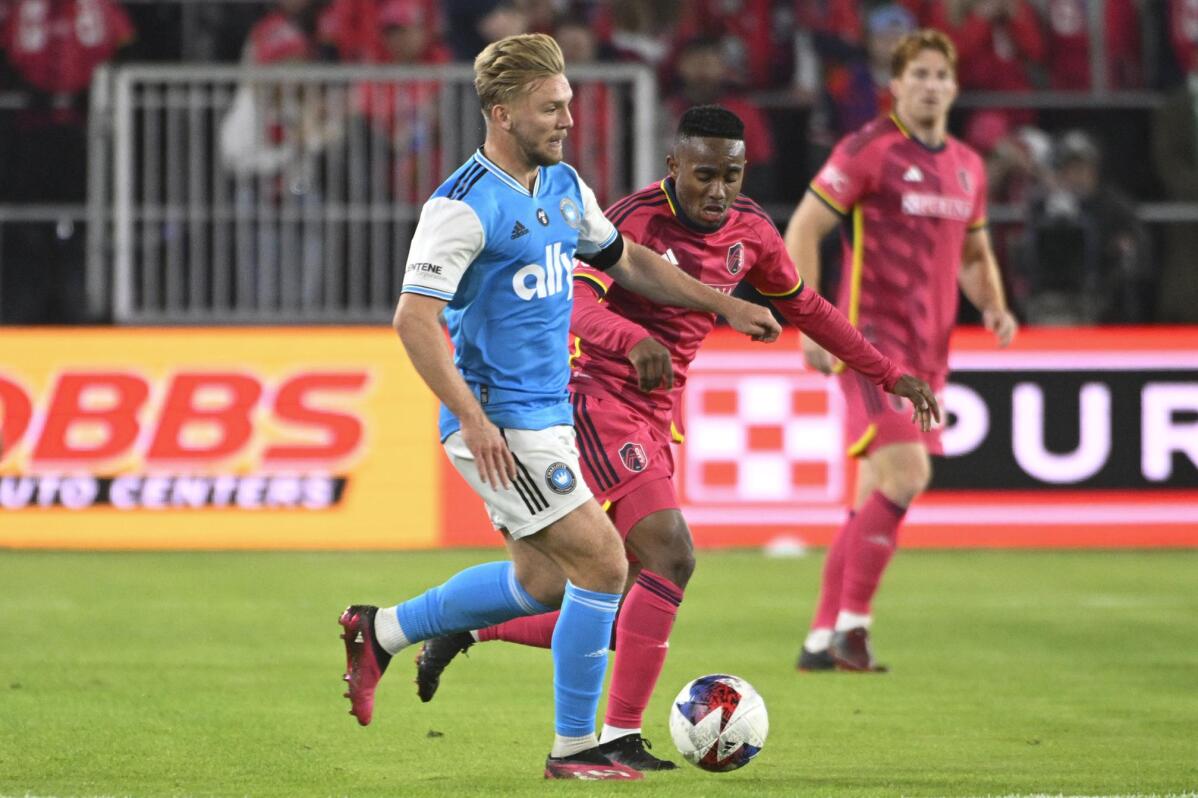 12 of 15

|
Charlotte FC forward Karol Swiderski, left, and St. Louis City SC midfielder Njabulo Blom (6) battle for control of the ball during the first half of an MLS soccer match Saturday, March 4, 2023, in St. Louis. (AP Photo/Joe Puetz)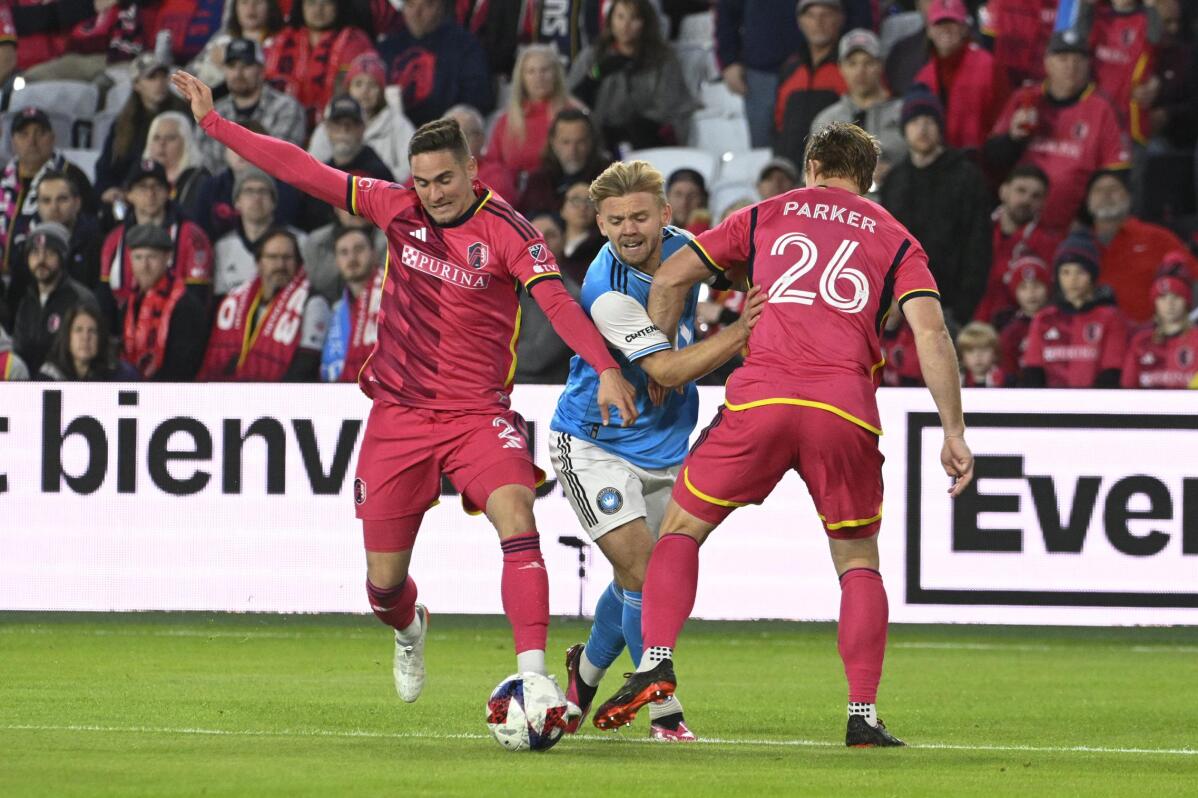 13 of 15

|
St. Louis City SC defenders Jake Nerwinski (2) and Tim Parker (26) defend against Charlotte FC forward Karol Swiderski, center, during the second half of an MLS soccer match Saturday, March 4, 2023, in St. Louis. (AP Photo/Joe Puetz)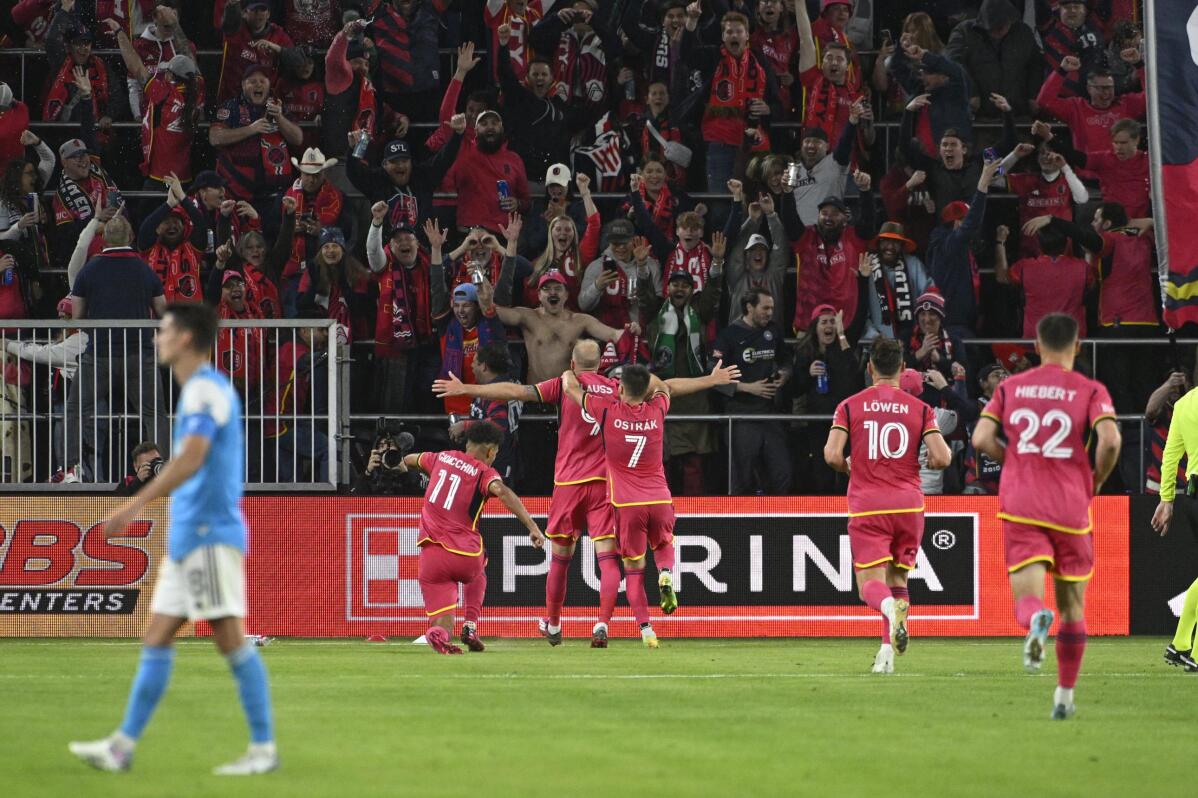 14 of 15

|
Members of St. Louis City SC celebrate after scoring a goal against Charlotte FC during the second half of an MLS soccer match Saturday, March 4, 2023, in St. Louis. (AP Photo/Joe Puetz)
15 of 15

|
St. Louis City SC defender John Nelson (14) defends against Charlotte FC forward Kerwin Vargas (18) during the second half of an MLS soccer match Saturday, March 4, 2023, in St. Louis. (AP Photo/Joe Puetz)
St Louis City tops Charlotte 3-1, extends historic start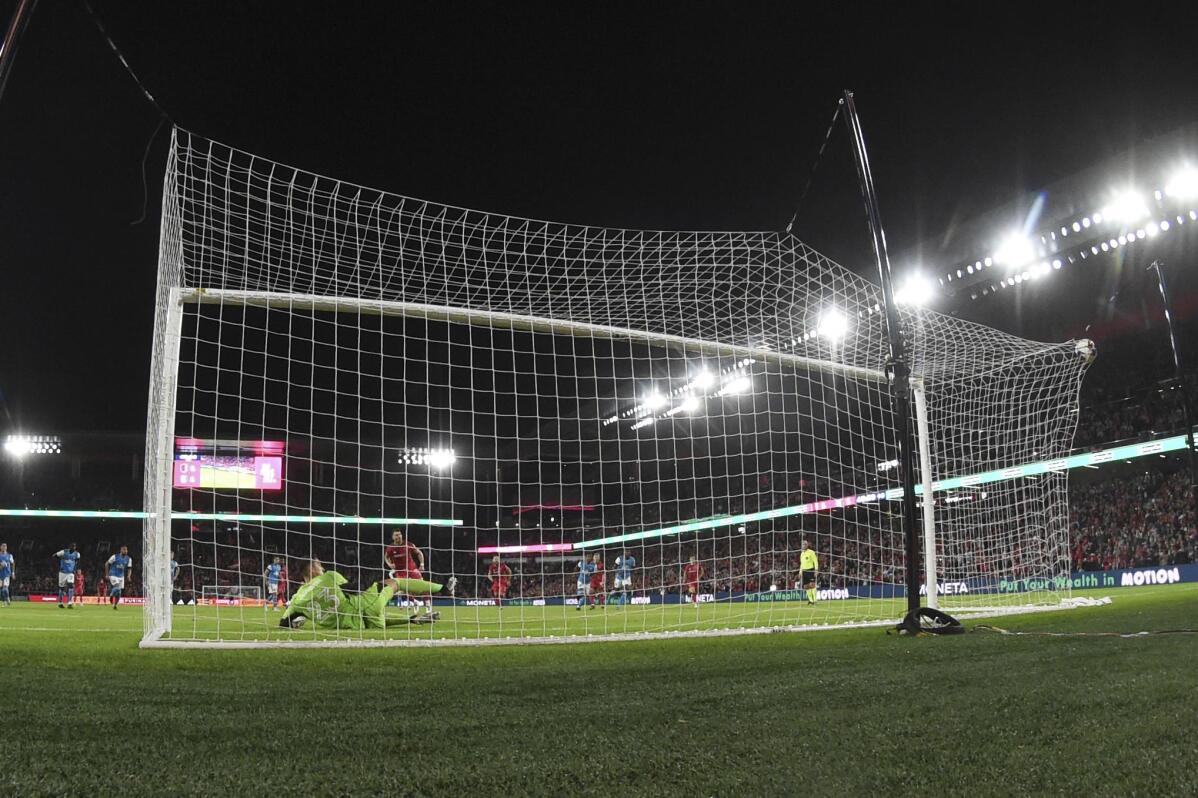 1 of 15

|
Charlotte FC goalkeeper Pablo Sisniega, front left, is unable to stop a goal by St. Louis City SC midfielder Eduard Lowen, front right, during the first half of an MLS soccer match Saturday, March 4, 2023, in St. Louis. (AP Photo/Joe Puetz)
1 of 15
Charlotte FC goalkeeper Pablo Sisniega, front left, is unable to stop a goal by St. Louis City SC midfielder Eduard Lowen, front right, during the first half of an MLS soccer match Saturday, March 4, 2023, in St. Louis. (AP Photo/Joe Puetz)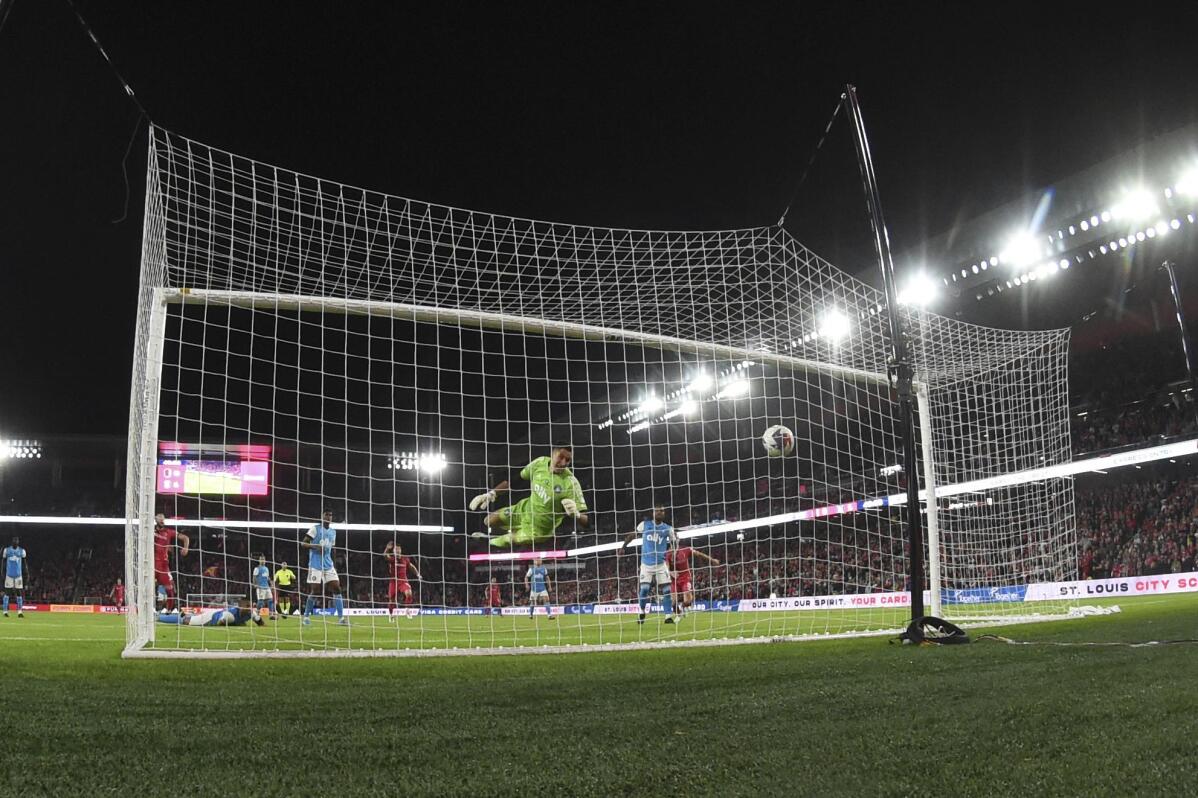 2 of 15

|
Charlotte FC goalkeeper Pablo Sisniega, front center, is unable to stop a goal by St. Louis City SC during the first half of an MLS soccer match Saturday, March 4, 2023, in St. Louis. (AP Photo/Joe Puetz)
2 of 15
Charlotte FC goalkeeper Pablo Sisniega, front center, is unable to stop a goal by St. Louis City SC during the first half of an MLS soccer match Saturday, March 4, 2023, in St. Louis. (AP Photo/Joe Puetz)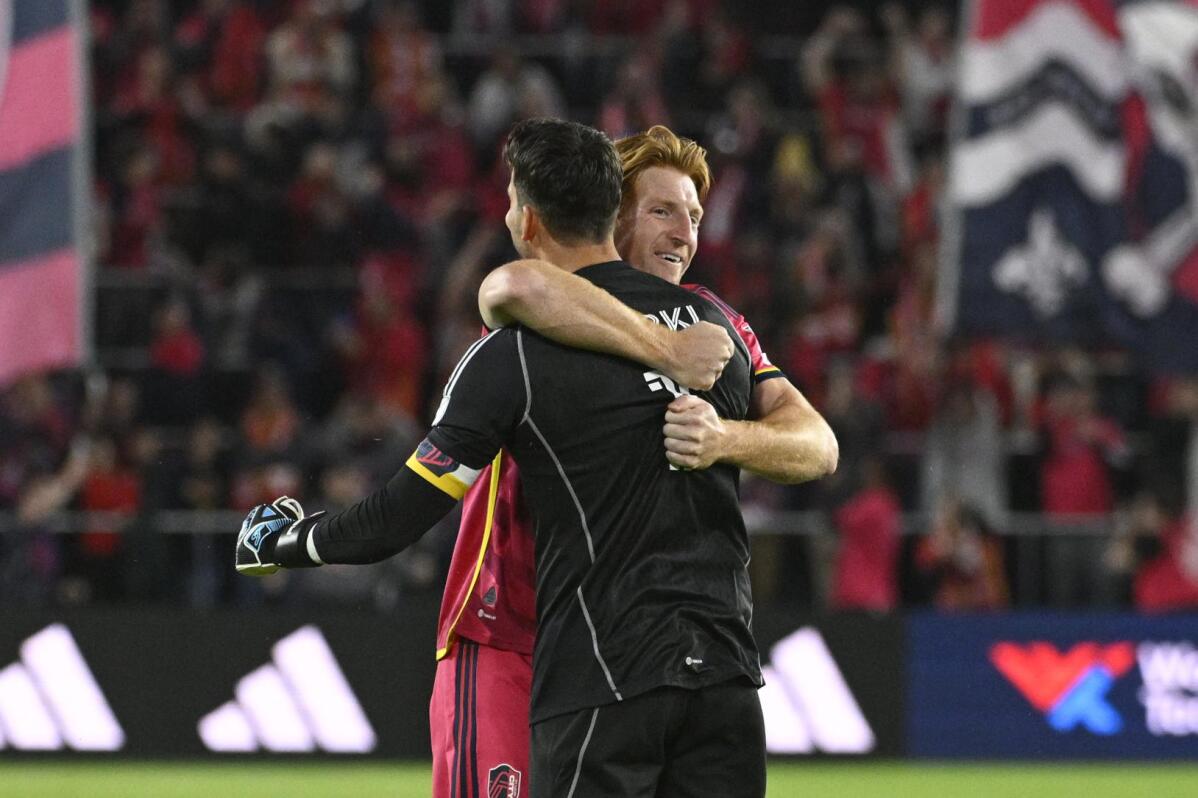 3 of 15

|
St. Louis City SC defender Tim Parker, right, and goalkeeper Roman Burki celebrate after their victory over Charlotte FC in an MLS soccer match Saturday, March 4, 2023, in St. Louis. (AP Photo/Joe Puetz)
3 of 15
St. Louis City SC defender Tim Parker, right, and goalkeeper Roman Burki celebrate after their victory over Charlotte FC in an MLS soccer match Saturday, March 4, 2023, in St. Louis. (AP Photo/Joe Puetz)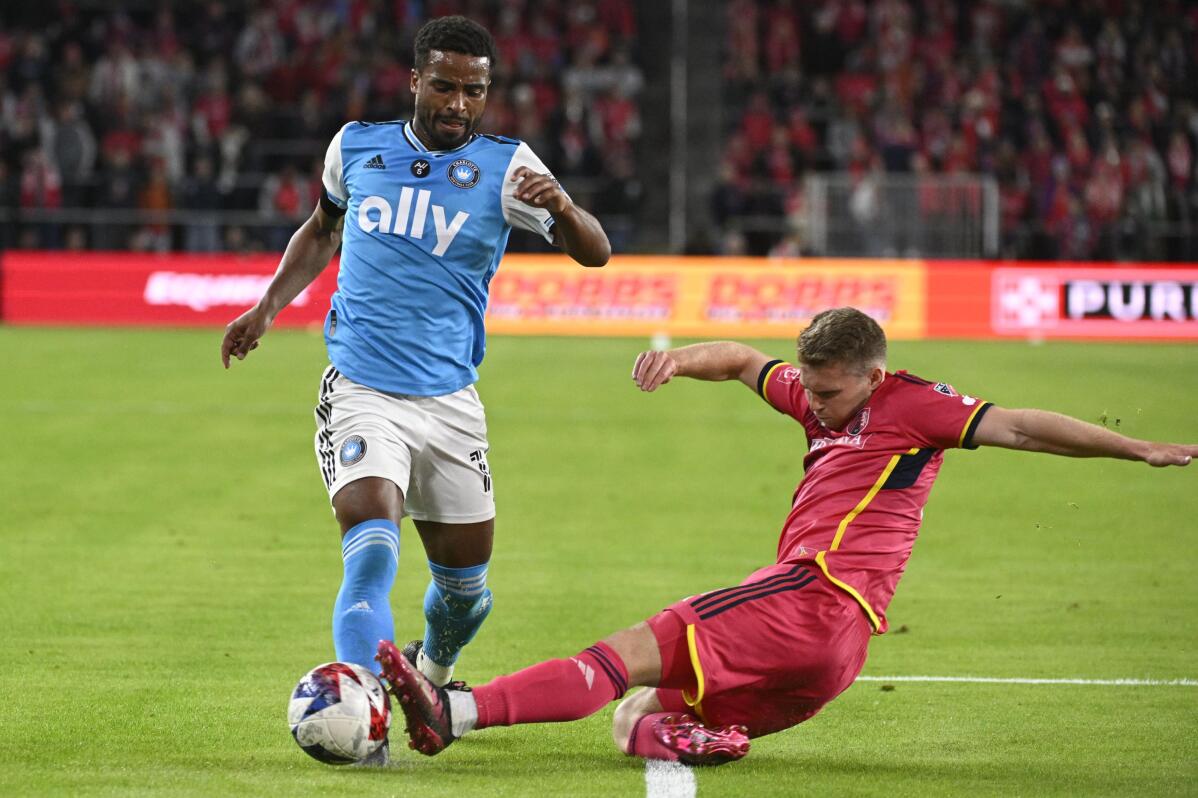 4 of 15

|
St. Louis City SC defender John Nelson, right, kicks the ball away from Charlotte FC defender Nathan Byrne during the second half of an MLS soccer match Saturday, March 4, 2023, in St. Louis. (AP Photo/Joe Puetz)
4 of 15
St. Louis City SC defender John Nelson, right, kicks the ball away from Charlotte FC defender Nathan Byrne during the second half of an MLS soccer match Saturday, March 4, 2023, in St. Louis. (AP Photo/Joe Puetz)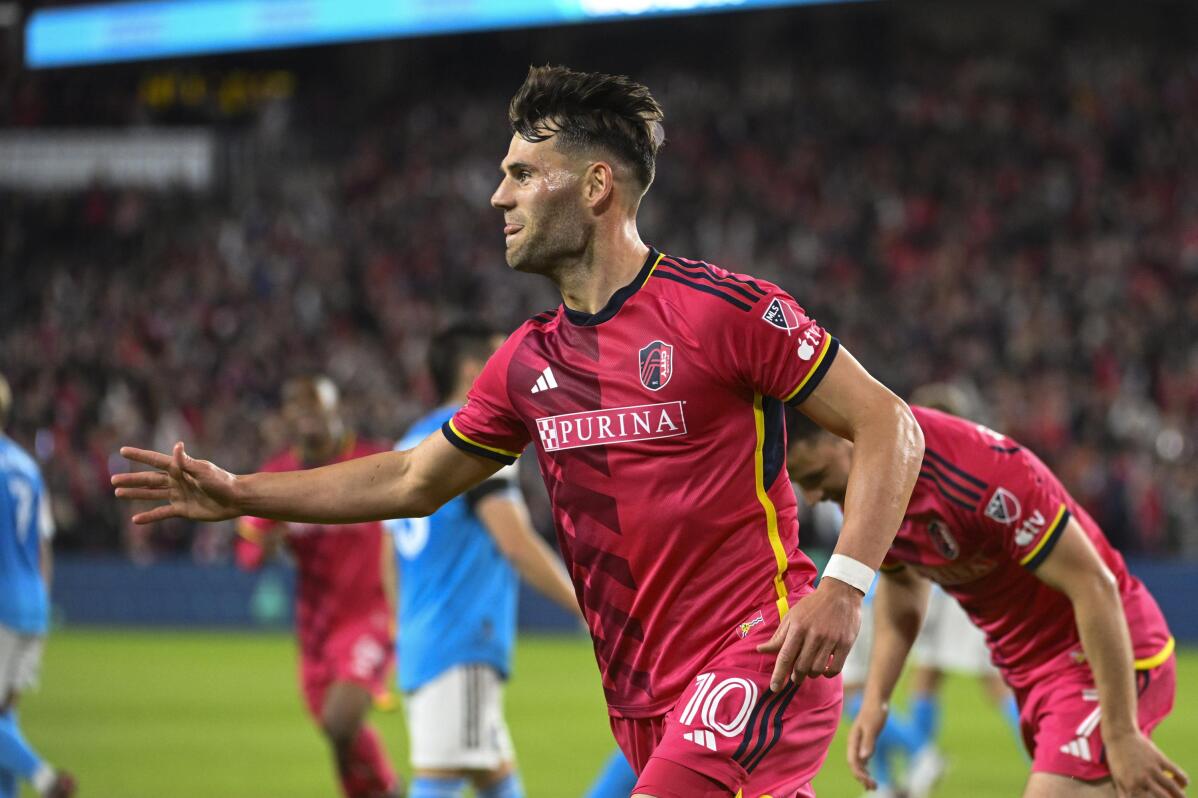 5 of 15

|
St. Louis City SC midfielder Eduard Lowen (10) reacts after scoring on a penalty kick against Charlotte FC during the first half of an MLS soccer match Saturday, March 4, 2023, in St. Louis. (AP Photo/Joe Puetz)
5 of 15
St. Louis City SC midfielder Eduard Lowen (10) reacts after scoring on a penalty kick against Charlotte FC during the first half of an MLS soccer match Saturday, March 4, 2023, in St. Louis. (AP Photo/Joe Puetz)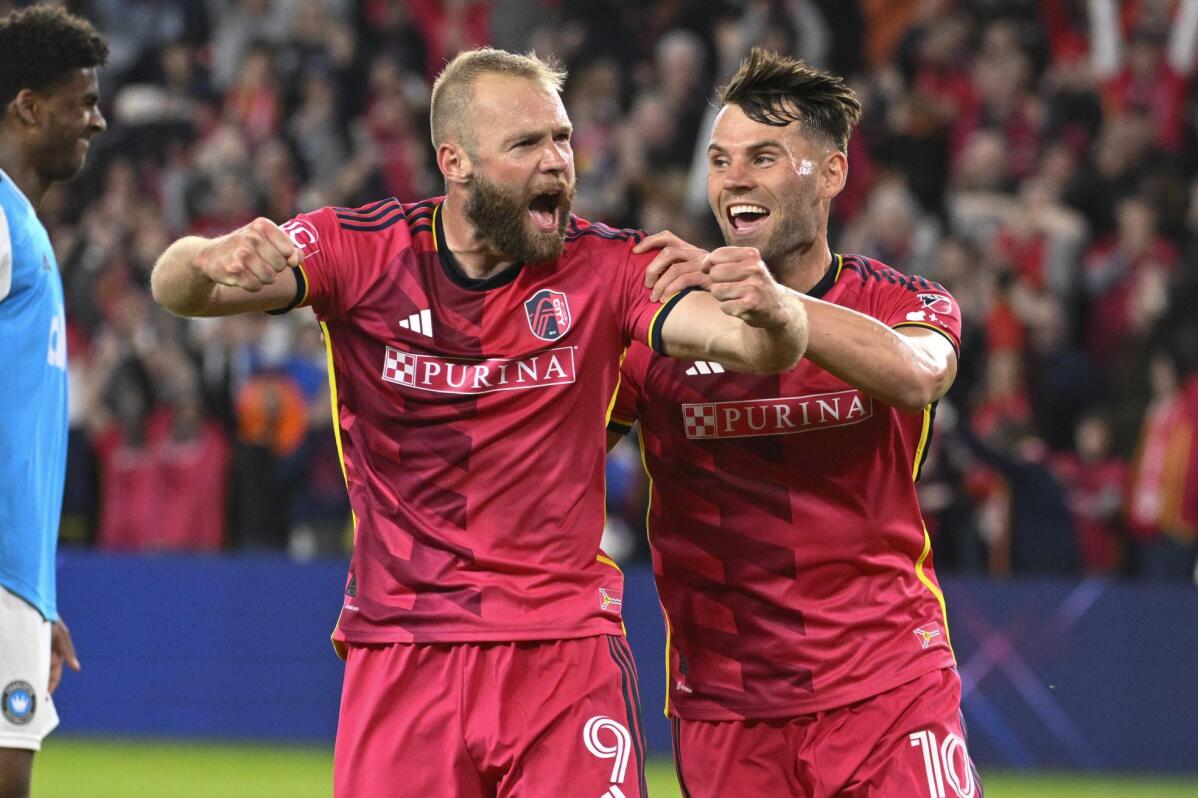 6 of 15

|
St. Louis City SC forward Klauss (9) and midfielder Eduard Lowen (10) celebrate after Charlotte FC scored an own goal during the first half of an MLS soccer match Saturday, March 4, 2023, in St. Louis. (AP Photo/Joe Puetz)
6 of 15
St. Louis City SC forward Klauss (9) and midfielder Eduard Lowen (10) celebrate after Charlotte FC scored an own goal during the first half of an MLS soccer match Saturday, March 4, 2023, in St. Louis. (AP Photo/Joe Puetz)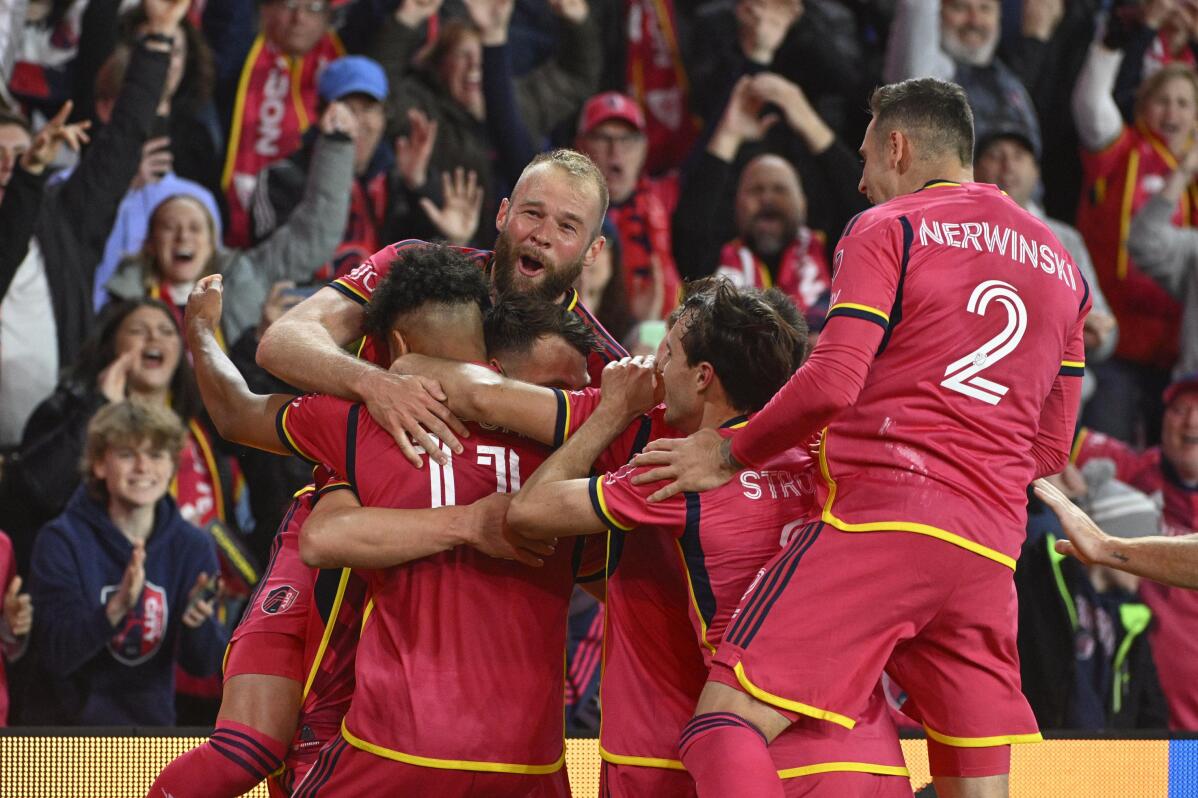 7 of 15

|
Members of St. Louis City SC celebrate after scoring a goal against Charlotte FC during the first half of an MLS soccer match Saturday, March 4, 2023, in St. Louis. (AP Photo/Joe Puetz)
7 of 15
Members of St. Louis City SC celebrate after scoring a goal against Charlotte FC during the first half of an MLS soccer match Saturday, March 4, 2023, in St. Louis. (AP Photo/Joe Puetz)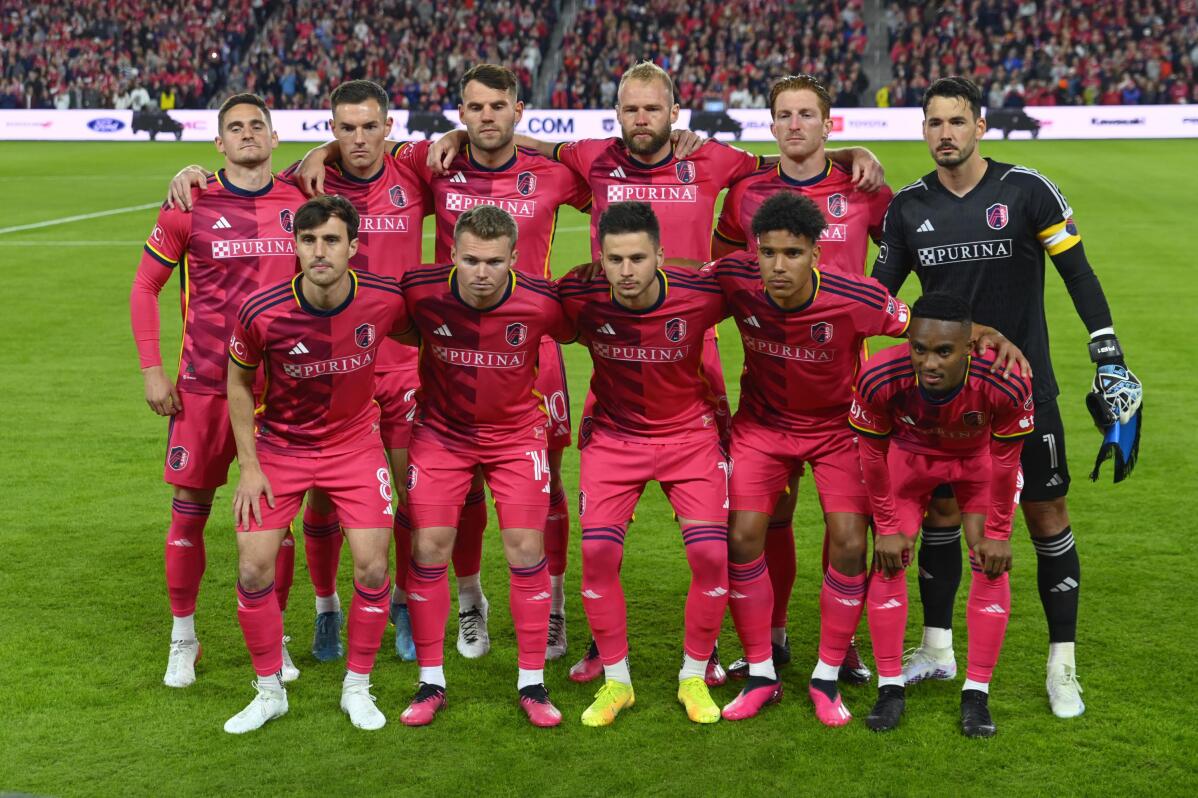 8 of 15

|
Members of St. Louis City SC pose for a photo prior to an MLS soccer match against Charlotte FC, Saturday, March 4, 2023, in St. Louis. (AP Photo/Joe Puetz)
8 of 15
Members of St. Louis City SC pose for a photo prior to an MLS soccer match against Charlotte FC, Saturday, March 4, 2023, in St. Louis. (AP Photo/Joe Puetz)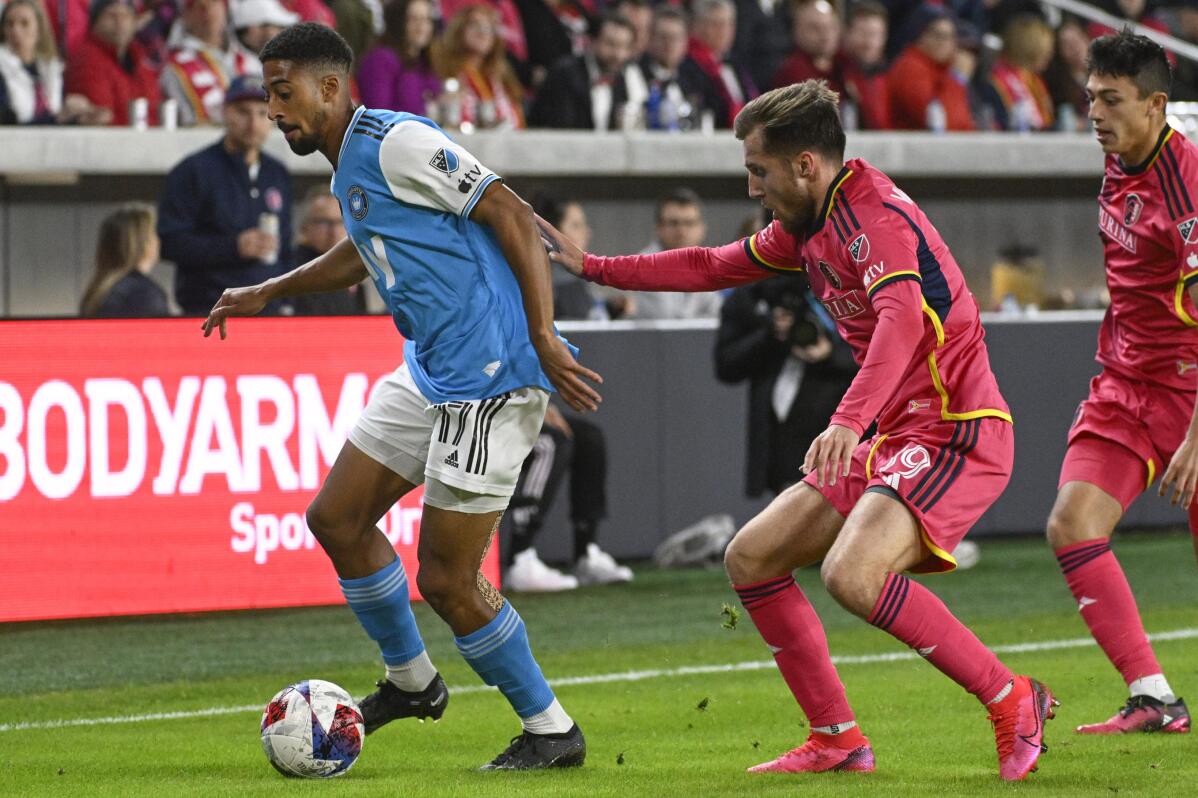 9 of 15

|
St. Louis City SC midfielder Indiana Vassilev, front right, defends against Charlotte FC midfielder McKinze Gaines, left, during the second half of an MLS soccer match Saturday, March 4, 2023, in St. Louis. (AP Photo/Joe Puetz)
9 of 15
St. Louis City SC midfielder Indiana Vassilev, front right, defends against Charlotte FC midfielder McKinze Gaines, left, during the second half of an MLS soccer match Saturday, March 4, 2023, in St. Louis. (AP Photo/Joe Puetz)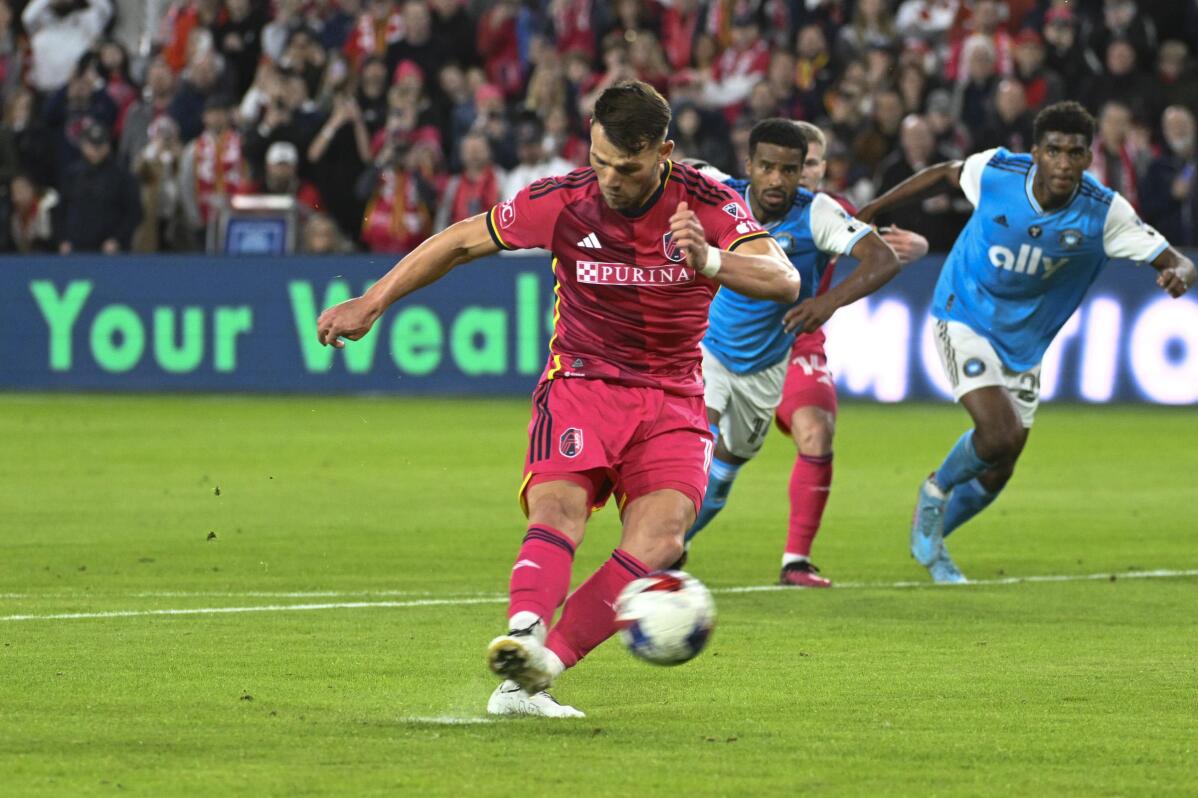 10 of 15

|
St. Louis City SC midfielder Eduard Lowen, foreground, kicks a penalty goal against Charlotte FC during the first half of an MLS soccer match Saturday, March 4, 2023, in St. Louis. (AP Photo/Joe Puetz)
10 of 15
St. Louis City SC midfielder Eduard Lowen, foreground, kicks a penalty goal against Charlotte FC during the first half of an MLS soccer match Saturday, March 4, 2023, in St. Louis. (AP Photo/Joe Puetz)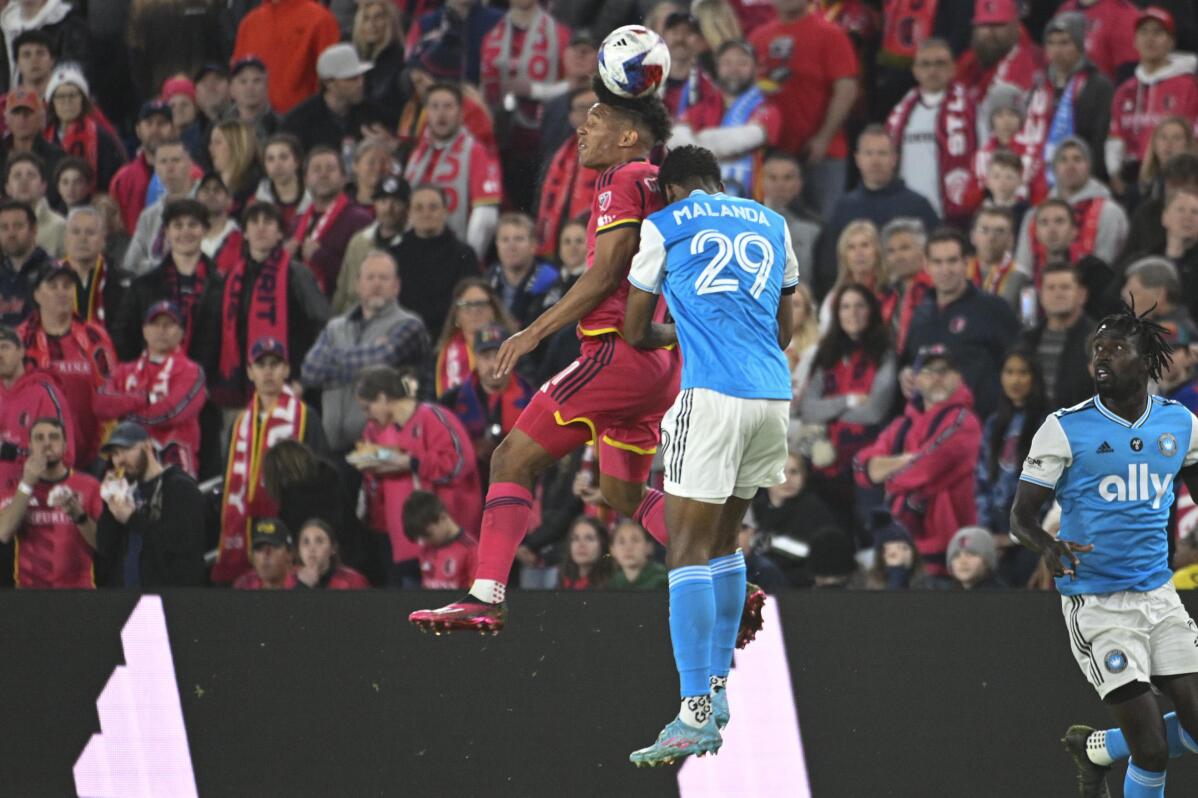 11 of 15

|
St. Louis City SC midfielder Njabulo Blom (6) and Charlotte FC defender Adilson Malanda (29) jump for a header during the first half of an MLS soccer match Saturday, March 4, 2023, in St. Louis. (AP Photo/Joe Puetz)
11 of 15
St. Louis City SC midfielder Njabulo Blom (6) and Charlotte FC defender Adilson Malanda (29) jump for a header during the first half of an MLS soccer match Saturday, March 4, 2023, in St. Louis. (AP Photo/Joe Puetz)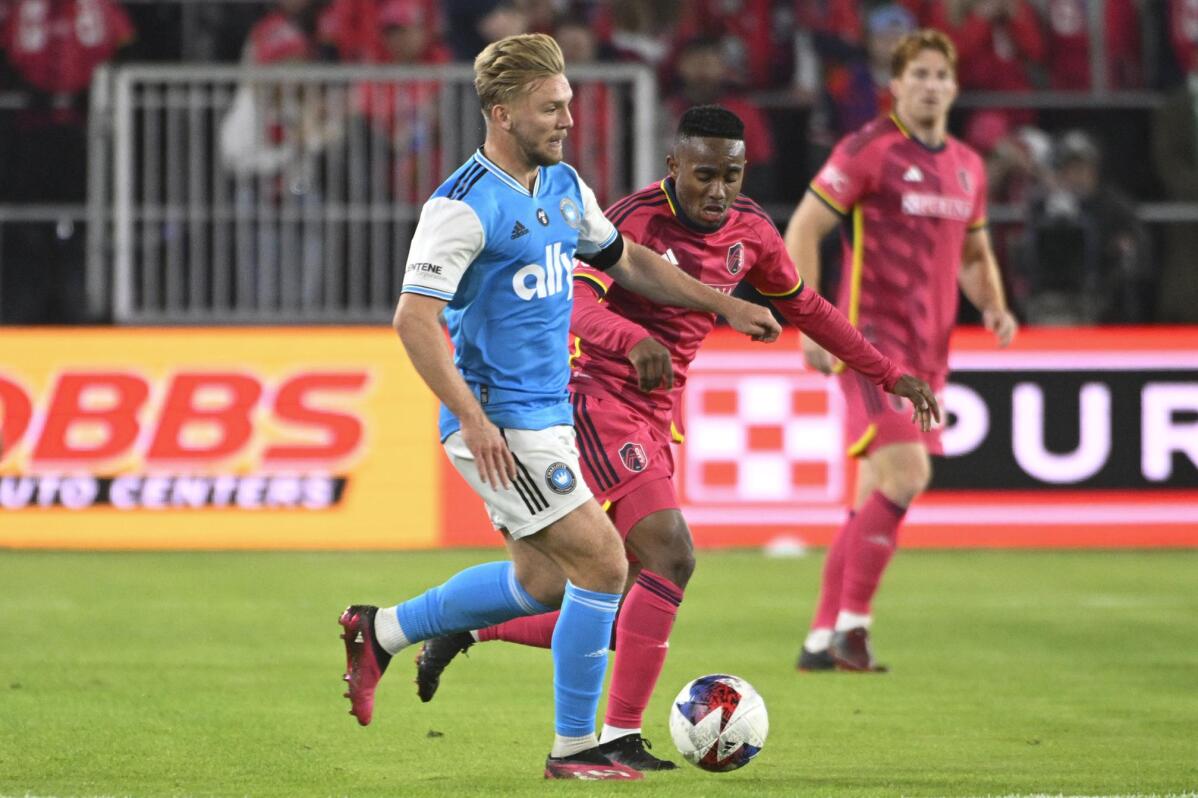 12 of 15

|
Charlotte FC forward Karol Swiderski, left, and St. Louis City SC midfielder Njabulo Blom (6) battle for control of the ball during the first half of an MLS soccer match Saturday, March 4, 2023, in St. Louis. (AP Photo/Joe Puetz)
12 of 15
Charlotte FC forward Karol Swiderski, left, and St. Louis City SC midfielder Njabulo Blom (6) battle for control of the ball during the first half of an MLS soccer match Saturday, March 4, 2023, in St. Louis. (AP Photo/Joe Puetz)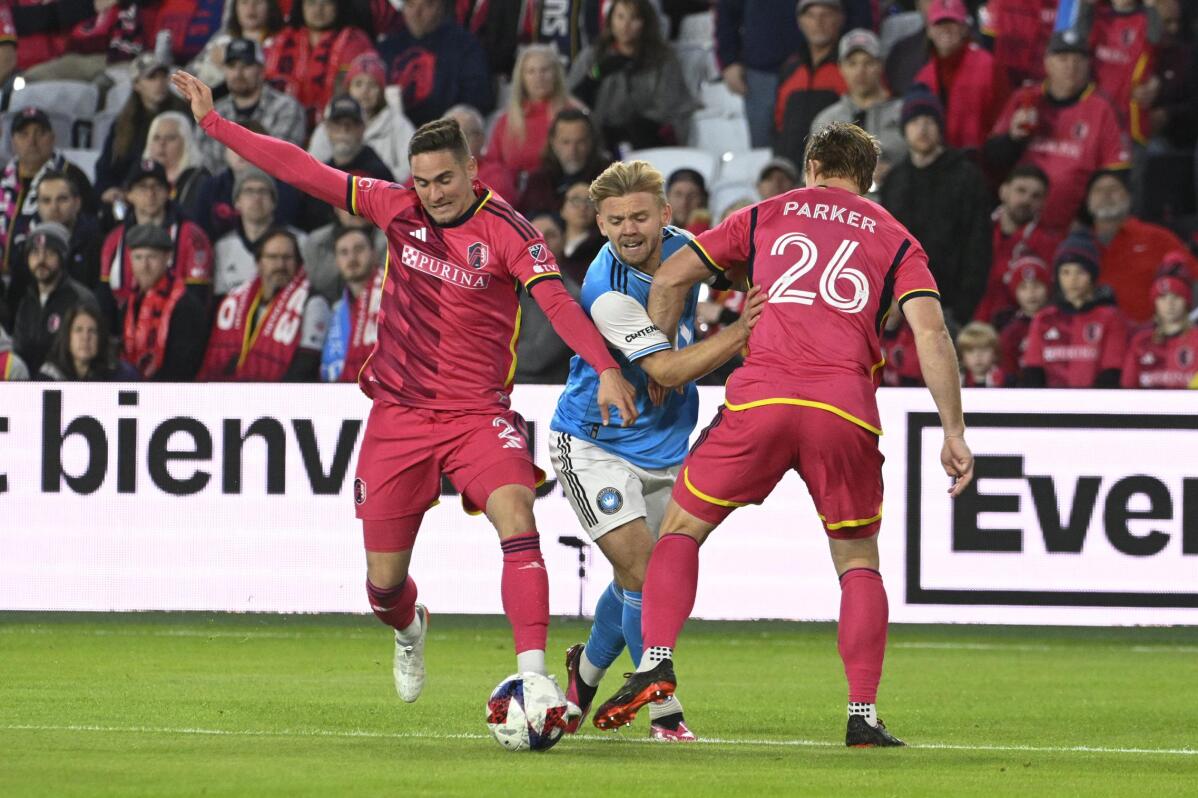 13 of 15

|
St. Louis City SC defenders Jake Nerwinski (2) and Tim Parker (26) defend against Charlotte FC forward Karol Swiderski, center, during the second half of an MLS soccer match Saturday, March 4, 2023, in St. Louis. (AP Photo/Joe Puetz)
13 of 15
St. Louis City SC defenders Jake Nerwinski (2) and Tim Parker (26) defend against Charlotte FC forward Karol Swiderski, center, during the second half of an MLS soccer match Saturday, March 4, 2023, in St. Louis. (AP Photo/Joe Puetz)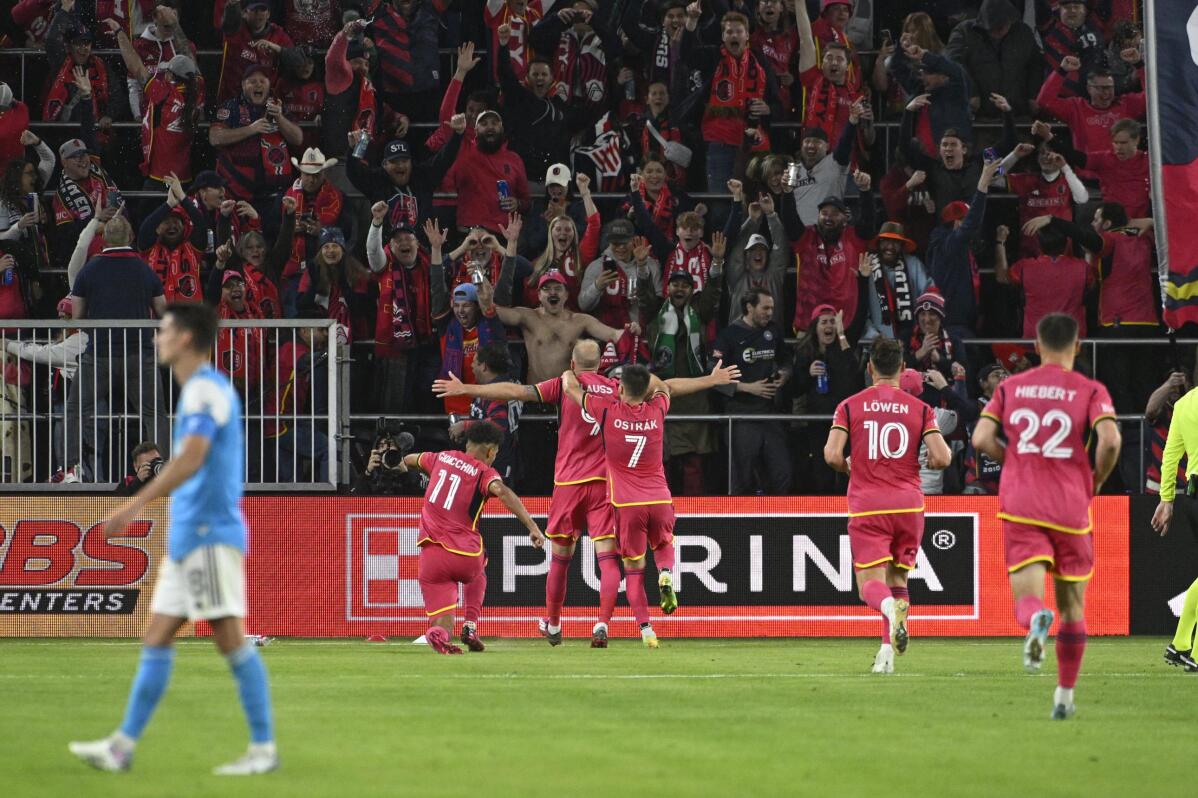 14 of 15

|
Members of St. Louis City SC celebrate after scoring a goal against Charlotte FC during the second half of an MLS soccer match Saturday, March 4, 2023, in St. Louis. (AP Photo/Joe Puetz)
14 of 15
Members of St. Louis City SC celebrate after scoring a goal against Charlotte FC during the second half of an MLS soccer match Saturday, March 4, 2023, in St. Louis. (AP Photo/Joe Puetz)
15 of 15

|
St. Louis City SC defender John Nelson (14) defends against Charlotte FC forward Kerwin Vargas (18) during the second half of an MLS soccer match Saturday, March 4, 2023, in St. Louis. (AP Photo/Joe Puetz)
15 of 15
St. Louis City SC defender John Nelson (14) defends against Charlotte FC forward Kerwin Vargas (18) during the second half of an MLS soccer match Saturday, March 4, 2023, in St. Louis. (AP Photo/Joe Puetz)
ST. LOUIS (AP) — Eduard Lowen scored the go-ahead goal on a penalty kick in the fifth minute of first-half stoppage time and St. Louis City became the fourth expansion team to win its first two matches with a 3-1 victory over Charlotte on Saturday night.
Playing its first home game, St. Louis joined the Chicago Fire (1998), the Seattle Sounders (2009) and Los Angeles FC (2018) as the only MLS teams to win their first two matches. Seattle is the only team to win its first three,
Eleven of the last 21 expansion teams won their home opener and St. Louis became the first since Miami in 2020.
St. Louis was coming off a come-from-behind 3-2 win over Austin, joining the 1996 Tampa Bay Mutiny as the only teams to rally for victories in inaugural matches.
Enzo Copetti gave Charlotte (0-2-0) the lead in the 25th minute. An own-goal by Charlotte's Bill Tuiloma knotted the score in the 41st minute. João Klauss capped the scoring with an unassisted goal in the 71st.
St. Louis outshot Charlotte 11-6 with a 5-3 advantage in shots on goal. Charlotte had lost its previous three matches by shutouts dating to last season.
Roman Burki saved two shots for St. Louis. Pablo Sisniega had three saves for Charlotte.
Up next for Saint Louis is a matchup Saturday with the Portland Timbers on the road. Charlotte visits the LA Galaxy on Saturday.
___
The Associated Press created this story using technology provided by Data Skrive and data from Sportradar.