A 'hospital' for statues patches up Argentine monuments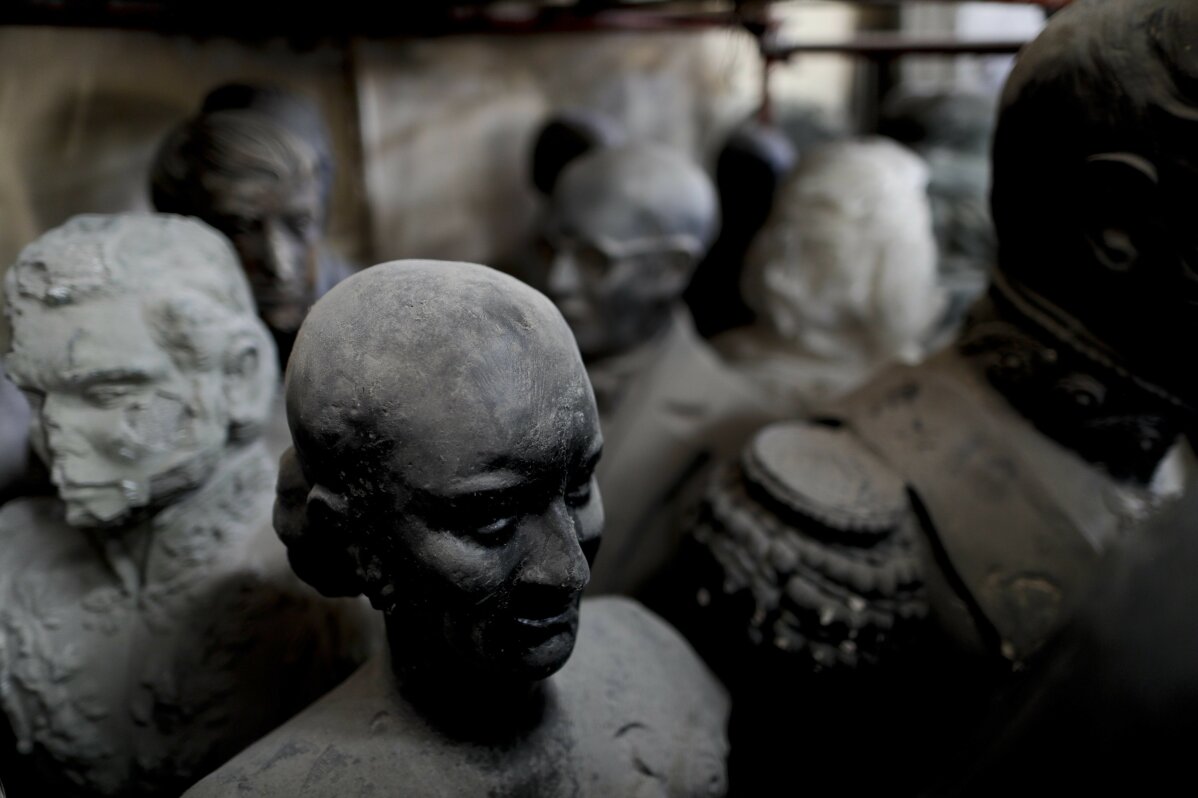 1 of 10

|
In this Nov. 6, 2018 photo, busts sit at a hospital for statues in Buenos Aires, Argentina. City officials say about 20 pieces arrive each month, often dismembered, broken, sprayed with paint or stolen, either as collector's items or for scrap metal. Statues are sometimes damaged by angry protesters or toppled by people just for fun. (AP Photo/Natacha Pisarenko)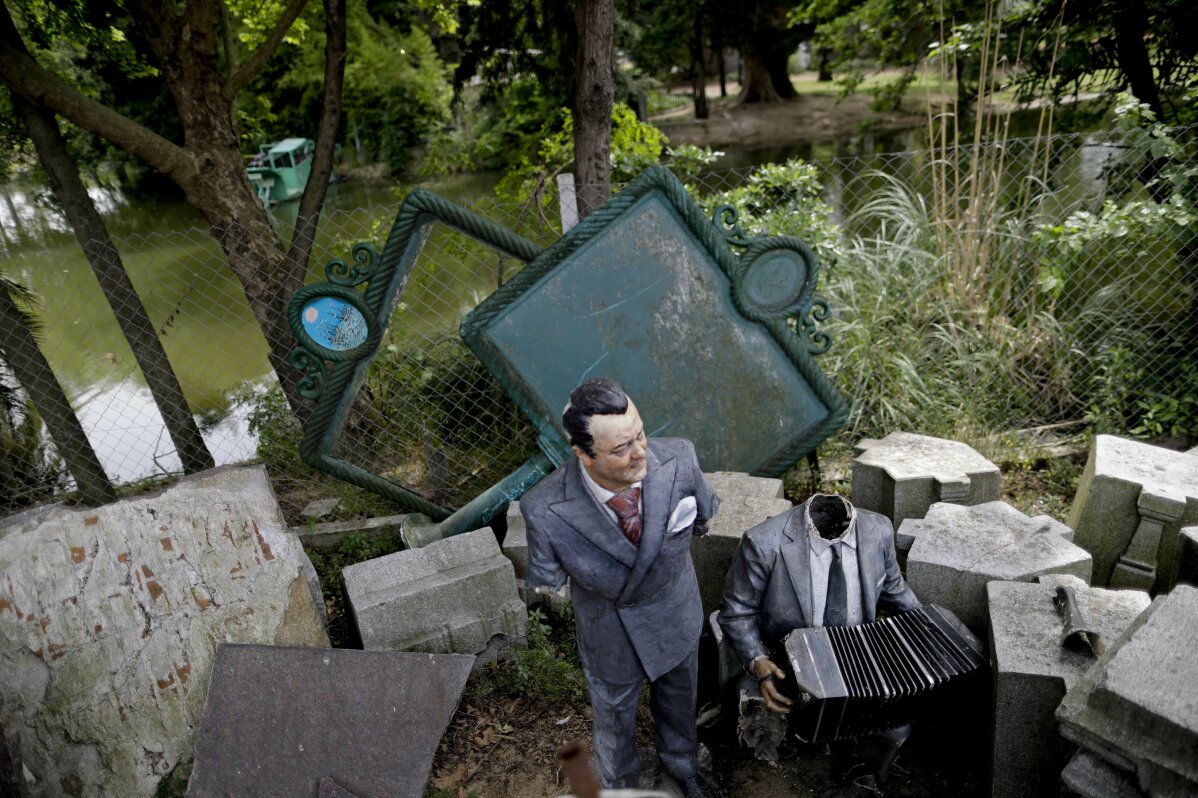 2 of 10

|
In this Nov. 6, 2018 photo, the statues of tango singer Alberto Castillo, left, and musician Anibal Troilo, await repairs at a hospital for statues in Buenos Aires, Argentina. The Argentine musical icons are in a hospital of a sort, where the 2,200 statues and monuments that dot Buenos Aires' parks and plazas are brought when they have suffered vandalism or decay. (AP Photo/Natacha Pisarenko)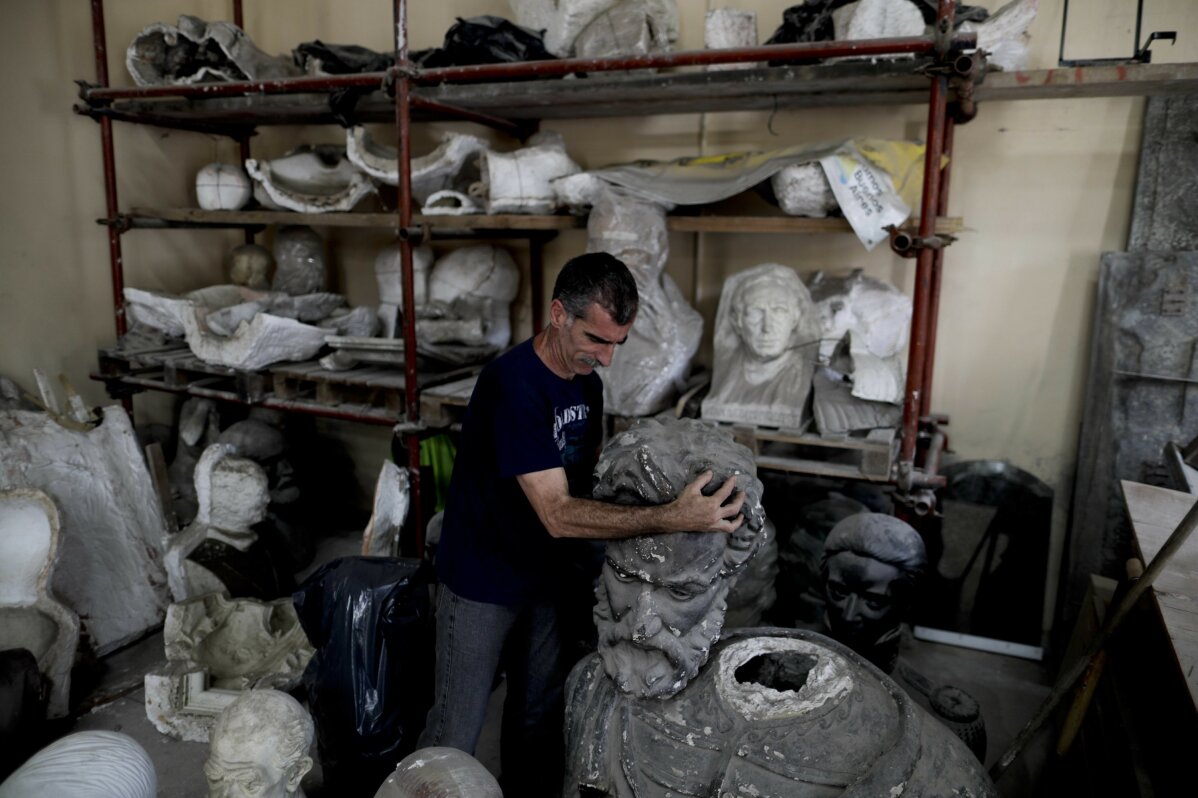 3 of 10

|
In this Nov. 6, 2018 photo, Jorge Grimaz holds a bust of Argentine General Martin Miguel de Guemes at a hospital for statues in Buenos Aires, Argentina. Guemes was also robbed of his bronze saber, so restorers at the workshop recently poured polyester resin into a rubber mold inside a plaster box to craft a replacement. (AP Photo/Natacha Pisarenko)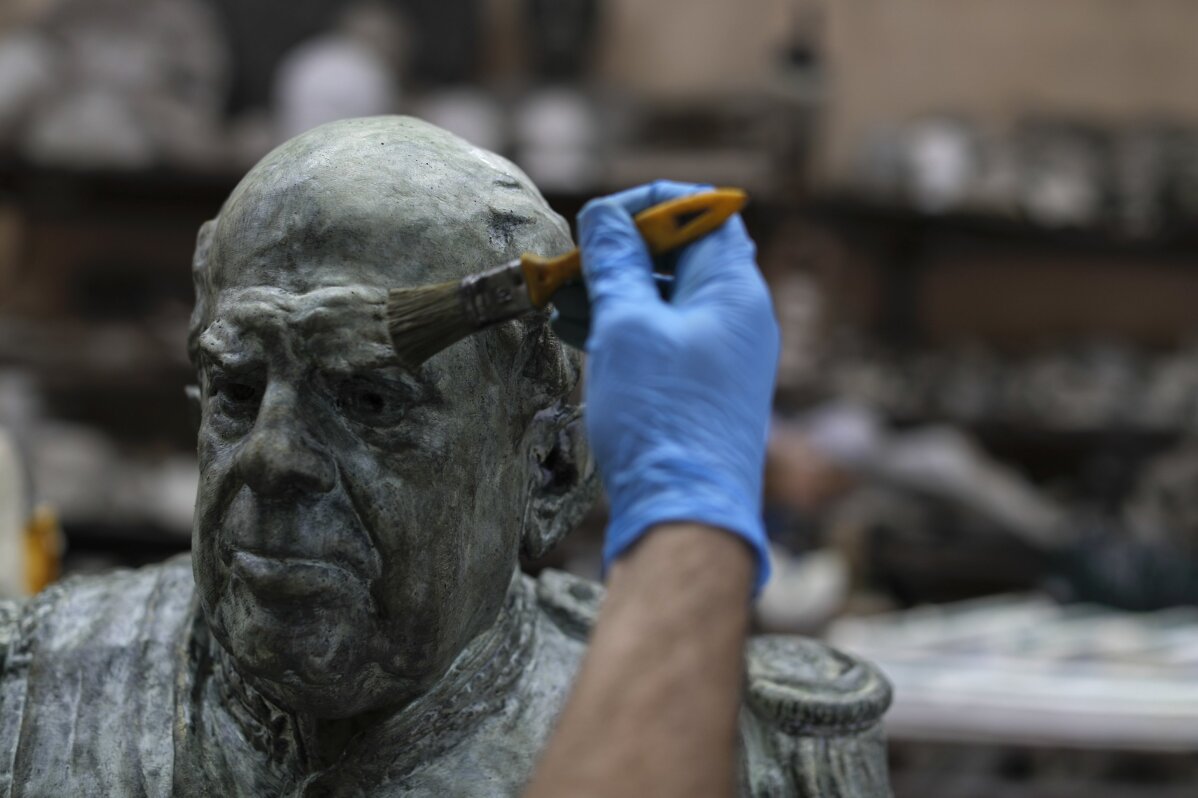 4 of 10

|
In this Nov. 6, 2018 photo, a worker restores a statue of former Argentine President Domingo Faustino Sarmiento at the Monuments and Artworks shop, a "hospital" for statues that restores missing appendages or even whole statues in Buenos Aires, Argentina. The abundance of statuary and monuments, many acquired in France at start of the 20th century, helps set the Argentine capital apart from other Latin American cities. (AP Photo/Natacha Pisarenko)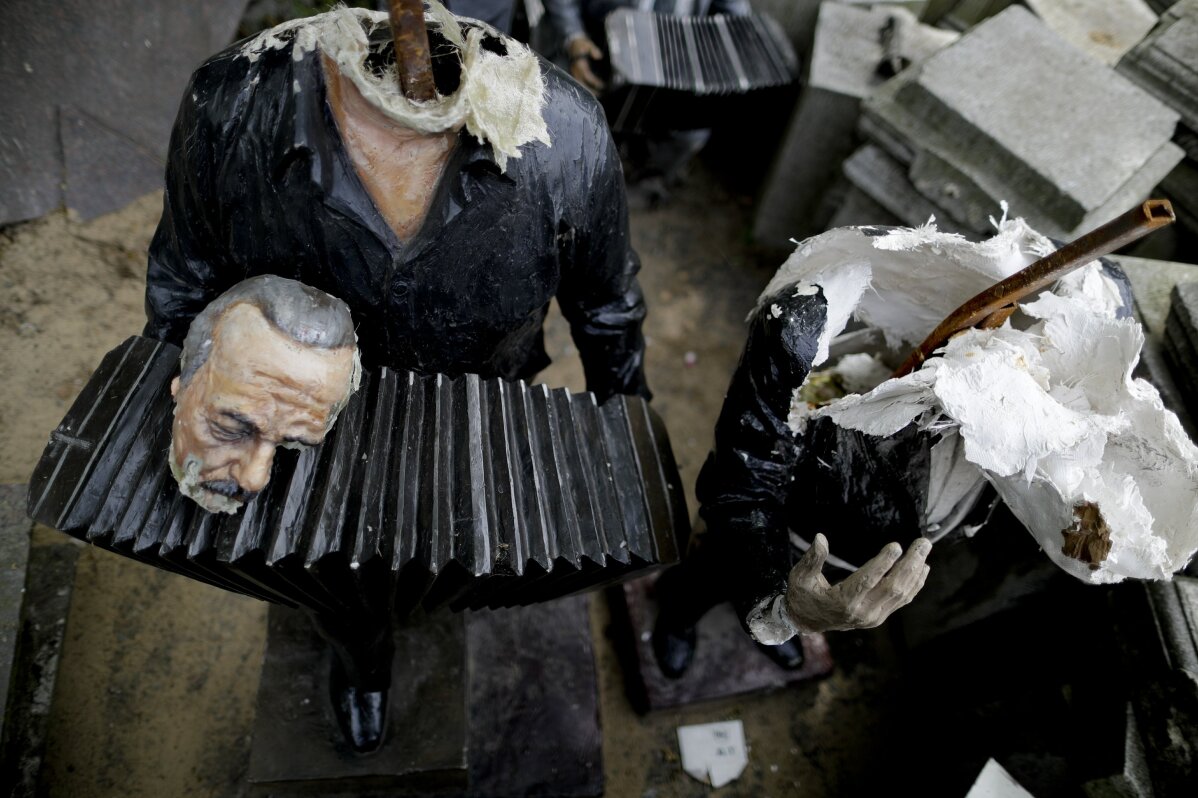 5 of 10

|
In this Nov. 6, 2018 photo, a fiber glass statue of tango legend Astor Piazzola awaits repair at a hospital for statues in Buenos Aires, Argentina. The attacks on sculptures have increased as frustration simmers over Argentina's economic crisis. (AP Photo/Natacha Pisarenko)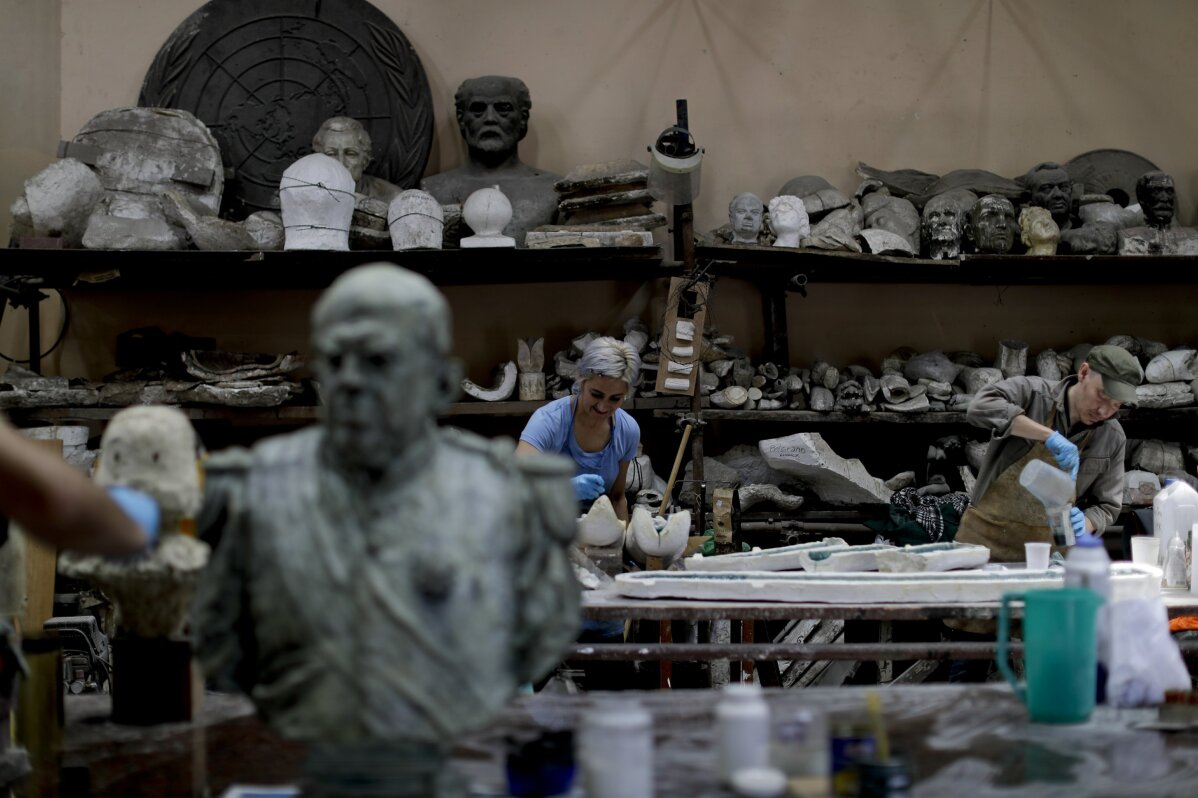 6 of 10

|
In this Nov. 6, 2018 photo, workers restore statues at a hospital for statues in Buenos Aires, Argentina. At the workshop, more than a dozen restorers repair stone and marble, clean away graffiti and mold missing appendages. (AP Photo/Natacha Pisarenko)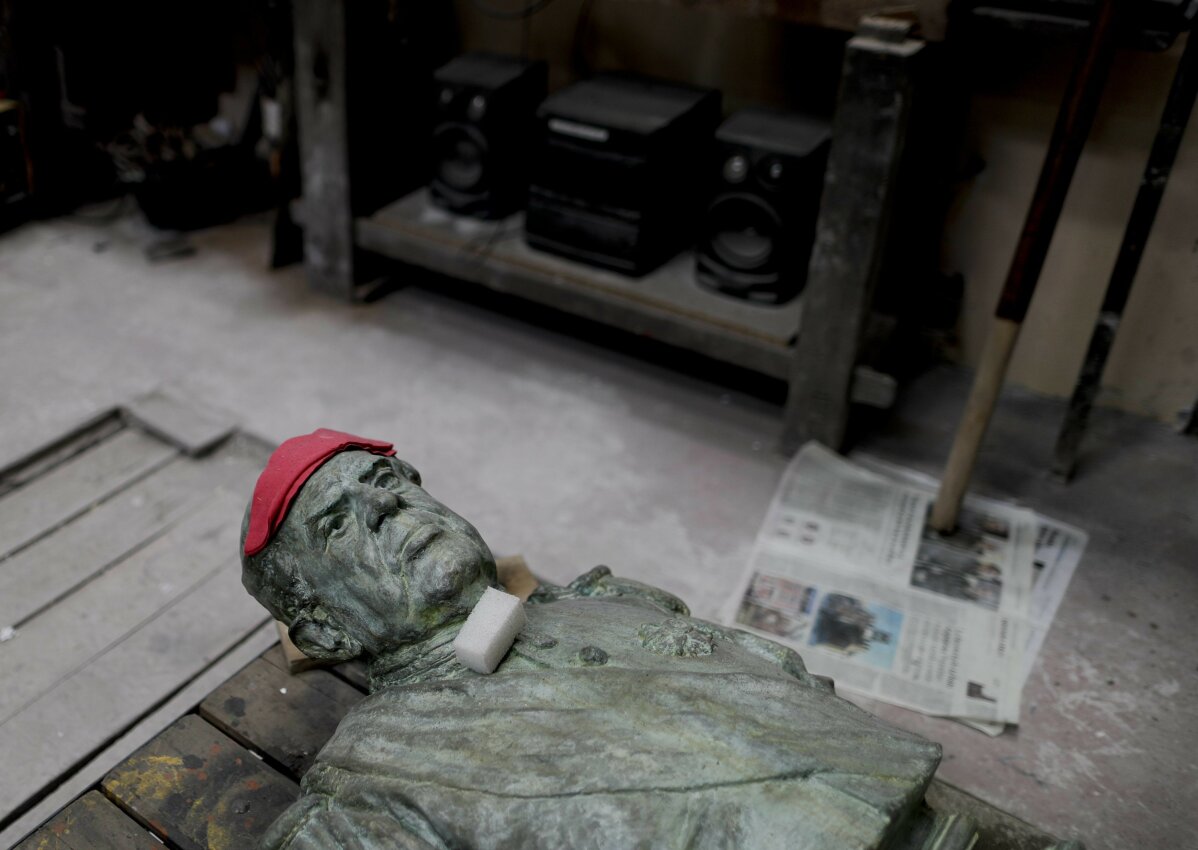 7 of 10

|
In this Nov. 6, 2018 photo, a bust of former Argentine president Domingo Faustino Sarmiento is set down for repairs at a hospital for statues in Buenos Aires, Argentina. Pollution and the humidity of the Argentine capital located on the banks of the Rio de la Plata, affects the sculptures. But vandalism is by far their worst enemy. (AP Photo/Natacha Pisarenko)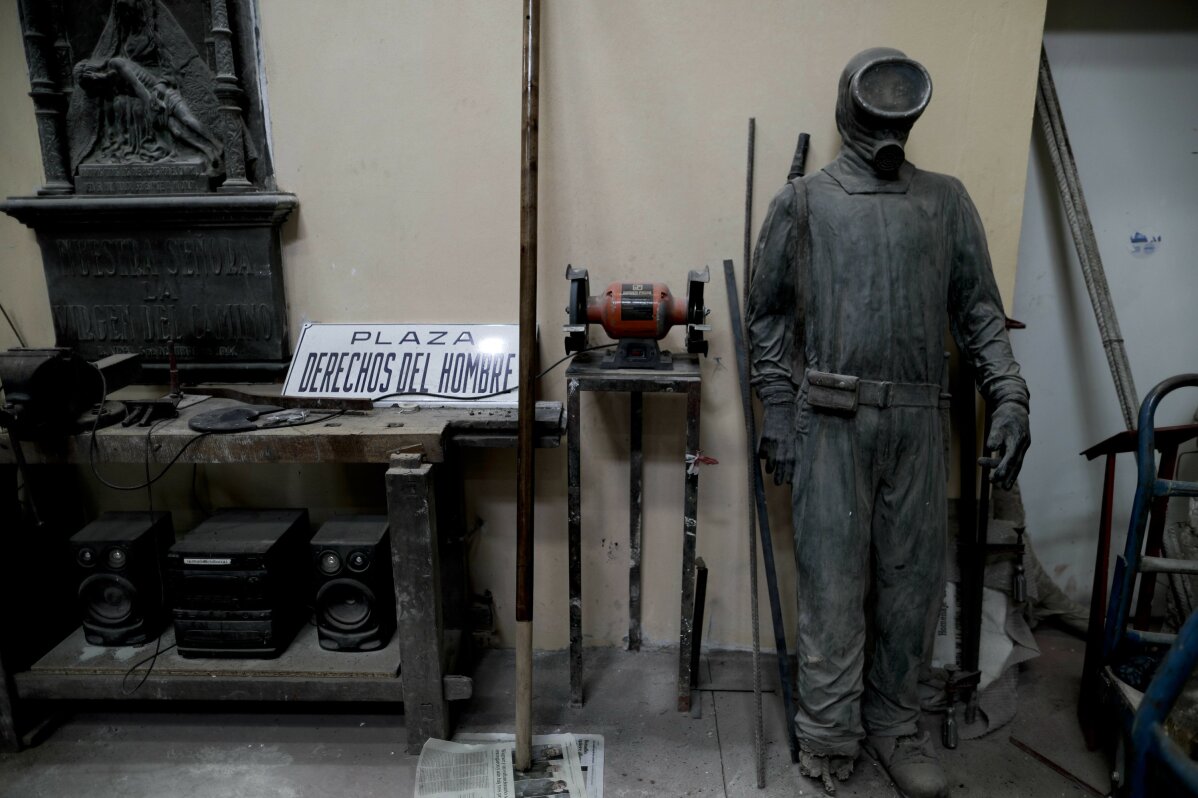 8 of 10

|
In this Nov. 6, 2018 photo, a statue of El Eternauta, a science fiction comic character created by Argentine comic strip writer Hector German Oesterheldt, stands inside the Monuments and Artworks shop, a "hospital" for statues that restores missing appendages or even whole statues in Buenos Aires, Argentina. Pollution and the humidity of the Argentine capital located on the banks of the Rio de la Plata, affects the city's sculptures, but vandalism is by far their worst enemy. (AP Photo/Natacha Pisarenko)
9 of 10

|
In this Nov. 6, 2018 photo, a statue of singer Luis Alberto Spinetta stands restored at a hospital for statues in Buenos Aires, Argentina Tuesday, Nov. 6, 2018. Artists are busier than ever using old photographs to repair and restore some of Buenos Aires' multitude of vandalized statues and public art works at the city's Hospital for Statues. (AP Photo/Natacha Pisarenko)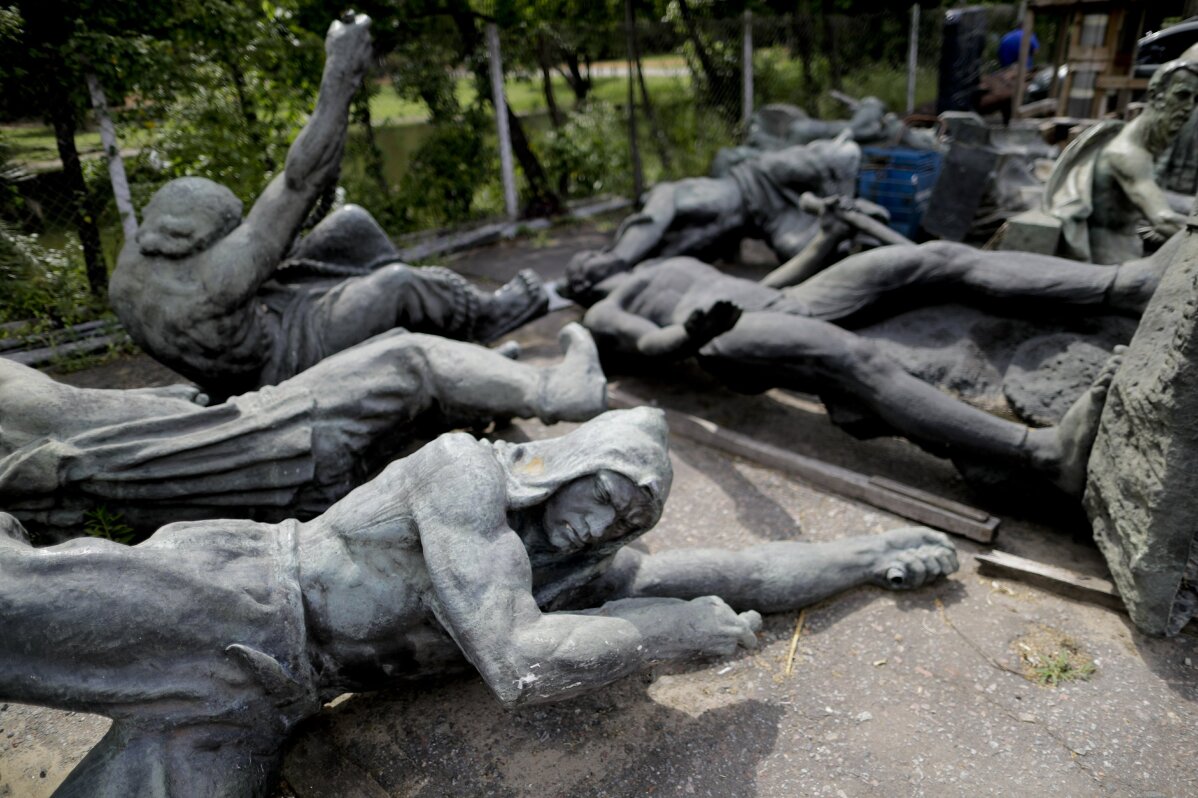 10 of 10

|
In this Nov. 6, 2018 photo, damaged statues lie outside the Monuments and Artworks shop, a hospital for statues that restores missing appendages or even whole statues in Buenos Aires, Argentina. Run by the city's Department of Monuments and Artworks, the facility is dedicated to bringing battered art back to life. (AP Photo/Natacha Pisarenko)
A 'hospital' for statues patches up Argentine monuments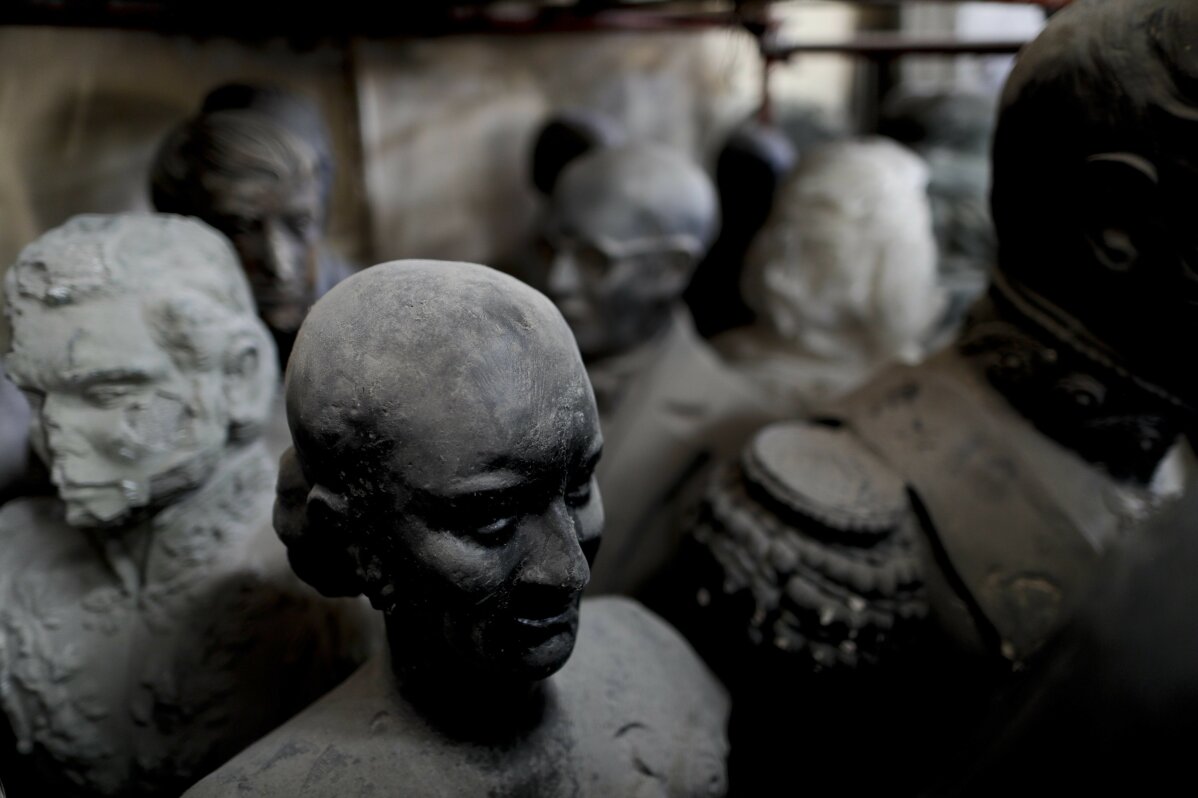 1 of 10

|
In this Nov. 6, 2018 photo, busts sit at a hospital for statues in Buenos Aires, Argentina. City officials say about 20 pieces arrive each month, often dismembered, broken, sprayed with paint or stolen, either as collector's items or for scrap metal. Statues are sometimes damaged by angry protesters or toppled by people just for fun. (AP Photo/Natacha Pisarenko)
1 of 10
In this Nov. 6, 2018 photo, busts sit at a hospital for statues in Buenos Aires, Argentina. City officials say about 20 pieces arrive each month, often dismembered, broken, sprayed with paint or stolen, either as collector's items or for scrap metal. Statues are sometimes damaged by angry protesters or toppled by people just for fun. (AP Photo/Natacha Pisarenko)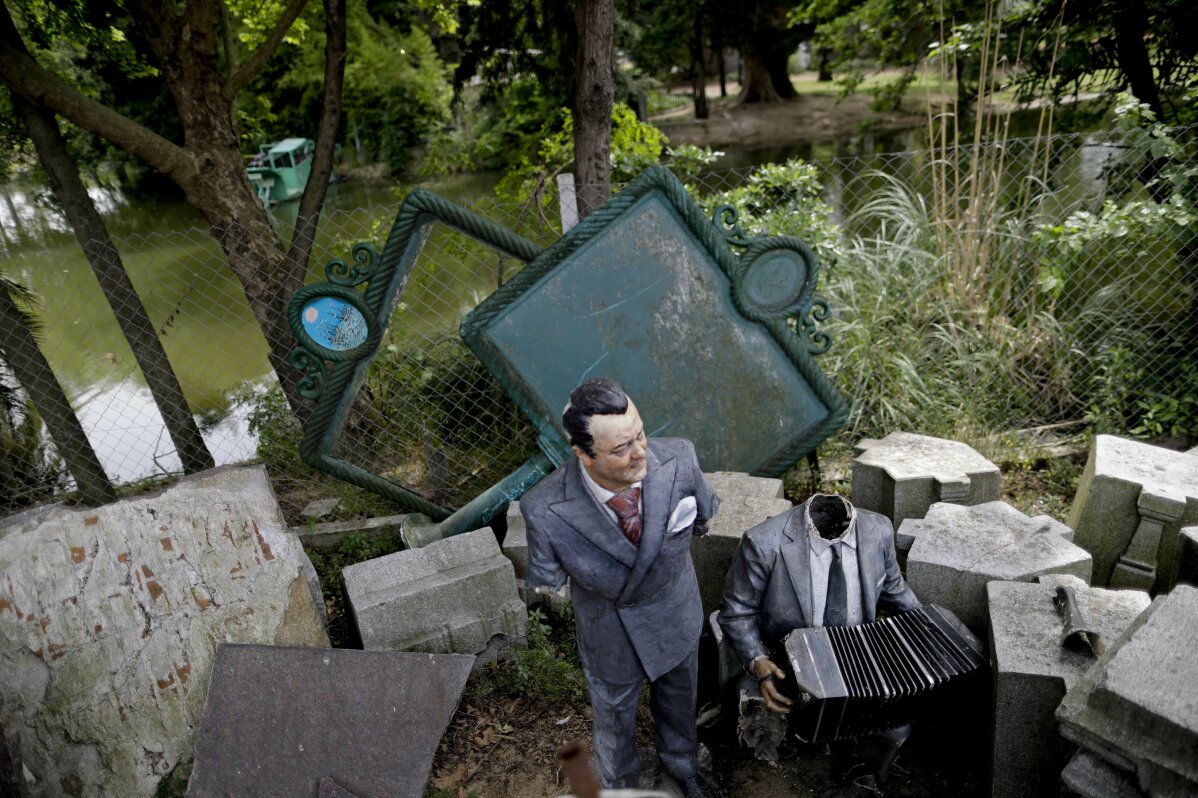 2 of 10

|
In this Nov. 6, 2018 photo, the statues of tango singer Alberto Castillo, left, and musician Anibal Troilo, await repairs at a hospital for statues in Buenos Aires, Argentina. The Argentine musical icons are in a hospital of a sort, where the 2,200 statues and monuments that dot Buenos Aires' parks and plazas are brought when they have suffered vandalism or decay. (AP Photo/Natacha Pisarenko)
2 of 10
In this Nov. 6, 2018 photo, the statues of tango singer Alberto Castillo, left, and musician Anibal Troilo, await repairs at a hospital for statues in Buenos Aires, Argentina. The Argentine musical icons are in a hospital of a sort, where the 2,200 statues and monuments that dot Buenos Aires' parks and plazas are brought when they have suffered vandalism or decay. (AP Photo/Natacha Pisarenko)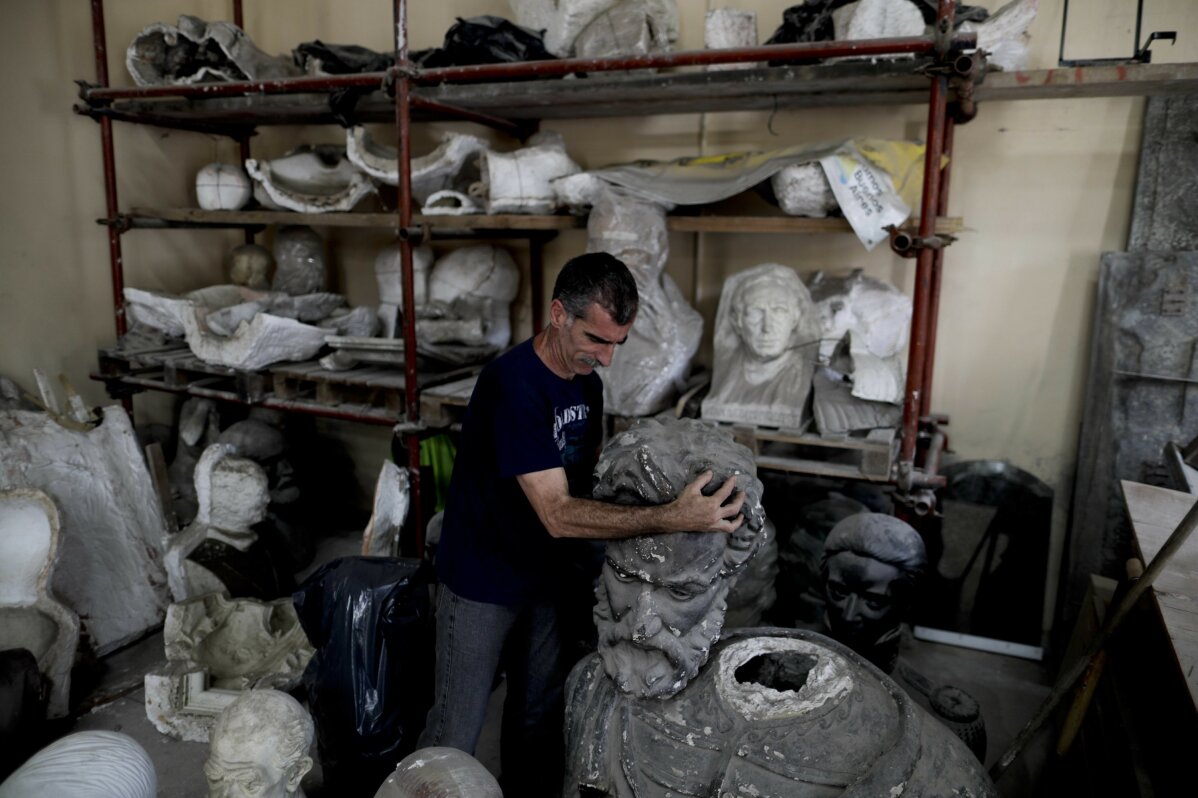 3 of 10

|
In this Nov. 6, 2018 photo, Jorge Grimaz holds a bust of Argentine General Martin Miguel de Guemes at a hospital for statues in Buenos Aires, Argentina. Guemes was also robbed of his bronze saber, so restorers at the workshop recently poured polyester resin into a rubber mold inside a plaster box to craft a replacement. (AP Photo/Natacha Pisarenko)
3 of 10
In this Nov. 6, 2018 photo, Jorge Grimaz holds a bust of Argentine General Martin Miguel de Guemes at a hospital for statues in Buenos Aires, Argentina. Guemes was also robbed of his bronze saber, so restorers at the workshop recently poured polyester resin into a rubber mold inside a plaster box to craft a replacement. (AP Photo/Natacha Pisarenko)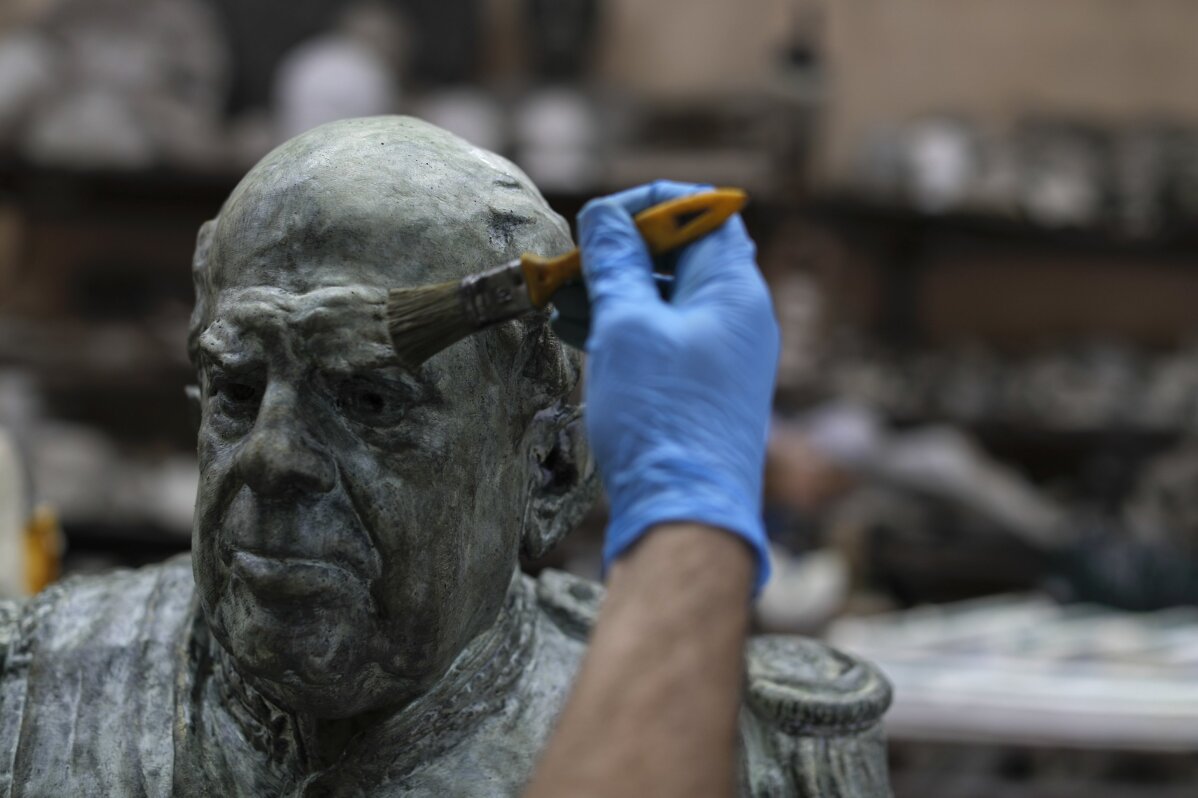 4 of 10

|
In this Nov. 6, 2018 photo, a worker restores a statue of former Argentine President Domingo Faustino Sarmiento at the Monuments and Artworks shop, a "hospital" for statues that restores missing appendages or even whole statues in Buenos Aires, Argentina. The abundance of statuary and monuments, many acquired in France at start of the 20th century, helps set the Argentine capital apart from other Latin American cities. (AP Photo/Natacha Pisarenko)
4 of 10
In this Nov. 6, 2018 photo, a worker restores a statue of former Argentine President Domingo Faustino Sarmiento at the Monuments and Artworks shop, a "hospital" for statues that restores missing appendages or even whole statues in Buenos Aires, Argentina. The abundance of statuary and monuments, many acquired in France at start of the 20th century, helps set the Argentine capital apart from other Latin American cities. (AP Photo/Natacha Pisarenko)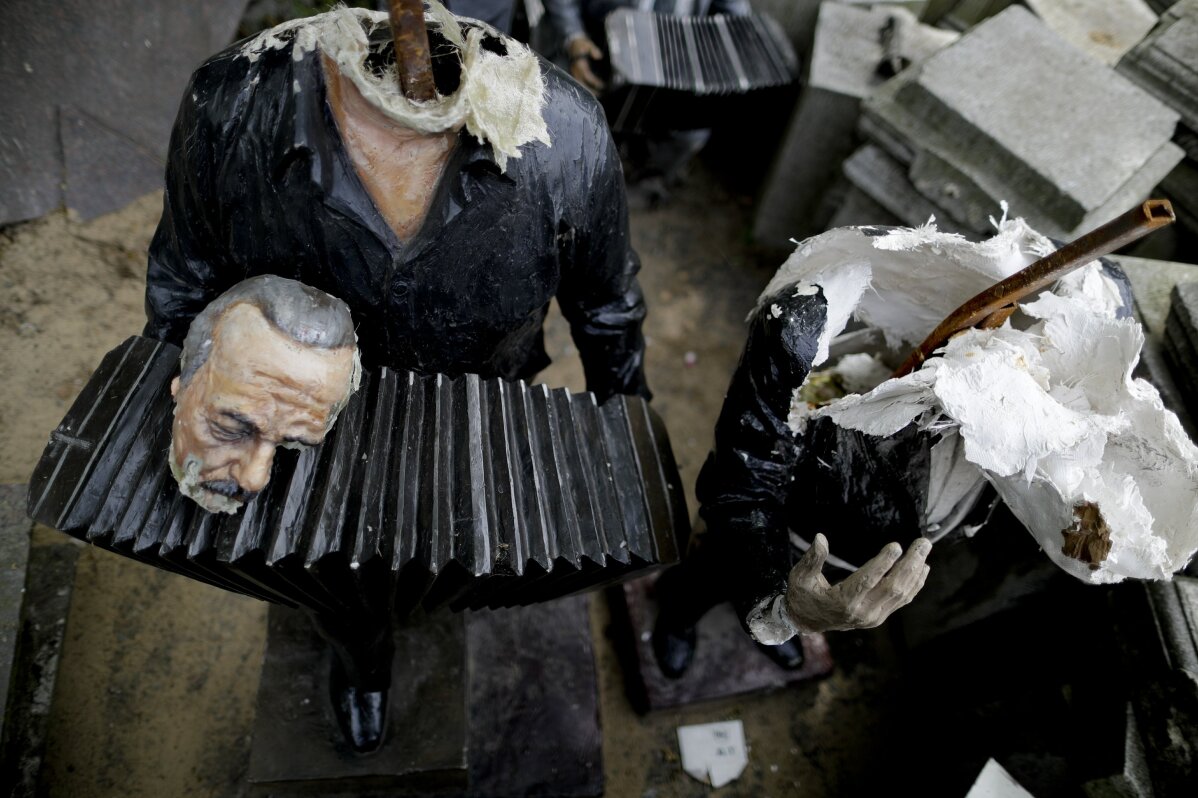 5 of 10

|
In this Nov. 6, 2018 photo, a fiber glass statue of tango legend Astor Piazzola awaits repair at a hospital for statues in Buenos Aires, Argentina. The attacks on sculptures have increased as frustration simmers over Argentina's economic crisis. (AP Photo/Natacha Pisarenko)
5 of 10
In this Nov. 6, 2018 photo, a fiber glass statue of tango legend Astor Piazzola awaits repair at a hospital for statues in Buenos Aires, Argentina. The attacks on sculptures have increased as frustration simmers over Argentina's economic crisis. (AP Photo/Natacha Pisarenko)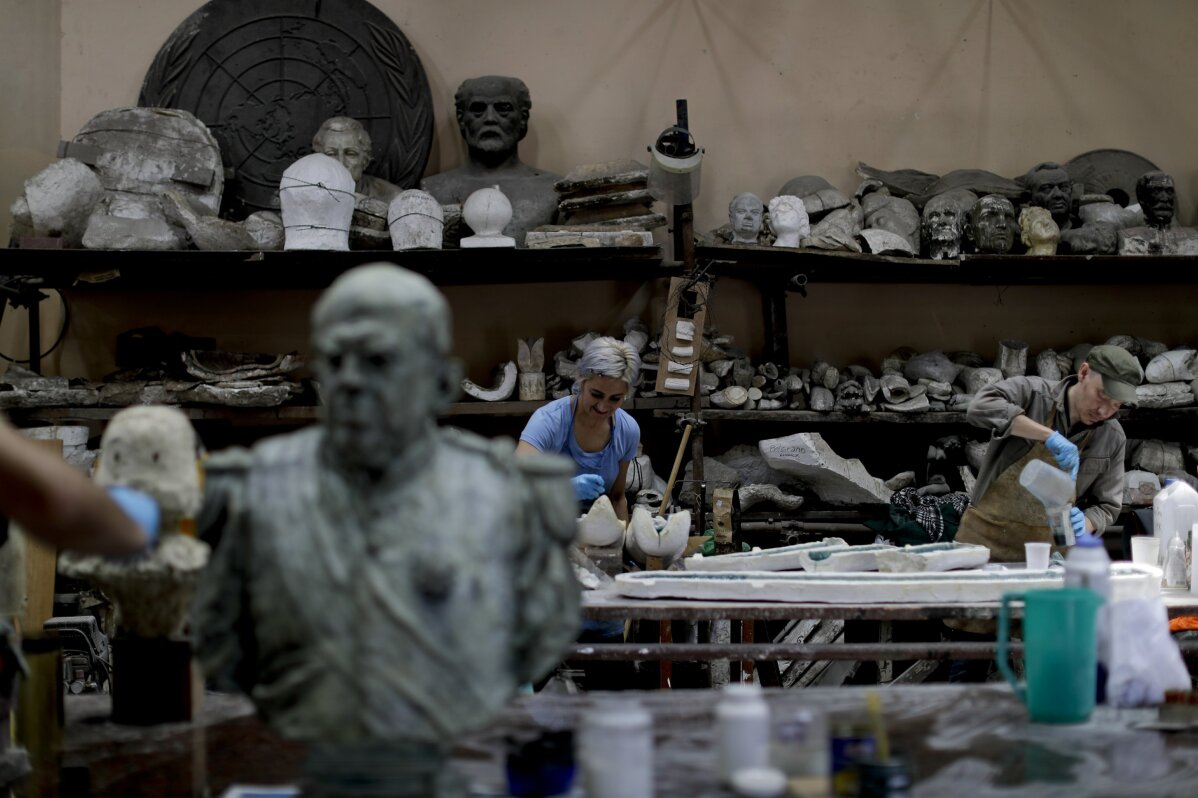 6 of 10

|
In this Nov. 6, 2018 photo, workers restore statues at a hospital for statues in Buenos Aires, Argentina. At the workshop, more than a dozen restorers repair stone and marble, clean away graffiti and mold missing appendages. (AP Photo/Natacha Pisarenko)
6 of 10
In this Nov. 6, 2018 photo, workers restore statues at a hospital for statues in Buenos Aires, Argentina. At the workshop, more than a dozen restorers repair stone and marble, clean away graffiti and mold missing appendages. (AP Photo/Natacha Pisarenko)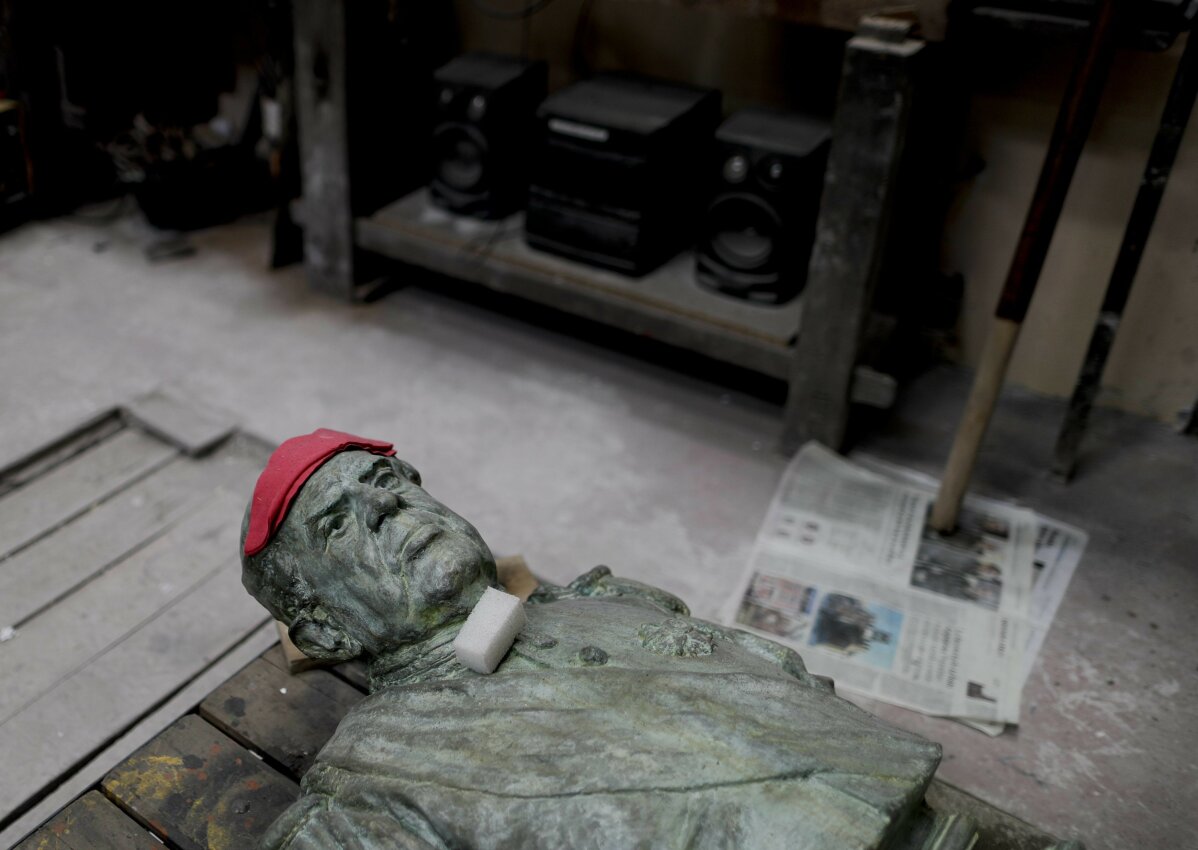 7 of 10

|
In this Nov. 6, 2018 photo, a bust of former Argentine president Domingo Faustino Sarmiento is set down for repairs at a hospital for statues in Buenos Aires, Argentina. Pollution and the humidity of the Argentine capital located on the banks of the Rio de la Plata, affects the sculptures. But vandalism is by far their worst enemy. (AP Photo/Natacha Pisarenko)
7 of 10
In this Nov. 6, 2018 photo, a bust of former Argentine president Domingo Faustino Sarmiento is set down for repairs at a hospital for statues in Buenos Aires, Argentina. Pollution and the humidity of the Argentine capital located on the banks of the Rio de la Plata, affects the sculptures. But vandalism is by far their worst enemy. (AP Photo/Natacha Pisarenko)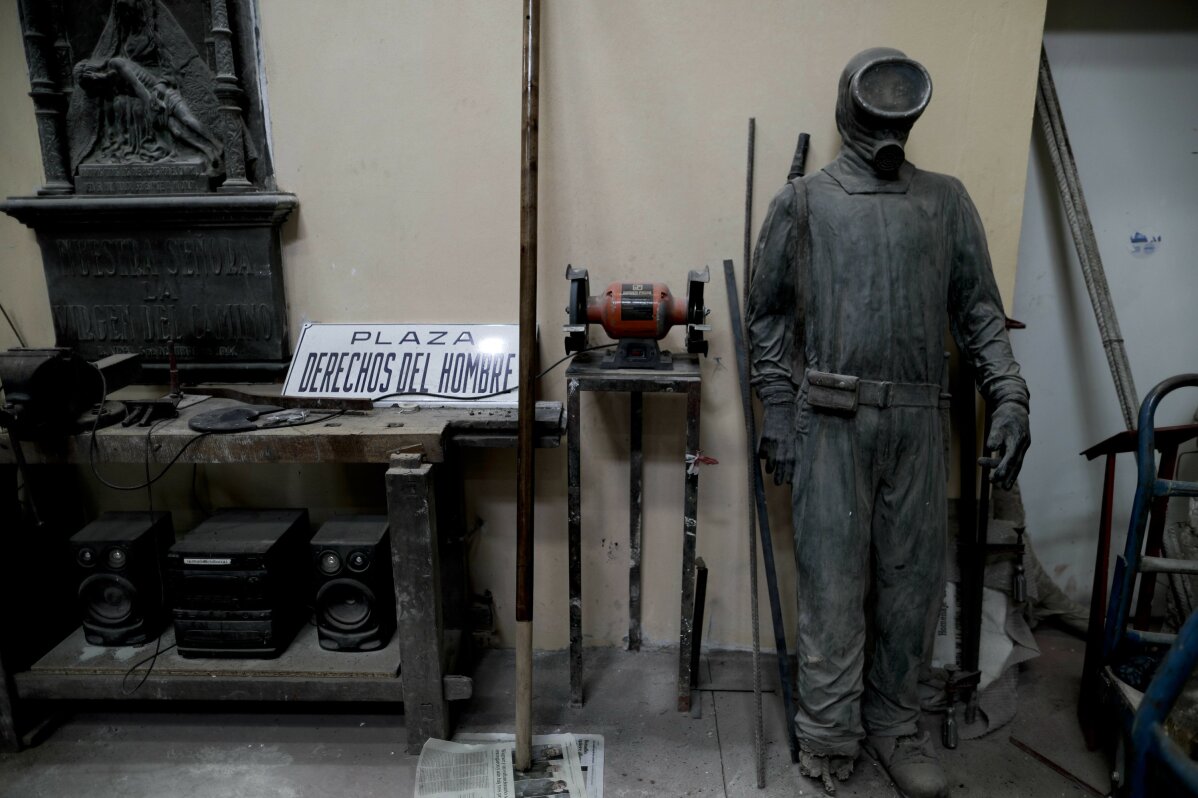 8 of 10

|
In this Nov. 6, 2018 photo, a statue of El Eternauta, a science fiction comic character created by Argentine comic strip writer Hector German Oesterheldt, stands inside the Monuments and Artworks shop, a "hospital" for statues that restores missing appendages or even whole statues in Buenos Aires, Argentina. Pollution and the humidity of the Argentine capital located on the banks of the Rio de la Plata, affects the city's sculptures, but vandalism is by far their worst enemy. (AP Photo/Natacha Pisarenko)
8 of 10
In this Nov. 6, 2018 photo, a statue of El Eternauta, a science fiction comic character created by Argentine comic strip writer Hector German Oesterheldt, stands inside the Monuments and Artworks shop, a "hospital" for statues that restores missing appendages or even whole statues in Buenos Aires, Argentina. Pollution and the humidity of the Argentine capital located on the banks of the Rio de la Plata, affects the city's sculptures, but vandalism is by far their worst enemy. (AP Photo/Natacha Pisarenko)
9 of 10

|
In this Nov. 6, 2018 photo, a statue of singer Luis Alberto Spinetta stands restored at a hospital for statues in Buenos Aires, Argentina Tuesday, Nov. 6, 2018. Artists are busier than ever using old photographs to repair and restore some of Buenos Aires' multitude of vandalized statues and public art works at the city's Hospital for Statues. (AP Photo/Natacha Pisarenko)
9 of 10
In this Nov. 6, 2018 photo, a statue of singer Luis Alberto Spinetta stands restored at a hospital for statues in Buenos Aires, Argentina Tuesday, Nov. 6, 2018. Artists are busier than ever using old photographs to repair and restore some of Buenos Aires' multitude of vandalized statues and public art works at the city's Hospital for Statues. (AP Photo/Natacha Pisarenko)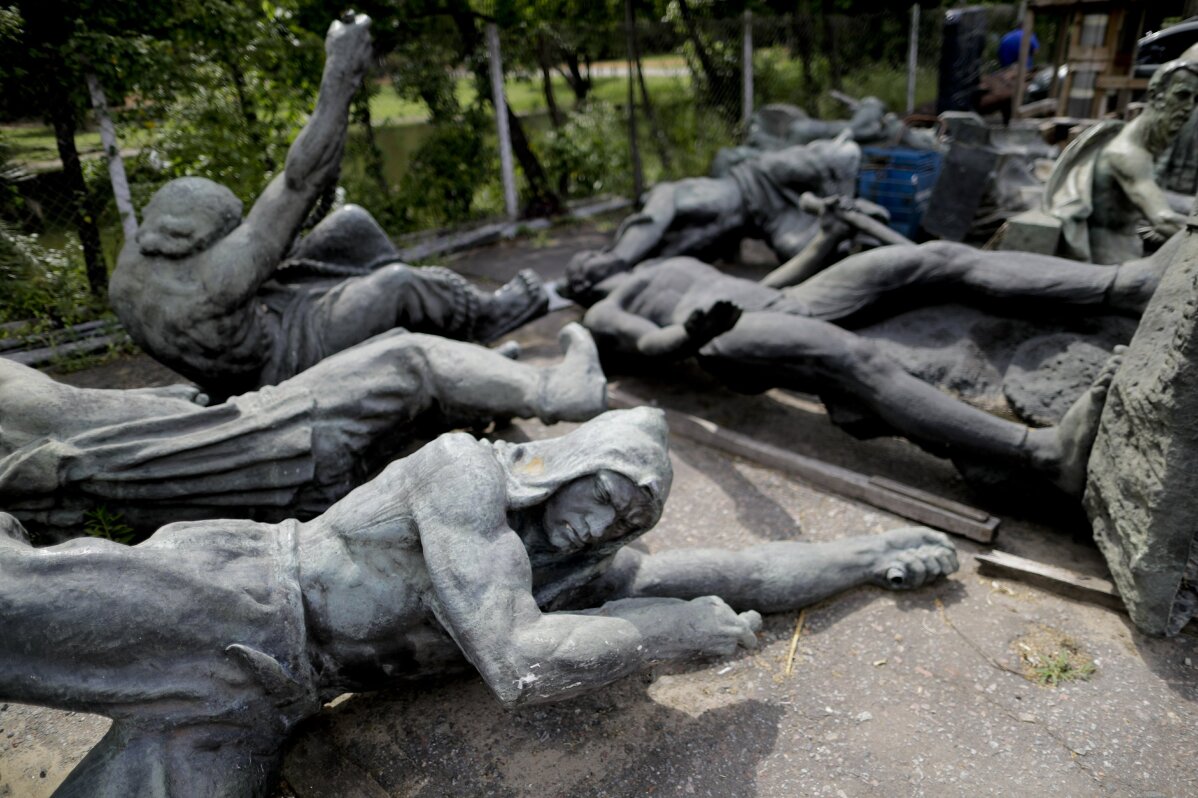 10 of 10

|
In this Nov. 6, 2018 photo, damaged statues lie outside the Monuments and Artworks shop, a hospital for statues that restores missing appendages or even whole statues in Buenos Aires, Argentina. Run by the city's Department of Monuments and Artworks, the facility is dedicated to bringing battered art back to life. (AP Photo/Natacha Pisarenko)
10 of 10
In this Nov. 6, 2018 photo, damaged statues lie outside the Monuments and Artworks shop, a hospital for statues that restores missing appendages or even whole statues in Buenos Aires, Argentina. Run by the city's Department of Monuments and Artworks, the facility is dedicated to bringing battered art back to life. (AP Photo/Natacha Pisarenko)
BUENOS AIRES, Argentina (AP) — A headless Anibal Troilo, one of the tango's greatest performers, rests on a seat holding his concertina. Beside him, tango singer Alberto Castillo smiles, though he lacks arms.
The Argentine musical icons are in a hospital of a sort, where the 2,200 statues and monuments that dot Buenos Aires' parks and plazas are brought when they have suffered vandalism or decay.
City officials say about 20 pieces arrive each month — often dismembered, broken, sprayed with paint or stolen, either as collector's items or for scrap metal. Statues are sometimes damaged by angry protesters or toppled by people just for fun.
At the workshop, more than a dozen restorers repair stone and marble, clean away graffiti and mold missing appendages.
"We'd like to have less of this and focus only on preservation of outdoor works, restorations that would be due to age, and not to damage done intentionally," said Jorge Grimaz, who coordinates operations at the city's Monuments and Artworks shop.
The abundance of statuary and monuments, many acquired in France at the beginning of the 20th century, helps set the Argentine capital and set it apart from other Latin American cities. Pollution and the humidity of the Argentine capital located on the banks of the Rio de la Plata, affects the sculptures. But vandalism is by far their worst enemy.
The attacks on sculptures have increased as frustration simmers over Argentina's economic crisis.
A copy of Auguste Rodin's "The Thinker," located in the square in front of the Argentine Congress, has suffered the wrath of demonstrators who gather there to protest against politicians. The statue, cast in bronze from the original mold and signed by the French sculptor, was recently elevated on a pedestal to keep it away from the spray paint after a fence failed to safeguard it.
"We've had a lot of protests lately and the vandalism is on the rise," Grimaz said.
Even a statue of Argentine soccer star Lionel Messi has been vandalized — twice. Last year, the bronze statue was first cut in half at the waist and later chopped off just above the ankles. A tennis racket was torn from the hands of a sculpture of Argentine tennis great Gabriela Sabatini in 2014.
Other Argentine heroes and historical figures have suffered a similar fate.
Revolutionary leader Martin Guemes was robbed of his bronze saber, so restorers at the workshop recently poured polyester resin into a rubber mold inside a plaster box to craft a replacement.
The shelves behind them held dozens of heads, hands and other appendages awaiting attachment to damaged monuments. The head of Chile's Nobel Prize-winning poet Pablo Neruda was covered on a stand near the head of former Argentine President Juan Peron.
A monument to South American independence leader Simon Bolivar has been sprayed so many times with graffiti that restorers have to clean it every 15 days.
The bronze pieces in a reproduction of "The She-Wolf" sculpture depicting the mythical founding of Rome, with Romulus and Remus, were stolen and have been replaced by polyester resin that has no resale value.
The marble horns of two deer in a marble statue of the goddess Diana were broken off by straining dogs that had been leashed to them.
Only one figure seems to be sacred and off limits to everyone: Mother Teresa. A sculpture of the patron saint of the Archdiocese of Calcutta stands at Lezama park in Buenos Aires.
"They've never touched it," said Grimaz. "More than 10 years ago have passed and there's not a single work of art in that park that has not been at least stained with graffiti."