President seals Finland's NATO bid by signing required laws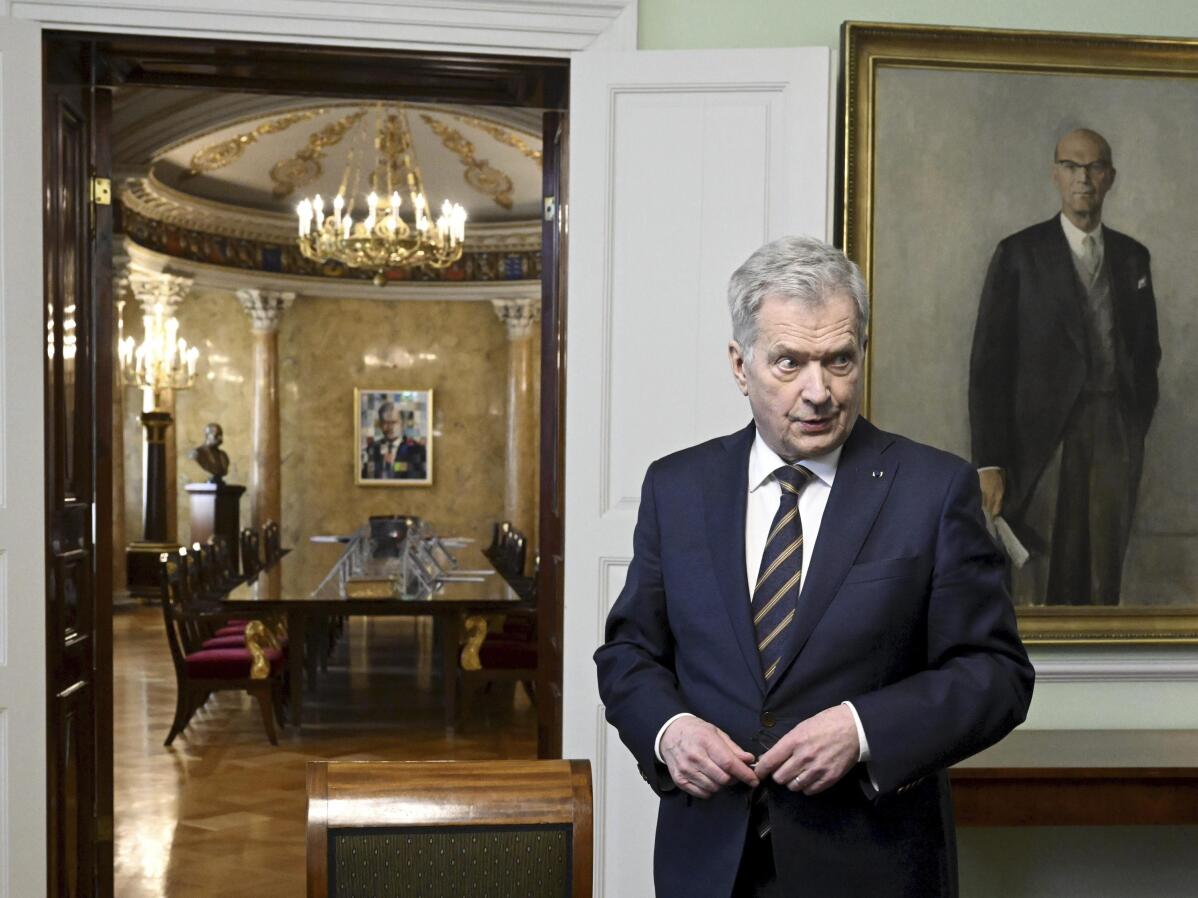 1 of 5

|
Finland's President Sauli Niinisto after signing Finland's national Nato legislation in Helsinki, Finland, Thursday March 23, 2023. The Finnish president has sealed the Nordic country's historic bid to join NATO by signing into laws the required legal amendments needed for membership in the military alliance. The president's move Thursday means Finland is now awaiting approval from Turkey and Hungary, the only two of NATO's 30 existing members that haven't ratified its bid. (Markku Ulander/Lehtikuva via AP)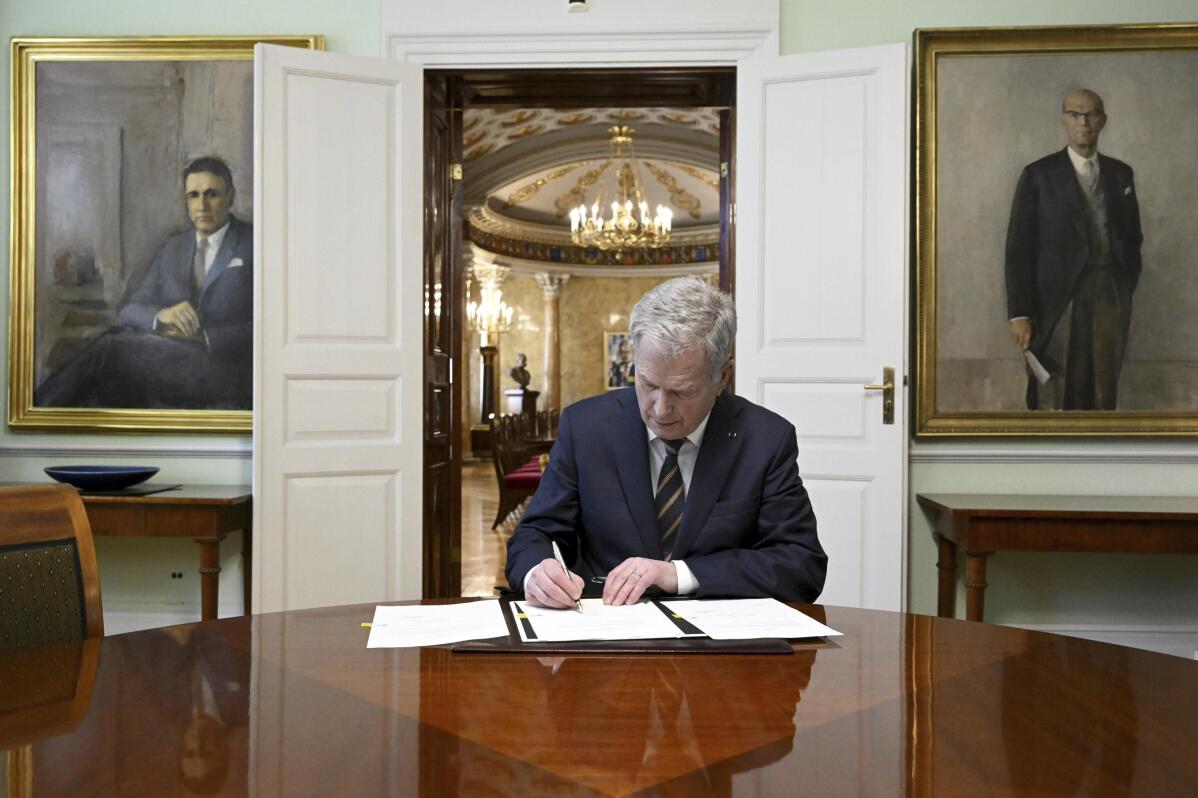 2 of 5

|
Finland's President Sauli Niinisto signs Finland's national Nato legislation in Helsinki, Finland, Thursday March 23, 2023. The Finnish president has sealed the Nordic country's historic bid to join NATO by signing into laws the required legal amendments needed for membership in the military alliance. The president's move Thursday means Finland is now awaiting approval from Turkey and Hungary, the only two of NATO's 30 existing members that haven't ratified its bid. (Markku Ulander/Lehtikuva via AP)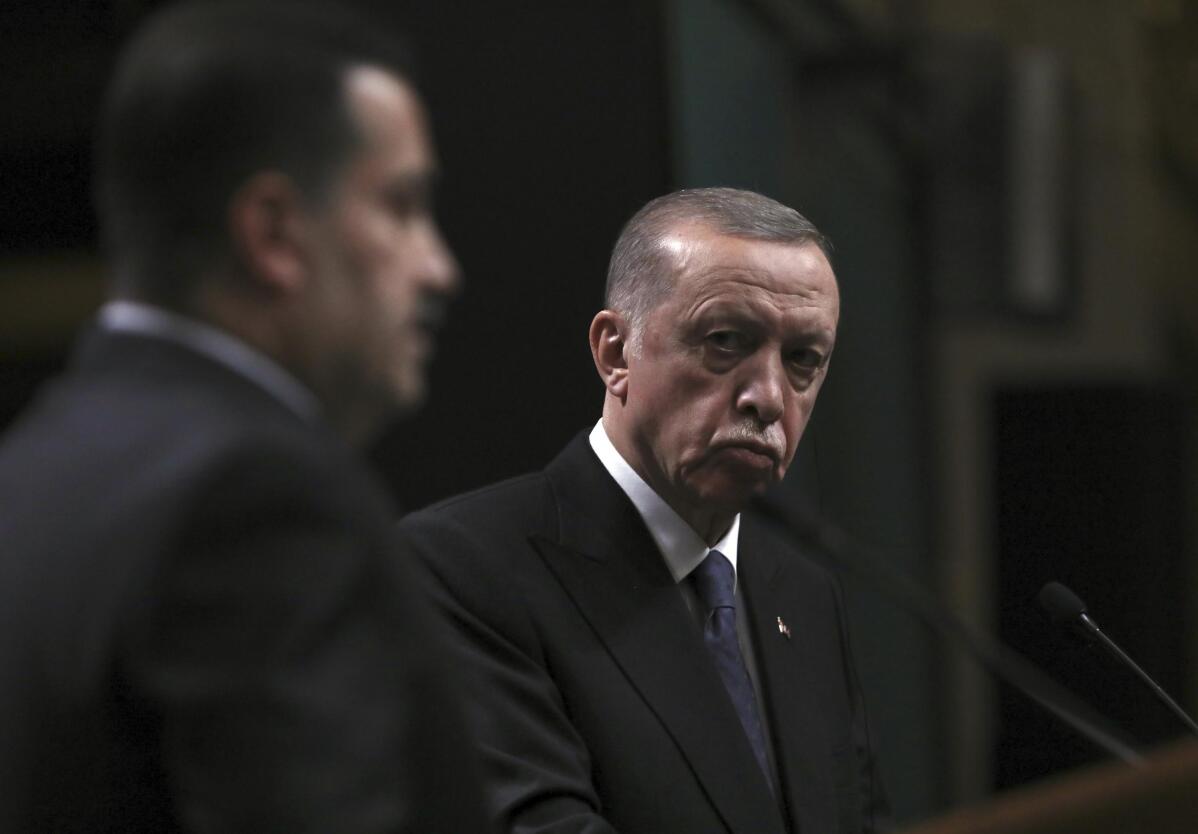 3 of 5

|
Turkey's President Recep Tayyip Erdogan, right, and Iraq's Prime Minister Mohammed Shia al-Sudani speak to the media after their talks, in Ankara, Turkey, Tuesday, March 21, 2023. (AP Photo/Burhan Ozbilici)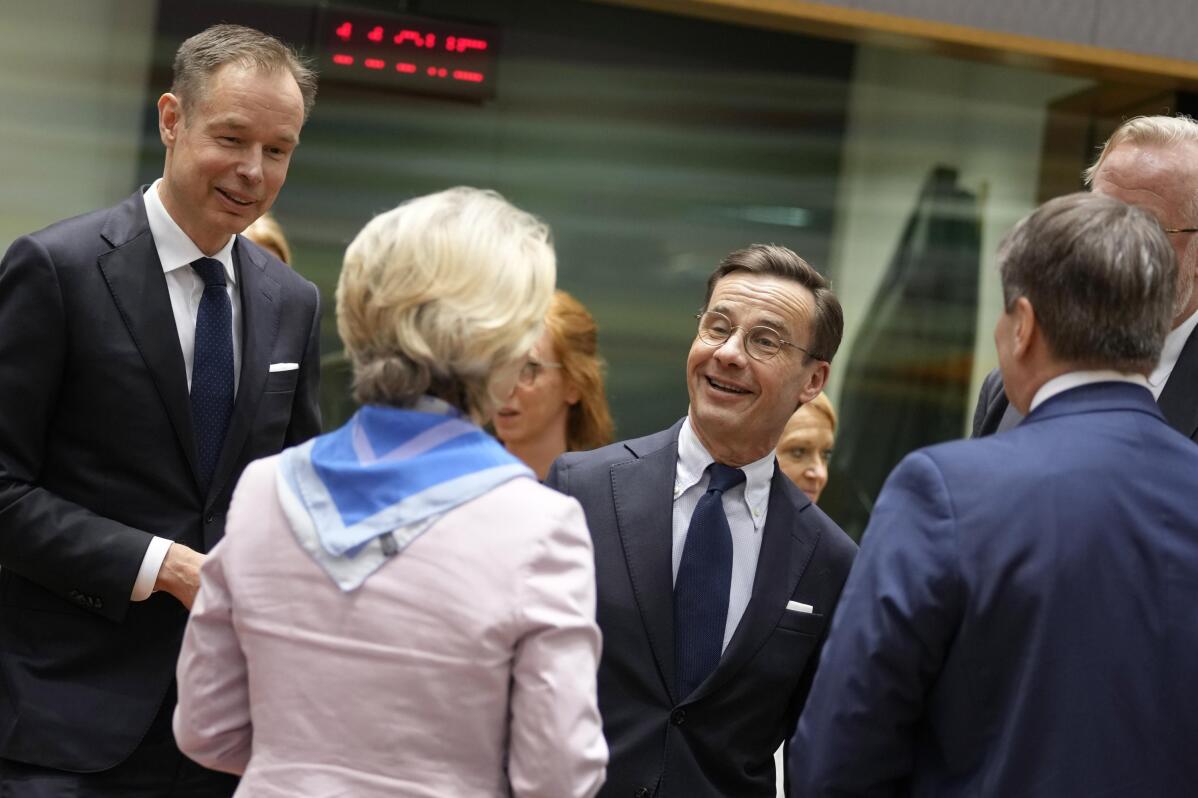 4 of 5

|
President of Business Europe Fredrik Persson, left, and Sweden's Prime Minister Ulf Kristersson, center, speak with European Commission President Ursula von der Leyen, second left, during a tripartite social summit ahead of an EU summit at the European Council building in Brussels, Wednesday, March 22, 2023. European Union leaders meet Thursday for a two-day summit to discuss the latest developments in Ukraine, the economy, energy and other topics including migration. (AP Photo/Virginia Mayo)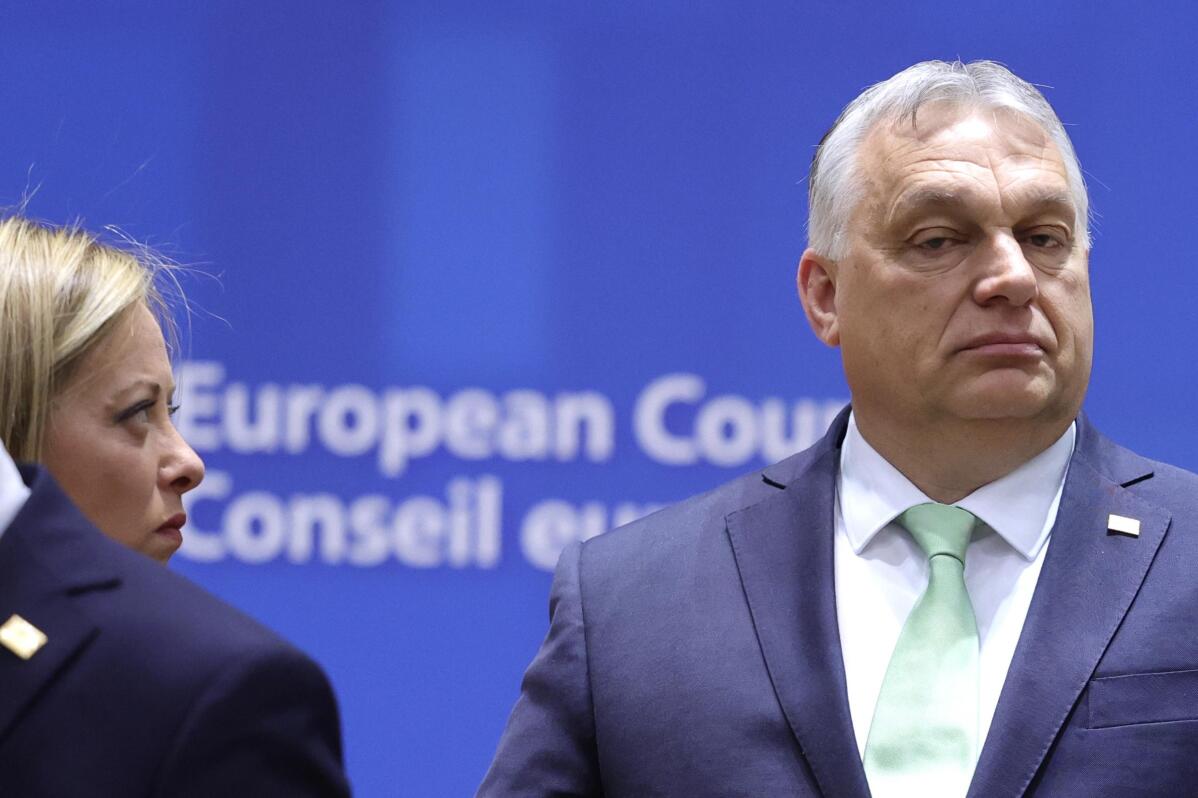 5 of 5

|
Hungary's Prime Minister Viktor Orban, right, and Italy's Prime Minister Giorgia Meloni attend a round table meeting at an EU summit in Brussels, Thursday, March 23, 2023. European Union leaders meet Thursday for a two-day summit to discuss the latest developments in Ukraine, the economy, energy and other topics including migration. (AP Photo/Olivier Matthys)
President seals Finland's NATO bid by signing required laws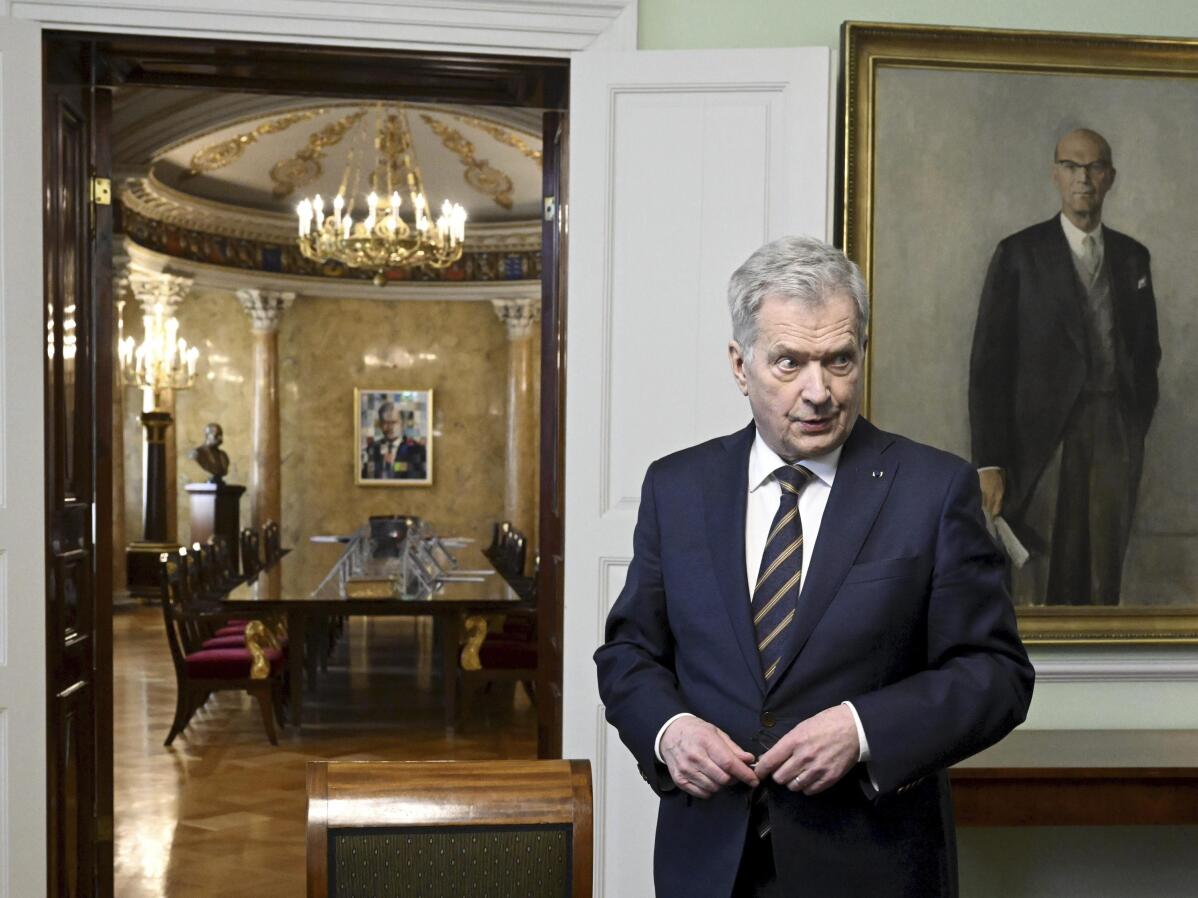 1 of 5

|
Finland's President Sauli Niinisto after signing Finland's national Nato legislation in Helsinki, Finland, Thursday March 23, 2023. The Finnish president has sealed the Nordic country's historic bid to join NATO by signing into laws the required legal amendments needed for membership in the military alliance. The president's move Thursday means Finland is now awaiting approval from Turkey and Hungary, the only two of NATO's 30 existing members that haven't ratified its bid. (Markku Ulander/Lehtikuva via AP)
1 of 5
Finland's President Sauli Niinisto after signing Finland's national Nato legislation in Helsinki, Finland, Thursday March 23, 2023. The Finnish president has sealed the Nordic country's historic bid to join NATO by signing into laws the required legal amendments needed for membership in the military alliance. The president's move Thursday means Finland is now awaiting approval from Turkey and Hungary, the only two of NATO's 30 existing members that haven't ratified its bid. (Markku Ulander/Lehtikuva via AP)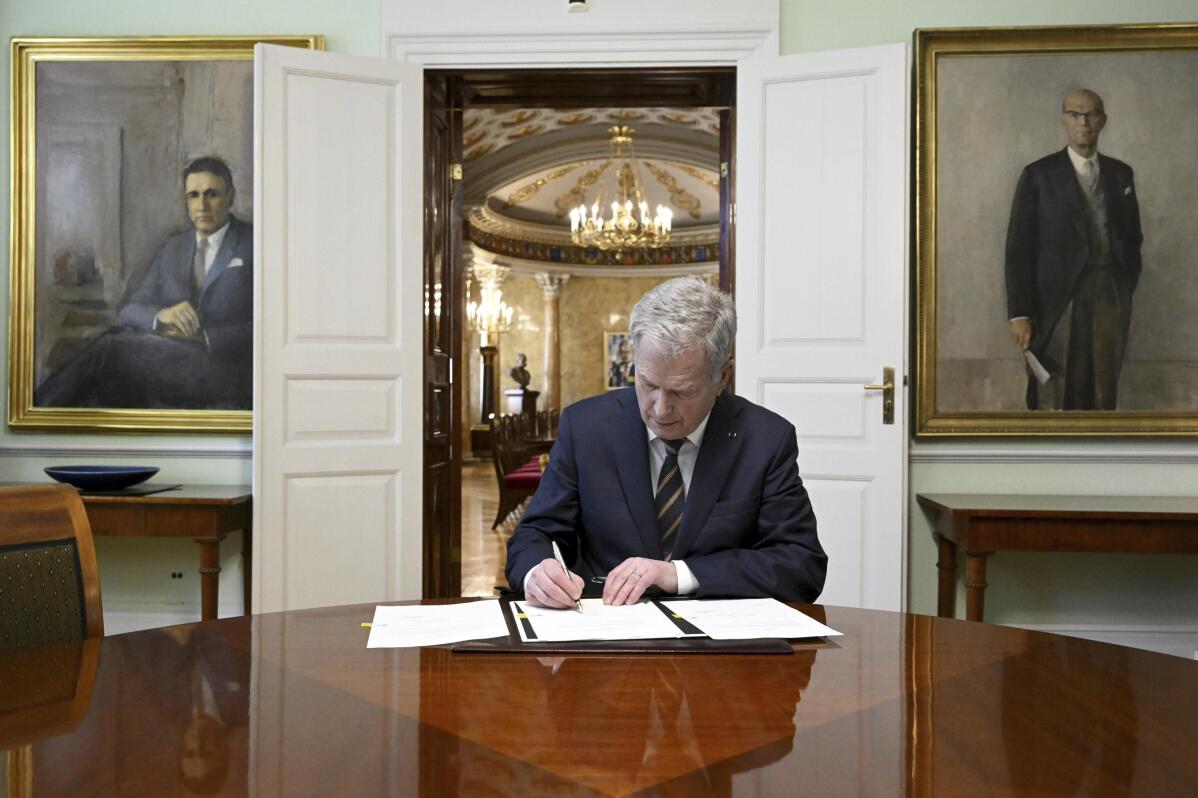 2 of 5

|
Finland's President Sauli Niinisto signs Finland's national Nato legislation in Helsinki, Finland, Thursday March 23, 2023. The Finnish president has sealed the Nordic country's historic bid to join NATO by signing into laws the required legal amendments needed for membership in the military alliance. The president's move Thursday means Finland is now awaiting approval from Turkey and Hungary, the only two of NATO's 30 existing members that haven't ratified its bid. (Markku Ulander/Lehtikuva via AP)
2 of 5
Finland's President Sauli Niinisto signs Finland's national Nato legislation in Helsinki, Finland, Thursday March 23, 2023. The Finnish president has sealed the Nordic country's historic bid to join NATO by signing into laws the required legal amendments needed for membership in the military alliance. The president's move Thursday means Finland is now awaiting approval from Turkey and Hungary, the only two of NATO's 30 existing members that haven't ratified its bid. (Markku Ulander/Lehtikuva via AP)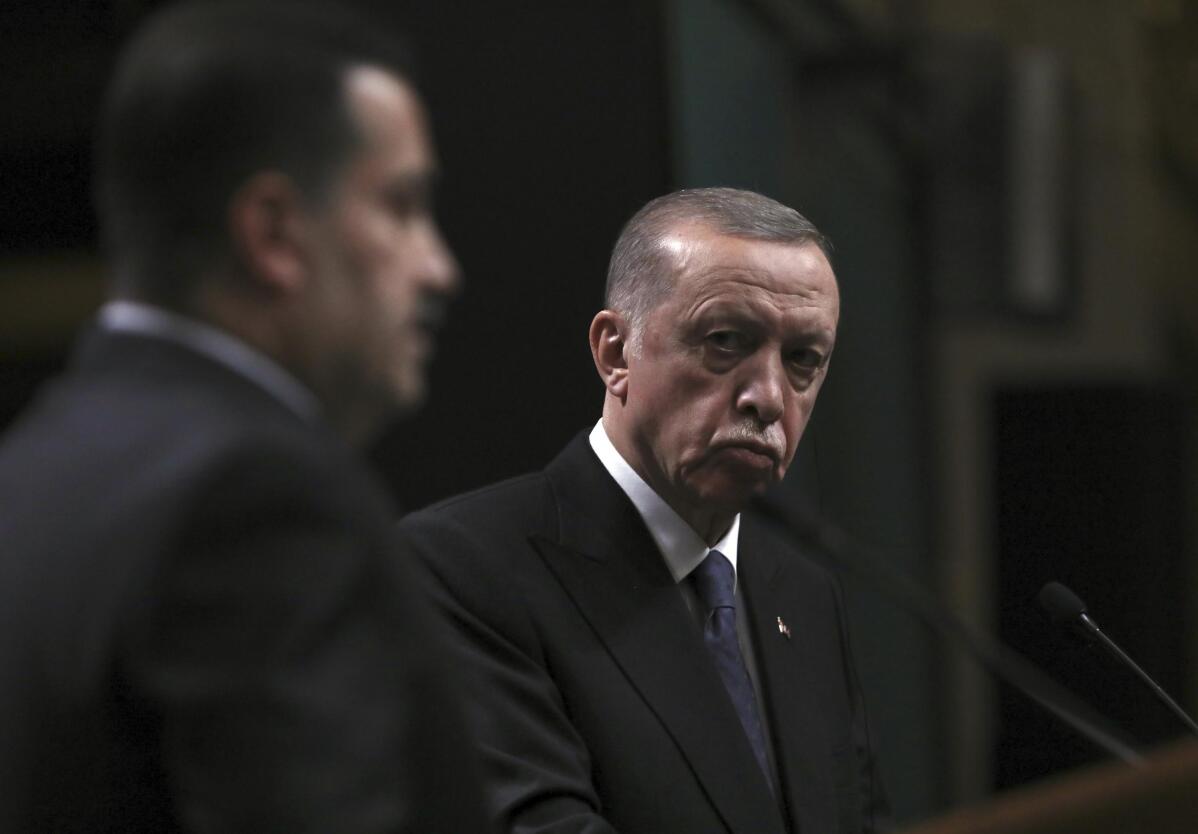 3 of 5

|
Turkey's President Recep Tayyip Erdogan, right, and Iraq's Prime Minister Mohammed Shia al-Sudani speak to the media after their talks, in Ankara, Turkey, Tuesday, March 21, 2023. (AP Photo/Burhan Ozbilici)
3 of 5
Turkey's President Recep Tayyip Erdogan, right, and Iraq's Prime Minister Mohammed Shia al-Sudani speak to the media after their talks, in Ankara, Turkey, Tuesday, March 21, 2023. (AP Photo/Burhan Ozbilici)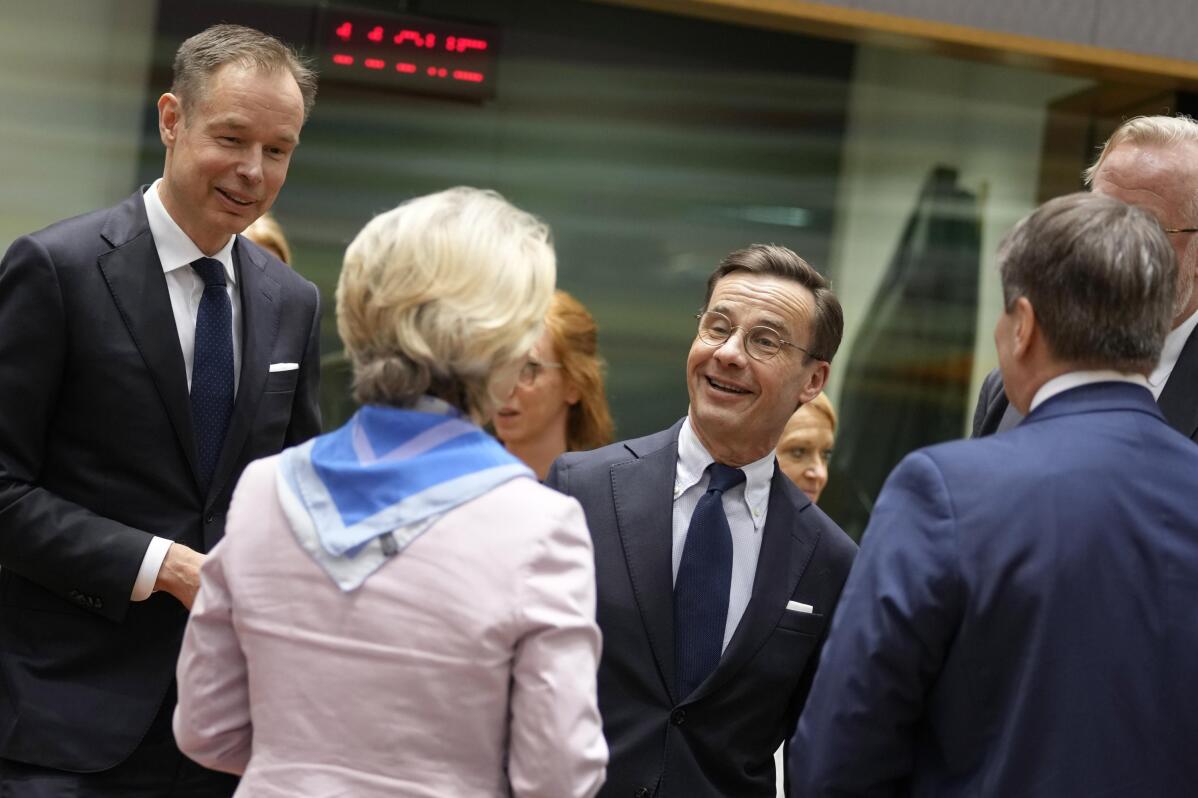 4 of 5

|
President of Business Europe Fredrik Persson, left, and Sweden's Prime Minister Ulf Kristersson, center, speak with European Commission President Ursula von der Leyen, second left, during a tripartite social summit ahead of an EU summit at the European Council building in Brussels, Wednesday, March 22, 2023. European Union leaders meet Thursday for a two-day summit to discuss the latest developments in Ukraine, the economy, energy and other topics including migration. (AP Photo/Virginia Mayo)
4 of 5
President of Business Europe Fredrik Persson, left, and Sweden's Prime Minister Ulf Kristersson, center, speak with European Commission President Ursula von der Leyen, second left, during a tripartite social summit ahead of an EU summit at the European Council building in Brussels, Wednesday, March 22, 2023. European Union leaders meet Thursday for a two-day summit to discuss the latest developments in Ukraine, the economy, energy and other topics including migration. (AP Photo/Virginia Mayo)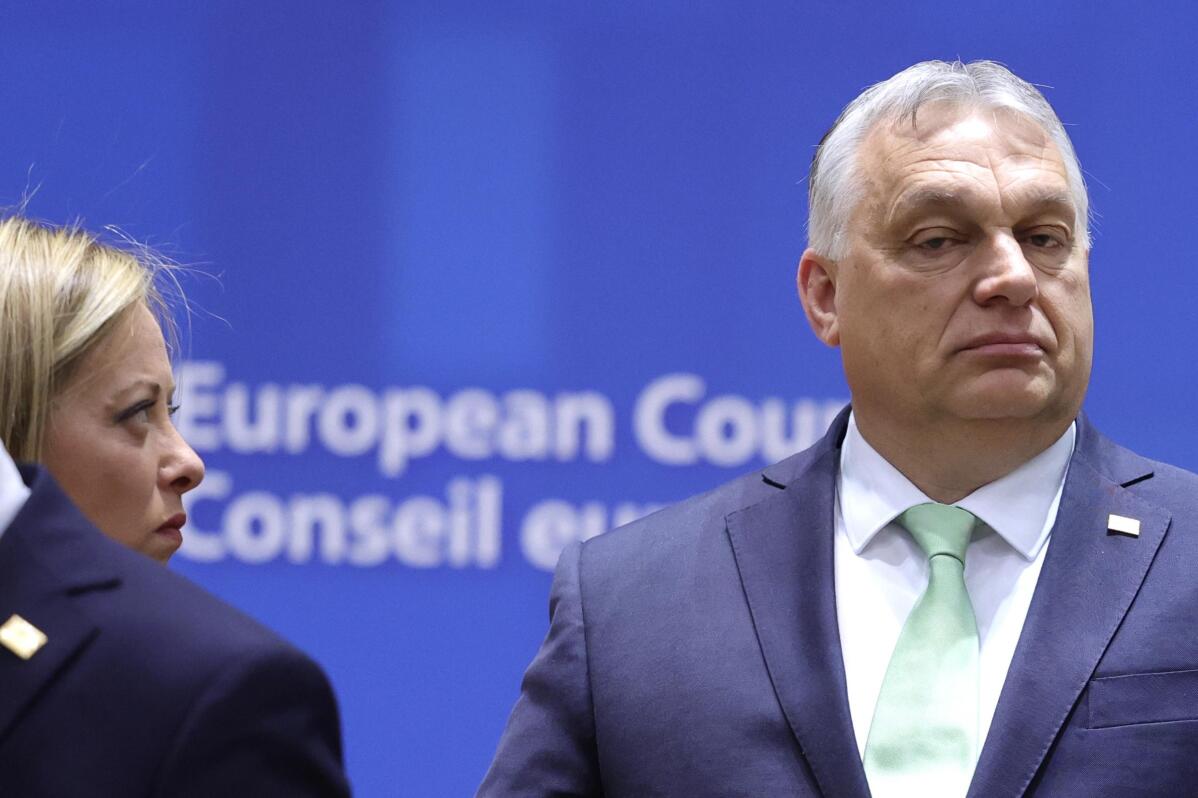 5 of 5

|
Hungary's Prime Minister Viktor Orban, right, and Italy's Prime Minister Giorgia Meloni attend a round table meeting at an EU summit in Brussels, Thursday, March 23, 2023. European Union leaders meet Thursday for a two-day summit to discuss the latest developments in Ukraine, the economy, energy and other topics including migration. (AP Photo/Olivier Matthys)
5 of 5
Hungary's Prime Minister Viktor Orban, right, and Italy's Prime Minister Giorgia Meloni attend a round table meeting at an EU summit in Brussels, Thursday, March 23, 2023. European Union leaders meet Thursday for a two-day summit to discuss the latest developments in Ukraine, the economy, energy and other topics including migration. (AP Photo/Olivier Matthys)
HELSINKI (AP) — The Finnish president on Thursday formally sealed the Nordic country's historic bid to join NATO by signing into law the required national legal amendments needed for membership in the Western military alliance.
The move by President Sauli Niinistö means Finland has completed national measures needed to join NATO, and is now just awaiting approval from Turkey and Hungary, the only two of NATO's 30 existing members that haven't ratified its bid.
In Turkey Thursday, a parliamentary committee approved Finland's NATO application, the state-run Anadolu Agency reported, bringing Helsinki a step closer to joining the alliance.
Members of the Turkish parliament's committee on foreign affairs voted in favor of Finland's bid a week after Turkish President Recep Tayyip Erdogan said his country would move forward with ratifying it.
Finland's application could be ratified by the full Turkish assembly, where Erdogan's party and its allies hold a majority, as early as next week. Turkey has presidential and parliamentary elections scheduled for May 14, and ratification is expected before that.
Admitting new countries requires unanimous approval from the alliance members, and the parliaments in Ankara and Budapest haven't yet given the green light.
After delays of several months, the Hungarian parliament is finally expected to approve Finland's accession on March 27.
Finland's 200-seat Eduskunta legislature endorsed the country's NATO bid with an overwhelming 184-7 majority on March 1.
Finland and neighboring Sweden applied to become NATO members 10 months ago in the wake of Russia's invasion of Ukraine, abandoning decades of nonalignment.
This is seen by many experts as one of the biggest geopolitical ramifications of Moscow's war in Ukraine. Finland's border with Russia runs for a total of 1,340 kilometers (832 miles).
Finland and Sweden, which are close partners culturally, economically and politically, submitted their bids together and planned to enter the alliance at the same time.
Sweden's accession, however, has stalled due to opposition from Turkey, and Erdogan said last week his country wouldn't ratify membership before disputes between Ankara and Stockholm are solved.
"From the start of this process, Finland was more prepared and determined to meet our country's sensitivities and expectations," Turkey's Deputy Foreign Minister Burak Akcapar said Thursday, as quoted by Anadolu Agency, explaining the different approach by Ankara to NATO bids by Helsinki and Stockholm.
"We believe that Finland's membership will strengthen the NATO alliance, contribute to the alliance's burden-sharing against threats as well as to NATO's deterrence, to regional security and to our determination to fight terrorism," he added.
It isn't clear when Budapest will ratify Stockholm's bid.
In Brussels, Sweden's Prime Minister Ulf Kristersson said Thursday he would ask Hungarian Prime Minister Viktor Orbán why Hungary intends to ratify Finland's NATO application before Sweden's.
"I will ask the question for what reason they are now announcing that they will separate Sweden from Finland. These are signals that we have not received before," Kristersson told reporters on the sidelines of a European Union summit.
On Wednesday, Swedish lawmakers overwhelmingly voted in favor of Sweden joining NATO, signing off on the country's membership along with the required legislation.
_____
Suzan Frazer in Ankara, Turkey and Jan M. Olsen in Copenhagen, Denmark, contributed to this story.