Firefighters wary despite gains against California fire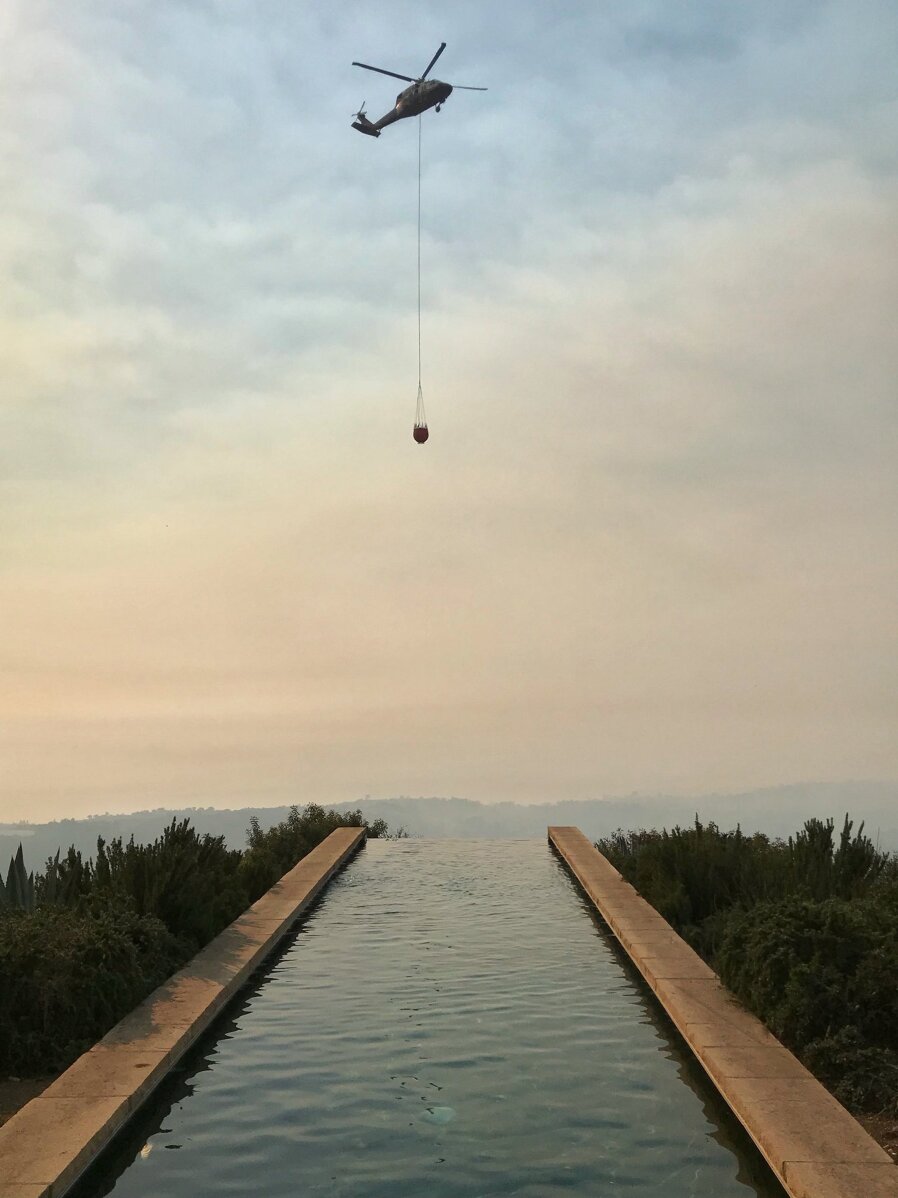 1 of 5

|
In this photo provided by the Santa Barbara County Fire Department, a helicopter making a water drop run flies over an infinity pool behind a home off Bella Vista Dr. in Montecito, Calif., Wednesday, Dec. 13, 2017. After announcing increased containment on the Thomas fire, one of the biggest wildfires in California history, officials Wednesday warned that communities remain at risk and the threat could increase as unpredictable winds whip up again. (Mike Eliason/Santa Barbara County Fire Department via AP)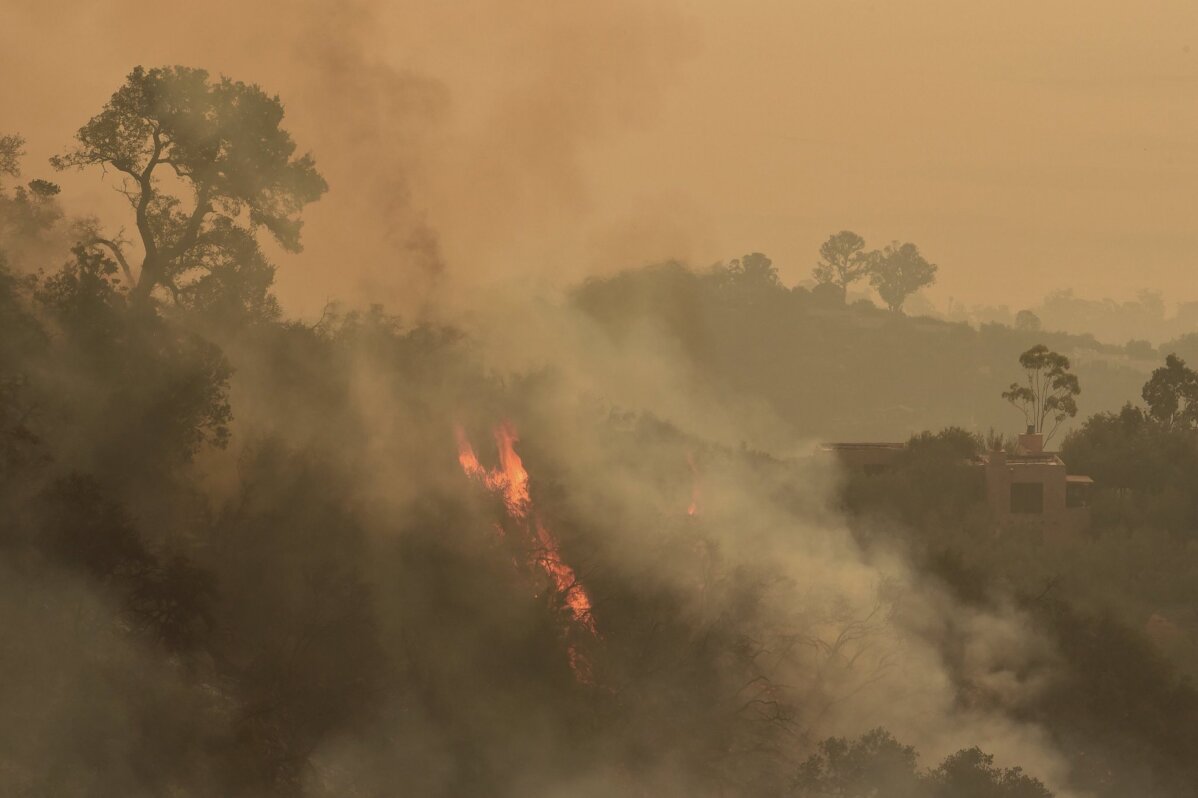 2 of 5

|
In this photo provided by the Santa Barbara County Fire Department, pockets of unburned vegetation flare up off Bella Vista Dr. in Montecito, Calif., Wednesday, Dec. 13, 2017. After announcing increased containment on the Thomas fire, one of the biggest wildfires in California history, officials Wednesday warned that communities remain at risk and the threat could increase as unpredictable winds whip up again. (Mike Eliason/Santa Barbara County Fire Department via AP)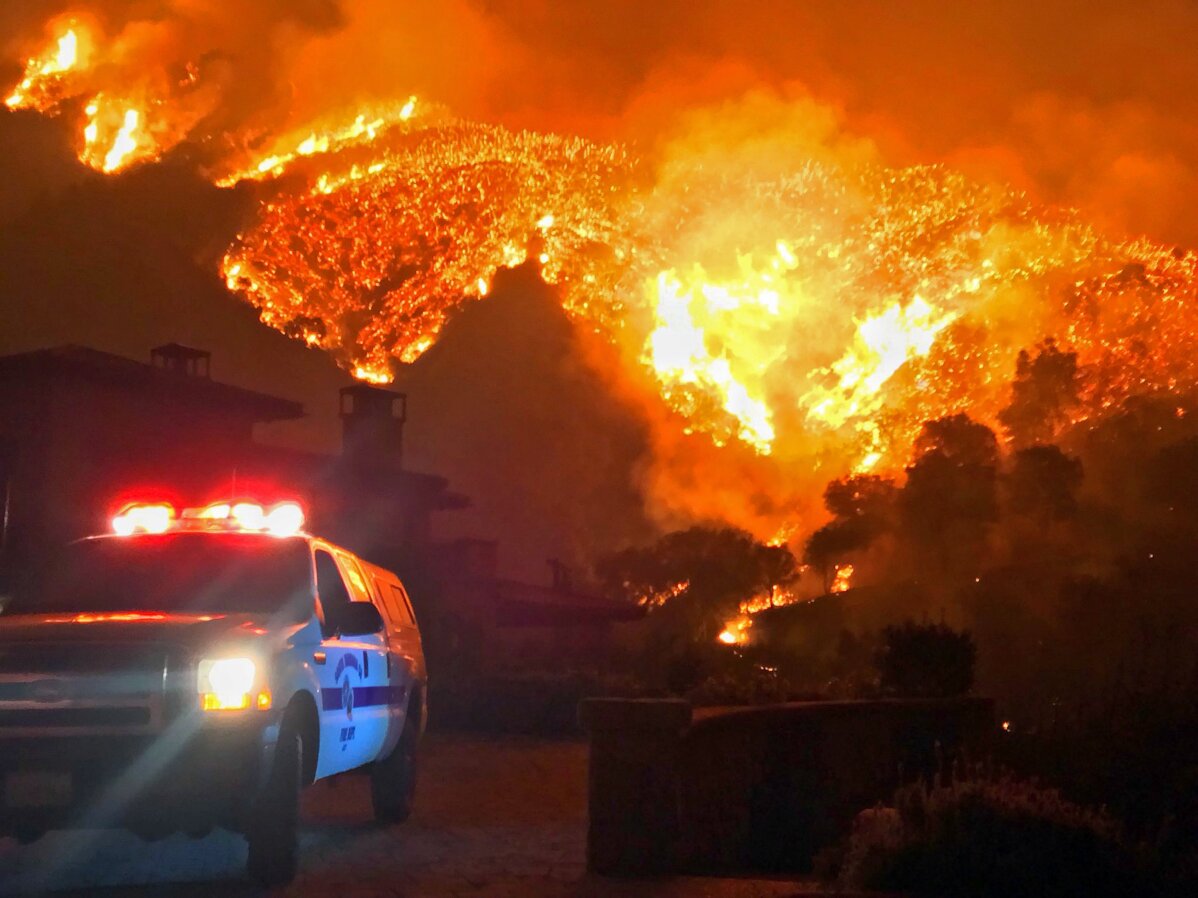 3 of 5

|
In this photo provided by the Santa Barbara County Fire Department, fire burns canyons and ridges above Bella Vista Drive near Romero Canyon as the fight to contain a wildfire continues in Montecito, Calif., Tuesday, Dec. 12, 2017. The fifth-largest wildfire in California history expanded Tuesday, ripping through dry brush atop a coastal ridge while crews struggled to keep flames from roaring down into neighborhoods amid fears of renewed winds. (Mike Eliason/Santa Barbara County Fire Department via AP)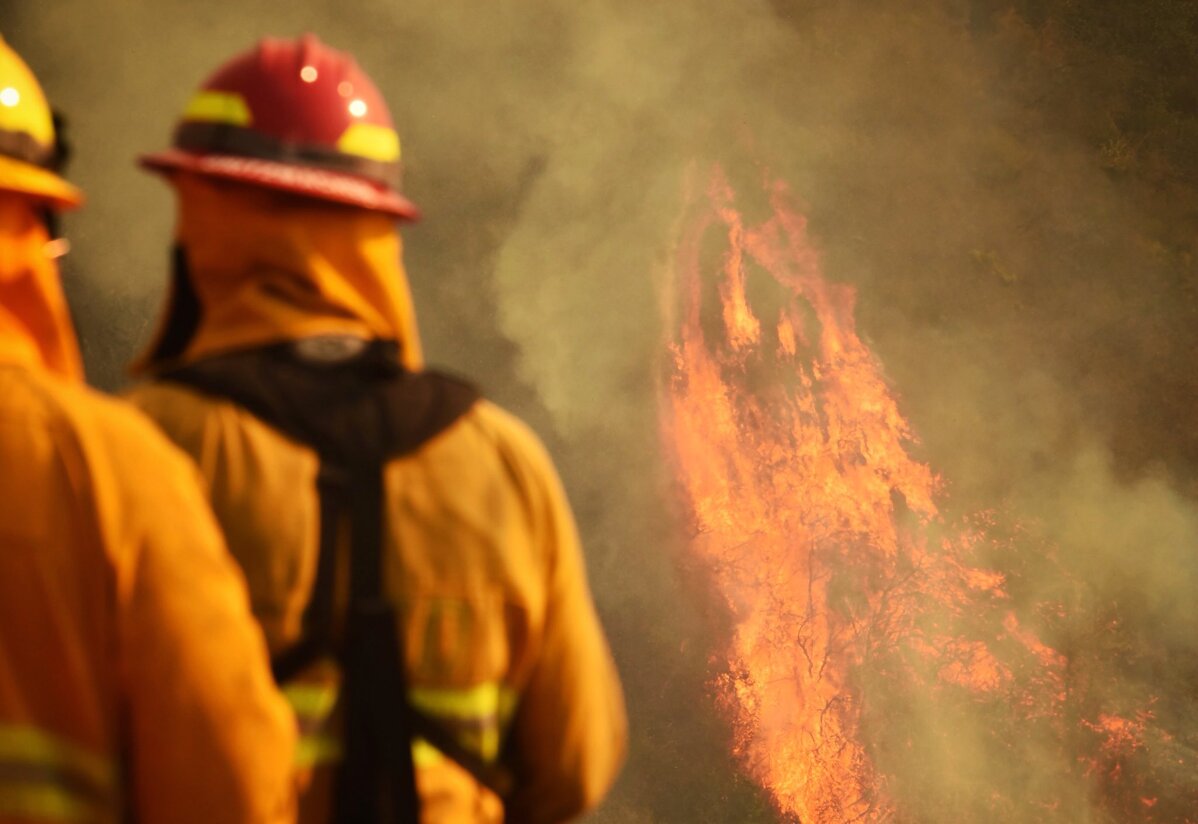 4 of 5

|
In this photo provided by the Santa Barbara County Fire Department, firefighters keep an eye on flames as pockets of unburned vegetation flare up off Bella Vista Dr. in Montecito, Calif., Wednesday, Dec. 13, 2017. After announcing increased containment on the Thomas fire, one of the biggest wildfires in California history, officials Wednesday warned that communities remain at risk and the threat could increase as unpredictable winds whip up again. (Mike Eliason/Santa Barbara County Fire Department via AP)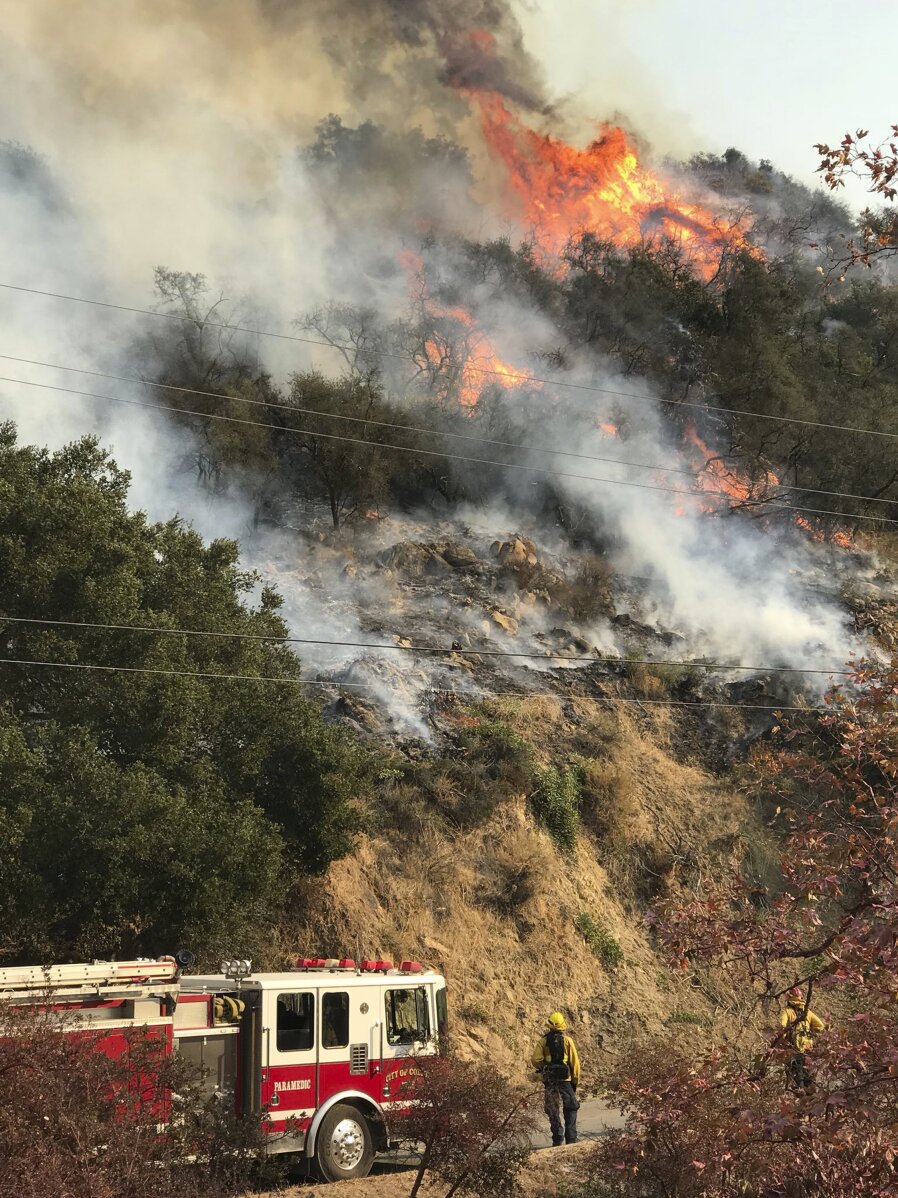 5 of 5

|
In this photo provided by the Santa Barbara County Fire Department, an engine company from the city of Colton, Calif., operating under mutual aid, keeps watch on pockets of burning and unburned vegetation off Bella Vista Dr. in Montecito, Calif., Wednesday, Dec. 13, 2017. After announcing increased containment on the Thomas fire, one of the biggest wildfires in California history, officials Wednesday warned that communities remain at risk and the threat could increase as unpredictable winds whip up again. (Mike Eliason/Santa Barbara County Fire Department via AP)
Firefighters wary despite gains against California fire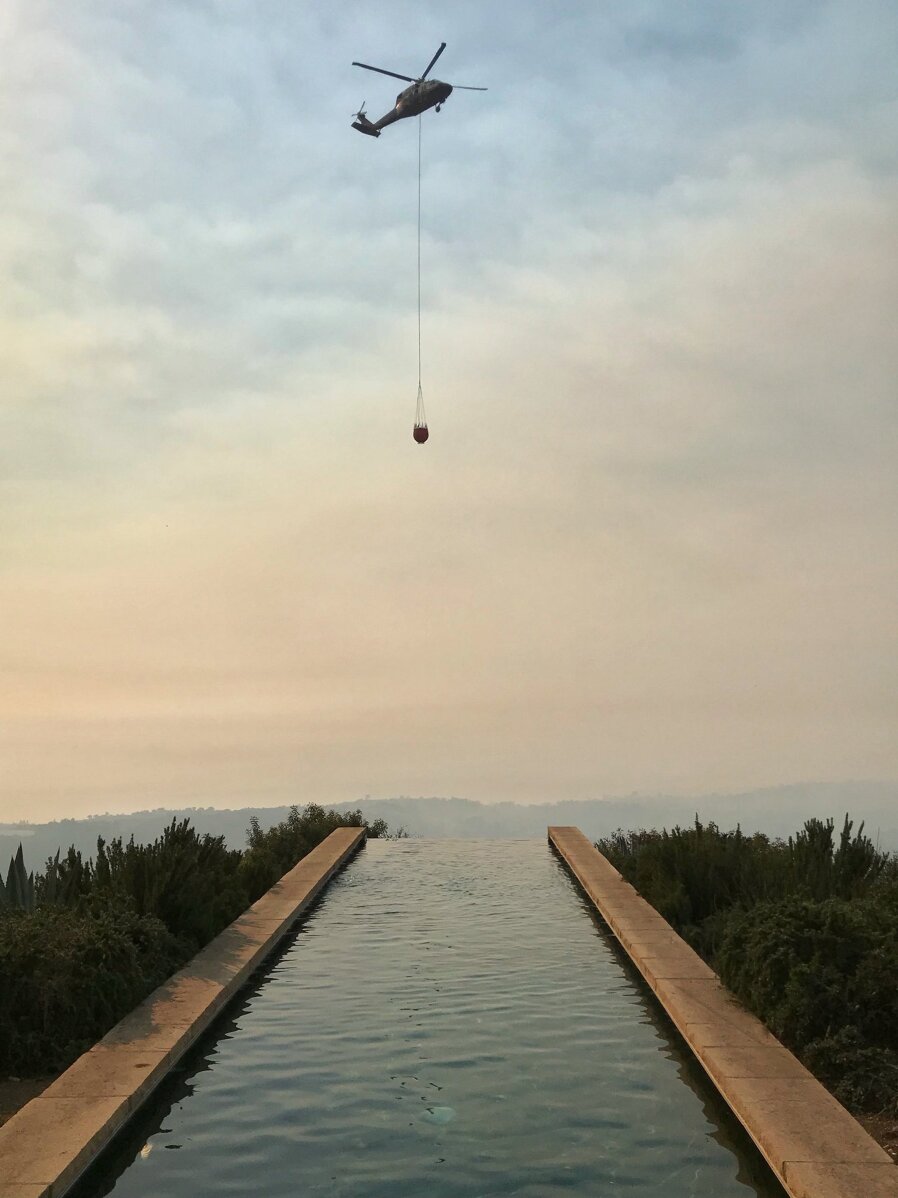 1 of 5

|
In this photo provided by the Santa Barbara County Fire Department, a helicopter making a water drop run flies over an infinity pool behind a home off Bella Vista Dr. in Montecito, Calif., Wednesday, Dec. 13, 2017. After announcing increased containment on the Thomas fire, one of the biggest wildfires in California history, officials Wednesday warned that communities remain at risk and the threat could increase as unpredictable winds whip up again. (Mike Eliason/Santa Barbara County Fire Department via AP)
1 of 5
In this photo provided by the Santa Barbara County Fire Department, a helicopter making a water drop run flies over an infinity pool behind a home off Bella Vista Dr. in Montecito, Calif., Wednesday, Dec. 13, 2017. After announcing increased containment on the Thomas fire, one of the biggest wildfires in California history, officials Wednesday warned that communities remain at risk and the threat could increase as unpredictable winds whip up again. (Mike Eliason/Santa Barbara County Fire Department via AP)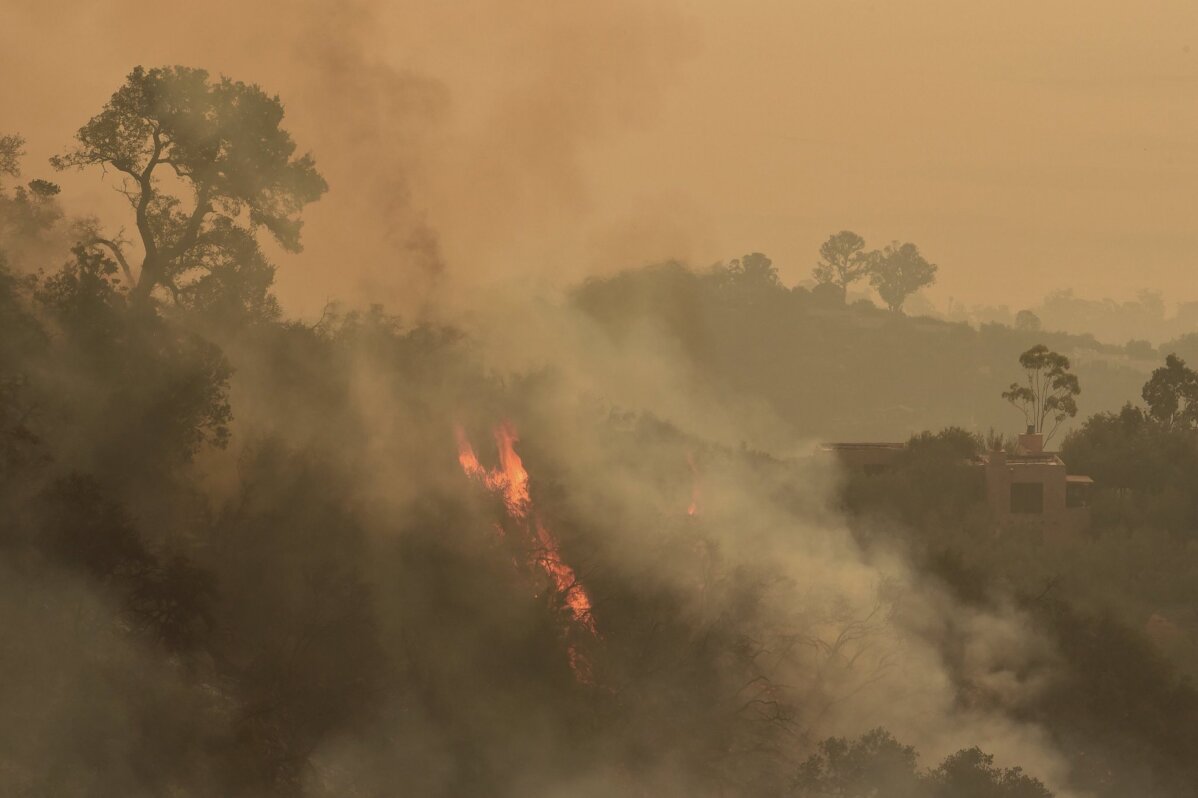 2 of 5

|
In this photo provided by the Santa Barbara County Fire Department, pockets of unburned vegetation flare up off Bella Vista Dr. in Montecito, Calif., Wednesday, Dec. 13, 2017. After announcing increased containment on the Thomas fire, one of the biggest wildfires in California history, officials Wednesday warned that communities remain at risk and the threat could increase as unpredictable winds whip up again. (Mike Eliason/Santa Barbara County Fire Department via AP)
2 of 5
In this photo provided by the Santa Barbara County Fire Department, pockets of unburned vegetation flare up off Bella Vista Dr. in Montecito, Calif., Wednesday, Dec. 13, 2017. After announcing increased containment on the Thomas fire, one of the biggest wildfires in California history, officials Wednesday warned that communities remain at risk and the threat could increase as unpredictable winds whip up again. (Mike Eliason/Santa Barbara County Fire Department via AP)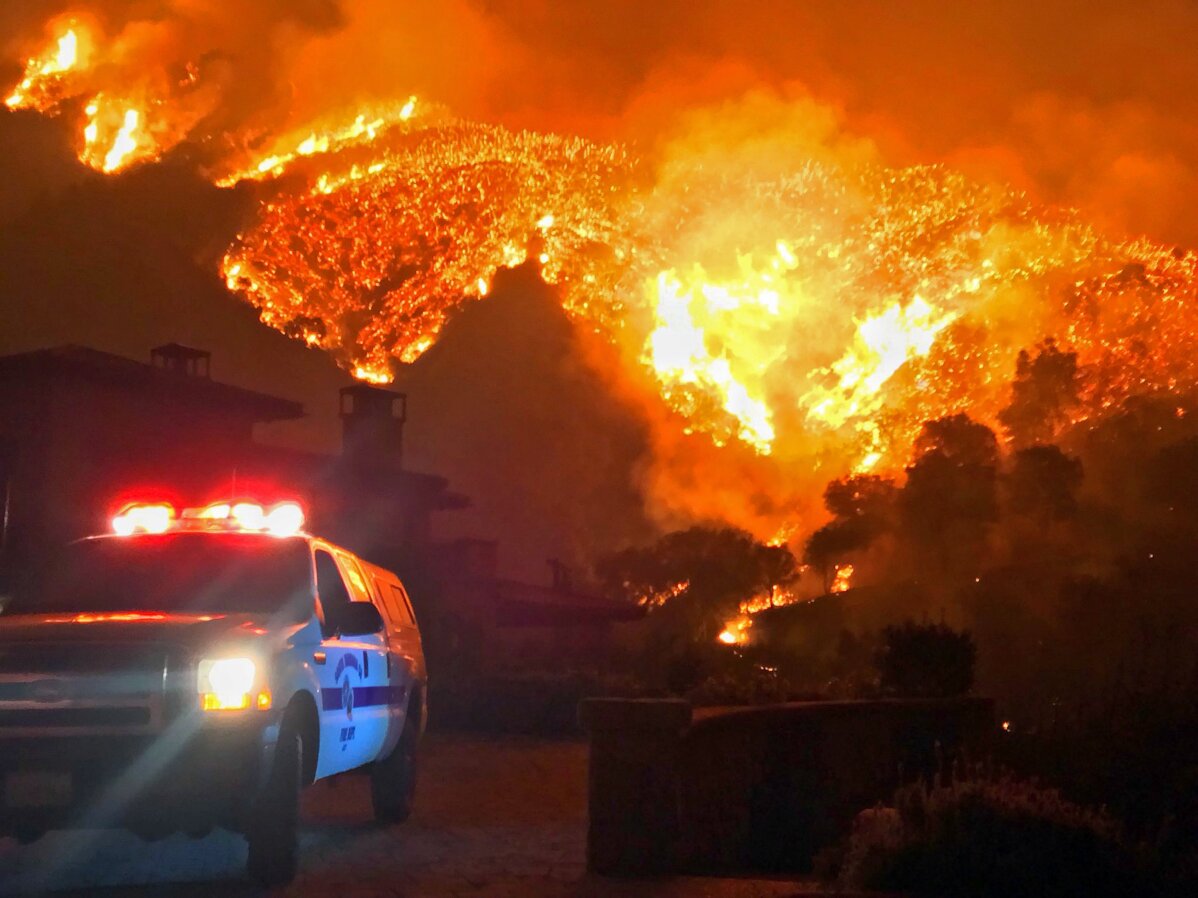 3 of 5

|
In this photo provided by the Santa Barbara County Fire Department, fire burns canyons and ridges above Bella Vista Drive near Romero Canyon as the fight to contain a wildfire continues in Montecito, Calif., Tuesday, Dec. 12, 2017. The fifth-largest wildfire in California history expanded Tuesday, ripping through dry brush atop a coastal ridge while crews struggled to keep flames from roaring down into neighborhoods amid fears of renewed winds. (Mike Eliason/Santa Barbara County Fire Department via AP)
3 of 5
In this photo provided by the Santa Barbara County Fire Department, fire burns canyons and ridges above Bella Vista Drive near Romero Canyon as the fight to contain a wildfire continues in Montecito, Calif., Tuesday, Dec. 12, 2017. The fifth-largest wildfire in California history expanded Tuesday, ripping through dry brush atop a coastal ridge while crews struggled to keep flames from roaring down into neighborhoods amid fears of renewed winds. (Mike Eliason/Santa Barbara County Fire Department via AP)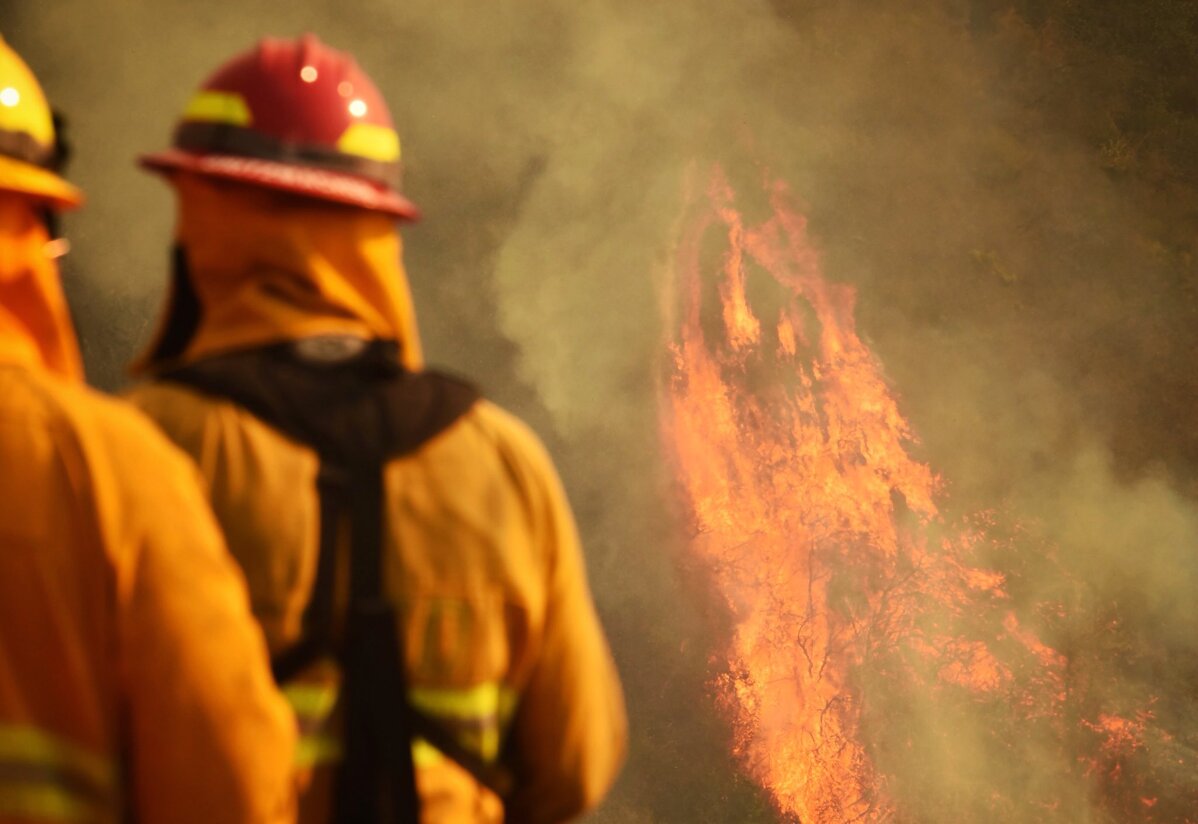 4 of 5

|
In this photo provided by the Santa Barbara County Fire Department, firefighters keep an eye on flames as pockets of unburned vegetation flare up off Bella Vista Dr. in Montecito, Calif., Wednesday, Dec. 13, 2017. After announcing increased containment on the Thomas fire, one of the biggest wildfires in California history, officials Wednesday warned that communities remain at risk and the threat could increase as unpredictable winds whip up again. (Mike Eliason/Santa Barbara County Fire Department via AP)
4 of 5
In this photo provided by the Santa Barbara County Fire Department, firefighters keep an eye on flames as pockets of unburned vegetation flare up off Bella Vista Dr. in Montecito, Calif., Wednesday, Dec. 13, 2017. After announcing increased containment on the Thomas fire, one of the biggest wildfires in California history, officials Wednesday warned that communities remain at risk and the threat could increase as unpredictable winds whip up again. (Mike Eliason/Santa Barbara County Fire Department via AP)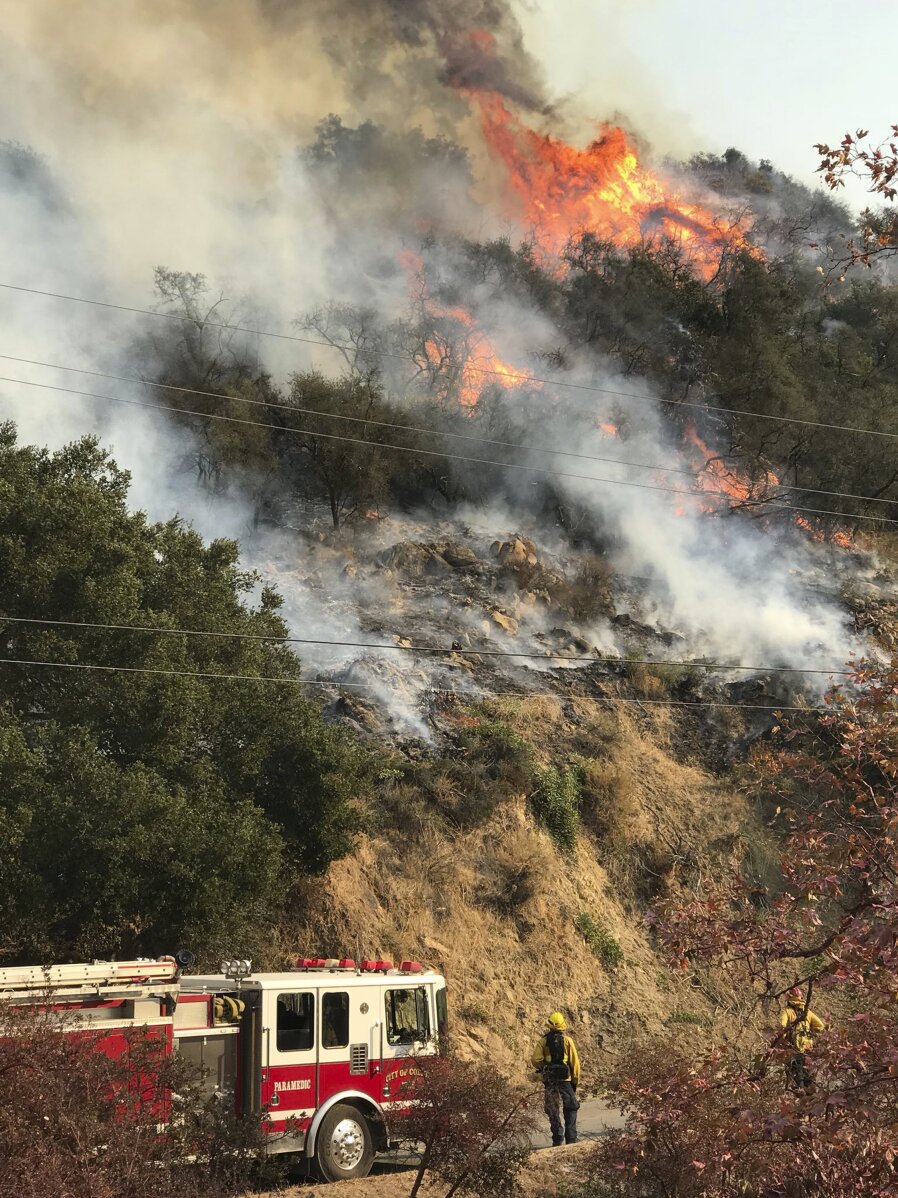 5 of 5

|
In this photo provided by the Santa Barbara County Fire Department, an engine company from the city of Colton, Calif., operating under mutual aid, keeps watch on pockets of burning and unburned vegetation off Bella Vista Dr. in Montecito, Calif., Wednesday, Dec. 13, 2017. After announcing increased containment on the Thomas fire, one of the biggest wildfires in California history, officials Wednesday warned that communities remain at risk and the threat could increase as unpredictable winds whip up again. (Mike Eliason/Santa Barbara County Fire Department via AP)
5 of 5
In this photo provided by the Santa Barbara County Fire Department, an engine company from the city of Colton, Calif., operating under mutual aid, keeps watch on pockets of burning and unburned vegetation off Bella Vista Dr. in Montecito, Calif., Wednesday, Dec. 13, 2017. After announcing increased containment on the Thomas fire, one of the biggest wildfires in California history, officials Wednesday warned that communities remain at risk and the threat could increase as unpredictable winds whip up again. (Mike Eliason/Santa Barbara County Fire Department via AP)
LOS ANGELES (AP) — Southern California firefighters contained part of the fifth-largest fire in the state's history but warned coastal communities Wednesday that they're still at risk if unpredictable winds whip up again and fan the flames.
The National Weather Service extended warnings through Friday of extreme fire danger conditions throughout much of Southern California due to lack of moisture along with a possible increase in wind gust speeds at the end of the week.
Firefighters made some progress Wednesday on corralling the so-called Thomas Fire, which has spread into national forest land northwest of Los Angeles. However, they warned that the fire would continue to spread west as it eats up parched brush.
By Wednesday evening, state fire officials said the blaze was 30 percent contained but it continued to threaten Santa Barbara, Carpinteria, Summerland and Montecito — a wealthy area home to celebrities such as Oprah Winfrey.
Since the blaze broke out on Dec. 4, it has burned more than 372 square miles (965 square kilometers) and destroyed 921 buildings — including at least 700 homes. It threatens 18,000 buildings and has prompted evacuations of about 100,000 people.
Elsewhere, fire officials announced that a cooking fire at a homeless encampment sparked a blaze last week that destroyed six homes in the exclusive Bel Air neighborhood of Los Angeles.
Arson investigators determined that the so-called Skirball Fire near the world-famous Getty museum was started by an illegal fire at a camp near a freeway underpass, city fire Capt. Erik Scott said.
The camp was empty when firefighters found it, but people apparently had been sleeping and cooking there for at least several days, he said.
The Fire Department was working on a plan to locate such encampments at the start of fire season next year to avoid danger, Scott said.
At the largest of the fires northwest of Los Angeles, firefighters protected foothill homes while the flames churned mostly into unoccupied forest land, Santa Barbara County Fire Department spokesman Mike Eliason said.
Rock and Roll Hall of Fame member Eric Burdon and his wife, Marianna were among the people who fled the smoke in the small city of Ojai Tuesday.
Burdon, a member of the 1960s British Invasion band The Animals, wrote on Facebook last week about having to flee and returning temporarily to find his home still standing with ashes all around it.
"A week like this gives you the perspective that life is what truly matters," he wrote.
A photo accompanying the post showed his handprint and signature written in ashes.
___
For complete coverage of the California wildfires, click here: https://apnews.com/tag/Wildfires.