Fallen Philly fireman to get posthumous promotion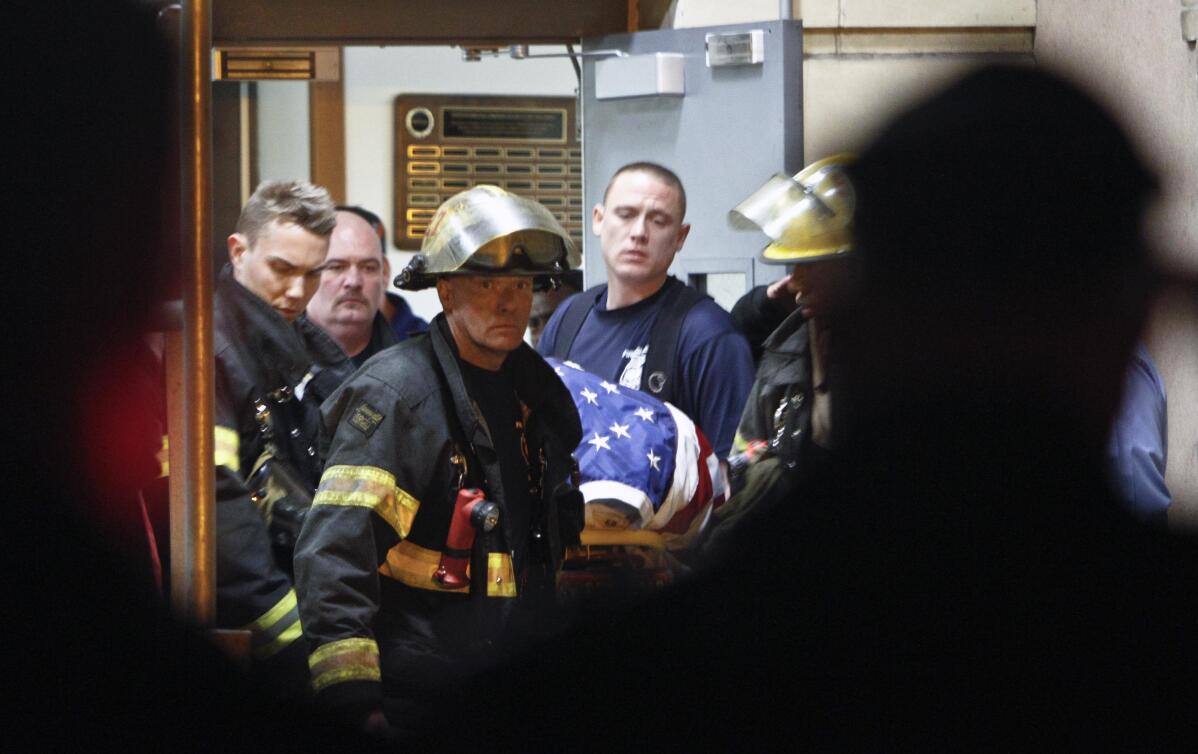 1 of 8

|
Fellow firefighters carry the body of fallen firefighter Capt. Michael Goodwin at Thomas Jefferson Hospital in Philadelphia, Saturday, April 6, 2013. The fire caused a partial roof collapse that killed Goodwin and injured a colleague who was trying to rescue him, officials said. (AP Photo/ Joseph Kaczmarek)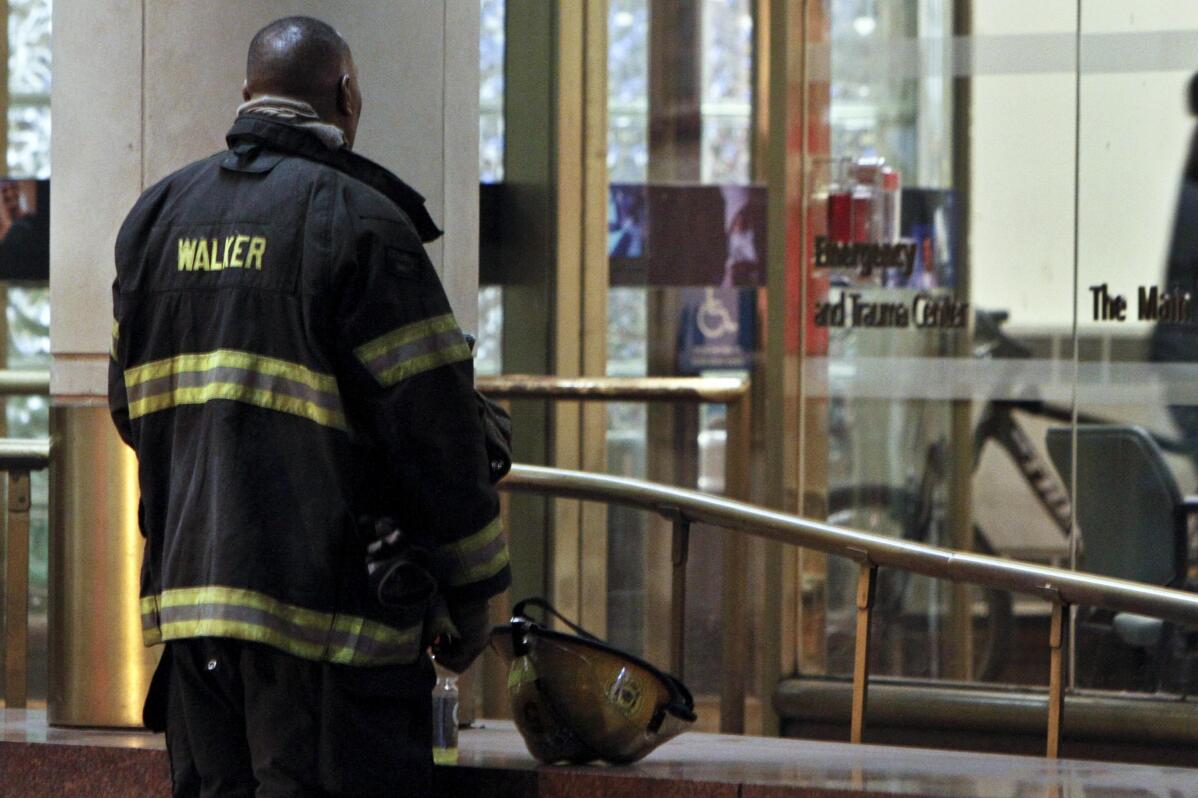 2 of 8

|
A fireman waits outside the emergency room at Thomas Jefferson Hospital in Philadelphia, Saturday, April 6, 2013, after Capt. Michael Goodwin was brought to the hospital. A fire caused a partial roof collapse that killed Goodwin and injured a colleague who was trying to rescue him, officials said. (AP Photo/ Joseph Kaczmarek)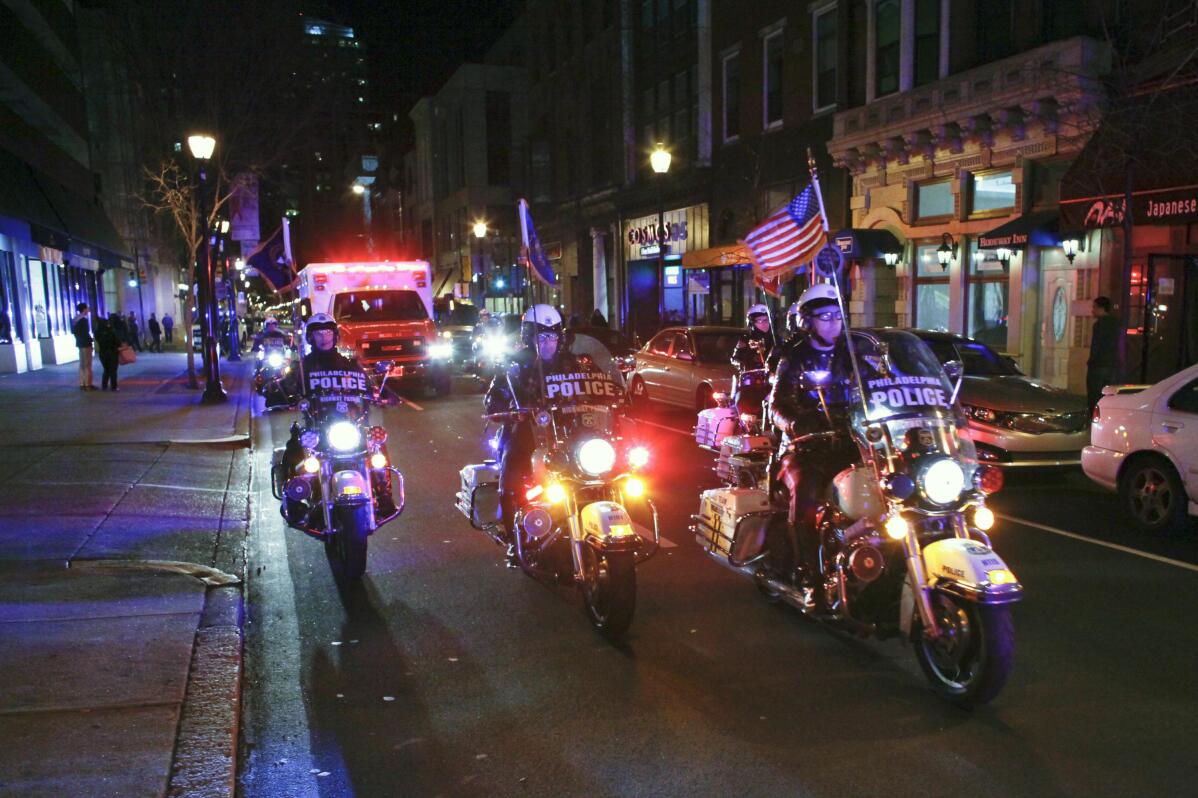 3 of 8

|
Police escort an ambulance carrying the body of fallen firefighter Capt. Michael Goodwin from Thomas Jefferson Hospital in Philadelphia, early Sunday, April 7, 2013. The fire caused a partial roof collapse that killed Goodwin and injured a colleague who was trying to rescue him, officials said. (AP Photo/ Joseph Kaczmarek)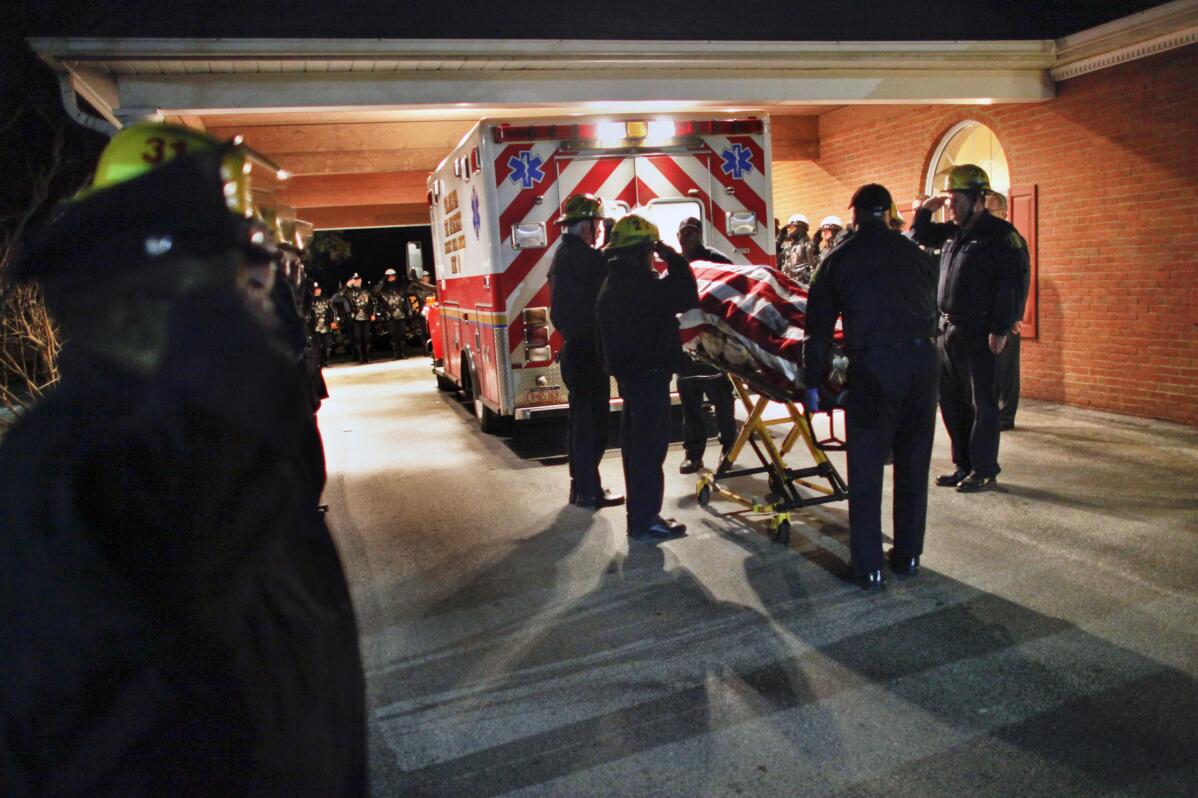 4 of 8

|
Fellow firefighters salute the body of fallen comrade Capt. Michael Goodwin at a funeral home in Philadelphia, early Sunday, April 7, 2013. The fire caused a partial roof collapse that killed Goodwin and injured a colleague who was trying to rescue him, officials said. (AP Photo/ Joseph Kaczmarek)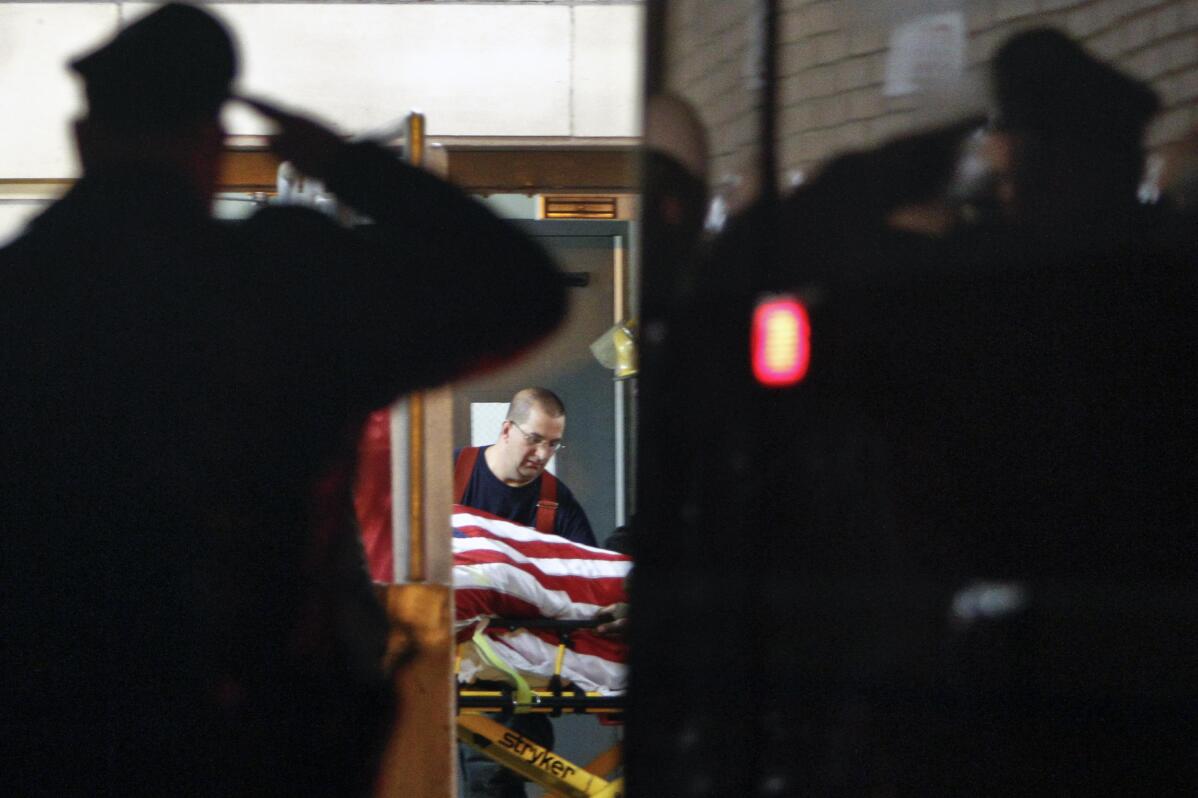 5 of 8

|
A police officer salutes as the body of fallen firefighter Capt. Michael Goodwin is brought to Thomas Jefferson Hospital in Philadelphia, Saturday, April 6, 2013. The fire caused a partial roof collapse that killed Goodwin and injured a colleague who was trying to rescue him, officials said. (AP Photo/ Joseph Kaczmarek)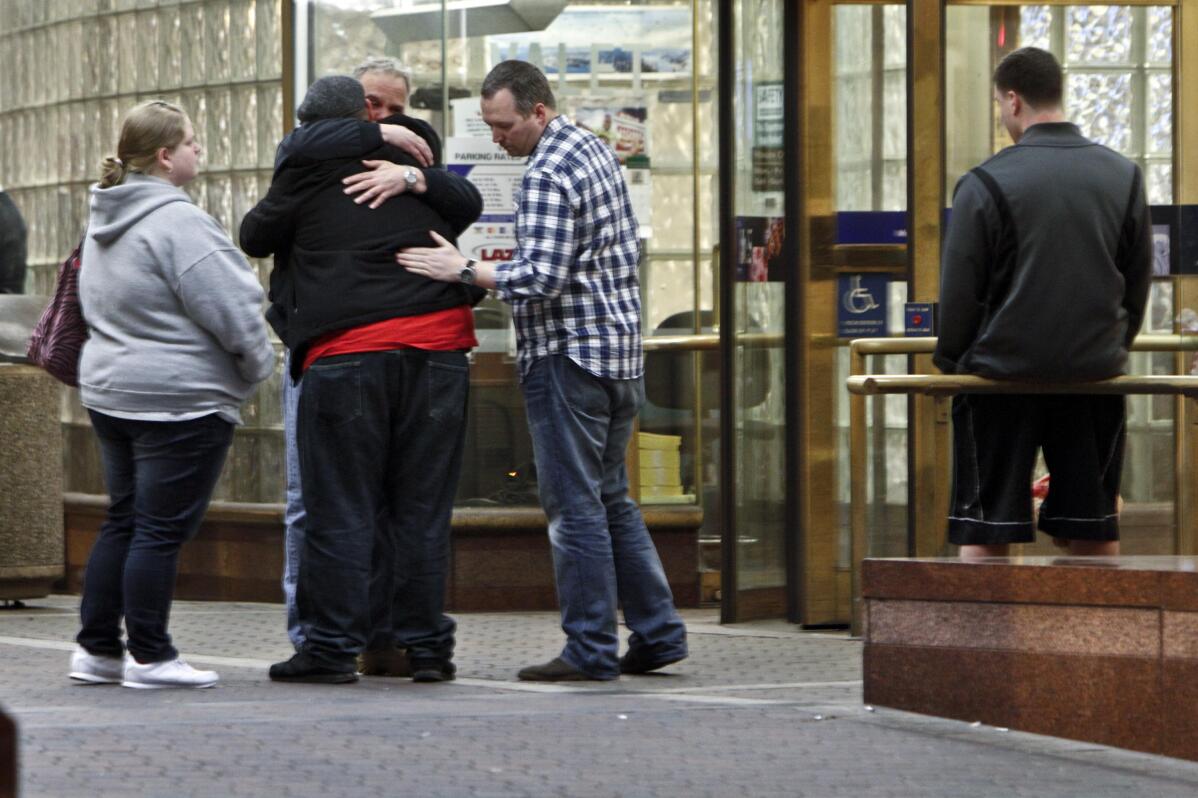 6 of 8

|
People hug outside the emergency room at Thomas Jefferson Hospital in Philadelphia, Saturday, April 6, 2013, after fireman Capt. Michael Goodwin was brought to the hospital. A fire caused a partial roof collapse that killed Goodwin and injured a colleague who was trying to rescue him, officials said. (AP Photo/ Joseph Kaczmarek)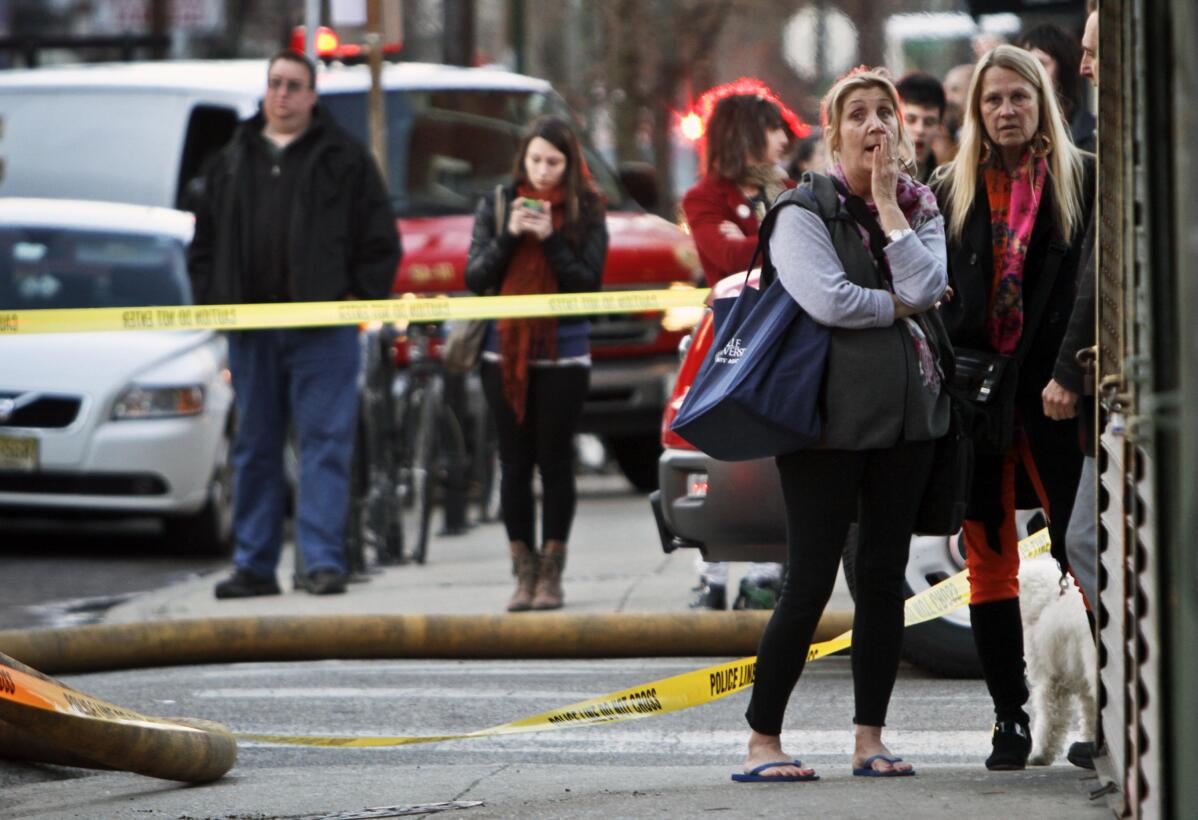 7 of 8

|
Neighbors look on as firefighters battle a blaze that burned a fabric shop, upstairs apartments and a neighboring boutique in Philadelphia, Saturday, April 6, 2013. The fire caused a partial roof collapse that killed a firefighter and injured a colleague who was trying to rescue him, officials said. (AP Photo/ Joseph Kaczmarek)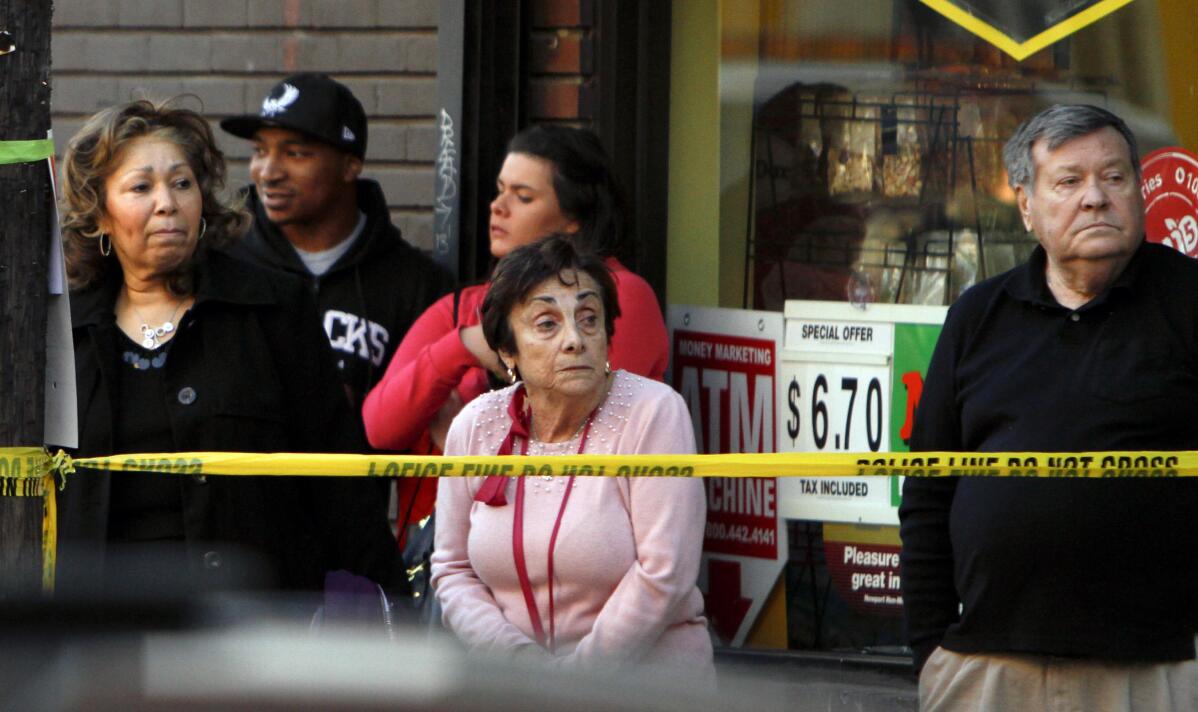 8 of 8

|
Neighbors look on as firefighters battle a blaze that burned a fabric shop, upstairs apartments and a neighboring boutique in Philadelphia, Saturday, April 6, 2013. The fire caused a partial roof collapse that killed a firefighter and injured a colleague who was trying to rescue him, officials said. (AP Photo/ Joseph Kaczmarek)
Fallen Philly fireman to get posthumous promotion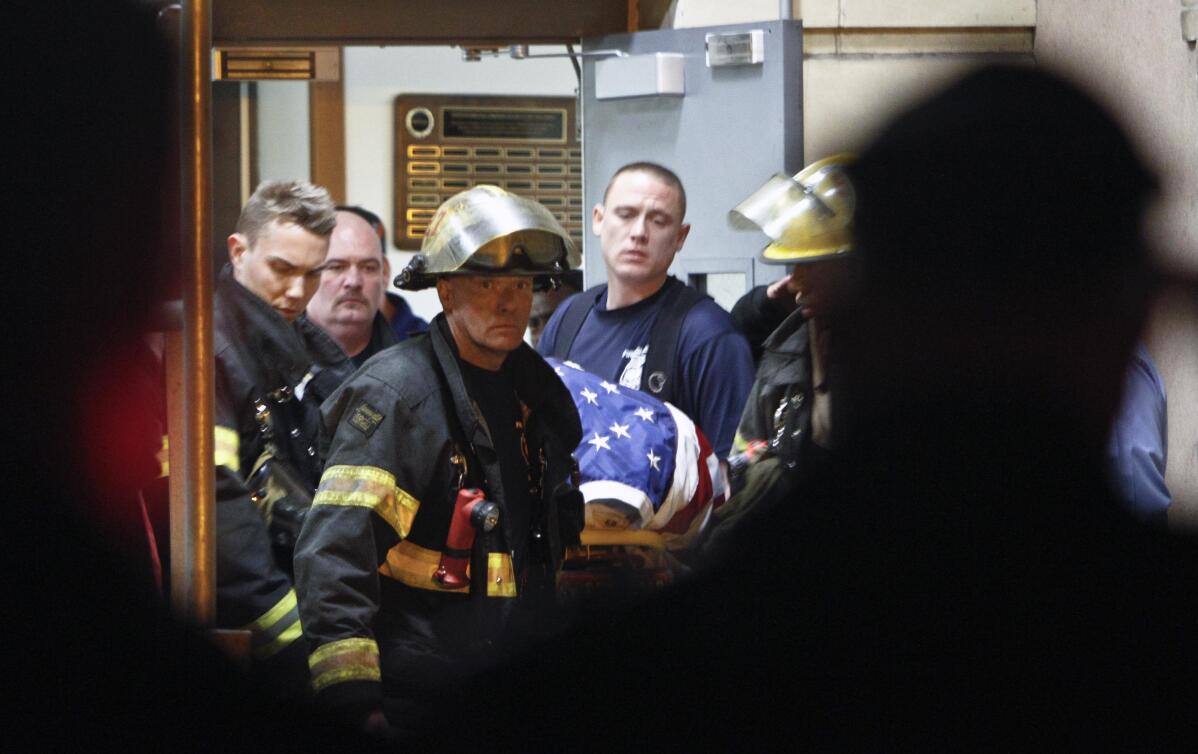 1 of 8

|
Fellow firefighters carry the body of fallen firefighter Capt. Michael Goodwin at Thomas Jefferson Hospital in Philadelphia, Saturday, April 6, 2013. The fire caused a partial roof collapse that killed Goodwin and injured a colleague who was trying to rescue him, officials said. (AP Photo/ Joseph Kaczmarek)
1 of 8
Fellow firefighters carry the body of fallen firefighter Capt. Michael Goodwin at Thomas Jefferson Hospital in Philadelphia, Saturday, April 6, 2013. The fire caused a partial roof collapse that killed Goodwin and injured a colleague who was trying to rescue him, officials said. (AP Photo/ Joseph Kaczmarek)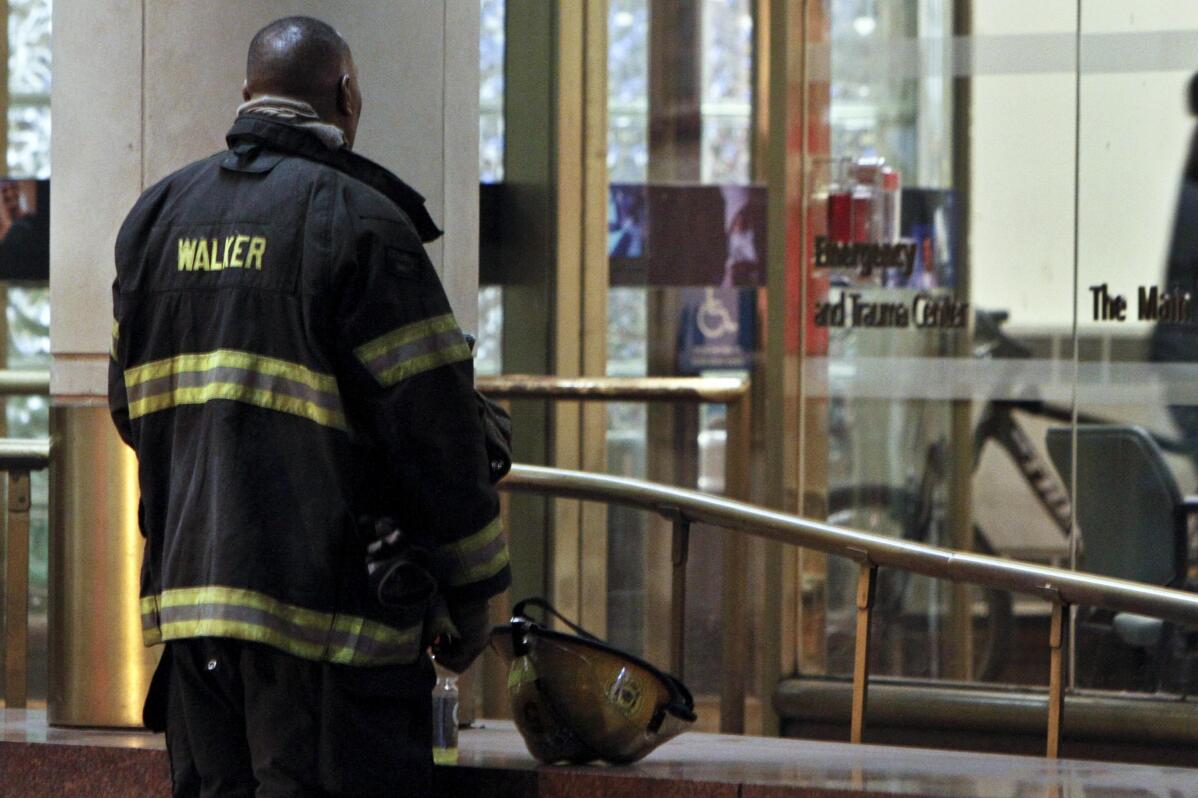 2 of 8

|
A fireman waits outside the emergency room at Thomas Jefferson Hospital in Philadelphia, Saturday, April 6, 2013, after Capt. Michael Goodwin was brought to the hospital. A fire caused a partial roof collapse that killed Goodwin and injured a colleague who was trying to rescue him, officials said. (AP Photo/ Joseph Kaczmarek)
2 of 8
A fireman waits outside the emergency room at Thomas Jefferson Hospital in Philadelphia, Saturday, April 6, 2013, after Capt. Michael Goodwin was brought to the hospital. A fire caused a partial roof collapse that killed Goodwin and injured a colleague who was trying to rescue him, officials said. (AP Photo/ Joseph Kaczmarek)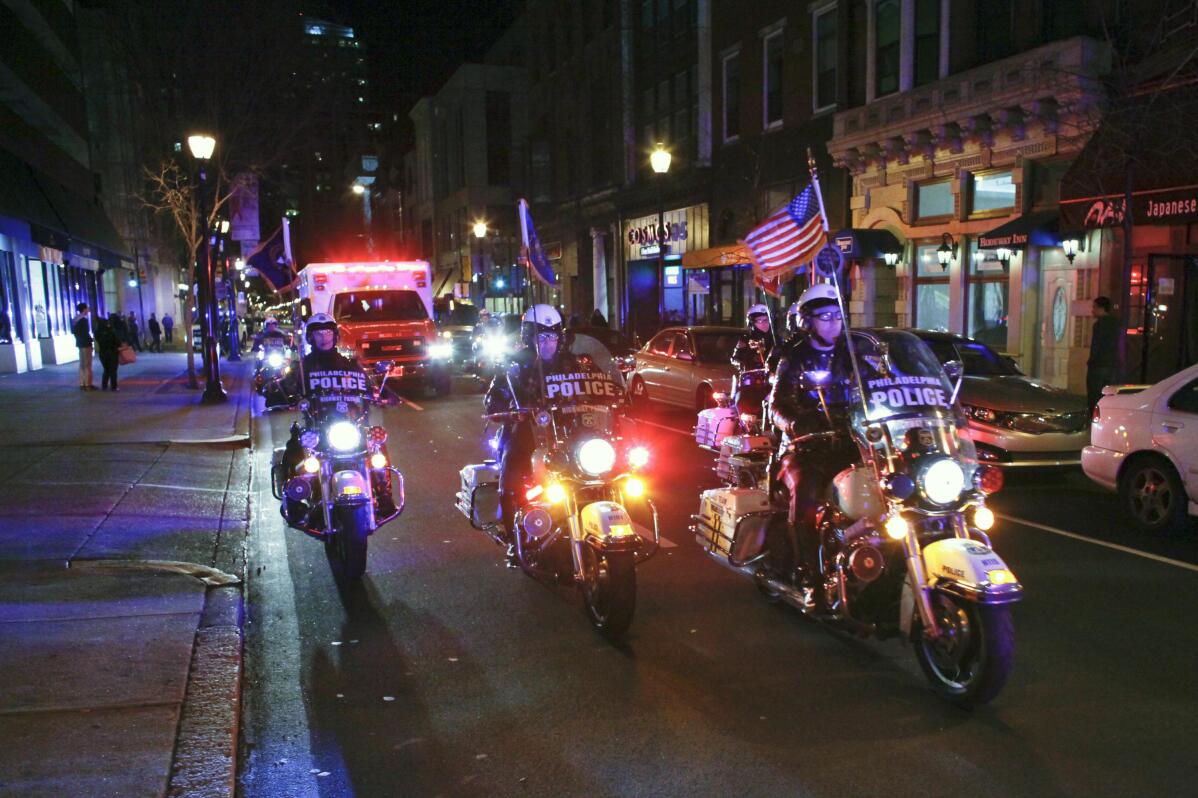 3 of 8

|
Police escort an ambulance carrying the body of fallen firefighter Capt. Michael Goodwin from Thomas Jefferson Hospital in Philadelphia, early Sunday, April 7, 2013. The fire caused a partial roof collapse that killed Goodwin and injured a colleague who was trying to rescue him, officials said. (AP Photo/ Joseph Kaczmarek)
3 of 8
Police escort an ambulance carrying the body of fallen firefighter Capt. Michael Goodwin from Thomas Jefferson Hospital in Philadelphia, early Sunday, April 7, 2013. The fire caused a partial roof collapse that killed Goodwin and injured a colleague who was trying to rescue him, officials said. (AP Photo/ Joseph Kaczmarek)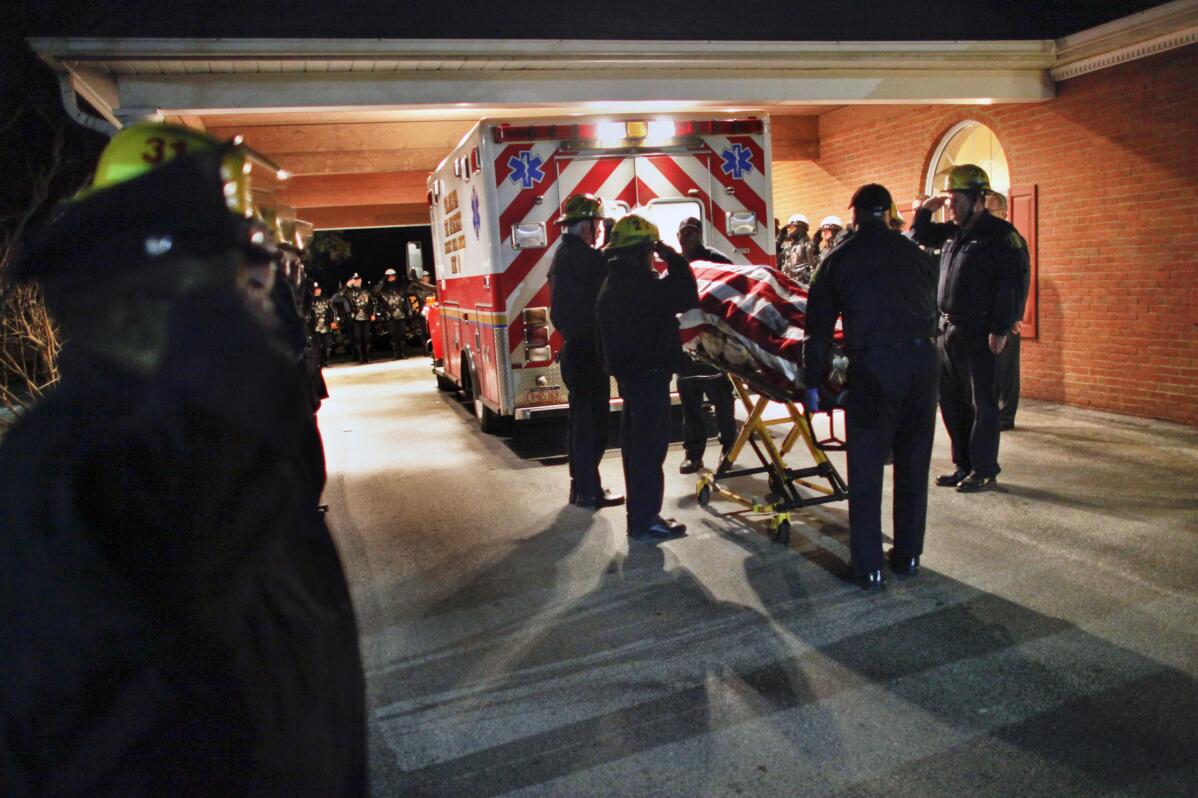 4 of 8

|
Fellow firefighters salute the body of fallen comrade Capt. Michael Goodwin at a funeral home in Philadelphia, early Sunday, April 7, 2013. The fire caused a partial roof collapse that killed Goodwin and injured a colleague who was trying to rescue him, officials said. (AP Photo/ Joseph Kaczmarek)
4 of 8
Fellow firefighters salute the body of fallen comrade Capt. Michael Goodwin at a funeral home in Philadelphia, early Sunday, April 7, 2013. The fire caused a partial roof collapse that killed Goodwin and injured a colleague who was trying to rescue him, officials said. (AP Photo/ Joseph Kaczmarek)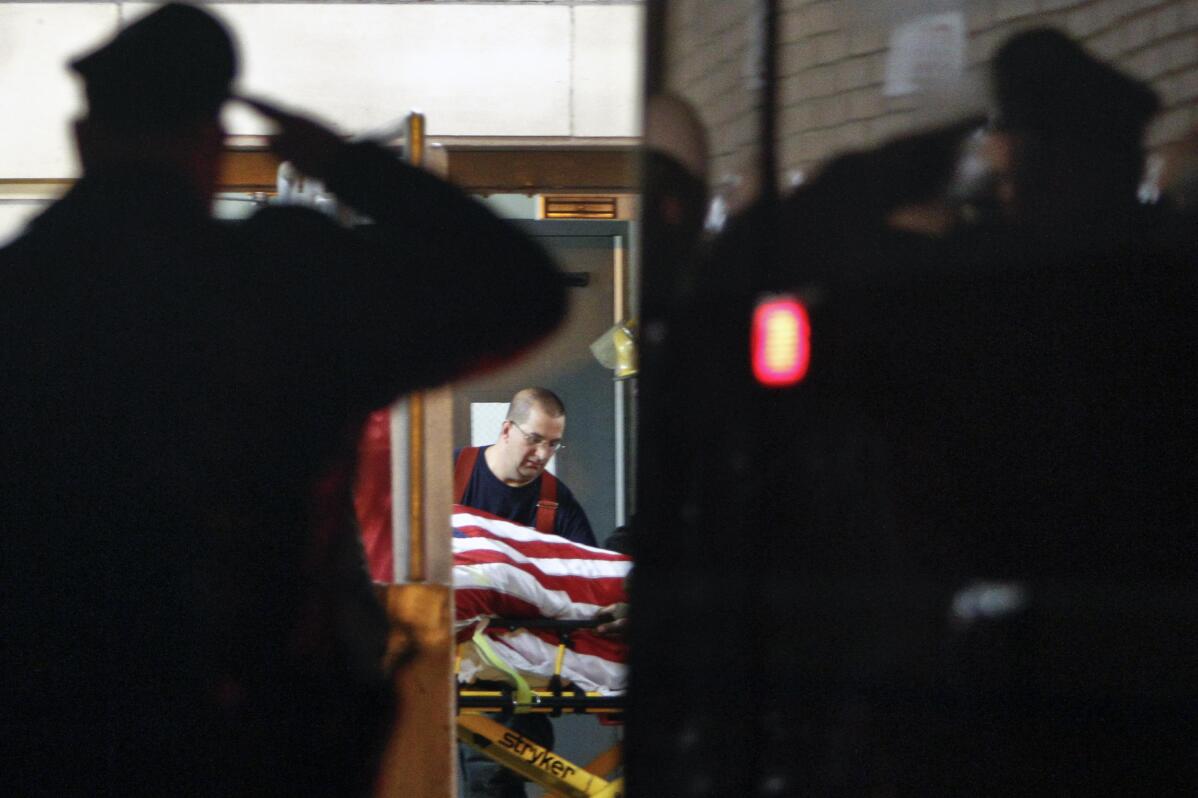 5 of 8

|
A police officer salutes as the body of fallen firefighter Capt. Michael Goodwin is brought to Thomas Jefferson Hospital in Philadelphia, Saturday, April 6, 2013. The fire caused a partial roof collapse that killed Goodwin and injured a colleague who was trying to rescue him, officials said. (AP Photo/ Joseph Kaczmarek)
5 of 8
A police officer salutes as the body of fallen firefighter Capt. Michael Goodwin is brought to Thomas Jefferson Hospital in Philadelphia, Saturday, April 6, 2013. The fire caused a partial roof collapse that killed Goodwin and injured a colleague who was trying to rescue him, officials said. (AP Photo/ Joseph Kaczmarek)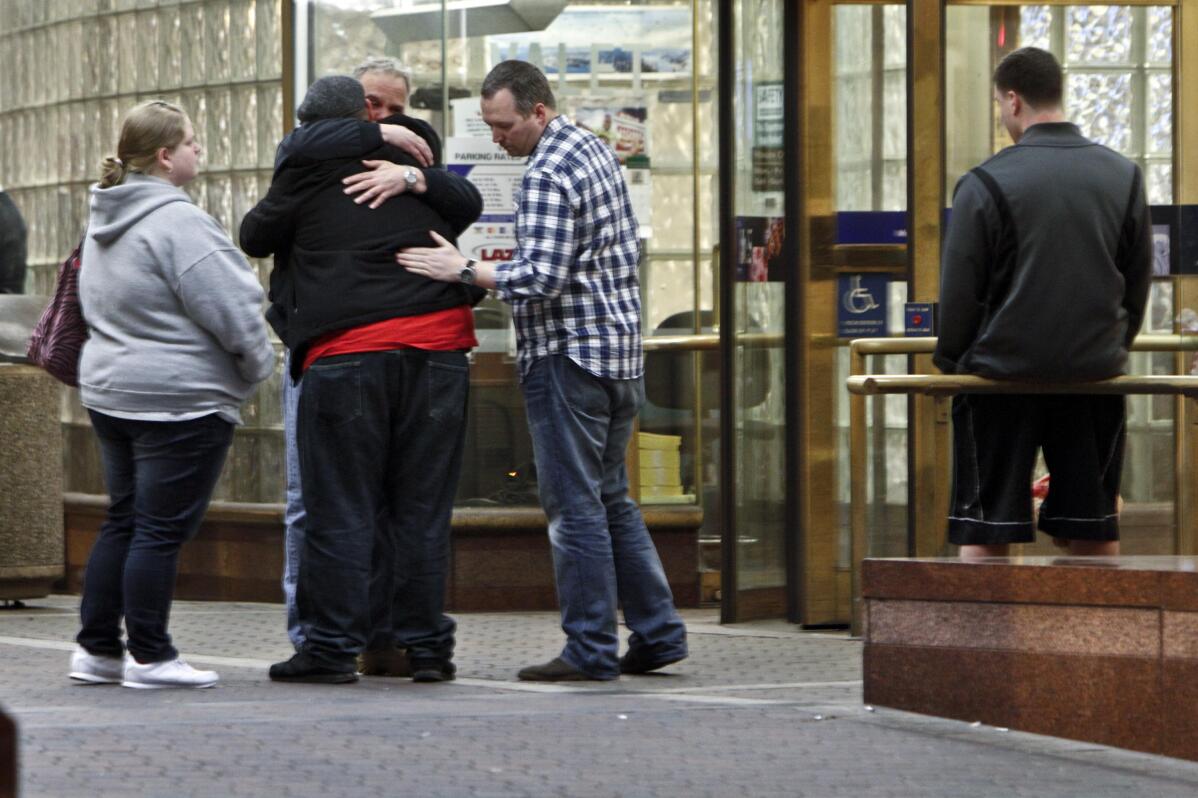 6 of 8

|
People hug outside the emergency room at Thomas Jefferson Hospital in Philadelphia, Saturday, April 6, 2013, after fireman Capt. Michael Goodwin was brought to the hospital. A fire caused a partial roof collapse that killed Goodwin and injured a colleague who was trying to rescue him, officials said. (AP Photo/ Joseph Kaczmarek)
6 of 8
People hug outside the emergency room at Thomas Jefferson Hospital in Philadelphia, Saturday, April 6, 2013, after fireman Capt. Michael Goodwin was brought to the hospital. A fire caused a partial roof collapse that killed Goodwin and injured a colleague who was trying to rescue him, officials said. (AP Photo/ Joseph Kaczmarek)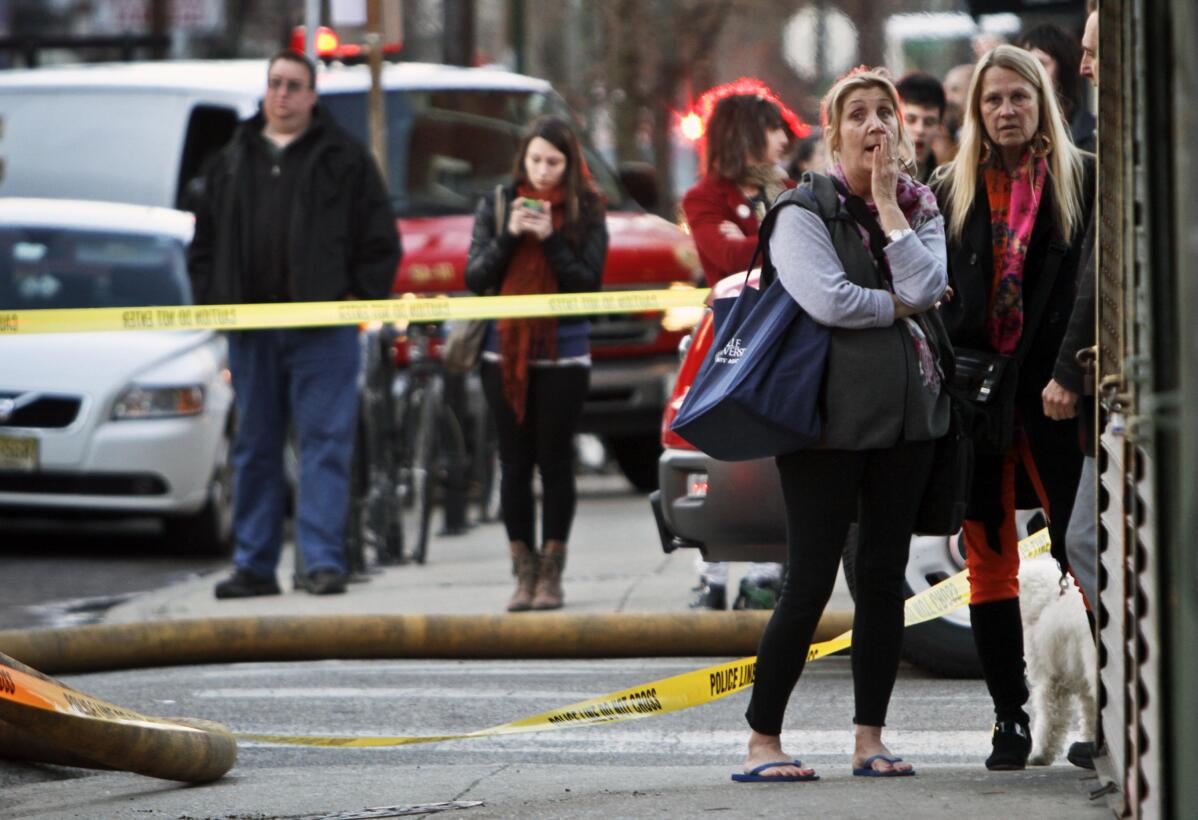 7 of 8

|
Neighbors look on as firefighters battle a blaze that burned a fabric shop, upstairs apartments and a neighboring boutique in Philadelphia, Saturday, April 6, 2013. The fire caused a partial roof collapse that killed a firefighter and injured a colleague who was trying to rescue him, officials said. (AP Photo/ Joseph Kaczmarek)
7 of 8
Neighbors look on as firefighters battle a blaze that burned a fabric shop, upstairs apartments and a neighboring boutique in Philadelphia, Saturday, April 6, 2013. The fire caused a partial roof collapse that killed a firefighter and injured a colleague who was trying to rescue him, officials said. (AP Photo/ Joseph Kaczmarek)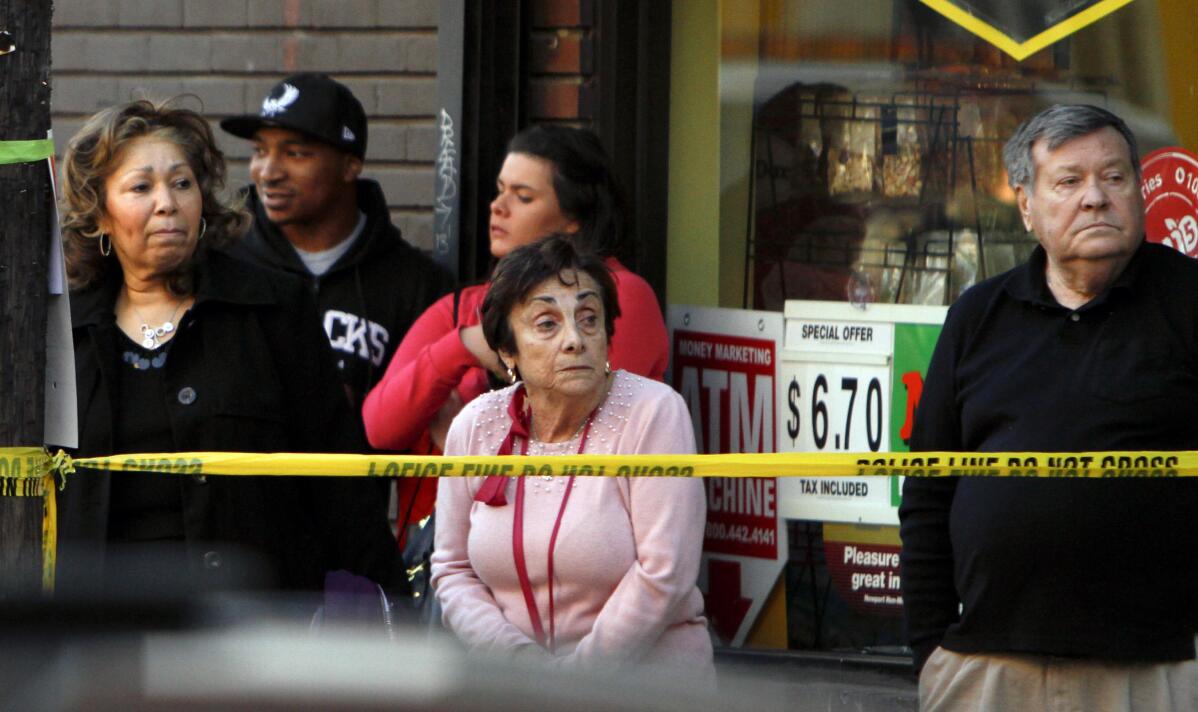 8 of 8

|
Neighbors look on as firefighters battle a blaze that burned a fabric shop, upstairs apartments and a neighboring boutique in Philadelphia, Saturday, April 6, 2013. The fire caused a partial roof collapse that killed a firefighter and injured a colleague who was trying to rescue him, officials said. (AP Photo/ Joseph Kaczmarek)
8 of 8
Neighbors look on as firefighters battle a blaze that burned a fabric shop, upstairs apartments and a neighboring boutique in Philadelphia, Saturday, April 6, 2013. The fire caused a partial roof collapse that killed a firefighter and injured a colleague who was trying to rescue him, officials said. (AP Photo/ Joseph Kaczmarek)
PHILADELPHIA (AP) — Gov. Tom Corbett on Monday ordered Pennsylvania flags at state facilities lowered to half-staff in honor of a Philadelphia firefighter who was killed when a roof collapsed beneath him as he battled a weekend fire.
Capt. Michael Goodwin, 53, fell from the roof of a three-story building in the city's Queen Village section Saturday night and was pronounced dead at the scene. Fellow firefighter Andrew Golewski was burned while trying to rescue him.
In a statement, Corbett said flags will remain at half-staff until sundown Wednesday, the day of Goodwin's burial. Philadelphia Mayor Michael Nutter had previously ordered flags flown at half-staff at all city buildings for the next 30 days.
Executive Fire Chief Richard Davison said Goodwin, a 29-year veteran, will receive a posthumous promotion to battalion chief that will enhance his family's benefits and allow him to retire at that rank. Fire Commissioner Lloyd Ayers said during the weekend that he had been hoping Goodwin would one day make chief.
Goodwin is survived by a wife, two grown children and three siblings, one of whom is a police officer, according to fire officials.
Viewing and memorial services for Goodwin will be held from 5 p.m. to 9 p.m. Wednesday and from 9 a.m. to 10:45 a.m. Thursday at Givinish Funeral Home. A funeral service will be held at noon Thursday at Saint Michael's Lutheran Church with burial to follow immediately afterward at Hillside Cemetery in Roslyn.
The loss has rocked the department as it prepared to mark the one-year anniversary of an April 9 blaze at a warehouse that killed Capt. Robert Neary, 59, and Daniel Sweeney, 25. They also died in a collapse, which came as they inspected an adjacent building.