Panic buying after Florida floods leads to long gas lines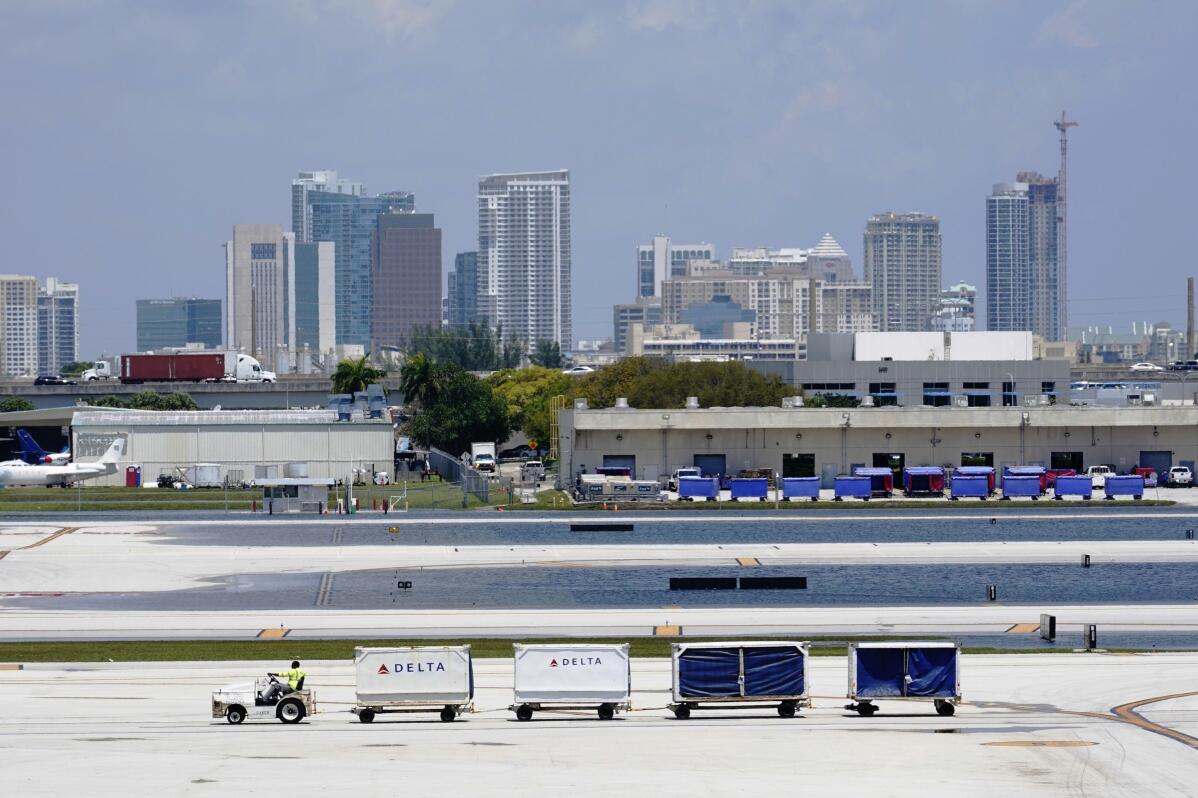 1 of 4

|
A Delta baggage train drives on the closed runway at Fort Lauderdale-Hollywood International Airport Friday, April 14, 2023, in Fort Lauderdale, Fla. The airport was able to open one of two runways after heavy rain flooded the runways. South Florida has begun draining streets and otherwise cleaning up after an unprecedented storm that dumped upward of 2 feet of rain in a matter of hours.(AP Photo/Marta Lavandier)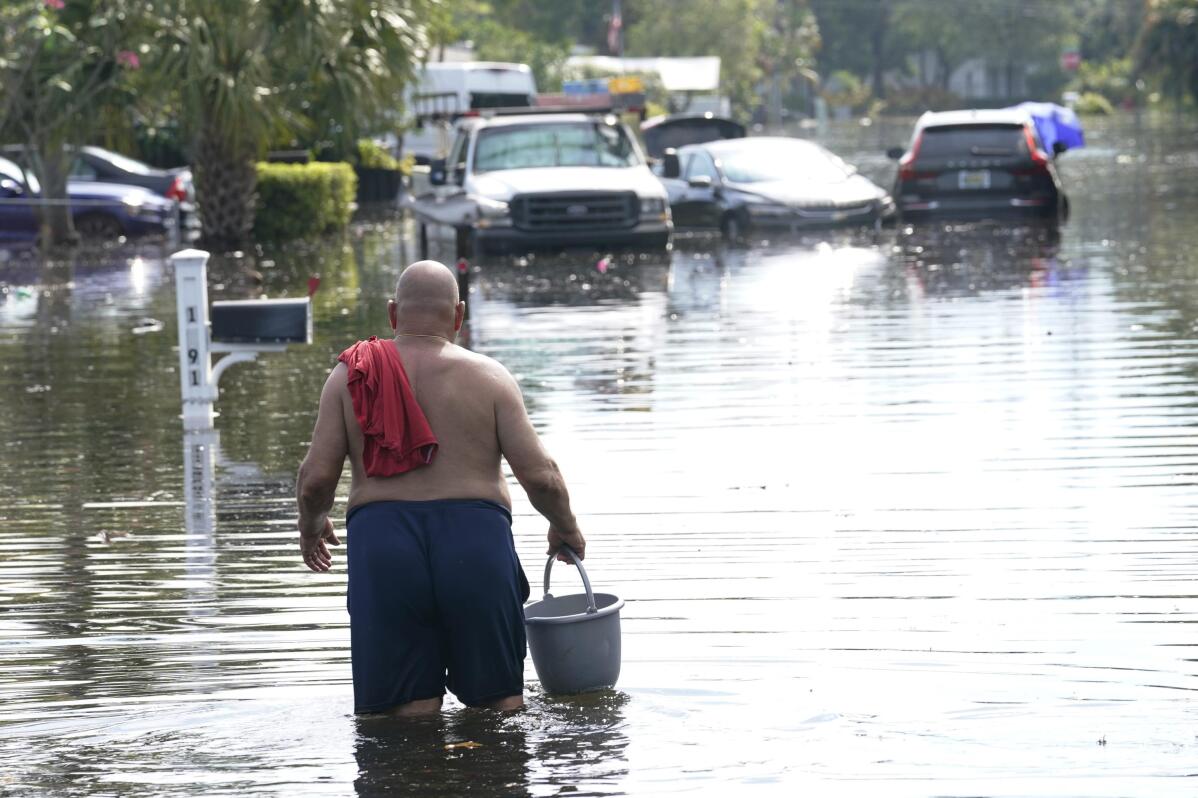 2 of 4

|
A man walks with a bucket on a flooded street, Friday, April 14, 2023, in Fort Lauderdale, Fla. South Florida has begun draining streets and otherwise cleaning up after an unprecedented storm that dumped upward of 2 feet of rain in a matter of hours. (AP Photo/Marta Lavandier)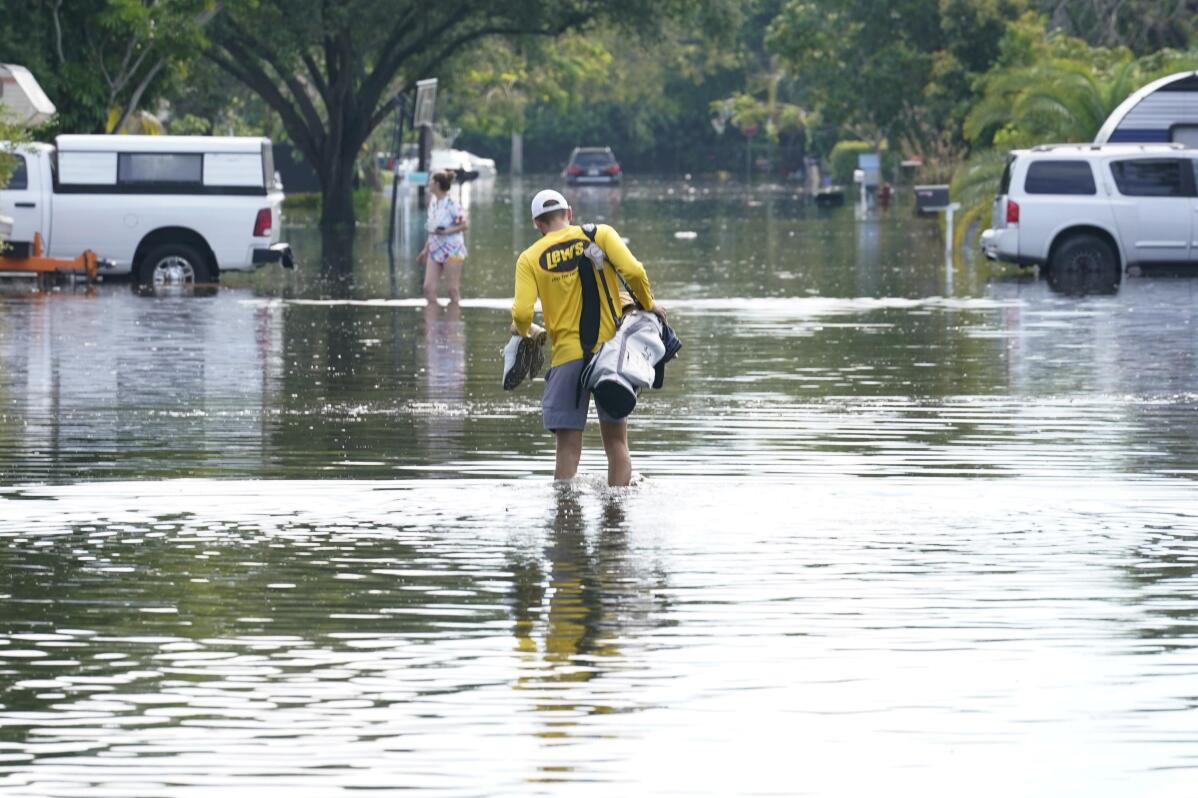 3 of 4

|
A man carries his golf bag and shoes through a flooded neighborhood Friday, April 14, 2023, in Fort Lauderdale, Fla. South Florida has begun draining streets and otherwise cleaning up after an unprecedented storm that dumped upward of 2 feet of rain in a matter of hours. Gov. Ron DeSantis issues a state of emergency for Broward County, which sustained the worst flooding in decades. (AP Photo/Marta Lavandier)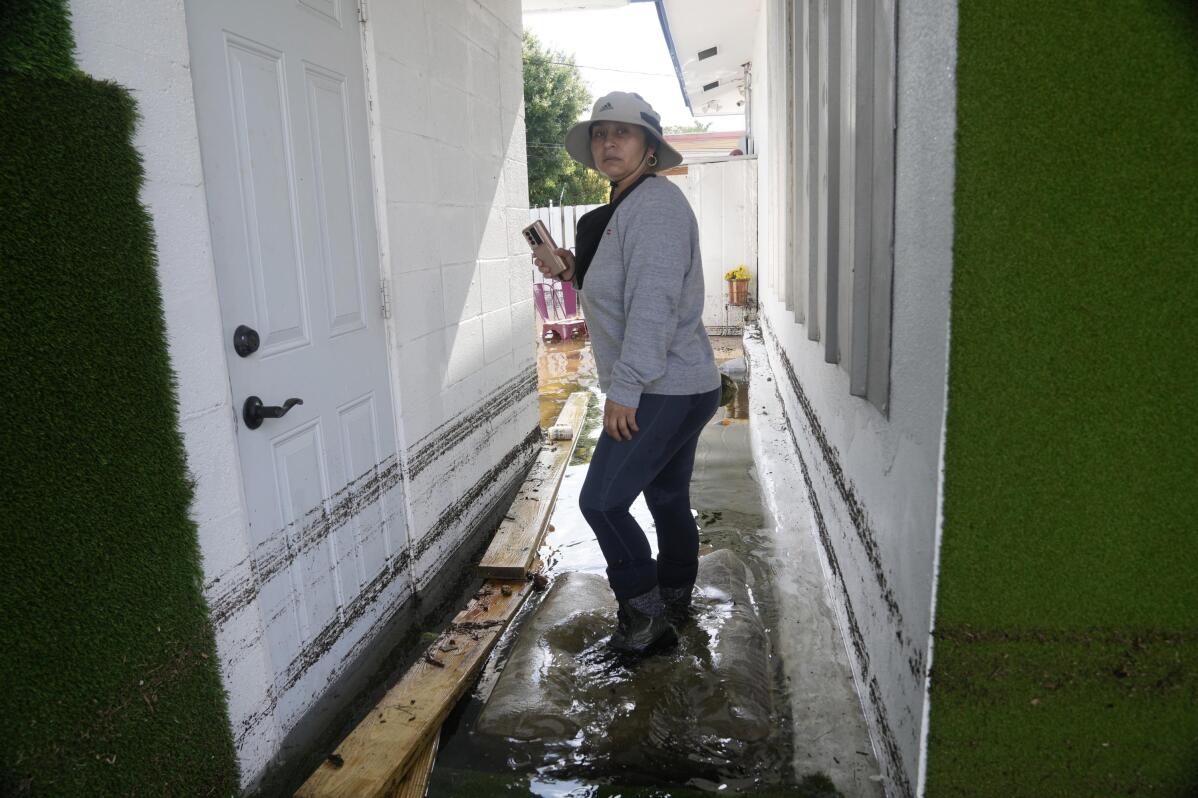 4 of 4

|
Claudia Rodriguez assess water damage to a neighbor's home, Friday, April 14, 2023, in Fort Lauderdale, Fla. South Florida has begun draining streets and otherwise cleaning up after an unprecedented storm that dumped upward of 2 feet of rain in a matter of hours. Gov. Ron DeSantis issues a state of emergency for Broward County, which sustained the worst flooding in decades. (AP Photo/Marta Lavandier)
Panic buying after Florida floods leads to long gas lines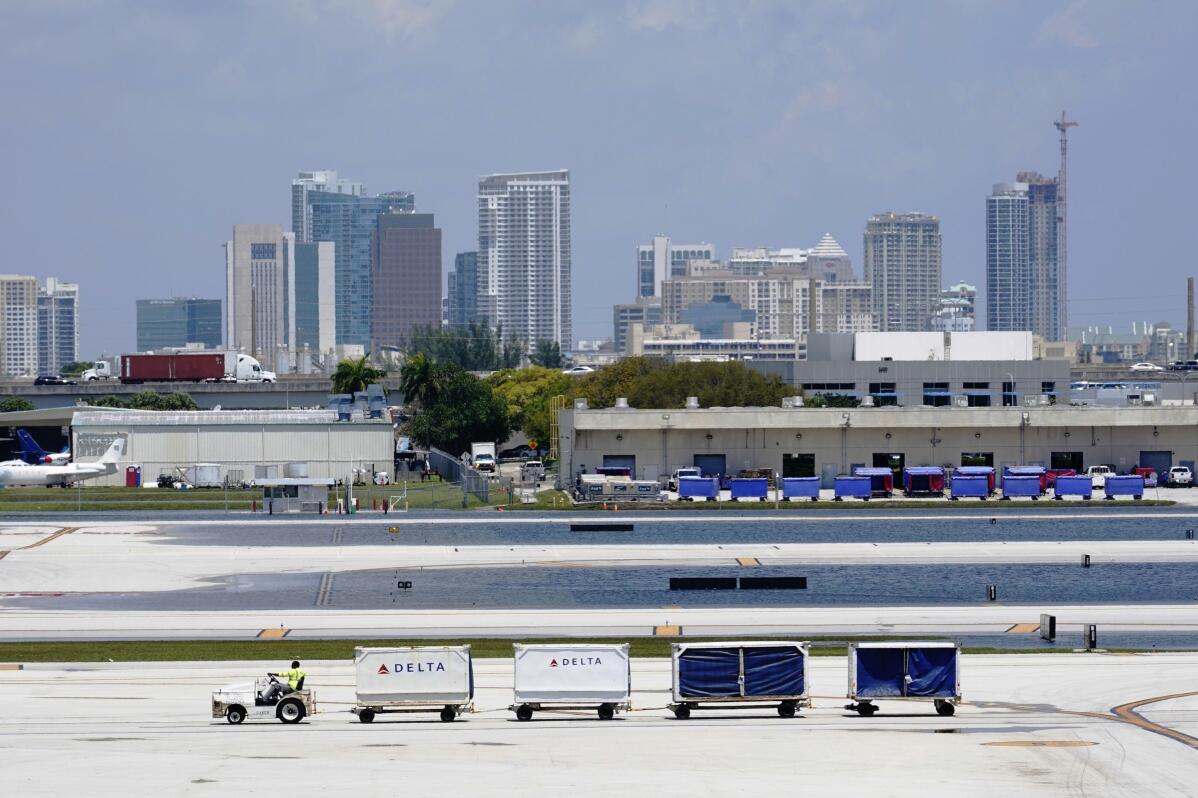 1 of 4

|
A Delta baggage train drives on the closed runway at Fort Lauderdale-Hollywood International Airport Friday, April 14, 2023, in Fort Lauderdale, Fla. The airport was able to open one of two runways after heavy rain flooded the runways. South Florida has begun draining streets and otherwise cleaning up after an unprecedented storm that dumped upward of 2 feet of rain in a matter of hours.(AP Photo/Marta Lavandier)
1 of 4
A Delta baggage train drives on the closed runway at Fort Lauderdale-Hollywood International Airport Friday, April 14, 2023, in Fort Lauderdale, Fla. The airport was able to open one of two runways after heavy rain flooded the runways. South Florida has begun draining streets and otherwise cleaning up after an unprecedented storm that dumped upward of 2 feet of rain in a matter of hours.(AP Photo/Marta Lavandier)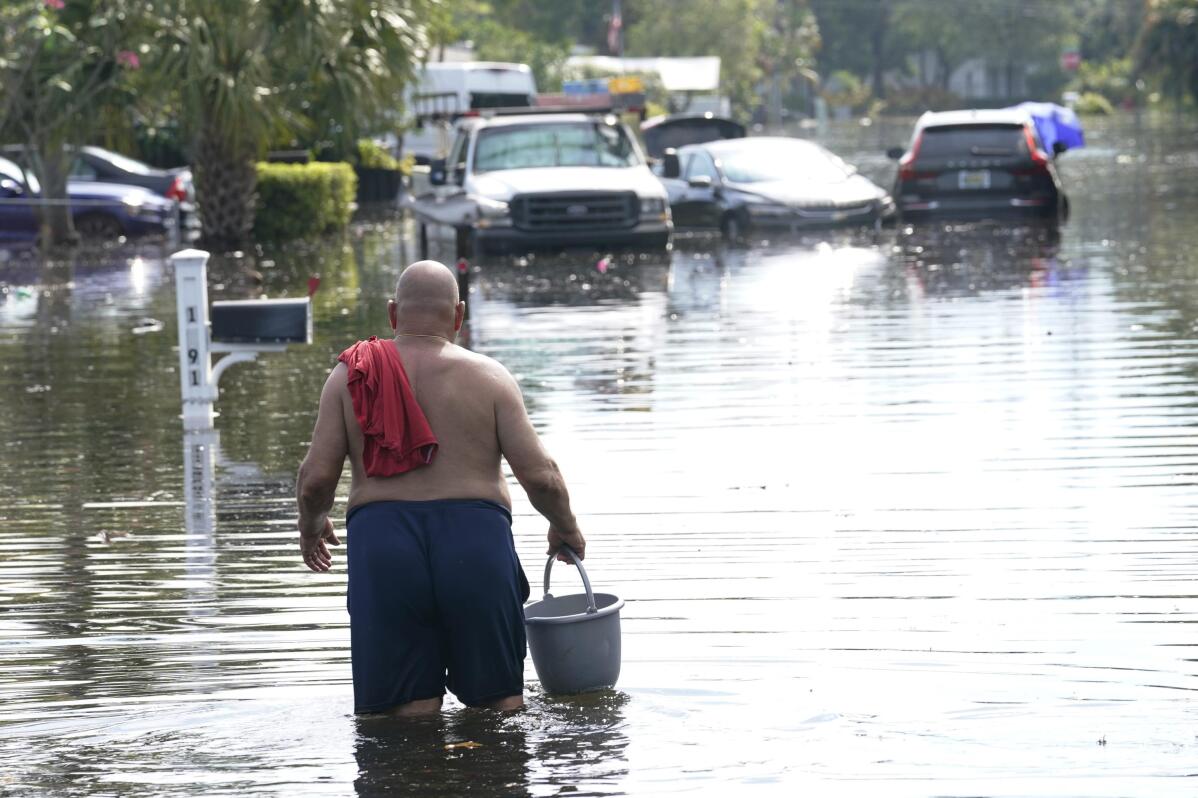 2 of 4

|
A man walks with a bucket on a flooded street, Friday, April 14, 2023, in Fort Lauderdale, Fla. South Florida has begun draining streets and otherwise cleaning up after an unprecedented storm that dumped upward of 2 feet of rain in a matter of hours. (AP Photo/Marta Lavandier)
2 of 4
A man walks with a bucket on a flooded street, Friday, April 14, 2023, in Fort Lauderdale, Fla. South Florida has begun draining streets and otherwise cleaning up after an unprecedented storm that dumped upward of 2 feet of rain in a matter of hours. (AP Photo/Marta Lavandier)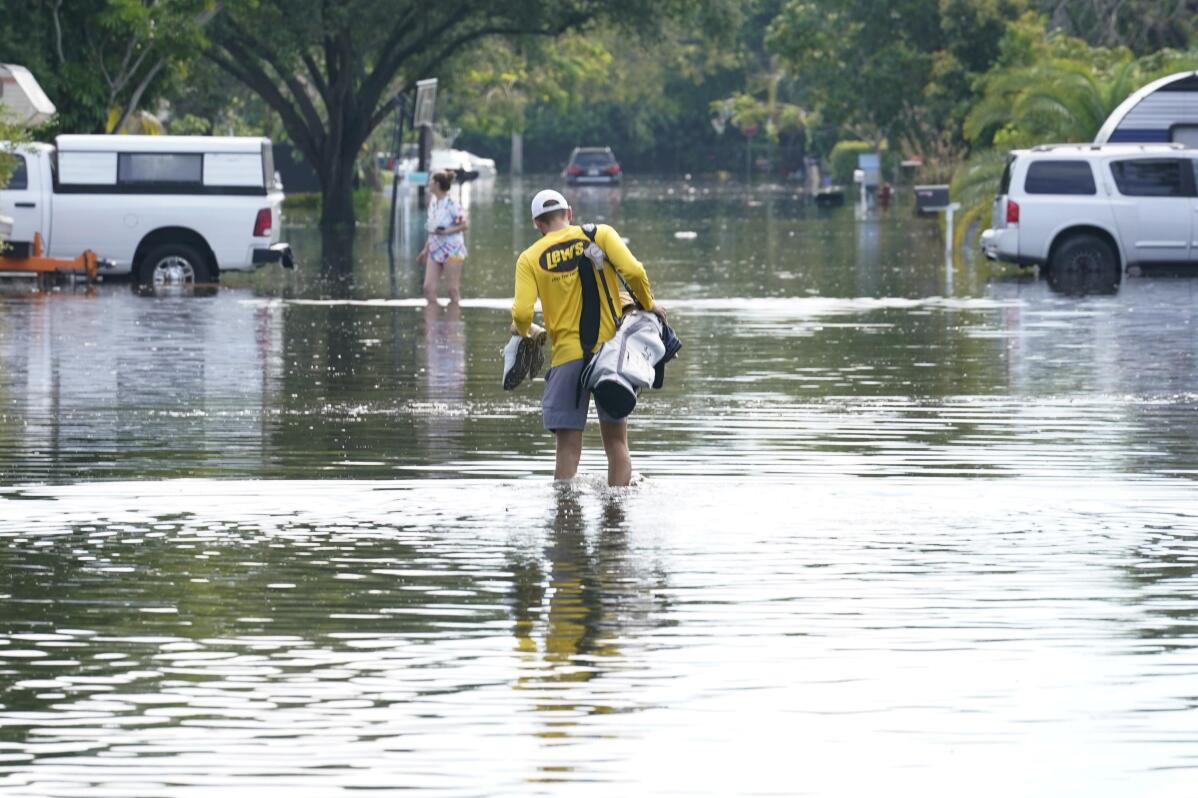 3 of 4

|
A man carries his golf bag and shoes through a flooded neighborhood Friday, April 14, 2023, in Fort Lauderdale, Fla. South Florida has begun draining streets and otherwise cleaning up after an unprecedented storm that dumped upward of 2 feet of rain in a matter of hours. Gov. Ron DeSantis issues a state of emergency for Broward County, which sustained the worst flooding in decades. (AP Photo/Marta Lavandier)
3 of 4
A man carries his golf bag and shoes through a flooded neighborhood Friday, April 14, 2023, in Fort Lauderdale, Fla. South Florida has begun draining streets and otherwise cleaning up after an unprecedented storm that dumped upward of 2 feet of rain in a matter of hours. Gov. Ron DeSantis issues a state of emergency for Broward County, which sustained the worst flooding in decades. (AP Photo/Marta Lavandier)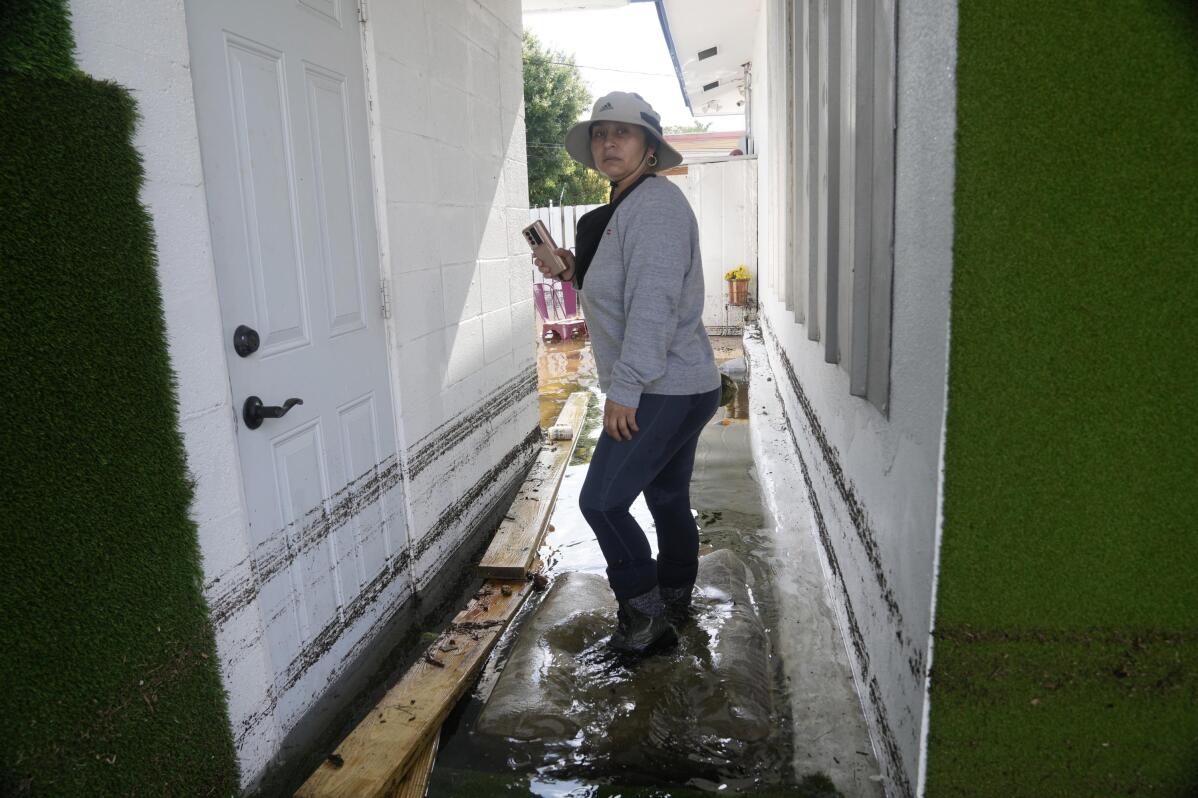 4 of 4

|
Claudia Rodriguez assess water damage to a neighbor's home, Friday, April 14, 2023, in Fort Lauderdale, Fla. South Florida has begun draining streets and otherwise cleaning up after an unprecedented storm that dumped upward of 2 feet of rain in a matter of hours. Gov. Ron DeSantis issues a state of emergency for Broward County, which sustained the worst flooding in decades. (AP Photo/Marta Lavandier)
4 of 4
Claudia Rodriguez assess water damage to a neighbor's home, Friday, April 14, 2023, in Fort Lauderdale, Fla. South Florida has begun draining streets and otherwise cleaning up after an unprecedented storm that dumped upward of 2 feet of rain in a matter of hours. Gov. Ron DeSantis issues a state of emergency for Broward County, which sustained the worst flooding in decades. (AP Photo/Marta Lavandier)
FORT LAUDERDALE, Fla. (AP) — Historic flooding a week ago in South Florida has led to long lines at the region's gas stations, as drivers fearful of a fuel shortage have been unnecessarily topping off their tanks.
Their rush to buy gas has caused some stations to run out of fuel, prompting more drivers to fear a possible shortage and top off their tanks, creating a self-made mini-crisis, officials said.
All the while, officials have reiterated there is more than enough fuel to go around if drivers just acted judiciously, filling up when it's actually needed.
On Wednesday, officials at Fort Lauderdale's Port Everglades said that "all indicators are pointing to more fuel getting to gas stations in southern Florida faster."
A storm system stalled over Fort Lauderdale on April 12, dumping up to 2 feet of rain and forcing the closure of Fort Lauderdale-Hollywood International Airport and disrupting operations at Port Everglades.
The rumors of a pending shortage began when the flooding made it difficult for fuel trucks to leave Port Everglades, where most of the region's gas is brought in and distributed. That led to panic buying, even though officials said gasoline was being brought in from Tampa and Orlando to replace any shortfall from Port Everglades.
By Wednesday morning nine of 12 gas terminals at Port Everglades were distributing gas and diesel to retailers, the news release said. And ships are continuing to bring petroleum products to Port Everglades, the news release said.
"There is no shortage of gas, diesel, jet fuel or other petroleum products. And, the delays in delivery are expected to continue to decrease," the port news release said.
Officials urged motorists to "be judicious about their gas purchases and usage" until the privately run petroleum companies are fully operational and retail gas stations replenished.
"Buy the gas that you need to take care of the essentials. Consider your neighbor, coworker or friend who may be in need," the release said.