Sorokin stops 27 as Islanders down Flyers 4-0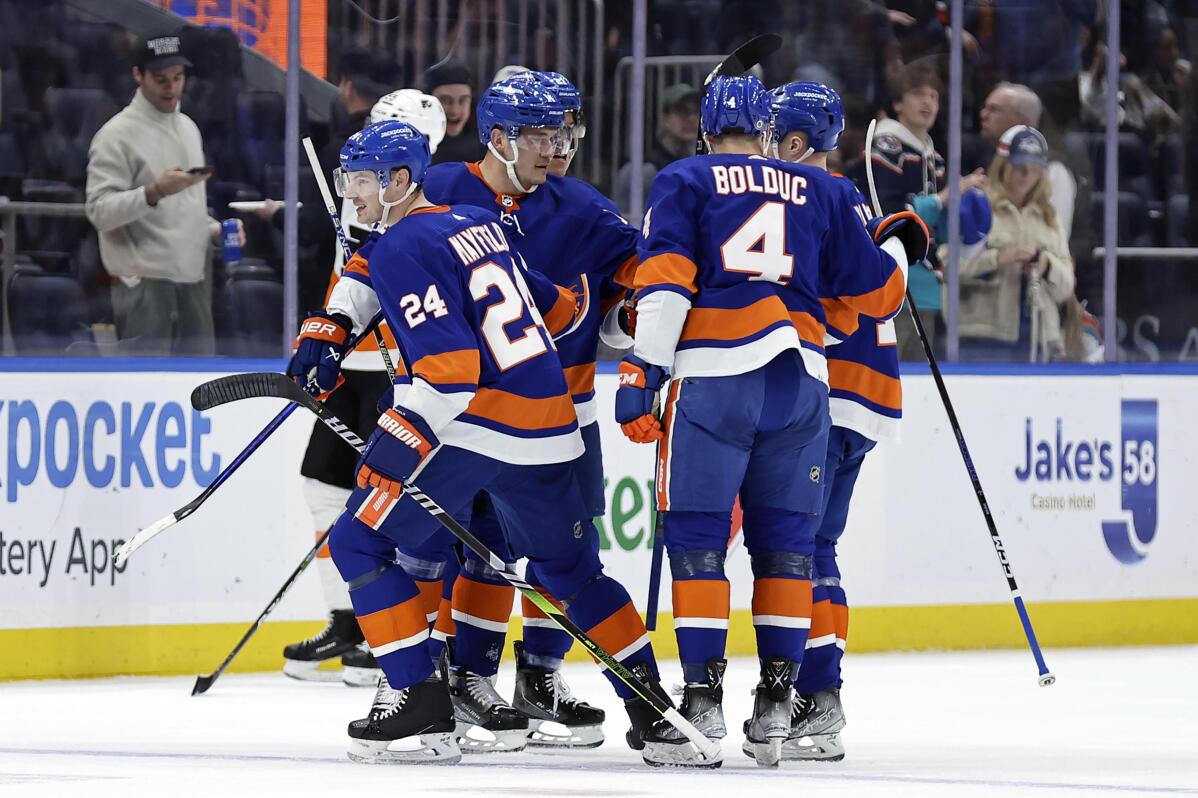 1 of 11

|
New York Islanders defenseman Scott Mayfield (24) skates away after celebrating a goal scored by Anders Lee in the first period of an NHL hockey game against the Philadelphia Flyers on Saturday, April 8, 2023, in Elmont, N.Y. (AP Photo/Adam Hunger)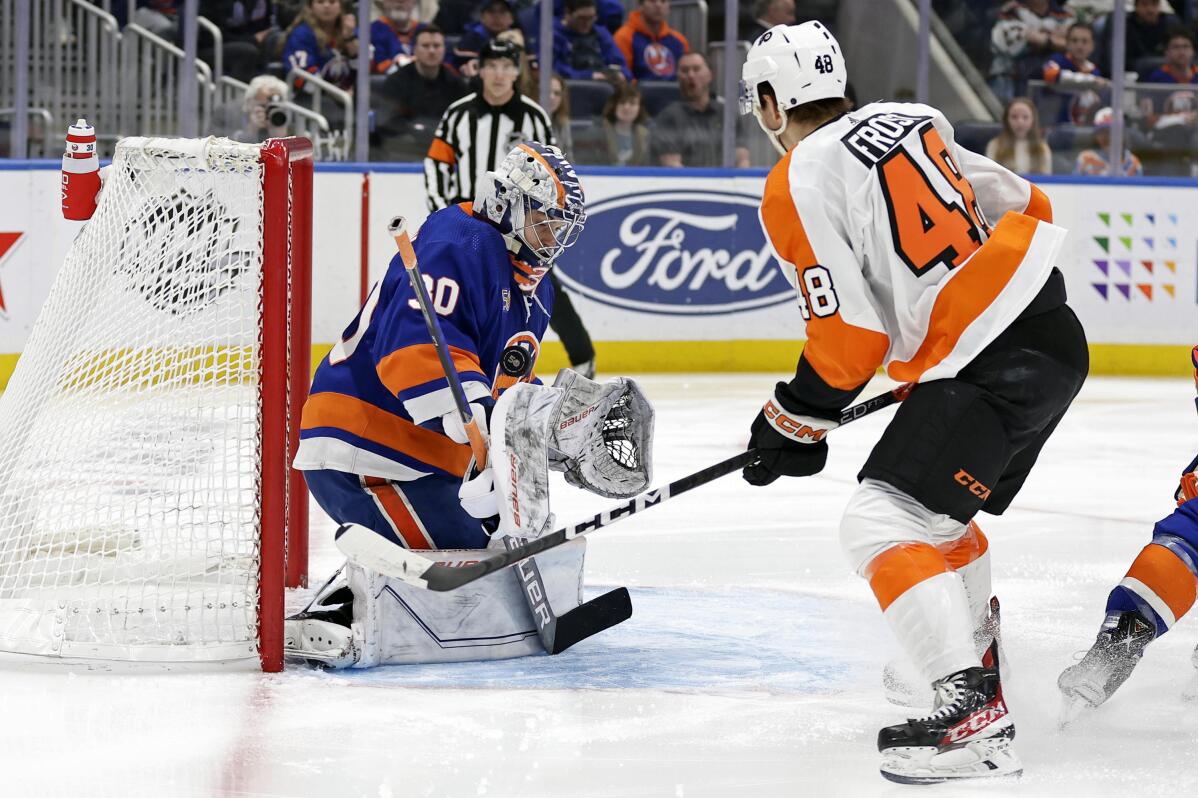 2 of 11

|
New York Islanders goaltender Ilya Sorokin makes a save on a shot by Philadelphia Flyers center Morgan Frost (48) in the first period of an NHL hockey game Saturday, April 8, 2023, in Elmont, N.Y. (AP Photo/Adam Hunger)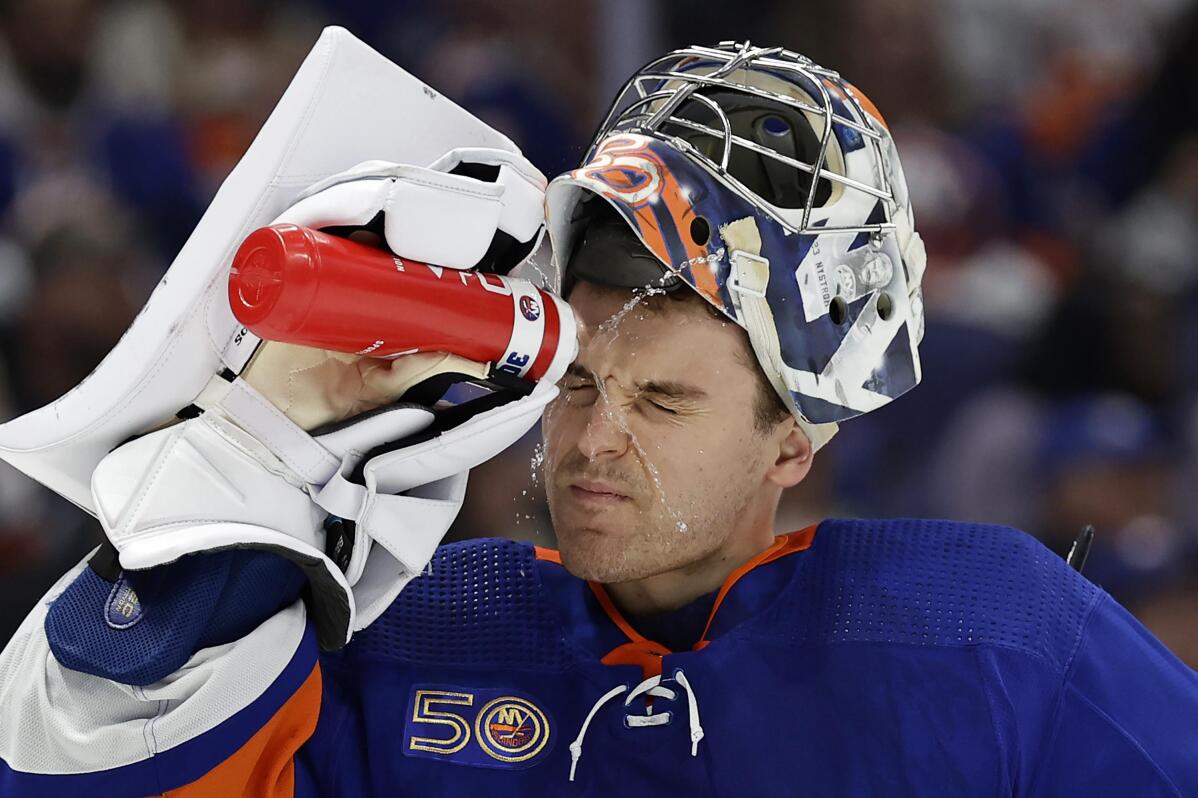 3 of 11

|
New York Islanders goaltender Ilya Sorokin sprays his face with water in the first period of an NHL hockey game against the Philadelphia Flyers on Saturday, April 8, 2023, in Elmont, N.Y. (AP Photo/Adam Hunger)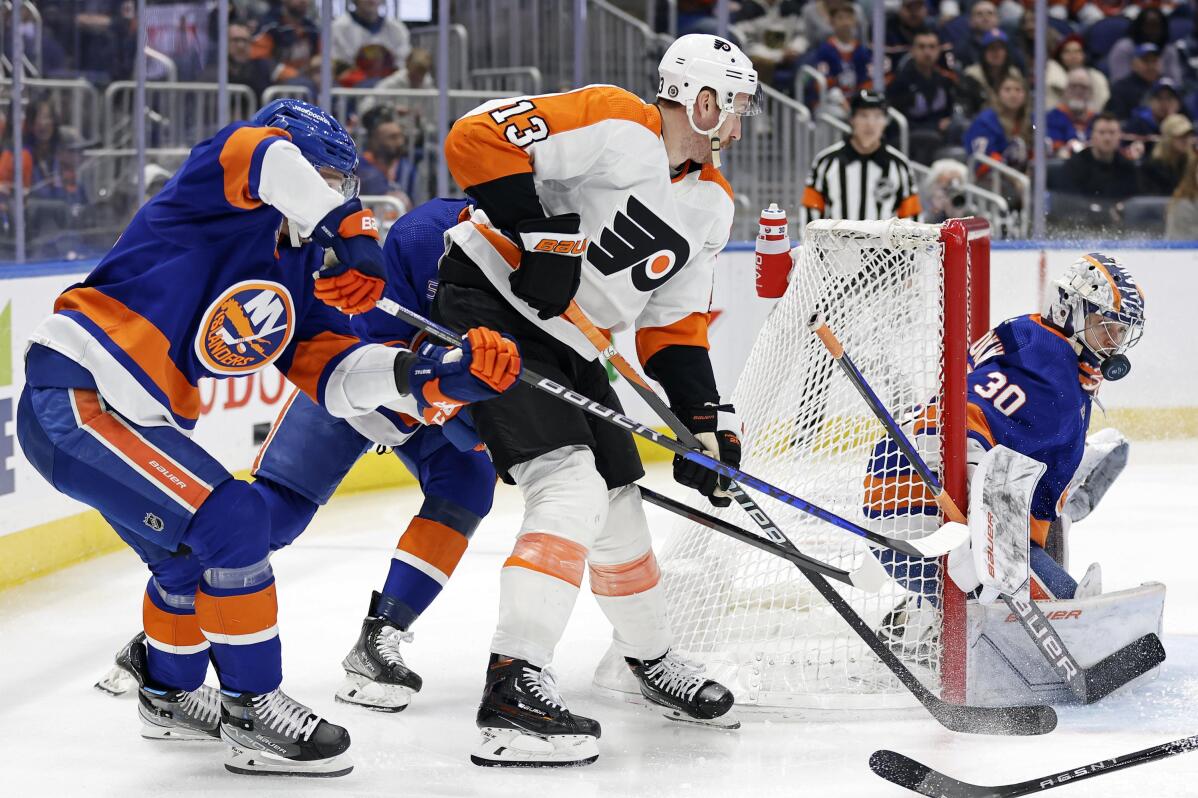 4 of 11

|
New York Islanders goaltender Ilya Sorokin makes a save on a shot by Philadelphia Flyers center Kevin Hayes (13) in the first period of an NHL hockey game Saturday, April 8, 2023, in Elmont, N.Y. (AP Photo/Adam Hunger)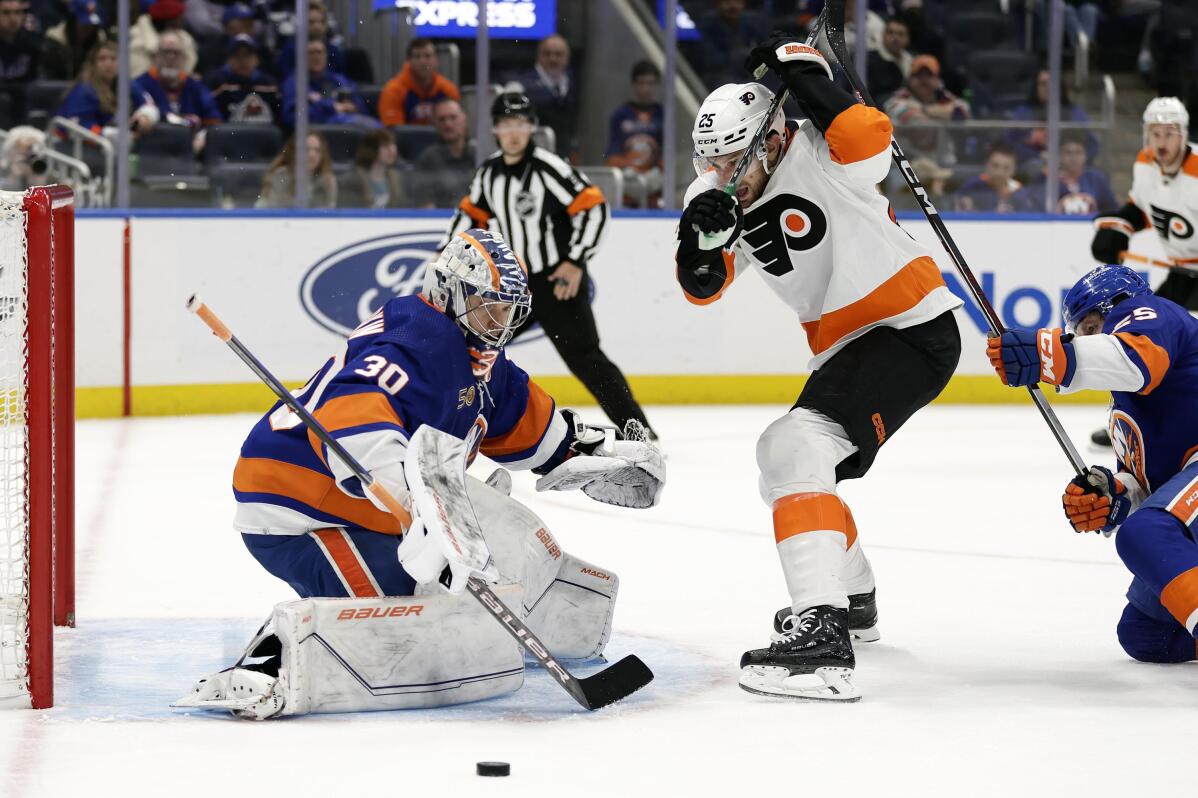 5 of 11

|
New York Islanders goaltender Ilya Sorokin watches the puck go wide of the net in front of Philadelphia Flyers left wing James van Riemsdyk (25) in the third period of an NHL hockey game Saturday, April 8, 2023, in Elmont, N.Y. The Islanders won 4-0. (AP Photo/Adam Hunger)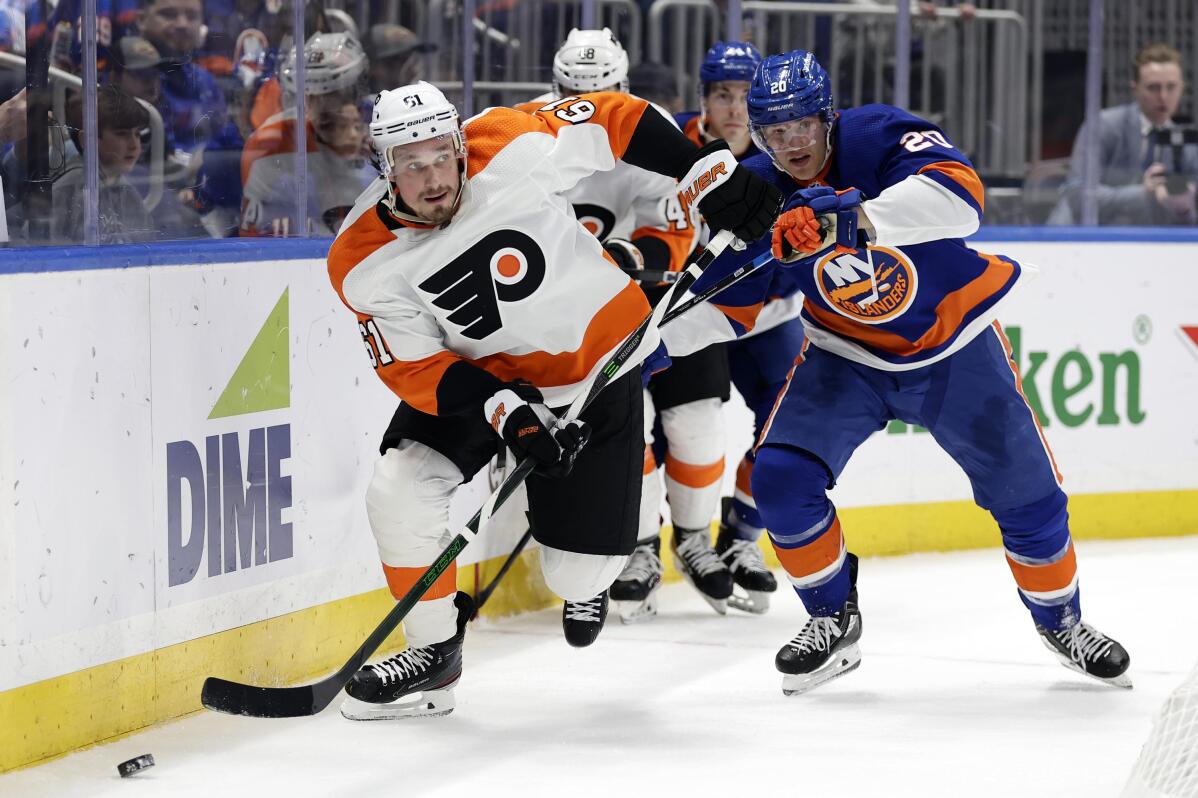 6 of 11

|
Philadelphia Flyers defenseman Justin Braun (61) skates with the puck past New York Islanders right wing Hudson Fasching in the second period of an NHL hockey game Saturday, April 8, 2023, in Elmont, N.Y. (AP Photo/Adam Hunger)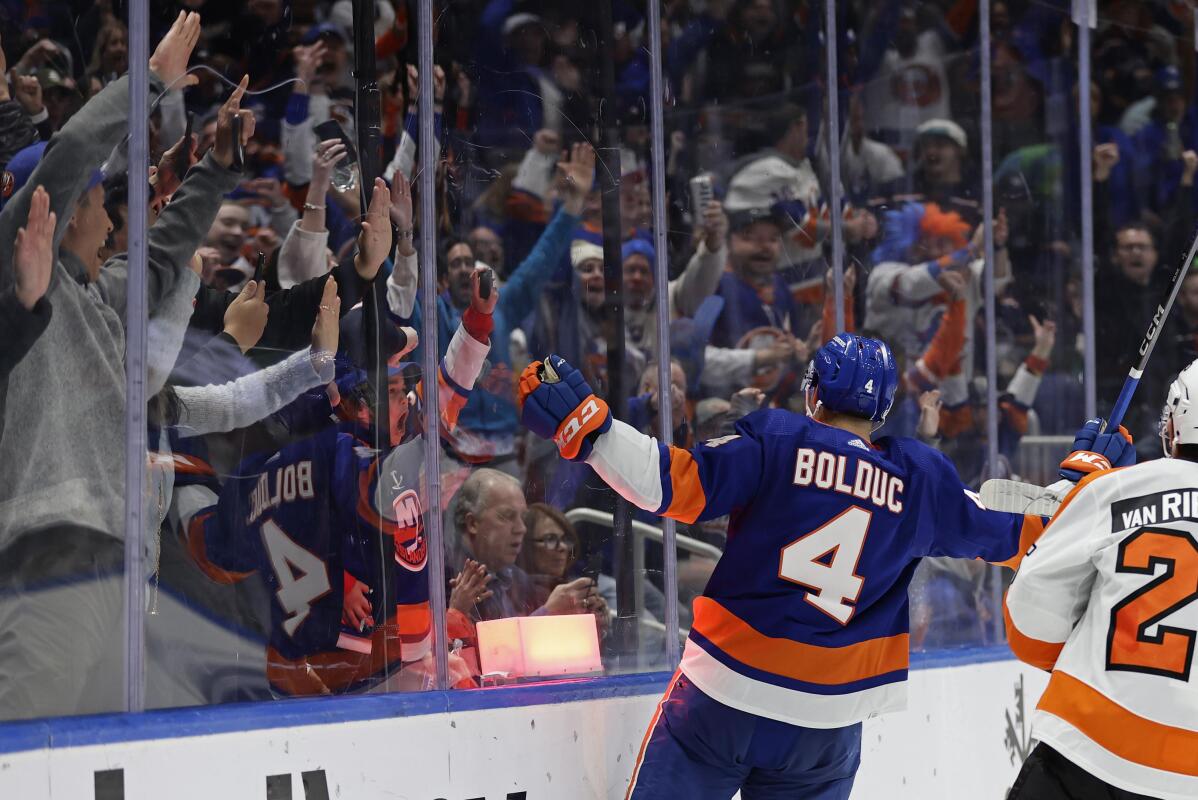 7 of 11

|
New York Islanders defenseman Samuel Bolduc (4) reacts after scoring a goal against the Philadelphia Flyers in the second period of an NHL hockey game Saturday, April 8, 2023, in Elmont, N.Y. (AP Photo/Adam Hunger)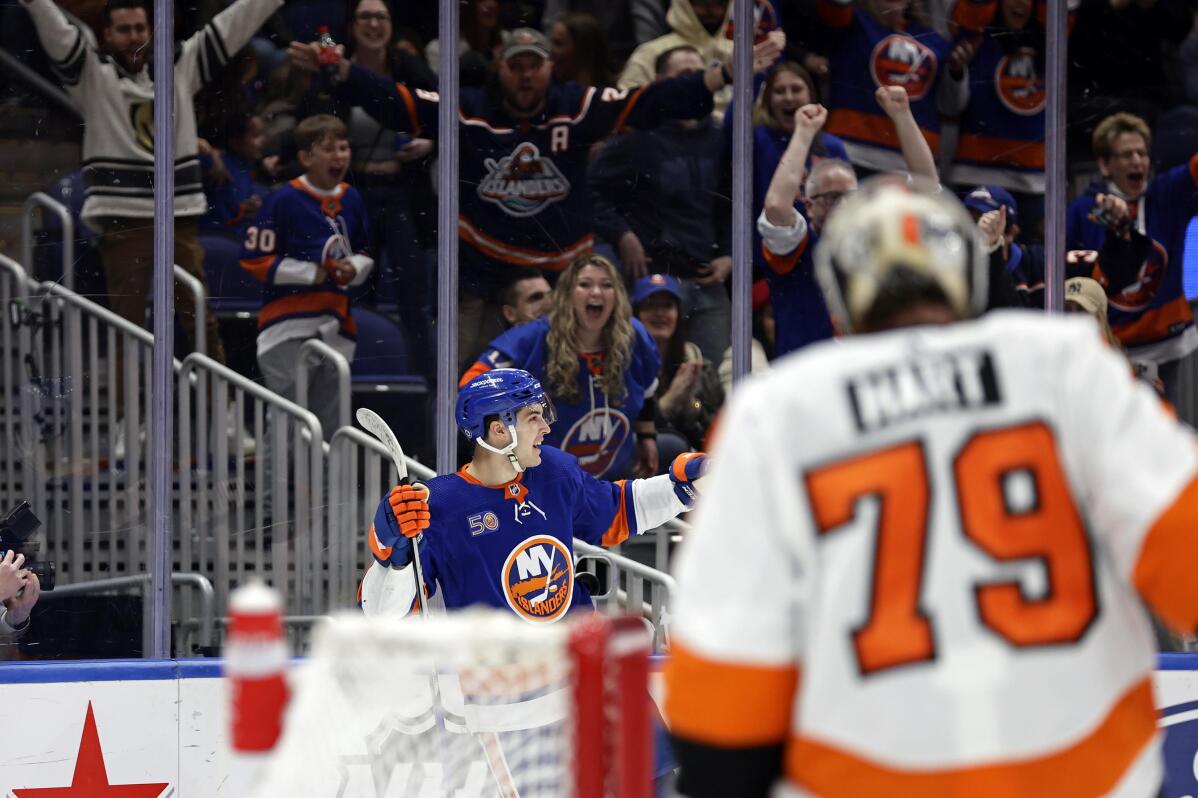 8 of 11

|
New York Islanders defenseman Samuel Bolduc reacts after scoring a goal past Philadelphia Flyers goaltender Carter Hart in the second period of an NHL hockey game Saturday, April 8, 2023, in Elmont, N.Y. (AP Photo/Adam Hunger)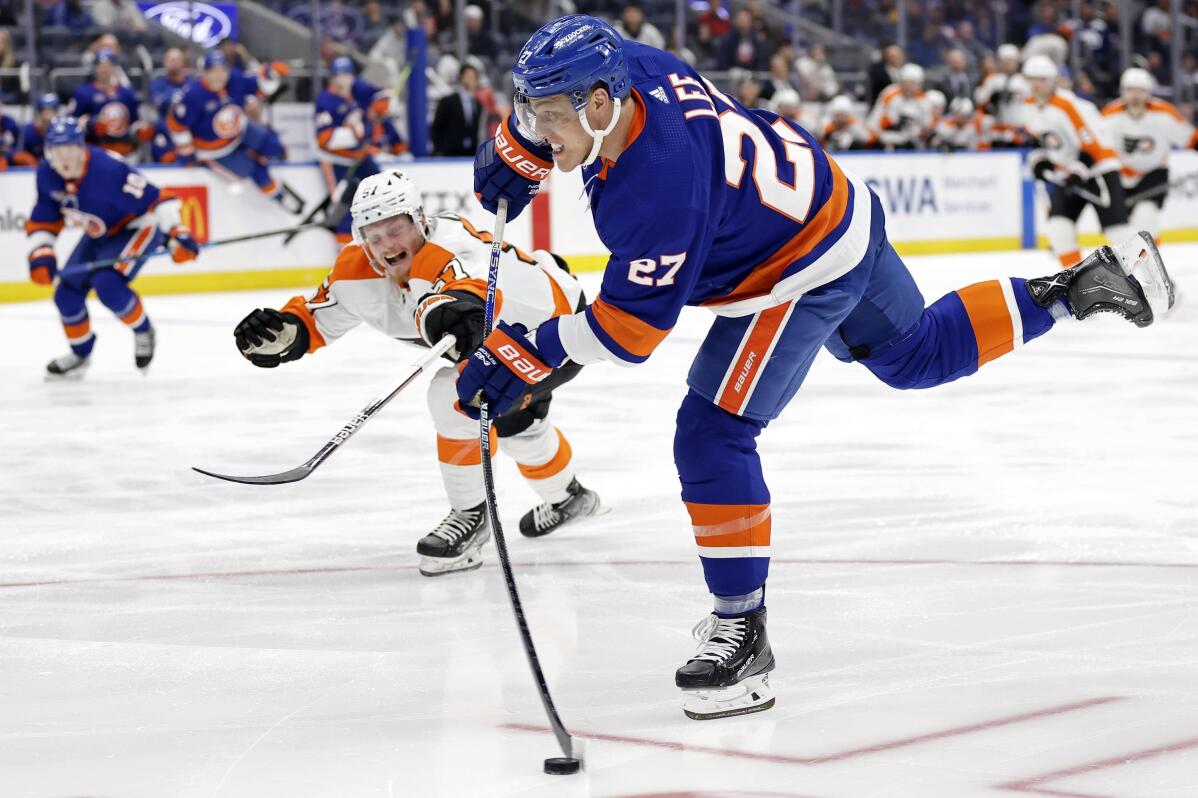 9 of 11

|
New York Islanders left wing Anders Lee (27) shoots in front of Philadelphia Flyers right wing Wade Allison in the second period of an NHL hockey game Saturday, April 8, 2023, in Elmont, N.Y. (AP Photo/Adam Hunger)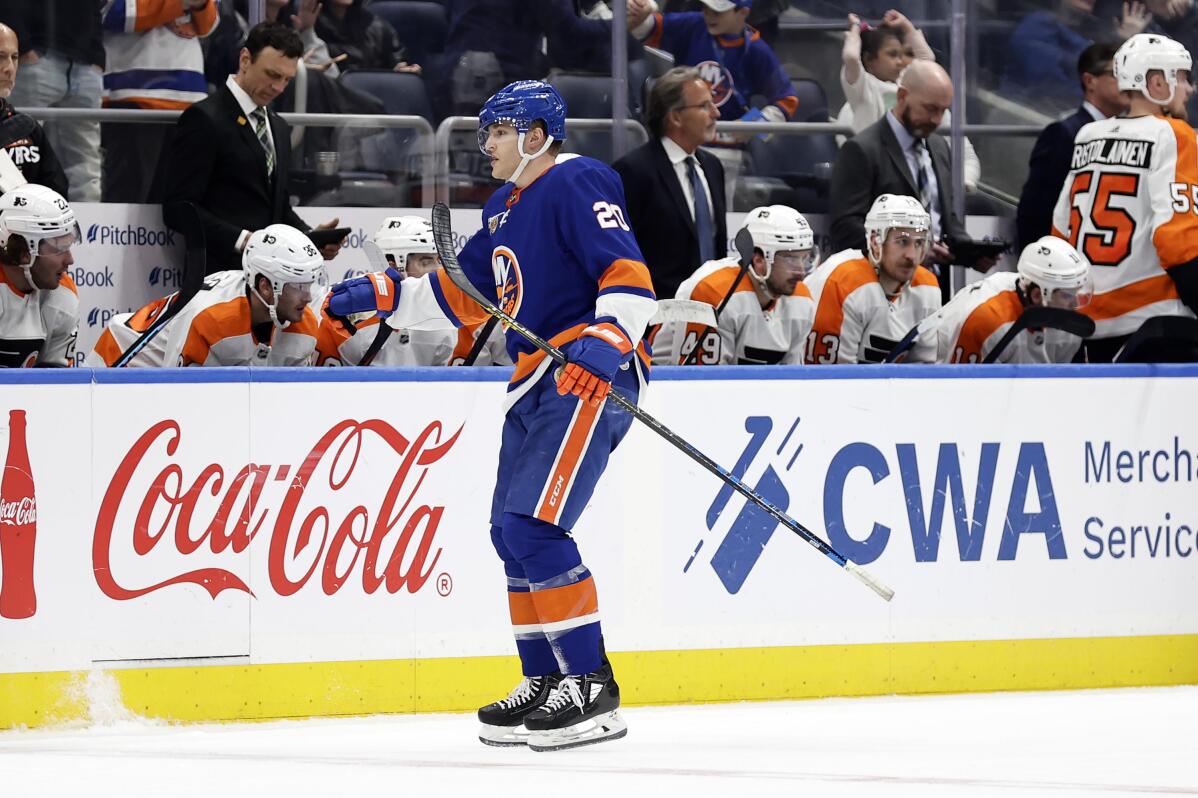 10 of 11

|
New York Islanders right wing Hudson Fasching reacts after scoring a goal against the Philadelphia Flyers in the third period of an NHL hockey game Saturday, April 8, 2023, in Elmont, N.Y. The Islanders won 4-0. (AP Photo/Adam Hunger)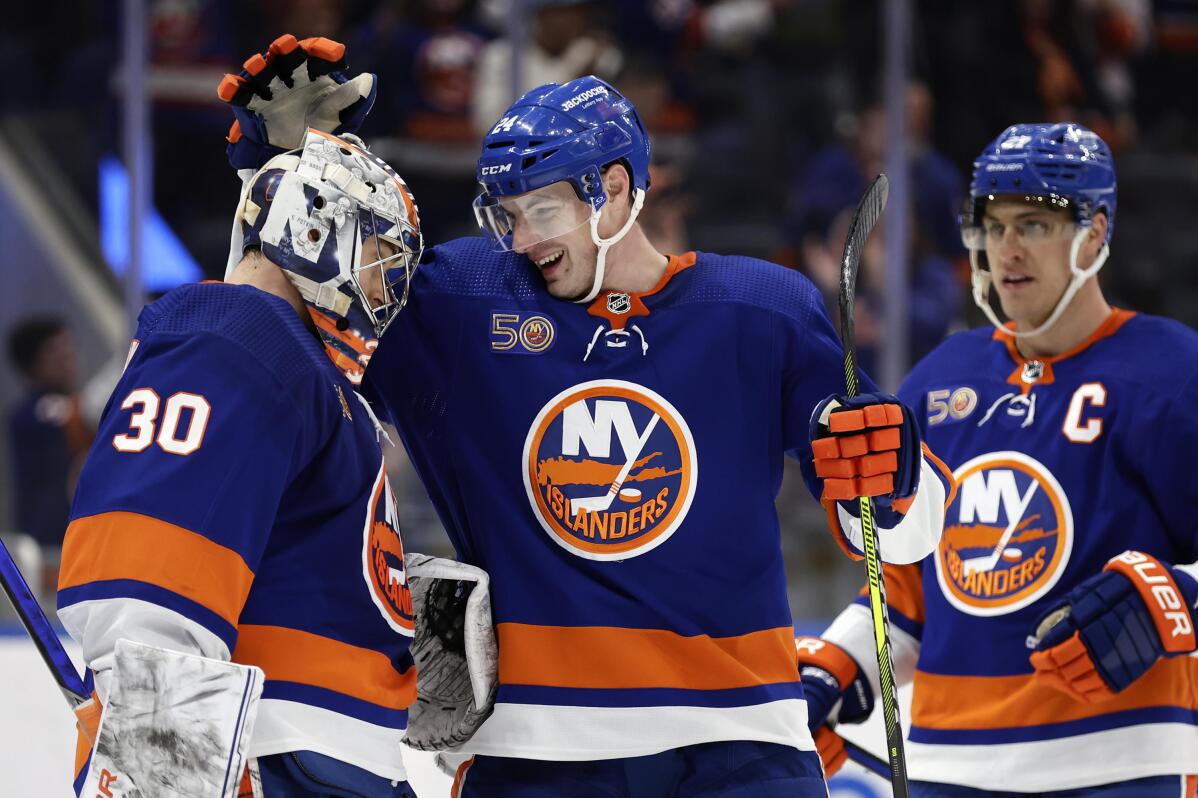 11 of 11

|
New York Islanders defenseman Scott Mayfield celebrates with Ilya Sorokin (30) after the third period of an NHL hockey game against the Philadelphia Flyers on Saturday, April 8, 2023, in Elmont, N.Y. The Islanders won 4-0. (AP Photo/Adam Hunger)
Sorokin stops 27 as Islanders down Flyers 4-0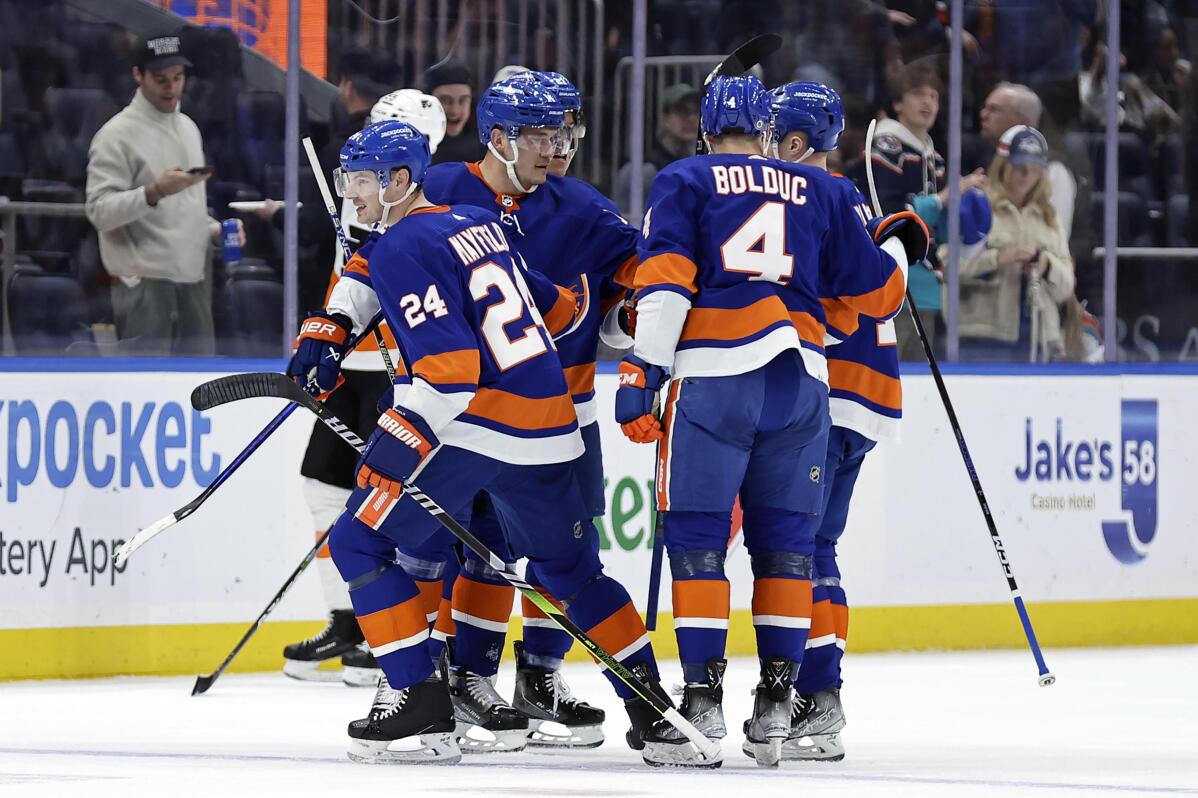 1 of 11

|
New York Islanders defenseman Scott Mayfield (24) skates away after celebrating a goal scored by Anders Lee in the first period of an NHL hockey game against the Philadelphia Flyers on Saturday, April 8, 2023, in Elmont, N.Y. (AP Photo/Adam Hunger)
1 of 11
New York Islanders defenseman Scott Mayfield (24) skates away after celebrating a goal scored by Anders Lee in the first period of an NHL hockey game against the Philadelphia Flyers on Saturday, April 8, 2023, in Elmont, N.Y. (AP Photo/Adam Hunger)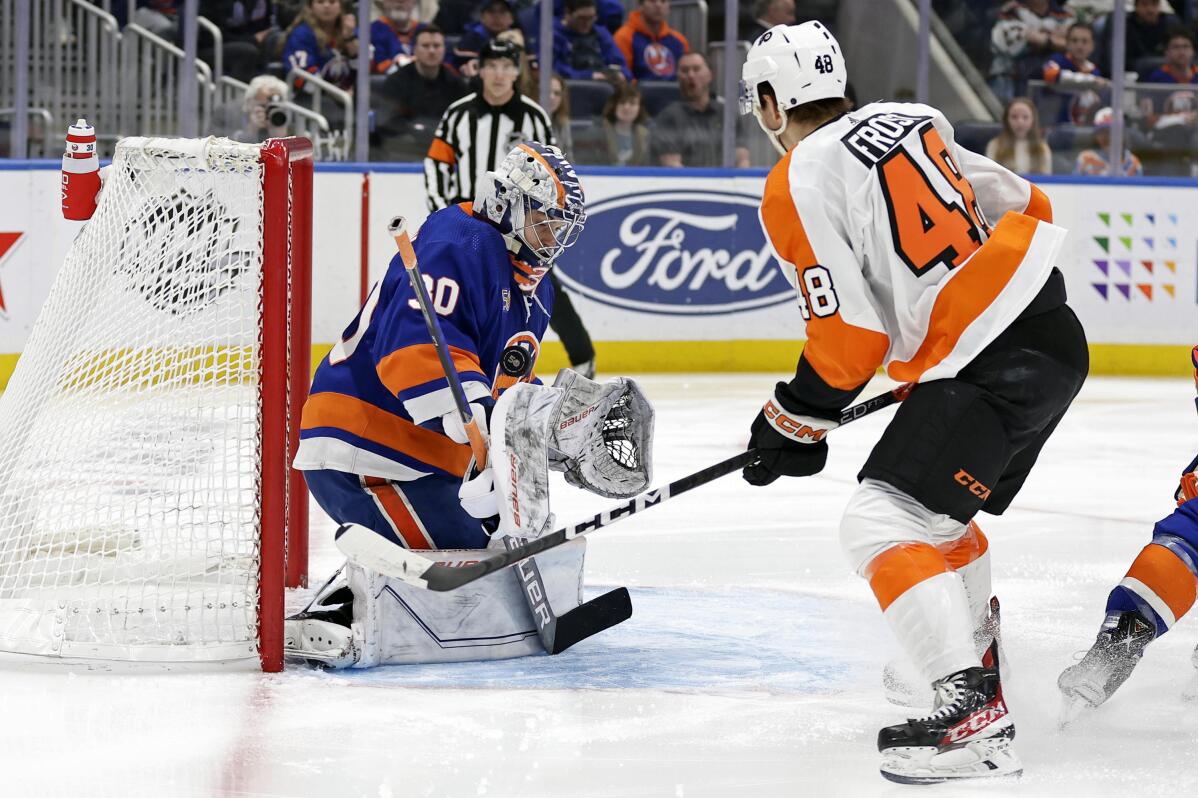 2 of 11

|
New York Islanders goaltender Ilya Sorokin makes a save on a shot by Philadelphia Flyers center Morgan Frost (48) in the first period of an NHL hockey game Saturday, April 8, 2023, in Elmont, N.Y. (AP Photo/Adam Hunger)
2 of 11
New York Islanders goaltender Ilya Sorokin makes a save on a shot by Philadelphia Flyers center Morgan Frost (48) in the first period of an NHL hockey game Saturday, April 8, 2023, in Elmont, N.Y. (AP Photo/Adam Hunger)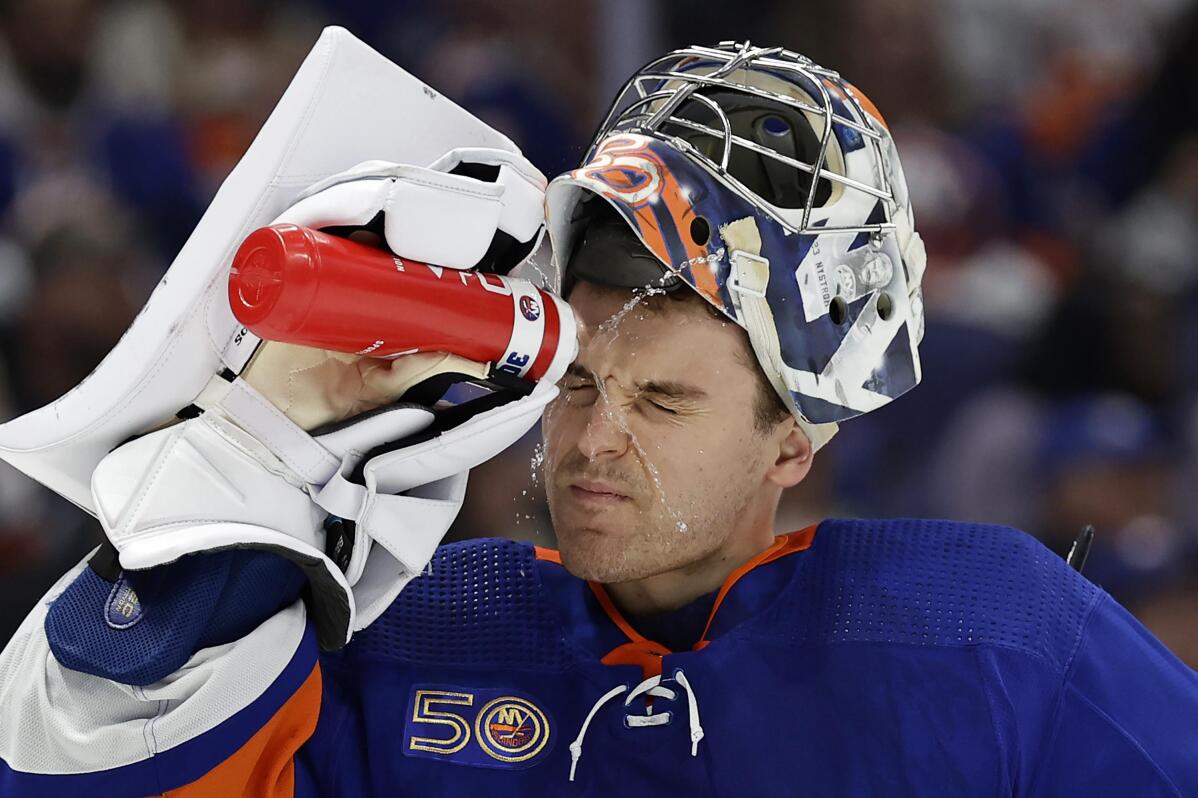 3 of 11

|
New York Islanders goaltender Ilya Sorokin sprays his face with water in the first period of an NHL hockey game against the Philadelphia Flyers on Saturday, April 8, 2023, in Elmont, N.Y. (AP Photo/Adam Hunger)
3 of 11
New York Islanders goaltender Ilya Sorokin sprays his face with water in the first period of an NHL hockey game against the Philadelphia Flyers on Saturday, April 8, 2023, in Elmont, N.Y. (AP Photo/Adam Hunger)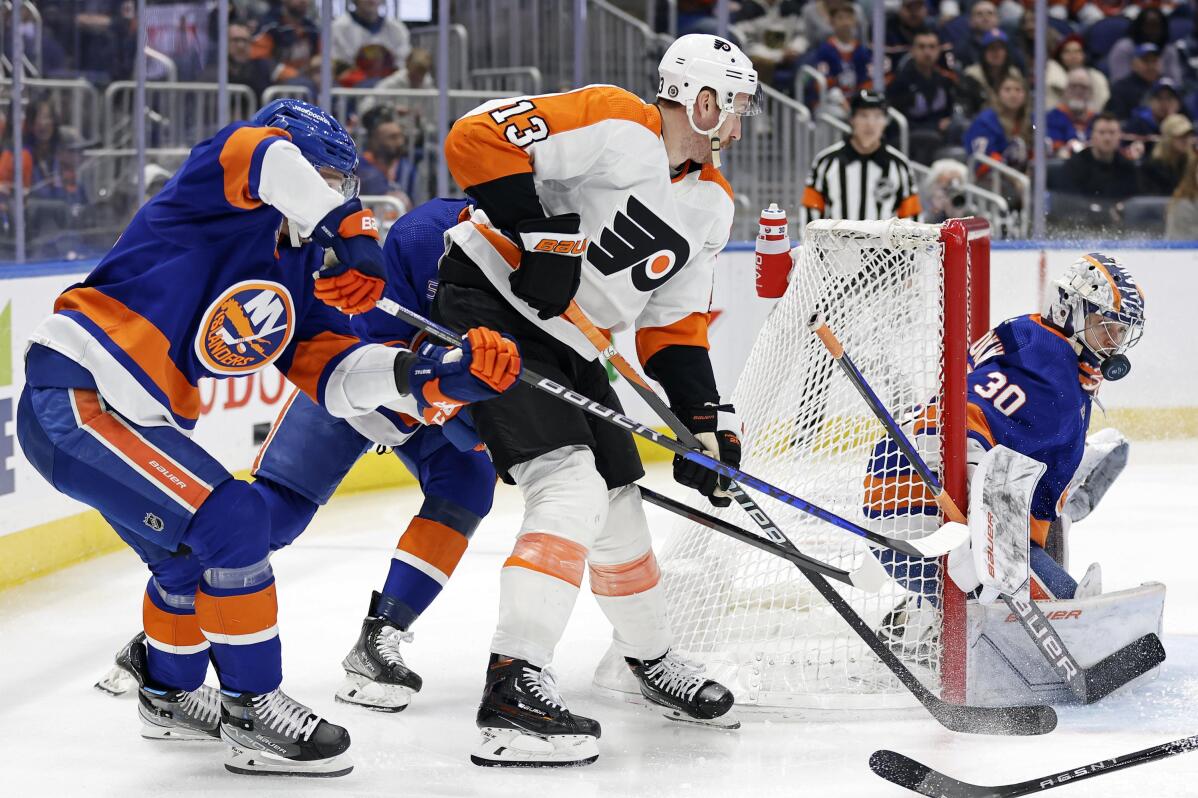 4 of 11

|
New York Islanders goaltender Ilya Sorokin makes a save on a shot by Philadelphia Flyers center Kevin Hayes (13) in the first period of an NHL hockey game Saturday, April 8, 2023, in Elmont, N.Y. (AP Photo/Adam Hunger)
4 of 11
New York Islanders goaltender Ilya Sorokin makes a save on a shot by Philadelphia Flyers center Kevin Hayes (13) in the first period of an NHL hockey game Saturday, April 8, 2023, in Elmont, N.Y. (AP Photo/Adam Hunger)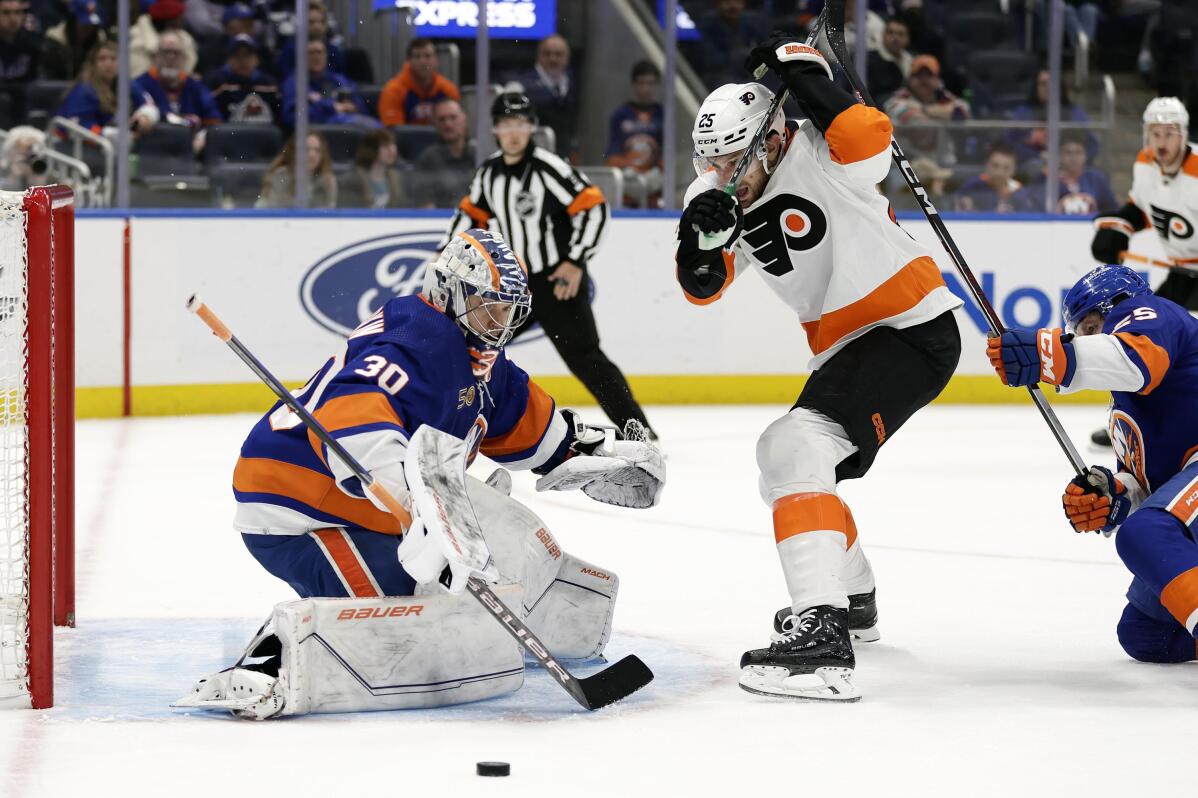 5 of 11

|
New York Islanders goaltender Ilya Sorokin watches the puck go wide of the net in front of Philadelphia Flyers left wing James van Riemsdyk (25) in the third period of an NHL hockey game Saturday, April 8, 2023, in Elmont, N.Y. The Islanders won 4-0. (AP Photo/Adam Hunger)
5 of 11
New York Islanders goaltender Ilya Sorokin watches the puck go wide of the net in front of Philadelphia Flyers left wing James van Riemsdyk (25) in the third period of an NHL hockey game Saturday, April 8, 2023, in Elmont, N.Y. The Islanders won 4-0. (AP Photo/Adam Hunger)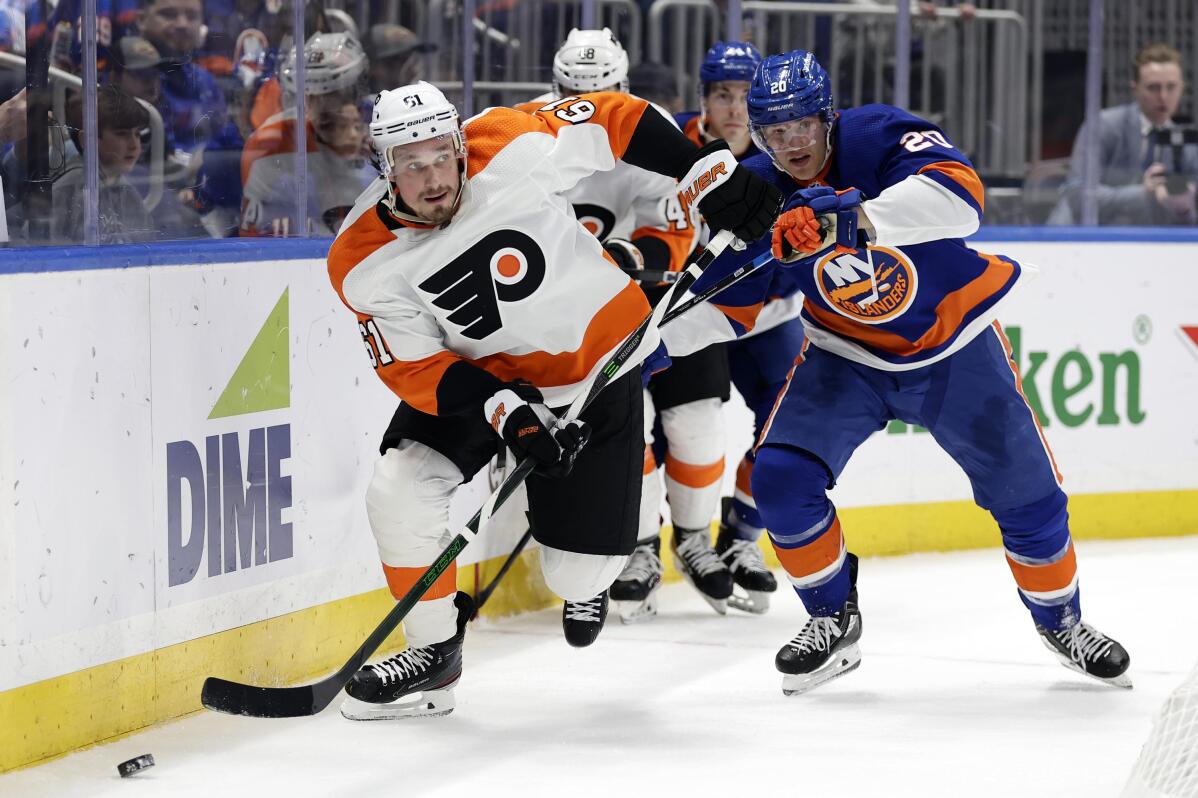 6 of 11

|
Philadelphia Flyers defenseman Justin Braun (61) skates with the puck past New York Islanders right wing Hudson Fasching in the second period of an NHL hockey game Saturday, April 8, 2023, in Elmont, N.Y. (AP Photo/Adam Hunger)
6 of 11
Philadelphia Flyers defenseman Justin Braun (61) skates with the puck past New York Islanders right wing Hudson Fasching in the second period of an NHL hockey game Saturday, April 8, 2023, in Elmont, N.Y. (AP Photo/Adam Hunger)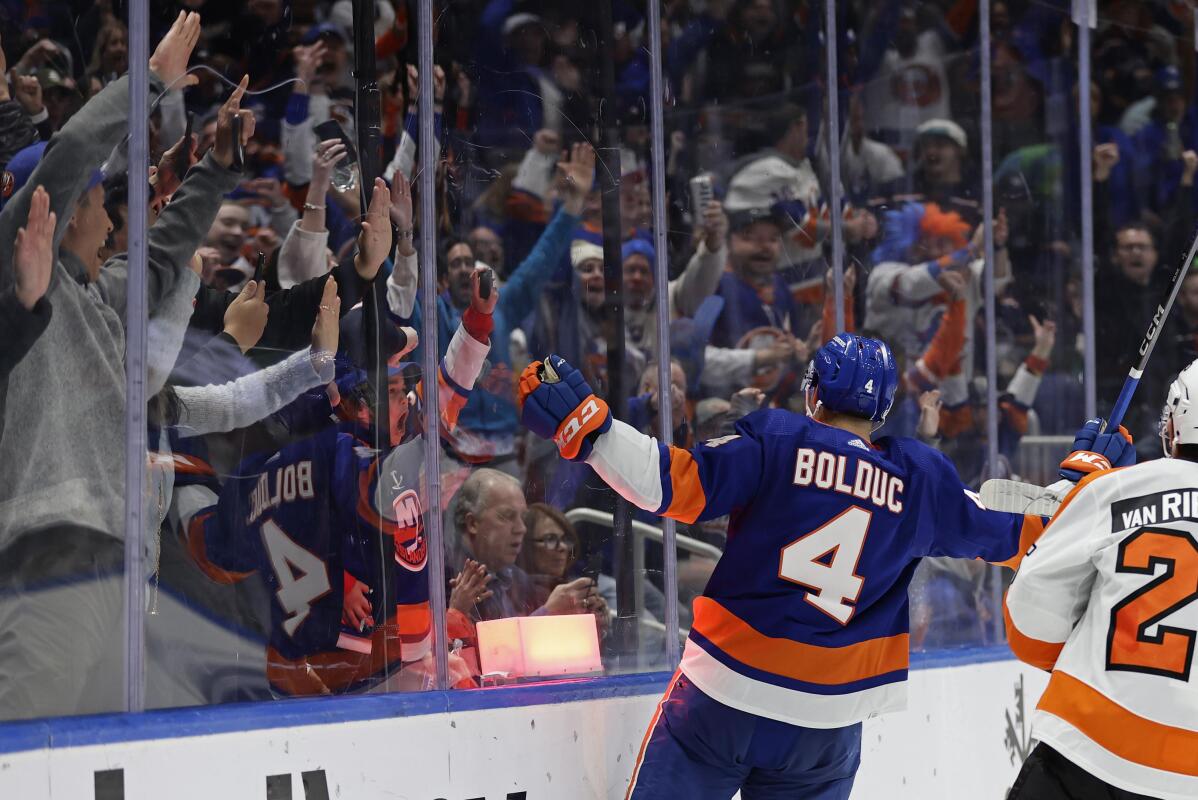 7 of 11

|
New York Islanders defenseman Samuel Bolduc (4) reacts after scoring a goal against the Philadelphia Flyers in the second period of an NHL hockey game Saturday, April 8, 2023, in Elmont, N.Y. (AP Photo/Adam Hunger)
7 of 11
New York Islanders defenseman Samuel Bolduc (4) reacts after scoring a goal against the Philadelphia Flyers in the second period of an NHL hockey game Saturday, April 8, 2023, in Elmont, N.Y. (AP Photo/Adam Hunger)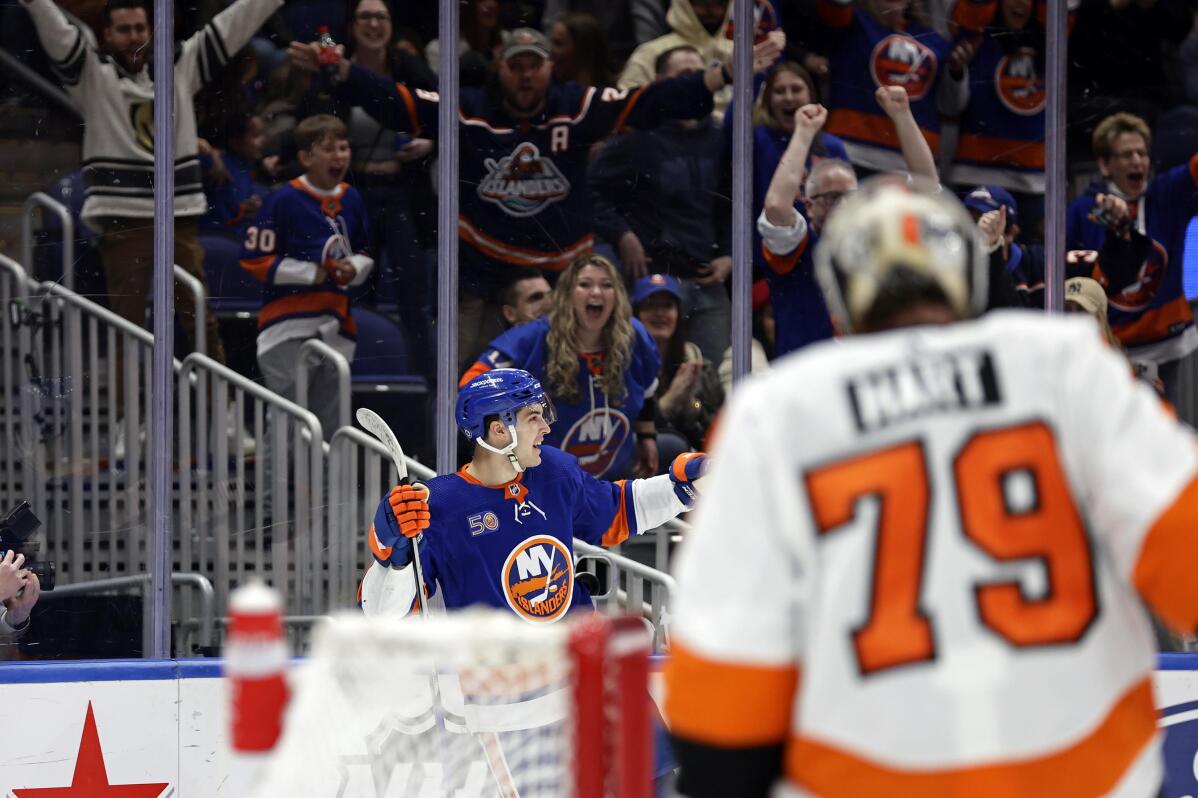 8 of 11

|
New York Islanders defenseman Samuel Bolduc reacts after scoring a goal past Philadelphia Flyers goaltender Carter Hart in the second period of an NHL hockey game Saturday, April 8, 2023, in Elmont, N.Y. (AP Photo/Adam Hunger)
8 of 11
New York Islanders defenseman Samuel Bolduc reacts after scoring a goal past Philadelphia Flyers goaltender Carter Hart in the second period of an NHL hockey game Saturday, April 8, 2023, in Elmont, N.Y. (AP Photo/Adam Hunger)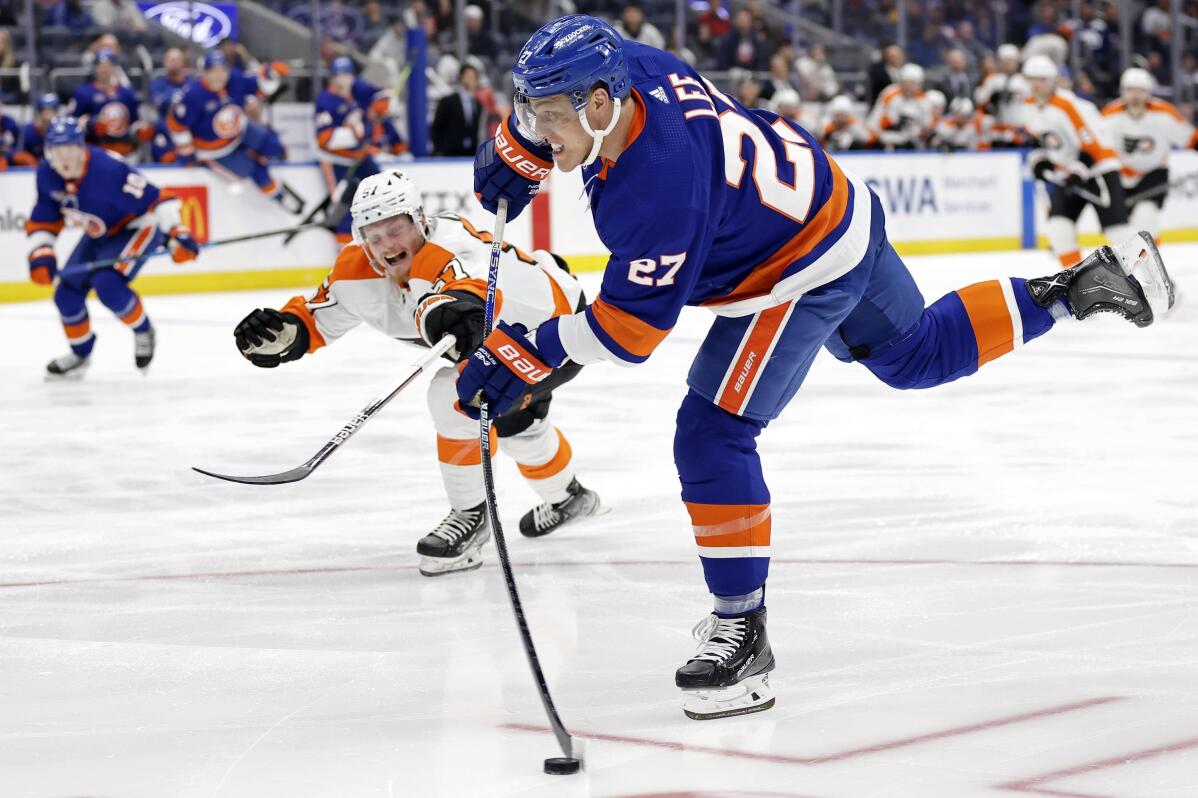 9 of 11

|
New York Islanders left wing Anders Lee (27) shoots in front of Philadelphia Flyers right wing Wade Allison in the second period of an NHL hockey game Saturday, April 8, 2023, in Elmont, N.Y. (AP Photo/Adam Hunger)
9 of 11
New York Islanders left wing Anders Lee (27) shoots in front of Philadelphia Flyers right wing Wade Allison in the second period of an NHL hockey game Saturday, April 8, 2023, in Elmont, N.Y. (AP Photo/Adam Hunger)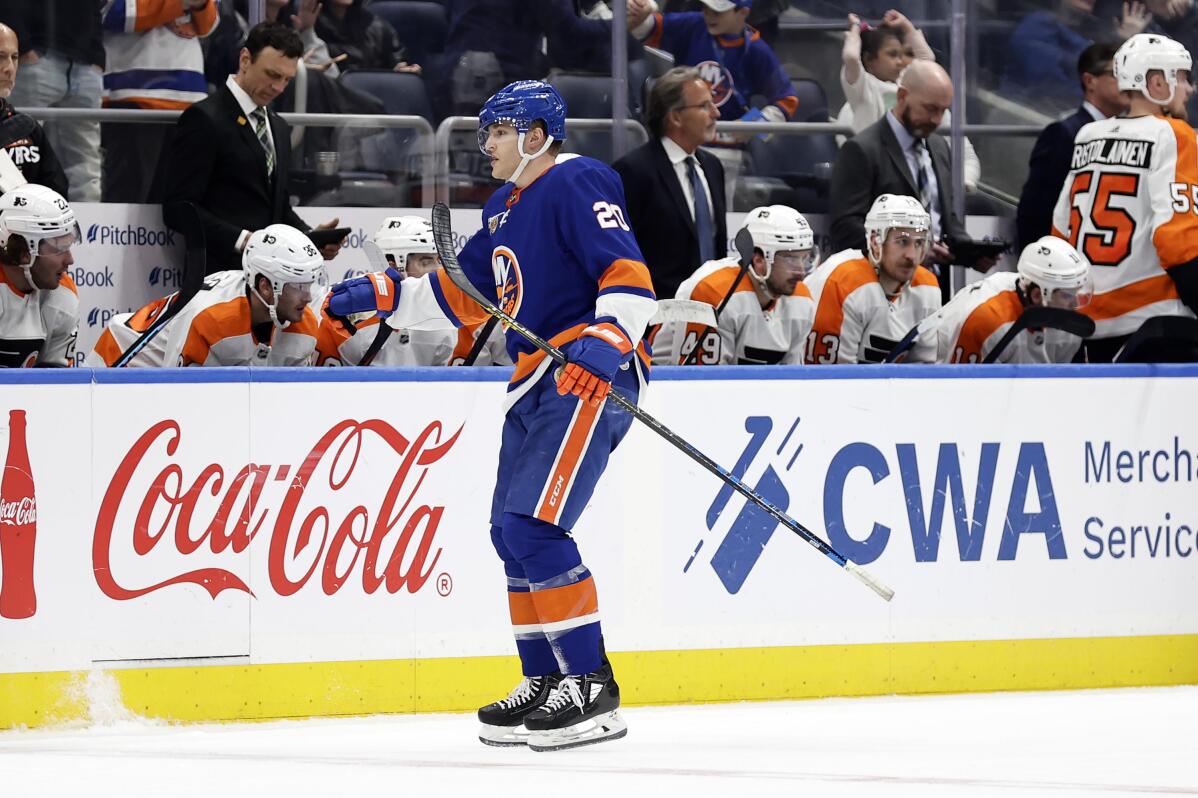 10 of 11

|
New York Islanders right wing Hudson Fasching reacts after scoring a goal against the Philadelphia Flyers in the third period of an NHL hockey game Saturday, April 8, 2023, in Elmont, N.Y. The Islanders won 4-0. (AP Photo/Adam Hunger)
10 of 11
New York Islanders right wing Hudson Fasching reacts after scoring a goal against the Philadelphia Flyers in the third period of an NHL hockey game Saturday, April 8, 2023, in Elmont, N.Y. The Islanders won 4-0. (AP Photo/Adam Hunger)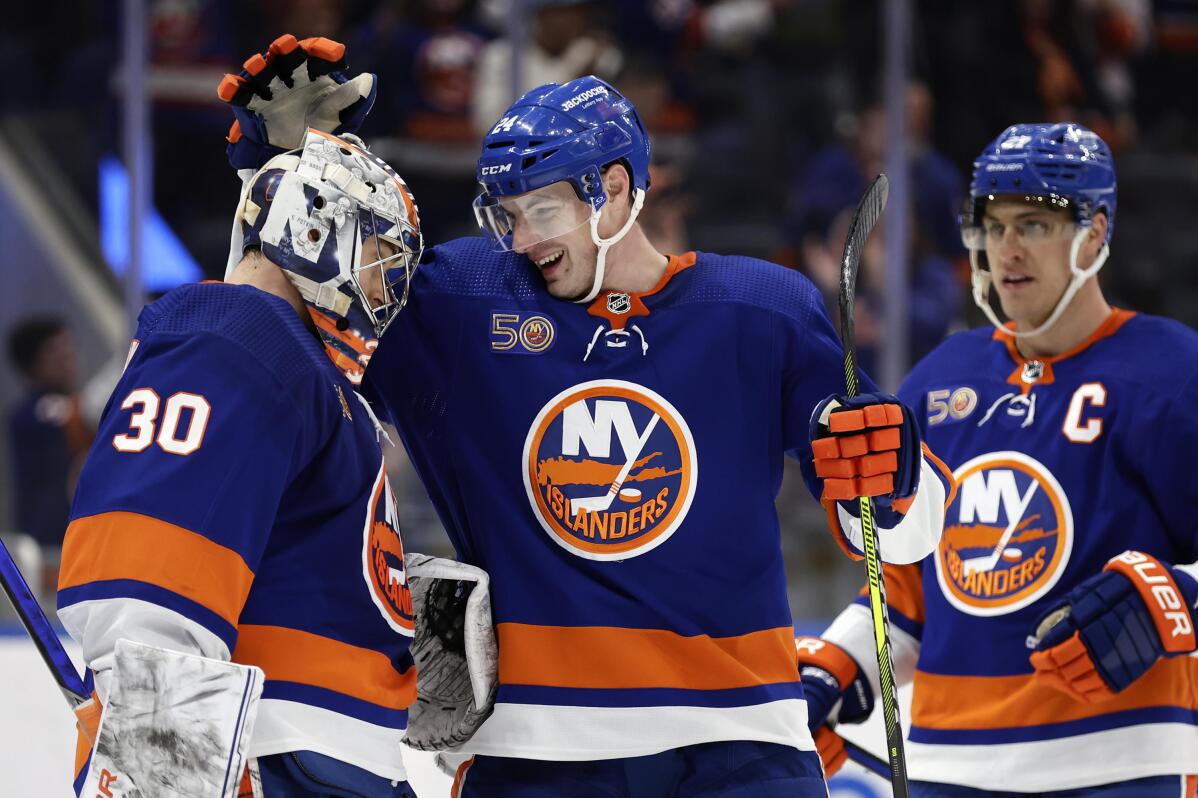 11 of 11

|
New York Islanders defenseman Scott Mayfield celebrates with Ilya Sorokin (30) after the third period of an NHL hockey game against the Philadelphia Flyers on Saturday, April 8, 2023, in Elmont, N.Y. The Islanders won 4-0. (AP Photo/Adam Hunger)
11 of 11
New York Islanders defenseman Scott Mayfield celebrates with Ilya Sorokin (30) after the third period of an NHL hockey game against the Philadelphia Flyers on Saturday, April 8, 2023, in Elmont, N.Y. The Islanders won 4-0. (AP Photo/Adam Hunger)
NEW YORK (AP) — Scott Mayfield, Brock Nelson and rookie defenseman Samuel Bolduc each scored and Ilya Sorokin made 27 saves as the New York Islanders kept pace in the Eastern Conference wild-card race with a 4-0 win over the Philadelphia Flyers on Saturday night.
Hudson Fasching also scored for the Islanders who stayed ahead of Pittsburgh by one point and remained tied with Florida in a season-finishing sprint for the two remaining wild-card spots in the Eastern Conference.
"Every game is a playoff game for us,'' Fasching said. "That's the level of our intensity."
Bo Horvat, rookie forward Simon Holmstrom and defenseman Noah Dobson each had two assists for New York who improved 4-0-0 against the Flyers at UBS Arena and have won seven straight home games overall against the Flyers, who will miss the playoffs for the third straight season and the fourth time in five years.
"Our first period was good. We just can't sustain it,'' Flyers coach John Tortorella said. "We had some breakdowns."
Mayfield scored his sixth goal of the season at 14:19 of the first when his shot from the point eluded Flyers goaltender Carter Hart.
Nelson made it 2-0 at 7:50 of the second, firing his 34th goal past Hart from the off-wing after accepting a pass from Dobson. Nelson also had a goal and two assists in Thursday's 6-1 home win over Tampa Bay.
Bolduc increased the lead to three with his second goal of the season at 15:06 of the second with assists from Horvat and Holmstrom, who both also assisted on Mayfield's goal. It was the first career multi-point game for the 21-year-old Holmstrom, a first-round draft pick by the Islanders in 2019.
Flyers backup goaltender Felix Sandstrom replaced Hart to start the third period and allowed Fasching's eighth goal to complete the scoring at 18:21 with assists by Jean-Gabriel Pageau and Dobson.
The Islanders improved to 16-7-2 against Metropolitan Division opponents as Sorokin earned his league-best sixth shutout this season and the 16th of his career.
The 27-year-old Russian netminder improved to 30-21-7 and became the first Islanders goalie to appear in 60 games since Rick DiPietro, who did so in three consecutive seasons from 2005-06 to 2007-08.
"I just play my usual game,'' Sorokin said. "If you think too much, it doesn't help you."
The Panthers and Islanders are tied with 91 points after Florida stopped Washington 4-2 on Saturday night. Pittsburgh beat Detroit 5-1 earlier Saturday. The Penguins have 90 points.
All three teams have two games remaining. The Islanders visit Washington on Monday and host Montreal on Wednesday.
"If we take care of our business, we'll be in a good spot,″ Islanders coach Lane Lambert said. "We know what we have to do."
Buffalo also remains alive in the playoff race with 85 points and four games left.
The Islanders won this season's first meeting against the Flyers at UBS Arena – 5-2 on Nov. 26 - then split two games in Philadelphia. New York lost 3-1 on Nov. 29 and won 2-1 in Horvat's Islander debut on Feb. 6.
"We made key plays at the right time,'' said Horvat, who has 15 points including seven goals in 28 games as an Islander after he was acquired from Vancouver. "We're doing a lot of good things."
The Islanders are 18-8-4 in their last 30 games and 12-4-0 in their last 16 home games.
Islanders forward Zach Parise played in his 162nd consecutive game with the team. The 38-year-old forward has played in every game since joining the Islanders in October 2021. He has 21 goals and 33 points overall this season, his 18th in the NHL.
WANG SERVICE AWARD: Northwell Health President and CEO Michael Dowling received the first Charles B. Wang Community Service Award, named in honor of the team's former owner who passed in 2018. Wang was well known for his philanthropic efforts and his namesake award recognizes leaders who have positively impacted the lives of individuals, families or the community at large. The Islanders Children's Foundation and the Charles B. Wang Foundation will each donate $50,000 to Northwell in Dowling's honor.
NOTES: The Islanders were without injured forward Mathew Barzal for the 21st straight game. ... The Islanders also scratched forwards Josh Bailey and Ross Johnston plus defensemen Alexander Romanov and Parker Wotherspoon. ... Bailey remained four games behind Hall-of-Fame defenseman Denis Potvin (1,060) for second place on the Islanders' games played list. … The Flyers scratched forward Kieffer Bellows and defenseman Tony DeAngelo.
UP NEXT
Flyers: Host Boston Bruins on Sunday.
Islanders: Visit Washington Capitals on Monday.
___
AP NHL: https://www.apnews.com/hub/NHL and https://www.twitter.com/AP_Sports