Macron vows to build back factories, boost France's economy shaken by pension protests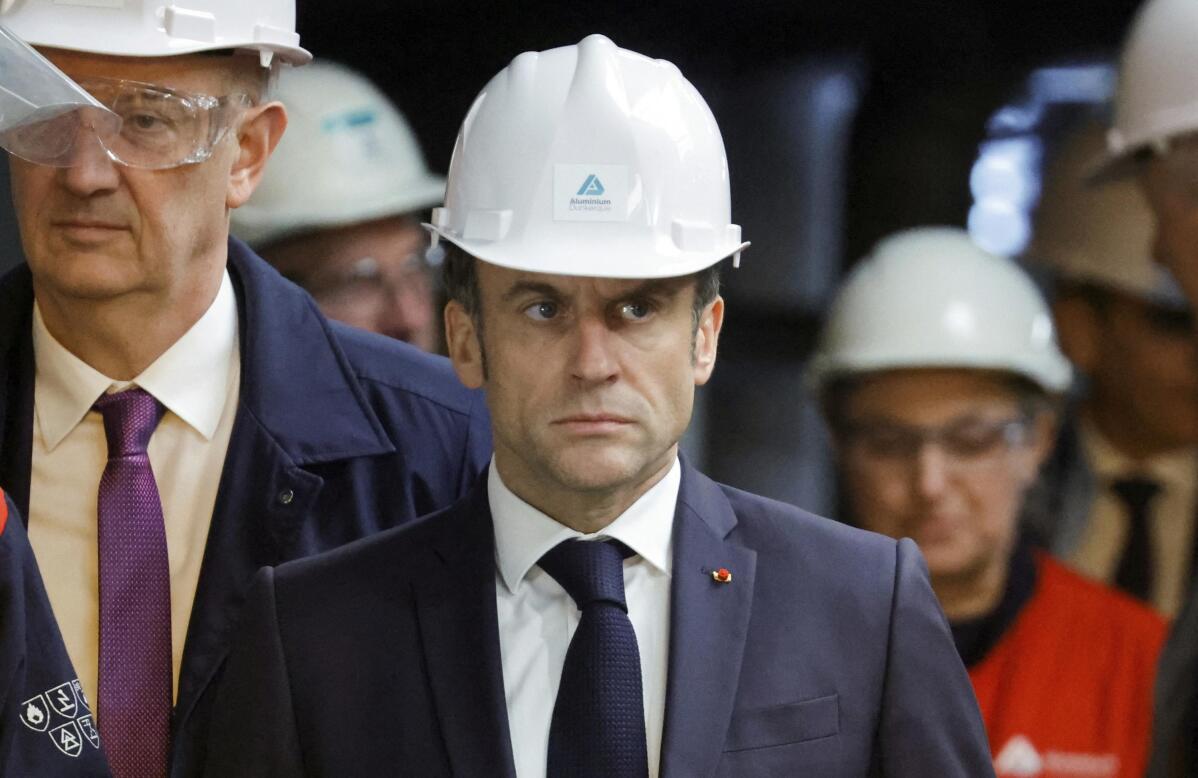 1 of 13

|
French President Emmanuel Macron visits the Aluminium Dunkerque factory in Dunkirk, northern France, Friday, May 12, 2023. Macron announced two major investments in the Dunkirk region, both in the battery sector: one worth 5.2 billion euros by Taiwan's group Prologium, the other one via a joint venture of China's XTC with French giant Orano worth 1.5 billion euros. (Pascal Rossignol/Pool Photo via AP)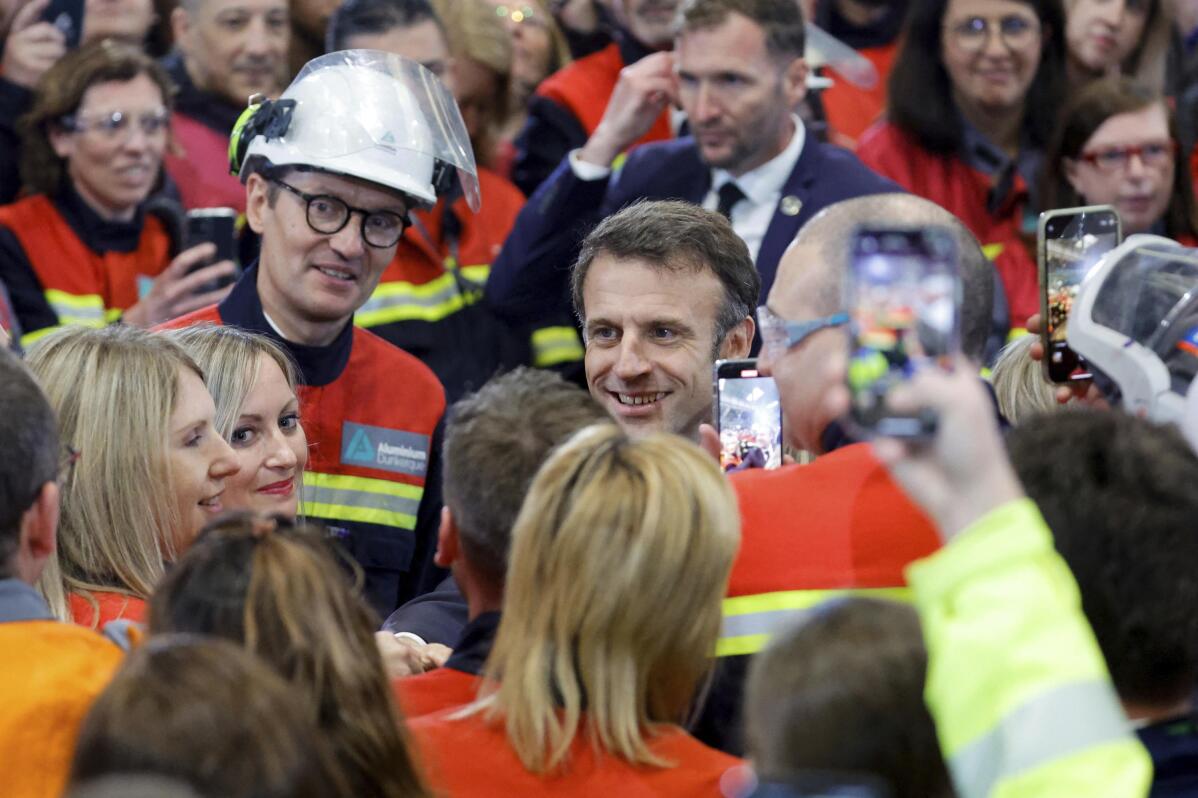 2 of 13

|
French President Emmanuel Macron visits the Aluminium Dunkerque factory in Dunkirk, northern France, Friday, May 12, 2023. Macron announced two major investments in the Dunkirk region, both in the battery sector: one worth 5.2 billion euros by Taiwan's group Prologium, the other one via a joint venture of China's XTC with French giant Orano worth 1.5 billion euros. (Pascal Rossignol/Pool Photo via AP)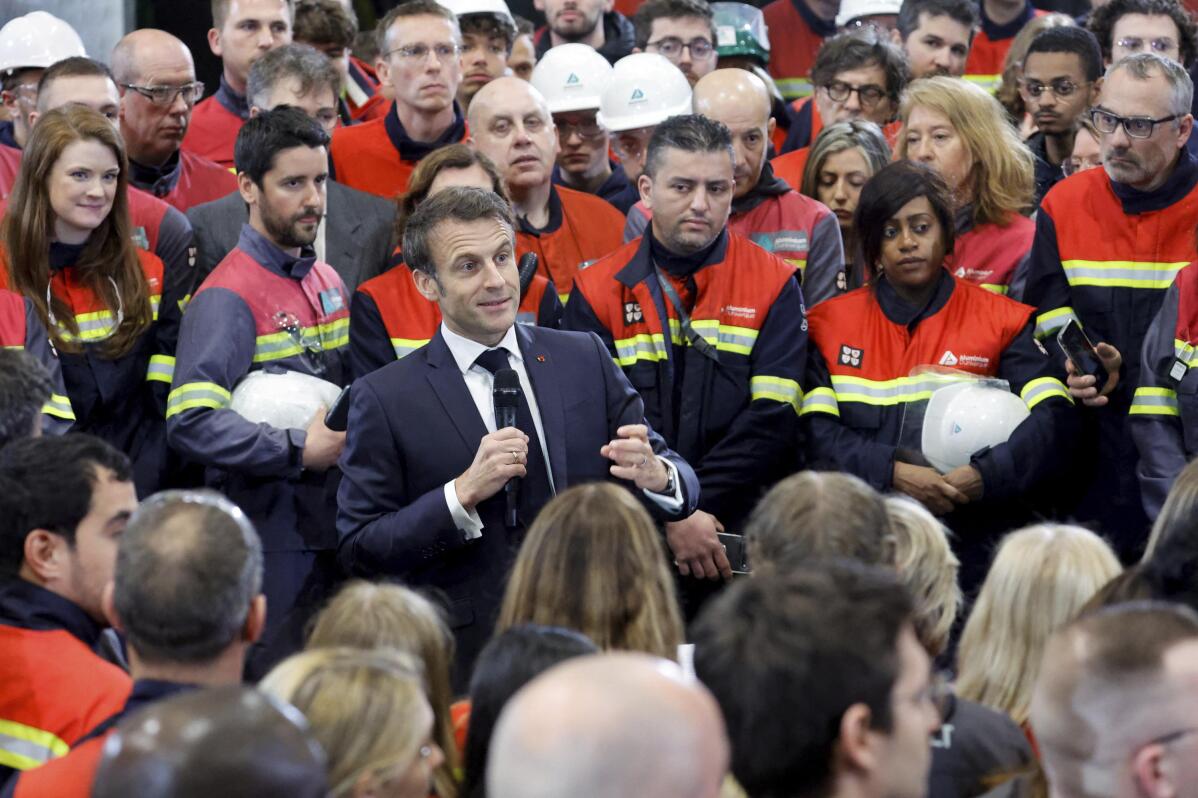 3 of 13

|
French President Emmanuel Macron speaks to employees of Aluminium Dunkerque factory in Dunkirk, northern France, Friday, May 12, 2023. Macron announced two major investments in the Dunkirk region, both in the battery sector: one worth 5.2 billion euros by Taiwan's group Prologium, the other one via a joint venture of China's XTC with French giant Orano worth 1.5 billion euros. (Pascal Rossignol/Pool Photo via AP)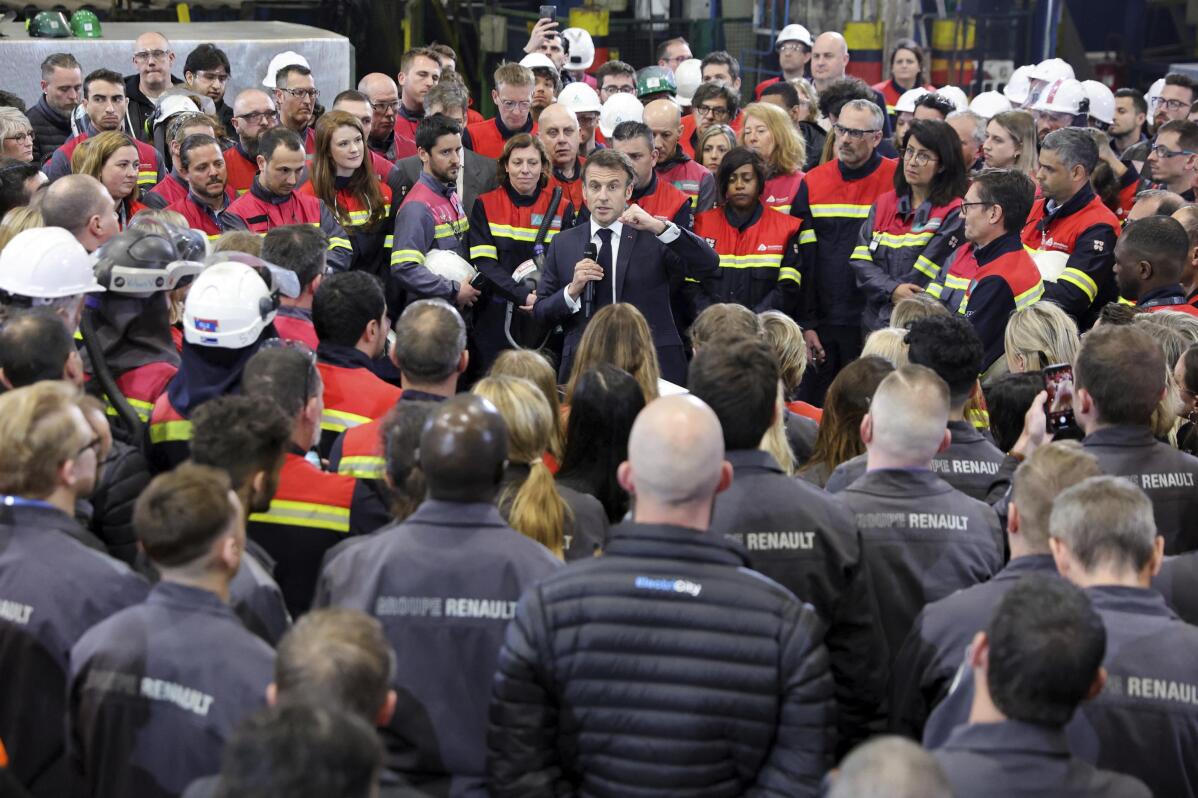 4 of 13

|
French President Emmanuel Macron speaks to employees of Aluminium Dunkerque factory in Dunkirk, northern France, Friday, May 12, 2023. Macron announced two major investments in the Dunkirk region, both in the battery sector: one worth 5.2 billion euros by Taiwan's group Prologium, the other one via a joint venture of China's XTC with French giant Orano worth 1.5 billion euros. (Pascal Rossignol/Pool Photo via AP)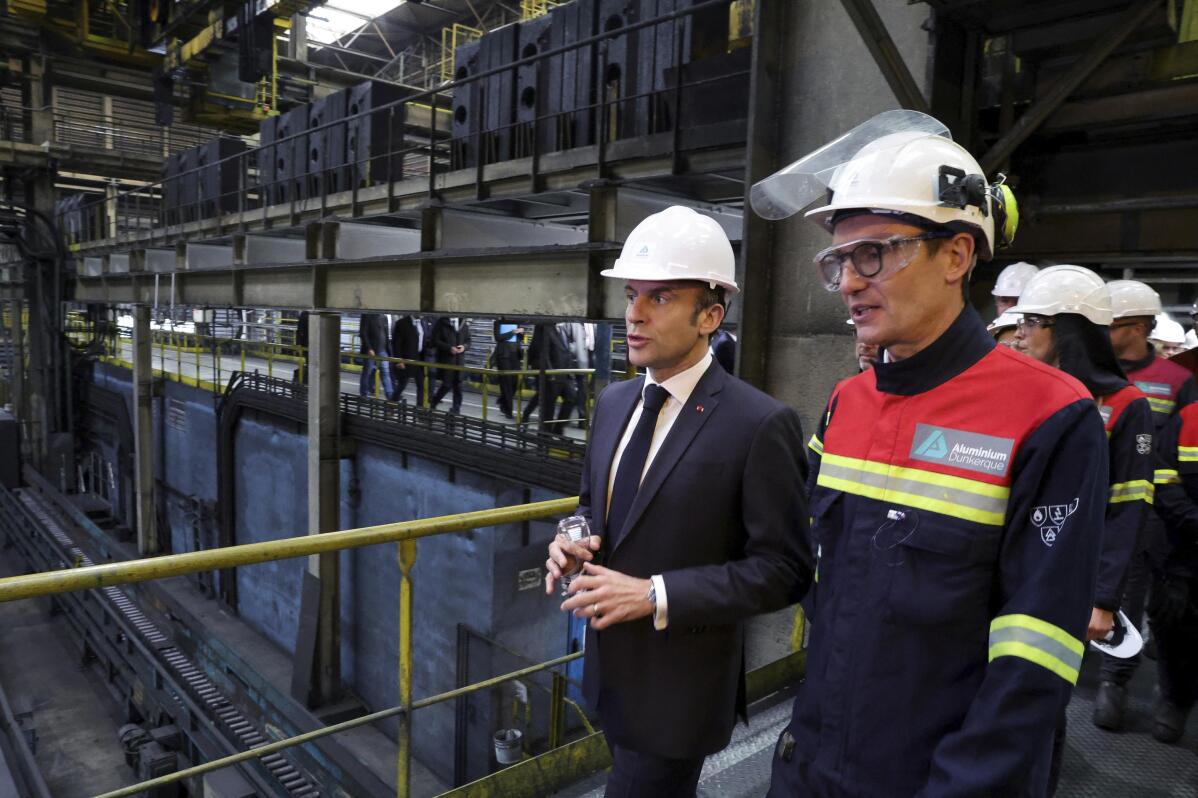 5 of 13

|
French President Emmanuel Macron visits the Aluminium Dunkerque factory in Dunkirk, northern France, Friday, May 12, 2023. Macron announced two major investments in the Dunkirk region, both in the battery sector: one worth 5.2 billion euros by Taiwan's group Prologium, the other one via a joint venture of China's XTC with French giant Orano worth 1.5 billion euros. (Pascal Rossignol/Pool Photo via AP)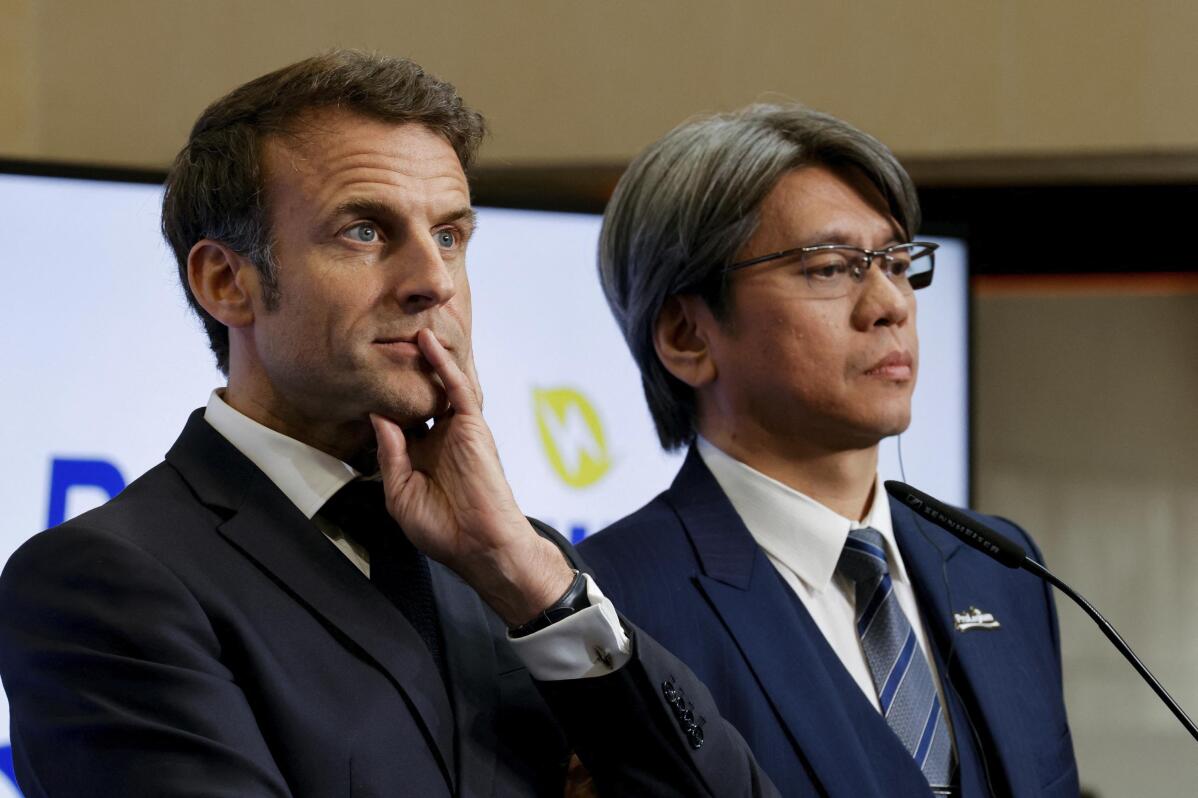 6 of 13

|
French President Emmanuel Macron, left, and ProLogium CEO Vincent Yang visit the Aluminium Dunkerque factory in Dunkirk, northern France, Friday, May 12, 2023. Macron announced two major investments in the Dunkirk region, both in the battery sector: one worth 5.2 billion euros by Taiwan's group Prologium, the other one via a joint venture of China's XTC with French giant Orano worth 1.5 billion euros. (Pascal Rossignol/Pool Photo via AP)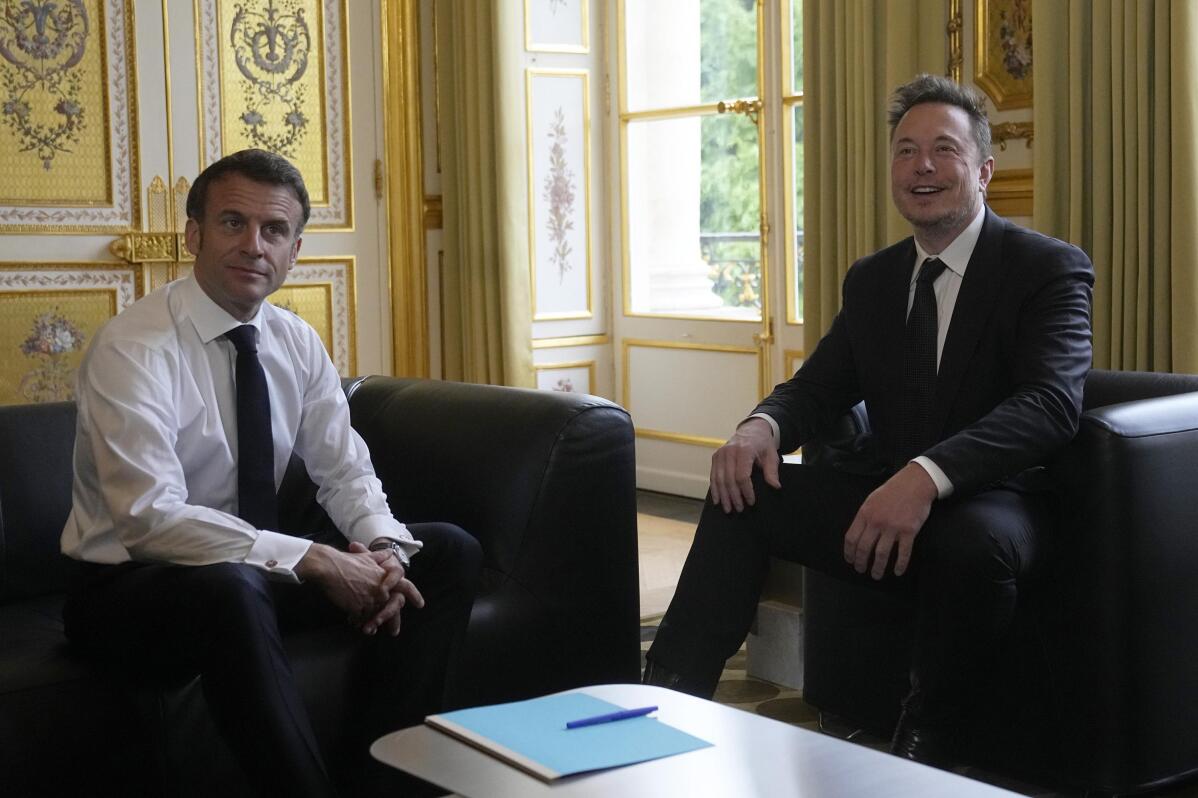 7 of 13

|
Twitter, now X. Corp, and Tesla CEO Elon Musk, right, poses with French President Emmanuel Macron prior to their talks, Monday, May 15, 2023 at the Elysee Palace in Paris. More than 200 international business leaders are expected Monday at the 'Choose France' event staged at the palace of Versailles this afternoon to promote foreign investment. (AP Photo/Michel Euler, Pool)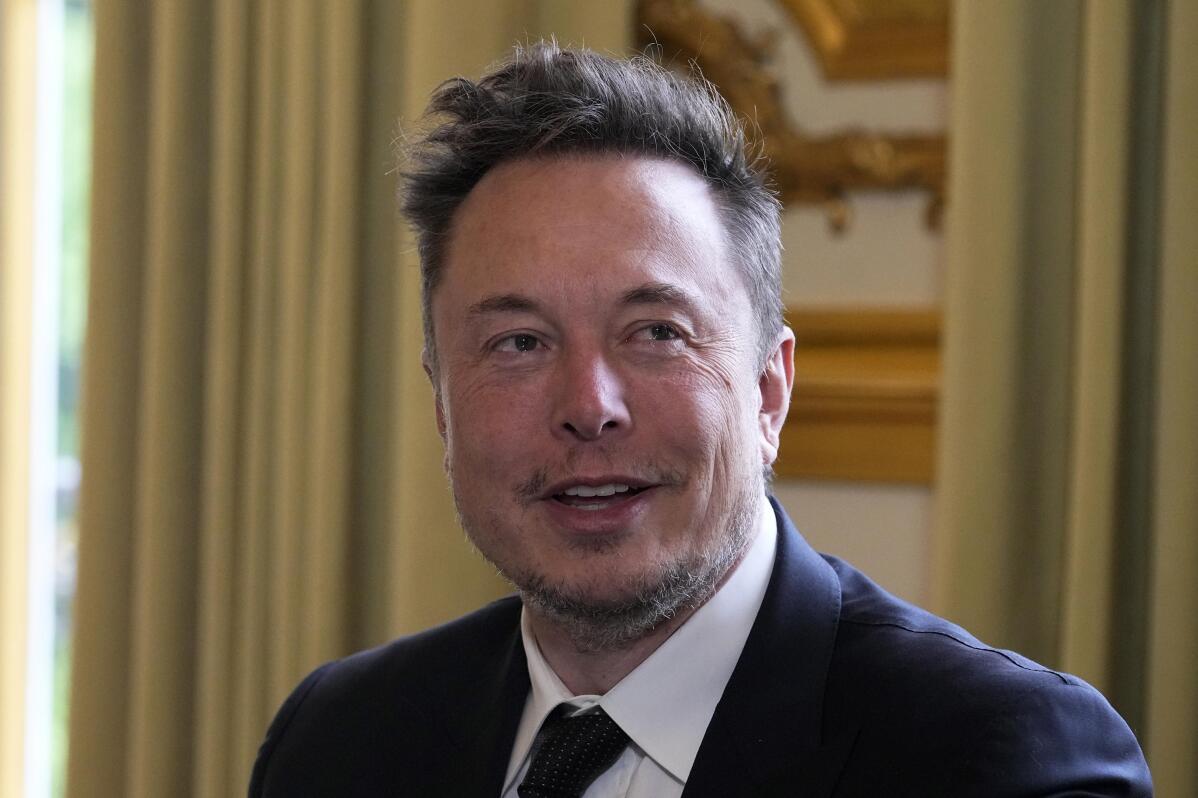 8 of 13

|
Twitter, now X. Corp, and Tesla CEO Elon Musk poses prior to his talks with French President Emmanuel Macron, Monday, May 15, 2023 at the Elysee Palace in Paris. More than 200 international business leaders are expected Monday at the 'Choose France' event staged at the palace of Versailles this afternoon to promote foreign investment. (AP Photo/Michel Euler, Pool)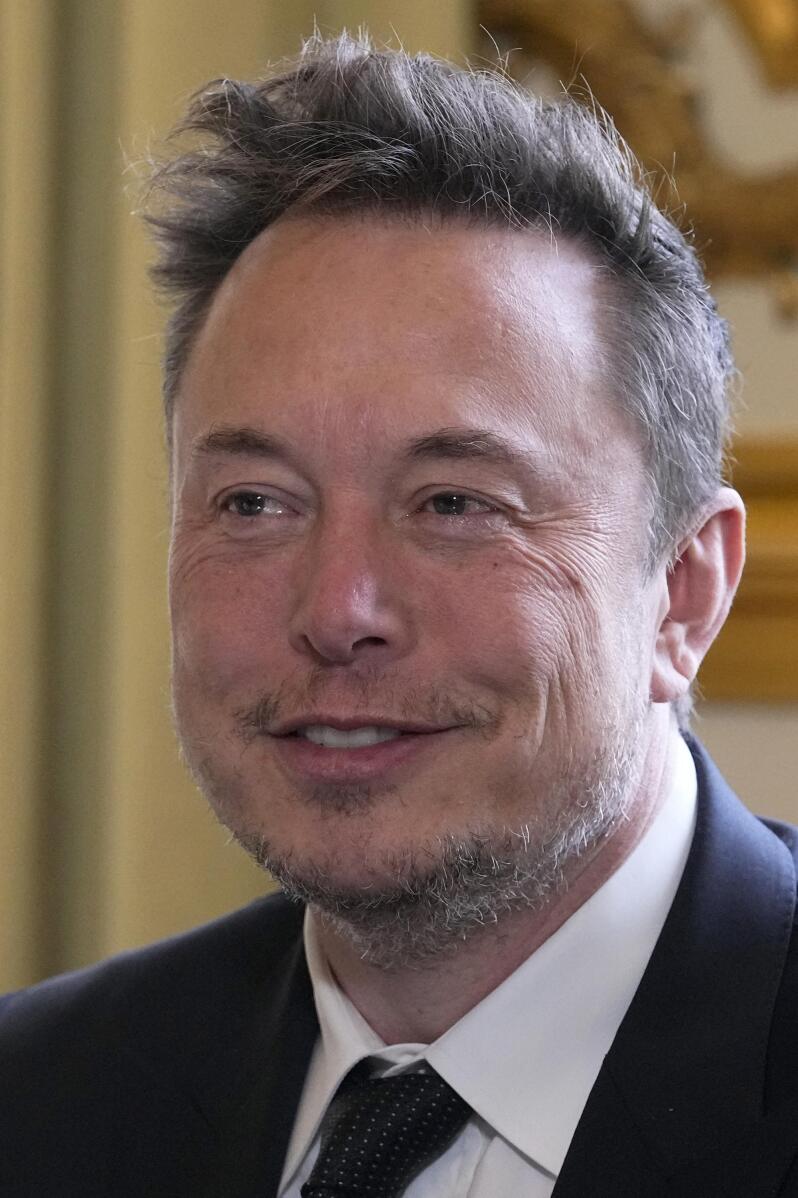 9 of 13

|
Twitter, now X. Corp, and Tesla CEO Elon Musk poses prior to his talks with French President Emmanuel Macron, Monday, May 15, 2023 at the Elysee Palace in Paris. More than 200 international business leaders are expected Monday at the 'Choose France' event staged at the palace of Versailles this afternoon to promote foreign investment. (AP Photo/Michel Euler, Pool)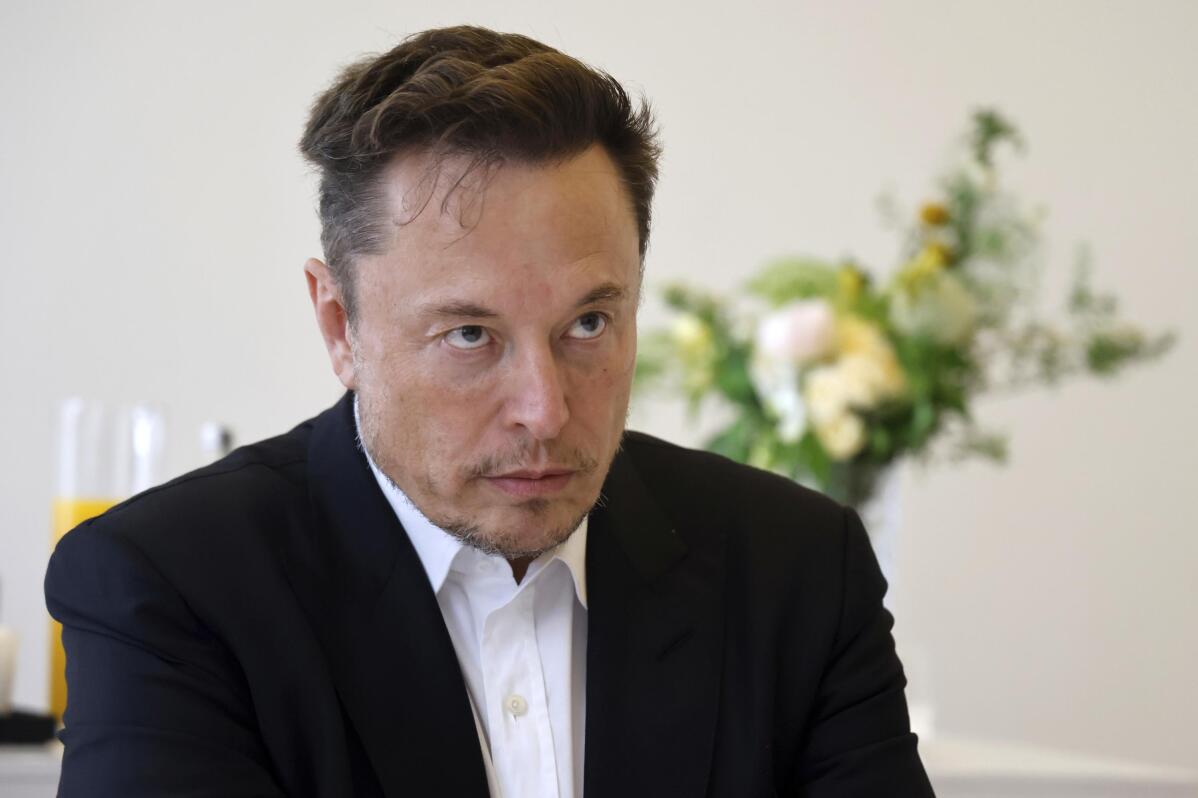 10 of 13

|
Twitter, now X. Corp, and Tesla CEO Elon Musk meets France's Finance Minister Bruno Lemaire, unseen, during the 6th edition of the "Choose France" summit, in Versailles, outside Paris, France, Monday, May 15, 2023. Macron is wooing investors to help "re-industrialize" France and reduce Europe's dependence on China and the U.S. More than 200 international business leaders are expected Monday at an event staged at the palace of Versailles to promote foreign investment. (Ludovic Marin/ Pool Photo via AP)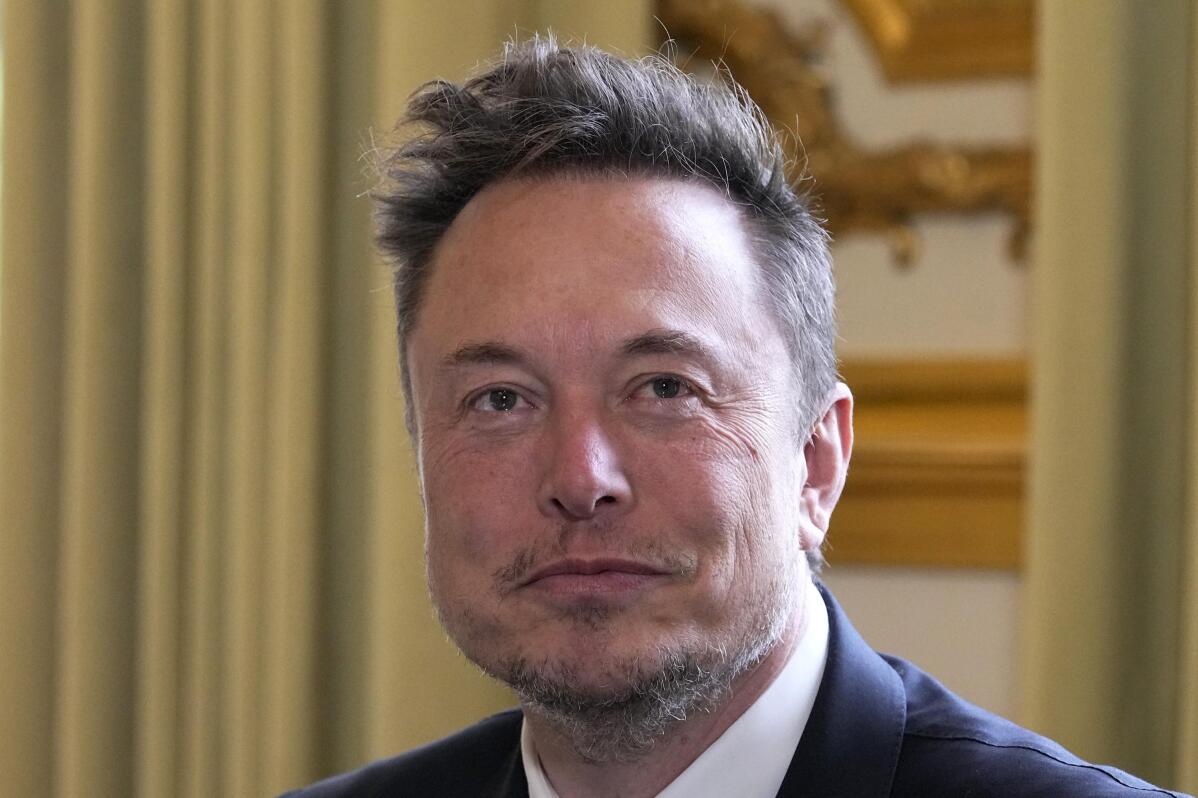 11 of 13

|
Twitter, now X. Corp, and Tesla CEO Elon Musk poses prior to his talks with French President Emmanuel Macron, Monday, May 15, 2023 at the Elysee Palace in Paris. More than 200 international business leaders are expected Monday at the 'Choose France' event staged at the palace of Versailles this afternoon to promote foreign investment. (AP Photo/Michel Euler, Pool)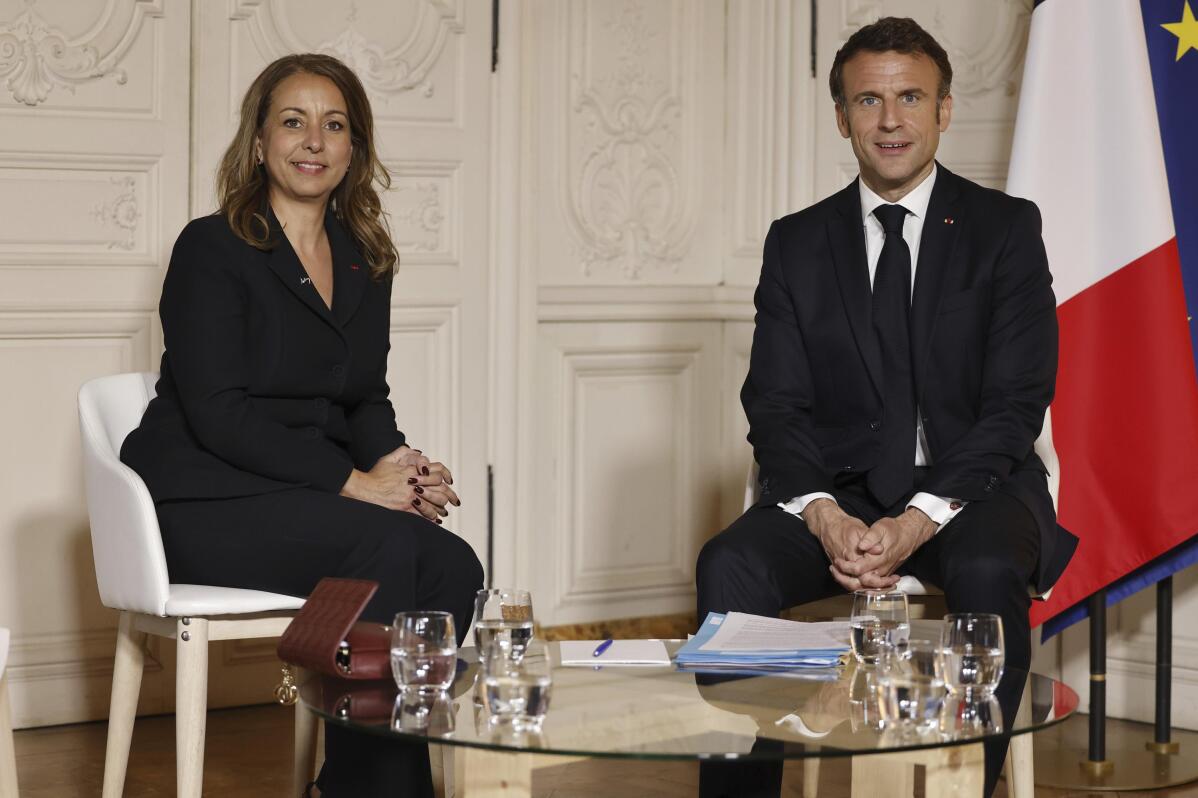 12 of 13

|
France's President Emmanuel Macron, right, meets CEO of Solvay Ilham Kadri during the 6th edition of the "Choose France" summit, in Versailles, outside Paris, France , Monday, May 15, 2023. Macron is wooing investors to help "re-industrialize" France and reduce Europe's dependence on China and the U.S. More than 200 international business leaders are expected Monday at an event staged at the palace of Versailles to promote foreign investment. (Ludovic Marin/ Pool Photo via AP)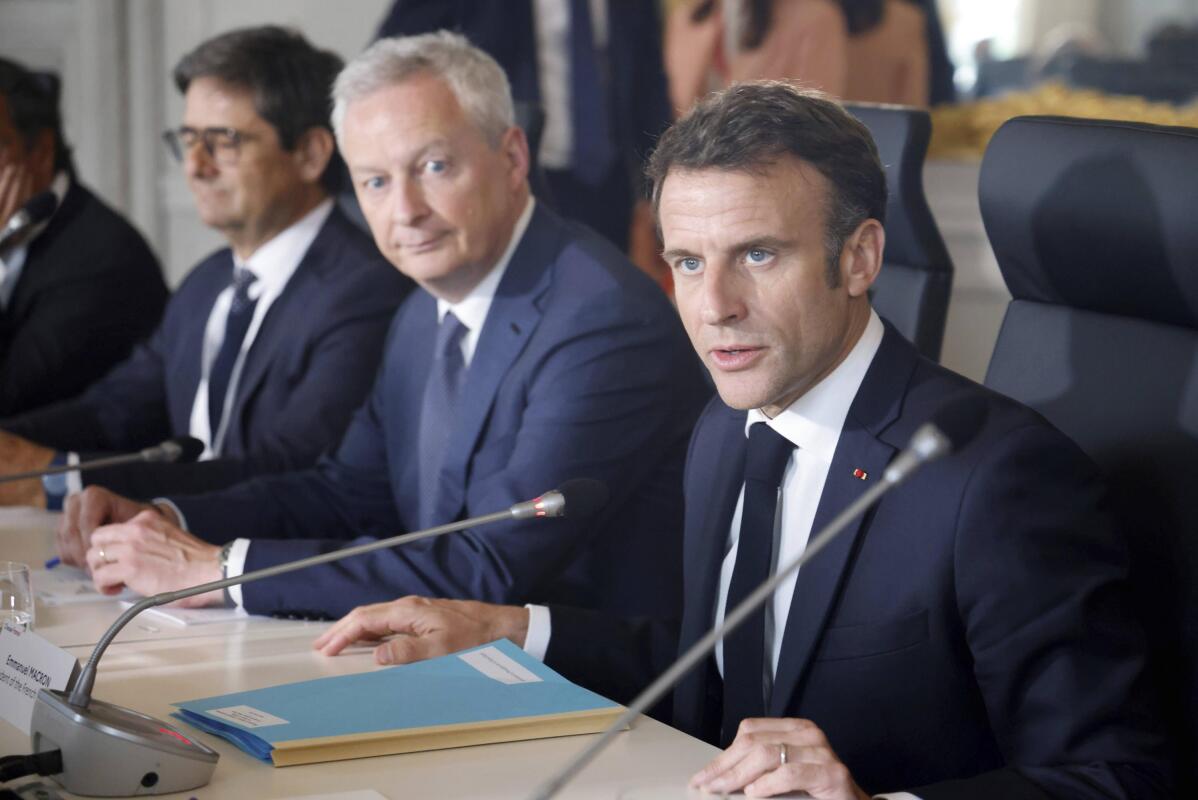 13 of 13

|
France's President Emmanuel Macron, right, and France's Finance Minister Bruno Le Maire during a meeting with managing directors of sovereign funds as part of the 6th edition of the "Choose France" summit, in Versailles, outside Paris, France , Monday, May 15, 2023. Macron is wooing investors to help "re-industrialize" France and reduce Europe's dependence on China and the U.S. More than 200 international business leaders are expected Monday at an event staged at the palace of Versailles to promote foreign investment. (Ludovic Marin/ Pool Photo via AP)
Macron vows to build back factories, boost France's economy shaken by pension protests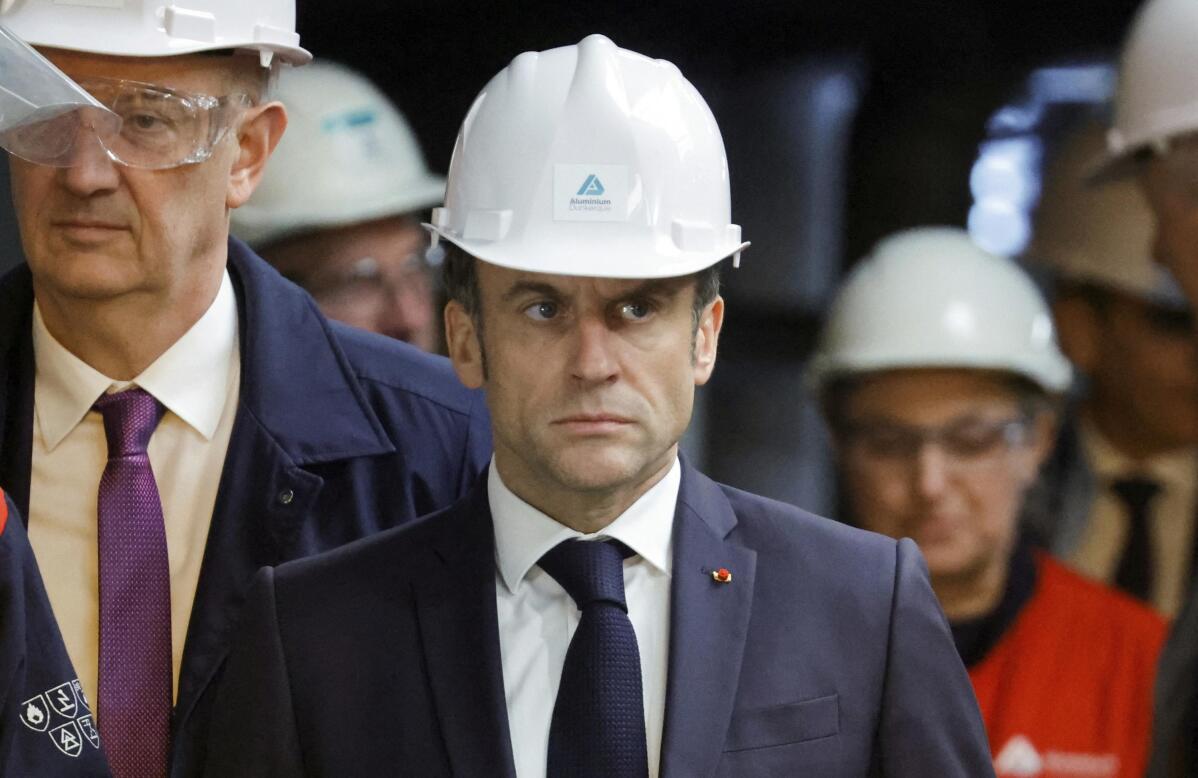 1 of 13

|
French President Emmanuel Macron visits the Aluminium Dunkerque factory in Dunkirk, northern France, Friday, May 12, 2023. Macron announced two major investments in the Dunkirk region, both in the battery sector: one worth 5.2 billion euros by Taiwan's group Prologium, the other one via a joint venture of China's XTC with French giant Orano worth 1.5 billion euros. (Pascal Rossignol/Pool Photo via AP)
1 of 13
French President Emmanuel Macron visits the Aluminium Dunkerque factory in Dunkirk, northern France, Friday, May 12, 2023. Macron announced two major investments in the Dunkirk region, both in the battery sector: one worth 5.2 billion euros by Taiwan's group Prologium, the other one via a joint venture of China's XTC with French giant Orano worth 1.5 billion euros. (Pascal Rossignol/Pool Photo via AP)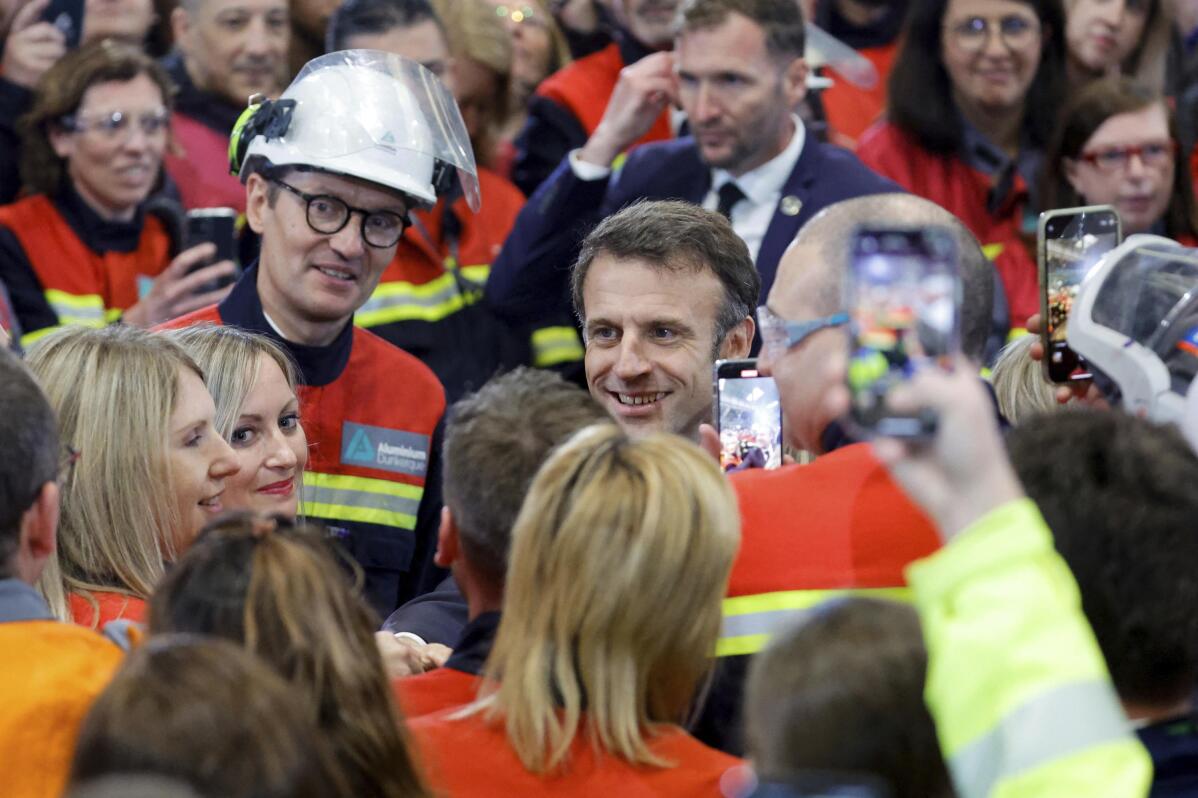 2 of 13

|
French President Emmanuel Macron visits the Aluminium Dunkerque factory in Dunkirk, northern France, Friday, May 12, 2023. Macron announced two major investments in the Dunkirk region, both in the battery sector: one worth 5.2 billion euros by Taiwan's group Prologium, the other one via a joint venture of China's XTC with French giant Orano worth 1.5 billion euros. (Pascal Rossignol/Pool Photo via AP)
2 of 13
French President Emmanuel Macron visits the Aluminium Dunkerque factory in Dunkirk, northern France, Friday, May 12, 2023. Macron announced two major investments in the Dunkirk region, both in the battery sector: one worth 5.2 billion euros by Taiwan's group Prologium, the other one via a joint venture of China's XTC with French giant Orano worth 1.5 billion euros. (Pascal Rossignol/Pool Photo via AP)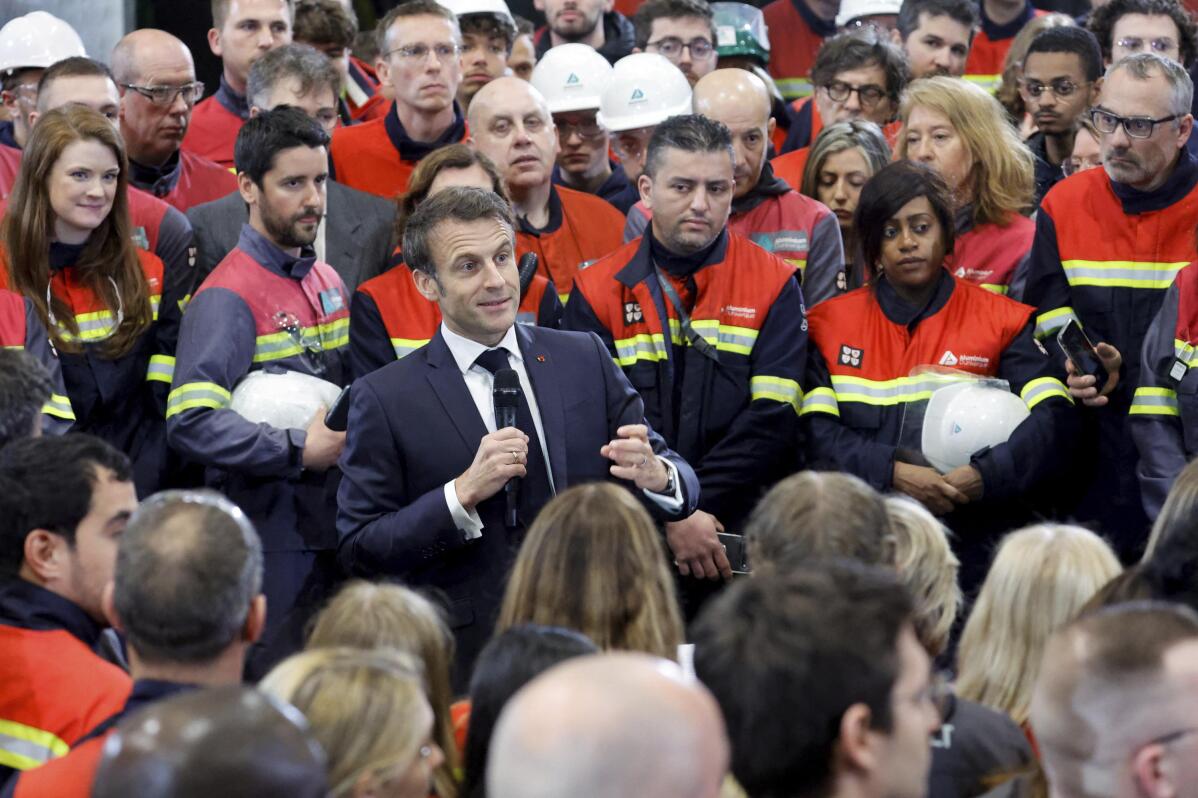 3 of 13

|
French President Emmanuel Macron speaks to employees of Aluminium Dunkerque factory in Dunkirk, northern France, Friday, May 12, 2023. Macron announced two major investments in the Dunkirk region, both in the battery sector: one worth 5.2 billion euros by Taiwan's group Prologium, the other one via a joint venture of China's XTC with French giant Orano worth 1.5 billion euros. (Pascal Rossignol/Pool Photo via AP)
3 of 13
French President Emmanuel Macron speaks to employees of Aluminium Dunkerque factory in Dunkirk, northern France, Friday, May 12, 2023. Macron announced two major investments in the Dunkirk region, both in the battery sector: one worth 5.2 billion euros by Taiwan's group Prologium, the other one via a joint venture of China's XTC with French giant Orano worth 1.5 billion euros. (Pascal Rossignol/Pool Photo via AP)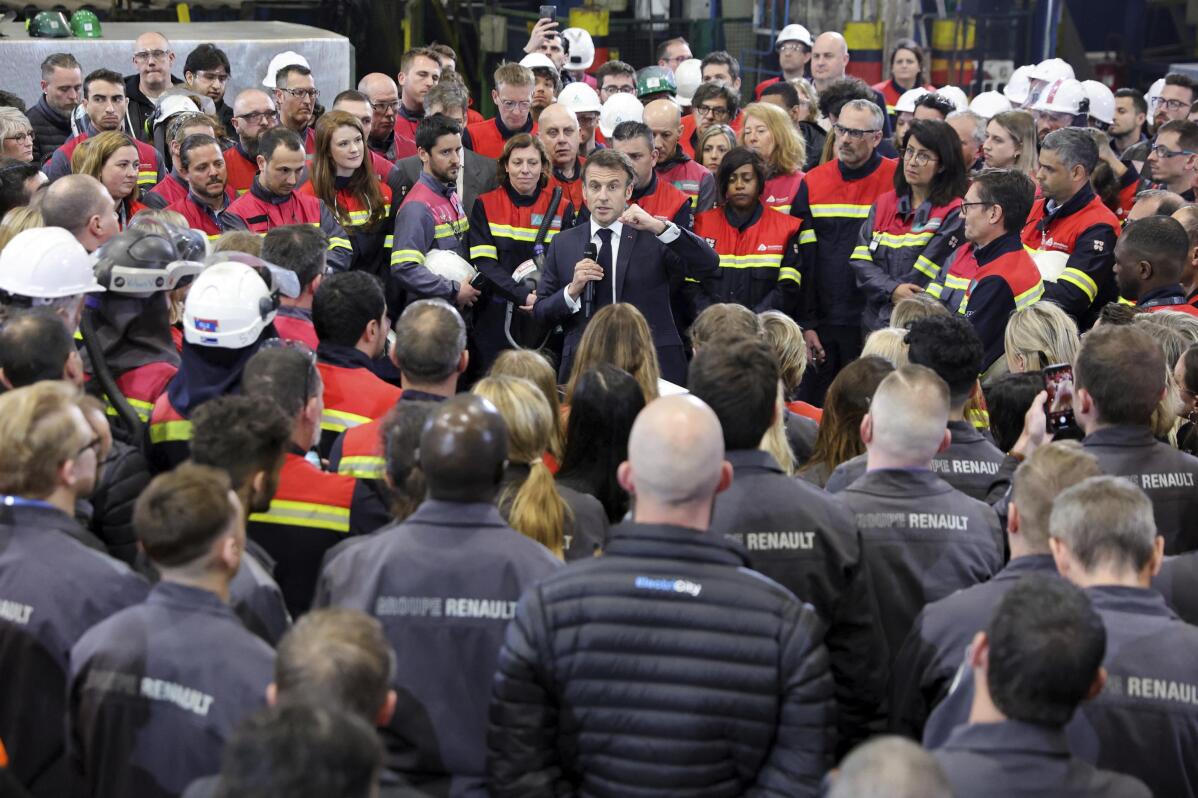 4 of 13

|
French President Emmanuel Macron speaks to employees of Aluminium Dunkerque factory in Dunkirk, northern France, Friday, May 12, 2023. Macron announced two major investments in the Dunkirk region, both in the battery sector: one worth 5.2 billion euros by Taiwan's group Prologium, the other one via a joint venture of China's XTC with French giant Orano worth 1.5 billion euros. (Pascal Rossignol/Pool Photo via AP)
4 of 13
French President Emmanuel Macron speaks to employees of Aluminium Dunkerque factory in Dunkirk, northern France, Friday, May 12, 2023. Macron announced two major investments in the Dunkirk region, both in the battery sector: one worth 5.2 billion euros by Taiwan's group Prologium, the other one via a joint venture of China's XTC with French giant Orano worth 1.5 billion euros. (Pascal Rossignol/Pool Photo via AP)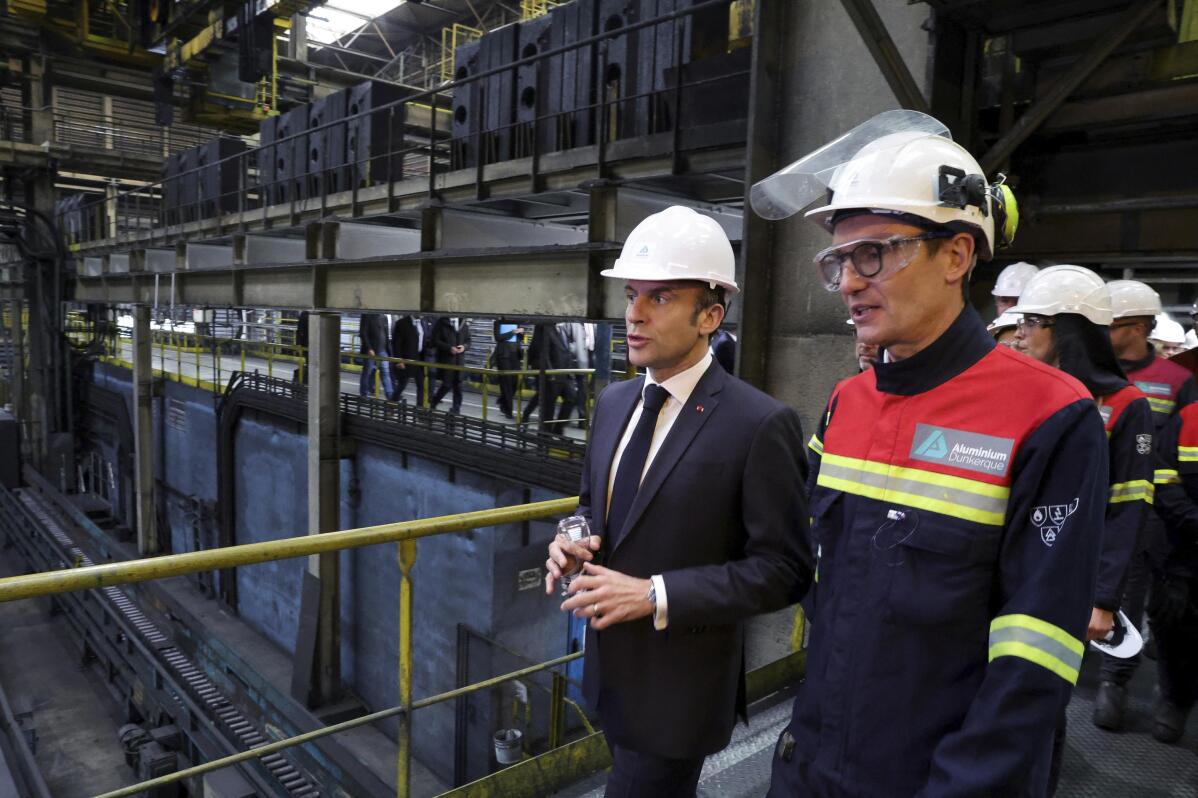 5 of 13

|
French President Emmanuel Macron visits the Aluminium Dunkerque factory in Dunkirk, northern France, Friday, May 12, 2023. Macron announced two major investments in the Dunkirk region, both in the battery sector: one worth 5.2 billion euros by Taiwan's group Prologium, the other one via a joint venture of China's XTC with French giant Orano worth 1.5 billion euros. (Pascal Rossignol/Pool Photo via AP)
5 of 13
French President Emmanuel Macron visits the Aluminium Dunkerque factory in Dunkirk, northern France, Friday, May 12, 2023. Macron announced two major investments in the Dunkirk region, both in the battery sector: one worth 5.2 billion euros by Taiwan's group Prologium, the other one via a joint venture of China's XTC with French giant Orano worth 1.5 billion euros. (Pascal Rossignol/Pool Photo via AP)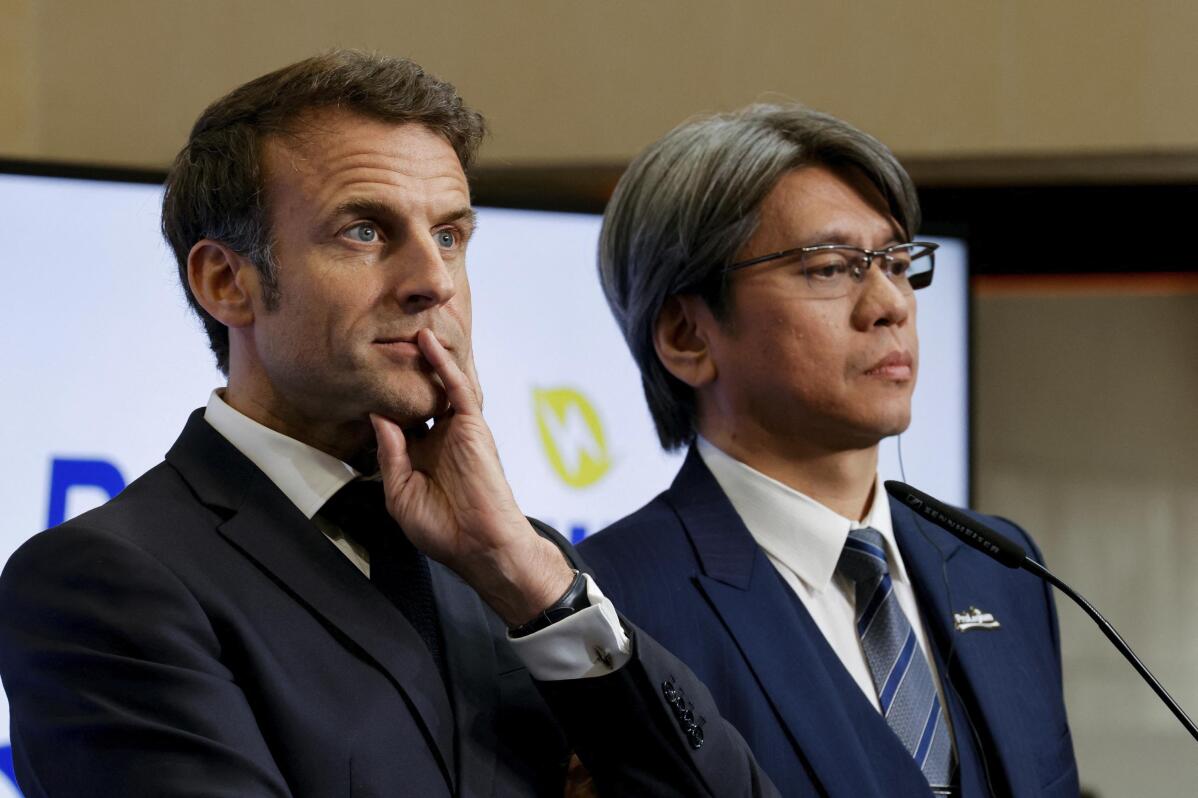 6 of 13

|
French President Emmanuel Macron, left, and ProLogium CEO Vincent Yang visit the Aluminium Dunkerque factory in Dunkirk, northern France, Friday, May 12, 2023. Macron announced two major investments in the Dunkirk region, both in the battery sector: one worth 5.2 billion euros by Taiwan's group Prologium, the other one via a joint venture of China's XTC with French giant Orano worth 1.5 billion euros. (Pascal Rossignol/Pool Photo via AP)
6 of 13
French President Emmanuel Macron, left, and ProLogium CEO Vincent Yang visit the Aluminium Dunkerque factory in Dunkirk, northern France, Friday, May 12, 2023. Macron announced two major investments in the Dunkirk region, both in the battery sector: one worth 5.2 billion euros by Taiwan's group Prologium, the other one via a joint venture of China's XTC with French giant Orano worth 1.5 billion euros. (Pascal Rossignol/Pool Photo via AP)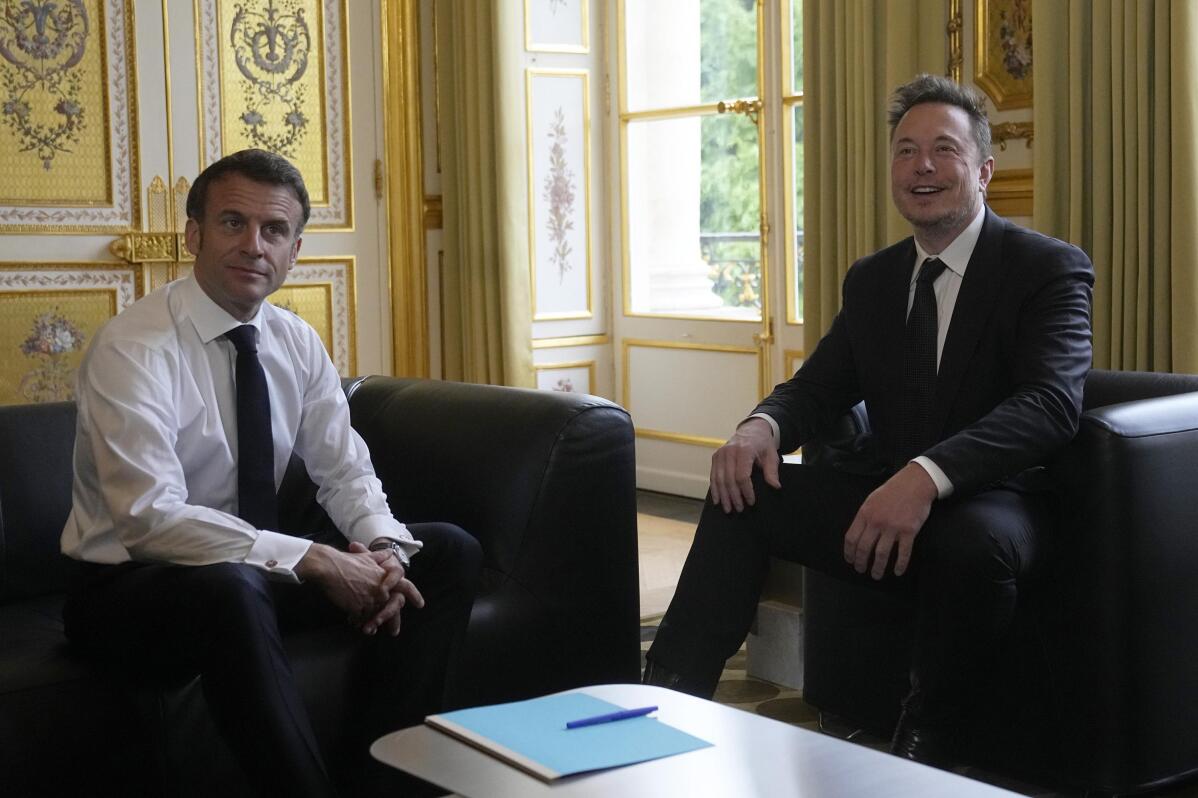 7 of 13

|
Twitter, now X. Corp, and Tesla CEO Elon Musk, right, poses with French President Emmanuel Macron prior to their talks, Monday, May 15, 2023 at the Elysee Palace in Paris. More than 200 international business leaders are expected Monday at the 'Choose France' event staged at the palace of Versailles this afternoon to promote foreign investment. (AP Photo/Michel Euler, Pool)
7 of 13
Twitter, now X. Corp, and Tesla CEO Elon Musk, right, poses with French President Emmanuel Macron prior to their talks, Monday, May 15, 2023 at the Elysee Palace in Paris. More than 200 international business leaders are expected Monday at the 'Choose France' event staged at the palace of Versailles this afternoon to promote foreign investment. (AP Photo/Michel Euler, Pool)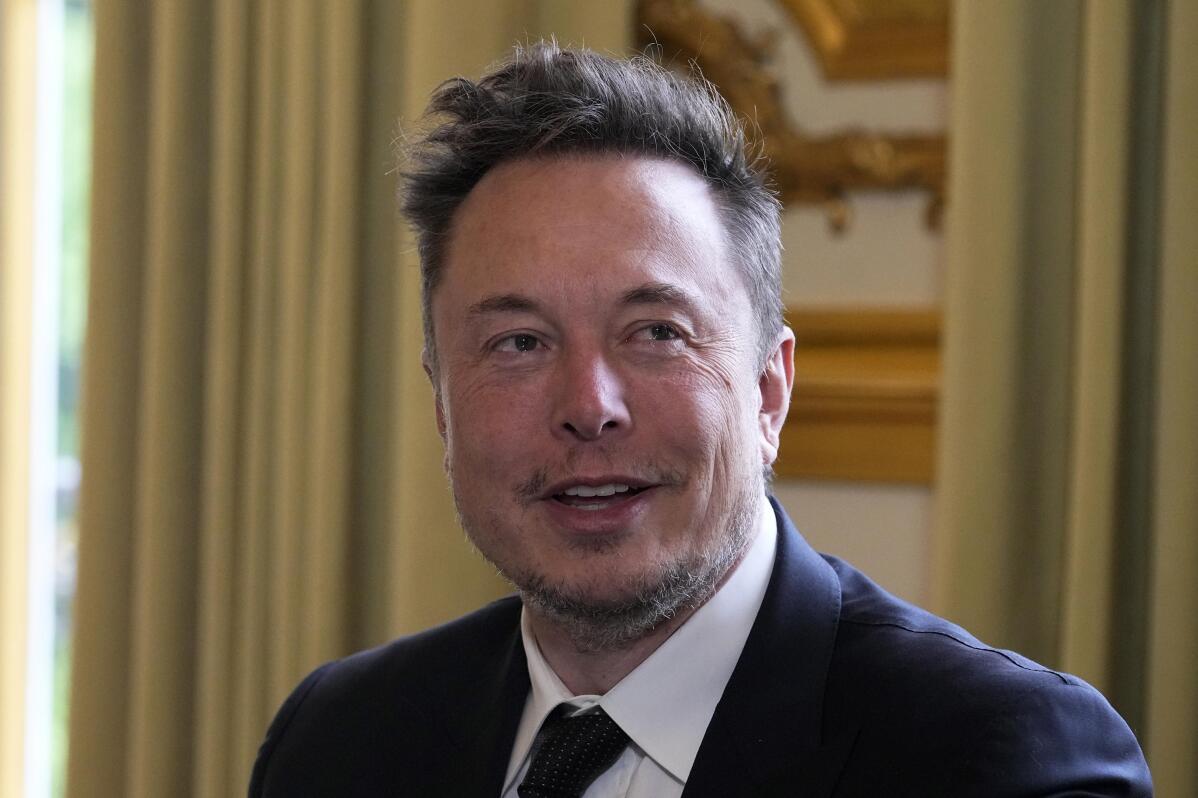 8 of 13

|
Twitter, now X. Corp, and Tesla CEO Elon Musk poses prior to his talks with French President Emmanuel Macron, Monday, May 15, 2023 at the Elysee Palace in Paris. More than 200 international business leaders are expected Monday at the 'Choose France' event staged at the palace of Versailles this afternoon to promote foreign investment. (AP Photo/Michel Euler, Pool)
8 of 13
Twitter, now X. Corp, and Tesla CEO Elon Musk poses prior to his talks with French President Emmanuel Macron, Monday, May 15, 2023 at the Elysee Palace in Paris. More than 200 international business leaders are expected Monday at the 'Choose France' event staged at the palace of Versailles this afternoon to promote foreign investment. (AP Photo/Michel Euler, Pool)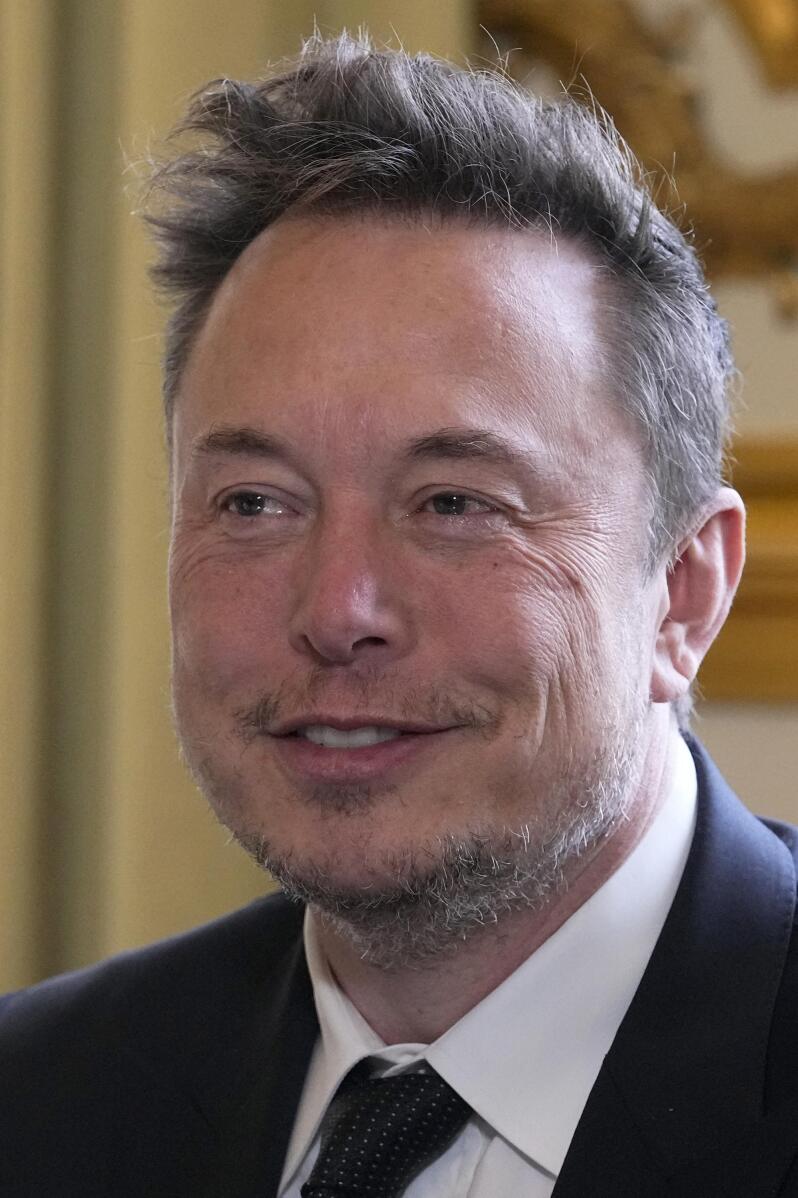 9 of 13

|
Twitter, now X. Corp, and Tesla CEO Elon Musk poses prior to his talks with French President Emmanuel Macron, Monday, May 15, 2023 at the Elysee Palace in Paris. More than 200 international business leaders are expected Monday at the 'Choose France' event staged at the palace of Versailles this afternoon to promote foreign investment. (AP Photo/Michel Euler, Pool)
9 of 13
Twitter, now X. Corp, and Tesla CEO Elon Musk poses prior to his talks with French President Emmanuel Macron, Monday, May 15, 2023 at the Elysee Palace in Paris. More than 200 international business leaders are expected Monday at the 'Choose France' event staged at the palace of Versailles this afternoon to promote foreign investment. (AP Photo/Michel Euler, Pool)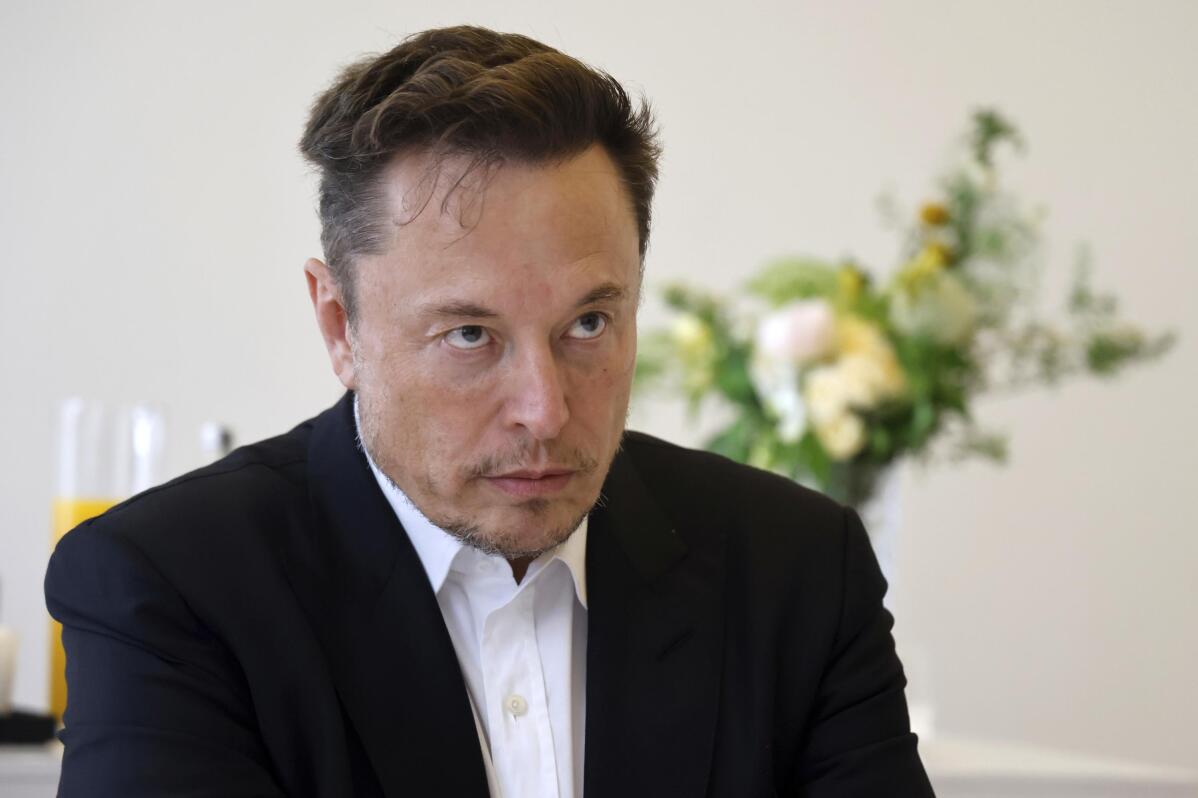 10 of 13

|
Twitter, now X. Corp, and Tesla CEO Elon Musk meets France's Finance Minister Bruno Lemaire, unseen, during the 6th edition of the "Choose France" summit, in Versailles, outside Paris, France, Monday, May 15, 2023. Macron is wooing investors to help "re-industrialize" France and reduce Europe's dependence on China and the U.S. More than 200 international business leaders are expected Monday at an event staged at the palace of Versailles to promote foreign investment. (Ludovic Marin/ Pool Photo via AP)
10 of 13
Twitter, now X. Corp, and Tesla CEO Elon Musk meets France's Finance Minister Bruno Lemaire, unseen, during the 6th edition of the "Choose France" summit, in Versailles, outside Paris, France, Monday, May 15, 2023. Macron is wooing investors to help "re-industrialize" France and reduce Europe's dependence on China and the U.S. More than 200 international business leaders are expected Monday at an event staged at the palace of Versailles to promote foreign investment. (Ludovic Marin/ Pool Photo via AP)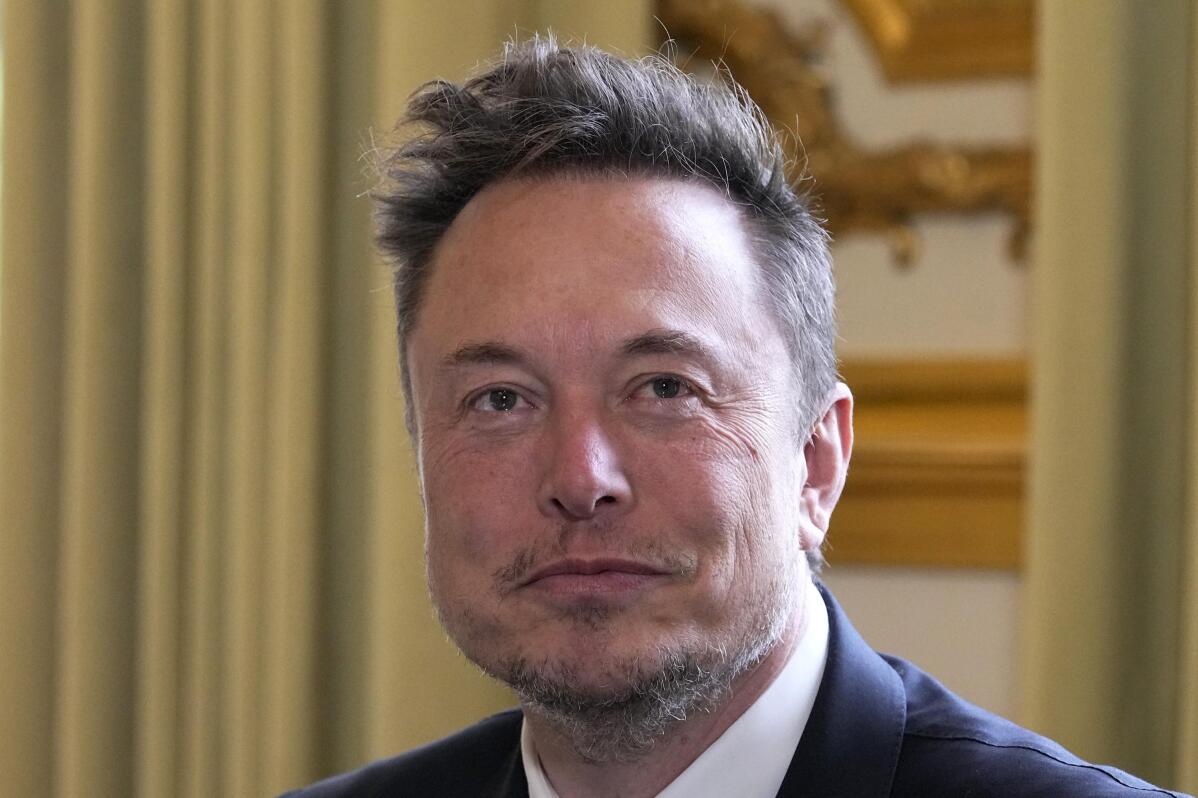 11 of 13

|
Twitter, now X. Corp, and Tesla CEO Elon Musk poses prior to his talks with French President Emmanuel Macron, Monday, May 15, 2023 at the Elysee Palace in Paris. More than 200 international business leaders are expected Monday at the 'Choose France' event staged at the palace of Versailles this afternoon to promote foreign investment. (AP Photo/Michel Euler, Pool)
11 of 13
Twitter, now X. Corp, and Tesla CEO Elon Musk poses prior to his talks with French President Emmanuel Macron, Monday, May 15, 2023 at the Elysee Palace in Paris. More than 200 international business leaders are expected Monday at the 'Choose France' event staged at the palace of Versailles this afternoon to promote foreign investment. (AP Photo/Michel Euler, Pool)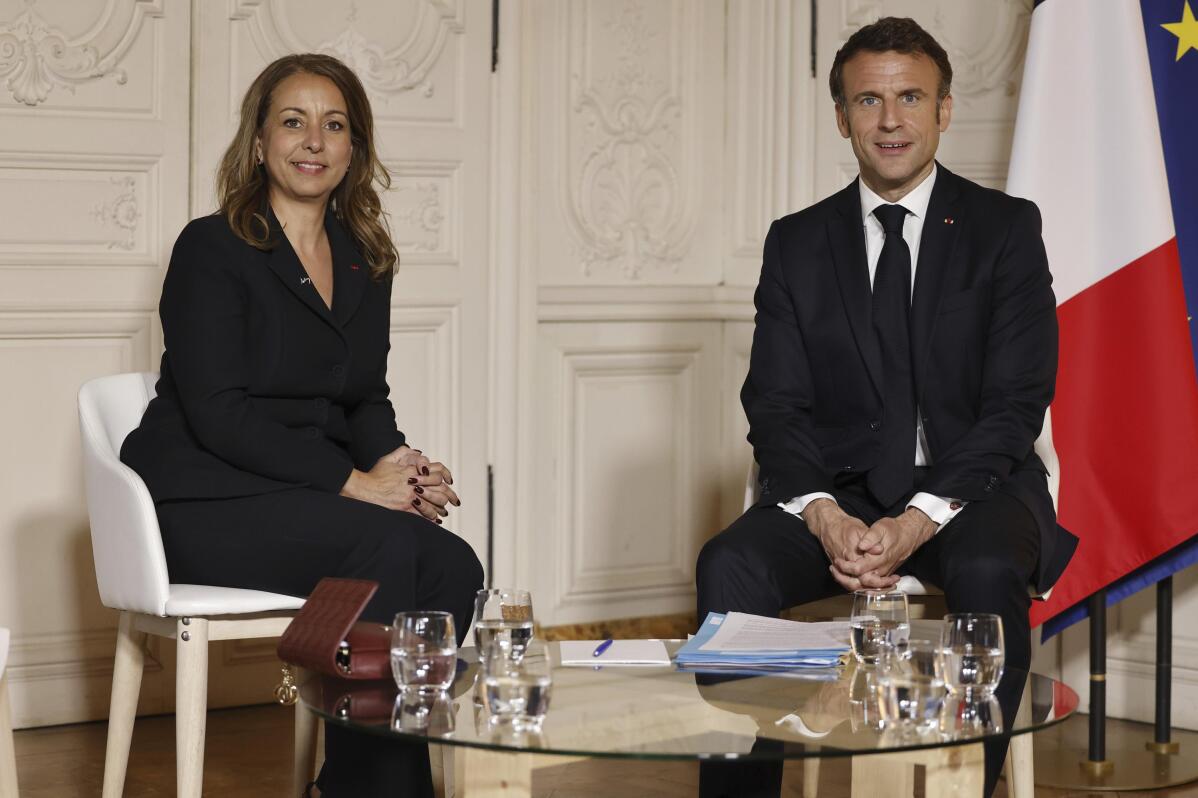 12 of 13

|
France's President Emmanuel Macron, right, meets CEO of Solvay Ilham Kadri during the 6th edition of the "Choose France" summit, in Versailles, outside Paris, France , Monday, May 15, 2023. Macron is wooing investors to help "re-industrialize" France and reduce Europe's dependence on China and the U.S. More than 200 international business leaders are expected Monday at an event staged at the palace of Versailles to promote foreign investment. (Ludovic Marin/ Pool Photo via AP)
12 of 13
France's President Emmanuel Macron, right, meets CEO of Solvay Ilham Kadri during the 6th edition of the "Choose France" summit, in Versailles, outside Paris, France , Monday, May 15, 2023. Macron is wooing investors to help "re-industrialize" France and reduce Europe's dependence on China and the U.S. More than 200 international business leaders are expected Monday at an event staged at the palace of Versailles to promote foreign investment. (Ludovic Marin/ Pool Photo via AP)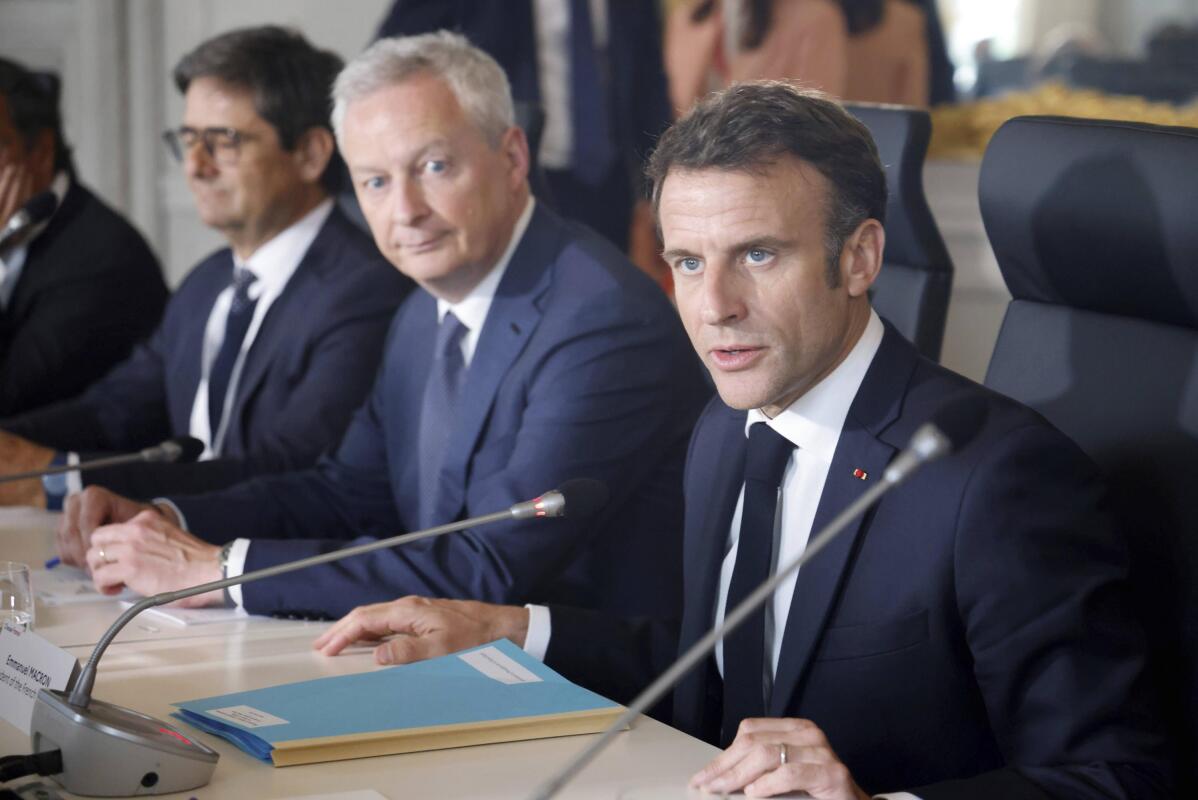 13 of 13

|
France's President Emmanuel Macron, right, and France's Finance Minister Bruno Le Maire during a meeting with managing directors of sovereign funds as part of the 6th edition of the "Choose France" summit, in Versailles, outside Paris, France , Monday, May 15, 2023. Macron is wooing investors to help "re-industrialize" France and reduce Europe's dependence on China and the U.S. More than 200 international business leaders are expected Monday at an event staged at the palace of Versailles to promote foreign investment. (Ludovic Marin/ Pool Photo via AP)
13 of 13
France's President Emmanuel Macron, right, and France's Finance Minister Bruno Le Maire during a meeting with managing directors of sovereign funds as part of the 6th edition of the "Choose France" summit, in Versailles, outside Paris, France , Monday, May 15, 2023. Macron is wooing investors to help "re-industrialize" France and reduce Europe's dependence on China and the U.S. More than 200 international business leaders are expected Monday at an event staged at the palace of Versailles to promote foreign investment. (Ludovic Marin/ Pool Photo via AP)
DUNKIRK, France (AP) — Building factories to boost job creation and make France more independent — that's President Emmanuel Macron's ambition for the French economy.
It's a big challenge, as France reels from protracted protests, rising food and energy prices and other fallout from the Ukraine war.
While Macron woos investors to help "re-industrialize" France and reduce Europe's dependence on China and the U.S., protesters follow him around the country, banging saucepans to protest economic injustice and his leadership.
More than 200 international business leaders are gathering Monday at the 'Choose France' event staged at the Palace of Versailles to promote foreign investment. Eminent business leaders taking part in the sixth such pow-wow ranged from The Walt Disney Company's Robert Iger to Lakshmi Mittal of Arcelor Mittal.
Elon Musk was a surprise visitor, meeting first with Macron at the Elysee Palace with discussions about "significant progress in the electric vehicle and energy sectors," as well as digital regulation, the president tweeted.
France vaunts its attractiveness and plans to to prove it with the announcement of 13 billion euros (about $14.14 billion) in investments via 28 initiatives, several of them announced recently.
It follows a series of incentives announced by Macron last week to support innovative industries and transition towards greener technology. They include tax credits in fields like battery production, electric cars, hydrogen and wind power, as well as accelerating authorization for industrial projects.
"France is changing, is getting adapted to the course of the world and I believe that we're following the right path, which is to reindustrialize the country, to be more sovereign and more respectful of the climate and biodiversity," Macron said Friday during a visit to Dunkirk, in northern France.
Macron's move comes after months of protests against his decision to raise the retirement age from 62 to 64. The unpopularity of the change has weakened his government at parliament and hampered his economic strategy.
Speaking on French television network TF1, Macron said Monday that he planned to continue with the pension reform despite the nationwide outcry. He also promised 2 billion euros ($2.2 billion) in middle class tax cuts, which was seen as a sweetener.
Unions have called for a new round of nationwide demonstrations on June 6. Meanwhile, opponents keep staging small protests, with people loudly banging pots and pans in places where Macron and government members are scheduled to travel.
Credit rating agency Fitch last month downgraded France's sovereign credit rating, citing the protest movement. "Political deadlock and (sometimes violent) social movements pose a risk to Macron's reform agenda," the agency wrote.
In Dunkirk Friday, Macron made time for selfies with workers from several local factories who attended his speech at Aluminium Dunkerque, one of the biggest aluminum production sites in Europe. No one asked him about the retirement age, but unlike previous visits across French regions, he didn't walk through city streets to meet with the crowd.
A heavy police presence was deployed in Dunkirk to keep potential protesters away.
Macron announced two major investments, both in the battery sector: one worth 5.2 billion euros ($5.7 billion) by Taiwanese group Prologium, the other one via a joint venture of China's XTC with French energy giant Orano worth 1.5 billion euros ($1.6 billion). They are expected to create 3,000 and 1,700 jobs in the area respectively by 2030.
He seized the occasion to present the pension reform as part of a "package" that has already produced "results." "If we want to be more competitive, we must work a little longer," he said.
Since taking office in 2017, Macron has cut business taxes. He has made it easier to hire and fire workers and more difficult for the unemployed to claim benefits, amid other pro-business policies.
Macron said 300 new factories had been created since 2017 — two thirds in the past two years — while 600 had been shut down in the previous decade. The COVID-19 crisis and Ukraine war have shown that domestic industrial production is needed to strengthen the country's sovereignty, he stressed.
For a fourth consecutive year, France was the European country that had attracted the greatest number of foreign investments, Macron said, citing a survey by EY last week.
The Paris-based Organization for Economic Cooperation and Development said Friday its statistics showed France's unemployment rate in March reached its lowest level since 2001, at 6.9% — down from about 10% when Macron was elected. Still, the proportion of jobless people in France is higher than the average in the European Union, which is stable at 6%.
ProLogium CEO Vincent Yang told reporters in Dunkirk his group considered establishing facilities in the U.S., yet eventually chose the European Union as being more a favorable environment to develop innovative battery technology.
France was a relevant choice, Yang said, because "we need to have stable, low-cost, and green electrical power" and Dunkirk, one of the major industrial ports in Europe, already has battery-related facilities. The country relies on nuclear power for 70% of its electricity, offering a low-carbon alternative to fossil fuels.
Macron has been one of the most prominent advocates for a strong EU response to the $375 billion U.S. Inflation Reduction Act announced last summer by President Joe Biden to favor clean energy technology.
Earlier this year, the European Union presented plans to revamp its policies on promoting green technologies, unleashing subsidies and other financial incentives to ramp up domestic production.
"We're going to better target our subsidies on low-emission European productions," Macron said. "We're not being protectionist but taxpayers neither in the U.S. nor China fund batteries made in Europe. So why should we be the only place in the world where taxpayers' money goes to helping non-European products? We're going to stop doing that."
He also called last week for a "pause" on EU environmental regulations, arguing the bloc of 27 already imposes tougher rules than its competitors. The comments prompted immediate criticism from French and European Green politicians.
Macron later insisted he was sticking to his climate-related commitments, including all policies aimed at making the EU reaching carbon neutrality by 2050, but said, "Let's not add more."