The Latest: Nearly 3,000 released from Sri Lanka prisons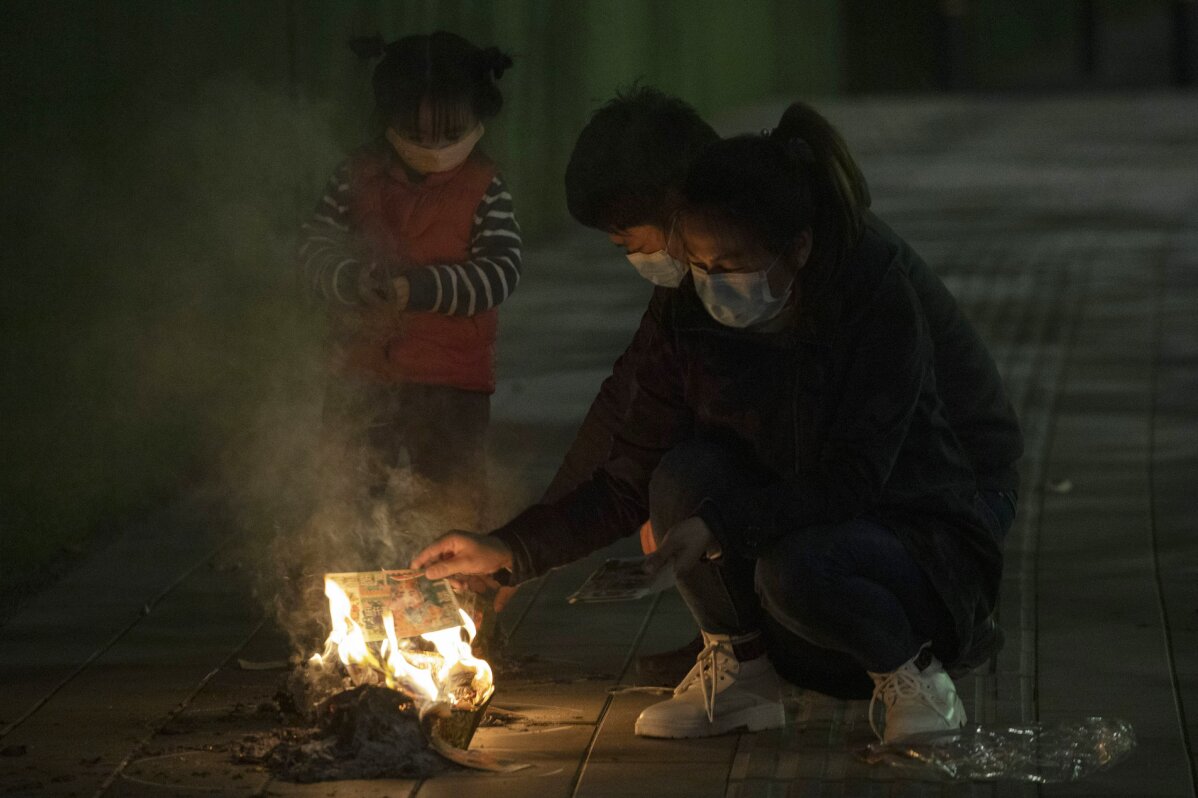 1 of 12

|
A family burn paper offerings for their departed relatives on the streets of Wuhan in central China's Hubei province on Saturday, April 4, 2020. Authorities are controlling access and limiting the number of people entering cemeteries across China during the annual Qingming festival, also known as the Grave Sweeping Day, a day when Chinese around the world remember their dearly departed and take time off to clean up the tombs and place flowers and offerings, a move to prevent the spread of the new coronavirus outbreak. (AP Photo/Ng Han Guan)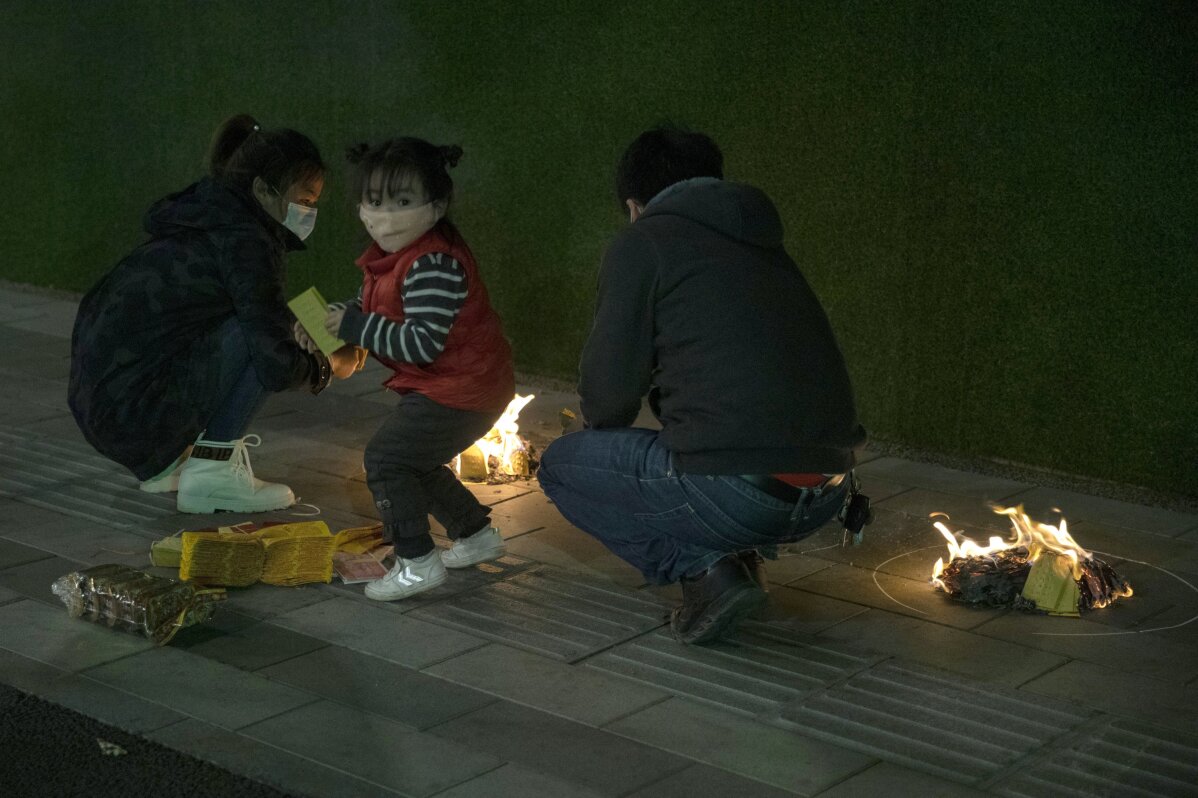 2 of 12

|
A family burn paper offerings for their departed relatives on the streets of Wuhan in central China's Hubei province on Saturday, April 4, 2020. Authorities are controlling access and limiting the number of people entering cemeteries across China during the annual Qingming festival, also known as the Grave Sweeping Day, a day when Chinese around the world remember their dearly departed and take time off to clean up the tombs and place flowers and offerings, a move to prevent the spread of the new coronavirus outbreak. (AP Photo/Ng Han Guan)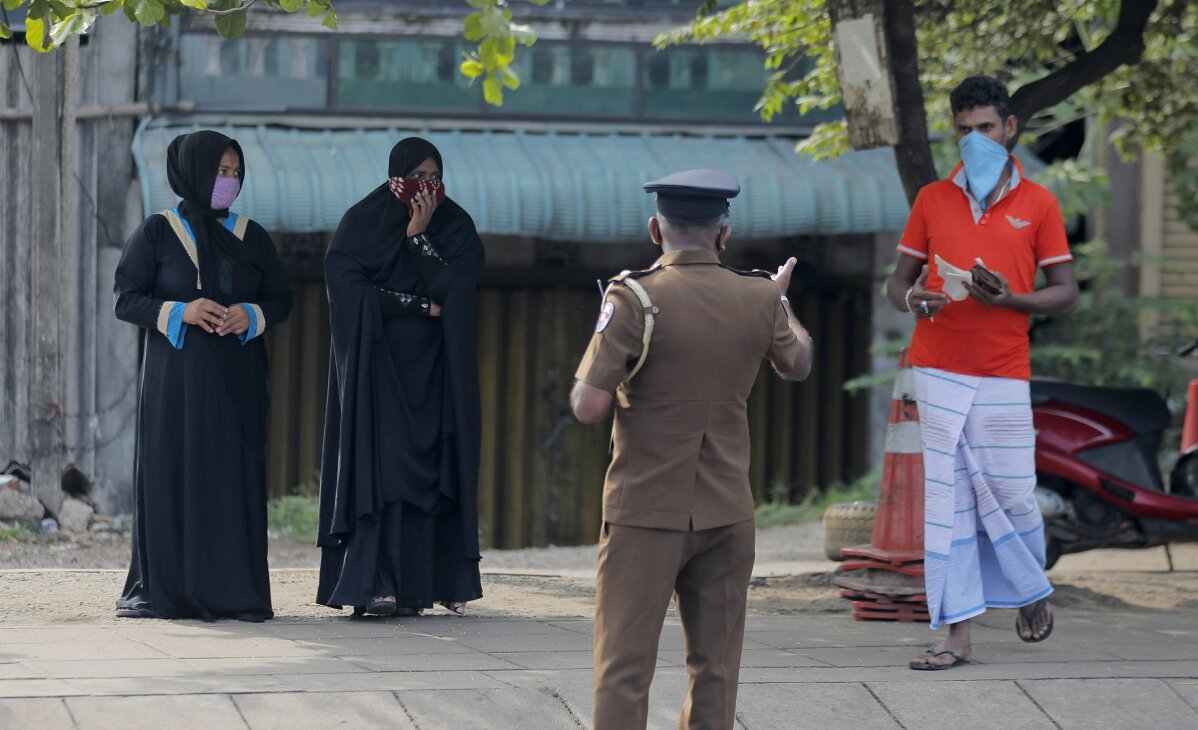 3 of 12

|
A Sri Lankan police officer detains curfew violators during a curfew imposed to curb the spreading of new coronavirus in Colombo, Sri Lanka, Wednesday, April 1, 2020. The new coronavirus causes mild or moderate symptoms for most people, but for some, especially older adults and people with existing health problems, it can cause more severe illness or death. (AP Photo/Eranga Jayawardena)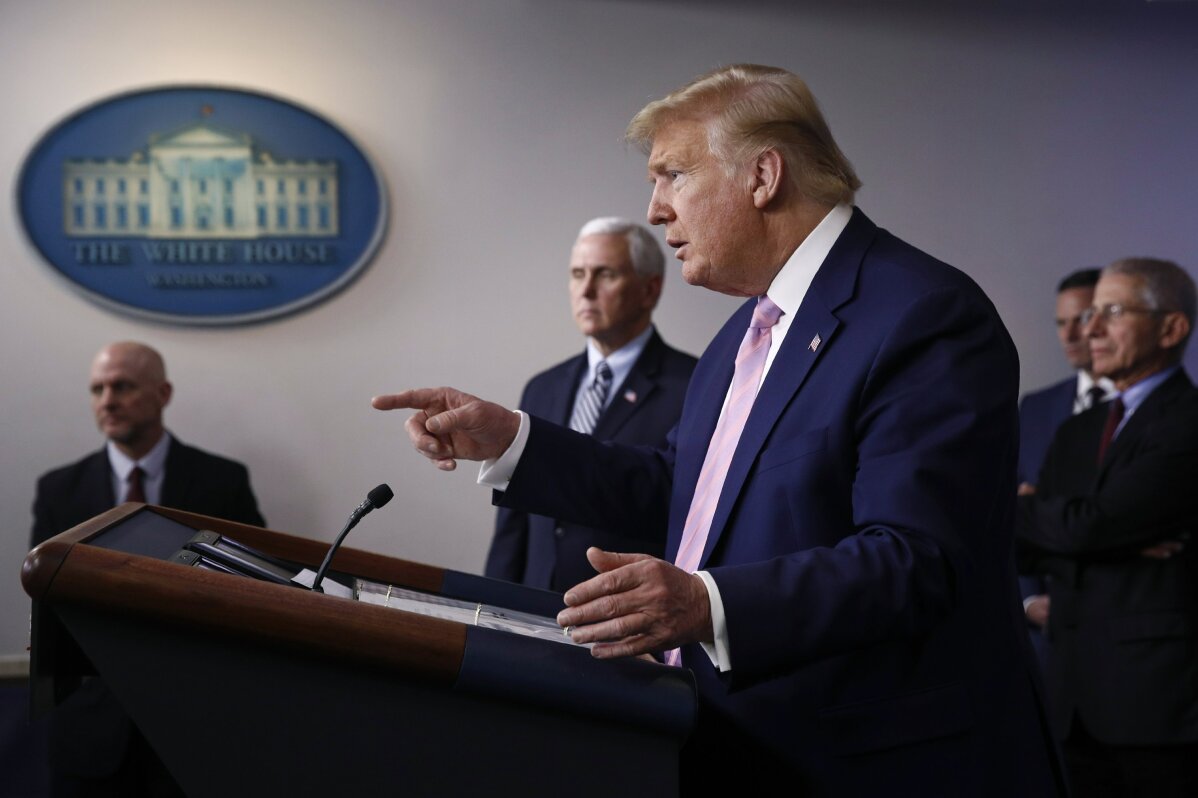 4 of 12

|
President Donald Trump speaks during a coronavirus task force briefing at the White House, Saturday, April 4, 2020, in Washington. Standing alongside are Food and Drug Administration Commissioner Dr. Stephen Hahn, from back left, Vice President Mike Pence and Dr. Anthony Fauci, director of the National Institute of Allergy and Infectious Diseases. (AP Photo/Patrick Semansky)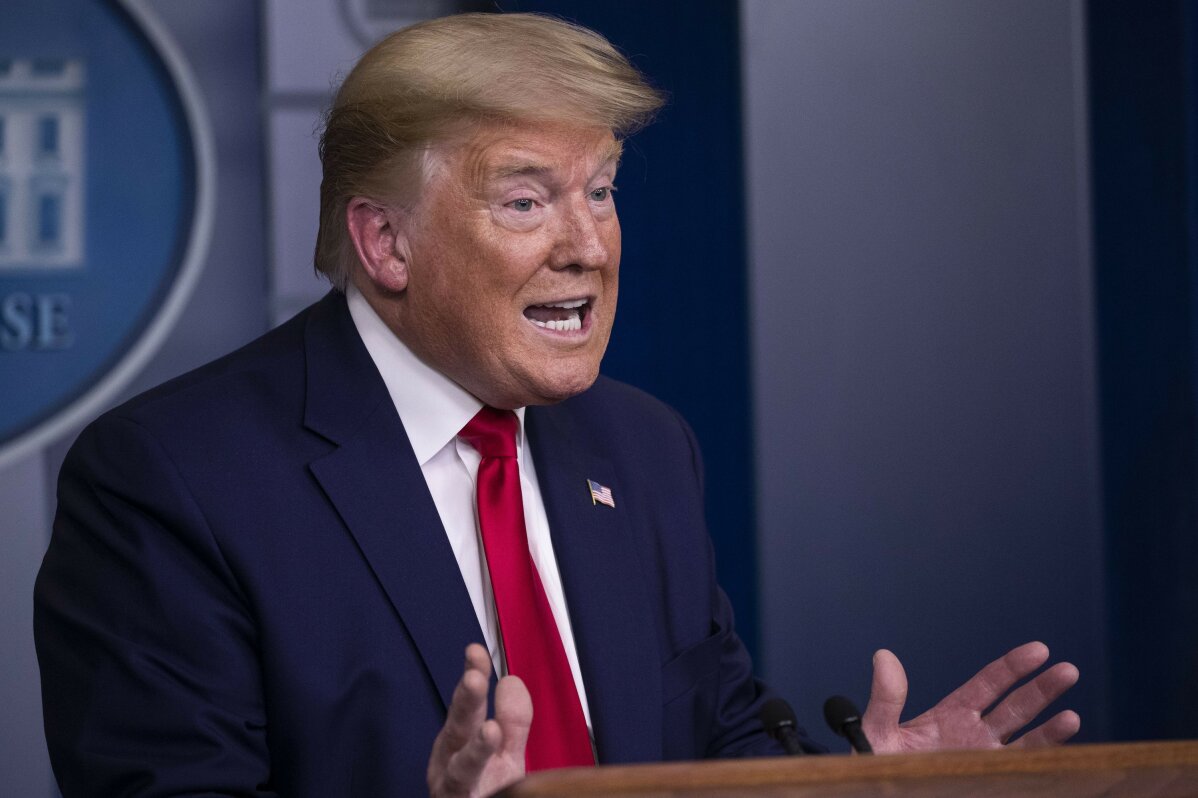 5 of 12

|
President Donald Trump speaks about the coronavirus in the James Brady Press Briefing Room of the White House, Friday, April 3, 2020, in Washington. (AP Photo/Alex Brandon)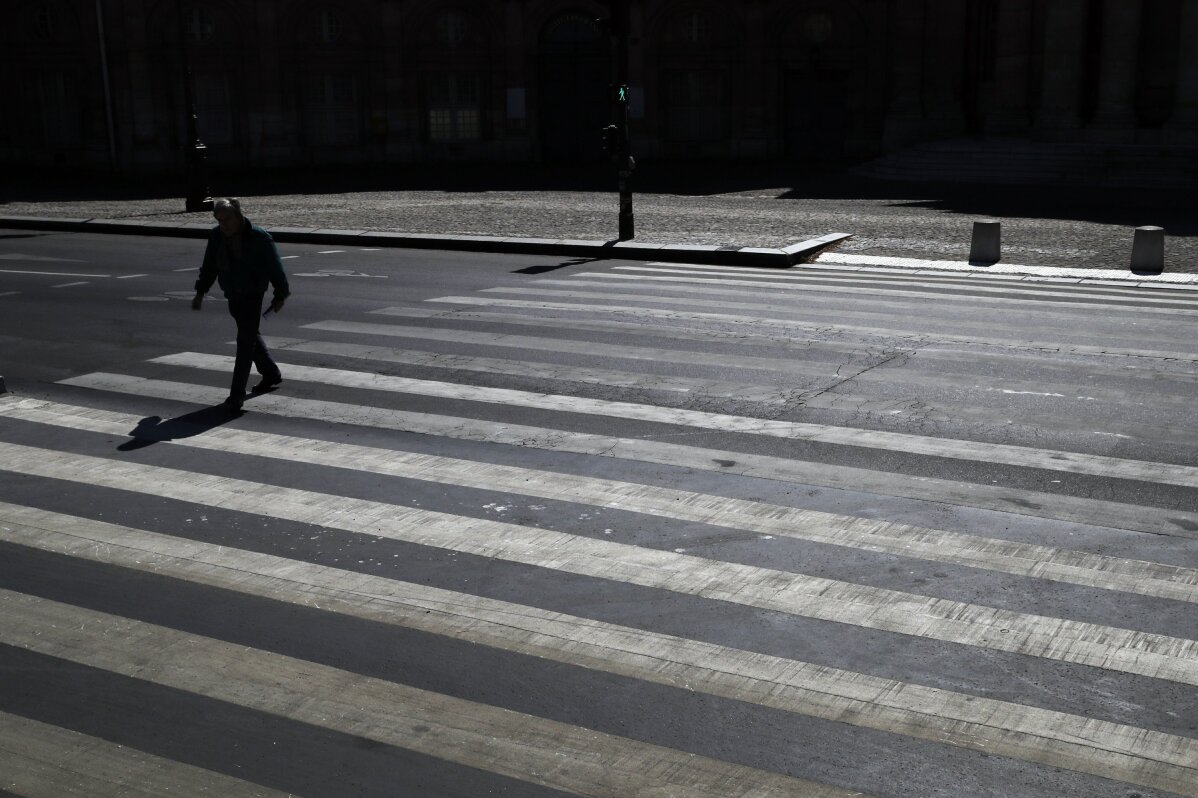 6 of 12

|
A man crosses an empty street during a nationwide confinement to counter the Covid-19, in Paris, Saturday, April 4, 2020. The new coronavirus causes mild or moderate symptoms for most people, but for some, especially older adults and people with existing health problems, it can cause more severe illness or death. (AP Photo/Christophe Ena)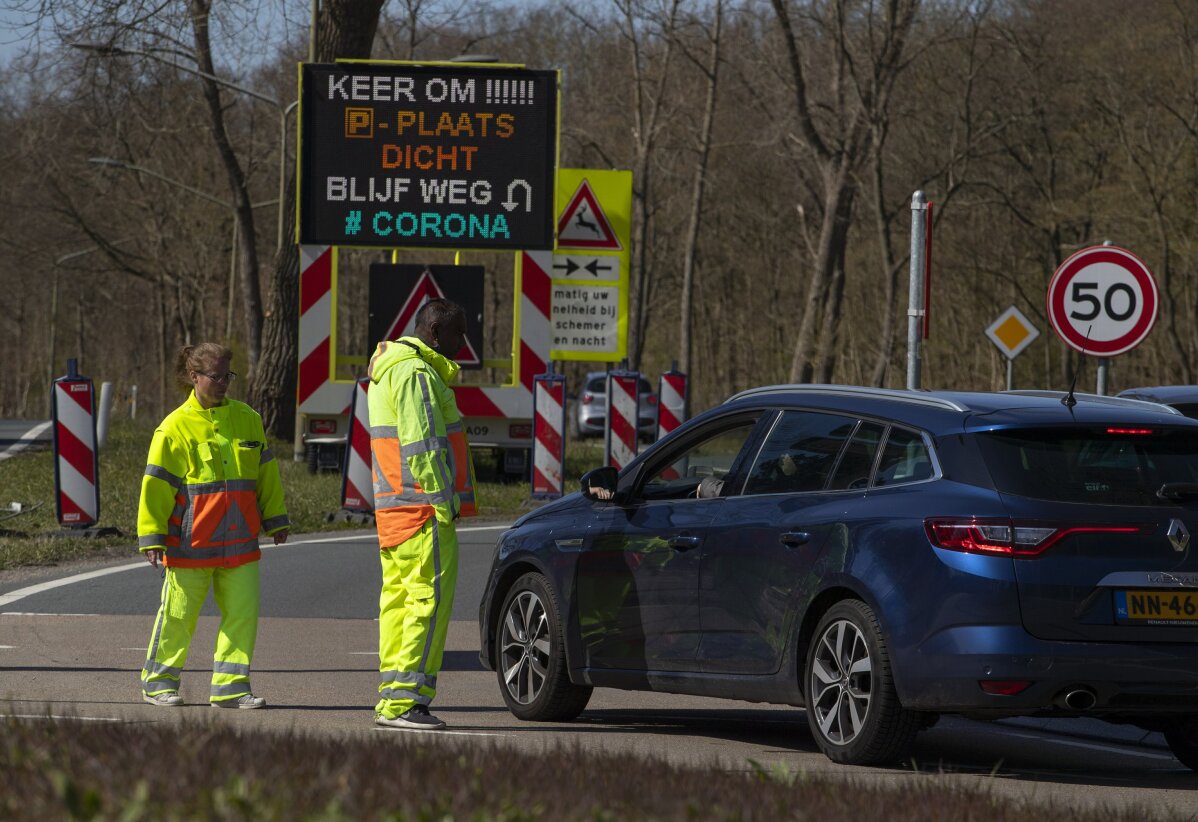 7 of 12

|
Regulators turn back non-essential traffic as a sign in Dutch reads "turn around, closed parking lot, stay away, #corona" on a road leading to the beach resort of Zandvoort, Netherlands, Saturday, April 4, 2020. The Dutch appeared to heed government directives to stay clear of forests, beaches and parks to avoid large crowds and the risk of spreading the coronavirus. (AP Photo/Peter Dejong)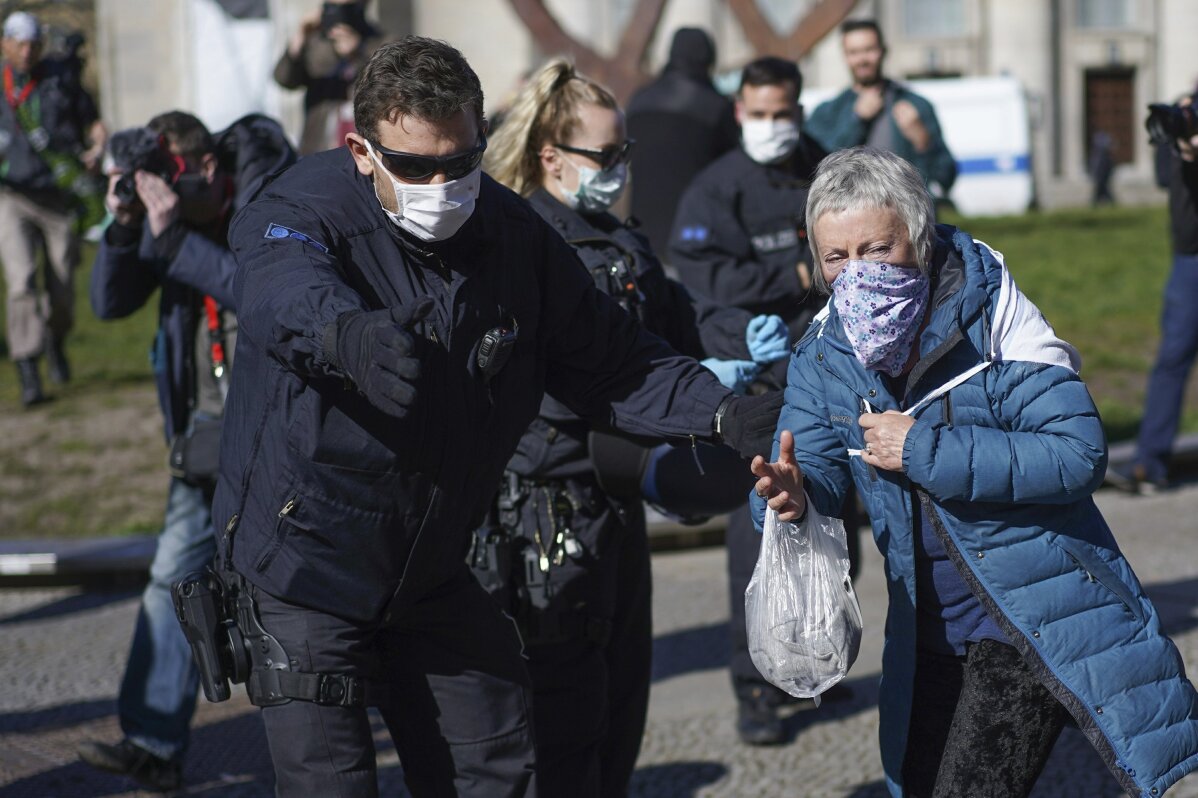 8 of 12

|
A participant of a unauthorized demonstration on Rosa Luxemburg Place with the slogan "Defend fundamental rights - Say NO to dictatorship" is expelled from the square by a police officer with a face mask in Berlin, Germany, Saturday, April 4, 2020. For most people, the new coronavirus causes only mild or moderate symptoms, such as fever and cough. For some, especially older adults and people with existing health problems, it can cause more severe illness, including pneumonia. (Joerg Carstensen/dpa via AP)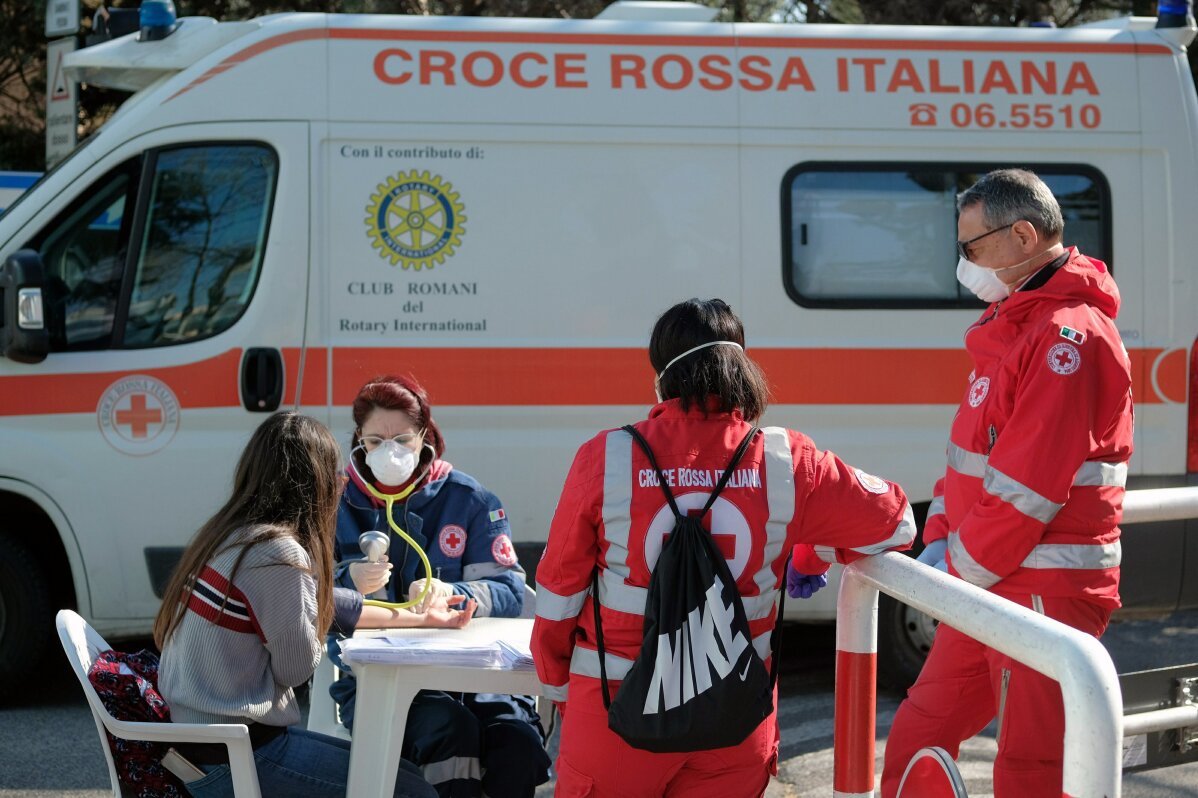 9 of 12

|
A woman donates blood at a Red Cross mobile unit in Rome, Saturday April 4, 2020. The government is demanding Italians stay home and not take the leveling off of new coronavirus infections as a sign the emergency is over, following evidence that more and more Italians are relaxing restrictions the west's first and most extreme nationwide lockdown and production shutdown. (Mauro Scrobogna/LaPresse via AP)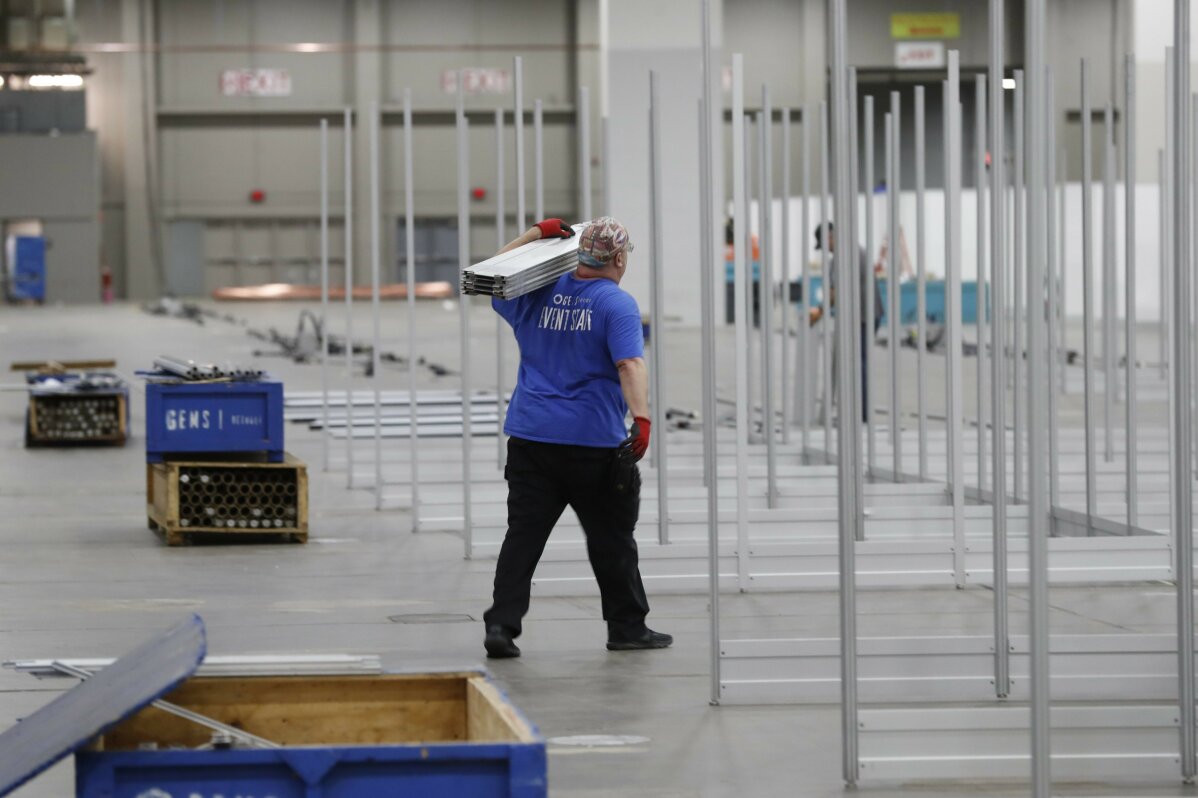 10 of 12

|
In this April 1, 2020, photo work continues at the TCF Center to build temporary hospital rooms in the convention center in Detroit. In the decade before Michigan and its largest city became the latest hotspot for the deadly coronavirus, officials were steadily cutting back on their first line of defense against pandemics and other health emergencies. Approaching bankruptcy, Detroit disbanded most of its public health department and handed its responsibilities to a private nonprofit. (AP Photo/Carlos Osorio)
11 of 12

|
A patient from France who is seriously ill with the coronavirus is transported from an ambulance plane after landing at Dresden International Airport in Dresden, Germany, Saturday, April 4, 2020. For most people, the new coronavirus causes only mild or moderate symptoms, such as fever and cough. For some, especially older adults and people with existing health problems, it can cause more severe illness, including pneumonia.(Robert Michael/dpa via AP)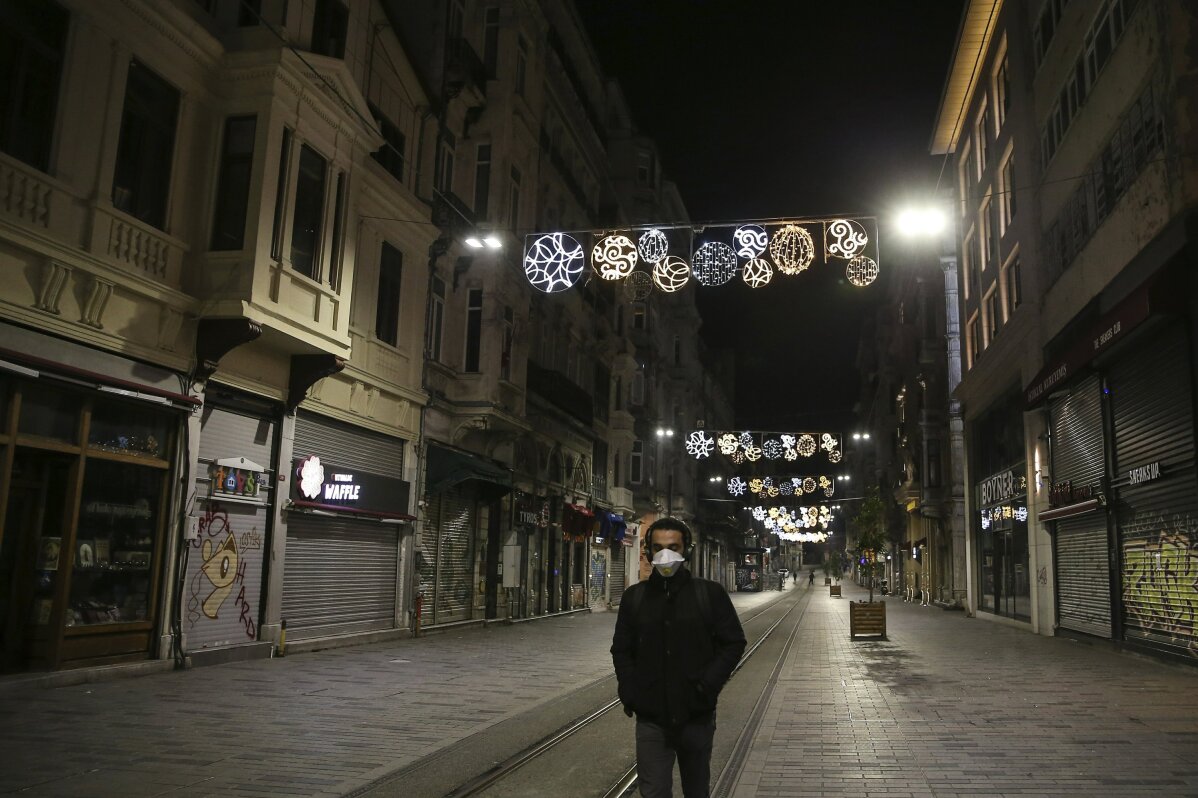 12 of 12

|
A man wearing a mask to protect against the spread of the coronavirus, walks on the deserted Istiklal Street, the main shopping street in Istanbul, in Istanbul, late Friday, April 3, 2020. The new coronavirus causes mild or moderate symptoms for most people, but for some, especially older adults and people with existing health problems, it can cause more severe illness or death. (AP Photo/Emrah Gurel)
The Latest: Nearly 3,000 released from Sri Lanka prisons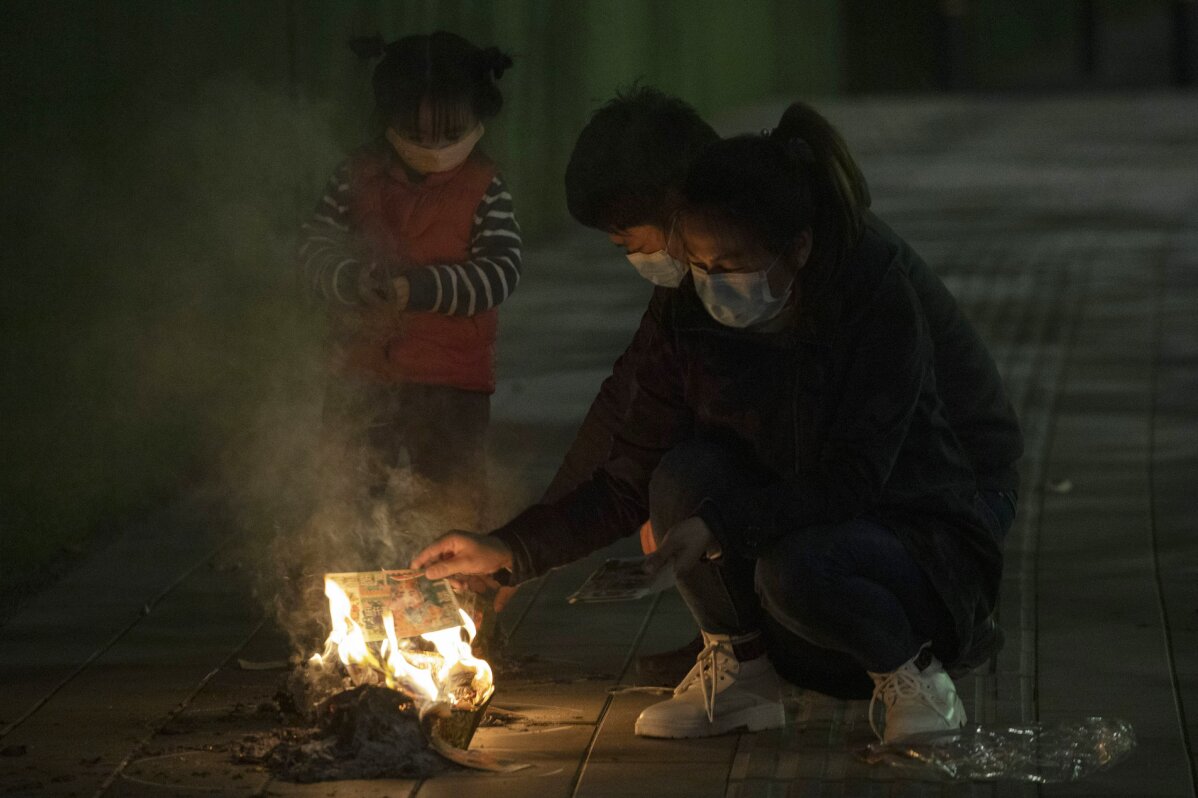 1 of 12

|
A family burn paper offerings for their departed relatives on the streets of Wuhan in central China's Hubei province on Saturday, April 4, 2020. Authorities are controlling access and limiting the number of people entering cemeteries across China during the annual Qingming festival, also known as the Grave Sweeping Day, a day when Chinese around the world remember their dearly departed and take time off to clean up the tombs and place flowers and offerings, a move to prevent the spread of the new coronavirus outbreak. (AP Photo/Ng Han Guan)
1 of 12
A family burn paper offerings for their departed relatives on the streets of Wuhan in central China's Hubei province on Saturday, April 4, 2020. Authorities are controlling access and limiting the number of people entering cemeteries across China during the annual Qingming festival, also known as the Grave Sweeping Day, a day when Chinese around the world remember their dearly departed and take time off to clean up the tombs and place flowers and offerings, a move to prevent the spread of the new coronavirus outbreak. (AP Photo/Ng Han Guan)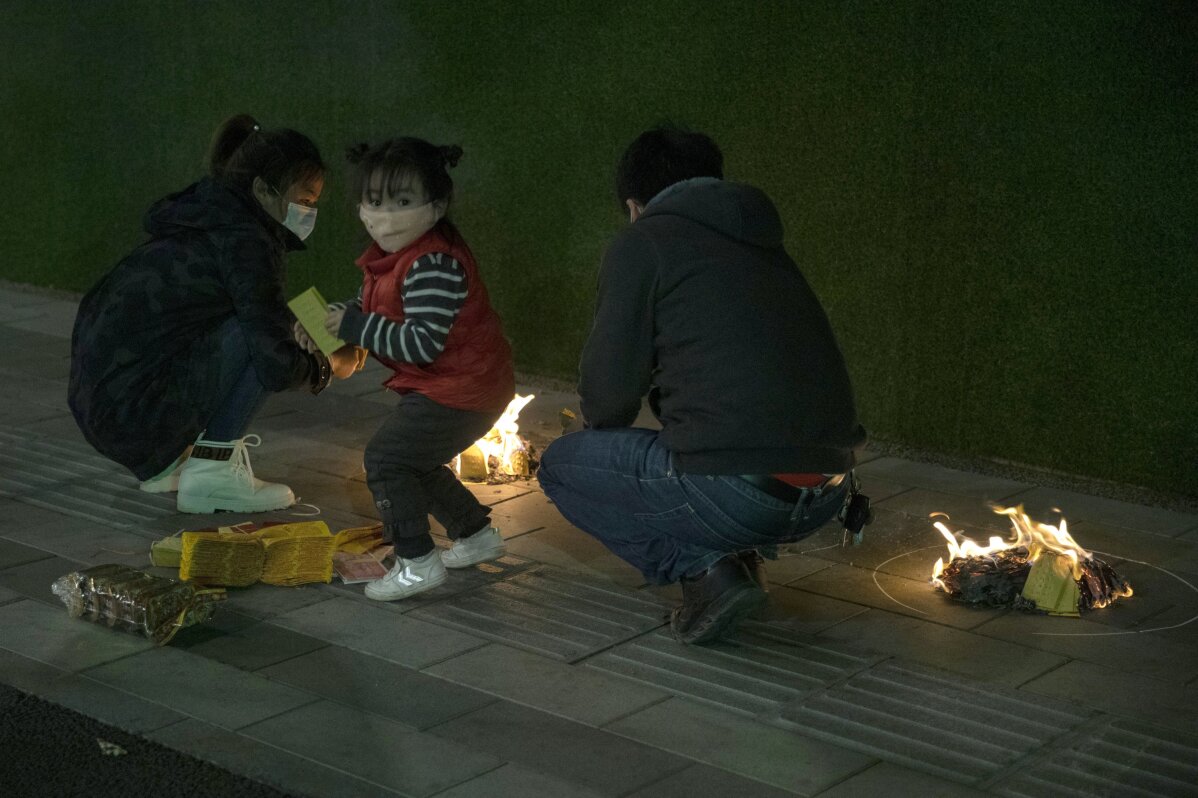 2 of 12

|
A family burn paper offerings for their departed relatives on the streets of Wuhan in central China's Hubei province on Saturday, April 4, 2020. Authorities are controlling access and limiting the number of people entering cemeteries across China during the annual Qingming festival, also known as the Grave Sweeping Day, a day when Chinese around the world remember their dearly departed and take time off to clean up the tombs and place flowers and offerings, a move to prevent the spread of the new coronavirus outbreak. (AP Photo/Ng Han Guan)
2 of 12
A family burn paper offerings for their departed relatives on the streets of Wuhan in central China's Hubei province on Saturday, April 4, 2020. Authorities are controlling access and limiting the number of people entering cemeteries across China during the annual Qingming festival, also known as the Grave Sweeping Day, a day when Chinese around the world remember their dearly departed and take time off to clean up the tombs and place flowers and offerings, a move to prevent the spread of the new coronavirus outbreak. (AP Photo/Ng Han Guan)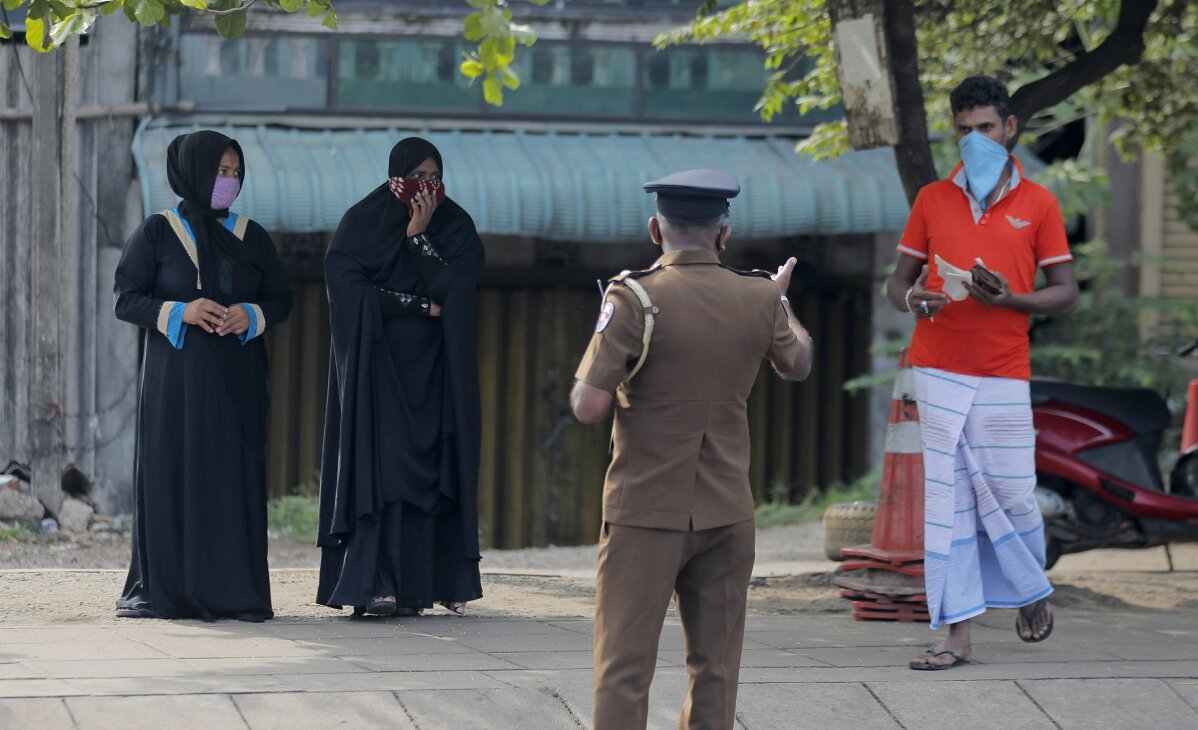 3 of 12

|
A Sri Lankan police officer detains curfew violators during a curfew imposed to curb the spreading of new coronavirus in Colombo, Sri Lanka, Wednesday, April 1, 2020. The new coronavirus causes mild or moderate symptoms for most people, but for some, especially older adults and people with existing health problems, it can cause more severe illness or death. (AP Photo/Eranga Jayawardena)
3 of 12
A Sri Lankan police officer detains curfew violators during a curfew imposed to curb the spreading of new coronavirus in Colombo, Sri Lanka, Wednesday, April 1, 2020. The new coronavirus causes mild or moderate symptoms for most people, but for some, especially older adults and people with existing health problems, it can cause more severe illness or death. (AP Photo/Eranga Jayawardena)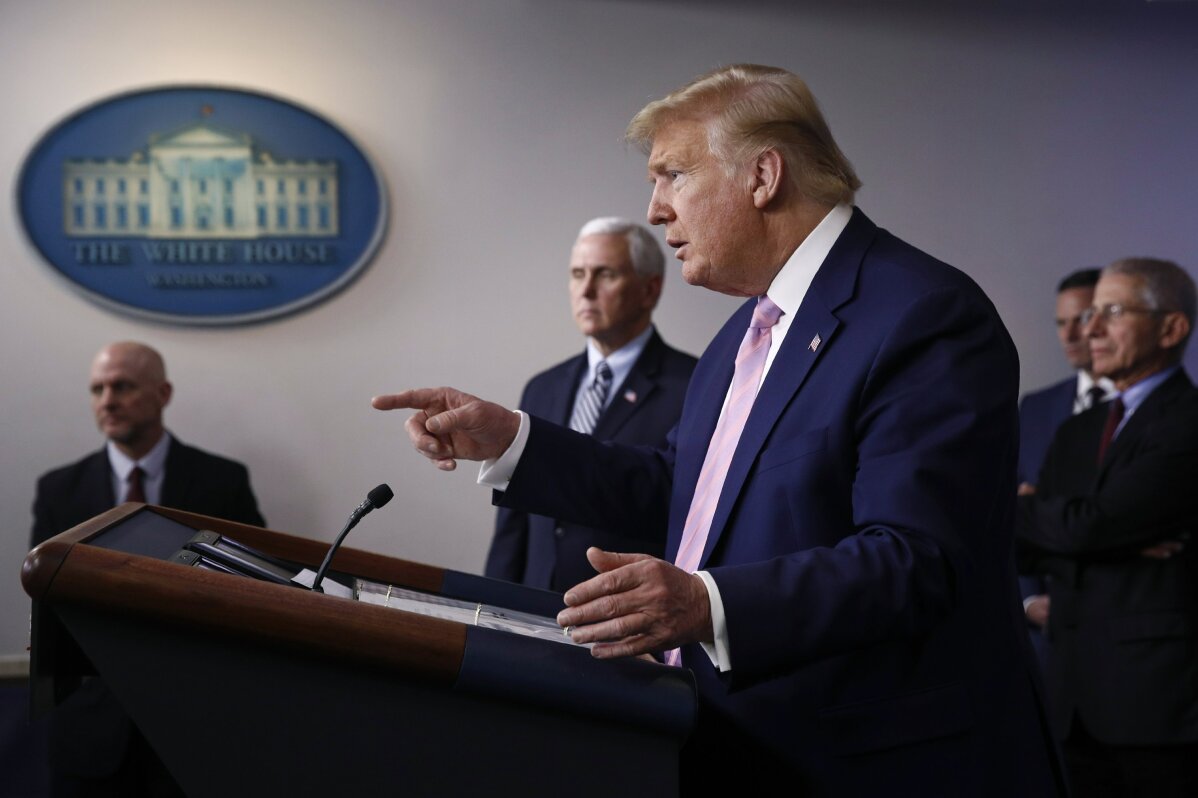 4 of 12

|
President Donald Trump speaks during a coronavirus task force briefing at the White House, Saturday, April 4, 2020, in Washington. Standing alongside are Food and Drug Administration Commissioner Dr. Stephen Hahn, from back left, Vice President Mike Pence and Dr. Anthony Fauci, director of the National Institute of Allergy and Infectious Diseases. (AP Photo/Patrick Semansky)
4 of 12
President Donald Trump speaks during a coronavirus task force briefing at the White House, Saturday, April 4, 2020, in Washington. Standing alongside are Food and Drug Administration Commissioner Dr. Stephen Hahn, from back left, Vice President Mike Pence and Dr. Anthony Fauci, director of the National Institute of Allergy and Infectious Diseases. (AP Photo/Patrick Semansky)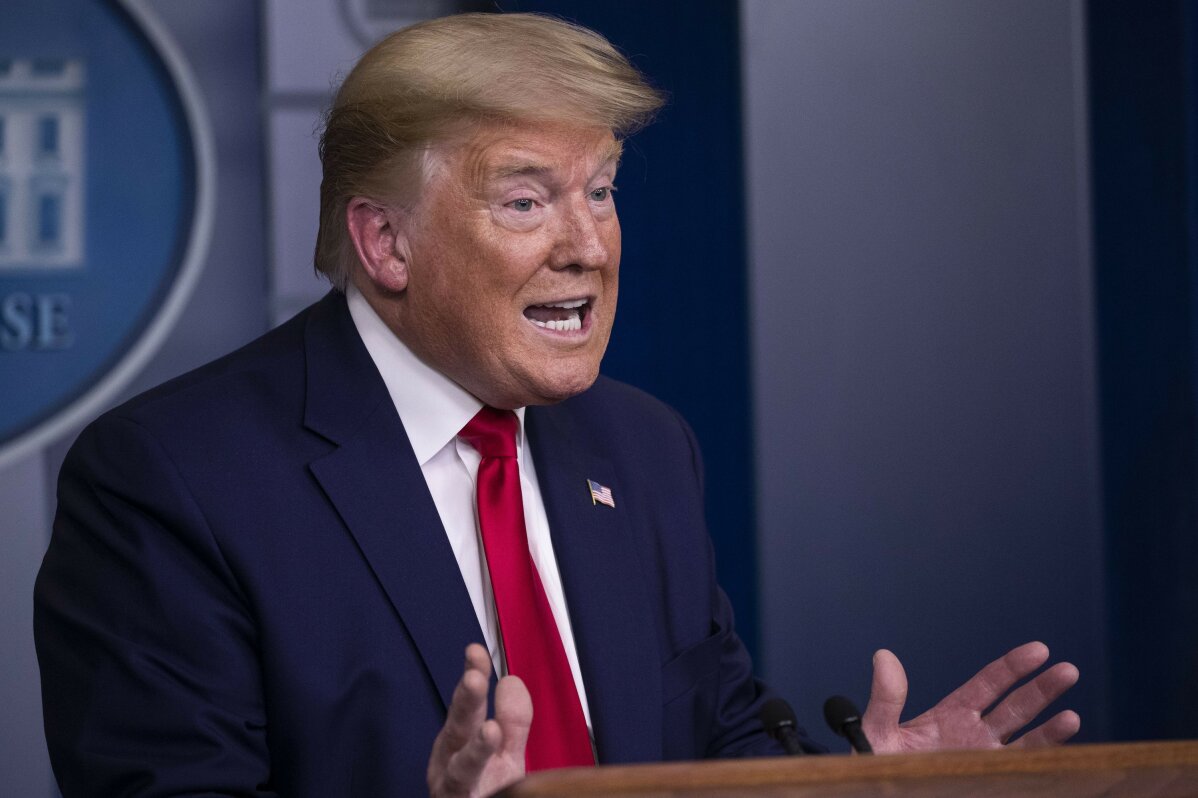 5 of 12

|
President Donald Trump speaks about the coronavirus in the James Brady Press Briefing Room of the White House, Friday, April 3, 2020, in Washington. (AP Photo/Alex Brandon)
5 of 12
President Donald Trump speaks about the coronavirus in the James Brady Press Briefing Room of the White House, Friday, April 3, 2020, in Washington. (AP Photo/Alex Brandon)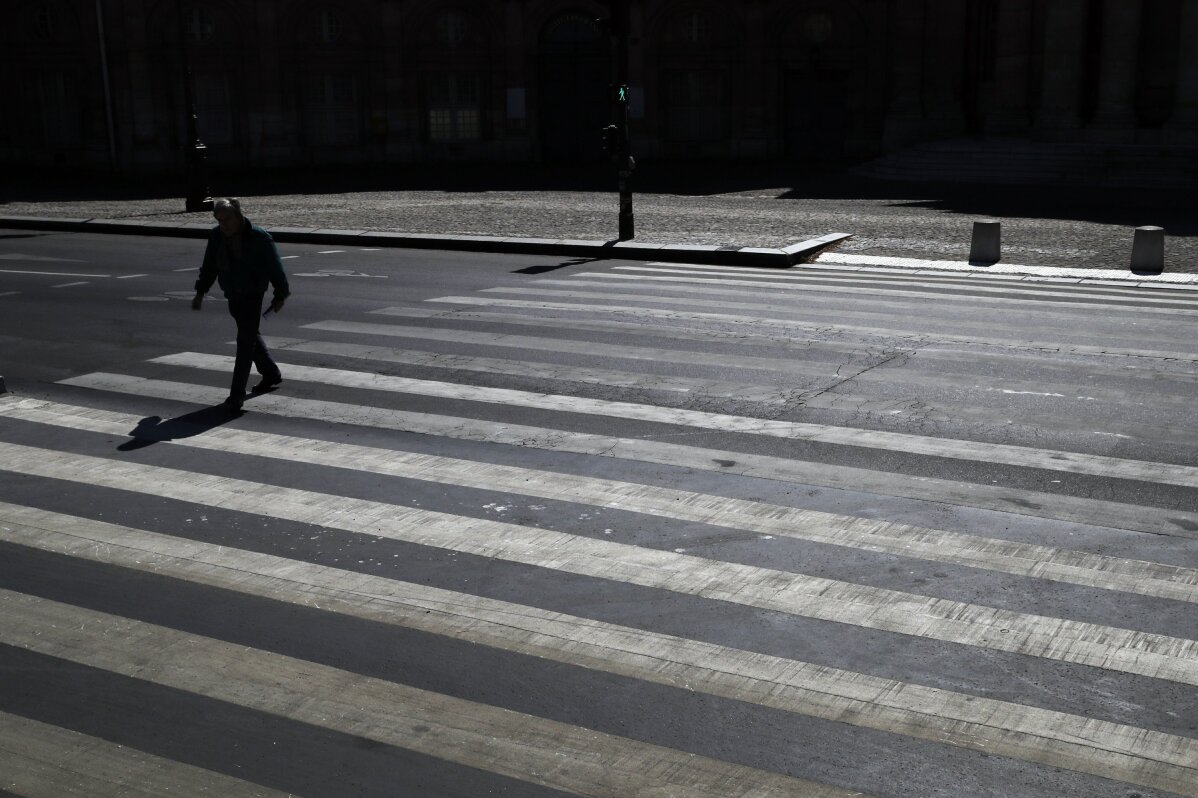 6 of 12

|
A man crosses an empty street during a nationwide confinement to counter the Covid-19, in Paris, Saturday, April 4, 2020. The new coronavirus causes mild or moderate symptoms for most people, but for some, especially older adults and people with existing health problems, it can cause more severe illness or death. (AP Photo/Christophe Ena)
6 of 12
A man crosses an empty street during a nationwide confinement to counter the Covid-19, in Paris, Saturday, April 4, 2020. The new coronavirus causes mild or moderate symptoms for most people, but for some, especially older adults and people with existing health problems, it can cause more severe illness or death. (AP Photo/Christophe Ena)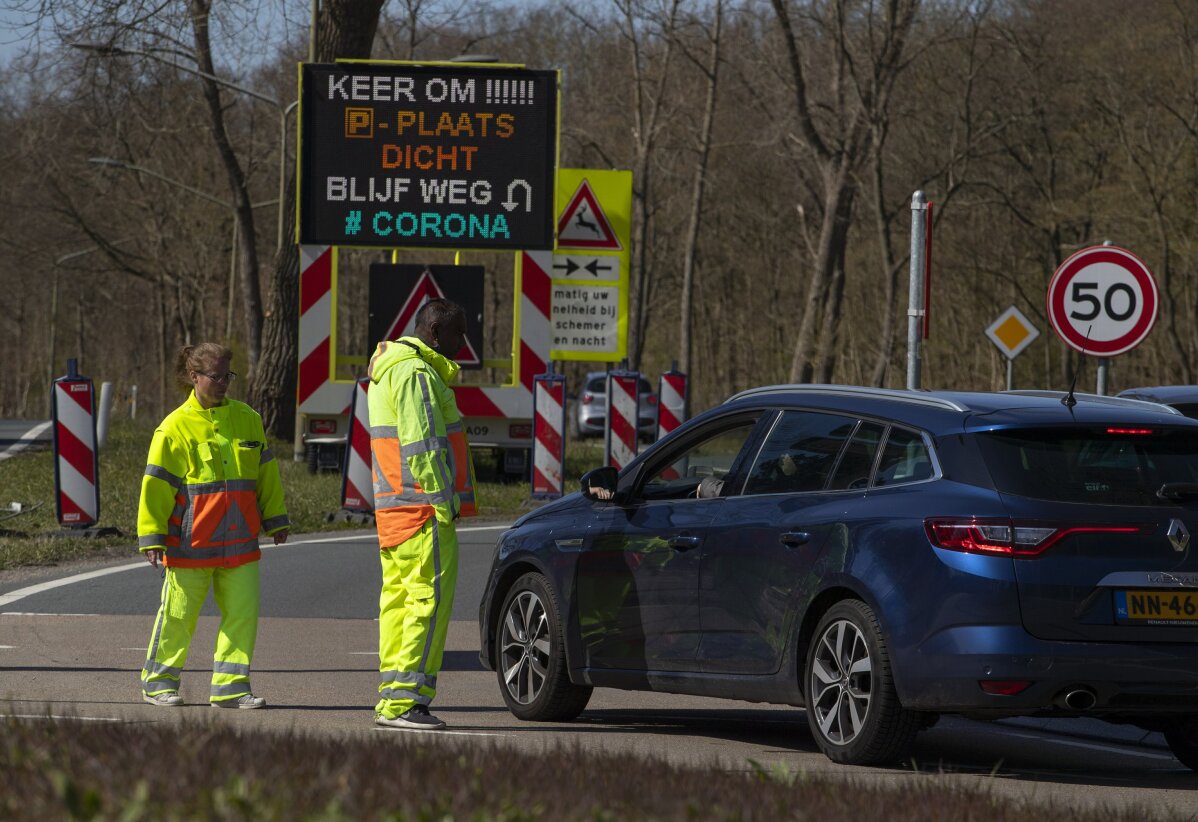 7 of 12

|
Regulators turn back non-essential traffic as a sign in Dutch reads "turn around, closed parking lot, stay away, #corona" on a road leading to the beach resort of Zandvoort, Netherlands, Saturday, April 4, 2020. The Dutch appeared to heed government directives to stay clear of forests, beaches and parks to avoid large crowds and the risk of spreading the coronavirus. (AP Photo/Peter Dejong)
7 of 12
Regulators turn back non-essential traffic as a sign in Dutch reads "turn around, closed parking lot, stay away, #corona" on a road leading to the beach resort of Zandvoort, Netherlands, Saturday, April 4, 2020. The Dutch appeared to heed government directives to stay clear of forests, beaches and parks to avoid large crowds and the risk of spreading the coronavirus. (AP Photo/Peter Dejong)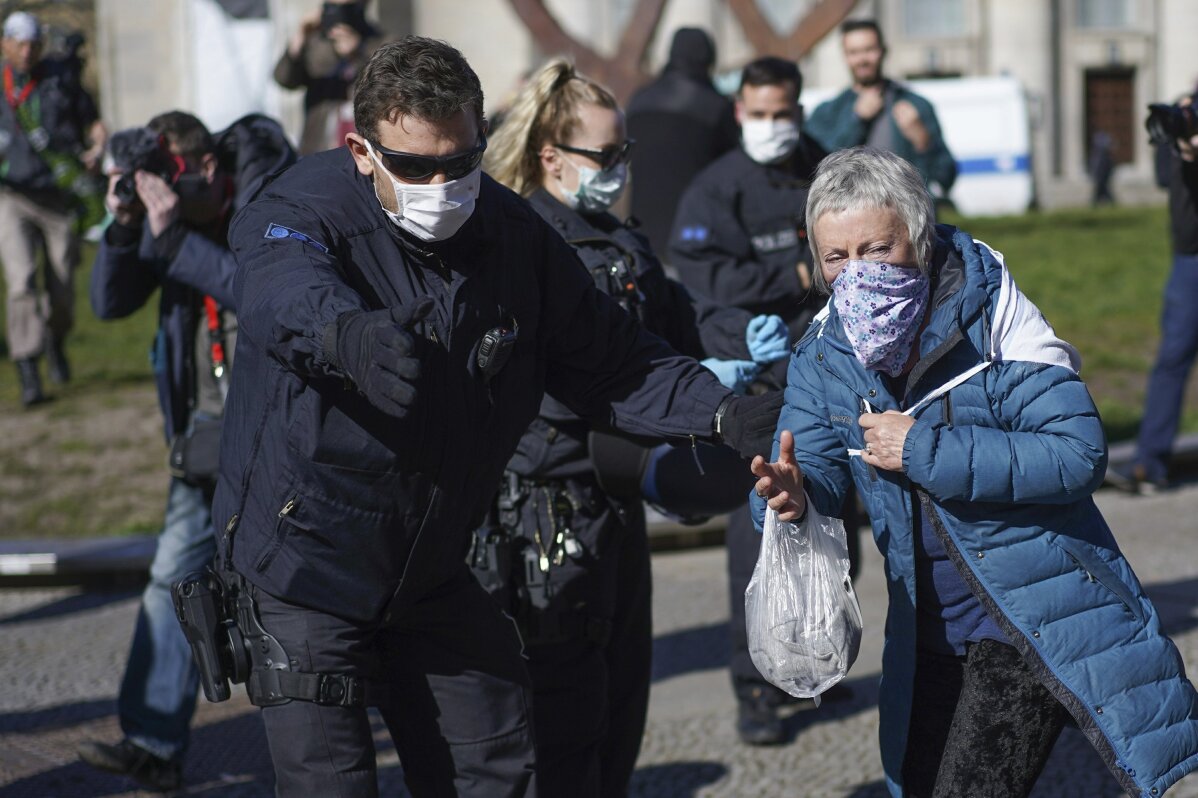 8 of 12

|
A participant of a unauthorized demonstration on Rosa Luxemburg Place with the slogan "Defend fundamental rights - Say NO to dictatorship" is expelled from the square by a police officer with a face mask in Berlin, Germany, Saturday, April 4, 2020. For most people, the new coronavirus causes only mild or moderate symptoms, such as fever and cough. For some, especially older adults and people with existing health problems, it can cause more severe illness, including pneumonia. (Joerg Carstensen/dpa via AP)
8 of 12
A participant of a unauthorized demonstration on Rosa Luxemburg Place with the slogan "Defend fundamental rights - Say NO to dictatorship" is expelled from the square by a police officer with a face mask in Berlin, Germany, Saturday, April 4, 2020. For most people, the new coronavirus causes only mild or moderate symptoms, such as fever and cough. For some, especially older adults and people with existing health problems, it can cause more severe illness, including pneumonia. (Joerg Carstensen/dpa via AP)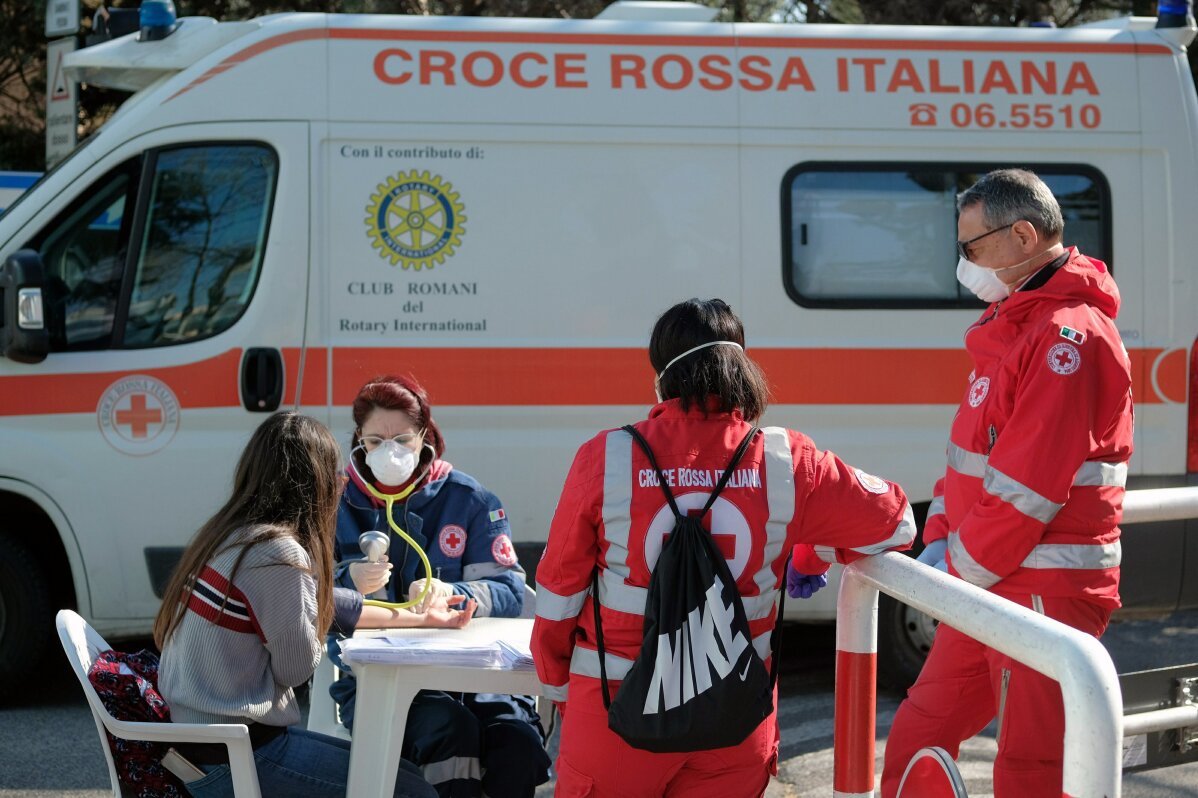 9 of 12

|
A woman donates blood at a Red Cross mobile unit in Rome, Saturday April 4, 2020. The government is demanding Italians stay home and not take the leveling off of new coronavirus infections as a sign the emergency is over, following evidence that more and more Italians are relaxing restrictions the west's first and most extreme nationwide lockdown and production shutdown. (Mauro Scrobogna/LaPresse via AP)
9 of 12
A woman donates blood at a Red Cross mobile unit in Rome, Saturday April 4, 2020. The government is demanding Italians stay home and not take the leveling off of new coronavirus infections as a sign the emergency is over, following evidence that more and more Italians are relaxing restrictions the west's first and most extreme nationwide lockdown and production shutdown. (Mauro Scrobogna/LaPresse via AP)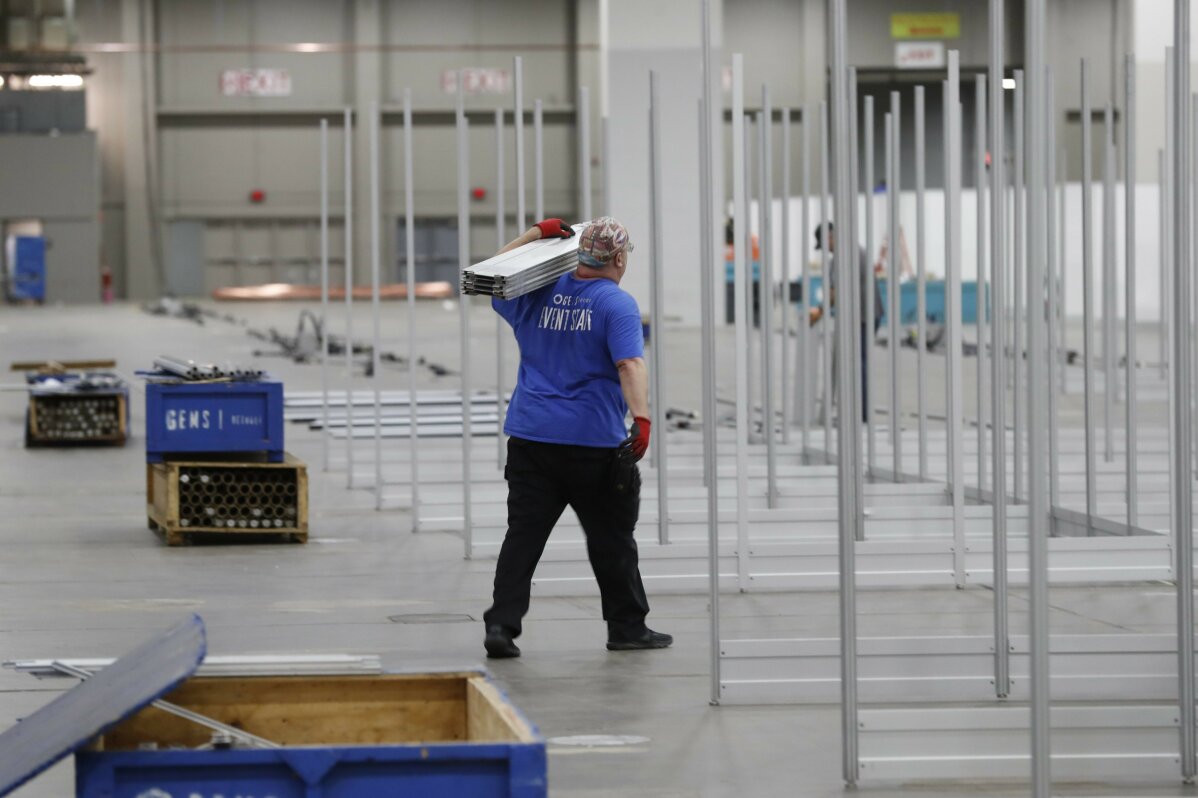 10 of 12

|
In this April 1, 2020, photo work continues at the TCF Center to build temporary hospital rooms in the convention center in Detroit. In the decade before Michigan and its largest city became the latest hotspot for the deadly coronavirus, officials were steadily cutting back on their first line of defense against pandemics and other health emergencies. Approaching bankruptcy, Detroit disbanded most of its public health department and handed its responsibilities to a private nonprofit. (AP Photo/Carlos Osorio)
10 of 12
In this April 1, 2020, photo work continues at the TCF Center to build temporary hospital rooms in the convention center in Detroit. In the decade before Michigan and its largest city became the latest hotspot for the deadly coronavirus, officials were steadily cutting back on their first line of defense against pandemics and other health emergencies. Approaching bankruptcy, Detroit disbanded most of its public health department and handed its responsibilities to a private nonprofit. (AP Photo/Carlos Osorio)
11 of 12

|
A patient from France who is seriously ill with the coronavirus is transported from an ambulance plane after landing at Dresden International Airport in Dresden, Germany, Saturday, April 4, 2020. For most people, the new coronavirus causes only mild or moderate symptoms, such as fever and cough. For some, especially older adults and people with existing health problems, it can cause more severe illness, including pneumonia.(Robert Michael/dpa via AP)
11 of 12
A patient from France who is seriously ill with the coronavirus is transported from an ambulance plane after landing at Dresden International Airport in Dresden, Germany, Saturday, April 4, 2020. For most people, the new coronavirus causes only mild or moderate symptoms, such as fever and cough. For some, especially older adults and people with existing health problems, it can cause more severe illness, including pneumonia.(Robert Michael/dpa via AP)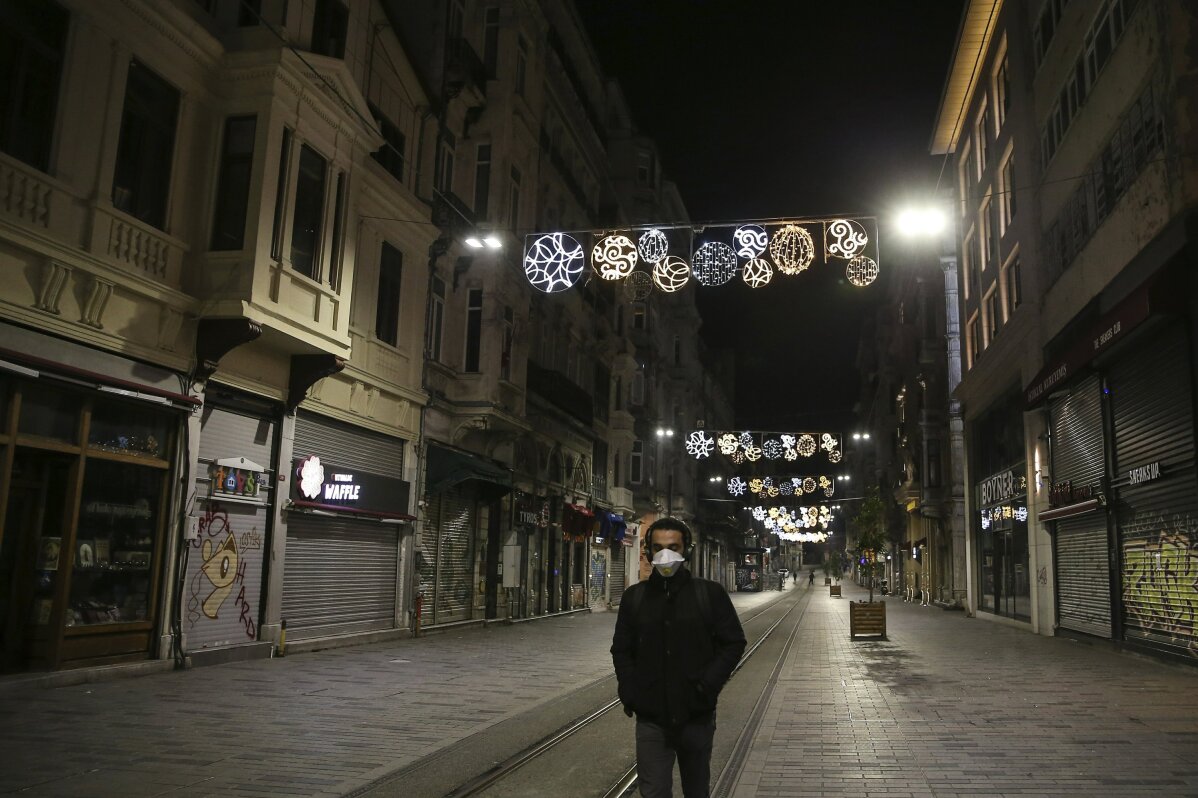 12 of 12

|
A man wearing a mask to protect against the spread of the coronavirus, walks on the deserted Istiklal Street, the main shopping street in Istanbul, in Istanbul, late Friday, April 3, 2020. The new coronavirus causes mild or moderate symptoms for most people, but for some, especially older adults and people with existing health problems, it can cause more severe illness or death. (AP Photo/Emrah Gurel)
12 of 12
A man wearing a mask to protect against the spread of the coronavirus, walks on the deserted Istiklal Street, the main shopping street in Istanbul, in Istanbul, late Friday, April 3, 2020. The new coronavirus causes mild or moderate symptoms for most people, but for some, especially older adults and people with existing health problems, it can cause more severe illness or death. (AP Photo/Emrah Gurel)
The Latest on the coronavirus pandemic. The new coronavirus causes mild or moderate symptoms for most people. For some, especially older adults and people with existing health problems, it can cause more severe illness or death.
TOP OF THE HOUR: ,
— China reports 30 new coronavirus cases, mostly from new arrivals
— President Trump warns of "toughest" weeks ahead
— France death toll passes 7,500 from coronavirus.
— Italy's Lombardy region requires people to wear masks outside.
___
COLOMBO, Sri Lanka — Nearly 2900 prisoners have been released from overcrowded prisons in Sri Lanka as the Indian ocean island nation has stepped up it's efforts to contain the spreading of the new coronavirus.
Sri Lanka has been under a countrywide curfew since March 20. Five people have died due to the virus and the total number of confirmed cases have risen to 166.
According to a statement from the president's office, 2,961 prisoners have been released on bail since March 17.
Sri Lanka's prisons are highly congested, and the president's office said at present, there are more than 26,000 inmates while the normal capacity does not exceed 10,000.
Two inmates were killed and six others wounded last month when they scuffled with guards and some tried to escape during a protest against new strict measures to control the spread of the virus.
Prisoners protested after the government banned visitors to prevent the spreading of the virus inside prisons. Visitors often bring home-cooked food when they visit.
___
BEIJING — Chinese health authorities reported 30 new coronavirus cases Sunday, including 25 people who had arrived from overseas. The other five cases were in southern China's Guangdong province, which borders Hong Kong.
China has clamped down on international arrivals, banning most foreigners from entering and limiting foreign airlines to one flight per week. Having largely stopped the spread of the disease, the fear is that infected people coming from abroad could spark new outbreaks.
The National Health Commission said that three more people had died, bringing the country's death toll to 3,329 as of the end of Saturday. The deaths were in Wuhan, where the pandemic began and by far the hardest-hit city in China. The number of confirmed cases stood at 81,669.
___
WASHINGTON — President Donald Trump approved Arizona Gov. Doug Ducey's request for a major disaster declaration.
Trump's approval of the disaster declaration opens the door for the state to receive additional federal assistance, Ducey said in a statement that expressed thanks to the president.
"This continued collaboration will be crucial as we utilize all tools to combat this virus," Ducey said.
The federal declaration would provide help under numerous programs, including unemployment assistance, legal services, hazard mitigation, nutritional aid and crisis counseling, Ducey's request said.
___
WASHINGTON -- President Donald Trump is again touting a drug used to treat certain other diseases and says he may take it himself in hope that it will help fend off the new coronavirus.
Trump says "there's a rumor out there" that hydroxychloroquine is effective, declaring "I may take it."
He has often pointed to hydroxychloroquine as a possible cure and urged people to take it, despite more sober assessments of its effectiveness by medical professionals.
The drug has long been used to treat malaria, rheumatoid arthritis and lupus. Very small preliminary studies suggested it might help prevent coronavirus from entering cells and possibly help patients clear the virus sooner.
But the drug has major potential side effects, especially for the heart, and large studies are underway to see if it is safe and effective for treating COVID-19.
___
WASHINGTON -- President Donald Trump is warning that the U.S. is facing the "toughest" weeks ahead as the rise in coronavirus cases accelerates. He says,"There will be a lot of death."
But after the somber start to his daily briefing on Saturday, he has come back again and again to his desire to get the country open for business.
He said, "We have to open our country again. We don't want to be doing this for months and months and months. This country wasn't meant for this."
Trump, who met earlier Saturday with the heads of major sports leagues, said he wants to get the fans back in arenas as soon as possible. He also talked about wanting people to be able to go to restaurants again. (edited)
___
GUATEMALA CITY - Guatemala has prohibited most internal travel, and banned spending time at the beach during Holy Week, a traditional spring holiday.
President Alejandro Giammattei said in a national broadcast Saturday that travel would only be allowed for work reasons. Sales of alcohol to the public would be banned.
All recreational travel would be prohibited, and freight transport would be limited to essential goods later in Holy Week.
The measures will be in effect from April 5 to 12.
___
NEW ORLEANS -- State medical officials are preparing for Monday's opening of the Morial Convention Center, which is being converted into a medical support facility to help local hospitals care for patients infected with the new coronavirus.
The plan is for the most critical patients to remain in hospitals and give those with less severe symptoms but in need of medical care a place to go.
Joe Kanter, assistant state health officer with the Louisiana Department of Health and among those on the tour of the convention center, told media the next three weeks are "incredibly critical."
Part of the facility's purpose is to also keep COVID-positive patients away from the general population.
___
WASHINGTON — President Donald Trump is reassuring Little League baseball players that they should be playing the game again soon.
"To all of our youth who are missing the start of their @LittleLeague seasons, hang in there! We will get you back out on the fields, and know that you will be playing baseball soon," he tweeted Saturday. "We will get through this together, and bats will be swinging before you know it. In the meantime, take care of mom and dad, and know that this will not be forever!"
Little League president and CEO Stephen Keener reassured that the players would be back soon. The Little League, like the major leagues, has suspended activities until mid-May, when the situation will be assessed, according to the Little League website.
The Little League website said officials "will continue to consult with appropriate medical advisors, government health officials and our volunteer leaders around the world, and we are committed to doing the best we can for the safety and well-being of our players, families, volunteers, and fans."
___
JOHANNESBURG — South Africa says part of a hospital in the city of Durban has been shut down after 11 coronavirus cases were confirmed among patients and staffers. Those include three patients at St. Augustine's Hospital who died. The health ministry says no new patients are being admitted while any "infection control lapses" are investigated, and testing continues to "determine the true extent" of infections there. It asks that anyone who has been a patient at the hospital since March 1 contact the ministry. South Africa now has more than 1,500 cases, the most in Africa.
___
PARIS —France's health director said that 7,560 people have died of coronavirus-related issues in France since the start of the epidemic in the country, including at least 2,028 in nursing homes.
Jerome Salomon spoke Saturday evening during a daily press briefing. According to these figures, France has experienced 441 more deaths in hospitals in the last 24 hours. The information for nursing homes remains incomplete, because not all of them have reported the number of people contaminated or dead because of COVID-19.
He also said that 28,143 people were currently hospitalized -- of which 6838 are in intensive care, accounting for a rise of 176 people in 24 hours in intensive care.
Among the critical patients 35% are under 60 years old.
"The number of people being cured is also increasing very quickly," Salomon said.
___
WASHINGTON — The White House says President Donald Trump spoke with commissioners of the country's sports leagues on Saturday and told them he recognizes "the good work being done by many teams and players" to care for their communities and fan bases dealing with the new coronavirus.
The virus has decimated the sports world with the National Basketball Association and the National Hockey League suspending their seasons indefinitely and Major League Baseball and the WNBA postponing the start of their season.
The NCAA basketball tournament was also cancelled, as were college spring sports such as baseball and softball, lacrosse and track and field.
The White House says the commissioners thanked Trump for his "national leadership and for his interest in the sports industry." He called on them to continue efforts to support their fellow Americans during the current challenge.
A wide range of sports league officials participated in the call, including Roger Goodell, commissioner of the National Football League, and Adam Silver, commissioner of the NBA.
___
LONDON — Carrie Symonds, fiancee of British Prime Minister Boris Johnson, says she is "on the mend" after a week suffering from symptoms of COVID-19.
Symonds, 32, tweeted: "I've spent the past week in bed with the main symptoms of Coronavirus," though she had not been tested.
Symonds, who is pregnant, is not currently staying with Johnson at the prime minister's Downing St. residence.
She said in a tweet that "being pregnant with Covid-19 is obviously worrying" but she was reassured by the latest medical guidance.
The Royal College of Obstetricians and Gynecologists says babies are unlikely to be exposed to COVID-19 during pregnancy and there is also no data at the moment suggesting an increased risk of miscarriage for pregnant women.
Johnson tested positive for the virus on March 26 and remains quarantined in Downing St. He said Friday he is feeling better but still has a fever.
___
ISTANBUL — Turkey's health minister reported 76 new COVID-19 deaths in the past 24 hours, raising the death toll in the country to 501.
Fahrettin Koca also raised the total number of COVID-19 infections to 23,934, reporting 3,013 more confirmed cases on Saturday. There are 1,311 patients in intensive care units across the country, with 909 of them intubated.
A total of 786 people have recovered from novel coronavirus infections, according to the figures the health minister posted on Twitter.
___
SAN JUAN, Puerto Rico — The suspected mismanagement of essential supplies during Hurricane Maria has turned out to be a boon for Puerto Rico as it fights a rise in the coronavirus cases. Health Secretary Lorenzo González said Saturday that officials discovered a cache of urgently needed personal protective equipment at a hospital in the nearby island of Vieques that remains closed since the Category 4 storm hit in September 2017. He said the equipment includes face masks, gloves, gowns and face shields that were in good condition. Puerto Rico has reported 18 deaths, including that of a nurse, and more than 450 confirmed cases, including police officers who have demanded more personal protective equipment.
___
ROME — Italy's virus-ravaged Lombardy region is now requiring residents to wear a protective mask when they go outside in a bid to further trim infections.
The ordinance from Lombardy Gov. Attilio Fontana goes into effect Sunday and lasts through April 13. It mirrors similar ordinances in recent days from two other northern regions, hard-hit Veneto and Alto Adige, which require protective masks for residents particularly if shopping in stores and markets.
While all of Italy is under a nationwide lockdown, Lombardy has passed particularly tight restrictions on movement and business operations in an effort to curb infections in the epicenter of Europe's outbreak. The new ordinance extends those tight restrictions to mid-April but makes a new exception to the shutdown for stationary stores to reopen to let students buy school supplies.
___
SKOPJE, North Macedonia — There were five deaths from the COVID-19 virus in North Macedonia in the past 24 hours, the highest single day toll so far, bringing the total to 17. There were 53 new confirmed cases, raising the total to 483. 20 people have recovered. Medical staff are also being infected. The country is in lock down, with closed borders, playgrounds, schools and all sports and other public events banned. A curfew from 4 pm till 5 am is in effect during weekends.
___
WASHINGTON — The District of Columbia has announced 145 new positive infections from the COVID-19 coronavirus, bringing the total up to 902, with six new deaths bringing the total to 15. Mayor Muriel Bowser has issued a stay-home order for Washington's approximately 700,000 residents. Neighboring Maryland and Virginia have done the same. Bowser has declared a state of emergency, shuttered all schools and ordered all non-essential businesses to close. White House and Capitol tours have been cancelled and the National Zoo, Smithsonian museum network and Kennedy Center have closed.
____
ROME — Italy is seeing more relief from the coronavirus outbreak in its jammed intensive care units, with 74 fewer beds in use over the past day nationwide.
Civil protection chief Angelo Borrelli said the dip in ICU saturation was "important news because it allows our hospitals to breathe." Intensive care wards in Lombardy, the epicenter of the European outbreak, have been full for weeks but on Saturday there were 56 fewer beds in use than the day before.
Overall, new infections continued to slow their once-exponential pace, with 4,805 new cases registered Saturday that brought Italy's official count to 124,632. The death toll continued to mount, with 681 new victims bringing the world's highest toll to 15,362.
Italian officials have urged Italians to continue rigorously observing the west's first and most comprehensive national shutdown after some Italians were seen out walking and shopping in great numbers in various cities. Officials say the emergency is still very much under way, and that the infection curve remains at a plateau, not yet beginning its hoped-for decline.
Follow AP news coverage of the coronavirus pandemic at https://apnews.com/VirusOutbreak and https://apnews.com/UnderstandingtheOutbreak