Missouri AG continues attacks on St. Louis Circuit Attorney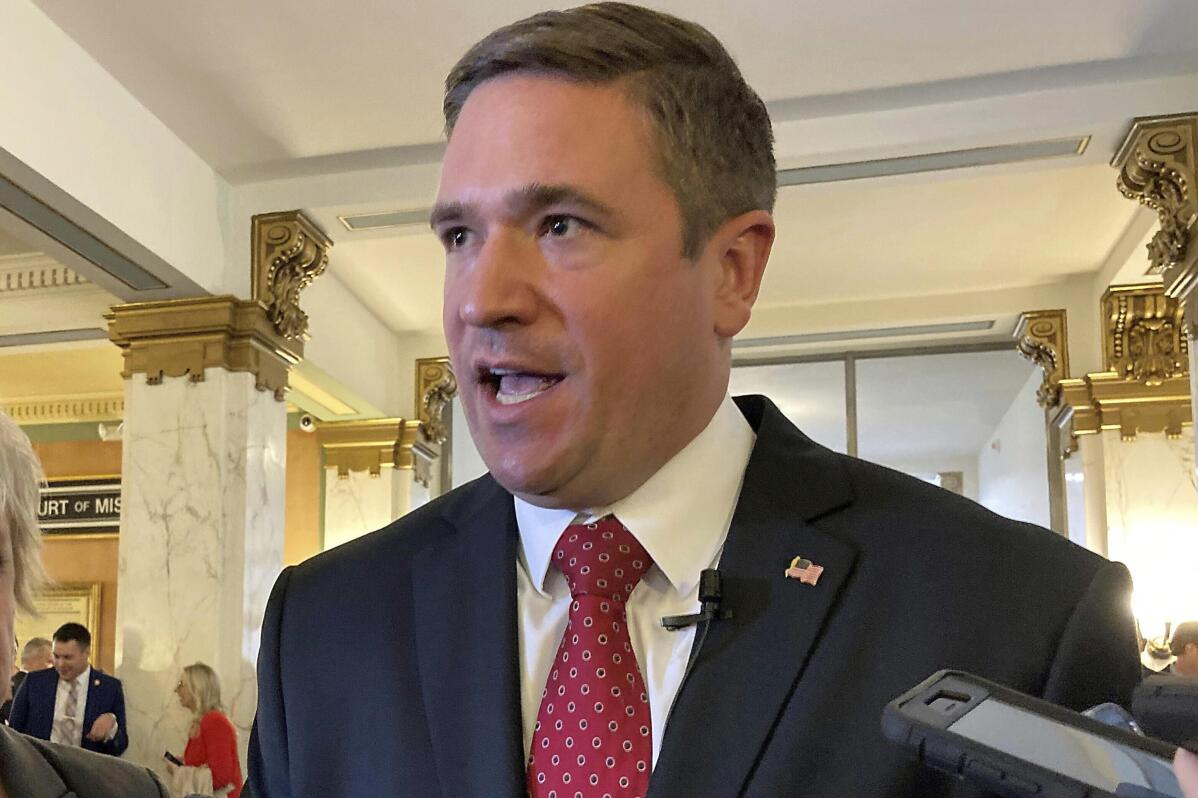 1 of 2

|
FILE - Republican Missouri Attorney General Andrew Bailey speaks to reporters after taking the oath of office in Jefferson City, Mo., Jan. 3, 2023. Bailey on Wednesday, May 3, accused St. Louis Circuit Attorney Kim Gardner of neglecting her duties as a prosecutor while she took nursing classes. (AP Photo/David A. Lieb, File)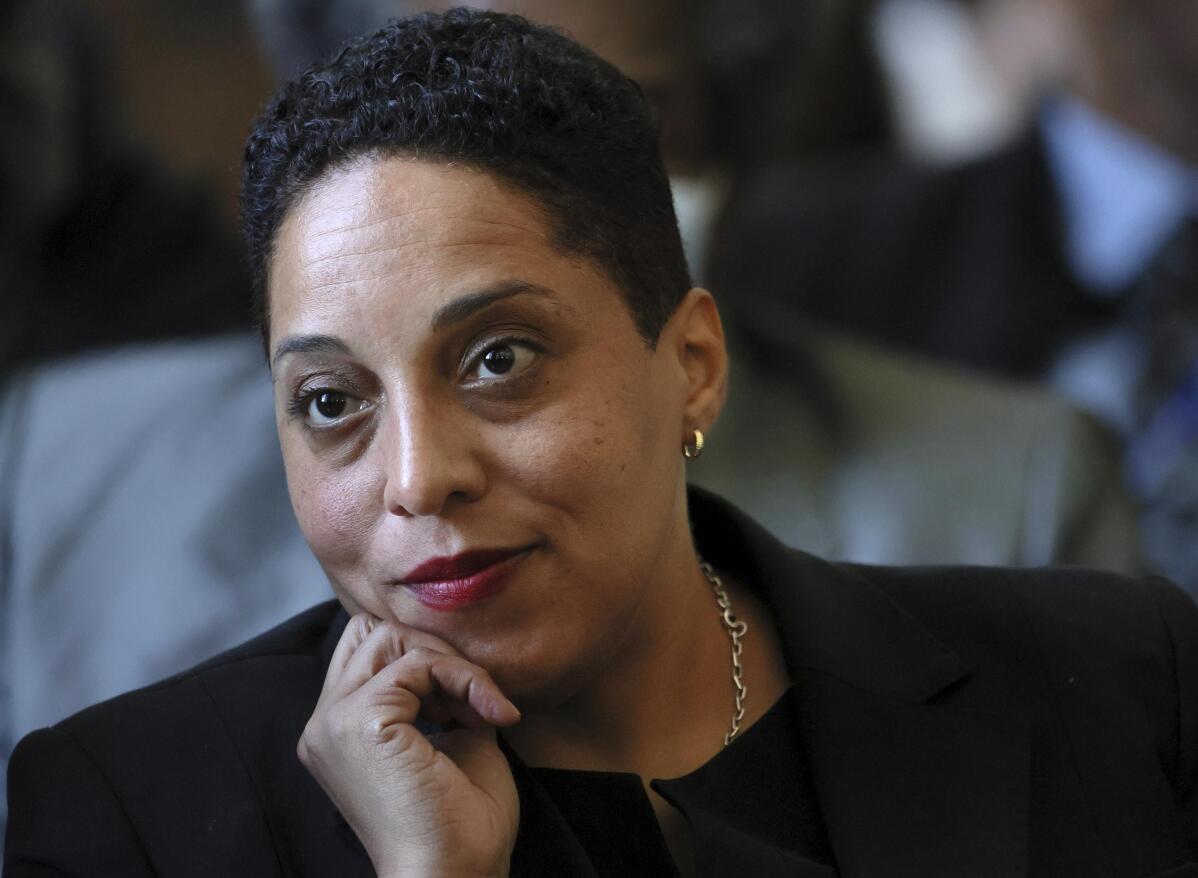 2 of 2

|
FILE - St. Louis Circuit Attorney Kim Gardner sits behind her attorneys in a courtroom, April 18, 2023, in St. Louis during the first hearing of a lawsuit by Missouri Attorney General Andrew Bailey seeking to remove Gardner from office. Bailey on Wednesday, May 3, accused Gardner of neglecting her duties as a prosecutor while she took nursing classes. (David Carson/St. Louis Post-Dispatch via AP, Pool, File)
Missouri AG continues attacks on St. Louis Circuit Attorney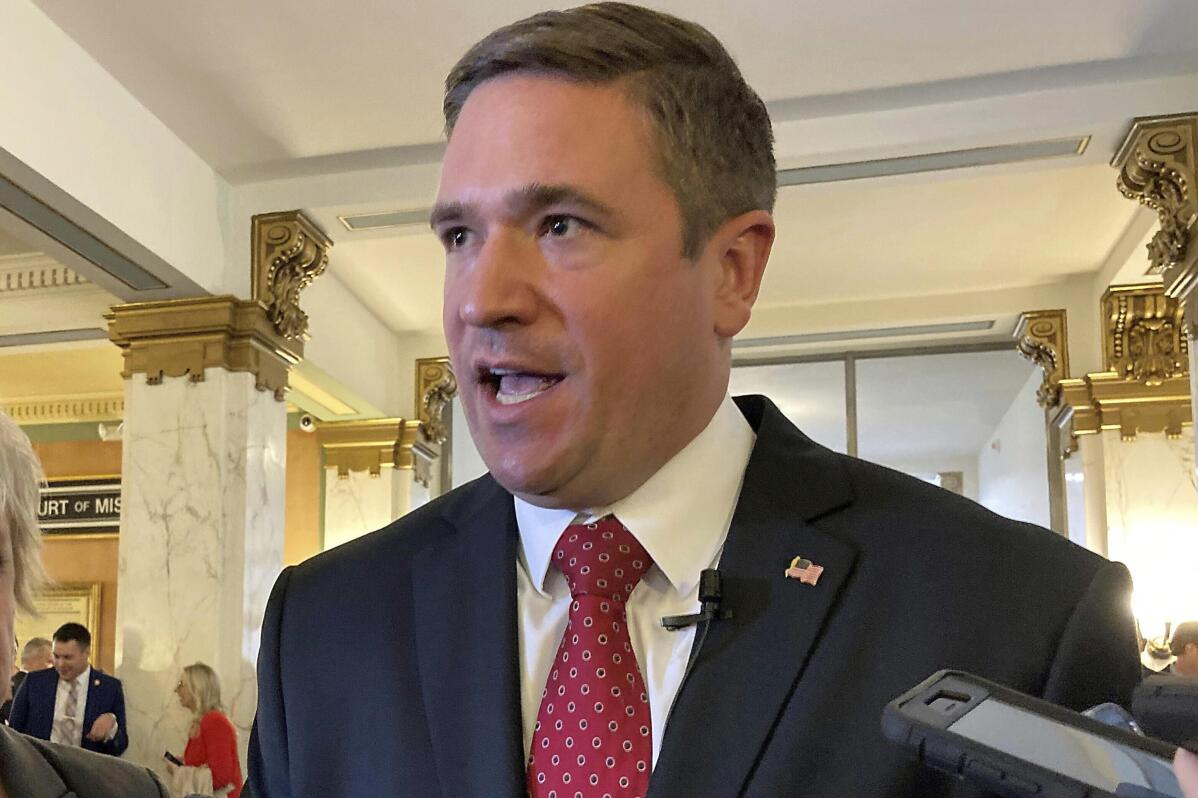 1 of 2

|
FILE - Republican Missouri Attorney General Andrew Bailey speaks to reporters after taking the oath of office in Jefferson City, Mo., Jan. 3, 2023. Bailey on Wednesday, May 3, accused St. Louis Circuit Attorney Kim Gardner of neglecting her duties as a prosecutor while she took nursing classes. (AP Photo/David A. Lieb, File)
1 of 2
FILE - Republican Missouri Attorney General Andrew Bailey speaks to reporters after taking the oath of office in Jefferson City, Mo., Jan. 3, 2023. Bailey on Wednesday, May 3, accused St. Louis Circuit Attorney Kim Gardner of neglecting her duties as a prosecutor while she took nursing classes. (AP Photo/David A. Lieb, File)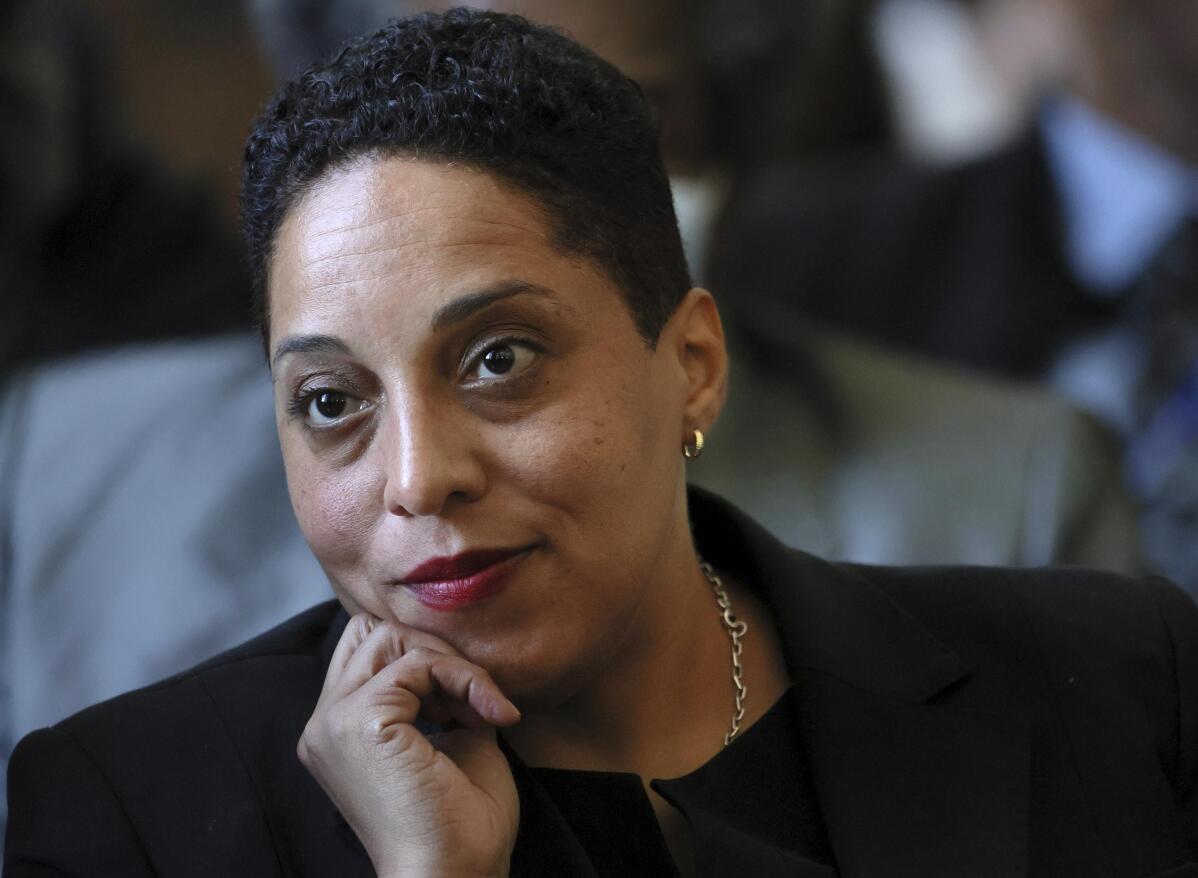 2 of 2

|
FILE - St. Louis Circuit Attorney Kim Gardner sits behind her attorneys in a courtroom, April 18, 2023, in St. Louis during the first hearing of a lawsuit by Missouri Attorney General Andrew Bailey seeking to remove Gardner from office. Bailey on Wednesday, May 3, accused Gardner of neglecting her duties as a prosecutor while she took nursing classes. (David Carson/St. Louis Post-Dispatch via AP, Pool, File)
2 of 2
FILE - St. Louis Circuit Attorney Kim Gardner sits behind her attorneys in a courtroom, April 18, 2023, in St. Louis during the first hearing of a lawsuit by Missouri Attorney General Andrew Bailey seeking to remove Gardner from office. Bailey on Wednesday, May 3, accused Gardner of neglecting her duties as a prosecutor while she took nursing classes. (David Carson/St. Louis Post-Dispatch via AP, Pool, File)
JEFFERSON CITY, Mo. (AP) — Missouri Attorney General Andrew Bailey on Wednesday accused St. Louis Circuit Attorney Kim Gardner of neglecting her duties as a prosecutor while she took nursing classes.
It was the latest salvo in Bailey's efforts to remove Gardner from her office, which has struggled to keep up with prosecutions of criminal cases in St. Louis after several assistant prosecutors resigned.
Gardner is the city's first Black prosecutor and a Democrat. Bailey, a Republican, began legal proceedings in February to force her to resign or be removed. He said too many cases, including homicides, are not being prosecuted by an understaffed office.
During Wednesday's news conference, Bailey said Gardner's decision to take nursing classes at St. Louis University violated a state law the requires her to focus her full energy and time on her prosecutorial duties.
"Obtaining a nursing degree is not one of her officials duties," Bailey said. "Prosecuting criminals is. Yet she has consistently failed to charge new cases, inform or confer with victims, and move the cases she does charge to disposition."
Gardner has said Bailey's efforts to remove her were politically and racially motivated. A hearing on whether Gardner should be removed had been scheduled for September.
Gardner's office said in a statement that she became a registered nurse before becoming the Circuit Attorney because she believes issues in the criminal justice system often relate to problems in the nation's healthcare system.
"She continues to stay current with classes at Saint Louis University to add to her training and advance her mission at the (circuit attorney's office," the statement said. "The Circuit Attorney has done this at great personal cost to her time with her family and loved ones. Any suggestion that she is not fully committed to her duties as Circuit Attorney is blatantly false."
On Tuesday, Judge John Torbitzky ruled that seven of 10 allegations brought by Bailey against Gardner could proceed. Gardner's attorneys have argued that Bailey has no legal authority to seek her ouster.
Torbitzky also ruled that Gardner has 30 days to supply documents sought by Bailey's office in a 59-point subpoena asking for records related to the office's operations.
Gardner's office asked for a new judge for the case, and the Missouri Supreme Court is expected to appoint the next judge for the case in the coming days.