West Virginia GOP divided over gender-affirming care ban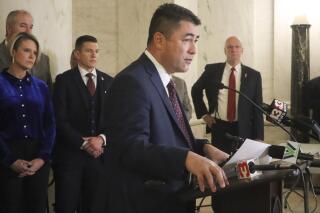 CHARLESTON, W.Va. (AP) — Divided Republicans on a West Virginia state Senate committee voted to advance a bill Thursday that would outlaw certain kinds of healthcare for transgender youth, ignoring pleas from a medical provider who said she feared the legislation will put her patients' lives at risk.
Pediatrician Dr. Kacie Kidd said the percentage of transgender adolescents considering suicide is around 300% higher than the rate for all West Virginia young people, regardless of gender identity. But interventions like puberty blockers and hormone therapy — which Kidd and other providers would be barred from administering to minors under the bill — "drastically reduce" that risk, she said.
"I, to be very honest with you, am very concerned that the withdrawal of this care will result in very profound harm to the young people of our state," said Kidd, medical director of West Virginia University Medicine's Children's Gender and Sexual Development Clinic.
Senate Health Committee members voted to advance the bill — which would ban state providers from providing gender reassignment surgery and hormone therapy to minors — to the Senate Judiciary Committee. If it passes the next Senate committee, it will advance to the full chamber. The bill passed the House of Delegates last month.
In a heated meeting where GOP committee members narrowly rejected multiple amendments to restore some access to hormone therapy, the only two physicians on the committee — both Republicans — expressed concern that fellow lawmakers were so willing to bypass medical professionals' advice.
Majority Leader Tom Takubo, a pulmonologist, called the bill a "dramatic overreach."
"I cannot, in good conscience, sanction a bill when we know the facts are that this therapy does improve the functionality of a child, it decreases suicide rates, it helps with their mental health," he said.
West Virginia is among 26 states considering bans to restrict gender-affirming care for minors or young adults. Republicans in other states who have moved to limit access to the treatments for minors have often characterized them as medically unproven and potentially dangerous in the long term, as another political battle against liberal ideologies.
Doctors, mental health specialists and medical groups have argued that treatments for young transgender people are safe and beneficial, though rigorous long-term research is lacking. Federal health officials have described the gender-affirming care as crucial to the health and well-being of transgender children and adolescents.
During Thursday's meeting, Kidd tried to clear up misconceptions: She said no surgeries are being performed on any minors in the state and no patients are placed on hormone therapy before they reach puberty. When minors are placed on hormone therapy, it's a careful decision made in conjunction with the patient and their family members.
The effects of puberty-blocking medications are reversible, though it's rare that a patient chooses to reverse treatment, Kidd said.
After Kidd finished, Takubo pleaded with this fellow senators to remove the hormone therapy ban from the bill.
"The reality is, when I first heard about this bill, I didn't get it," he said. "I was probably one of the first to say I don't see any reason why you would have to use medications like this before the age of 18."
But Takubo said he tries to educate himself on topics he doesn't understand before he votes. After speaking with physicians like Kidd and learning about the benefit of the treatments, he changed his mind.
"I think what these small subset of individuals are going through has to be incredibly traumatic," he said.
But Takubo met an opponent in Senate Finance Chairman Eric Tarr, a Republican and physical therapist. During the meeting, Tarr asked Kidd whether she'd seen any medical research on children who identify as "furry animals," something "we are starting to see in our schools" that "may or may not" be related to gender-affirming care. Kidd said no. He asked if she performed gender reassignment surgery on minors. She said no.
Takubo's amendment was rejected by a close margin, along with one that would have allowed minors to access hormone therapy after the age of 16 and another that allowed the treatment but prevented the use of taxpayer dollars to fund it.
"This is still a step where the state is saying it's okay to go in and frankly, what I would consider, abuse a child," Tarr said. "It's criminal."
In a last-ditch effort, Takubo tried to propose a final addition to the bill that would have allowed patients who have already begun treatment to continue receiving hormone therapy, even if the treatment is banned for new patients.
"If you get this amendment, are you voting for the bill?" Tarr asked him.
"My honest-to-God answer: I don't know," Takubo told him.
"I oppose the gentleman's amendment," Tarr said. It was voted down, with about half of the committee members in support and half in opposition.
Before voting in support of Takubo's last amendment, Senate Health Chairman Republican Mike Maroney — the only other trained physician on the committee — said he believes it's wrong for a group of "mostly medically uneducated people" to pass laws that would prohibit proven medical treatments.
Maroney likened banning hormone therapy to barring the use of drugs to treat mental health disorders and cancer.
"This is legitimate, it's just something that we don't understand or don't get. And that's fine — I chose to stay quiet. But take the step to prohibit those already being treated, to deny them continued treatment?"
"That's not only uneducated, in my opinion," he said, "that's cruel."