Georgetown hires Providence's Ed Cooley as basketball coach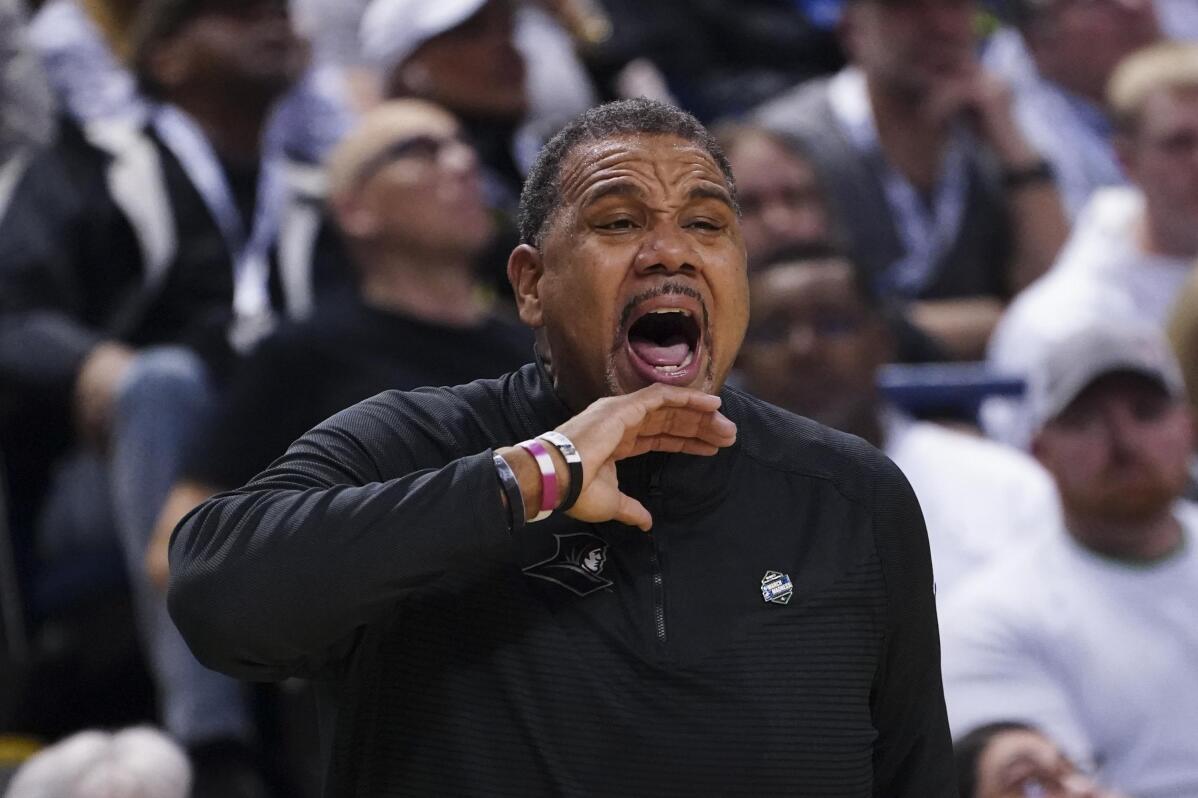 1 of 2

|
FILE - Providence head coach Ed Cooley shouts to his players on the court during the second half of a first-round college basketball game against the Kentucky in the NCAA Tournament on Friday, March 17, 2023, in Greensboro, N.C. Ed Cooley is the new men's basketball coach at Georgetown, hired away from Big East rival Providence in the hopes of rebuilding a once-proud program that dropped to new lows under former star player Patrick Ewing.Georgetown announced the move on Monday, March 20, 2023, after Providence issued a news release saying that Cooley had resigned.(AP Photo/John Bazemore, File)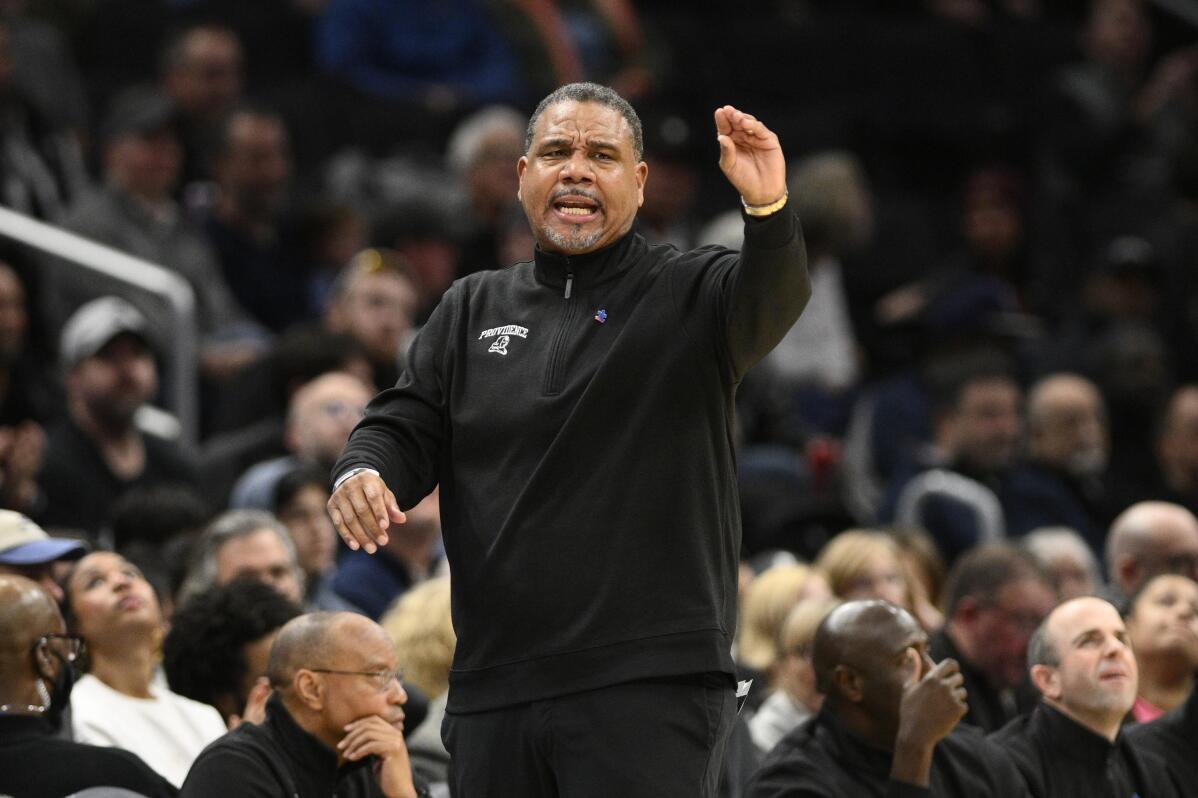 2 of 2

|
FILE - Providence head coach Ed Cooley gestures during the second half of an NCAA college basketball game against Georgetown, Sunday, Feb. 26, 2023, in Washington. Ed Cooley is the new men's basketball coach at Georgetown, hired away from Big East rival Providence in the hopes of rebuilding a once-proud program that dropped to new lows under former star player Patrick Ewing. Georgetown announced the move on Monday, March 20, 2023, after Providence issued a news release saying that Cooley had resigned. (AP Photo/Nick Wass, File)
Georgetown hires Providence's Ed Cooley as basketball coach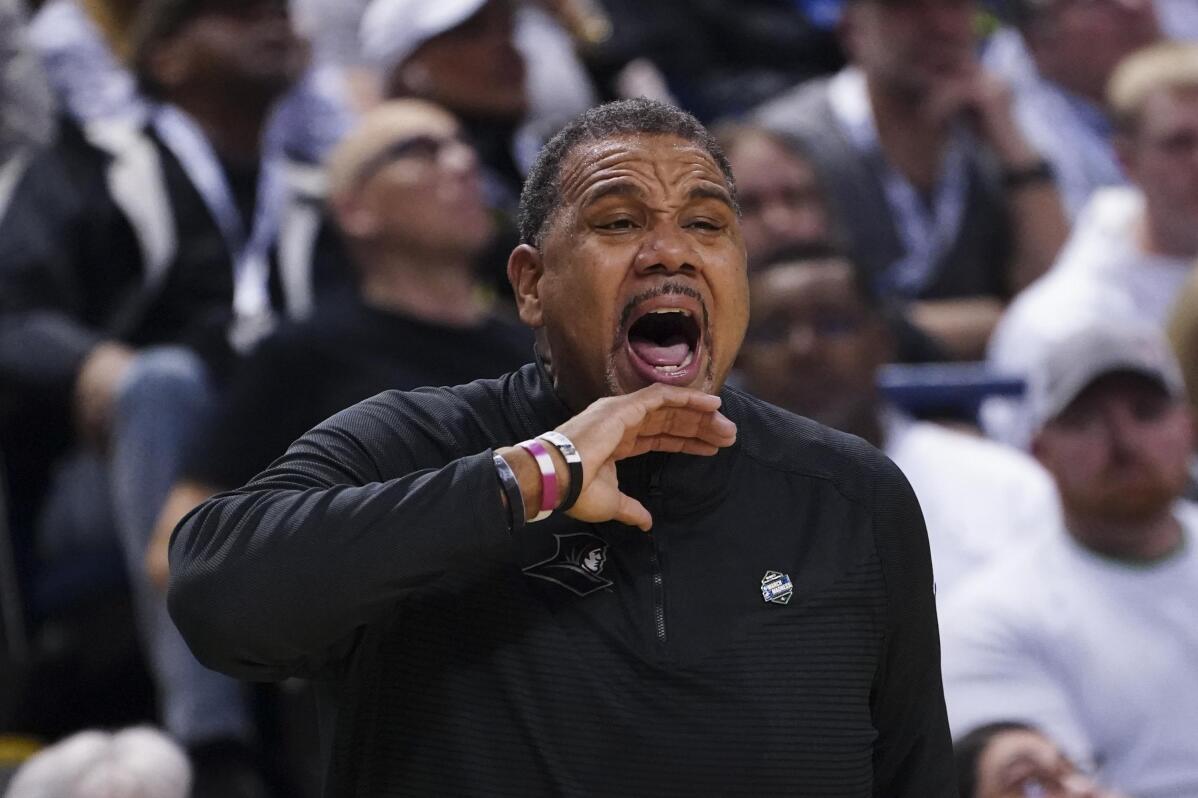 1 of 2

|
FILE - Providence head coach Ed Cooley shouts to his players on the court during the second half of a first-round college basketball game against the Kentucky in the NCAA Tournament on Friday, March 17, 2023, in Greensboro, N.C. Ed Cooley is the new men's basketball coach at Georgetown, hired away from Big East rival Providence in the hopes of rebuilding a once-proud program that dropped to new lows under former star player Patrick Ewing.Georgetown announced the move on Monday, March 20, 2023, after Providence issued a news release saying that Cooley had resigned.(AP Photo/John Bazemore, File)
1 of 2
FILE - Providence head coach Ed Cooley shouts to his players on the court during the second half of a first-round college basketball game against the Kentucky in the NCAA Tournament on Friday, March 17, 2023, in Greensboro, N.C. Ed Cooley is the new men's basketball coach at Georgetown, hired away from Big East rival Providence in the hopes of rebuilding a once-proud program that dropped to new lows under former star player Patrick Ewing.Georgetown announced the move on Monday, March 20, 2023, after Providence issued a news release saying that Cooley had resigned.(AP Photo/John Bazemore, File)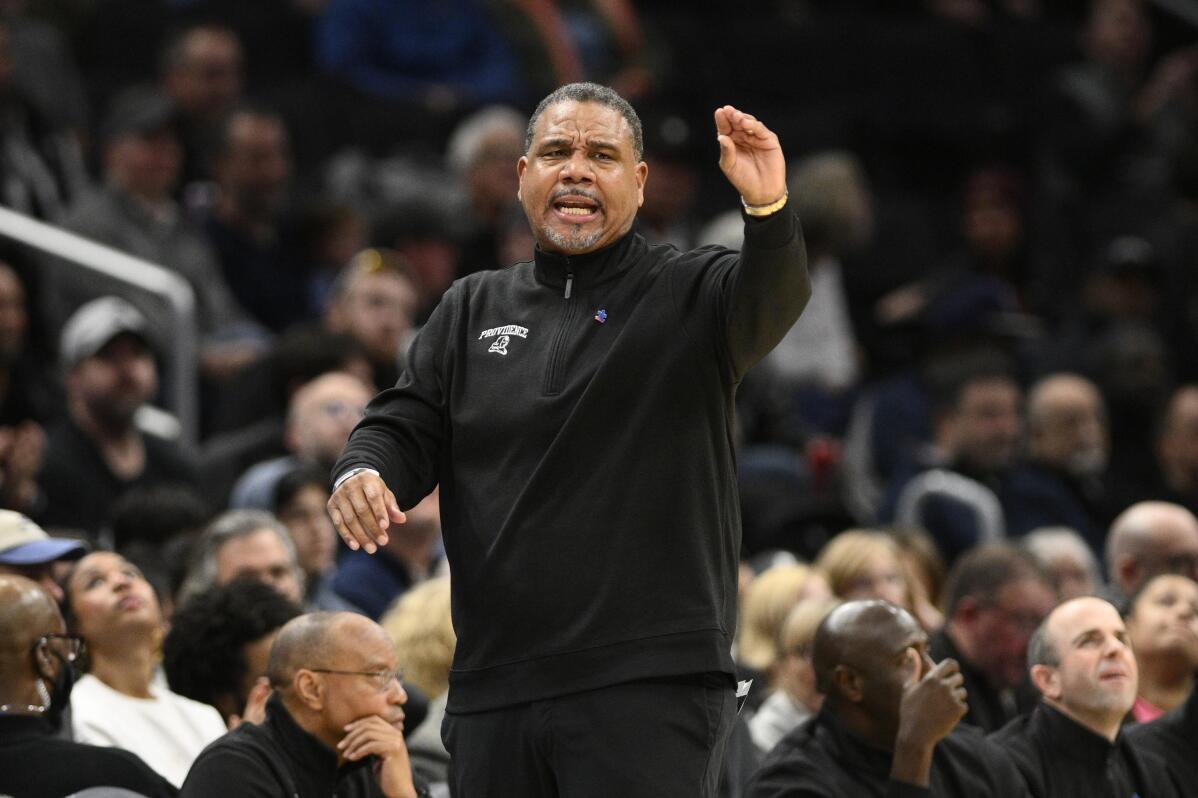 2 of 2

|
FILE - Providence head coach Ed Cooley gestures during the second half of an NCAA college basketball game against Georgetown, Sunday, Feb. 26, 2023, in Washington. Ed Cooley is the new men's basketball coach at Georgetown, hired away from Big East rival Providence in the hopes of rebuilding a once-proud program that dropped to new lows under former star player Patrick Ewing. Georgetown announced the move on Monday, March 20, 2023, after Providence issued a news release saying that Cooley had resigned. (AP Photo/Nick Wass, File)
2 of 2
FILE - Providence head coach Ed Cooley gestures during the second half of an NCAA college basketball game against Georgetown, Sunday, Feb. 26, 2023, in Washington. Ed Cooley is the new men's basketball coach at Georgetown, hired away from Big East rival Providence in the hopes of rebuilding a once-proud program that dropped to new lows under former star player Patrick Ewing. Georgetown announced the move on Monday, March 20, 2023, after Providence issued a news release saying that Cooley had resigned. (AP Photo/Nick Wass, File)
WASHINGTON (AP) — Ed Cooley is the new men's basketball coach at Georgetown, hired away from Big East rival Providence in the hopes of rebuilding a once-proud program that dropped to new lows under former star player Patrick Ewing.
Georgetown announced the move on Monday, after Providence issued a news release saying that Cooley had resigned.
"I plan on hitting the ground running, getting to work on the court and cultivating relationships in and around the District," Cooley said in a statement released by his new employer. "Accepting this opportunity with Georgetown is not a decision I took lightly."
He leaves the Friars with a 242-153 record after 12 years and seven March Madness appearances with a total of three wins in the tournament; the highlight was a trip to the Sweet 16 in 2022. His team went 21-12 this season, closing with four consecutive losses, including in the first round of the Big East Tournament against Connecticut and the first round of the NCAA Tournament against Kentucky.
"Coach Cooley is a mentor to young men, and a consistent winner with an impressive body of work," Georgetown athletic director Lee Reed said. "His previous experience gives him an understanding of our Jesuit values and I am confident that he is the coach to return our program to prominence within the Big East and nationally."
Cooley's name was linked to the Georgetown job even as Providence's season was still in progress, and so he was asked after the 61-53 defeat against Kentucky on Friday whether he would be returning. The initial reply: "Next question."
When a follow-up query came about whether there was a chance that was his last game with the Friars, Cooley avoided a direct answer.
"There's all kinds of rumors and speculation, and I know you guys are trying to do your job. I get it," said Cooley, whose daughter is a student at Georgetown. "But after a game like this, I just think it's fair to talk about our players. I think it's fair to talk about the game."
The Hoyas will be the 53-year-old Cooley's third team as a college head coach; before Providence, he was at Fairfield for five seasons. He is the first Georgetown head coach in about a half-century without a direct tie to the late John Thompson Jr., who took the job in 1972, was in charge of the team when Ewing was a player, then was succeeded by assistant Craig Esherick, who was followed by Thompson's son, John III, who gave way to Ewing.
Ewing was fired on March 9 after going 75-109 in six seasons, 13-50 over the past two. Georgetown made only one March Madness appearance in that time, bowing out in the first round in 2021.
It was quite a difficult stretch for Ewing and the school he led to a national championship in 1984 and helped make two other runs to the title game.
His last two contests in charge at his alma mater were a pair of losses by a combined 72 points, one to close the regular season against Creighton and one in the Big East Tournament against Villanova.
___ March Madness coverage: https://apnews.com/hub/march-madness and bracket: https://apnews.com/hub/ncaa-mens-bracket and https://apnews.com/hub/ap-top-25-college-basketball-poll and https://twitter.com/AP_Top25