Kemp signs bill to ban outside election cash in Georgia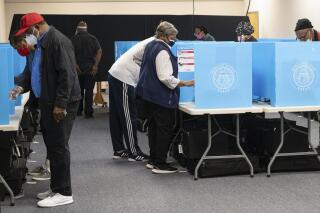 ATLANTA (AP) — Georgia has banned local governments from accepting any funding for elections from outside groups, after Republican Gov. Brian Kemp signed the measure on Wednesday, ratifying a push by his fellow party members.
Senate Bill 222, which threatens local officials who violate the law with felony charges, still allows contributions to the state or federal government. It took effect upon Kemp's signature
A 2021 Georgia law made it illegal for elections officials themselves to accept outside money after Republicans grew alarmed that Facebook founder Mark Zuckerberg donated more than $400 million to election officials nationwide.
Republicans view outside money for election administration as unfairly favoring Democratic counties and improperly influencing the conduct of elections, in part by making it easier to vote in those areas.
But it was widely understood in 2021 that Georgia counties could still take money from outside groups and pass it to election administrators. Earlier this year, overwhelmingly Democratic DeKalb County accepted $2 million from the U.S. Alliance for Election Excellence to seek improvements and share best practices. The alliance includes the Center for Tech and Civic Life, Zuckerberg's main funding vehicle from 2020.
That set off a round of condemnations from Republicans that DeKalb had broken the law.
Republican lawmakers originally wrote the bill to force the county to give the money back, but the measure was rewritten to let DeKalb keep the money. Forcing DeKalb to refund the money could have been an illegal after-the-fact law.
Republicans say any money should be donated to the state and divvied up according to directions from the State Elections Board, which is dominated by Republican appointees. The board has not yet adopted any rules.
Democrats said the 2021 law made it more expensive for counties to run elections and that without outside funding, counties may have to raise taxes.
___
Follow Jeff Amy on Twitter at http://twitter.com/jeffamy.